Plan an Epic Bachelor Party in Montreal (2023 Guide)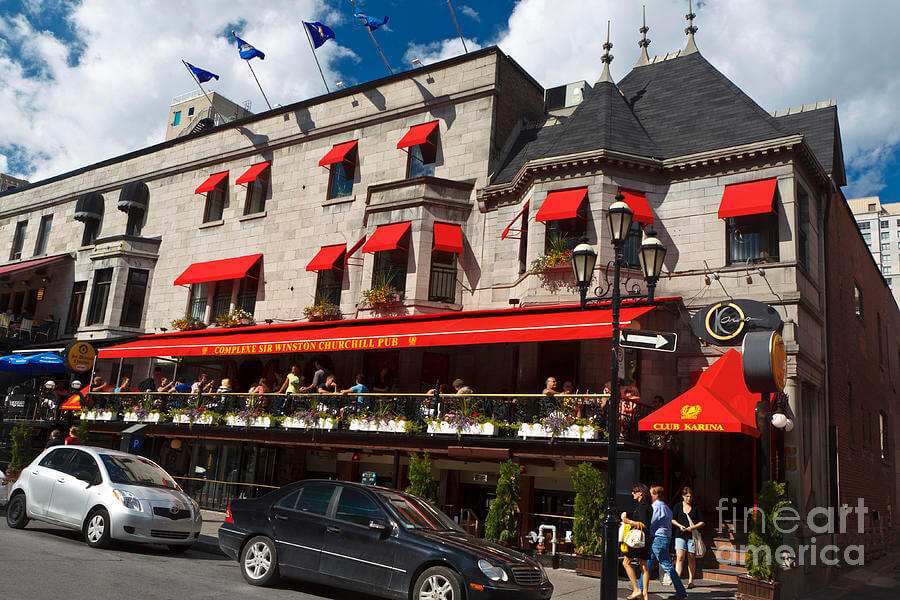 This post may contains references to products from one or more of our advertisers. We may receive compensation when you click on links to those products or services. Please also consider
donating to our website.
Looking for a unique place for a destination to throw an epic bash?  A bachelor party in Montreal is a fantastic choice!  Easy-to-reach, with world-class entertainment options, top-notch accommodations, great restaurants, and enough exciting outdoor activities for even the manliest of bachelors; Montreal offers everything a group of bachelors could want. 
In fact, Montreal has long been a popular bachelor party destination because it is easy to get to from anywhere in the United States, it is full of bars, nightclubs, and other hotspots, and the favorable exchange rate makes it even more affordable .
Whether you are throwing a bachelor party or stag party, you should definitely read this Montreal bachelor party guide.
While some cities are known as party cities, other places, like Montreal, have both a mild side and a wild side.  You don't want to accidentally book the mild, when you're looking for the wild.  So, before you book your trip and pack your bags, read this article to find out the best places to stay, the best places to party, and the best places to find a little trouble on your epic trip.
How To Get There
Airport
So now that you decided you want Montreal to be the destination, you need to know the best airport to fly into.  Montréal–Pierre Elliott Trudeau International Airport (airport code: YUL) is the option you should select for destination, which is about 15-20 minutes from the downtown area, where you will be staying and partying.  Expect to pay around $195 for a flight leaving from New York City, $320 for a flight leaving from Chicago, $256 from Washington DC, $337 from Philadelphia, and $229 from Orlando.  Try to stick with a non-stop flight that will get you into Montreal early in the morning, so you have the entire day to party.  We recommend using priceline.com for booking your flights to Montreal as they offer the best prices and availability.
Getting Around
Once you arrive the first thing you will want to do is get to your hotel so you can either check into your room or store your luggage before heading out.  The easiest and most affordable option will be a rideshare service such as Uber.  From the airport to downtown expect to pay $40-50 for an UberXL (which can fit up to 6 adults + luggage).  You can split the fare through the app assuming others in your party are also signed up for the service.  If you are not into ridesharing apps you can choose a taxi which will run you about $40 to downtown, but will only fit a max of 4 people + luggage
Once downtown you can either use a rideshare service, local taxi, or step up your game and book a limo or party bus.  MontrealLXLimo has an impressive fleet of both limos (for 6-15 passengers) and party buses (for 18-26 passengers).  For a limo expect to pay around $99 per hour with a 3-hour minimum and $195.00 per hour with 4-hour minimum for an 18-person party bus.  This is a great option for bar hopping or bouncing from strip club to strip club (some of their buses include a stripper pole too).
Things To Do
Daytime Activity Ideas
Sure, bachelor parties are about the nightlife, but Montreal also has some amazing things to do during the daylight hours.  River-rafting, jet-boating, or heading just outside of the city to do some zip-lining, are some great things to do in a Montreal bachelor party.  No, they are not the booze and women-soaked traditional bachelor party activities, but they are a great way to share some guy-time, and you might be surprised at the adventurous fellow-travelers you will meet in the great outdoors!
Did you party too hard the night before?  Montreal has a solution for that: The Hangover Club.  Nurses will come to you and administer IV fluids aimed at rehydrating you and combating common hangover symptoms, so you can spend your time playing, not recuperating.
For all your partying during sunlight you must head to Beachclub.  This sandbar is located at 701, 38 avenue in Pointe-Calumet, Quebec and is about 30 minutes from downtown Montreal.  The Beach Club features a pool, cabanas, stage for musical acts (the most popular edm acts play here), and of course the beach.  This place attracts extremely hot chicks in bikinis so what better place to think about your upcoming wedding.
View all Activities in Montreal
Nightlife Activity Ideas
Bars
Montreal's nightlife is surprisingly vibrant and the choices of bars and clubs are so extensive, that you could actually choose a theme and only party at Montreal's most beautiful bars or the best dive bars in Montreal.  If you and your crew have a specific vibe that just fits you, let us know and we can help you find the bars and nightclubs that fit that vibe.  Trust us, however you like to party, there are tons of great places for a bachelor party in Montreal.  However, if you want our opinion on the best bars and nightclubs for a bachelor party, here is our list of favorites:
Barfly at 4062 Boulevard Saint-Laurent is your stereotypical dive bar, and we like it that way.  The beer is cheap ($5 pints every night until 9pm), they almost always have live music, and people go there to have a good time.  This isn't the place you go to impress people or find people trying to impress you; instead, it's the place you head when you want a low-key great time with your friends.  For a bachelor party, we suggest starting or ending one of your nights at Barfly.
Nightclubs
On the total opposite end of the bar spectrum is Stereo, which has long been considered the "go-to" club and where you want to take your crew. Located at 858 Rue Sainte-Catherine E, this club which is small compared to the newer clubs around the world, is the top of the list in Montreal.  Some cities have a new top club every few months, and you will find some trendier nightclubs in Montreal, listed below.  The venue features a lounge area and an area to dance. If you love electronic dance music, this is your spot. Apparently the floor was built with spring to make your jumping to music more enjoyable. You can find talents like Roger Sanchez playing this venue on any given weekend.  However, Stereo has remained one of Montreal's best for a reason; it is just an awesome dance club.  The DJs play great music and people flock there.  However, don't start your night at Stereo; the party usually gets started around midnight. The lights and sound system are the best you are going to find in this Canadian city, so, unless you hate to dance or listen to great music, put Stereo on your list for Montreal.
Dance music tends to fall into two categories: electronic and hip-hop.  Whatever your preferred flavor, Muzique has the music for you.  Located at 3781 Boulevard Saint Laurent, this multi-floor, venue features two rooms with one spinning your favorite dance music and the other playing new and old school hip hop. This club is opened from Thursday to Sunday, with Sunday night being industry night (bartenders and bottle servers get crazy too). It opens at 10pm and stays open till 3am.  Cover charge will run about $10 – $15 but if you get on a promoter's guest list and get there on time, it will be reduced or eliminated.  If you want to know the real reason we love Muzique, head over to their website and check out their photos; we can't tell you that every woman you will see in Muzique will be insanely gorgeous or that every beautiful woman in Montreal parties there, but it sure seems like to us!
Personally, we are suckers for a good Latin dance bar.  Salsa, merengue- hey, whatever kind of music makes women want to come out in next-to-nothing and dance up close to us- we're fans. Copacabana is the best Latin bar in Montreal.   It is a huge venue with three large bars.  While the music is Latin, the décor is upscale urban, and the club attracts a multicultural crowd that loves to dance and party.  Going to be there on a long weekend?  Copacabana is known for its epic parties on long weekend Sundays.
Strip Clubs / Gentlemen's Clubs
Montreal's adult entertainment industry is surprisingly vibrant.  For a city that is cold so much of the time, it isn't difficult to find naked women everywhere.  Plus, Canada isn't as uptight about sex as the U.S. is; you can easily find contact strip joints without heading into the seedier parts of town or breaking any laws.  That means that Montreal bachelor party activities are not only easy to find, but surprisingly upscale.  You can expect tuxedoes bouncers, leather couches, and velvet rope treatment in a lot of the adult entertainment places in Montreal.
Club Super Contact is a decent option for looking at naked women while having some drinks. There is some disagreement about the amount of contact you get at this club.  The advertisements insinuate aggressive contact and contact lap dances start in the ridiculously affordable range- think 15 bucks for a contact dance.  You will see comments telling you that the contact here is minimal, but other people will tell you that contact is minimal if you're a cheapskate.  These beautiful women are making a living; go beyond the minimum and they go beyond the minimum.
Club Wanda's is the strip club for guys who aren't sure they like strip clubs.  What do we mean by that? Well, some strip clubs are just straightforward nude girls, dances, and a down-and-dirty atmosphere.  We have no objections to those places.  Some guys do.  They prefer strip clubs where the club is as much a part of the atmosphere as the stripping.  Club Wanda's is that kind of strip joint.  We admit it's a little tame for us, but it's the kind of strip joint that your girl could find out about and not lose her mind.  Hell, it's the kind of strip joint that you could bring your girl to and she wouldn't lose her mind.  In fact, don't be surprised to find lots of non-working ladies there, just enjoying the club atmosphere, and feeling pretty friendly.
Chez Paree bills itself as the number one gentleman's club in Montreal, and we have no reason to disagree with that assessment.  They have a huge list of dancers; 85 of the sexiest, most beautiful women in the city grace their stages, private booths, and lounges.  You can get contact or non-contact dances, and they offer bachelor party shows that are not just the best in Montreal, but some of the best shows anywhere.  The downside?  It's expensive.  You start paying for private contact dances in one of their erotic booths and you will quickly realize why they have ATM machines on the premises.  We aren't saying you'll regret spending even one dime your drop here, but you need to know that it is not your budget bachelor-party option.
If you are looking for a girl-on-girl show to happen either in your hotel room, rental house, or strip club, there are agencies that you can call to set this up for you. You can also go to the strip clubs and ask some of the dancers who will provide referrals as well.
One of our favorite strip clubs in Montreal, Club Super Sexe has recently closed.  This was the longest running and most popular of the adult venues until they closed their doors 🙁
Looking for bachelor party strippers in Montreal for a private event?  Check out our updated list of all available services and venues.
Where To Eat
These bachelor party friendly restaurants will help provide the perfect base for you to absorb all the alcohol you will be drinking.
Breakfast / Brunch / Lunch
If you do not mind waiting a little bit for a table, it is highly recommended you head over to Restaurant L'Avenue which is best described as a funky diner with gourmet brunch.  Make sure you order one of their eggs benedict entrees, the steak and eggs, or the classical poutine.  You will also want to wash down this amazing food with one of their fresh squeezed juices (orange, grapefruit, or banana).
Another great breakfast option would be Regine Cafe.  You will definitely want to order the salmon croquette, the breakfast sandwich on a fresh croissant, or the fresh made brioches.  This is another popular choice for tourists so expect a wait if you decide to eat here on Saturday or Sunday.
Dinner
Montreal is a great food city.  Much of its cuisine pays a nod to Montreal's French heritage, whether in upscale French dining or simple French techniques being incorporated into everyday casual fare.  Whatever your budget and tastes, you will eat well at your Montreal bachelor party, just remember you must have dinner so the food can absorb your alcohol.
Le Filet at 219 Mt. Royal-West Ave. is considered one of the very best restaurants in Montreal, but don't let the name fool you.  For Americans, we see the word "filet" in a restaurant's name and we assume steakhouse.  Le Filet is no steakhouse; it is a seafood place, and, though they have a beef offering on the menu, they are famous for their fish and shellfish.  The place is pricey and the menu is limited.  However, the limited menu is because everything is fresh, and those high prices are indicative of the best food and service combination in the city.  Food you must try here: scampi risotto, tuna tartare, and maple syrup square.
If you are looking for some fine dining during your trip, you should definitely check out Les Deux Singes de Montarvie at 176 Rue St. Viateur Ouest.  They offer a regular tasting menu for $65.00 which includes items like halibut, matane shrimp, foie gras, and others.  If you decided to turn vegetarian like your best friend's hot wife, they offer a vegetarian tasting menu for $50.00 which includes mushroom ragout, arugula, asparagus, and brioche.  You won't be able to get that rowdy here but you will enjoy some good food.  Our top bachelor party tip for this spot?  Take your obligatory social media pics here; then all the ladies at home see is a group of guys, hanging out, "behaving."  Food you must try here: foie gras.
Of course, unless you and your buds are total foodies, you are not going to spend every meal of your bachelor party at a fine-dining establishment, nor should you.  Want to scratch your bar food itch?  Then head over to MVP Bar Spotif.  This place has a bunch of televisions so you can catch the game you want.  They also have some amazing poutine, burgers, and pizzas.  Wash down all that greasy food with a selection of local craft beers or vodka, and get the party started.  Food you must try here: any of their poutine dishes, the flamethrower burger.
Where To Stay
Hotels
Montreal is full of hotels, and, in the city, most of them are going to be open to the idea of a bachelor party.  Montreal is a major city, which means that it has a bunch of mid-priced rooms in chain hotels, and you can book any of those and get the clean and comfortable accommodations you expect, though they are probably going to be a bit more family-friendly than you want for a bachelor party. There isn't one single iconic Montreal bachelor party hotel, but that doesn't mean there aren't a bunch of great bachelor party options.  Our tops picks for a bachelor party are:
W Montreal  is a great option if you're not on a tight budget and you're looking for a modern hotel. Expect to pay around $200 – $250 a night per room. Ironically rates are cheaper in the summer than in winter.  If you really want up your game, inquire about their suites that have multiple bedrooms, a living room, and dining room.
Hotel Des Arts is another great choice for resting your head. Although not much sleep will be occurring on this extravagant weekend, you need to make sure that when it's time for lights out, you have a comfortable place to rest your noggin. Expect to pay roughly $190 a night in the summer and winter for this 3-star hotel.
If you're group is a higher class of individuals you may decide that you need to stay at the Ritz-Carlton in Montreal. This is a much nicer hotel so do not expect to bring escorts back here or cause ruckus while staying here. With 5-star accommodations also comes 5-star pricing so expect to pay $460 a night in the summer and around $436 per night during the winter time.

Hotels Available in Montreal
House Rentals
Our recommendation for your bachelor party would be to rent a house. The best website for doing this is VRBO.com. You have much more flexibility at a private residence (like a private chef, pregame parties, after parties) and most of the time they are cheaper than multiple rooms at a hotel.
If you have a larger party, you can not go wrong with this 6 bedroom, 2 bathroom house.  This unit is the top two floors of a beautiful Victorian Building.  Includes everything you will need to shower, sleep, and recover.  If you have a group of six each guy will get their own bedroom.  The price for this house per night is $253.00 and all the feedback for this specific rental has been extremely positive.

Rental Homes Availables in Montreal
View all Rental Homes in Montreal
When To Go
Best Time
Summer is considered Montreal's heaviest tourist season, and rooms tend to be more expensive during the summer.  There are a ton of outdoor activities to do in Montreal in the summer and the summer weather is mildly warm and extremely pleasant.  Plus, Montreal has a huge number of festivals going on in and around the city during the summer.  On the other hand, Montreal was built for winter; its underground tunnel system makes it easy to navigate, even when the weather is awful, and there are plenty of winter-time outdoor activities, nearby, as well.
On a Budget
Spring and fall are considered the down-season in Montreal, and you can expect a more affordable trip during those times.  However, unless you have your heart set on some hot-weather or cold-weather dependent activity, we think the "down-season" is actually the best time to visit Montreal, and not just for the affordability.  You'll encounter more single travelers or adult groups traveling and fewer families out and about, making it the perfect place for a bachelor party.
Worst Time
There is no bad time for a bachelor party but if you do not like cold weather or wearing multiple layers of clothes, you want to stay away from this city in December through February.
Current Weather
What Else
Items to Pack
What to pack depends on what you have in mind for your trip.  Montreal is not like other international destinations, were you might have a hard time finding bachelor-party staples.    However, you may have a hard time finding the brands you want.  We believe in being prepared, so we suggest you pack a stash of your favorite condoms, lube, hangover recovery formulas, etc.
Extra Curricular Activities
White: Illegal, but you can find decent quality stuff for roughly $50 – $60 per gram.
Green: Illegal, although this may be the one spot you can say the grass is greener on the other side. Expect to pay roughly $50 per eighth and $350 for an ounce of high quality bud.
Big Events
Looking for a winter music festival?  Nothing beats Montreal's Igloofest.  With tons of bands, this festival captures everything you love about outdoor music festivals without the heat or the smells!
Beer Fest Mondial de la Biere is a great option for sampling some of Canada's finest brews. This event takes place at the Montreal Convention Center each year in the middle of June.   It is also a great place for getting your afternoon buzz going in preparation for a long evening. Remember not to drink too many beers or you may end up being the guy passed out with flour on your face.
Montreal Grand Prix which occurs each year during the first week of June at the Circuit Gilles Villeneuve, is another event you must attend with your group. Canadians and visitors from around the world trek here to experience a weekend of drinking, partying, and race car driving.
ILESONIQ Music Festival   which is Montreal's version of an electronic dance festival which goes down at Parc Jean-Drapeau sometime in August each year. Whether you intentionally planned going away during this time or accidental, you need to take your group here. These festivals are known for bringing out hot chicks that wear tight neon clothes and love to drink and you know.
In fact, Montreal is known for its festivals and its festival-goers during all seasons.  The International Jazz Festival, the Just for Laughs Comedy Festival, the Feux Loto-Quebec, the Franco Follies, and the Montreal en Lumiere, and the Formula 1 Grand Prix du Canada are just some of the events and festivals that keep people flocking to Montreal, year-round.  Just keep in mind, Montreal takes its festivals seriously.  You can expect downtown to be shut down, except for foot traffic, when many of these festivals occur. You can also expect tremendous prices fluctuations depending on when and where a festival is located.
View all Event Tickets in Montreal
Bachelor Party Packages
If you are too lazy to book your own flights, hotel rooms, dinner reservations, and table reservations at the club, you should look at Connected Montreal, a company based in Canada that specializes in planning amazing bachelor parties.  They will provide you the perfect itinerary and will put together a package deal which includes accommodations, dinners, strip clubs, night clubs, and any other activities your group decides on.
Montreal Bachelor Party Forum
If you would rather plan yourself and have some questions after reading our article and review, ask away in our community forums.  Another member of our community or staff will provide you a detailed response shortly.  Have you already traveled to Montreal and have tips, suggestions or reviews for other bachelors?  Please post them to our forum as well, so other guys can learn while helping our community grow.
You can do additional reading and research at the Montreal Bachelor Party message board on Reddit.
Prices
While Montreal is not very expensive, most of the nightclubs in Montreal require at least a minimal cover charge. Fortunately, this fee is small relative to the amount you will spend, the bigger problem is waiting on the long lines to get inside.  That is why we suggest you reserve a spot at a nightclub- reserving a table means you eliminate lines and cover charges, as well as secure a perfect table location for creeping.
Additional Tips
Even though establishments will accept USD as a payment, the currency in Canada is CAD or the Canadian Dollar. At the time of this article the exchange rate was roughly 1 USD = 1.243 CAD. You can also use our currency exchange below for up-to-second rates.
Although a passport is not required for visiting Canada, it is recommended that if you have one you bring it. If you do not have a passport make sure you bring another photo identification which is acceptable. Read more information  here on obtaining a U.S. passport or renewing one for your Montreal Bachelor Party.
Also, with any trip that you will be required to purchase flights and hotels in advance, we recommend you purchase travel insurance which will cover the entire cost of your trip due to flight cancellations, weather, sickness, etc.
Why Go
Star Rating
Conclusion
In conclusion, Montreal is an amazing city and you will have a great bachelor party, there.  However, if you are looking for the hedonistic atmosphere of someplace like Miami Beach, Montreal is not your place.  The real reason we gave it a 4.5 instead of a 5 is because, when she finds out you're going to Montreal, your girl is going to want to come along.  She's going to tell you how much fun a combined bachelor/bachelorette party in Montreal would be, and she knows how to persuade you- after all, you're marrying her.  Do not listen to her.  Even if you are planning a mild bachelor party and not a weekend of unfamiliar flesh and booze-soaked debauchery, do not plan a joint party.  We promise you, at least one of your friends is uncomfortable around one of her friends and a joint party is just a giant invitation to drama.  However, we gotta give Montreal 4.5 stars because, when you stick to your guns and tell her nope to the joint party idea, she's gonna be a little mad at you and maybe even pout about it!