Bachelor Party in San Jose, Costa Rica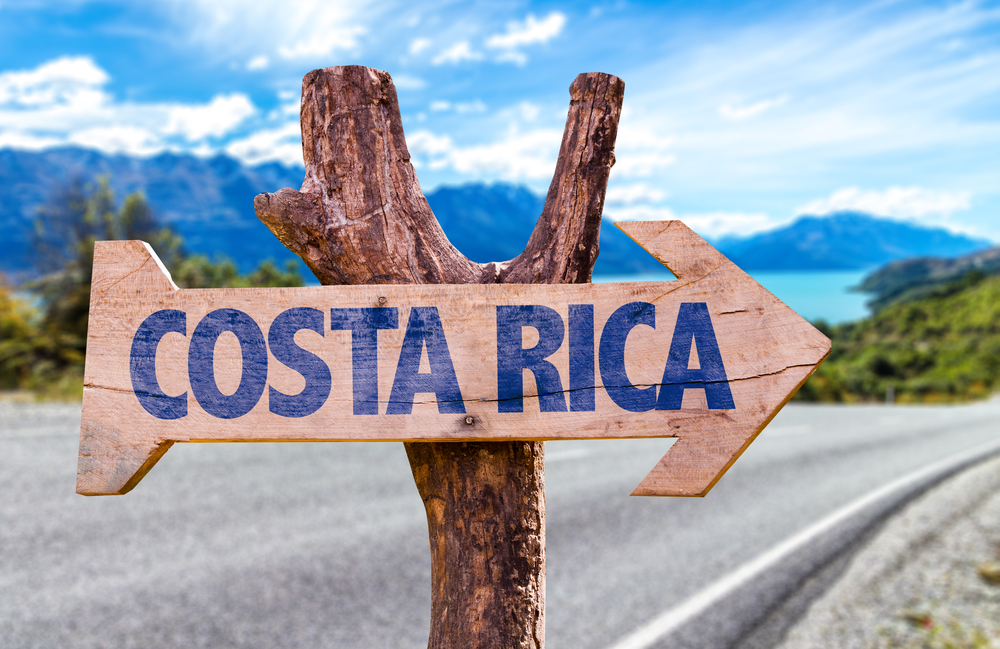 This post may contains references to products from one or more of our advertisers. We may receive compensation when you click on links to those products or services. Please also consider
donating to our website.
Costa Rica has been experiencing an increase in tourism for several years, with San Jose, Costa Rica emerging as one of the world's more interesting bachelor party destinations.  This is partially due to the overall growth of the eco-tourism trade, but it is also due to the fact that the growing use of the internet has made it possible for tourists to really tailor their destinations to their particular daytime interests and nighttime vices.  The amazing natural beauty and abundant outdoor activities attract travelers to San Jose, while the nightlife is gaining a worldwide reputation for its mix of debauchery and friendliness. Costa Rica offers incredible natural beauty and outdoor activities for those wanting to extend the party beyond nightlife, as well as a thriving adult-activity oriented activities. Together, these amenities can make for some unforgettable San Jose bachelor party.
How To Get There
San Jose is an international destination, and you will need a current passport for travel.  At this point in time, San Jose does not require tourists to obtain VISAs.  Depending on your starting point, you may be able to secure a direct flight, but most people will need to change planes and fly out of Miami or Dallas. 
Airport
You will schedule flights into Juan Santamaria Airport (airport code: SJO), in Alajuela, which is just north of San Jose. There is another international airport in Costa Rica (Liberia), but it is not near San Jose, so you do not want to choose that one, even if the rates are much less.
[tp_in_our_city_fly_shortcodes destination=SJO title="" limit=6 paginate=true stops=0 one_way=false subid="" currency="USD"]
Things to Do
Costa Rica has a great reputation for eco-tourism and there are a ton of awesome ideas for a bachelor party in San Jose.  However, it's bachelor party reputation is based more on the beautiful women and the permissive laws towards sexual activities.  Oddly enough, while the country has a lax attitude towards prostitution, it can seem strangely puritanical about other vices.  While tourism is a major industry, it is not unusual to find that the government has shut down a bar or casino for one reason or another.  Therefore, even if you double-check to make sure an establishment is open before you come to visit, it could be closed by the time your party gets there.  As a result, you want to have a backup plan in mind. 
Daytime Activity Ideas
San Jose is next to one of the most gorgeous tropical rainforests in the entire world.  Pull yourself away from the ladies for at least a day and get out there and see it.  San Jose Urban Adventures offers a guided tour of the rainforest that includes lunch at a restaurant and a chocolate tasting.  A chocolate tasting may seem silly, but chocolate is a critical part of Costa Rica's culture and economy, making it a great activity that you can tell your fiancé about or for a San Jose bachelorette party.
If you have never been whitewater river rafting, we can't think of a better way to get you addicted to this high-adrenaline sport than rafting down the Pacuare River, guided by experts.  The downside to this excursion is that the transportation time to and from the river is long and your guide will pick you up insanely early. That isn't different from some river rafting tours you'll find in the states.  What is different is the sights you'll see.  In addition to Class III and Class IV rapids, you'll see amazing wildlife.
We just about never recommend museums for our bachelor party daytime activities; museums generally dampen that wild and crazy bachelor party vibe.  However, we have to admit that if you're first-time visitors to San Jose, you need to devote and hour or two to touring the Museo del Oro Precolombino.  It has an amazing collection of, you guessed it, pre-Columbian gold. Sound boring?  Let us just say that they have erotic statuettes composed entirely of gold.  Where else are you going to see that quality of porn?
San Jose isn't actually on the beach, but you can easily book a daytrip to the beach.  Great scuba diving, snorkeling, and surfing can all be found off the coast of Costa Rica.  Check out Punta Leona and make a daytrip to Jaco. 
Nightlife Activity Ideas
San Jose nightlife is more low-key than in many bachelor party destinations.   Mosalkos, Vertigo, and Castros Bar all offer dance club experiences.  Salsa 54 might be the best nightclub in town, but it is very focused on Salsa dancers, so either be prepared to dance, prepared to learn to dance, or content to watch the beautiful people there dance.  Though not a big casino town, San Jose has become well known for its Texas Hold 'em tournaments, and both the  Casino Palma Real and the Horseshoe Casino offer regular play. Gentleman's clubs include The Pirate Club in San Jose, where beautiful women, affordable pricing, and a strict no-hustling policy help create an enjoyable experience for those who might be a little intimidated by the more aggressive style found in Jaco.  Tango India is more like an American club and less like a massage-parlor. The Zona Roja contains the highly-rated Elite Night Club, Hollywood Gold Club, La Grillon Night Club, and the Pantera Rose.
The Hotel Del Ray is a hotel and casino in the middle of San Jose.  Some consider it the number one on any list of San Jose bachelor party ideas.  With 10 bars and a casino offering slots, table games, and sports book betting, the Hotel Del Ray is the city's first place for vice. We say it's the first place, because the Hotel Del Ray is likely the first place a tourist will run into one of the city's hundreds of working girls and realize that, yes, in San Jose, it's just part of the nighttime scene.   If you have heard other guys talking about "the" San Jose bachelor party hotel, they were probably talking about Hotel Del Ray.  If you aren't into a private party, then you can always head over to Key Largo, which is like a mix between a bar and nightclub. 
The Living Room Nightclub just might be the most awesome nightclub experience in San Jose.  Feature DJs, live performances, and theme nights are just three of the reasons that we consider this club a must-visit for any bachelor party group looking to party in San Jose.  The crowd is an interesting mix of locals and tourists, offering the ultimate party opportunity for you and your friends.  Visiting in November?  Make sure and hit their pasarela (runway) experience and check out the kind of local beauty you won't find in most tour guides!
Club Vertigo is one of the city's hottest nightclubs, with its own pair of power producers known as Mobius Strum, who work to bring the world's hottest DJs to the nightclub.  You will encounter crowds here, so do yourself a favor and pre-book either a private table or VIP section, depending on the size of your group and your needs.
Want to party where the locals party?  Then you'll have to take a ride out to Heredia, a suburb of San Jose, where you'll find a club called the Miraflores Disco Club.  DJs spin electronic and Latin music, the party goes on all night, and a kitchen makes pretty decent bar food types snacks. 
El Cuartel is one of the city's nicer bars.  It has a lounge feel during the early evening hours, but picks up when the live music starts, usually around 11pm.
Massage Parlors / Strip Clubs
With prostitution being tolerated, you may or may not want to find a strip club.  Odds are you can find some women willing to put on a better show than any you'll find at a club, even the best ones out there.  On the other hand, if you aren't quite ready to dive in with both feet, there are some establishments that showcase some gorgeous dancers and are happy to cater to bachelor parties.
The Pirate Club is not exactly a strip club and not exactly a massage parlor.  They bill themselves as adult entertainment.  How much entertainment?  They have rooms with private beds and showers, as well as a more adventurous VIP suite. 
The Tango India VIP is more like a traditional strip club.  If you're looking for pole dancers, you'll find them at Tango India VIP.  However, they go above and beyond your expectations, with themed rooms and themed nights that can best be described as global traveler.  If your group has a mix of people who want to taste the local fruit and people who don't, this is a great place for your big party night because the dancing and shows are superb and there are private rooms for people who want one-on-one entertainment.  
You may have heard of the Zona Roja.  It isn't a club, but a geographical area that some people believe is a red light district.  Sure, there are tons of sex workers in the Zona Roja and you can find all sorts of drugs there as well, but it's also a high-crime area.  Given the abundance of mischief opportunities outside of the Zona Roja, we suggest you only travel there with a purpose and not alone.
Where to Eat
The best fine dining in Costa Rica is in San Jose at the Restaurante Grano de Oro in the Hotel Grano de Oro, which uses French techniques to prepare local ingredients.  San Jose's Mercado Central and Mercado Borbon are teeming farmer's markets that offer tons of food selections at food counters like Soda Tapia.  In nearby, Manuel Antonio, El Mirador Bar & Restaurant has a visiting chef program that offers five course tasting menus using local ingredients and celebrity chefs.
Restaurants
There's nothing more iconically bachelor party dinner than a great steak restaurant and La Esquina de Buenos Aires is our favorite in the whole city.  It's where you go for that great night out, with white linen service, a full bar, one of the city's best wine menus, and steaks that are perfect.  Food you must eat here: order your favorite cut of beef however they recommend you have it prepared; the sweet corn empanadas. 
We also love the Tenedor Argentino, a full service restaurant with great entrées, but sublime sandwiches.  Food you must try here: the choripan sandwich.
La Davina Comida reminds us of having dinner at a friend's house, provided that friend is an amazing chef.  It might be San Jose's best place for seafood.  Food you must try here: risotto.
Chelles just might be the city's best breakfast place.  Just keep in mind that breakfast is a little different in Costa Rica and follow the local tradition of ordering rice and beans for breakfast.  It will do wonders for your hangover headache and bellyache!
Where to Stay
Lodging is cheap and abundant in Costa Rica.  Real bargains can be found at hostels, which start about about $25 a night for the surprisingly swanky Casa Colon in San Jose.  Hotels start well under $100 a night at places like  Hotel Presidente in San Jose, and just slightly more for mid-range hotels like Hotel Grano de Oro.  Even luxury is affordable here.  The Marriot San Jose starts at just over $150 a night and was voted as one of the best hotels in South America and Mexico by Conde Nast. You can also find some real deals on rental homes and villas.
Hotels / Resorts
Obviously, the Hotel Del Ray is bachelor party friendly.  You can stay there and be in the middle of the action.  However, there are a bunch of other great hotels that are happy to help you create the perfect bachelor party experience.  Whichever one you choose, contact them to find out if they are offering any bachelor party hotel packages. 
One of the best things about Costa Rica is that it is inexpensive for travelers.  It offers one of the most upscale hostels that travelers are likely to find, the Casa Colon and room rates start around $25 per night. 
The Hotel Presidente in San Jose, with its unique mix of modern and historical touches, is an affordable hotel for bachelors on a budget.  One of the perks is the included hot breakfast buffet, which is not only convenient, but also helps you pinch pennies.  
The Costa Rica Marriot Hotel San Jose is probably the best San Jose resort for a bachelor party.  This luxury resort located on a coffee plantation on the outskirts of the city is perfect if you want to travel in style.  However, at around $300 a night per room, even the luxury is affordable. Even if you splurge on a set of suites, you will still find it more affordable than most high-quality hotels stateside.
Villas / Rental Houses
Of course, private home rentals are a great bachelor party option, because they keep the party together, tend to cost less per-person, and offer greater privacy than hotels.  Luxury vacation homes are available in all locations; homes sleeping 7 or more people near the famous Manuel Antonio park start about about $2000 per week.  AirBnB and HomeAway are both reliable vacation-home rental services that serve the San Jose area.  However, housing in San Jose is different than housing in the United States.  Make sure you know what amenities the homes have before entering into a rental agreement.  We think this luxury mansion is a great choice for a high-end bachelor party.  Talk to the host about arranging any private staff for your stay.  
When to Go
Best Time
High season coincides with the dry season and runs from about Thanksgiving to April. 
On a Budget
June and July offer the best travel for those who want to experience the beach.
What to Bring
Things to Pack
We're all grown-ups here.  If you are traveling in Costa Rica for your bachelor party, someone in your bachelor party is planning on getting laid, even if it isn't you.  Don't be stupid and come down without protection.  Sure, you can find condoms in San Jose, but why wouldn't you come prepared?   Pack a box of your favorites and pack an extra box in case one of your buddies was an idiot and didn't come prepared.  Resist the urge to even consider asking to go bareback; if a working girl does that with you, it's something she's comfortable doing, and who knows what "souvenirs" you could bring home as a result.
What Else
Prices
One of the best parts about a vacation in San Jose, Costa Rica is that it is incredibly affordable.  You can expect to have a luxurious weekend, including airfare, for about a grand a person, and that's including the cost of entertainment (but not any gambling losses). 
Extracurricular Activities
Prostitution is legal in San Jose; pimping is not, so you won't find brothels like you will in some areas where prostitution is legal.  Because working girls are negotiating on their own, you will find a tremendous range of prices.  As in most things, you tend to get what you pay for, so this probably isn't where we'd suggest cutting corners. 
Big Events
What many people do not realize is that Costa Rica is very big into cowboy cultures.  Two of their biggest events are cowboy themed.  In January the Fiestas Zapote is a huge rodeo in San Juan.  Also in January, Fiestas Palmares, a huge cowboy party with a carnival, music, rodeos, and almost a million people is the country's biggest cowboy party. 
Like many Caribbean countries, Costa Rica celebrates carnival.  The celebration is not in San Jose, but in the port city of Limon, but the celebration ranks up close to New Orleans's Mardi Gras or Brazil's Carnival. 
Are you a crunchy granola type?  Then the Envision Festival, with its hippie vibe, might be the place for you. 
Sample Itinerary
Because you're traveling internationally and most flights are going to leave from either Dallas or Miami, we suggest your party try to book the same flight, just to simplify your transportation options.  Usually, we highlight a luxe itinerary, but because you can do San Jose on a budget, we're going to highlight an affordable bachelor party itinerary instead.
After you get in from the airport, go to your hotel, the Casa Colon hostel, so you can drop off your things, then head out to walk around the city before heading out for your first night of debauchery.  You're going to keep that night's meal simple, because all of you are eager to get out and experience the city, so you head over to the Tenedor Argentino.  From there, you head straight to Tango India VIP, where you all take in the show.  Then, if you're feeling really adventurous, you head on over to the The Pirate Club.
The next morning, you pound some recovery formula and wake up insanely early to catch your bus for river rafting on the Pacuare River.  Don't worry; you can nap in the van and your guides will feed you lunch and breakfast.  After having a great day on the river, you get back to town in the early evening, and you all get cleaned up for your big bachelor party dinner out.  You go for steaks at La Esquina de Buenos Aires.  Dinner is over late, but you're recharged from the day, so you decide to head over and check out the Hotel del Ray. It is every bit as sketchy and wonderful as you've been led to believe, but you spend the evening pursuing whatever vices you want to pursue.  Very early Sunday morning, before you've gone to bed, you stumble into Chelles for a local breakfast of beans and rice, which the locals swear will help prevent a hangover, then head back to your hostel as the sun is rising.
You sleep in Sunday, which is okay, because you have planned a lazy day, anyway.  You've arranged transportation to Punta Leona, where you will do some snorkeling or diving, before heading back for a dinner with the boys at La Davina Comida.  If you're ready for a change of pace, you'll head to Club Vertigo for a night of dancing, but if we know bachelor parties, we know this is the night that some of you may split off from the rest and head back to The Pirate Club or the Hotel del Ray.  In the morning, you do a head count to make sure everyone is present and accounted for, then head back to the airport for your flight back to the states.
San Jose Bachelor Party Forum
While we've tried our best to give you an idea of what a bachelor party in San Jose would entail, we know you might have questions we didn't answer.  So, post any questions you have to our forum (anything goes).  If we don't have the answer, someone in our community should.  If you have attended a bachelor party in San Jose, give some suggestions, reviews, and tips for other groups in our forum to help our community grow.
Why Go
Rating
Conclusion
In conclusion, whether or not to choose San Jose for your bachelor party destination is, to some people, simply a question of whether or not your party goers are going to want to take advantage of all of the legal opportunities for vice that are illegal in the United States.  However, the reality is that you can have a totally awesome bachelor party in San Jose for a fraction of the cost of a party in a city like South Beach or Las Vegas.  What is really important is to understand the expectations of all of the partygoers, so you can tailor your party accordingly.
#SanJoseBachelorParty #PirateClub #HoteldelRay #TangoIndia #RiverRafting #SurvivetheZonaRoja