Best Bachelor Party Ideas of 2023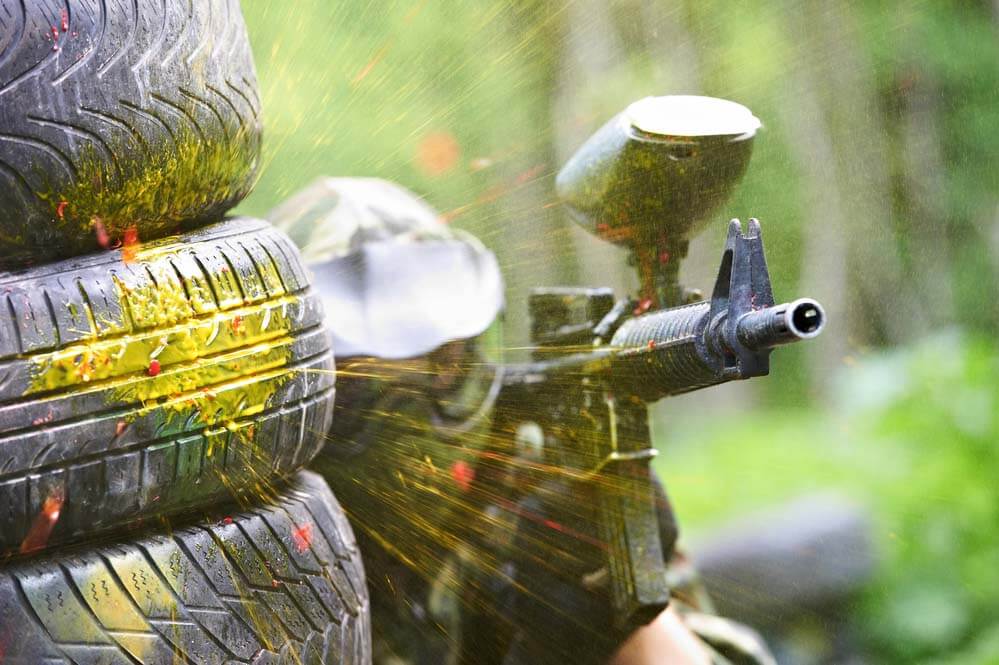 This post may contains references to products from one or more of our advertisers. We may receive compensation when you click on links to those products or services. Please also consider
donating to our website.
So you have been selected as best man. Congratulations! This is an important role in a significant rite of passage, but you may be stuck for great bachelor party ideas. First, some background about the traditional role you play in a wedding. Some researchers believe that the "best man" tradition that is used in modern marriages began in the 16th century with the Germanic Goths because this individual was deemed to be the best suited for helping the groom spirit the bride-to-be away from her hostile family or village. Other researchers believe the tradition of having a best man at a wedding today is even older, dating to the ancient Romans and intended to protect the groom and bride from supernatural forces. For instance, Lemmon (2009) reports that, "The idea of having a best man, bridesmaids and attendants originated with the belief that evil spirits, envious of the couple's happiness, would be out to harm them, but would be confused by so many similarly dressed people" (p. 21). Likewise, the custom of having a noisy celebration such as a bachelor party before the wedding was also intended to drive away evil spirits (Lemmon, 2009).
Today, most best men don't usually have to steal the bride or drive away evil spirits (new mothers-in-law notwithstanding), but these ancient customs still require them to throw a memorable bachelor party for the lucky groom. If you've been honored with this role by a close friend and are struggling to come up with some great bachelor party ideas, this guide can help you understand what is involved, how to approach the process and what types of activities are available in different prices ranges today so you can develop some bachelor party ideas of your own that will provide the groom with this once-in-a-lifetime (we hope!) celebration. Because the types of activities that will be included in the bachelor party will affect its timing and location, it is important to develop your ideas for activities first as described below.
Best Bachelor Party Ideas
Based on longstanding stereotypes, most men have a general idea about what activities should be included in a bachelor party. The archetypical modern bachelor party involves staging some type of party before the wedding that features male bonding, some type of sexual content such as hiring a stripper or watching pornographic movies and plenty of alcohol. While this type of archetypical bachelor party is still commonplace, times are changing and growing numbers of best men are opting for alternatives to this "Hangover-esque" bachelor party scenario, including both soft and hard adventures and even (gasp!) educational activities such as exploring ancient ruins and pyramids in Mexico and Central America. Nevertheless, whatever activities you decide on, many men will not regard a celebration as a true bachelor party and rite of passage unless there is some sexual content such as drinking, pole dancing and an opportunity to have some fun at the groom's expense involved.
Therefore, as an important rite of passage, bachelor parties represent a significant milestone in men's lives and best men should make every effort to ensure the event is memorable and well organized. Perhaps the best way to determine what bachelor party ideas the attendees would prefer would be to ask them. This can be done informally face-to-face or through emails and telephone calls, but best men should provide attendees with a solid list of viable choices rather than simply soliciting their feedback about what they enjoy. For this purpose, a potential list of bachelor party alternatives ranging from least to most expensive is provided below.
Least Expensive Ideas
Unfortunately, there has been a trend towards increasingly expensive bachelor parties that reflects the same trend in weddings, but a great bachelor party need not break the bank. By giving the issue some though, even budget-conscious best men can throw a great bachelor party. If a venue is a problem, the best man's basement or a local hotel suite can make a great place for a bachelor party. Similarly, bachelor party activities don't have to be expensive to be fun and exciting, and some potential choices include the following:
Have a Baseball Game
If you have enough groomsmen (or even if you don't), buy a keg of beer, some picnic-style grub and find a local park with a baseball diamond where you and your buddies can relive your little league days and have some fun in the sun. Buy everyone a custom ball cap. Make up your own rules if you want to keep these interesting (e.g., if a player drops the ball, he has to chug a beer or the first player to hit a homerun has to pay for the keg of beer but he gets to be first to kiss the bride). This activity has the added benefit of everyone already knowing all the rules and the overwhelming urge to show off will inevitably result in some comic mishaps that will liven up your photos.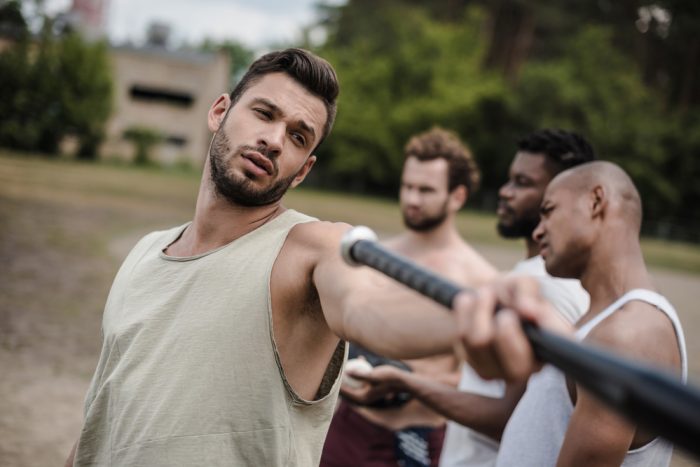 Go Bowling
Bowling with your friends can be one of the most entertaining activities around but many people have forgotten just how much fun this can be, and it doesn't cost a lot. Reserve two or three lanes, depending on how many people will attend, a few days in advance at a local bowling alley during a time when there are no leagues bowling. Award prizes for the highest and lowest scores and try to psyche the groom out whenever he bowls. Keep score but allow the groom to cheat. Buy several rounds of beer and nachos, but leave room for an after-game taco fiesta. If he's already a bowler, give the groom a personalized bowling ball and bag as a memento and mark of your esteem. If he's not, give him a bowling trophy inscribed, "Winner of the First Annual International Bachelor Party Bowling Tournament [date]."
Go Camping
It may have been a long time since you and your buddies have been camping, and some of you may never have experienced the great outdoors in this fashion at all. Camping trips can be truly exciting and fun events, especially when the settings provide jaw-dropping scenery and ready access to water. Virtually every state in America has an abundance of public and private camping grounds ranging from the completely rustic to RV parks that have all of the amenities. Camping gear for all purposes is also readily available for rent across the country. Take some good steaks, potatoes, coleslaw, plenty of ice, beer, soft drinks, coffee and beans. Wear cowboy hats. Leave your cell phones in the car – this is more important. If there are trails available, go hiking; if not, play extreme Frisbee (e.g., if a player fails to catch a well-thrown disc, he must [you got it] chug a beer) or play baseball in a nearby field (see above). When night falls and if conditions permit, assign a "designated drummer," build a bonfire and dance around it like savages. Besides being a solid bonding experience, camping also makes getting home to hot water and a soft bed a real treat.
Go Fishing
If you or one of the groomsmen already has a fishing boat, you're all set to go fishing (be sure to ask his permission!). If not, fishing boats, double-decker party barges and fishing tackle are readily available for rent at marinas across the country. Besides being a lot of fun, fishing is a proven male bonding experience that you and your friends will enjoy and remember for the rest of your lives, even if you don't catch anything. If you do catch your limit, have a cookout and make whoever didn't catch a fish (or caught the least) clean them. Award a trophy to whoever catches the biggest fish and make sure the groom gets wet but give him a new fishing rod and reel if he's an angler or a fishing lure mounted in a frame as a remembrance of the event. In addition, this low-cost activity can also be combined with the next idea which is:
Tubing / Kayaking
Nothing beats floating down a lazy river and drinking beer with your buddies. Inner tube and canoe rental services are available wherever there is a floatable river, and these services will take you and your friends upriver, let you float down on a one-, two-day or even longer trip and then pick you and your friends back up and deliver you safety to your vehicles. This activity has the added benefit of getting you and your friends out from behind those desks and into the sunshine. If you opt for the two-day or longer trip, see the "go camping" and "go fishing" ideas above. Best of all, no one knows (or cares) if you pee in the river, thereby saving valuable beer-drinking time.
"Las Vegas" Night
Most guys enjoy playing poker, but getting enough players together to have a decent game can be tough. Therefore, a bachelor party is the perfect opportunity to play poker with your friends and it doesn't have to cost a lot. If you play for real money, be sure to set a limit such as $100 per player so no one gets hurt too bad. Better yet, give all of the players $1,000 worth of poker chips, assign them values, and play until someone has all of the chips. The winner receives bragging rights in perpetuity and a framed photograph of him holding up his winning hand. If poker isn't your cup of tea, consider other gaming options such as blackjack or Texas hold 'em, or rent some slot machines if they are available in your area and let everyone play a set amount of quarters or dollars to see who wins the most.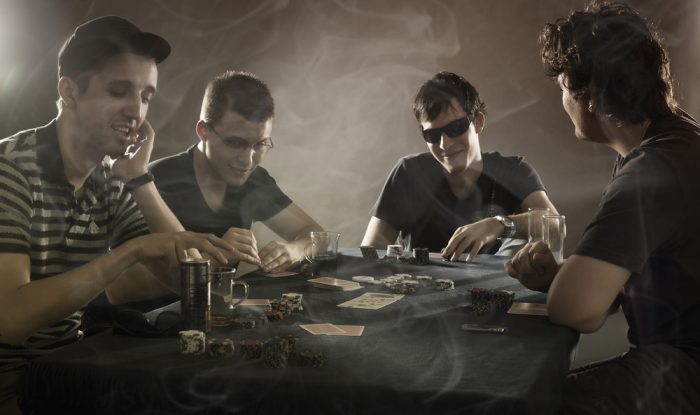 Paintball
Combining the tactile gratification of firing a real weapon with the evil joy that comes from repeatedly shooting a good friend with a harmless but painful ball of paint, this activity will likely appeal to everyone.  Moreover, many paintball parks offer groups discount and even specialize in bachelor parties. If your friends doubt the sheer manliness of this activity, inform them that law enforcement authorities, the military and security organizations all use paintball as a training supplement. The last man standing wins a prize and the groom receives a paintball barrage from the best man and groomsmen which is captured faithfully on video or pictures for future reference if he gets uppity just because he got married.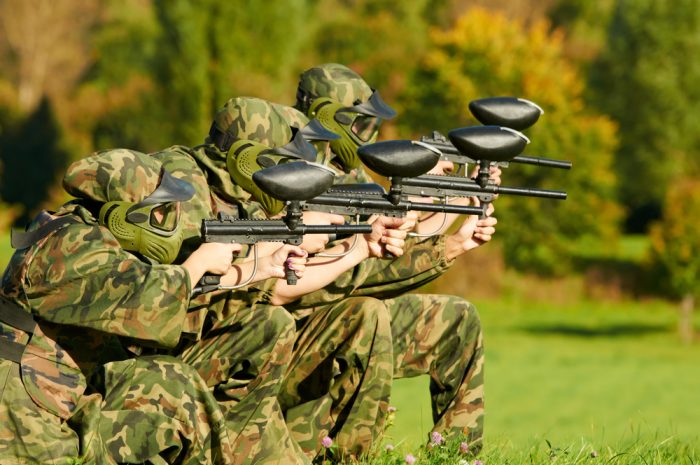 Moderately Expensive  Ideas
Dinner, Whiskey, and a Cigar
Enjoy a steak and lobster dinner at an expensive restaurant followed by a visit to an upscale cigar bar. For bachelor party attendees who may be non-smokers and unfamiliar with the nuances of enjoying a fine cigar, they will quickly learn that they taste best after a good meal and a couple of glasses of wine. Most cigar bars stock a wide range of flavors and sizes from all over the world with walk-in humidors that smell just great and allow patrons to peruse the offerings at their leisure. Indeed, the best cigars are some the few things in life that even men of modest means can enjoy alongside their more affluent counterparts, and this activity just oozes "guy-ness."
There are some high-class cigar bars in the New York City area that are bachelor-party friendly, including Club Macanudo New York's Upper East Side which has been featured in USA Today, Time Out New York and the Food Network. Open from noon to 1 a.m. Mondays and Tuesdays, noon to 2 a.m. Wednesdays through Saturday and from noon to 10 p.m. on Sundays, Club Macanuda can accommodate a bachelor party on any day of the week.
A truly swank cigar bar in the heart of midtown Manhattan is the 85-year-old Nat Sherman Townhouse (Web site currently under construction), patronized by celebrities such as the late but legendary Frank Sinatra and politicians including former New York City mayor Rudy Giuliani. Despite the bewildering array of cigars available from "The Tobacconist to the World," the highly trained and knowledgeable staff at Nat Sherman's will help novices learn about the history of cigars, how they are made and which brands they might prefer.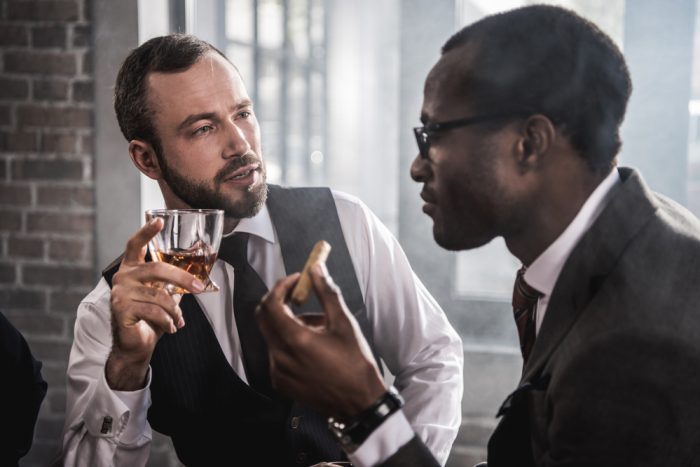 Skydiving
This activity may not be for everyone, but skydiving can be performed by anyone, including those with absolutely no experience using tandem jumps where an experience instructor is strapped to the back of the novice skydiver. The experienced instructor deploys the parachute and helps the duo land safely, allowing the novice jumper to enjoy the experience to its fullest. Firms such as Chicagoland Skydiving Center offer group discounts, making this a highly affordable activity for bachelor parties. Take a change of underwear just in case.
Drive a Tank and Blow Stuff Up
It is reasonable to suggest that driving a tank and blowing stuff up appeals to virtually every American male who always wanted to do this, especially when stuck in heavy traffic, but lacked a handy tank. Fortunately, companies such as Drive A Tank have recognized this powerful American male desire and offer several types of group packages that include driving a real Russian T-55 MBT tank as well as several other combat vehicles with the higher-end packages allowing you and your friends to crush one (or two) cars, fire the tank's weapons, such as a belt-fed machine guns and cannon. Interestingly, the owner of Drive a Tank recently offered a special deal during the last presidential election in which he would provide a dummy of Hillary Clinton or Donald Trump in the car for an additional $249, or $399 for both. The results of this offer were eerily accurate, with far more people electing to crush Hillary than Trump. Whichever package you select, everyone will be sure to remember this activity and you and your friends will be able to tell your grandkids how you crushed a car with a Russian tank and then blew stuff up when you were younger. Although moderately expensive, this is truly priceless.   
Very Expensive Ideas
If money is no object (lucky you!), the world is your oyster when it comes to bachelor party ideas and the only real limit is your imagination. To help inspire you, the following activities are Very Expensive but check out what you get for your money.
Rent Villas in Cabo
Although there are a few family-oriented activities available, Cabo San Lucas is overwhelmingly an adult party town that caters to bachelor parties in a big way. Besides the world-famous nightlife and action-packed "adult" entertainment offerings, "Cabo" as it is popularly known has it all. Zip lines, horse rides, charter pole dancing boats, parasailing, rock climbing, "human bubble" fights, and scuba diving (in certain spots only), among many others. Rent several villas with private swimming pools from mega-resorts such as Pueblo Bonito Sunset Beach or the plush but all-inclusive Marina Fiesta Resort & Spa, both of which specialize in bachelor parties and offer all of the amenities you and your friends want and expect from a world-class resort.
Gambling in Las Vegas
Sure, there's plenty to see and do in "Sin City," but gambling is what draws most of the tourists and for good reason:  when it comes to sheer entertainment value, gambling is a helluva lot of fun. Further, Las Vegas never closes and you and your friends don't have to worry about a 2 a.m. last call or trying to find something fun to do at 4 a.m. It should also be pointed out that although the chances are (very) slight, it is possible that you and your buddies could win enough to pay for the entire bachelor party. While slot machines remain the most popular gaming option in American casinos by far, take the opportunity to check out some of the other, more exotic table games such as baccarat, mini-baccarat, Let It Ride, pai gow poker and Texas hold 'em that are available since you're there to have fun and try new things. Likewise, try your luck at the roulette wheel and shoot some craps. Everyone has their own gambling style, but just remember it's all blind luck (except for black jack where highly experienced players may gain an edge by surreptitiously counting cards). The dealers at Las Vegas table games are friendly and will help you learn the ropes.
Gambling, though, is only part of the fun and excitement when Las Vegas is your bachelor party destination. Besides the fabulous hotel-casinos along The Strip that feature bachelor party packages, several firms such as Sin City Parties are available that provide everything else that you and your friends need for a great bachelor party, including party bus pickup and return at your hotel and free drinks at strip clubs. Higher-end packages include an open bar for several hours as well as an hour in the party bus cruising The Strip.
Trip to Cartagena
The bachelor party packages offered by Cartagena Bachelor Party are not cheap, but the basic all-inclusive package ($1,825 per person) includes several features that you won't find elsewhere such as lavish accommodations in a luxury mansion, complimentary breakfasts, a large private yacht that will take you and your friends island-hopping, free food and alcoholic beverages throughout the rest of the day, and even a Cartagena Drinking Tour that includes all of the city's best night clubs and free booze. In addition, this package also includes a dinner at a top Cartagena restaurant or a bachelor party banquet in your suite, as well as VIP bottle service and entry into two of Cartagena's hottest nightclubs. This package also includes free transportation to and from the airport, ATVs, jet skis, and golf. Other exciting activities are available at an extra charge including flyboarding, paintball competitions, paragliding and more.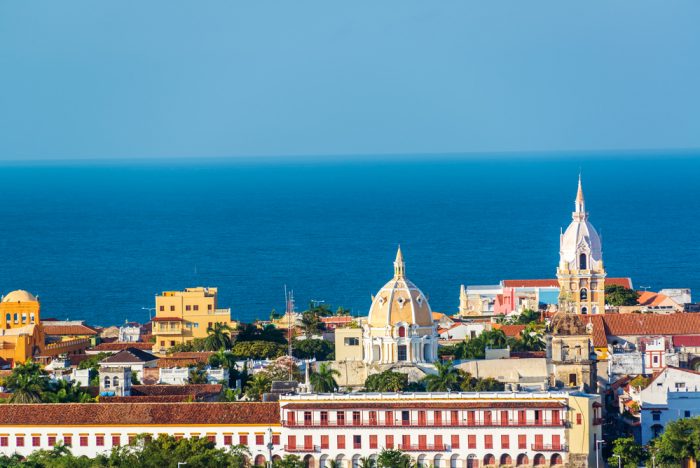 Conclusion
If you've read this far, you're probably a best man who was lost for ideas about what type of bachelor party you could throw for the groom, but the activities described above provide some useful bachelor party ideas to get you started. These activities, however, are only a representative sampling, and you and your friends may prefer an entirely different and completely unique bachelor party activity. Whatever bachelor party activity you decide on, be sure that everyone – especially the groom – has a good time and gets home safety. Take lots of pictures and create a digital scrapbook that can be shared with everyone. Finally, and most importantly, get someone to volunteer to be the designated driver when venturing out, rent a limousine or hire taxis if a lot of alcohol or drugs have been recently consumed.