Plan an Epic Bachelor Party in New Orleans (2023 Guide)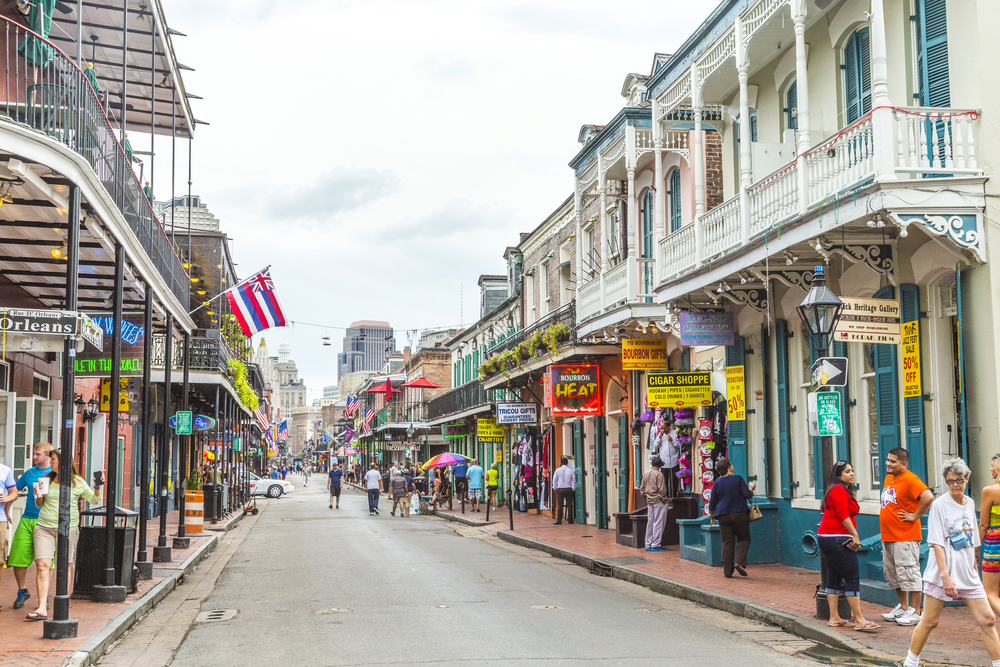 This post may contains references to products from one or more of our advertisers. We may receive compensation when you click on links to those products or services. Please also consider
donating to our website.
If you are a foodie, an alcoholic, and a party animal, then a New Orleans bachelor party is perfect for you.  All the action in New Orleans occurs around the French Quarters or specifically Bourbon Street, so you want to make sure you choose accommodations in that area.  Use this handy guide full of New Orleans bachelor party tips to inspire some New Orleans bachelor party ideas that make the most of this unique Southern city.  Bachelor party New Orleans things to do: drink, eat, repeat.
How To Get There
Airport
When booking flights for your New Orleans bash, make sure you fly into Louis Armstrong New Orleans International Airport (airport code: MSY).  You are looking at about a 30 minute ride from the airport to the French Quarter, which will cost you about $25-30 for an UberSUV .  
Getting Around
Once situation in your hotel or rental house, the next step is to start the party.  If you are currently staying in the French Quarters, the easiest way to get around would be to walk.  If you are staying miles away from Bourbon Street, you have several options to get there and hop around.
Things to Do
Daytime Activity Ideas
While New Orleans is considered a nighttime party spot, the amazing cultural history of the place means that there are plenty of bachelor party New Orleans activities for daytime hours as well, depending on what you like.  These New Orleans bachelor party day activities range from the high-brow to the raunchy, and everywhere in between.  Some of our favorites include:
If you like history, you want to head over to the National World War II museum.  Here you can view videos and artifacts which provide an in-depth timeline from the start of World War II from D-Day to the war of the Pacific to the Holocaust.  This tour will take about 3-hours to complete and will cost $23 per person.
Another good option for daytime would be the cemetery and voodoo walking tour which takes you through some of the oldest cemeteries in the French Town.  It is interesting to see that all plots are above ground due to issues with rising water and sea levels.  This 2-hour tour will set you back $27.00
If you would rather get away from the history side of things, you can go for a swamp tour as well, which will take you on an airboat through the swamps of Louisiana and teach you about the people and ecological aspects of this area.  The cost will be $51.00 per person and the tour runs about 2-hours.
Gambling- Spending the day in one of New Orleans' casinos is a great way to while away some of the hot daytime hours.  Our recommendation?  Harrah's.
New Orleans is also a river city.  You can spend the day on a New Orleans Bachelor Party Boat or a New Orleans Steamboat Jazz Dinner Cruise.
View all Activities in New Orleans
Nightlife Activity Ideas
Even if you have never been to New Orleans, you must have seen pictures of Bourbon Street.  It is the ultimate street party.  You could literally walk down Bourbon Street, head into any bar that catches your fancy, and then head back out to the street and still get some of the best bachelor party entertainment in New Orleans.  There really isn't any other place in the world like it.  So, don't worry too much about your bachelor party New Orleans itinerary; your approach to partying can be a little more casual.  You don't have to get into the best clubs or the hottest bars to have a great time or hit the top bachelor party activities in New Orleans; you just have to show up there.
Metropolitan Nightclub – If you are looking to party at a mega club, this is where you want to be.  This club features two floors, a spinning dance floor, laser lights, VIP service, and most importantly beautiful women.  Some of the most popular Disc Jockeys in the business, like Steve Aoki play at Metropolitan.  You can even select and reserve your VIP table via their website. (this club is in the downtown area which is about 15 minutes from the French Quarter).  Metropolitan is the perfect location for your bachelor party to let loose.
Bourbon Heat – If you want to hang around Bourbon Street but still get your nightclub fix, you should check out this venue.  This is where the locals tend to come out and play.  This venue plays a variety of house, hip hop, and R & B.  If the dance floor is too much to handle you can head to the balcony and look over the craziness occurring on Bourbon Street.
Republic New Orleans –  This club / lounge located on South Peters Street is roughly 7,000 square feet divided into three sections, Main Room, Mezzanine, and Green Room.  Republic plays a variety of music ranging from electronic dance to dubstep.
Pat O Briens– The home of the famous Hurricane drink.  This drink is very sugary but packs a punch.  After a few of these drinks you may not be able to walk straight when leaving this place.  They also have dueling pianos and a great drunk crowd, which can make for a fun evening.
Lafitte's Blacksmith Shop- Reportedly once the base of operations for the pirates Jean and Pierre Lafitte, this dive bar has remained a staple for shady operation and good drinks for centuries.  No, you aren't going to party like wild men at this bar; it's not that kind of place.  You're going to stop in, have a drink or two, soak up some atmosphere and maybe see a ghost or two (it is supposed to be one of the most haunted places in a very haunted city).  It may not seem like a typical bachelor party stop, but it is a must-visit for your bachelor party in New Orleans.
We get questions about whether a bachelor party bus in New Orleans, LA is a good idea.  Usually, we say 'no.'  Most of the partying in New Orleans is in a heavily concentrated tourist walking area.  However, if you plan one night to hit Metropolitan and some of the city's strip clubs that aren't in the Quarter, then a party bus is the way to go.  You don't have to worry about parking, designating a driver, or finding a ride.
Strip Clubs / Massage Parlors
Penthouse Club – winner of ED's 2016 Best Club in the World, located on Iberville Street, in the heart of all the craziness the French Quarter has to offer.  The ladies that work at this establishment are top notch.  Expect to pay $8 – $12 per drink and $400+ for a VIP table and bottle.  If you join the mailing list on their website, you can get free admission (there is a cover charge at night).  You can also ask about their New Orleans bachelor party packages; one thing Penthouse Club does very well is cater to groups.
Rick's Cabaret – located directly on Bourbon Street, and is two floors.  The women are beautiful here as well.  The club also has a frozen bar top which is great for taking shots.  The drink prices are high but normal for a strip club, but the lap dance prices are extremely high @ $60.00 per dance.
Hollywood Spa – located at University Place.  Good looking masseuses and decent pricing.
VIP Health Spa – located on Canal Street.  The reviews on this establishment are good.
View all Massage Parlors in New Orleans
Where To Eat
Restaurants
Trying to name the best restaurants in New Orleans is an impossible task.  There are literally thousands of bachelor party dinner ideas in New Orleans.  The city once known for its amazing Creole and Cajun cuisine has become an international foodie destination and offers some of the most delicious food in the world.  Depending on what you have in store for the night, any restaurant could be perfect for a bachelor party New Orleans dinner.
Breakfast / Lunch / Brunch
If you're only going to New Orleans to eat, drink, and forget about life for a bit, stick with their amazing brunches as a daytime activity instead.  Our favorite spots for daytime eating and drinking would be the Jazz Brunch at The Court of Two Sisters (reservations required).  The food and atmosphere is amazing and so is the live Jazz music.  Our second choice would be Palace Cafe, which offers amazing food and bloody marys.  You will need to get a little more dressed up for this one.
Turkey and the Wolf at 739 Jackson Avenue is one place you have to drop by for lunch.  Many people consider it the best sandwich shop in the city, which is no minor accomplishment given that New Orleans is known round the world for two different types of sandwiches, the Po'boy and the muffaletta, neither of which is served at Turkey and the Wolf.  Their cocktails are amazing, even if the names are goofy. Food you must try here: meatloaf sandwich, fried pot pie, deviled eggs with fried chicken skins.
Dinner
Deanie's Seafood Restaurant at 841 Iberville is considered by many locals to be the city's best seafood.   It offers boiled, broiled, and fried seafood prepared in the Creole tradition.  Food you must try here: if crawfish are in season, order some boiled mudbugs; some think they're the best in the city.
Where To Stay
Hotels
When looking at hotels in New Orleans we recommend booking with either travelocity.com or  priceline.com.
A tourist town, you are spoiled for choice in your where to stay decision.  Lodging runs the gamut from bargain-basement to five-star luxury, and many hotels will offer bachelor party New Orleans packages.  Our picks for best hotels for your bachelor party in New Orleans include:
W Hotel New Orleans –  This is a great modern hotel, on the 4 star level that is close to all the action.  The rooms run around $230 (off peak) to $400 (peak) per night.  This is also extremely close to the action.
Holiday Inn New Orleans –  If you are looking more for a 3 star borderline budget hotel that is close to the action (.3 miles from Bourbon), this maybe the best option for you.  Rooms run from $110 – $200 per night depending on the time of year.

Hotels Available in New Orleans
Rental Houses

If you decide to go with a rental house for your trip, make sure you use homeaway.com, vrbo.com. and Flipkey.com.
If you are trying to go baller status then you need to rent this 6-bedroom plantation estate that sleeps up to 30 people.  It is going to cost you about $2000 a night and for a bachelor party your going to need to put up a large security deposit.
If you are looking for a location in the heart of the French Quarter, this 6 bedroom and 4 bathroom cottage (sleeps 10), is the perfect size and location for small / medium sized parties.
If you want a private chef to cook your meals at a private residence, the cost is roughly $100- $125 per meal (up t0 10 people) not including groceries.
Rental Homes Available in New Orleans
When To Go
Regardless of when you head to the "Big Easy" make sure you protect your investment and purchase travel insurance.
Best Time
February through April is the best time to plan your bachelor party in New Orleans.  Although airfare and accommodations will be more expensive (given it is peak season), the amount of activities available are worth the extra money.  There will also be a ton of other tourists in the city during that time. (more people = more fun)
On a Budget
May through August –  The prices for hotel and air will definitely be cheaper during this time.  The weather will be a bit warmer (peak hot months) , and you are entering Hurricane season (so get travel insurance).  The drinks will still be flowing and the streets will still be crowded.
Worst Time
August as it's considered the rainiest month of the year.  Rain = no fun
Current Weather
What Else
Items to Pack
New Orleans is not just a big American city, but it caters to tourists.  Chances are good that, whatever you want, you will be able to find it there. However, you might pay two or three times what it would cost you at home.  So, go ahead and pack some ibuprofen, acetaminophen, electrolytes and recovery formula in case you get a bad hangover.   If you plan on making new friends in New Orleans, throw in your preferred condoms and lube, too.
Big Events
Mardi Gras – Fat Tuesday Carnival which ends the day before Ash Wednesday.  If you have never been to New Orleans during Mardi Gras this needs to be on your bucket list.  The parades and parties are something you will never forget. Fat Tuesday normally falls on the first few weeks of February.
Jazz Fest – A great festival paying respect to Jazz Music which happens on two consecutive weekends starting at the end of April and going into May.  This festival features top acts as well as local legends.  The lineup for Jazz fest is not available yet but we will update this once it is.
Extra Curricular Activities
Green – expect to pay around $50 – $60 an eighth (decent to high grade)
White – $50 – $60 per gram (the quality should be decent given its geographic location)
Escorts – If you are looking for an overnight guest, you can find plenty of women either on backpage.  The average cost for mid to high quality talent is $300 – $500 which only includes 2-3 hours of companionship 🙂
One requirement for a successful destination bachelor party is that there be plenty of beautiful women.  In many destinations, that means we check out the locals for you.  New Orleans is a tourist town, which means that not only are there plenty of hot women from around the world who will be there and willing to party with you, but also that women come from everywhere to work in New Orleans' hospitality.  Whatever flavor of hot you like; you can find it among the women of New Orleans.
Prices
Bottle Service at the clubs will run you anywhere between $250 – $350 per bottle of premium grade alcohol.  It also includes a table which is great for setting up shop and lounging out.  The VIP host can arrange some local ladies to come mingle with your bachelor party at your table.  You aren't likely to find any New Orleans bachelor party deals; the city's year-round tourism industry means that they don't have to offer specials to bring in the crowds.  However, the year-round tourism also means that prices are generally pretty affordable.  Honestly, the NOLA party isn't in the clubs, so we suggest thinking outside of the box for your bachelor party New Orleans ideas.
Tips
You may want to get a room at the Royal Sonesta with a balcony overlooking Bourbon street.  This would be your dedicated party room, not the place where you sleep at night.  You can basically divide out the total cost of the room by your entire party and then use the balcony for tossing beads, harassing women, etc.
You must go to Central Grocery and Deli located on Decatur Street and get yourself a Muffaletta sandwich.  This is an amazing sandwich filled with meats, cheeses, and an olive tapenade on amazing bread.  Usually there is a line out the door, but it is definitely worth the wait.
Another stop you must make is Cafe Du Monde, and try a beignet.  This is a french style dough ball which is deep fried with powdered sugar on top.  This is a truly amazing dessert option.
Do not be flashy with your jewelry or money, and mind your business.
Currency Information
New Orleans is located in Louisiana which resides in the United States.  The only currency accepted in New Orleans is the US Dollar (USD) and all major credit cards (amex, discover, visa, mastercard).
Bachelor Party Forum
So you read most of this article but you still have a few questions before your crew pulls the trigger on New Orleans.  Ask any questions you have in our community forums (anything goes) and either another member of our community or someone from our staff will provide you with a detailed response shortly.  If you already went to New Orleans for your bachelor party and have some reviews, suggestions, or tips, please post them to our forum as well, so other guys can read about it, while helping our community grow.
Why Go
Star Rating

Conclusion
In conclusion, if you are looking for destination which is cost effective and not too long of a flight, New Orleans has to be on the top of your list for a bachelor party destination.  This city offers the best in entertainment, activities, alcohol, food, and women.  If you take a stroll down bourbon street you will see in between each bar is a strip club.