The Perfect Bachelor Party Decorations (2023 Guide)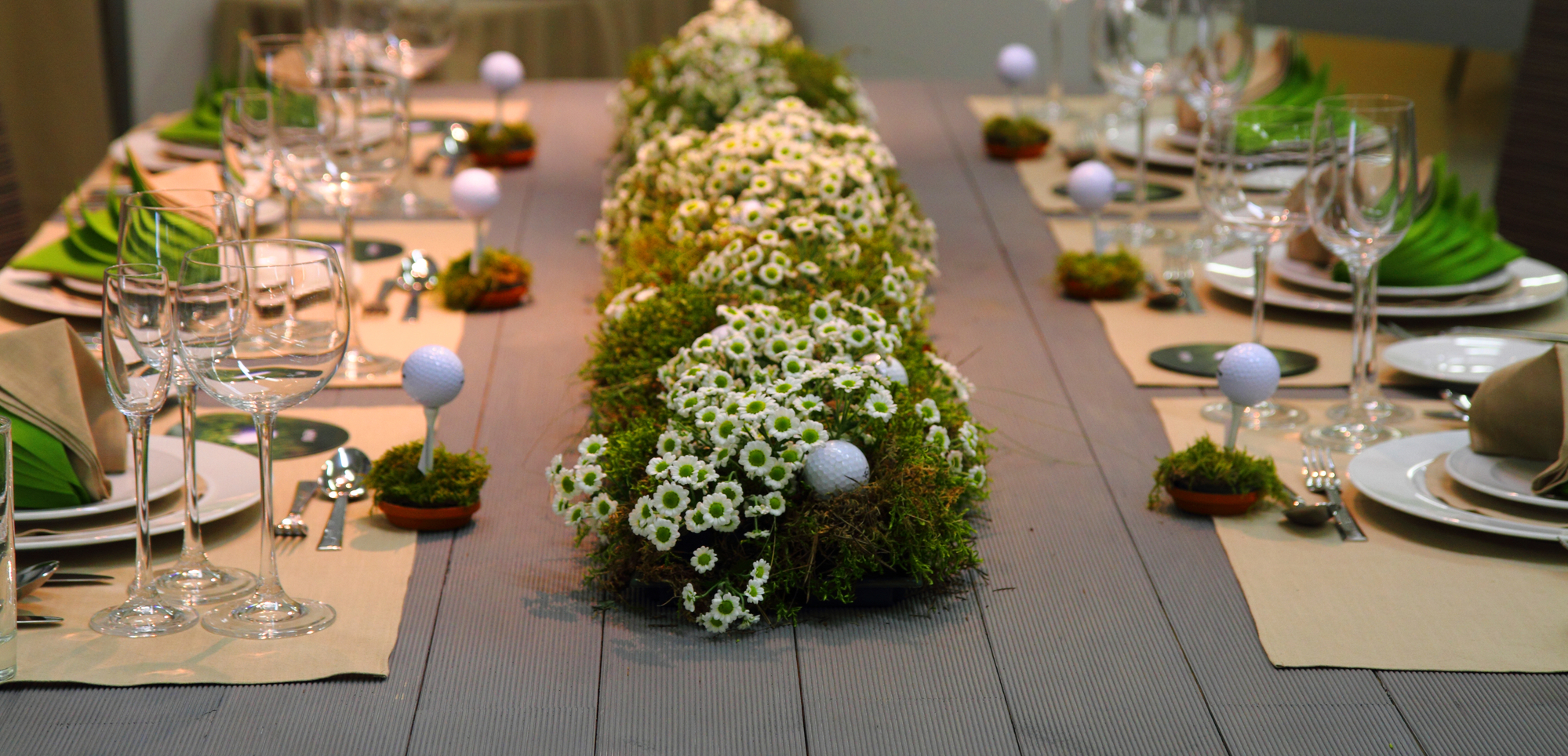 This post may contains references to products from one or more of our advertisers. We may receive compensation when you click on links to those products or services. Please also consider
donating to our website.
"You call this a party?" Ugh. No one wants to hear this question when they're throwing a shindig, especially one for a truly special event such as a bachelor party. If you're throwing a bachelor party at home and want to make sure that it is a smash hit, be sure to invest in some fun bachelor party decorations to make the setting festively appropriate.
The history of bachelor party decorations is lost in the mists of time, but we like to think that even Cro Magnons were smart enough to know that parties are special occasions and took the time to decorate their caves with accordingly. We envisage them using party decorations such as balloons made from mastodon bladders, animals skins, bird feathers, colorful paintings on their cave walls, and plenty of strings of animal teeth as garlands.
While things have certainly changed since the days of cavemen, some things haven't, including most especially identifying an appropriate theme so you can select the right decorations.
First, some important observations about bachelor party decorations. There are a lot of boobs. Big boobs (there are lots of these), little boobs, plastic boobs, Mylar boobs, wooden books, blow-up boobs (okay, we get this one), single boobs and boobs in pairs. Indeed, if they can make something look like a boob, they will and they've probably already done it.
In fact, the party decoration industry apparently believes that all guys think about are tits.
Bachelor Party Decorations
All About Boobs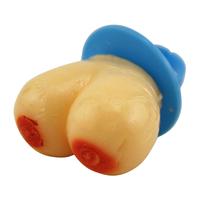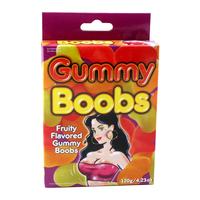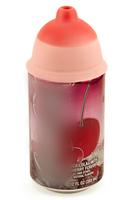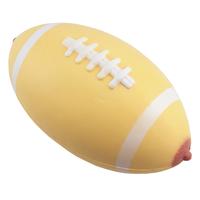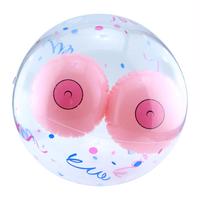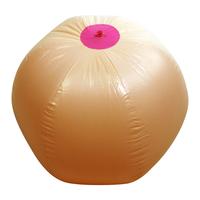 While the belief that guys really are obsessed with boobs may not be too far from the facts, we believe that there are other decoration themes that are just as or even more appropriate for your bachelor party. Therefore, the second important thing we want to stress is the need to find a suitable theme (besides boobs) for your bachelor party.
Fortunately, the bachelor party decoration industry has also come up with some fun themes that are appropriate for virtually any interest or vocation. For example, does the groom play golf? If so, there are dozens of ways you can customize your party for this theme using the decorations shown below.
Golf Trip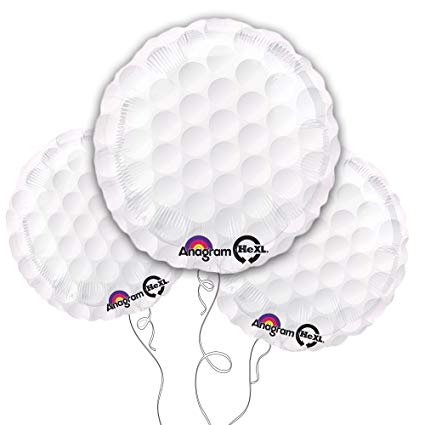 Three pack of 18 inch golf ball Mylar balloons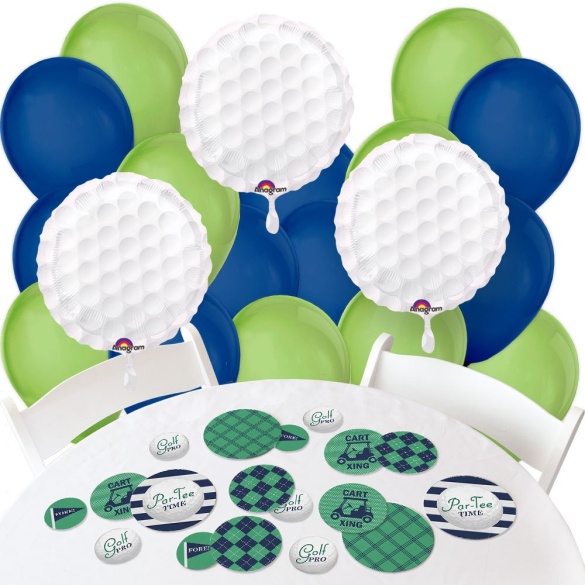 Big Dot of Happiness Par-Tee Time – Golf – Confetti and Balloons
All of the inexpensive bachelor party golf related party decorations shown below (and many more!) are available from Party City.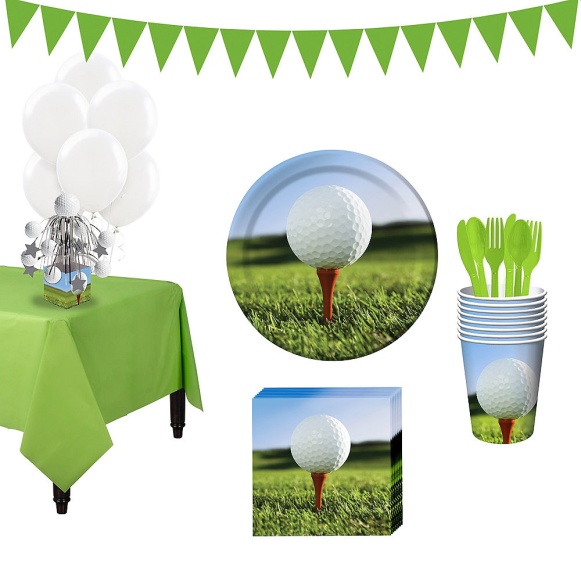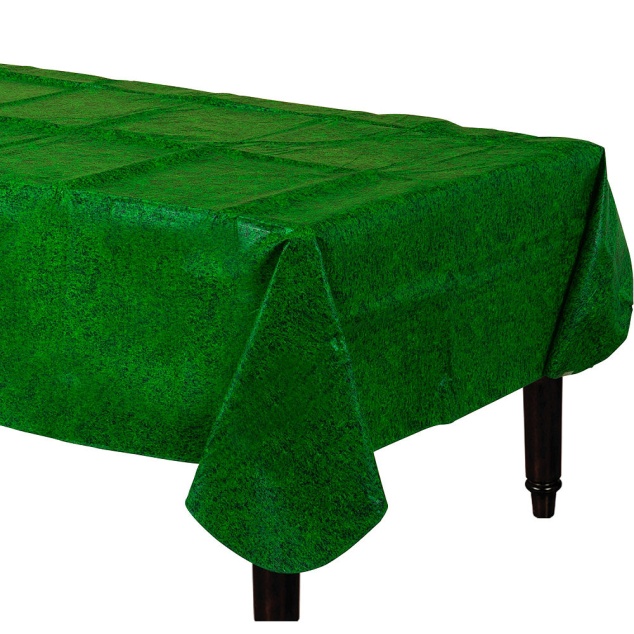 Golf related party decorations and table cloth from Party City
If the groom is not a duffer, there are numerous other sports interests that can make a great theme for a bachelor party, all of which have dozens of decorations available. For instance, does the groom bowl? Hunt? Fish? What's his alma mater? Who is his favorite sports team? The party decoration industry has you covered on all of these. For example, if the groom likes to fish, you can buy the fishing party decorations shown below online from Birthday Direct for less than twenty bucks.
Gone Fishing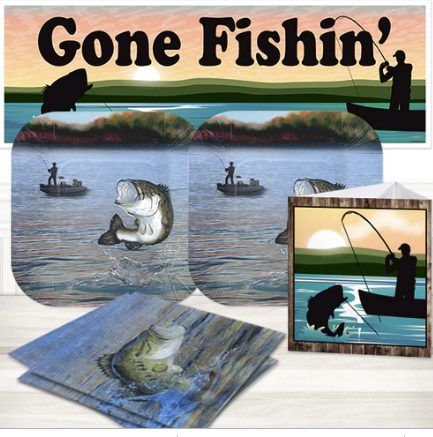 Bass Fishing Value Party Kit for Up to 16 Guests
This Bass Fishing Party Kit includes everything you need to decorate an entire room for your bachelor party, including 16 paper dessert plates (7 inch); 16 lunch napkins (6.5 inch); one paper mini centerpiece (6.25 x 6 inch); one paper wall decoration (6.5 x 19 inch); and one 2-piece paper wall decoration (6.5 x 19 inch each). These items are also available from Birthday Direct individually.
In addition, there are also plenty of fishing games available for bachelor parties, such as the one shown below.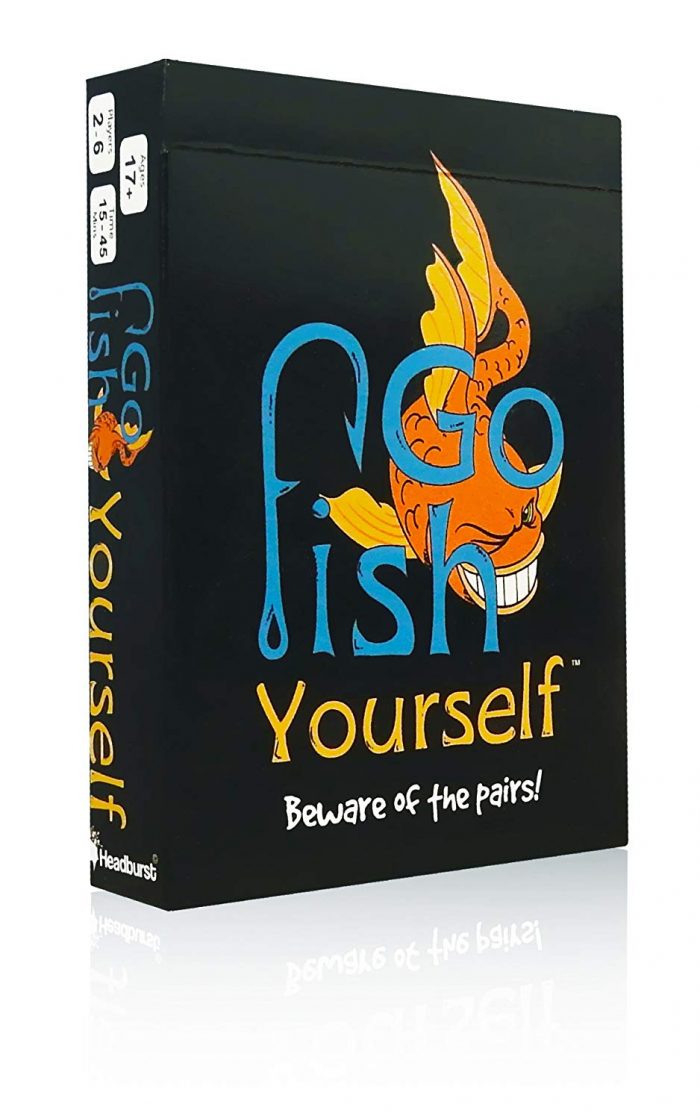 "Go Fish Yourself" Fishing Game for Adult Parties
For just ten bucks, you can buy this adult version of the children's game, "Go Fish," and it is especially suitable for bachelor parties since it involves sabotaging your friends and making people laugh. Game play is simple and can be readily learned even after a few beers. Up to six guests can play at one time, and game play involves forcing other players to make a pair. Each pair of cards includes a set of challenging rules and in the event the player is unable to conform to these rules, they are out of the game. The more pairs that are made as the game progresses, the more challenging the rules become and the harder it is to stay in the game. The last man standing wins!
In addition, it is a simple matter to create your own fishing inspired decorations for just a few bucks such as the one shown below.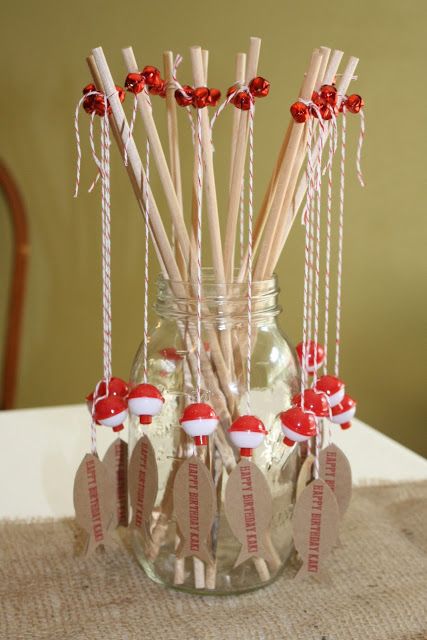 Inexpensive fishing party theme decoration
There are even beer cozies available that are specifically themed or a fishing bachelor party, including those shown below which are available from MyWeddingStore through Etsy for about 40 bucks for 15, all of which are customizable.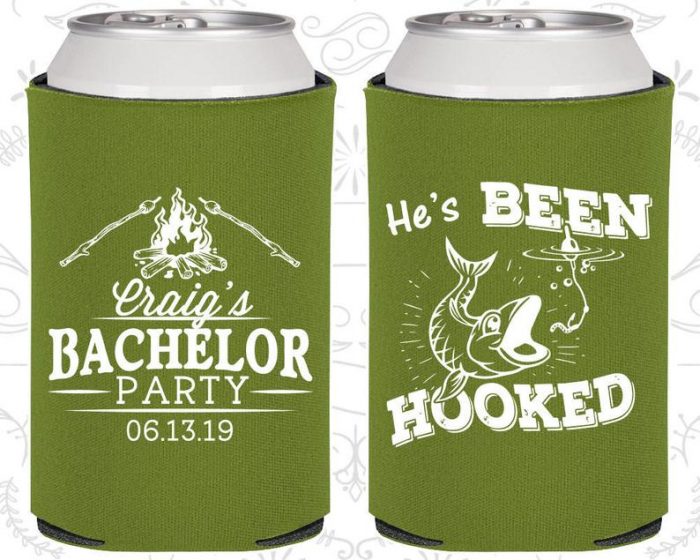 12 ounce beer cozies available from MyWeddingStore
("He's been hooked" – har har – we like this one a lot.)
If you're not sure about the groom's hobbies, interests or alma mater, though, simply ask some of the other bachelor party invitees. Perhaps some of the groom's friends know something interesting about him that no one else does that can provide the basis for a thoughtful and personalized party theme and corresponding decorations. As a last resort, just ask the groom about his interests and hobbies, but try not to tell him why you're asking.
If you're at a loss for a theme based on the groom's personal interests, there are also some generic themes and related decorations that are available for bachelor parties that can liven things up, including those described below.
Frisbee Golf Party!
Many guys enjoy playing Frisbee golf, so if you have the space outdoors, consider KanJam's Ultimate Disc Game for about $39 from Amazon. Besides making a cool decoration, this Ultimate Disc Game set includes everything you need to play right away.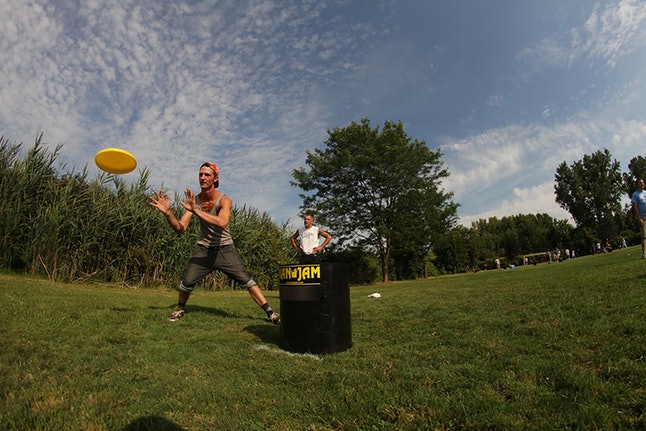 KanJam's Ultimate Disc Game in action
This "Ultimate Disc Game" comes complete with two official goals (portable), a custom designed official flying disc from KanJam and instructions on how to play the game (we recommend making your own rules that involve chugging a beer or two).
Decorations for this type of bachelor party can include any of the golf-related items listed above, or you can find dozens of other disc golf related decorations online or at your local party store.
Casino Night!
Most guys enjoy placing a bet from time to time, and – unlike women — many begin gambling during their college-aged years so they already know how to play most of casino games. Well, everyone can be a winner when you use a casino night theme for your bachelor party.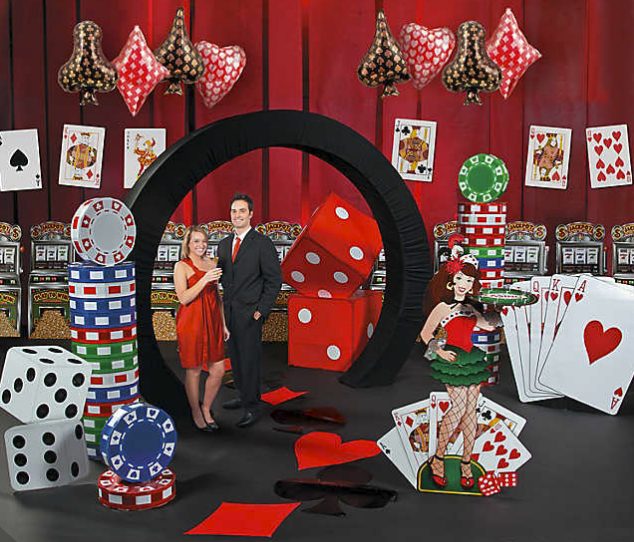 Casino Night party decorations from Oriental Trading
The decorations shown about cost about three hundred bucks, but many of these items are also sold separately so you can pick and choose the ones you like best if you prefer. One of the best things about these sturdy and colorful cardboard decorations is that they are reusable, so you'll always be ready for a casino night party in the future. Another great thing about using a Casino Night theme and decorations is that this is probably the easiest way to throw an epic bachelor party since table games only require a table and a deck of cards, and all of the decorations shown above are available for purchase individually, including cardboard foot-high slot machines that will look great on your desk (for a couple of weeks anyway).
Cigar Bar
A growing number of men appreciate a fine cigar. A recent study found that 17.4 million adults in the United States, representing about 7.3 percent of the population, smoke cigars every day or on some days. Indeed, even Sigmund Freud is purported to have proclaimed that, "Sometimes a woman is just a woman, but a good cigar is a smoke." If you and your friends enjoy smoking cigars, a cigar bar will make a great theme for your bachelor party, especially when you use party decorations such as the one depicted below.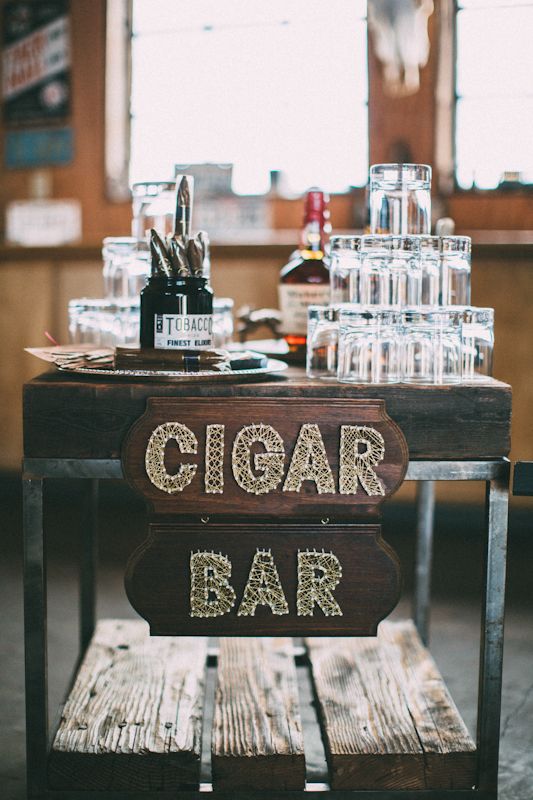 This type of Cigar Bar can be easily made from a table you already have, and you can print a cool cigar bar sign at home (or use the color printer at work). Either way, be sure to include good booze (brandy is recommended but whatever) and plenty of clean glasses.
420 Blast!
If you live in a state that has legalized recreational marijuana (or even if you don't – wink wink), consider a 420 Blast! for your bachelor party theme and decorations. In fact, more than 55 million American adults currently smoke pot on a regular basis, and not surprisingly, the party decorations industry has kept up with times in this regard as well. For example, for just 10 bucks, you can get all of the 420-themed holographic decorations shown below.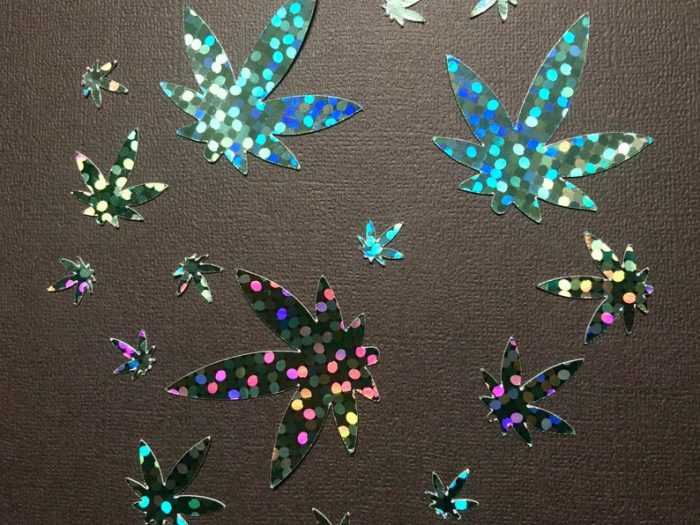 Holographic Cannabis Confetti assorted sizes, Green Foil Weed Confetti, Adult Party Decorations, 420 Party Decor for Tables and Gift bags
You get a lot for your money with this party set as well. There are approximately 25 2″ pieces, 30 1″ pieces and 120 1/2″ pieces included in this set, and your bachelor party guests can take some home as mementos. There are even 420 party games available, such as those depicted below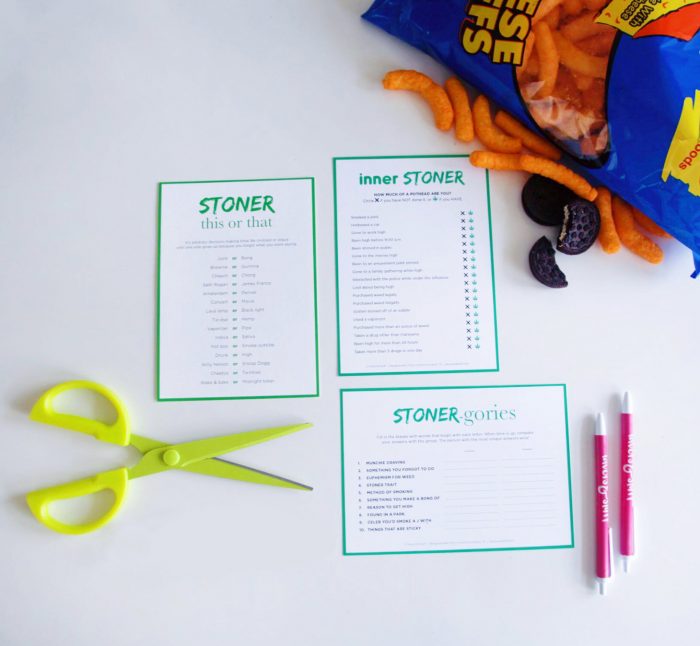 420 Party Bundle: Three Printable Party Games for Pot Lovers
For less than fifteen bucks, you can purchase this 420 Party Bundle online, download it instantly and immediately print as many game cards as you need for your bachelor party guests. Three 420 inspired games are included in this bundle: (1) "Stoner-gories," (2) Inner Stoner Quiz; and (3) "Stoner This or That."
Other Ideas for Bachelor Party Decorations
While it is a simple matter to find stock and customized bachelor party decorations online and at your local party store for virtually any theme, there are some other ways to liven up your party including using the ideas listed below.
Printed (or Painted) Wall Banner
Customized banners are inexpensive and most likely readily available from Kinkos-like stores in your area. If you have an artistic bent (or even if you don't), you can make one of these banners yourself with a roll of paper and some paints or markers. Be sure to include a picture of the groom (preferably at his worst).
Some representative examples of customizable bachelor party banners that run between $20 and $50 available online from Café Press are provided below.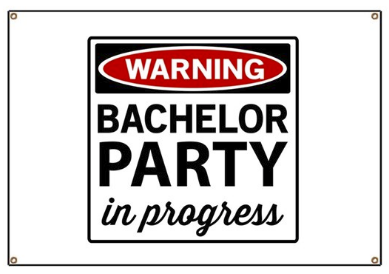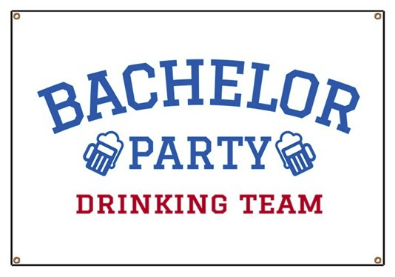 If you're planning on having your bachelor party outside, there are even customizable banners available that are specifically designed for chain link fences as shown below.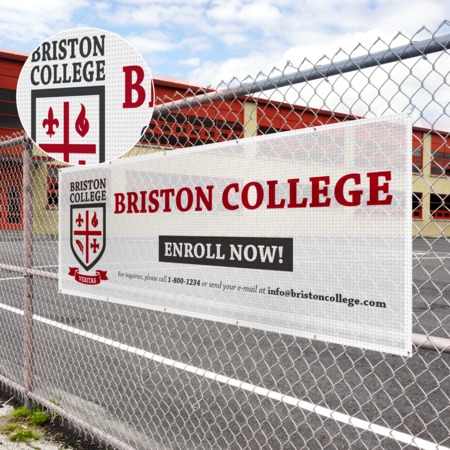 Example of a mesh customized banner
Full size Stand Up Photograph of the Groom
Even if you decide on using one or the themes and corresponding decorations for your bachelor party described above, you'll want to make sure to include this item.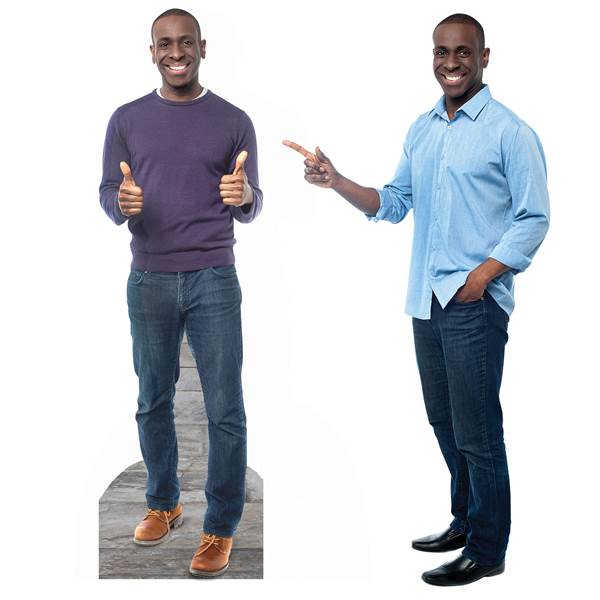 18 inch to 9 foot tall photographic standup example
Of all of the concepts we describe above, we LOVE this idea for a bachelor party decoration the best!
For just $30 to $150, you can buy a life-size (or larger) realistic stand up photograph of the groom. Here again, try to find a photograph when the groom appears at his nerdiest (this shouldn't be too hard if you check his high school yearbooks). Done correctly and thoughtfully, this decoration can be downright hilarious. These life sized standups also make great photo ops for all of the guests, and the groom can take it home as a memento of this special occasion.
Customized Bachelor Party Ticket Invitation
Finally, a note about your party invitations. Sure, it would be a lot easier to just send all of your bachelor party invitees an email (and you should do this in any event), but you can class things up a lot by also sending them a custom bachelor party ticket invitation as shown below.

This invitation strategy will not only increase the likelihood that your invitees will actually attend your bachelor party, but they will also serve as a memento of the occasion that's perfect for scrapbooks.
Conclusion
As we've emphasized throughout, decorations for bachelor parties do not have to be expensive, but it helps if they are related to one of the groom's main interests (besides his bride of course). Besides being relevant, at least some of the bachelor party decorations should also be customized with the groom's name, the date and his picture (if possible). On a final note, we'd like to commend you for taking the time to read this article since it shows that you are truly interested in throwing an epic bachelor party for your one of your best friends, and that's really the magic ingredient.