Plan a Bachelor Party in Amsterdam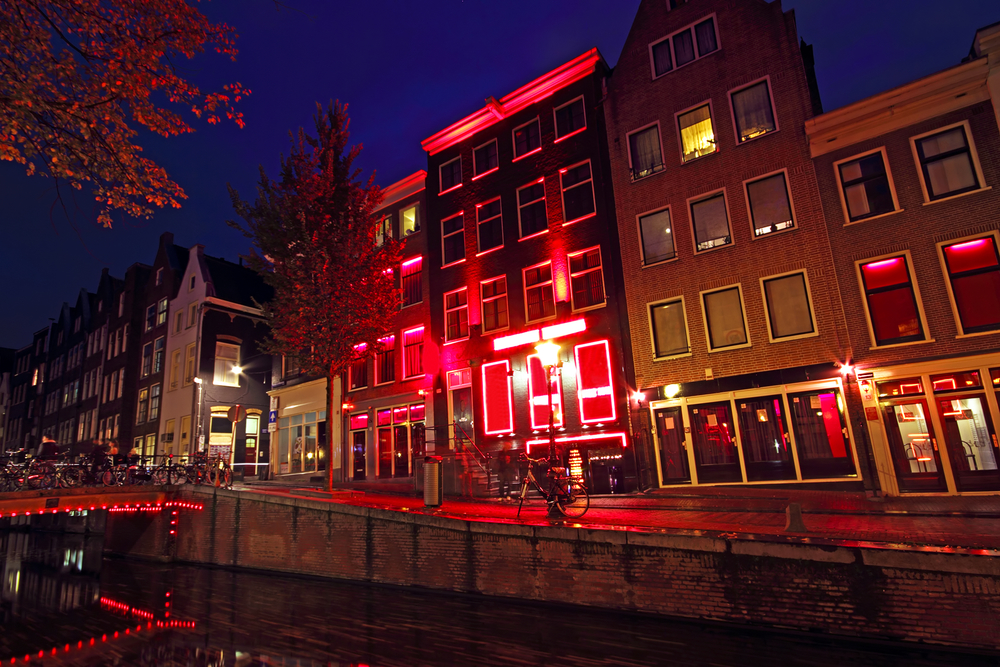 This post may contains references to products from one or more of our advertisers. We may receive compensation when you click on links to those products or services. Please also consider
donating to our website.
It's a little-known fact that the Dutch name "Amsterdam" is derived from the ancient Greek for "Amster ("party") and "dam" ("town"). Okay, we made that part up but the fact does remain that Amsterdam is the world's premiere party town supreme for a number of reasons. The million-plus residents of urban and suburban regions of Amsterdam enjoy an affluent and laid-back lifestyle that is the envy of many Westerners, including their casual and tolerant attitudes about sex, beer and pot, some of our readers' favorite things.
Indeed, long before the ongoing heated debates over merits of medical and recreational marijuana in the United States and elsewhere ever began, the enlightened lawmakers in Holland recognized the futility of waging a billion-dollar war against drugs by applying the harm reduction model and legalizing the possession and use of cannabis products.
In other words, Amsterdam is eagerly awaiting your bachelor party, and you can't find a better destination if you and your friends appreciate colorful history, European culture at its best as well as beautiful architecture and women – not to mention the world-class cannabis products imported from exotic places that is available everywhere at rock-bottom prices. If this all sounds too good to be true, well, it is in a way because it takes awhile to fly there and it's not cheap (but it is reasonable) as we discuss below.
How to Get There
Unless you and your friends live in the United Kingdom or Western Europe, you're only real viable option for traveling to Amsterdam is flying. Fortunately, Amsterdam has a world-class airport that is served by several airlines from the United States as noted below.
Airport
Based on a 4-day stay (all weekdays), round-trip tickets per person from New York's La Guardia International Airport to Amsterdam's Schipol International Airport (airport code:  AMS) range from $1,555 on Westjet to $3,330 on Air Canada. Flights require about 18 hours each way, but you and your bachelor party buddies will find that the time and cost involved in getting to Amsterdam is more than repaid in terms of excitement + fun / time + money. Following your arrival at Schipol, you'll need to get around the city and its suburbs as described below.
Getting Around
Rental Cars
Many Americans may be pleasantly surprised at just how easy it is to get around a world capital city such as Amsterdam. Besides an extensive public railway and bus network, rental cars are available through Rentalcars.com range from just $45 per day (for a Ford Ka) to $187 for large SUVs and chauffeured limousines and party buses are also widely available. Many of the street signs are different in Europe, though, so brush up on your signage if you plan on renting a car, especially the critically important sign shown below that you'll see everywhere which means "Do not enter" (and they mean it!):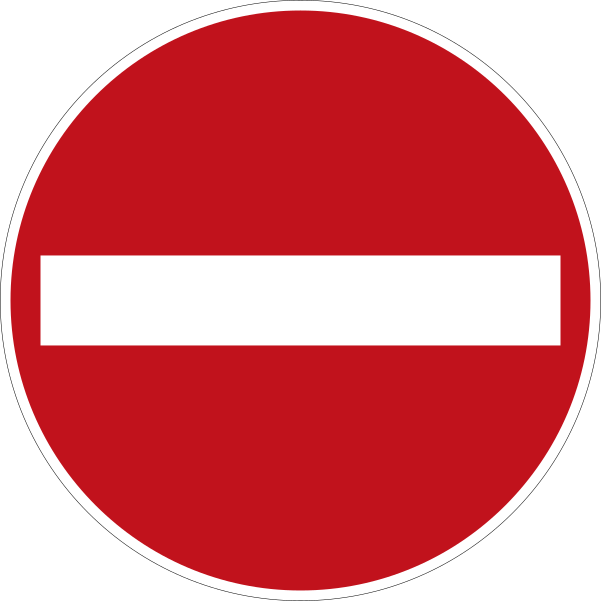 Important note: If you decide to rent a car or SUV for your Amsterdam bachelor party, keep in mind that while the Dutch have a high tolerance for many indulgences, they have an extremely low tolerance for drunk driving. In fact, the legal blood-alcohol limits in Holland are so low that you'd be well advised to assign a designated driver every day (take turns) or avail yourselves of the luxury limousine services that are widely available as noted below.
Limousines
If you want to get around Amsterdam in style, several limousine companies are available that provide service direct from the airport to your hotel as well as wherever else you and your bachelor party buddies want to visit. Limousine companies such as Blacklane offer all-inclusive prices (i.e., all tolls, gratuities, taxes and fees) that even allow for a full hour of free waiting time at the Schipol Airport and 15 minutes of free waiting time for all other local pickups points. Other limousine companies such as Mydriver also feature all-inclusive prices as well as mobile apps that allow you to easily reserve and pay for your limousine.
Party Bus
While limousines have their benefits, what better way for you and your bachelor party guests to enjoy this world-class city than with world-class transportation? Not surprisingly, Amsterdam also features several luxury party bus rental services, including the highly rated Amsterdam Fire Truck Party Bus which specializes in bachelor parties and offers a one-hour tour of the city, four beers or glasses of wine per guest, superior sound and lighting and dancing pole with prices beginning at just $300. In addition, you can add a number of options to your bachelor party package such as a stripper (about $250) and a "sexy" female firefighter ($310). The fire truck party bus seats eight guests (or seven guests and a stripper).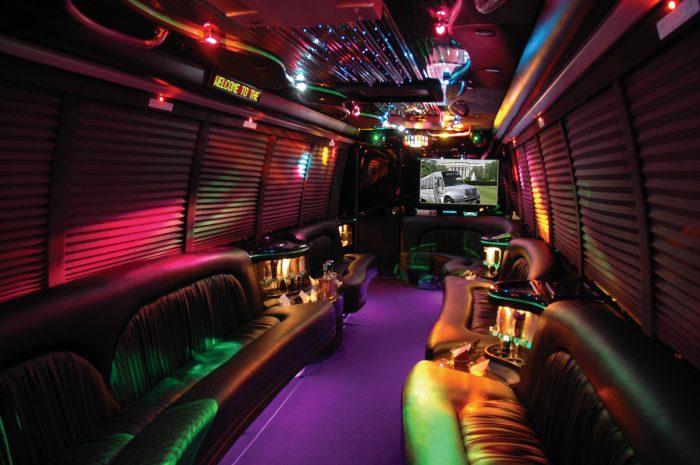 Boat Rentals
Besides having more than 60 miles of beautiful canals running through the city (three times as many as Venice), Amsterdam is also a coastal capital of course and private boat rentals are available for you and your bachelor party friends to enjoy the spectacular views of Amsterdam and its environs from a nautical perspective. You can also rent a party boat from the aptly named Amsterdam Party Boat that specializes in bachelor parties.
Things to Do
With so much to see and do during your Amsterdam bachelor party, you may have a difficult time deciding what to do during the days and for your nightlife activities, but we can help you fine-tune your choices using the ideas noted below.
Daytime Activity Ideas
Your daytime activities will depend in large part on your transportation choice. If you've rented a car or SUV, limousine or party bus, you can participate in virtually any of the dozens of daytime activities available in Amsterdam. If you don't rent a car or SUV, limousine or party bus, you can still tour more than 50 museums for free (including the Van Gogh Museum, the NEMO Science Museum and the Amsterdam Tulip Museum) and free transportation on the city's state-of-the-art GVB network using the "I amsterdam City Card" for the duration of your bachelor party stay.
Regardless of your mode of transportation, there are some must-do daytime activities that you and your bachelor party buddies shouldn't miss, including a tour of the city on the "Beer Bike." This self-pedaled mobile bar bike accommodates between five and 17 partygoers and the tour lasts for an hour and a half. More importantly, the Beer Bike tour includes up to 20 liters of beer (about 56 12-ounce cans of beer – those Dutch know how to party!) so take plenty of pictures so you don't forget the fun you had pedaling around this beautiful city drinking some of the finest suds in the universe.
If your energy levels are still up, you and your bachelor party buddies will have plenty of fun at the Amsterdam Karting Experience where you can race your bachelor party friends for two or three 10-minute heats with the winner receiving a bottle of champagne and a trophy. If you're in the mood for some more action, try the Archery Tag Battle which is similar to paintball or laser tag only you get to use real archery equipment and shoot real (but safe) arrows at your friends for an hour and a half! Where else but Amsterdam, huh? All safety gear and specially equipped bows and arrows are included in the price as well as a bottle of beer, glass of wine or a soft drink.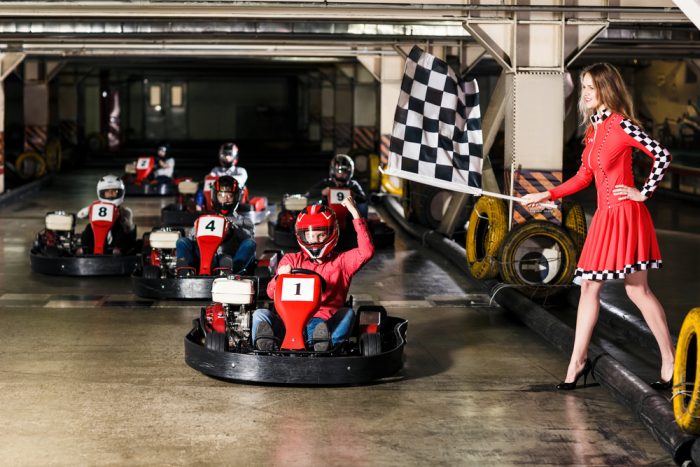 Other don't miss daytime activities in Amsterdam include a visit to Leidseplein Square or a 7-hour canal tour of the city that also features a free VIP tour of the Van Gogh Museum and lunch at the Rijskmuseum. A shorter and-a-half hour canal-based all-inclusive beer and pizza cruise of the city is also available that features four bottles of Heineken for each guest, free Nibble's crackers for munchies, pizza, and an English-speaking captain/guide. In addition, don't miss out on the Amsterdam Party Pub Crawl through great bars, pubs and clubs in the heart of the city's world-famous Red Light district. This 4-hour pub crawl features five different venues and includes unlimited vodka shots, free admission to all venues, and professional guides. If you still have any stamina left over after a day in Amsterdam, there is even more to do at night including those activities noted below.
View all Activities Available in Amsterdam
Nightlife Activity Ideas
Besides the obvious strip and sex clubs discussed further below, there are plenty of other things to enjoy at night in this beautiful city. For instance, with prices starting at just US$44 per person, you'll get a lot of bang for your Euro on a 2-hour guided Amsterdam Evening Canal Cruise that includes unlimited wine, beer, soft drinks and a platter of Dutch cheese and nuts. Other canal-based tours include three free drinks on the one-hour tour offered by "Icebar Xtracold Cruise" where the bar and even your glass are made from ice.
Bars
With more than 1,500 bars, Amsterdam has something to satisfy everyone's budget and tastes. Many bars are even 420-friendly but don't necessarily advertise the fact so check with the management or see what other patrons are doing before you and your buddies break out the hash pipes. Some of the more popular bachelor-party friendly bars in the city include those listed below (ranged most expensive to least expensive):
Hard Rock Café:
Max Euweplein 57-61
1017 MA, Amsterdam
Telephone: +31 20 523 7625
Operating hours:
Sunday to Thursday: 11.00 a.m. to 11.00 p.m.
Friday and Saturday: 11.00 a.m. to midnight
You and your friends are probably familiar with the Hard Rock format in other major cities, but the Hard Rock Café Amsterdam is truly unique. Besides its upscale gift shop, world-famous rock 'n roll memorabilia and handy location on Max Euweplein, this Hard Rock venue features live entertainment, a world-class casino, and even two museums (the Rijks Museum and the Van Gogh Museum), just so you can say you've been.
Belushi's Bar in the Winston Hotel
Warmoesstraat 129 (bottom floor of the Winston Hotel near the Red Light District)
1012 JA, Amsterdam
Telephone: +31 206 231 380
Sunday through Thursday: 10:00 a.m. to 1:00 a.m.
Friday and Saturday: 10am to 3:00 a.m.
Besides a comfortable "smoking room" and inexpensive beers and drinks, this bar also has major sports showing on large screen televisions, driving American rock 'n roll music, and the longest happy hour in the city.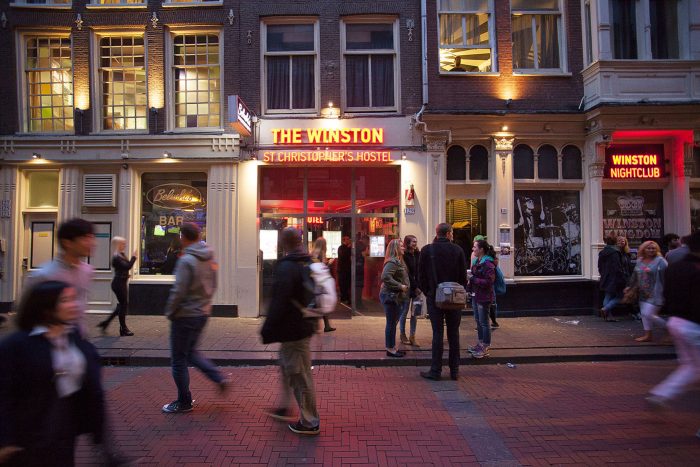 Café The Minds
Spuistraat 245
1012 VP, Amsterdam
Telephone: +31 20 623 6784
Operating hours: "Open late"
This is one of the friendliest bars in Amsterdam and rumored to be 420-friendly. you and your bachelor party friends will enjoy the atmosphere and prices at Café The Minds. Patronized by lots of pretty local females, the Café The Minds also features a good selection of cheap but good beers, pinball machines and pool tables, you and your bachelor party friends can easily blow an entire afternoon here.
Strip Clubs / Sex Clubs
The following strips clubs are, not surprisingly, located in Amsterdam's world-famous Red Light district (De Wallen) and the list is certainly not exhaustive but reflective of what's available. Most of these venues are 420-friendly and in some cases, the women are legally available for hire for additional, more personalized, entertainment for you and your bachelor party friends.
Theatre Casa Rosso
Oudezijds Achterburgwal 106-108
1012 DS Amsterdam
Telephone: +31 20 627 8954
Operating hours:
Sunday through Thursday: 8:00 p.m. – 2:00 a.m.
Friday and Saturday: 8:00 p.m. – 3:00 a.m.
The Casa Rosso is one of the most popular spots in Amsterdam for hosting bachelor parties. Besides exotic striptease dancers, this venue also includes a soft S&M show, a live couples sex show, and a "banana show" (you can use your imagination or check out their online videos).
Banana Bar
Oudezijds Achterburg 37
1012 DA, Amsterdam
Operating hours:
Sunday through Thursday: 8:00 p.m. to 2:00 a.m.
Friday and Saturday: 8:00 p.m. to 3:00 a.m.
Owned by the same people who operate Casa Rosse, the Banana Bar is also a popular destination for bachelor parties in Amsterdam. Besides the eponymous "banana trick" for which the bar is known, the cover charge for this bar includes an hour of entertainment by some of the world's most beautiful women and unlimited drinks. For an additional charge, the female entertainers will perform tricks unique to each, such as a baby oil show and a writing act that must be seen to be believed. Be prepared to lay out at least $60-$75 for a visit and more if you decide you have to see the writing act (who wouldn't?).
Moulin Rouge
Oudezijds Achterburgwal 5-7
1012 DA, Amsterdam
Telephone: +31 20 627 5030
Operating hours:
Monday through Wednesday: 10:00 p.m. – 2:00 a.m.
Thursday through Sunday: 2:00 p.m. – 2:00 a.m.
Although not as large as the Banana Bar or Casa Rosso, the canal-side Moulin Rouge also specializes in bachelor parties and boasts some of the prettiest women in the city in a more intimate entertainment atmosphere.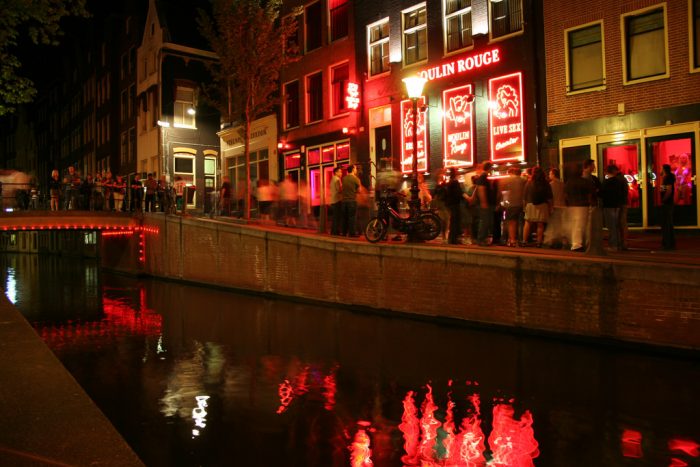 Where to Eat
Assuming you and your friends have sufficiently recovered from the previous night's adventures in time for an early or midday meal, Amsterdam has plenty to choose from including the highly rated eateries listed below.
Breakfast / Brunch / Lunch
De Bakkerswinkel
Warmoesstraat 69
1012 HX, Amsterdam
Telephone: +31 20 489 8000
Open early for breakfast and brunch (lunch is served till noon), this venue is one of three in the city and it bakes its own fresh bread daily. Their handwritten menus offer hungry guests an array of meats and cheeses, fried eggs, scones and croissants as well as yogurt with muesli.
G's: A Really Nice Place
Goudsbloemstraat 91
Keizersgracht 177, Amsterdam
Operating hours:
Daily (except closed Tuesdays): 10:00 a.m. – 4:00 p.m.
If you need a hair of the dog plus something yummy to eat, G's is the place to go. Their extensive brunch menu is complemented by delicious bloody Mary's or champagne cocktails, and they feature group seating for between 15 and 35 people so they can probably accommodate bachelor parties of any size.
Eetcafe De Groene Olifant ("The Green Elephant")
Sarphatistraat 510
1018 AV, Amsterdam
Telephone: +31 20 6204904
Operating hours:
Sunday through Thursday: 11:00 a.m. – 1:00 a.m.
Friday and Saturday: 11:00 a.m. – 2:00 a.m. (or later)
Dating back nearly a century and a half, this is not only a historic place to eat but the food and service from the friendly staff are top-notch as well. This venue offers a bar and an upstairs area for party groups as well as a roomy terrace when the weather's nice. The reasonably priced lunch menu includes various freshly prepared salads, soups and sandwiches
Dinner
Tap and Dine
Korte Leidsedwarsstraat 49
1017 PW, Amsterdam
Telephone: +020 792 0007
Operating hours:
Monday and Tuesday: Closed
Wednesday through Sunday: 4:00 p.m. – midnight
As the name suggests, having dinner at Tap and Dine is great fun – and a dream come true — because you can draw your own delicious craft Dutch beers from a tap right at your dinner table (wow!). Specializing in large groups such as bachelor parties, Tap and Dine also beer snacks and a laid-back atmosphere that will make any bachelor party dinner an enjoyable experience.
Eetcafe De Toog ("Eatery [at] the Counter")
Nicolaas Beetstraat 142
1054 XV, Amsterdam Telephone: +31 20 6185017
Operating hours:
Monday to Sunday: 4:00 p.m. to 1 a.m.
Friday and Saturday: 4:00 p.m. to 2 a.m.
With a friendly staff, spacious terrace dining area, a full-service bar and a reasonably priced complete menu (including barbecue), you can't beat dinner at Amsterdam's Eetcafe De Toog for your bachelor party friends.
Where to Stay
As a global tourist destination, Amsterdam has more than 27 thousand hotel rooms that will satisfy any budget and taste, including the hotels and resorts described below.
Hotels & Resorts
Some of the top-ranked hotels and resorts in Amsterdam include the following:
Spa Sport Hotel Zuiver
Koenenkade 8 Zuideramstel
1081 KH, Amsterdam
With more repeat guests than most other hotels in Amsterdam, the Spa Sport Hotel has a proven track record of providing world-class service and comfort as well as all of the amenities you'd expect from a resort, including a complete gym, exercise room, tennis courts, swimming, and an unbelievable spa. This venue also features luxurious suites with all of the amenities as well as an upscale bar with diverse beers and booze and an outdoor terrace where you and your bachelor party friends can enjoy the weather and people watch. First-time guests should be forewarned, though, that swimwear in mandatory on Tuesdays and Thursdays but no swimwear in allowed in any of their spa facilities the rest of the time.
Hotel Okura Amsterdam
Ferdinand Bolstraat 333
Oud Zuid, 1072 LH, Amsterdam
Telephone: +31 20 678 7111
This five-star hotel is among the world's finest, so you can expect to pay for the luxury it offers but a stay here may be a one-in-a-lifetime opportunity you don't want to miss (if you can afford it). With suites, junior suites and luxury rooms, the Hotel Okura also has the right size accommodations for a bachelor party of virtually any size. With an upscale on-site restaurant, spa and health center, you can recharge your batteries from an active day and night on the town in this plush setting that has it all.
Ibis Amsterdam Centre
Stationsplein 49
1012 AB, Amsterdam
Telephone: 011 31 20 262 1172
With comfortable, reasonably priced rooms and suites, this bachelor-friendly hotel is conveniently located to numerous nearby bars, clubs and entertainment hot spots. In addition, the Ibis also offers a free breakfast buffet, a bar and lounge as well as free wi-fi.
Rental Houses
If you'd prefer a rental house to a hotel or resort for your bachelor party staging base, not to worry – Amsterdam also has plenty of these to offer including those listed below, ranging from the most luxurious (and expensive) to more moderately priced rentals (note: prices quoted below are based on six adults and a 3-day stay).
Airbnb
Sign Up with our link and get $40.00 OFF your first booking!
Welcome aboard, mate! There's no seasickness on the capacious Sailing Ship Amsterdam Centre, a real classic Dutch sailing ship dating to 1908 which was renovated in 1986 specifically for larger groups up to 16 guests in ten sleeping cabins, making it the perfect venue for your Amsterdam bachelor party.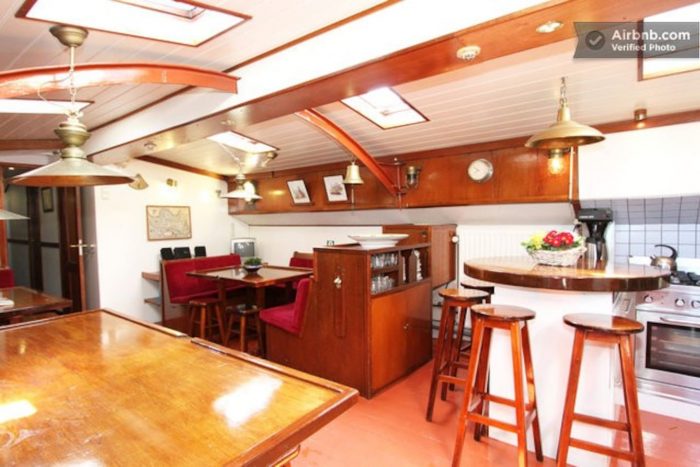 At around $800 a night, this beautiful ship is still competitively priced given its amenities and location in central Amsterdam. Moreover, even if your bachelor party doesn't have 16 guests (which comes to just $50 per person per night), this ship is still a great base of operations since it's located near major historic and entertainment venues, there's a grocery store just down the street and the accommodations amenities include a fully equipped kitchen and a large common room with television, stereo and free wi-fi. This rental also includes free parking for at least one car is free on the wharf (additional paid parking is available at Hoogte Kadijk or Park and Ride at Piet Heintunnel).
If you like the idea of staying on a ship for your Amsterdam bachelor party but don't want to break the bank doing it, a good alternative is the Boat House Suburban Amsterdam at just around $300 per night for up to six bachelor party guests. With three bedrooms and two bathrooms, comfy living area and fully equipped kitchen, this boathouse features a free adjacent private parking place, cable television, laundry facilities, and free wi-fi.
For the more budget-minded, the Franka apartment is a great place for you and your friends to stay during your Amsterdam bachelor party. At just $159 per night, you get the entire three-bedroom apartment with a balcony overlooking a scenic lighthouse and the ocean, as well as other amenities including luxury bathroom, laundry facilities, free wi-fi, television, and a fully equipped kitchen including a microwave oven.
View all Rental Houses Available in Amsterdam on Airbnb.com
Homeaway
Located in the heart of the city near central station, China Town and the Red Light district, this luxury, bachelor party-friendly Apartment in Amsterdam costs around $916 per night and sleeps six in three comfortable bedrooms. Full kitchen, free onsite laundry service, VCR and satellite/cable television, modern sound system, telephone, fax and Internet service complement the other amenities including a balcony that affords great people watching opportunities.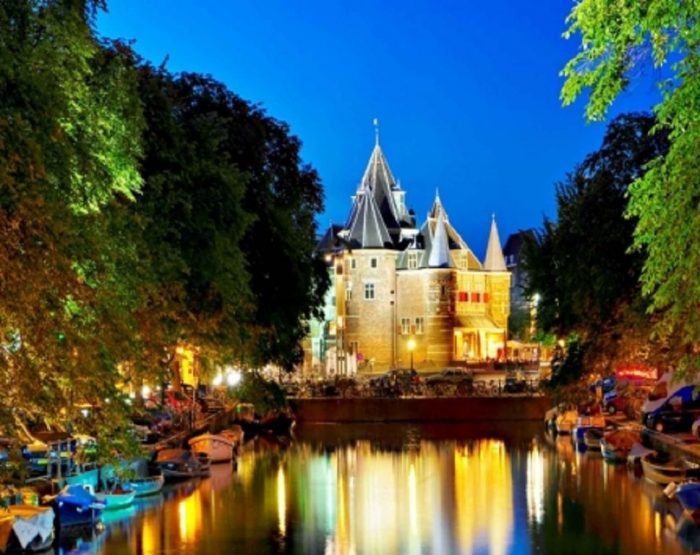 Also located near the Red Light District, this three-bedroom luxury apartment sleeps up to 12 guests and costs $490 per night. This property features a fully equipped kitchen, Internet access, satellite/cable television, and is wheelchair accessible.
In addition, this loft apartment-style houseboat sleeps up to seven guests in two bedrooms (two bathrooms) for just $397 per night. Located just outside of Amsterdam proper (15 minutes to central station), you and your bachelor party buddies can enjoy life on Amsterdam Gardens and all of the amenities this property has to offer, including ferry trips to a historic fort site on an nearby island, and a spacious living area with wood-burning stove and a 290-degree water view.
View all Rental Houses Available in Amsterdam on Homeaway.com
Vacation Rental by Owner (VRBO)
With luxurious appointments and spacious accommodations, this three-bedroom, two bath Canal View Apartment will set you back $635 per night but it sleeps up to seven guests, features spectacular views of the canal and offers convenient airport shuttle services for about $60 each way.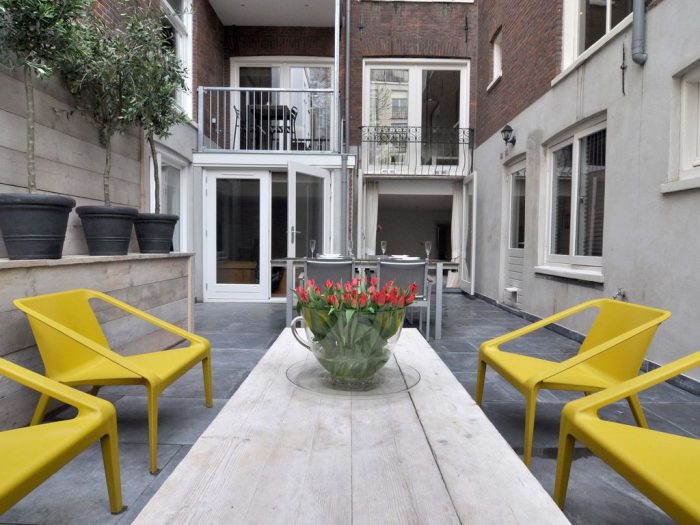 This comfortable multi-level canal house features a garden area on top and sleeps up to six guests (one bathroom) for about $472 per night. The canal house has a fully equipped kitchen and dining area on the ground level, a comfortable living area on the first level has a wood-burning fireplace, bedrooms on the second and third levels, and laundry facilities in the basement.
At just $135 per night, this three-bedroom vacation home is a real bargain. This bungalow sleeps up to six guests and features living and dining areas, free wi-fi, a kitchen with microwave oven, and is conveniently located near train service, a grocery store and satellite/cable television.
View all Rental Houses Available in Amsterdam on VRBO
If these options do not find you the perfect rental house, you can also try renting a house on craigslist.
When To Go
There's no real bad time to visit Amsterdam and the city awaits you and your bachelor party buddies year-round, but there are some times that are better than others as noted below.
Best Time
According to research by U.S. News & World Report, the best time to visit Amsterdam is prior to (April to May) or immediately after (September to November) the busy summertime tourist season.
On a Budget
Prices are significantly lower during the blustery winter months in Amsterdam and there are fewer tourists.
Worst Time
The summer months of June, July and August are the peak visitation months for Amsterdam, so try to plan your bachelor party before or after these months if possible.
Current Weather
As shown below, the weather in Amsterdam is temperate, ranging from an average of 32 degrees F during the coldest months to a balmy 71 degrees F in the summer.


What Else
Unlike many other Western countries, Dutch lawmakers have also recognized the demand for sex workers and prostitution is carefully regulated but legal in Amsterdam. More to the point, Dutch women are drop-dead gorgeous. You and your bachelor party buddies can walk down many streets, especially in the Red Light district, and view the beautiful women who wait within performing in glass showcases, and just about everybody speaks English and still likes Americans.
Big Events
There always something going on in Amsterdam but the following stand out as particularly major events:
Light Festival – Amsterdam City Center (Early December until late January): If you're in the city, you don't want to miss the dazzling light displays that compete each year on two separate routes using two different themes. Best viewed at night, preferably after a visit to a 420-friendly bar.
Chinese New Year – Zeedijk (January 28): Amsterdam is home to a large population of Asian residents and its China Town celebration features fireworks displays, terrific food choices and, of course, dragon dances.
Kings Day (April 27): Enjoy the world's largest street party when all of the residents of Amsterdam turn out to celebrate King Willem Alexander's birthday.
Heritage Days (second weekend in September): This 2-day event is the only opportunity to visit more than 4,000 historical sites throughout Amsterdam and other parts of Holland absolutely free of charge.
What to Pack
Swimwear: If you plan on visiting during the summer months, be sure to pack some appropriate swimwear so you can enjoy all of the water activities available in and around Amsterdam.
Sunglasses: Cut down on your UV light exposure and look cool in the process.
A light jacket: Be sure to pack a light jacket if you're visiting Amsterdam between March and May or September and November.
Comfortable footwear for sightseeing: With so much to see and do in Amsterdam, be sure to take along some comfortable shoes.
Luggage and accessories: With airlines charging exorbitant fees for carry on and checked baggage, be sure to purchase luggage that can accommodate all of your travel needs in the smallest space possible.
Vitamins and supplements: Between the effects of jet lag and bar crawling, you'll need all of the benefits that you can get from energy boosts and healthful vitamins.
Itinerary
A fun and exciting way to spend your first day in Amsterdam is to follow the sample itinerary below:
10:00 a.m. – 10:45 a.m.: Brunch at De Bakkerswinkel (try the bacon and eggs with large slices of fresh-baked bread – yum!)
10:45 a.m. – Noon Walking tour of the city OR win a bottle of champagne and a trophy racing your friends at the Amsterdam Karting Experience.
Noon – 1:30 p.m.: Tour of Amsterdam on the "Beer Bike."
1:30 p.m. – 3:00 p.m. Enjoy a late lunch and people watching from the terrace at Eetcafe De Groene Olifant.
3:00 p.m. – 5:00 p.m. Personal time
5:00 p.m. – 10:00 p.m. Bar crawl through Leidseplein Square
10:00 p.m. – ? Visit to the Banana Bar to have a few drinks and witness the "banana act" and "writing act" firsthand.
Additional Trip Tips
Travel as lightly as possible, double-check and confirm your reservations and keep in mind that America appliances (including electric shavers) won't work in the Netherlands without a voltage converter.
Bachelor Party T-Shirts
If you want to memorialize your Amsterdam bachelor party in a tangible way, consider customized bachelor party tee-shirts for you and your friends. Visit our bachelor party shirts article for more information.
Travel Insurance
Even if you're not a gambler, a bachelor party in Amsterdam is going to be fairly expensive no matter how you cut it, so why take chances when you can protect your investment in this once-in-a-lifetime opportunity for just a few bucks with travel insurance purchased from a reputable insurance company? Travel insurance from reputable services typically covers the following:
Up to 100% cash back for trip cancellations, delays, and interruptions;
Covers purchase of personal items when baggage is delayed for longer than 24 hours;
No deductibles for emergency medical and dental coverage;
24/7 travel assistance; and,
Airline change fee and frequent flyer mile redeposit fee coverage.
Passport
Visitors from the United States, Canada, Britain and Australia are required to have a passport that is valid for at least 3 months past the length of stay in the Netherlands as well as a return ticket (except for British visitors).  For more information read our article on obtaining a passport for your bachelor party.  If you need to renew your passport or apply for a new passport in as little as a few days, we recommend the services of Fastport Passport.
Currency Exchange
The same currency exchange rate for Euros that is used throughout Western Europe also applies to the Netherlands and is currently around $1.25 per Euro.
Hashtags
#visitamsterdam #amsterdam #igersamsterdam #mokummagazine #super_holland #amsterdamcity #bestofamsterdam #amsterdamshots #iamsterdam #amsterdamworld #amsterdamviewm #wonderlustamsterdam #lensbible #wonderful_holland #thankyouamsterdam #theprettycities
Why Go
Amsterdam is truly a visitor's paradise. The people are genuinely friendly, attractive and smart and they appreciate a healthy balance between work and leisure. Although the prices in Amsterdam are not cheap, they are less than many other European capital cities such as London or Paris. Moreover, Amsterdam's geographic location makes it possible to visit a half dozen other European countries in a single day if the notion of a road trip strikes you and your buddies suddenly. In sum, the Dutch know how to live and they enjoy sharing it with others.
Rating
Conclusion
After reading the information above, we assume you're about to make your reservations for your Amsterdam bachelor party if you haven't already. Spotlessly clean, laid-back and friendly to a fault, with legalized cannabis and plenty to see and do including visiting countless historic sites of interest, Amsterdam is the destination of choice for bachelor partiers the world over. While getting there and back will take some time for North American visitors, Western Europeans and British citizens can make the trip in nothing flat. If you have the opportunity and resources, we highly recommend Amsterdam for the bachelor party of a lifetime.