Renting a House From Craigslist for a Bachelor or Bachelorette Party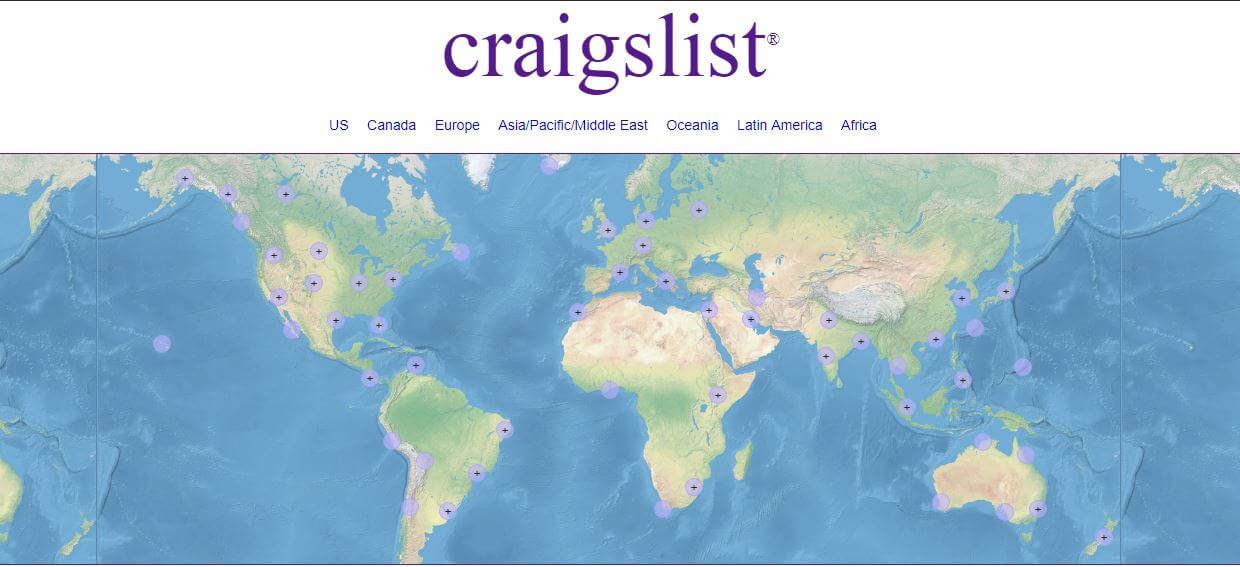 This post may contains references to products from one or more of our advertisers. We may receive compensation when you click on links to those products or services. Please also consider
donating to our website.
So you have checked out both Airbnb and hotels.com for a place to stay for your bachelor or bachelorette party, and still can not find the perfect accommodations for your group.  You are running out of patience and time, so you turn to another popular option for a vacation rentals, craigslist.  Craigslist has been around for many years and usually has a lot of vacation rental options available.  Just make sure you follow our suggestions so you don't end up losing your money.
How to Rent a Vacation Home on Craigslist
The first thing you want to do is change your craigslist location to that of the destination of your bachelor or bachelorette party.  In this example we will use "Miami Beach bachelorette party" to show you exactly how this should be done.  Navigate to the Craigslist website (www.craigslist.org).  Most of the time the destination of the page you are displayed will correspond with your IP address, which means if you are viewing the website in New York, you will be sent to the New York Craigslist site.
Change the location of Craigslist to show only listings in Miami Beach, Florida.  The option is located on the right hand of the webpage for desktop and on mobile it would be located at the bottom of the page.  You would select "US Cities" and then select "Miami" from the list provided (which will load the "South Florida Craigslist").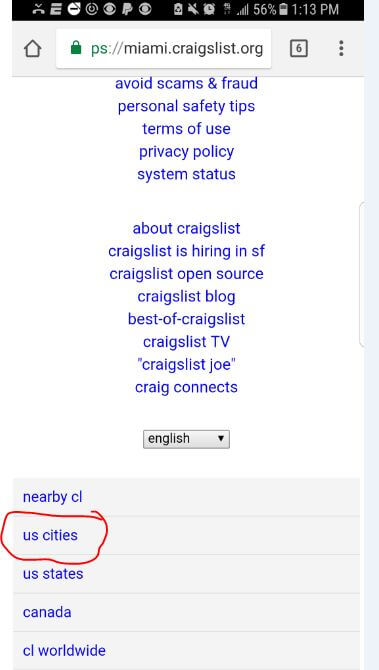 Now that you are in the correct location, you want to make sure you also click on "MDC" located to the right of "South Florida" which means Miami-Dade County (which is the county where Miami Beach is located).

Once in the Miami Beach local Craigslist, you want to select "vacation rentals" to see all the listing available.

Now you will see all the listings for vacation rentals in Miami Beach for your bachelorette party.  Make sure you are in "gallery" view so you can see pictures of each house along with information about them (total bedrooms, baths, amenities, size, and price).  Sort through the search results and even break down the results better by typing in specific terms in the top search bar (such as 4 bedrooms, pool, jacuzzi, etc.).  Once you find some options that suite your requirements, contact the listing agent or seller.  The two most popular options on Craigslist would be email or phone.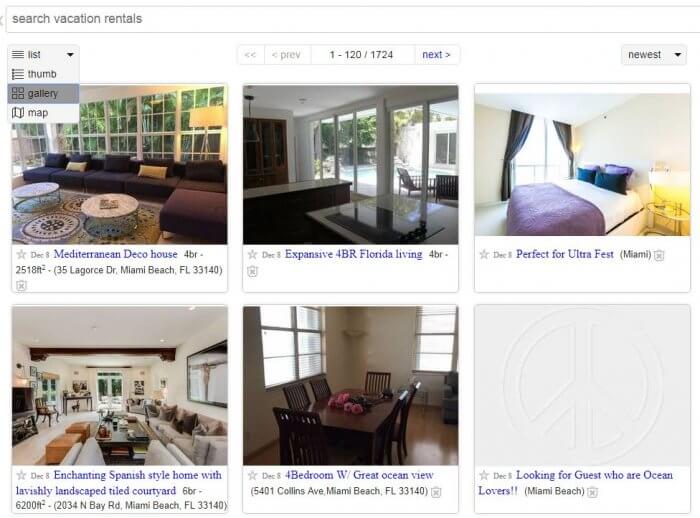 Tips for Renting a House on Craigslist
Too Good to Be True?
The first thing you should know, if the price seems too good to be true, it's probably a scam.  Yes, we have all seen the listings, 10-bedroom house with 10-bathrooms, 6000 sq feet, pool, listed for $200 per night.  There is just no way this makes sense.  Since you most likely searched the same type of properties on Airbnb and Homeaway, you should have a rough estimate for what properties are going in that area with the same criteria.  Yes, you could get a better deal on Craigslist as they do not have to pay 3rd party fees and prices are usually more negotiable, but something that is priced 1/2 of what you have seen on other websites is probably not a good sign.
Background Check
Obtain the information of the owner and run a background check on them.  We recommend using Beenverified.com as they have a ton of information on a specific individual and their cost is very low.  If you see criminal results for the owner that involve fraud, theft, or drugs, it could be a sign that you are about to be scammed.  Now to be fair, there is always a possibility that these infractions happened a while ago and they are now in a much better place and renting homes for a living, all we are saying is that you should take this into consideration.
Owner's Personal Information
Ask the owner for a copy of their driver's license.  If the owner is legit they should have no problem providing this information, especially if they are trying to rent their house on craigslist (which should match the address on the license).  Also obtain a phone number where you can call them.  Yes, it's easy and free to set up a google phone number, but remember the more information you have, the less chance you will be robbed of your hard earned money.
Payment Options
Never send a money transfer, money order, or western union for a house rental.  The best way to pay for a rental house you found on craigslist would be to use a credit card (as you have buyers protection and can chargeback the fee if you get scammed).  If they offer Pay Pal, use that option but make sure it includes buyer's protection (which usually happens if the seller is verified by Pay Pal).  If none of those options work, ask if the owner would allow the funds to be put into escrow and you will split the fees with them.  This means once you arrive at the house, get the keys, and get situated, you can request that the escrow be released to the seller / landlord / management company.  This is a great and easy way for protecting your money.
Short-Term Rental Agreement
Request a legally-binding rental agreement which lists the renters name, your name, dates, price, address, house policies, cancellation policy, etc.  Do not just type up something quick on your computer as if it's not written in legal terms there is no point in having one.  You can find one of these short-term rental documents available online which can be easily customized to your specific situation.  This will help should the courts need to get involved at a later time.
Other Tips
Ask for referrals.  Again, if this is a legitimate sale they should have no problem providing you with 2-3 referrals that have rented the property.
Search the property on Google.  With this you will be able to see if its available for rental on other websites, traveler's reviews, etc.
If the house is listed by a management company, do some research on that specific company, and look at other travellers reviews.  Usually if a reputable management company is involved, it's a safe bet.
Conclusion
If you follow the recommendations we provided you should not only be able to find a house to rent on Craigslist, but you should be able to protect your money and avoid a scam.  Yes, there are always possibilities that even if you follow everything mentioned that you could lose money, but the more steps you take the less the odds.  A huge part of this is your intuition, so if you feel uneasy at any point just exit the process.  There are plenty of other options for renting a vacation home which offer you much greater protection.
Once you have the house figured out, it maybe a good option to get traveler's insurance as well.  Although this will not protect you from getting scammed out of your deposit, if you need to cancel the trip due to illness, issues with the house, severe weather or many other scenarios, you will be reimbursed the full cost of the rental (assuming you have a rental contract and receipt for transactions)
Best of luck on finding the perfect vacation rental on Craigslist for your bachelor or bachelorette party!
Have a property available for group rentals, post it on Airbnb, leave it below in our comments, or post to our forum.