Bachelor Party in Sosua, Dominican Republic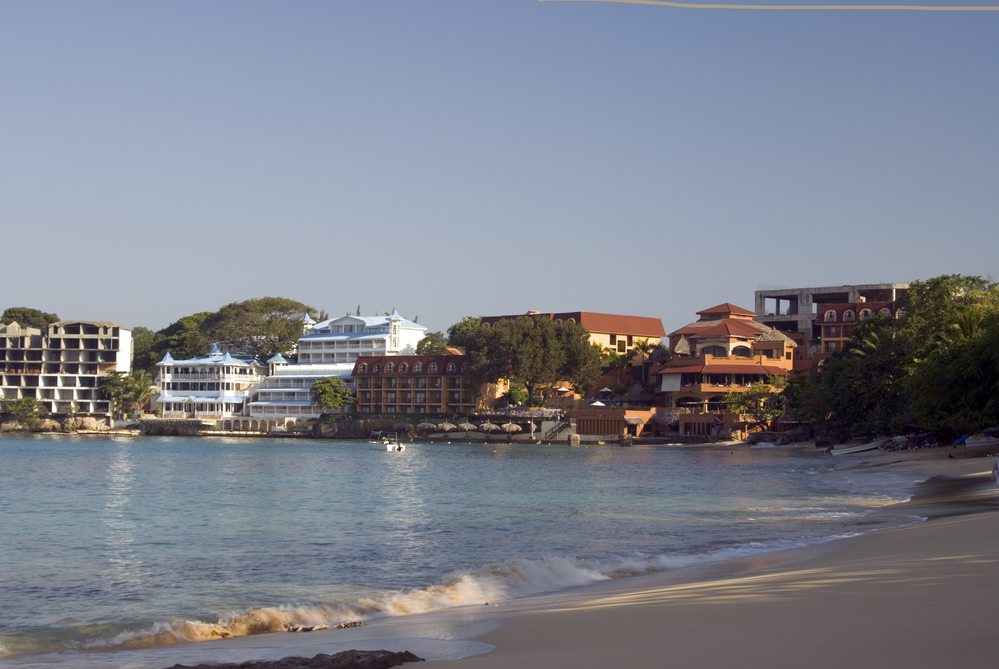 This post may contains references to products from one or more of our advertisers. We may receive compensation when you click on links to those products or services. Please also consider
donating to our website.
If you're looking for a great destination for your bachelor party, you should consider Sosua, Dominican Republic. Although Sosua has experienced some setbacks in recent years, including a government crackdown on prostitution and large clubs and bars, the Dominican Republic in general has enjoyed the fastest-economy in Latin America since 2015, and more than 3.4 million American and European (mostly from Germany) tourists still visit the country each year due it is spectacular multicolored sandy beaches, crystal-clear calm ocean waters and exciting water sports of all types. The American dollar is also very strong in the Dominican Republic where the cost of living is fully one-third below the United States, meaning your bachelor party dollars will go much farther here.
A large community of Western expatriates also fuels a small but thriving nightlife in Sosua making it an exciting destination for a memorable bachelor party. To help you decide if Sosua is right for your bachelor party by providing you with the real nitty-gritty, this article discusses how to get there, some of the best place to party, and other prices that you should factor in your decision. An updated report on massage parlors and strips clubs is followed by recent reports concerning the biggest entertainment losers in the city. Some valuable advice about prostitution in Sosua including average prices is followed by a description concerning available daytime activities and the best places to party and stay. Finally, other important information that you should consider including best and worst times to visit, crime in Sosua and tips for keeping safe are followed by a conclusive review of Sosua as a bachelor party destination.
How To Get There
Airport
There are numerous cheap flights available to Sosua almost no matter where you lived in North America, but travel time can take more than 11 hours and there are very few non-stop flights available to Puerto Plata's Gregorio Luperón International Airport (airport code: POP) from the United States at present.
Things to Do
Daytime Activity Ideas
Most of the daytime activities available in Sosua are water-based given the city's protected bays, colorful coral reefs, and pristine beaches. Not surprisingly, there are all of the expected activities available such as cruises, party boats, glass-bottom boats, scuba diving and snorkeling, but Sosua also offer an extreme waters port in the form of flyboard jet skis as we describe below.
Beaches
Sosua Beach features golden-sand beaches and crystal-clear calm water and colorful sea life that make it perfect for swimming, whale watching or snorkeling. Glass-bottom boat excursions, deck chairs, and other equipment rentals are also available.
Although windier than Sosua Beach, Beach Alicia features pristine water and sandy beachfronts, and it is far less crowded. Fewer amenities are available compared to Sosua Beach, though, so be sure to bring your own beach umbrellas and chairs.
Watersports
If you've ever wanted to go scuba diving, Aqua Adventures by Scuba Dive Sosua is the perfect company for you. Owned and operated by a native resident of Sosua who is a certified diving instructor, underwater photographer and fishing guide with more than 5,000 dives to his credit, this company also features adventures to local dive sites of interest, including the "Airport Wall" which is widely regarded as the best dive spot in Sosua. The prices are right at Aqua Adventures as well, beginning at just $50 for a single dive and $40 per dive for five dives or more including all needed scuba equipment for certified divers; certification classes are also offered for just $70 which includes pool training and a single dive. A 1- to 1-1/2 hour snorkeling experience is also offered for just $25 per person which also includes all needed equipment.
Caribbean Sensations by ORC features extreme water sports including flyboard jet skis that allow you and your friends to fly like Iron Man (check out their pictures and videos on their Facebook page to see what we mean). This attraction also offers flyboard lessons by certified instructions. This activity looks like the most fun you can possibly have with your pants on.
Likewise, Northern Coast Aquasports offers excursions to Paradise Island and the ill-named Du Du Caverns as well snorkeling, diving, dive courses and instructions.
Local Daytime Attractions
If the weather is unsuitable or you prefer an alternative to watersports, there still plenty of exciting daytime activities in Sosua for you and your bachelor party friends. For example, Monkey Jungle and Zip Adventures is located just 6 miles from Sosua and is open 7 days a week year-round. This attraction features a heart-stopping 4,500-foot certified zip line with seven stations that include a 60-foot deep ancient cave. More than 30 free-ranging squirrel monkeys scamper around a 5-acre botanical garden and will sit on your head and shoulders to pose for pictures (be sure to get a picture of the groom). All proceeds from this attraction are used to support medical/dental clinics and pharmacies in developing nations. Be sure to take cash since Monkey Jungle doesn't currently accept credit cards but no reservations are required.
Nightlife Activity Ideas
Rumbas – bars/club/sports bar, with a lot of televisions; also gets all American sports (NFL, NHL, NBA, MLB)
Field reports also indicate that Bar Central is a great place to meet women who will party with you. In addition, this bar even has rooms for rent (about US$8.00 an hour or US$12 for 3 hours).
The bar at City Lights Hotel & Lodging in Sosua is also highly rated as a great place for single guys. City Lights features mostly hot Haitian girls who will spend the night with you for between $30 and $40 (see more information under Extracurricular Activities below).
Massage Parlors / Strip Club
The town has removed a lot of these spots in the past few years, including two of our readers' favorites, Passions and CMP. It seems the government is trying to get rid of these types of activities, although all the nightclubs there basically are brothels.
Update 2/10/2015:  Passions is reopening under a new name "Amazonas."  We have also been informed that CMP could be re-opening soon as well.  If this is true it would definitely make Sosua a favorite for bachelor parties.
Where To Stay
Hotels / Resorts
Based on research and feedback from readers, these resorts appear to be bachelor party-friendly.
Blackbeards Adult Resort in Costambar, Puerto Plata is a full-service resort located in nearby Costambar in a gated beachside community. Blackbeards is non-inclusive resort but features the popular Drunken Parrot Restaurant & Sports Bar, a tropical swimming pool, a secluded Jacuzzi, and three bars including the Crows Nest Bar for late-night partying. All accommodations feature air conditioning and ceiling fans, cable and HDTVs as well as mini bar refrigerators and free lock boxes. The resort's white sand beaches are also great for relaxing and watersports. 
Bay City Condos in Sosua is a 15-room upscale hotel that is a popular destination for tourists. An excellent restaurant offers Caribbean-style cuisine with a twist, and Bay City's large swimming pool, free WiFi and wide selection of accommodation types (some include kitchenettes) make this a great place for a bachelor party. In addition all accommodations are air conditioned and feature flat-screen televisions and free high-speed Internet service. There is a minimum 3-night stay, but it is within walking distance  
In addition, Club Residencial Tourist Condo features a 54-apartment compound with a bar, restaurant, two great swimming pools, deck chairs and breakfast tables. In addition, this resort provides 24-hour security and has its own generator so you and your buddies won't have to worry about power outages that can affect the rest of Sosua. The resort is only a 15-minute walk from Sosua Beach and just a 10-minute drive from the airport. Standard apartment rental prices start at just $49 to $59 per day year-round (these rates include a fan but air conditioning will cost you an extra $14 per day, a bargain considering the alternative, especially during the summer months).
View all Hotels and Resorts in Sosua
Rental Houses / Villas
Based on research and feedback from readers, these villas appear to be bachelor party-friendly.
3-bedroom Villa in Sosua, Dominican Republic
4-bedroom Villa in Sosua, Dominican Republic
4-Bedroom Villa in Sosua, Dominican Republic
4-8 Bedroom Villa in Sosua, Dominican Republic
5-Bedroom Villa in Sosua Dominican Republic with Staff Included
6-Bedroom Villa in Sosua, Dominican Republic (allows a max of 7 guys)
View all Rental Homes in Sosua
Optional Villa Fees
High-end Villa Rentals include armed security and daily maid service.
Chef $45-50 per day not including food, three meals per day, up to five persons, $10 each additional person
When To Go
Best Time
December – April is peak season. This means clubs are packed, more people, more girls, more fun?  Down sides:  Hotel, villa, and "Pay for Play" prices are higher.
Make sure you book 4-5 months in advance to get best rates for flights and accommodations.
On a Budget
May – Hotels and Villas are normally 1/2 price, but off peak crowds, meaning the beach and nightlife are not as fun.
Worst Time
June – November. Rain season. Although prices are much cheaper for everything, the beaches and bars/clubs are empty.
Regardless of when you decide to come, make sure you include a Thursday – Saturday evening in your itinerary as even during the slower times these nights tend to be busier. Large clubs in Sousa remain open until 3:00 a.m.
Current Weather
What Else
Things to Pack
Biggest Entertainment Losers
These tourist favorite spots of years ago in Sosua, Dominican Republic have now been closed by the government and are no longer open in 2014.
Passions – Update: 2/10/2015 Possibly reopening as Amazonas
Caribbean Men's Paradise (aka CMP) – Update: 2/10/2015 Possibly reopening as well
Extracurricular Activities
Prostitution: Legal, but third-parties making money from prostitution (e.g., pimping or procuring) is illegal. Beautiful Dominican and Haitian girls of all shapes, sizes, and colors are available everywhere, though, at bargain-basement prices. Negotiate in advance and pay them afterwards. Don't leave anything valuable lying around if you take them to your hotel room. Poverty is endemic in the suburban areas surrounding Sosusa where most people lack running water and electricity and hookers may be tempted to steal from even long-term customers from the U.S. and Europe whom they regard as rich. The average cost for an overnight stay (some of the women will wake you up in a highly friendly manner) and then have breakfast with you) is between $50 and $100  Street women are usually cheaper, but usually have diseases and have a reputation of stealing from you. The best places to meet hot women ('chicas") include City Lights and Bar Central (see above).
Gambling:  There are two casinos in Sosua.
Illicit drugs:  Marijuana and most other illicit drugs are available but they are generally poor quality. More importantly, the possession of ANY AMOUNT of pot or other illicit drugs is a punishable criminal offense in the Dominican Republic and even simple possession of 20 grams or less can land you in prison for 6 months and a RD$1,500 fine (about US$32). In addition, customs authorities have the right to inspect your baggage entering and departing the country, so we recommend steering clear of illicit drugs during your Sosua bachelor party.
Other Prices
Bottle Prices at Clubs: 4000-6500 per bottle (approx $100 – 150 USD per bottle)
Cuban Cigars – $400-2000 rd per cigar (approx $10 – $50 USD per cigar); do not buy them on the street as they are fake. Cafe Cubano and Super Super Liquor Store are good spots to get real Cuban cigars.
Big Events
Puerto Plata Carnival End of January 2015 – February 2015, every weekend different events.
Crime
It has been documented on various websites that a number of tourists and foreign investors have been killed in the past three years, one website keeping a count which runs around 38, and the latest being in February 2014. Please remember that this is a third world country, so being flashy about your money can lead to problems. As long as you travel in groups and stay out of trouble you will be fine. Remember this country depends on tourism as a major source of its revenues. You will see a large police presence in the areas frequented by tourists. The town of Sosua and the country of Dominican Republic are not listed on the U.S. Travel Warning list at this time.
Tips for safety
Although not compulsory, experts recommend that tourists to the Dominican Republic should receive diphtheria, hepatitis A, hepatitis B, malaria, TB, tetanus, and typhoid immunizations as well as malaria tablets.
Don't wear jewelry or flash money.
If severe intoxication occurs (and you know it will) travel in groups or spend the extra money and get security. See more information on security and bodyguards above.
Important Contacts
Driver: Elias Anoa at 809-842-5557; Puerto Plata Airport (POP) $25US up to 5 people; Santiago Airport (STI) $100US up to 7 people
Driver (also does security): Rosario [email protected] Puerto Plata Airport (POP) ~$40US up to 15 people; Santiago Airport (STI) ~$100US up to 15 people
Other Notes
The Dominican Republic requires that all visitors purchase a $10.00 tourist card (valid for 30-days) upon entry into their country. This card is purchased at the airport before baggage claim. The Dominican Republic also requires a $20.00 Departure tax which is also collected at the airport. Some airlines include this departure tax in the ticket price, so please ask your airline for more information.
Rating: 
Conclusion
Although Sosua is still a good bachelor party location, the past few years has resulted in its former "A" grade being reduced to a "B." The two locations most visited by bachelor parties, Passions and CMP, have been closed by the local government. The remaining bars/clubs/sports bars had to build glass walls and doors, trapping in the hot air, and losing the ocean breeze. The fact that there is no air conditioning in these establishments can make for a very sweaty, uncomfortable evening especially when alcohol is involved. Nevertheless, there are bargain-priced world-class resorts available that feature air conditioning and 24-hour security so that you can your bachelor party buddies can enjoy yourselves worry-free. The spectacular beaches and high-energy ex-pat nightlife also add to this venue's value as a bachelor party destination. Moreover, even better nightlife opportunities exist in Cabarete which is nearby and lined with beautiful beaches. Be sure to do your due diligence about local laws and preparations and Sosua, Dominican Republic can make your bachelor party an unforgettable experience.