Bachelor Party Checklist (2023 Edition)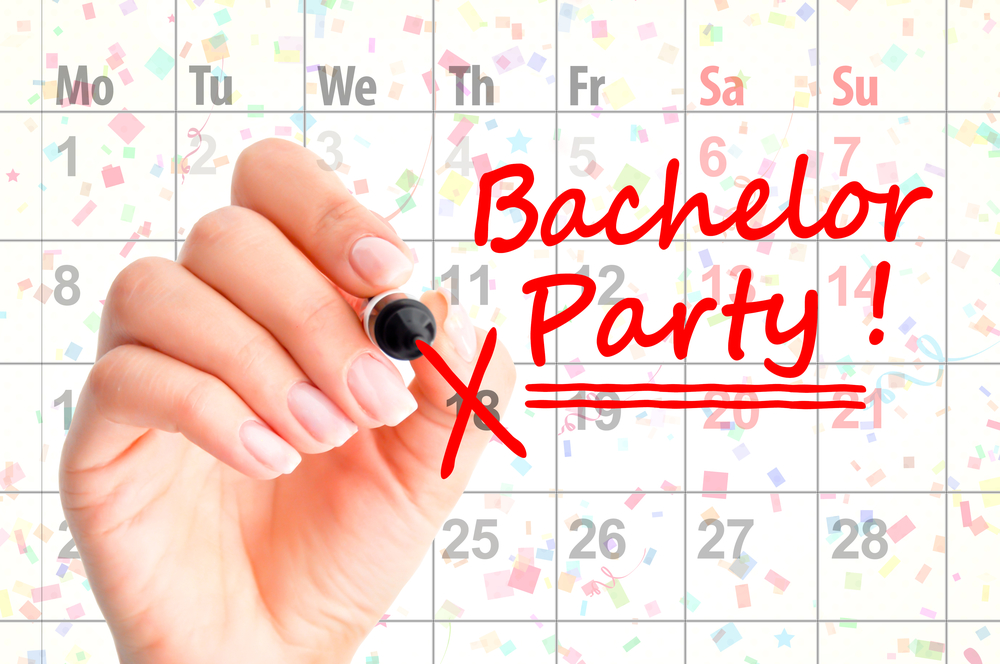 This post may contains references to products from one or more of our advertisers. We may receive compensation when you click on links to those products or services. Please also consider
donating to our website.
Although wedding planning is primarily the domain of women (thank goodness!), the men involved are usually responsible for everything concerning planning and managing the bachelor party. Nevertheless, the days and weeks leading up to a bachelor party are usually hectic for the best man, groomsmen and the groom, but this is not time to forget anything. In addition, many men have never served in the capacity as best man or groomsmen so they may know not what is expected of them in order to avoid looking like a real jerk.
This bachelor party checklist guide will help you make sure you don't overlook something critical, and provides a description of the respective groomsmen's, best man's and groom's responsibilities. In addition, we even provide a handy top ten points to remember checklist that you can download and print for easy reference (laminate it for the groom as a souvenir!).
Best Man's Responsibilities
The best man has the lion's share of the responsibilities for planning and managing the bachelor party, and he can be considered the general in charge of the groomsmen. Therefore, some of the chores listed below can be delegated to amenable groomsmen (or even the groom in case of need). Traditionally, the best man is responsible for the following:
Coordinate and finalize the guest list for the bachelor party with the groom.
Determine a mutually acceptable date for bachelor party for the groomsmen and groom and confirm it through emails. There's no turning back now…
Survey groomsmen about their preferences for bachelor party games, activities, venue as well as food and beverages and budget.
Ask groom (discretely) concerning his preferences for his bachelor party, including venue, theme, dress, activities as well as food and beverages.
Based on groomsmen's and groom's feedback, develop a rough budget and select the location.
Finalize the budget and get written confirmation from groomsmen that they agree with their share of the costs (more affluent groomsmen may offer to help offset the costs for others).
Purchase bachelor party game supplies.
If travel is involved, the best man should purchase his tickets and ensure that the groomsmen do too. Request written confirmation from groomsmen that they have completed this step via email and keep after them relentlessly until they do.
If the bachelor party will be held at the best man's or one of the groomsmen's homes, you can skip the next step.
Make and confirm reservations at a hotel or resort that can accommodate your needs.
Do your homework about the intended destination so you can pick the best of what's available for your world-class bachelor party.
Purchase booze and food for the hotel room (if required).
Provide the groom and groomsmen with a list of intended destination with names, addresses and telephone numbers in case you get separated.
If you're going out on the town, make sure you have a designated driver or hired transportation available. (We can't stress this point enough! Nothing spoils a great bachelor party faster than having to bail out one of your buddies.)
Make reservations at restaurants and clubs if necessary.
Make reservations at a gentlemen's club if appropriate.
Arrange for an in-room stripper if appropriate.
Take up a collection to offset the groom's expenses.
Deliver a humorous but heartfelt toast to the groom and bridge-to-be at the end of the night.
Be the groom's faithful wing man for the duration of the bachelor party.
Groomsmen's Responsibilities
Compared to the best man, groomsmen have it made when it comes to bachelor party planning, but they do have some traditional responsibilities including the following:
Provide the best man with timely feedback concerning the above-listed preferences, including most especially budget and destination.
Reserve and purchase airline ticket (if appropriate) and confirm purchase with the best man via email.
Contribute to the best man's collection to help offset the groom's expenses.
Keep an eye on the groom and help him stay out of trouble.
Would it kill you to buy him a lap dance? We didn't think so…
Make sure the groom has the time of his life because that time is limited.
Actively and enthusiastically participate in all bachelor party games, even if you think they're stupid (most of them are).
Keep the energy level up and avoid discussing real downers such as politics, religion, weddings, you know.
Take plenty of pictures of the festivities (save the best ones for blackmail purposes at a later date!).
Groom's Responsibilities
The word "groom" comes from the Middle English for "male servant," and ain't it the truth? Fortunately, the groom enjoys a special place at bachelor parties and his responsibilities are bare-bones minimum, but include the following:
Purchase airline tickets (if appropriate) and confirm with best man by email.
Keep breathing until the party's over.
Remain faithful to the bride-to-be.
Remain lucid for as long as possible (nah, who are we kidding?).
Relax – your friends have your back.
If financially able, chip in for the expenses.
Thank your bachelor party friends for their thoughtfulness (if appropriate), their kindness (if appropriate) and their camaraderie during this special event.
That's it!
Top 10 Points to Remember
The checklists above may not be completely applicable to your bachelor party, but they should give you a good idea about what's involved. Although all of these steps are important, you'll do well by remember the following ten points:
Collaborate on time, place, budget and bachelor party activities.
Purchase airline tickets as soon as possible (if appropriate).
Make reservations for ground transportation, accommodations and entertainment (including restaurants and clubs).
Plan ahead and pack everything you'll need for the bachelor party.
Find a designated driver or arrange for hired transportation.
Keep things upbeat and fun.
Don't be chintzy.
Take plenty of pictures.
Stay flexible in case of change of plans.
Keep the groom out of jail, or in the alternative, bail him out.