Plan the Perfect Bachelorette Party in Myrtle Beach (2023 Guide)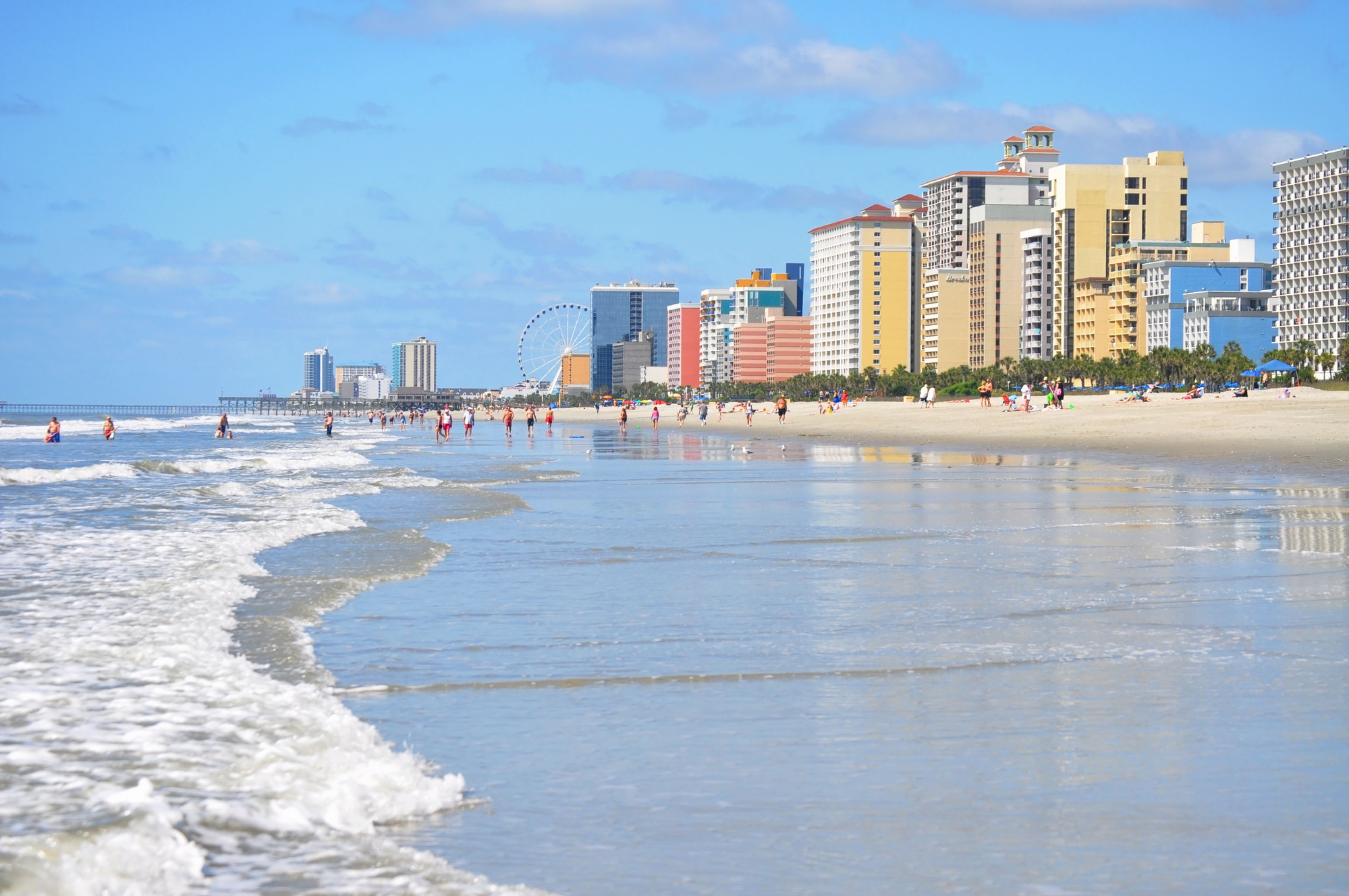 This post may contains references to products from one or more of our advertisers. We may receive compensation when you click on links to those products or services. Please also consider
donating to our website.
Looking for an exciting new destination for your bachelorette party? Then, you really need to consider Myrtle Beach, South Carolina. While South Carolina may not have the same reputation for gorgeous beaches and all-night parties as some of its neighbors to the south (we're looking at you, Florida); Myrtle Beach has certainly established itself as one of the best vacation destinations/ party spots on the East Coast. What makes this location so great for bachelorette parties? Have you seen the movie Shag? While that group of girlfriends may have been hitting the Myrtle Beach of 60 years ago, the area's appeal as a prime tourist destination has remained largely unchanged during that time period. It is still a gorgeous beach, attracting tons of young tourists, with fun activities, plenty of restaurants, and a wide variety of nightclubs. Plus, it is a closer destination for many people on the East Coast, making it a great road trip destination.
How to Get There
Myrtle Beach is located on the coast of South Carolina and is in easy road-trip distance from many of the country's biggest cities. However, most people choose the convenience of air travel and fly into Myrtle Beach, so that they can spend more of their vacation actually enjoying the beach.
Airport
Myrtle Beach is serviced by Myrtle Beach International Airport (airport code:  MYR). While this airport is smaller, it is serviced by a number of large carrier, including: Allegiant, American, Delta, Frontier, Porter, Spirit, Sun Country, United, and WestJet. Once you get to the airport, you can use Uber or Lyft to get to your destination. Use our referral code for a discount on your ride!
Getting Around
There are a variety of different ways to get around Myrtle Beach. The roads in the Grand Strand have been significantly improved, so that if you choose to get a rental car you can go with one of the many national rental car chains at the airport, including Enterprise. Not sure you want to do all that driving? Considering hiring transportation through a rideshare service.  If you want to travel in style, you can always hire a limousine through Carolina Limousine or a similar livery service. Planning a night of bar hopping in style? Consider hiring a party bus through Party Bus Myrtle Beach, which is not only big enough to handle all of your guests, but also offers the upscale accommodations and party-on-wheels atmosphere that helps you make sure the party never stops. If all of those options sound a little too expensive, have no fear; the Waccamaw Regional Transportation Authority provides local bus service through The Coast RTA.
Things to Do
There are a tons of things to do in Myrtle Beach, though what is available will vary largely with the season. A true beach town, tourism in Myrtle Beach is seasonal, so before you plan an off-season visit, you want to make sure and double-check to make sure that your activities are available. Of course, you want to make sure and visit the beach, but the fun does not stop with the sand and the sun. Myrtle Beach has restaurants aquariums, nightclubs, and a surprisingly large amount of shows and revues. In fact, in terms of entertainment options, Myrtle Beach rivals another hidden travel gem: Branson.
Daytime Activity Ideas
In all of our time helping with bachelorette party planning, we have discovered that there are two type of beach travelers. The first type of beach traveler wants the sand, the waves, and a relaxing lounge chair in the sunshine. Planning things to do for that type of visitor is easy. The other type of beach traveler wants to experience everything an area has to offer. While we cannot possibly cover every daytime activity available in Myrtle Beach, we have tried to include enough activities to keep even the most go-go-go visitor happy and entertained.
One of the most popular things to do when visiting Myrtle Beach is to go on a dolphin sightseeing cruise. These cruises get you plenty of time on the water and a great way to see dolphins in their natural habitat. People have mixed feelings about swimming with dolphins in captivity, which we respect, but there is no denying that seeing dolphins in their natural habitat is an amazing experience.
Everyone loves a spa day for a bachelorette party. You know how to make that spa day even more amazing? A spa day on the beach. Myrtle Beach has a few top-notch spas that are fabulous for bachelorette parties, but our favorite is the Awakening Spa. This spa lets you create custom packages, perfect for your bachelorette party experience. We highly recommend the warm stone massage.
The Myrtle Beach Boardwalk may be the second-most famous beach boardwalk in the entire country. This long stretch of boardwalk fronts some amazing beach areas, making it a great place to start a beach day. However, all of the activities and amusements on the boardwalk, which includes thrill rides, a Ferris wheel, and arcade-style games, mean you can spend an entire fun day on the boardwalk without ever hitting the beach!
Of course we have to mention the beach. You may be staying in a beachside hotel, which will offer access to the miles of sugar sand beaches in Myrtle Beach. However, if you want to explore other beaches or are not staying at a beachfront property, then we recommend Huntington Beach State Park, which is located away from all of the area's hotels and offers a pristine feel.
Want to get adventurous in the water? Then consider some of the awesome water sports you can enjoy in and around Myrtle Beach. Whether you are into surfing, kayaking, or paddleboarding, Kokopelli Surf Camp can hook you up with lessons or equipment rental. We love the idea of a girls' surf camp lesson day or just a kayaking adventure taking in the area's natural beauty.
Love fishing, but hate the ick factor that is often associated with a fishing trip? Then, you need to check out Myrtle Beach Deep Sea Fishing. This fishing charter boat offers a luxury fishing experience, with an air conditioned fishing boat and experienced fishermen on the boat; they take you to spots where you are most likely to find great fish and can help your party with the whole experience. Contact them about whole-boat charters for larger parties.
If you are a fan of golf, then Myrtle Beach is the place to go. The Grand Strand area has over 120 golf courses, and many of them are ranked among the best in the nation.
View More Daytime Activities in Myrtle Beach
Nightlife Activity Ideas
If you have never been to Myrtle Beach, then you may not realize just how many different nightlife options are available. For a smaller area, it has a surprising number of different dinner-theater type options available. They might not be the classic bachelorette party entertainment, but we suggest you put your preconceived notions aside and check out at least one while you are in town. You will find yourself having an amazing time!
Have you always harbored a secret fantasy of being a pirate's wench? If so, then you need to go enjoy dinner and a show at the Pirates Voyage Dinner and a Show. You can plan for a party, and may even get the bachelorette to be a part of the show! Want a Hawaiian theme, rather than pirates? Then make plans to attend a Polynesian Luau and Fire Dinner Show instead.
Are you a fan of cirque-inspired entertainment? You do not have to travel to Vegas or catch a traveling show to catch this more upscale take on the classic circus. You can simply check out Le Grand Cirque Myrtle Beach.
If you have looked at any of our other bachelorette cities, then you probably already know that we love a great ghost tour. Why do we think ghost tours make for great evening activities? They combine a little bit of history with some drama to tell you a bit about the town, help you see the sites, and the tour guides can usually point out some awesome bars for your post-tour drinking.
View More Nighttime Activities in Myrtle Beach
Bars
Myrtle Beach has a ton of bars, many of them on the beachfront. Picking the best one can be a little challenging because what makes one bar better than another is super-subjective. We have picked some of the area's favorite bars and included details about why some people love them, to help you narrow down your must-see bars while you are in Myrtle Beach.
You have almost certainly heard of Ocean Annie's, because the bar is somewhat iconic. This ocean front pool bar is known for its frozen drinks, pumping music, and its bikini clad servers. They call themselves the biggest party on the Grand Strand, and the atmosphere has a decidedly spring break vibe.
Bumstead's Pub has a very pub-like vibe, but still manages to convey that you are at the beach. We are not quite sure how they manage to combine those two feelings, but they do. We love their immense selection of beers as well as the featured live music that is frequently there. While the atmosphere in the bar is a must for some patrons, we prefer to hang out on the patio.
Who doesn't love a great Tiki Bar? We know we sure do and the 8th Avenue Tiki Bar and Grill is our Myrtle Beach favorite. The real surprise? Inside this Tiki bar is a fabulous Mediterranean style eatery.
Male Reviews / Male Strip Clubs
With Myrtle Beach being a relatively small beach destination area, you might not expect to find any male revues there. However, it is a party destination and you can find some beefcake for your beach bachelorette!
Muscle Man Male Revue offers shows in Myrtle Beach at 1901 Mister. This revue style show offers the type of stripper experience you have come to expect from watching movies. That means you can expect some theater, a little comedy, hard bodies, and some pretty good dancing. They also specialize in the party experience and are happy to make the bachelorette the star of at least part of the show!
Where to Eat
While Myrtle Beach is not a foodie destination, you can find plenty of really delicious eats at the beach. In fact, there is a surprisingly large variety of food choices at Myrtle Beach, and the restaurants range from the super-casual to some pretty fancy joints.
Breakfast / Lunch / Brunch
Johnny D's Waffles and Benedicts describes itself as having the best breakfast in Myrtle Beach. It's not bragging if it is true, and, while we have not eaten every breakfast in Myrtle Beach, we fully admit that they seem to offer the best of the best. The crab and shrimp omelet is absolutely amazing, the homemade Belgian waffles are like dessert for breakfast, and the California Benedict is the best eggs Benedict we have ever tried!
The Eggs Up Grill has a plain name and that suits the menu just fine. It is not full of all kind of fancy things, but serves classic breakfast fare that is excellently prepared. The Mason Dixon, which is two eggs, sausage, biscuits, gravy, and home fries is the perfect Southern breakfast. You cannot eat like that every day, but for a splurge, it is so worth it!
Hot Stacks Pancake House is known for its specialty pancakes and, if you are a pancake lover, you have to visit them while you are at the beach. Fortunately for you, there are three different Hot Stacks restaurants in the Myrtle Beach area. All of their pancakes are amazing, but we love that they offer a vegetarian farmhouse bowl that makes sure everyone can have a delicious start to the day.
If you are looking for classic Southern food, then Mammy's Kitchen is a must-eat place while you are in Myrtle Beach. They offer buffet and ala carte menus, which means you can really tailor your dining experience to meet your personal tastes. The breakfast buffet features scrambled eggs, French toast, pancakes, corned beef hash, biscuits, sausage links, sausage patties, bacon, hash browns, sausage gravy, grits and more. Since their French toast is our favorite thing at their restaurant, we say get the buffet and get it all!
Want a more upscale brunch experience? Consider Tupelo Honey. They offer our favorite brunch in Myrtle Beach, but their appetizer menu makes it hard to make it to the main course. Fried green tomatoes, mac and cheese bites, and classic deviled eggs are a great way to share your beginning bites. If you make it to the entrees, try the Shoo Mercy Shrimp and Grits; you will not be disappointed. Want a taste of Tupelo Honey at other times? This upscale restaurant actually offers surprisingly affordable takeout. Skip the chains and order a fried chicken picnic to go and you will have the highest-quality snacks on the sand.
Are you a fan of Carolina barbeque? If you are not already, Simply Southern Smokehouse will make a convert out of you. It offers a combination of bbq and country buffet, so you can get your smoked meats and your sides. They offer daily lunch specials. If you happen to be there on a Monday and you were raised with some classic Southern food in your home, you have to visit them on that day, when they serve fried gizzards that will rival anything your grandma ever put on a table.
Dinner
Aspen Grille offers some of the finest dining in Myrtle Beach. Start with the fried North Carolina Oysters, then try the domestic lamb rack, try a spring pea and corn risotto, and finish it off with some of their flourless chocolate cake. This is one of the places at the top of our list for your fancy bachelorette party dinner night.
Another local favorite is Thoroughbreds Chophouse and Seafood Grille. This restaurant has a very clubhouse feel. We love their Brie-topped escargot, fried green tomatoes, and their ribeye. Their wine menu is extensive; it might be the best wine menu in Myrtle Beach, and if you are not sure what to pair with what you are ordering, the wait staff is happy to give you suggestions.
When you go to the beach, you want to eat seafood. Hook and Barrel is the place you want to eat. You cannot go wrong with the fresh fish, prepared to your specifications. More of a shellfish fan? Try the pan seared scallops. Save room for their Key Lime Pie. No time to hit Hook and Barrel at dinner time? They offer a fabulous Sunday brunch.
Where to Stay
Myrtle Beach is a vacation destination and it has all sorts of places for travelers to stay. Whether you want a quaint hotel, a bustling resort, or a rental property, you can find something perfect for you in or around Myrtle Beach.
Hotels and Resorts
With smaller groups, we love staying at hotels or resorts when we travel. We make no secret of the reasons why; we love the pampering. Daily maid service. A concierge that helps hook you up with great local activities. No pressure to cook. We love staying at hotels. Here are some of our Myrtle Beach favorites:
The Westgate Myrtle Beach Oceanfront Resort offers all of the amenities you want in an oceanfront hotel at a mid range price point that makes it an affordable choice for bachelorette parties. We love the swimming pool that overlooks the ocean, the range of accommodations that include multi-person villas as well as luxury rooms.
If you love a lazy river like we do, then you may want to check out the Coral Beach Resort and Suites. This resort has beachfront access and Myrtle Beach's greatest range of on-site accommodations, which really makes it a great resort. However, the downside is that it is very popular with families.
The Myrtle Beach Marriott Resort and Spa at Grande Dunes is one of our favorite resorts in the area. While you will find children at any Myrtle Beach area resort, this one has a slightly more grown-up feel than some other hotels. We love the full resort amenities at this hotel, where you can book a spa day, dine and drink on-site, enjoy the beach, and schedule other activities around the city.

Hotels Available in Myrtle Beach
Rental Houses
In a place like Myrtle Beach, you will find some amazing and unique rental houses and vacation homes. You can use services like Airbnb and VRBO, to help you find your perfect home away from home. Use our link to get $40.00 off your first AirBnB reservation.
AirBnB
We love this adorable beach house on stilts. A block away from the beach, this vacation home sleeps up to 14 and has great bachelorette party house amenities like a private pool, and plenty of bathrooms for a large group.
This pet-friendly rental is within walking distance of many of Myrtle Beach's best amenities. You can walk to bars, restaurants, and the beach all from the house. This makes it a great central party location, as does the fact that it can sleep up to 16 people!
Interested in renting out your home to groups?  Become an Airbnb host and start earning money today. 
VRBO
Does it get any more adorable than this super-cute beach house? The Victorian appearance on the outside gives way to a contemporary take on classic beach house décor on the inside. It has five bedrooms, five bathrooms, and is located on the Golden Mile. It is directly across the street from the beach, but still within walking distance of restaurants, bars, and even a Starbucks.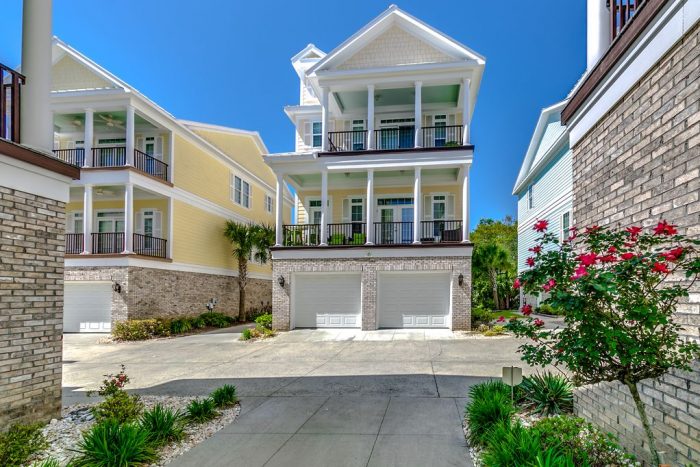 We love the wraparound porch at this beachfront home. The house is more comfortable than luxurious, but has the space for a big group to spread out and plenty of opportunities to relax, whether you are sprawling on one of the comfy couches, stretched out in a hammock, or visiting on the wraparound porch.

Rental Homes Availables in Myrtle Beach
When to Go
Best Time
The best time to visit Myrtle Beach is during true summer, June to August, when the warm summer days give you the perfect beach weather. Afternoon showers are common during this time period, but they are generally brief and will not keep you from enjoying the weather.
On a Budget
Myrtle Beach is an in-season town, which means that you really want to visit during the extended tourist season, or else you will find things are not open. If you want to visit on a budget, try visiting in April and May, after the spring break crowds and before summer high season. Another great time to visit is just after Labor Day; many of the attractions are open through the end of October, and many people swear Halloween is the best time to visit!
Worst Time
As a resort area, many of the places to go simply do not operate from late fall to early spring. That is the worst time to visit, because your options are going to be limited. However, if you can handle chilliness and like the feel of a winter beach town (lots of people are fans), you can still enjoy a lot of the local activities.
Current Weather
What Else
Big Events
The Sun Fun Festival, which is usually held at the end of May/ beginning of June, is one of Myrtle Beach's most highly anticipated events.
Early June is also time for the Carolina Country Music Fest, a huge country music festival held in Myrtle Beach. This popular music festival offers an eclectic mix of some of the hottest country stars, up and coming performers, and classic favorite bands.
If you are a muscle car fan, then you might want to visit Myrtle Beach during Mustang Week, a festival at the beginning of September that celebrates the iconic American muscle car: the Mustang.
View All Event Tickets in Myrtle Beach
What to Pack
You are heading to the beach, so pack beach clothes. Shorts, t-shirts, cute dresses, comfortable walking shoes, flip-flops, bathing suits, and sunscreen. This popular tourist destination has plenty of shops, so if you forget something, you will be able to find it, as long as you are prepared to pay tourist-town prices.
We love Coppertone Kids Sunscreen because of its high SPF and water-resistant properties. Pick up a multi-pack at Amazon, so you and your girlfriends can all be covered. Sunshine is great, but sunburns suck:
Pick up a multi-pack of bachelorette party sunglasses and bring them for all of the girls to help shade your peepers from the South Carolina sun:
Sample Itinerary
One of the things we love about Myrtle Beach is that you can actually throw a pretty affordable bachelorette party there. That is why we are focusing on sample itinerary on creating a bachelorette party on a budget.
Stay at a beachfront resort hotel, so you can get access to great amenities without spending any extra money. Many of them offer free breakfasts, which is not just a great way to save some money, but also the best way to ensure you get your morning beach time. When lunch time hits, try one of Myrtle Beach's great Southern style restaurants, like Tupelo Honey, then spend the afternoon at the Myrtle Beach Boardwalk. Sure, you will need some spending cash if you want to play the games or ride the rides, but you could just as easily spend the day taking in the sites and people watching. For your night's activities, we love the idea of a dinner and a show, because they are real bargains. Not sure what you want to see? Check out a savings site, like Groupon or Living Social and you will find surprisingly affordable dinner shows. Enjoy the balmy summer night by heading to one of the famous Myrtle Beach bars, like Ocean Annie's, where you can spend the night dancing under the stars.
Bachelorette Party T-Shirts
Looking for some cute bachelorette party t-shirts? We love the idea, because t-shirts make perfect party favors, since they are affordable and people actually wear them.
We love these "what happens in Myrtle Beach stays in Myrtle Beach" t-shirts; they offer a real Hangover vibe for your bachelorette activities:
We love these beaches, booze, and besties shirts from Etsy: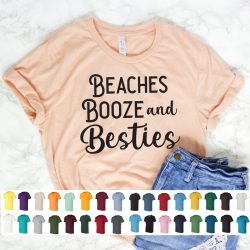 I said yes, we said Myrtle: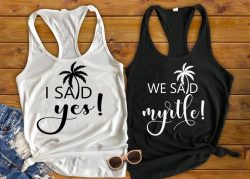 Hashtags
#Beachbabesbachelorette
#MyrtleMamas
#LastFlinginMyrtleBeach
Travel Insurance
We are big fans of travel insurance. Sure, it is an initial expense you may think you can skip, but if anything happens, the amount of money you save by having insurance dwarves the small amount you lose by buying the insurance. South Carolina has a hurricane season; the idea that a summer trip might be canceled because of weather is totally possible.
Why Go
Myrtle Beach is just a fun destination. It is not what people think of when they think bachelorette parties, but it has everything you could want for bachelorette fun. It has beaches, bars, great dining, tons of daytimes activities, and all kinds of shows and other entertainment. It is also more affordable than many other bachelorette party locations.
Star Rating
5 Stars. Some people think we are a little stingy with our 5 star ratings because we have not given them to some great destinations. We think Myrtle Beach is a true 5 star destination for the bachelorette party. It is easy to reach, relatively affordable, and offers a huge variety of activities so that every guest is sure to find something that they love.
Conclusion
Myrtle Beach may not have been on your short list of bachelorette party destinations when you started this article, but we bet it is now. This party city offers some of the best beach entertainment you can find on the East Coast, and is fun for all kinds of vacationers, including bachelorette parties.