Bachelor Party Dallas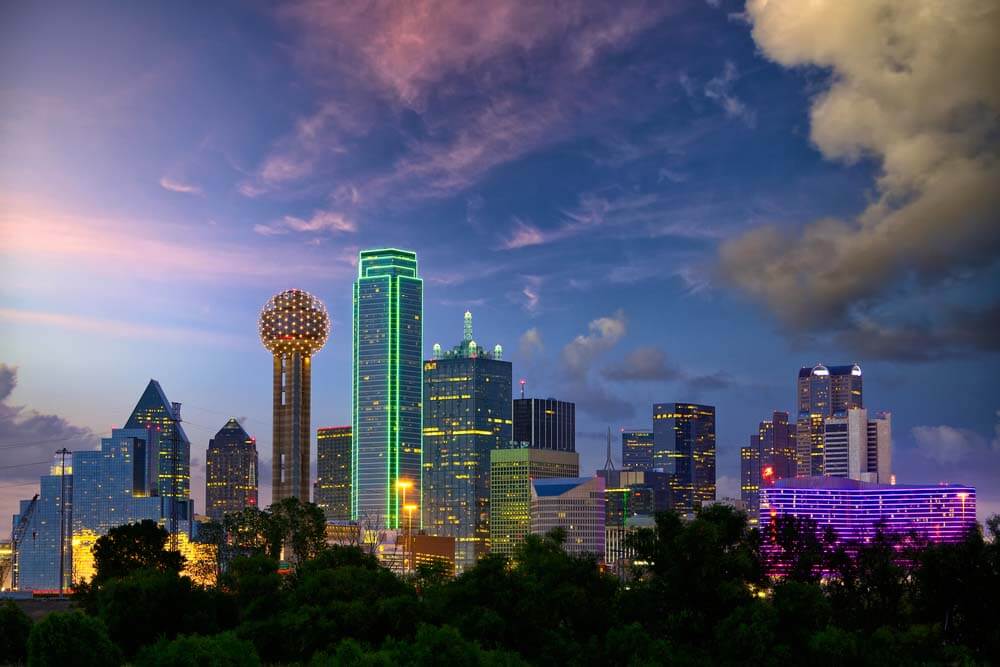 This post may contains references to products from one or more of our advertisers. We may receive compensation when you click on links to those products or services. Please also consider
donating to our website.
Dallas, Texas may not be the first place when you think of bachelor party destinations, but if you are looking for beautiful women, plenty of opportunities for debauchery, great food, and an affordable party atmosphere, Dallas, baby, all the way.
Of course, when we talk about Dallas, we're not actually talking just about the city of Dallas.  Instead, we're talking about DFW.  The Dallas/ Fort Worth metroplex is one of the biggest multi-city metroplexes in the United States, but there is a distinct difference between the vibe you'll find in Dallas and the one you will find in the nearby Fort Worth area.  This means that whether you are interested in old-school Cowboys or gridiron ones, you can have the bachelor party of your dreams in Dallas. 
How to Get There
Car
Depends on where you are coming from.  In north Texas, Dallas is actually road-trip distance from just about anywhere in Texas and most places in Oklahoma, Arkansas, and Louisiana.  This means that it is a great central destination point if you have people traveling in from different areas and if airplane tickets might be out of the budget. 
Airplane
Of course, the easiest way to get there from farther away than, say, Houston, is to hop on a plane.  Dallas has a couple of major airports and, between the two of them, they offer flights from all of the major airlines. The two airports are Dallas Fort Worth International Airport (Airport Code: DFW) and Dallas Love Field (Airport Code: DAL). 
Things to Do
From outdoor enthusiasts to club goers, to guys who want the full-on traditional bachelor party experience, Dallas offers a little something for everyone. 
Daytime Activity Ideas
Take in a game. Dallas is home to a number of major sports teams.  In Arlington, you can visit Globe Life Park and check out a MLB game with the Texas Rangers.  You can also take in a Dallas Cowboy's game in Arlington.  The Dallas Mavericks are the city's NBA team and the Dallas Stars offer the state's only major league hockey team.  It is a great city for sports fanatics, especially if your visit hits when seasons overlap.
Go for a hunt.  Hey, if you are getting married in Texas, then you might be just as likely to be marrying a woman who loves to hunt as one who hates it, but the reality is that, for most guys, the opportunities to go hunting decline dramatically after they say "I do."  The Dallas area has a number of local hunting places where you can participate in safe, responsible, conservation-driven hunting, while still having a great time with your friends.  Tips for finding responsible hunting spots: look for ones with guided hunts if you have inexperienced hunters in your group, check out the animals you will be hunting- are they native to Texas and with abundant populations, and find out who is responsible for field dressing and butchering your kills (you kill it, you eat it).   J4Ranch.net offers a wide variety of wild hog hunts, to fit your style and hunting experience.
Take a jump before you take the plunge!  If you are going to skydive, doing it before taking on the responsibilities of a wife and kids is a great time to start.  The Dallas area plays host to some of the nation's most reputable (and safest) sky-diving venues.  So, gather up the guys and head out to the Dallas Skydive Center  in nearby Caddo Mills or Skydive35, the only DFW skydive place offering high altitude jumps for your in-air adventure.  Want the thrills without the (admittedly small) risk of actually plummeting to your death?  Head out to iFly Dallas and take a turn in their indoor wind tunnel. 
Hit the water.  The DFW has lakes all around it, and you are sure to find one where you can plan your perfect outdoor day, whether that means doing some fishing, heading out on jet skis, renting a boat, or doing it all.  Lake Ray Hubbard is one of the largest lakes in the area, offers a great marina, and even has cabins if you want to do a "camping" trip without actually having to rough it!
Cowboy up.  If you're heading to the DFW area, shouldn't you at least pay homage to the city's past as one of the major places in the cattle trade?  Sure, you could do it by enjoying a great steak, but what about getting a little more in touch with your inner cowboy?  There are a number of bull riding schools in the area, and while you won't become a rodeo champ in a single-day, you can head out to the school and learn some of the basics.  Check out Bad Dog Rodeo, which offers regular Wednesday and Sunday bull riding.
Another great option would be to funnel a couple of beers and head over to Dallas Karting Complex.  They have races that run anywhere between $25-$125 per race, based on the level of driver and max speed of go-cart.  If you are an advanced Karter you can opt for their Rotax DD2, which has top speeds up 90+ MPH and at a cost of $125.00 per race.  They also offer several different tracks for your drinking and driving pleasure (just kidding).  You will be required to sign a waiver which basically states if you kill yourself or someone else, it's not on them.  Since you will most likely have a large group, contact them and workout a discounted group rate.
Looking for an original, exciting, and affordable bachelor party idea.  We have an idea that comes straight from the heart of Texas, with a little bit of a twist.  Lone Star Park, a luxury horse racing track located in the Dallas Fort Worth area, offers an upscale bachelor party experience.  Featuring both thoroughbred and quarter horse racing seasons, their penthouse house suites are Texas swank.  For $115 a person, you not only get access to the races and your own private suite, but also unlimited dining from the suite-level buffet, appetizers on arrival, your own personal bartender, in-suite wagering, and unlimited bar service.  That's right; for the price of a good meal, you get a whole party package. 
Even better, you get credit for having an awesome bachelor party idea.  Sure, getting drunk and hiring strippers are bachelor party traditions and we are not knocking them.  But they can feel played out.  Especially if the groom is one of the last in a friend group to get married, if it's a second marriage, or if that scene just does not fit the groom's personality.  Picking Lone Star Park ensures the group has a great time, stands out from the crowd of other bachelor parties, and keeps the best man in good with the bride.  Win-win-win.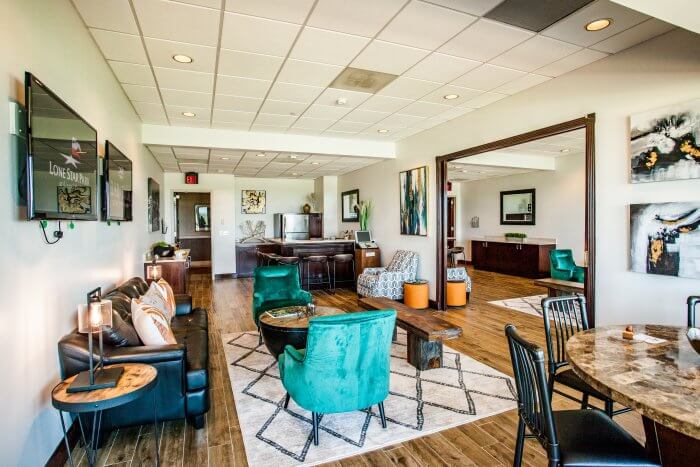 Nightlife Activity Ideas
Looking for a honky tonk?  Check out Cowboys Red River.  A great place for dancing, if two-stepping isn't your thing, you can sit down at one of a number of table games (sorry, no cash) or take a ride on the mechanical bull.  Not sure how to two-step.  Head out early on Friday for their 7pm two-step lessons, so you can spin the ladies around the floor with confidence later that night.
Deep Ellum is Dallas' answer to a party area, and, while it may not be as famous as Bourbon Street or Dirty Sixth, it offers over thirty live-music venues, dining, brew-houses, and just about anything else you can think you might want in a party area. 
Are your friends hipsters?  If so, you have to check out The Beauty Bar.  It's a retro-style beauty shop, which may not sound like a great place for guys.  However, it is one of the city's hottest hipster bars.  Will you be outnumbered by women?  Almost certainly, but is that such a bad thing for a bachelor party. 
Looking for an iconic nightclub experience for your bachelor party?  Then you have to make Masque Nightclub part of your bachelor party experience.  This VIP experience will come with a VIP price tag, but you'll get all the velvet ropes, bottle service, go-go dancers, and well-known DJs that you would expect to find in a city like Miami Beach or Vegas.  The place is opulence, turned up a notch, with a crazy through-the-looking-glass them.  The music varies and you will find plenty of beauties happy to party with you in the venue's VIP Mad Hatter room. 
Strip Clubs / Gentleman's Clubs
Breast implants weren't just invented in Dallas; they were perfected there, as well.  Dallas has plenty of opportunities to see some of the most gorgeous all-natural and totally fake boobs in the country. 
In Texas, they don't mess around and PT's Men's Club shows exactly how Dallas does bad so good.  This place is out near Garland, so plan on getting a car for the night to take you to this wild place.  It's been described, more than once, as being like an out-of-control frat party.  What's that mean?  Alcohol, full nudity, and some pretty decent food.  Truth is, you might find slightly more attractive women at some of the city's other strip clubs, but you are not going to find a better party atmosphere.   
Silver City Cabaret is the state's largest strip club.  That means you can expect to see the city's most beautiful women there and they know how to run a bachelor party. The downside is that it could be a cookie-cutter type of experience.  The upside is that a cookie cutter experience at the largest strip club in Texas is a pretty damn good experience!
The Men's Club may be the city's swankiest strip club.  We are talking a great wine selection, cigar room, and even a swimming pool.  The high-end atmosphere comes with a high-end price tag.  This club is at the opposite end of the "adult entertainment" venue as the first club on our list, but if you can call a strip club classy, then this place qualifies. 
Where to Stay
Hotels
The Renaissance Dallas Hotel has a reputation as one of the city's most popular hotels for bachelor or bachelorette parties.  While that means you might not want to stay there when you aren't there for a bachelor party, it also means it is a great spot if you are there for a bachelor party.  The concierge can help hook you up with some the city's best experience, and the hotel offers a combination of luxury and affordability that you won't find anywhere else in the city.
The Highland Dallas Hotel, formerly the Palomar, won the 2016 Conde Nast Reader's Award for the top hotel in Dallas.  That's kind of a big deal.  What does this mean for you as a potential traveler?  Well, if you are planning a frat-house style bachelor party, then this is not the place for your group.  However, if you want your Dallas bachelor party to be a swanky high-end affair, then this is the place to stay. Comfortable.  Stylish.  Surprisingly affordable. 
Hotel ZaZa offers a Texas spin on the boutique hotel experience.  If you have the cash to spend, book at least one of their Magnificent 7 Suites as the home base for your bachelor party.  If you aren't quite that flush, any of their other gorgeously appointed rooms will make you feel like you have landed in the lap of luxury.  The hotel car service will also come for you, free of charge, anywhere within a four-mile radius- so you get a built in designated driver in case you overindulge.

Hotels Available in Dallas
Rental Houses
Of course, we are huge fans of renting a condo/villa/party house for destination bachelor parties.  It lets your whole group stay together and is often much more affordable than traditional hotel rooms.  Airbnb.com, VRBO.com, and homeaway.com can all help you find a great party house for your trip like this 7 bed luxury town house near the Oak Lawn area.   Also, if you sign up for Airbnb, we can give you $40 OFF your first rental!

Rental Homes Available in Dallas
Where to Eat
What many people do not realize is that Dallas is a great city for dining.  Whether you want casual eats, traditional southern food, Tex-Mex, farm-to-table, or somewhere-in-between, Dallas has great food, great prices, and generous portions.
Bachelor Party Friendly Restaurants in Dallas
What makes a restaurant bachelor-party friendly?  Good food and good service are both givens, but lots of great restaurants offer those experiences and still are not good places for bachelor parties.  You want a place that does not mind if you get a loud, has plenty of booze, and room to fit a group your size without trying to hurry you out the door.
Breakfast / Lunch / Brunch
BuzzBrews offers a 24 hour menu, so you can grab breakfast in the morning or after a long night of partying.  Great coffee and an eclectic wine and beer menu mean that they have beverages to wake you up or get you going.  Our lunch favorite is the flying chicken crepe, and the griddle toast tooty fruity is a breakfast can't-miss. 
Ellen's Southern Kitchen offers traditional southern food.  They offer an all-day brunch menu that is the perfect way to refuel after a hard night out.  The Grits Benedict is a mix of cheese grits, hickory bacon, spinach, garlic, tomatoes, poached eggs, and a homemade hollandaise all over grits. 
Norma's Café is another southern-style diner.  It offers a small-town café experience.  Our favorite is the Big Eaters.  This iconic breakfast starts out with an 8-ounce ribeye, then they add three eggs any-style, a cinnamon roll, hash browns or grits, and biscuits or toast. 
Dinner
No trip to Texas would be complete without a street taco and El Come Taco.  A counter-serving taqueria that offers upscale street food with traditional beers and can accommodate all kinds of special dietary requirements, we put this place on our must-visit list every time we visit Dallas.
Mesa Mexican Food offers some of the best Mexican food in Dallas, which is saying something.  At the opposite end of the dining spectrum from our other Mexican choice.  The Camarones Enchipotlados is a superb shrimp dish that highlights the best things about Latin American cuisine. 
In a city known for its steaks, finding the best steak is a challenge.  For that reason, we would normally be reluctant to pick a restaurant from a chain like the Pappas restaurant group, but Pappas Bros. Steakhouse is, quite simply, one of the city's finest.  The sommelier is knowledgeable enough to pair a great wine with your meal, without an unnecessary upsell for expensive wines.  The steaks are prepared to perfection, the crab lump macaroni and cheese is beyond amazing, and the chocolate toffee turtle pie is, quite simply, sublime.  Save this place for your big night out, because it will be expensive, but it will also be worth it.
When to Go / Not to Go
We included the best time and worse time to plan your bachelor party in Dallas, dependent upon your groups financial situation.
No Budget Restrictions
The best time to travel to Dallas is from September to November.  Fall in Texas tends to mean beautiful weather, lots of sports, and abundant accommodations.  However, the State Fair is in the fall, which can make it harder to find accommodations and pricier when you do.
Budget Restrictions
Early spring is another great time to travel to Dallas.  It offers some of the same benefits as the fall, but the weather is not quite as consistent, making it a more affordable time to visit.
Worst Time to Go
If you are not from Texas, avoid the summer months, particularly July and August.  Texas is hot in a way that most places just aren't, and that heat can make even nighttime activities impossible to bear. 
Current Weather
What Else
There are so many reasons to visit the Dallas-Fort Worth area for a bachelor party from the everyday activities to the regular big events in and around the city.
Big Events
The Fort Worth Stock Show and Rodeo is one of the nation's largest rodeos.  It features huge entertainers, rodeo events, and stock show opportunities and is January's biggest event in the DFW area.
The Texas Scottish Festival and Highland Games is not your typical bachelor-party experience, but it might be just the right thing for you and your friends.  Enjoy Scottish foods and ales while watching athletes participate in Scottish sports.  Of course, it would not be a Scottish festival without plenty of Scotch Whisky to taste and drink. 
The Texas State Fair may seem like another unusual pick for a bachelor party activity, but this iconic fair celebrates everything Texas and is a can't miss if you happen to be in town in late September or early October.  The fair offers more than 100 daily shows, live music, and carnival rides, but is probably best known for the insanely unhealthy fair food offerings. 
View all Event Tickets in Dallas
Items to Pack for the Big Weekend
Dallas is a major city in the United States.  If you can't find what you have forgotten at a corner store, you can probably have Amazon deliver it to you the same day.  However, if you want to be prepared for whatever the bachelor party may throw at you, may we suggest you bring plenty of ibuprofen, condoms (enough to share with less-prepared buddies- no one wants an unexpected souvenir from the trip to show up 9 months later), recovery formula, sunscreen, sunglasses, and at least one outfit that is nicer than you think you will need for the Dallas area.  Leave the cowboy boots at home, unless you have worn them a lot before- those things are murder on your dogs unless they've been broken in.
Bachelor Party Itinerary
9am-10:30am Have your breakfast/brunch at Norma's Café, where you can have some iconic Southern foods in a down-home atmosphere as you get ready for the day.
12pm- 4pm Learn how to cowboy up at Bad Dog Rodeo.  This can get a little rough, so prepare for a low-key night afterwards and don't forget your health insurance card, in case you need it.
6pm-8:30pm  Show that bull who's boss by sitting down to steaks at Pappa's Steakhouse.  Plan on spending at least a couple of hours, because you'll be eating several courses, and make sure you have a car planned because you're going to want to have plenty of wine to soothe away the aches from a day of bull-riding
9:20- whenever  Cap off the very Texas theme with a trip to the Silver City Cabaret, where you have gone ahead and booked a bachelor party package.  It will be just the thing you need to assure yourselves that all your man parts that got jostled around on those bulls are still in perfectly good working order.
Prostitution / Drugs / Gambling
Prostitution is illegal in the Lone Star state, but that does not mean you need to go to bed alone every night.  There are various options for some late night companionship, but make sure you lay low on the whiskey if you decide to take on this challenge.  You can find plenty of options on Backpage.com or Eros.com.  The going rate for an escort will run about $300 for full service, and a decent chick (with all her teeth).  If you want to go to porn star status, expect to pay more around $800-$1000 per session, which does not include overnight spooning.
As for white, Texas hugs the border with Mexico, which makes it a prime corridor for moving the goods into the United States.  Expect to pay about $50-60 a gram, but don't expect it to be the most amazing stuff, as there are a lot of feet to step on it between Colombia and Texas.  Plus if you are really into this type of snow party. you are better off traveling to the source of it, and planning your bachelor party in Cartagena Colombia.
If you are looking for some natural anti-anxiety meds with a high concentration of THC, you should have no problem finding that in Dallas.  Green is available if you ask the right person, with an ounce running about $350 for the kind nuggets.  Do not just purchase from anyone, as the last thing you would want is to get the shwag weed from below the border.
Crime
Compared to other similarly-sized cities, Dallas actually has a pretty low crime rate.  However, your risk of being a crime victim certainly depends on which areas you frequent.  Don't go exploring the town with a bunch of people who don't know the area and you should probably be just fine.  Of course, you want to take all of the normal, reasonable travel precautions.  Run around flashing cash and acting clueless anywhere dramatically increases your chances of becoming a crime victim. 
Bachelor Party Forum
Have any additional questions, comments, reviews, or suggestions.  Post them in our Dallas bachelor party forum and help our community plan the most epic party.  On the forum, anything goes, so you can ask just the right questions to make sure your bachelor party is as freaky or as geeky as you want it to be.
Why Go
While not on most people's radar, Dallas is a surprisingly hip city that offers plenty of entertainment opportunities for even the rowdiest group of bachelors.  In the right season, the city offers gorgeous weather, plenty of outdoor opportunities, and affordable luxury.  It's also a convenient mid-way point for travelers coming from around the nation, and, as one of Southwest Airline's busiest locations, your guests can probably find cheap tickets for the visit. 
Star Rating
The star system is tricky, because we are ranking on overall experience.  However, when you take into account affordability and convenience, Dallas easily tops 4 stars.
Conclusion
Dallas, Texas is a great non-traditional place for a bachelor party.  While you and your friends can pretend to be JR and his cronies for the weekend, there is a lot more to Dallas than oil money, steaks, and pretty girls, that is, if you want more than oil money, steaks, and pretty girls.