Plan the Perfect Bachelorette Party in New Orleans (2023 Guide)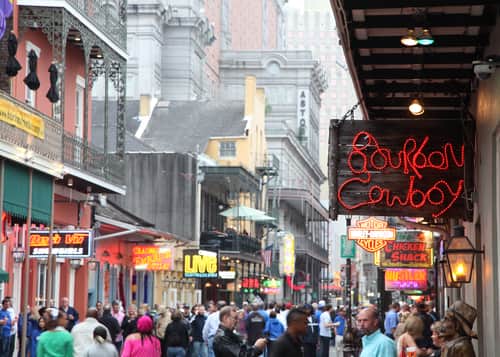 This post may contains references to products from one or more of our advertisers. We may receive compensation when you click on links to those products or services. Please also consider
donating to our website.
For the last fling before the ring, New Orleans, the ultimate party city in the U.S., has to make your list of top destinations if you plan on staying stateside.  What is so special about a bachelorette party in New Orleans, LA?  It is difficult to capture the magic that is NOLA if you haven't visited. 
After all, New Orleans doesn't have the gorgeous beaches of some destinations and its nightlife isn't as glam as you'll find in some cities, but the city is so steeped in history and ready to party at the drop of a hat, that it doesn't matter.  The awesome is overwhelming.  Whether you are sampling some of the city's famous Hurricanes, partying with the natives, or eating the best food you will find in the world, you will find it hard not to get your belle on in the Big Easy.
How To Get There
We are fans of the road trip, and New Orleans is no exception. If you live within a few hours, a road trip will get you there more quickly and lot less expensively than flying, and you can plan on taking some side trips off of I-10 or I-20 on your way and checking out the heart of Louisiana.  However, if you are going to hit Baton Rouge on your trip, plan on crazy traffic and major delays.  If you are more than a few hours away and you want to maximize your party time, then you probably want to plan to fly in instead. 
Airport
When booking flights to New Orleans, make sure you choose Louis Armstrong New Orleans International Airport (airport code:  MSY)  as the destination.  The airport is about 25-30 minutes from the French Quarter and will cost you roughly $50.00 for an UberXL.
Getting Around
New Orleans can be a bit of a challenge to navigate and parking can be difficult to find and expensive once you have found it, which means you want to think about all of your plans when plotting your transportation options.  Do you need a car? Chances are good that you do not, and you may find it much easier to get around the city if you rely on other forms of transportation.  Plus, if you arrange other drivers, you do not have to worry about having a designated driver.  However, sometimes you just want to have the flexibility of having a vehicle at your disposal.  You can always rent a car when you hit the city, and New Orleans's offers car rentals, including Enterprise Rental Car, at the airport. 
Rideshare services are a great way to get around New Orleans and interact with some of the natives.  New Orleans has Uber and Lyft, and both are great ways to get around the town.  New Orleans also has some decent public transportation, including its iconic street cars, through the Regional Transit Authority.  If you are in the Quarter, heading from place to place, you will be able to find transportation on the go, whether you are taking a horse-drawn carriage or a pedi-cabs.
Things to Do
New Orleans may be known as the ultimate party destination, a reputation is most definitely deserved, but it is also a city of history and mystery.  Come to New Orleans with an open mind and a willingness to experience some new things and you will have tons to do, whether daytime or nighttime. 
Whether it is daytime or nighttime, you will probably spend some time watching street performers.  The French Quarter, particularly Jackson Square, has some of the best street performers in the country.  However, it is important for you to know the etiquette.  If you watch a street performer, especially if you are taking videos or pictures, make sure and tip them at least $1.00.  This is their job and many of the performers are extremely talented.  In fact, we suggest you get $20 to $50 in singles to have on you, so that you have plenty of money to tip.  If you are interested in having your fortune told by some of those street vendors, it is easier if you have cash on you for that, as well. 
Although not an activity, it is worth noting that New Orleans has decriminalized marijuana.  You may find vans driving around selling edibles with synthetic marijuana, as well. Just something to keep in mind when making your party plans!
Daytime Activity Ideas
Nighttime ideas for New Orleans are easy; find the French Quarter, explore the French Quarter, repeat.  However, daytime activities can be a little trickier because, depending on when you visit and where you are coming from, New Orleans can seem very hot and muggy in the daytime hours.  It is and you aren't going to find big hotel pool parties in NOLA to keep you cool.  So, forget about feeling cool and focus on doing something cool, while sipping on cold drinks and being thankful you can act like a belle without having to dress like one!
New Orleans is one of our absolute favorite cities to visit in the entire world, so our suggestions for daytime bachelorette party ideas in New Orleans are going to go beyond the normal spa day-type suggestions.  Sure, you can do those, but New Orleans is probably the most magically historical city you will find outside of Europe.  Enjoy it.
Everyone loves a good bar crawl, but you know in New Orleans that they know how to take it up a notch.  Rent a party fire engine  or the Alphonse Express party trailer for your bar crawl, and travel in style as you hit some of the nation's most famous bars.
Head over to Jackson Square, or the P'lace de Arms, where you will find tons of local artists and entertainers.  It is ringed by shops and museums, making it a great place to shop or just to window shop.  You will find a wide variety of entertainers there, which will change throughout the day and into the evening. 
Looking for an iconic Southern shop that offers a little bit of everything?  Lucy Rose is a boutique store offering some of the best of Southern style.  With locations in Metairie, the Garden District, and the French Quarter, you can find them wherever you do your NOLA vacation shopping.
The French Market is a historic marketplace spanning six blocks of the French Quarter.  It includes all different types of eateries, bars, and shops.  Here is where you go if you love the open-air atmosphere of flea markets, casual dining, Jazz Yoga, and a place where you might actually find locals.
Magazine Street is another place beloved by locals and tourists alike.  This is the street where you can find amazing thrift shop treasures, including plenty of beloved vintage clothing shops.
Our next favorite "daytime" activity is one we're including in daytime activities, though they usually start at twilight: ghost tours.  Okay, you may think that sounds hokey, but New Orleans is reputed to be an extremely haunted city.  One of us has even felt the cold hand of a child ghost while on a ghost tour, and was completely sober at the time!  Even if you don't have a supernatural experience, the ghost tours usually include some of the most exciting tales about historic New Orleans.
Want to get out of the city and see nearby New Orleans?  There are two ways you can do so. First, surrounding New Orleans are some preserved historic antebellum plantations.  These tours can include extras like airboat tours of the swamps.  If you want something a little less sedate, you can find high-speed airboats in those same swamps.
Want to get away from the history and just party for a while?  Don't worry; there is literally always a party in the Big Easy.  Consider hitting one of New Orleans's casinos for some gambling fun.  Harrah's is our favorite, not because it captures New Orleans better than the other casinos, but because it captures the feel of Vegas once you step in its doors. New Orleans also has two bachelorette party staples: navigable water and lots of booze.  The Mighty Mississippi and the Gulf of Mexico surround the city, so boats are a great daytime option.  You can spend the day on a New Orleans Bachelorette Party Boat or a Jazz Dinner Cruise.
Finally, what bride doesn't want to feel sexy?   A popular idea for bachelorette parties is a group pole dancing class that covers pole-dancing basics and helps everyone feel a little of that Southern sexy swagger.
View other Activities in New Orleans
Nightlife Activity Ideas
New Orleans nightlife is quantitatively different from the nightlife in some of the nation's other party cities, because partying in New Orleans often means a street party.  You will find similar atmospheres in places like Austin's Sixth Street, but nothing rivals Bourbon Street.  This is especially true if you are in NOLA at one of the city's epic street party festivals, like Mardi Gras.  What is so great about Bourbon Street?  Well, you can literally walk down the street in and out of the some of the city's most popular bars and restaurants, without a single reservation, and have a great time.  It's almost like trick-or-treating as a kid, but with booze and beads instead of candy as your prizes.  What's not so great about Bourbon Street?  The crowds and the easy-come, easy-go philosophy can make formal planning trickier.
The one place you must go when you are on Bourbon Street?  Pat O Brien's– the home of the famous Hurricane drink.  If you haven't had a Hurricane, picture a daiquiri, but make it twice as sweet and twice as potent.  We aren't kidding about the potency, which the deceptive sweetness hides, so proceed past one or two with caution.  Of course, the most famous bar in the world's most famous bar city didn't get there because of one drink, Pat O's is also a heck of a lot of fun.  If you have never been to a dueling piano bar, it's a great place to start, with a crowd that is always raring for a good time.  If you want to request a song in the piano bar, write it on a napkin, include at least a $3 tip, and put it on top of the piano.  One thing to keep in mind is that Pat O Brien's drink pricing actually varies depending on where you are in the bar.  The piano bar is the most expensive, then the courtyard, then the main bar. You get to walk around, so if you are looking for a way to save a few books, order at the main bar!
Want something a little more chill than Bourbon Street, but with the same party vibe?  Head over to Frenchman Street.  There you will find a younger crowd and some amazing jazz bands.  Depending on the time of year, you can still expect to find it full of people, but it is not as crowded (or as smelly) as Bourbon Street.
What's sexier than Channing Tatum?  If you answered "nothing," then you have to hit Saints and Sinners, Tatum's Big Easy bar, restaurant, and hotspot.  Designed to mimic some of the bordellos and burlesque halls from New Orleans's Storyville past, Saints and Sinners is the place to laissez les bons temps rouler.  It even has a pole in the place; after a few drinks, you might want to put your pole-dancing classes to good use!
Bourbon Heat – Looking for something more like a dance club?  Head over to Bourbon heat.  It plays a variety of house, hip hop, and R & B and is always busy.  It also has an awesome balcony for people-watching the Bourbon Street craziness.
Looking for something more like a great urban nightclub and away from the Quarter?  Check out  Metropolitan Nightclub, with its spinning dance floor, laser lights, and VIP service, it is an ultimate nightclub experience.  It's a great place to hit on your way back to the party, if your dinner plans have taken you out of the corner. 
Bars
Take a walk down any street in the French Quarter and you are going to have your pick of bars.  Whether you are looking for historic or something new, you can find it there.  While you can get your drink on at anyone of these many bars, we, of course, have our favorites.
One of our favorite nighttime haunts is just a bar. Legend has it that Lafitte's Blacksmith Shop was the base of operations for the pirates Jean and Pierre Lafitte and it has remained a place for a good drink and a good time for hundreds of years.  However, we don't just love it for the history; the place is reported to be haunted, and it's a great place for a drink or two before heading out on one of the city's ghost tours.
The Hotel Monteleone Carousel Bar is our favorite fancy place to drink while we are in the Crescent City.  The bar has a gorgeous, upscale carnival vibe, designed to look like a gorgeous old-fashioned carousel.  The design is more than just window-dressing; the bar actually slowly spins around as you sit there, though the seats at the bar are just fancy bar seats, not carousel animals. 
Tropical Isle, at the corner of Bourbon and Orleans is known for the Hand Grenade, which it touts as the city's most powerful drink.  In a city full of powerful potions, that is saying a lot.  It is also home to the Shark Attack.  Bachelorette parties love Tropical Isle because they can get their drink on without packing on calories; the Hand Grenade comes in a sugar free version. 
Male Reviews
New Orleans is a city that is proud to celebrate its Storyville heritage and the role it played in the evolution of burlesque.  Therefore, it should come as no surprise that New Orleans has a number of strip clubs that cater to women and feature some gorgeous male dancers.  If you want to dip your toe into the male exotic dancer pool, but still play it relatively safe, then chain strip club Hunk-O-Mania's Bourbon Street location is probably your best option.  The men are crazy-hot and they put on a great, entertaining show that is perfect for groups.  There you can plan ahead; ask them about New Orleans bachelorette party packages.  
Where To Eat
It's probably pretty obvious that we love everything about New Orleans, but we don't live there.  You know why?  Because the food in the Big Easy is so delicious that we would do nothing but eat if we lived there.  That's why we aren't even going to try to tell you what restaurants are the best ones in the city; it's like trying to pick your favorite child.  Instead, what we're going to tell you is that New Orleans is known for some amazing types of food: Creole cuisine, Cajun cuisine, Muffaletta sandwiches, beignets; wherever you end up eating, ask the waiter for recommendations and try something new.  We have literally never been disappointed by a meal in New Orleans.  Some of our personal favorites are:
Breakfast / Lunch / Brunch
Café du Monde is a classic because it's awesome.  It serves beignets and coffee, specifically New Orleans's feature coffee drink café au lait, a coffee drink that uses chicory to mellow out the bitter edges of the coffee.  It is open all day and all night, and you will find a crowd there waiting for beignets, which are similar to donuts or sopapillas, for those familiar with Mexican cuisine.  They are just fried pillows of dough, which you cover in powdered sugar.  In fact, powdered sugar is everywhere at Café du Monde, so you can sprinkle as much or as little as you want.  This is a great spot to head after a night of partying, when you want a delicious snack, and is equally appealing for breakfast, where you can sip on coffee as you people-watch.
Looking for a jazz brunch?  Then let us suggest Broussard's.  The restaurant has a beautiful location, including a gorgeous courtyard, and the menu is everything you could want from a brunch menu.  We love the Steak and Eggs Broussard, Raspberry Marscapone Stuffed Pain Perdue, Crawfish Gratinee, Shrimp and Crab Benedict, and unlimited Rose or Mimosas for only $12 additional with the purchase of an entrée.
Daisey Dukes offers 24/7 breakfast food, but do not limit yourself to their breakfast menu.  Their country fried steak and gravy is fabulous, their fried green tomato po-boy is a must-try even for meat eaters, and their Crawfish Bloody Mary, which is unlimited for just $12, offers a Cajun twist on the brunch classic. 
The Ruby Slipper Café has a few locations in the French Quarter and offers bottomless brunch.  Skip the wait by downloading their app on your phone, so you can put yourself in line before you get there.  Once you arrive, check in with the host or hostess to let them know you have arrived.  We recommend the meaty Three Little Pigs Omelet or the Stuffed French Toast. 
The Muffaletta is the classic New Orleans sandwich, a mix of lunch meat and olives and cheeses that has an iconic Big Easy Taste.  The place to get the best Muffaletta is Central Grocery.  Available as a vegetarian option, you can get it with just cheese, olive tapenade, and salad fixings. 
Dinner
There are so many places to eat a nice, upscale dinner in New Orleans, and you can't go wrong with classics like Brennan's at 417 Royal Street.  From the gold-leaf walls to the sumptuous purple velvet dining chairs, Brennan's is a total dining experience.  We love Creole food, so picking a must-eat food at Brennan's is difficult; we strongly advocate having everyone in your party order something different and sharing the goodness.  However, if you have to make hard choices, then the food you must try here includes: Brennan's Oyster Soup and the Shrimp and Grits.
If you want an upscale vibe that still manages to be rustic, we suggest Emeril's Delmonico.  It has a farmhouse feel that retains its Southern charm.  It is hard to go wrong with anything from their menu, but we like the chicken breast Clemenceau, the caramelized Brussel sprouts, the 6 oz. petite filet, the mushrooms bordelaise, and fresh-from-the-oven chocolate chip cookies. 
Peche Restaurant is not your typical New Orleans eatery.  It is upscale seafood, but the twist is not Cajun or Creole, but instead a style that mixes South American flavor with Gulf Coast dining and adds a hint of Spain.  WE love the grilled tuna with tomato and crispy rice salad, the hangar steak with salsa verde, and the fried Brussel sprouts with chili vinegar.  If you are dining low-carb, then you must try the smoked tuna dip, which is full of flavor and a little kick of heat; you can ask for cucumbers for dipping. 
At the other end of the fine-dining spectrum is Angeline at 1032 Chartres Street.  When asked to describe Angeline, we like to say that if your Southern Grandma went to France and spent a year at culinary school, this is the kind of food she would come back home and prepare.  The fried pork chop sandwich and hand cut fries might be the best sandwich you will ever eat.
What's a trip to New Orleans without a visit to Deanie's Seafood Restaurant at 841 Iberville?  There is a reason so many locals say it's the city's best seafood.  You can get your seafood prepared many ways at Deanie's, but we strongly recommend having them prepare you a boil of whatever is in season, especially during crawfish season.
Where To Stay
New Orleans is a true tourist destination and it offers all kinds of accommodations, from youth hostels to extravagant resort hotels and vacation homes.  Where you choose to stay depends on what you plan to do.  We love staying in the Quarter to be close to the action, but there are some beautiful vacation home opportunities in the Garden District as well.
Hotels
New Orleans is a tourist town and the French Quarter is a tourist area that caters to grown-ups.  If you book a place in the Quarter, it is going to be hard to find a place that isn't bachelorette-party friendly.  However, take note, none of the places we recommend is actually on Bourbon Street.  If you need to rest between parties, you want to stay a block or two away from the noise, because Bourbon Street stays open late at night and gets going pretty early in the morning!
Hotel Monteleone– Timeless, sophisticated style in the heart of the French Quarter; this hotel is not the most budget-friendly, but offers a great taste of historic New Orleans style.
W Hotel New Orleans –  Looking for a mid-range 4 star hotel?  Then this is the place.
Holiday Inn New Orleans –  Want something a little more affordable?  Holiday Inn has a French Quarter location that is far enough from the bustle of Bourbon Street for you to actually get some sleep, but close enough that you can still walk there in your most dangerous stilettos.
The JW Marriott on Canal, a newly completely renovated luxury property (as of April 2018) lets you stay in opulence while being steps away from everything exciting the city has to offer.   A smaller property with a modern feel, it somehow manages to capture the feel of New Orleans while embracing a warm minimalist aesthetic.

Hotels Available in New Orleans
Rental Houses
While we love the pampering you can get in a hotel, hotel rooms are not exactly conducive to hanging out with big groups of friends, and it can feel weird taking over a lobby or bar in a hotel.    A home rental is a great way to go if you want to be sure you can hang out with your friends, and can also be a way to get some more affordable luxury for your trip.   You can use services like AirBnB, VRBO, and Homeaway. You can even use our link to get $40.00 off your first AirBnB reservation.
Airbnb
This apartment that is only 8 blocks from Bourbon Street can sleep up to 10 people and is a great place to stay during Mardi Gras or one of the city's other festivals.  Want to stay someplace really luxe?

Rental Homes Available in New Orleans
VRBO
Check out this 6-bedroom plantation estate that sleeps up to 30 people.  While it might not be the place for the average bachelorette bash, it is a great place to keep in mind if you are having a large group, if everyone wants their own bedrooms, or you want to make sure you have lots of flexibility in your arrangements.
Want to get the total French Quarter experience?  Then try this 6 bedroom and 5 bathroom apartment (sleeps 12), which is the perfect size and location for  bachelorette parties.

Rental Homes Availables in New Orleans
Homeaway
This Garden District home combines comfort with luxury.  It has every amenity you could want in a vacation home, with historic touches in a house that has been completely modernized for you convenience. 
This modern little house is close enough to the action to mean transportation is easy, but far enough away that you can get some peace and quiet when you quit the partying to get some sleep!
Rental Homes Available in New Orleans
When To Go
Best Time
If you are looking to party, then Mardi Gras is the best time to travel to New Orleans.  It is the biggest street carnival in the world, with wild parades and all-around debauchery that are unmatched unless you head to Carnival in Brazil. However, anytime from February through April is a great time to plan your bachelorette party in New Orleans.  Expect to pay more during peak travel season, and expect to encounter crowds, but in a party city the more really is the merrier.
On a Budget
Summer in New Orleans is great, especially if you are used to heat, but get travelers insurance; New Orleans does get more than its fair share of hurricanes.  New Orleans is also great in December; so much of the city is decorated beautifully for Christmas that it is like a warm winter wonderland.
Worst Time
The only time we suggest avoiding is August; Augusts in New Orleans tend to be rainy, and the heat turns all that rain into steam.  Even the Big Easy gets a little droopy in all that muggy heat!
Current Weather
What Else
Big Events
Mardi Gras – There is actually a religious history behind Mardi Gras.  Fat Tuesday is the last day before the 40 days of Lent, and was when people went a little wild before giving up things for Lent.  New Orleans, being New Orleans, turned that day of debauchery into a week-long celebration of all things in excess and we call that celebration Mardi Gras.  Beads, floats, parades, music, booze; it's one giant street party.
Essence Music Festival– The original party with a purpose, the Essence Fest is a celebration of the impact the African American community has had on the development of American music styles, from jazz to hip-hop.
Jazz Fest – Jazz Fest happens over two weekends at the end of spring and is, simply, a festival celebrating the best in modern Jazz music and the roots of the genre.
The Krewe of Boo, New Orleans's Halloween Parade, is another awesome event.  Not as large as Mardi Gras, this parade goes through much of the Quarter.  The floats are amazing, bringing to live images that not only evoke Halloween, but also the Day of the Dead. 
Items to Pack
Depends on what kind of weekend you plan on having.  Are you going the traditional route and intend to embarrass the bride by making her wear bachelorette party-themed items?  If so, hit Amazon for some of the items below.  You also want to look into themed drink-holders; you can open carry your drinks on the streets in New Orleans, but that doesn't mean you want them getting hot or sweaty!
Itinerary
If you are confused with how to plan out your weekend in the Crescent City, use some of our recommendations below to come up with the perfect itinerary for your lady friends.
Happy hour on Bourbon Street, where they offer 3 for 1 drinks. Don't get too drunk too quickly.
Emeril's New Orleans for dinner, have some drinks and amazing food (stuffed chicken wings are mouth watering)
Jazz Brunch at the Court of Two Sisters, need we say anything more?
Woodhouse Day Spa, and have an afternoon of pampering with your besties. Maybe go for a deep tissue massage or get a seaweed wrap, maybe even a manicure and pedicure.
Acme Oyster House, if you love oysters you need to go here. Expect to find a line outside this restaurant during peak hours.
Hurricanes on the patio at Pat O'Briens or head to the Piano Room for the dueling pianos.
Haunted History Ghost Tour, make sure you have a buzz going before you do this, you don't want to get too scared.
Hand Grenades at Tropical Isle, but don't get too close to the guy in costume, as he can be touchy feely.
Outdoor Yoga in Mid-City under the Oak Trees on Bayou Street.
A burger and Monsoon from Port of Call.
T-Shirts
Do you have to have matching t-shirts for a bachelorette party?  No.  However, they make really great, affordable favors. 
We all love to tease brides about being crazy, and this "this bride is cray," t-shirt does so with a Cajun flair. 
Heading to New Orleans during Mardi Gras?  We love these Mardi Gras themed t-shirts: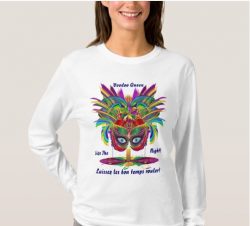 We love a wine colored t-shirt, and these NOLA shirts have a classy look that we think all of your girlfriends will love: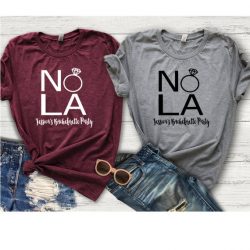 Travel Insurance
Of course you do not want anything to interrupt your travel plans, but while travel insurance might seem like an unnecessary expense, you can spend a few dollars to save thousands in the event your trip gets canceled.  Traveling to any destination like New Orleans, where the weather can be extremely fickle, it is always a good idea to have a back-up plan, and traveler's insurance is a surprisingly affordable way to have that kind of plan.    
Prices
One of the best things about New Orleans is that the city is incredibly affordable.  Unless you are there during Mardi Gras or Jazz Fest, everything from hotels to souvenirs is within the price range of even the most modest budget.  If you do hit the city during peak times, prices will be significantly higher, but still far more affordable than may other destination bachelorette party locales.
Crime
We aren't going to lie; New Orleans's reputation as a dangerous city is well-deserved, but it is also probably a bit overstated for the average tourist.  Don't act like a victim, and you probably won't be a victim, but be aware that even with increased police presence in tourist areas, if you make yourself a target, you can expect to be targeted.  Leave expensive jewelry and easily snatched items like designer purses at home, don't go into any of the city's sketchier locales without a guide (don't even attempt a guide-free cemetery tour), and don't travel alone.
Other Tips
You see the word "history" pop up over and over again in our description of New Orleans, and that's not by accident.  The city is known for its amazing history and your experience there will not be complete if you don't take a little time to learn more about it.
Forum
So you read 95% of this article yet you still have questions before you round up the ladies for coffee talk and plan your trip to New Orleans?  Ask any questions you have in our community forum and another member or staff will provide you with a detailed response.  Already been to New Orleans for your bachelorette party and have reviews, tips, or suggestions for other ladies?  Please leave them in our forum so others can read and help our community grow.
Why Go
You go because it is New Orleans.  It has earned its reputation as a great party city, but it is also surprisingly versatile, offering more than just the busy bar scene on Bourbon.  You can experience history, mystery, great food, and a cultural atmosphere that you simply cannot find anywhere else in the United States.
Rating
You see the word "history" pop up over and over again in our description of New Orleans, and that's not by accident.  The city is known for its amazing history and your experience there will not be complete if you don't take a little time to learn more about it.
Conclusion
Our pro-New Orleans bias is probably pretty clear from this article.  We love the city and, if you give yourself a chance to explore it and enjoy it, we think you will love it, too.  However, we will say this; if your idea of a perfect bachelorette party is spending lots of downtime, just chilling with your girls while you sip frozen drinks and sit poolside, New Orleans is not the town for you.  You simply will not get the benefit of the city unless you are out in the city.