Crowd Fund Your Honeymoon with Honeyfund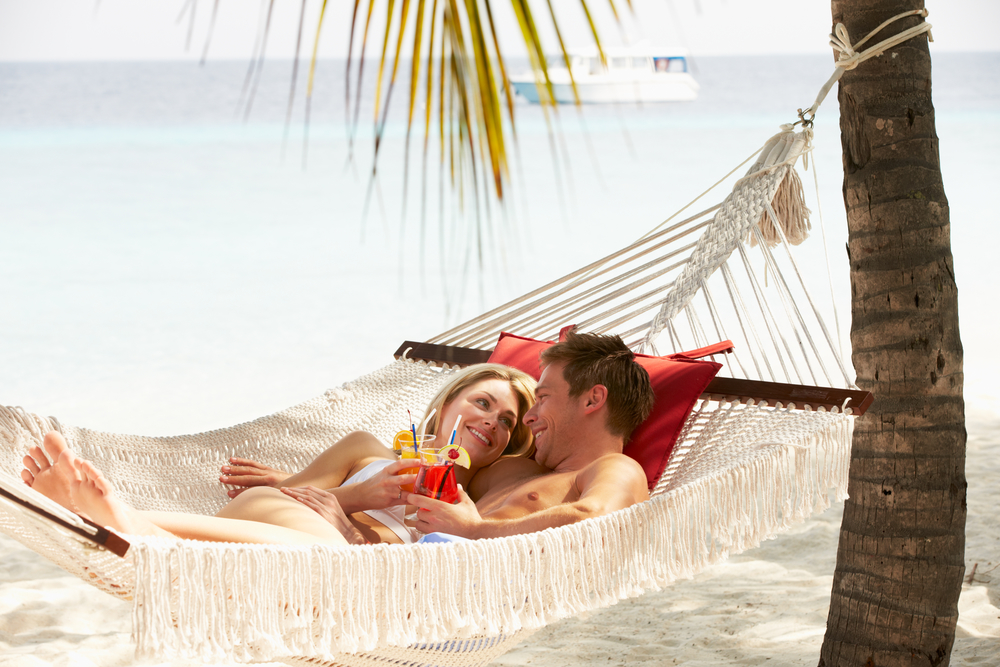 This post may contains references to products from one or more of our advertisers. We may receive compensation when you click on links to those products or services. Please also consider
donating to our website.
When people got married younger, the traditional wedding registry and the array of wedding showers served a very practical purpose. Those gifts were intended to help stock your home and help you set up housekeeping. Modern couples tend to marry later than previous generations, and most folks getting married have already lived on their own (or at least with a roommate). Instead of getting duplicates of things you already have, why not give your wedding guests a gift idea that you will truly appreciate? How about your honeymoon? Using Honeyfund, you can crowdfund your honeymoon by registering to have your guests contribute to a honeymoon fund for you. This fee-free site lets you set up three different types of funds that can be used to fund your honeymoon: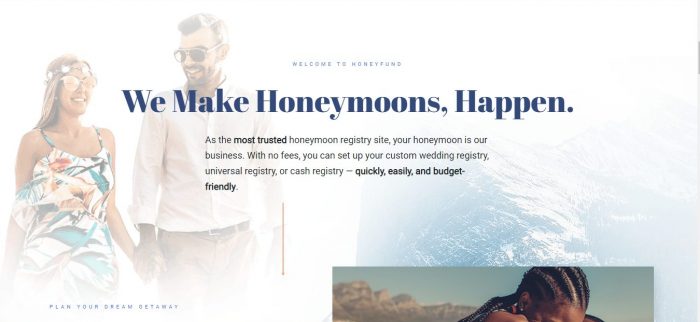 What is Honeyfund?
Honeyfund is a crowdfunding site dedicated specifically to helping couples get the honeymoon of their dreams. This site was started by Sara and Josh Margulis. When they were planning their wedding, they had all of the housewares they needed, but really wanted an amazing honeymoon trip to Fiji. However, when they went to look for a honeymoon registry, they were disappointed to find that these sights often charged high fees or required expensive travel bookings. They wanted to simplify the process, and they did, setting up a simple honeymoon registry that let guests print out a gift certificate for honeymoons and bring cash or a check to pay for the honeymoon to the wedding. This very simple website was a hit and the founders were able to pay for the honeymoon of their dreams. They wanted to share this experience with other newlywed couples. So, they created Honeyfund.com, a site set up to provide an inexpensive, convenient, and well-run honeymoon registry site. The site is such a hit, that it has been on ABC's Shark Tank and Beyond the Tank. Why is it a hit? People are going to spend money to buy you a wedding gift, and they really do want to get you what you want. While you may have some traditionalists among your friends and family who eschew the idea of money gifts, you will be surprised how many people want to help you make your dreams come true. In fact, Honeyfund users have received over a half billion dollars in dream wedding funds.
While Honeyfund was created to help you pay for your dream honeymoon, people also use it to help other dreams come true. It is the perfect option for any type of cash wedding gift. People use it to help them get a down payment for their house, help build a nest egg, or even to try to start off the marriage debt-free. Not getting married, but interested in the idea of crowdfunding your dream? Check out Plumfund, a Honeyfund sister site that is dedicated to helping non-wedding dreams come true!

How Does Honeyfund Work?
In many ways, Honeyfund works like a traditional wedding registry. You pick gifts you would like to receive and your guests peruse your list and pick from things that they would like to give you. However, it differs from a traditional registry in terms of what is on the list.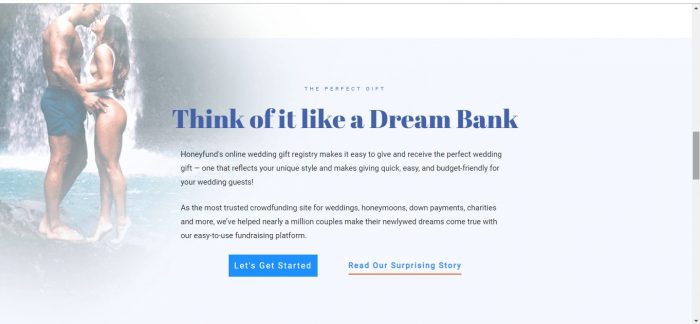 Using Honeyfund, you book your travel through one of their travel partners or you can use your own travel provider. Unlike some sites, you are not locked into using one of their providers. Therefore, if you are able to find a better deal through your own travel provider, you can use the funds there, which means you can make the most of every dollar you receive!
When you sign up for Honeyfund, you choose which way you will receive the monetary gifts that your guests give you. There are three different options. Option 1 is gift card and Honeyfund balance. You can register for gift cards or set up your balance so that you can redeem any funds you received through gift cards. Bank account deposits let you automatically set up bank account deposits through WePay or Paypal. Givers can also reserve a gift on your Honeyfund page, then pay by giving you the cash or check directly or by following instructions you set up for payment to a Venmo account, to a travel service provider, or directly to your bank.
What Fees Does Honeyfund Charge?
Honeyfund operates a little differently from some other honeymoon registry sites. It can actually operate free to users, or there can be fees to the registrant. Gift givers are never charged a fee. In addition, even if you choose one of the options that has a fee, users pay less than 2% on average for the service. Of the three services they offer, the only one with fees is the bank account deposit option. Gift cards and Honeyfund Balance is free. Bank account deposits are generally 2.8% + $.30 for U.S. to U.S. transactions. Cash, check, and custom payments are free.
If you choose to sign up for Honeyfund Elite, which gives you more design options, password protection, and a customizable layout, then you can upgrade for a one-time $39.99 fee.
How to Setup a Honeyfund
Once you decide to start building your dream registry, you need to sign up for an account. The sign-up page looks like a basic account information page or you can choose to sign up through your Facebook. You will be asked to provide your full name, a contact email, and a password: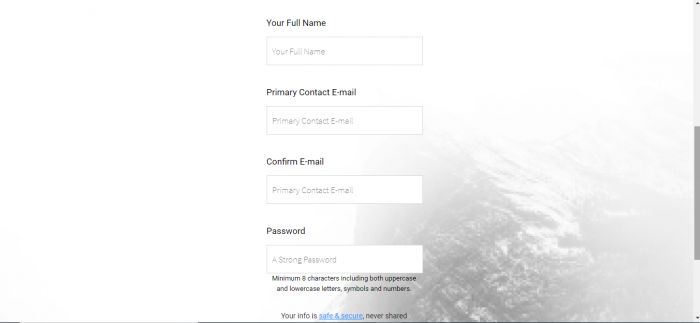 Once you have opened your account, you are asked to provide your wedding details, including your name, your partner's name, where you are located, and an estimated wedding date. You are also given the opportunity to upload a photo: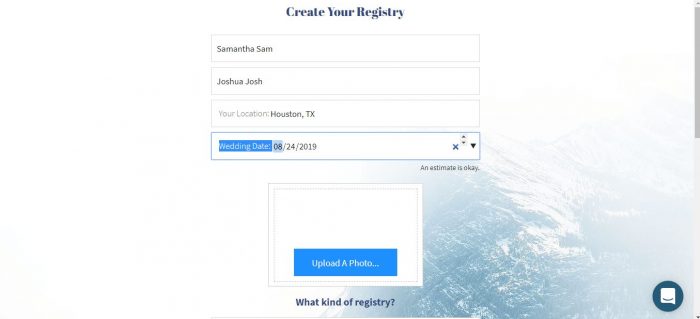 At the setup page, you also get to decide what type of registry you want to select, which involves choosing your currency type and picking your wedding hashtag (it will auto-generate a hashtag for you, but you can change it as long as it is available):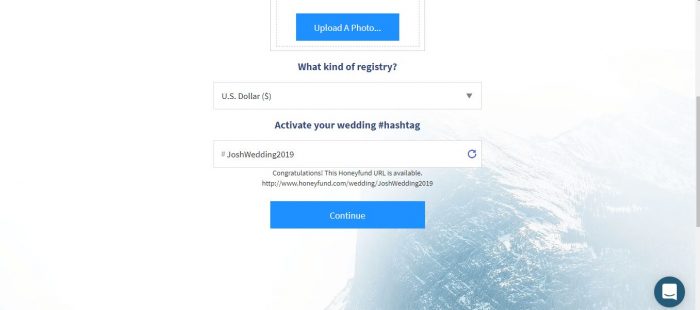 You will be asked what type of honeymoon you are having, to set up your theme: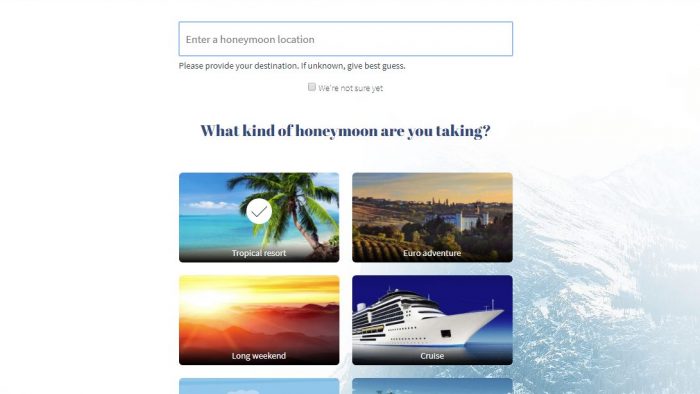 Then, you will choose how you want to receive your funds. You can choose to withdraw the money via gift cards, which has no fees, or to get deposits to your bank account: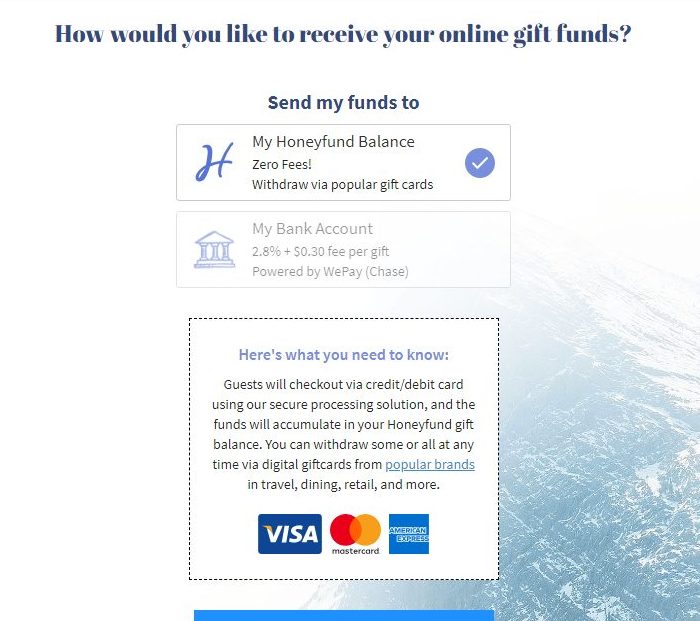 There are actually a couple of different ways to set up your Honeyfund. Some of them are relatively simple, but the more customized you want your honeymoon to be, the more customized the process will be. They have starter registries for dream honeymoons all over the world. For our example, we decided to register for a dream African Safari honeymoon. From the starter registries box, we chose African Safari from the drop-down box: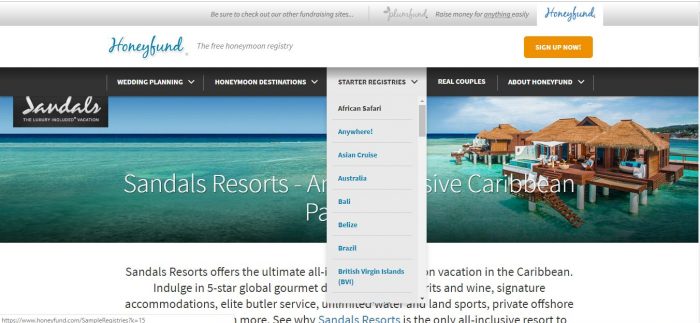 The vacation they have set-up is an 11-day African Safari, starting in Kenya: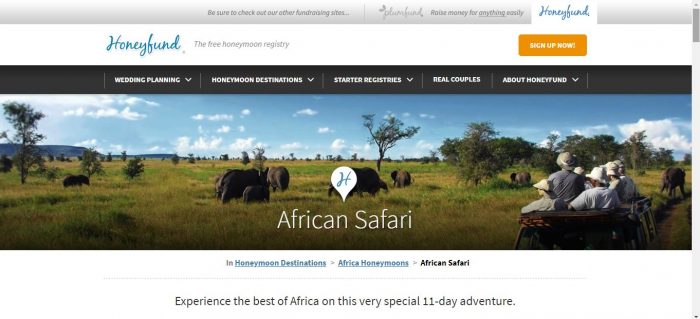 At the top of the screen, you will see how many items are on the registry, plus the total dollar amount of the items: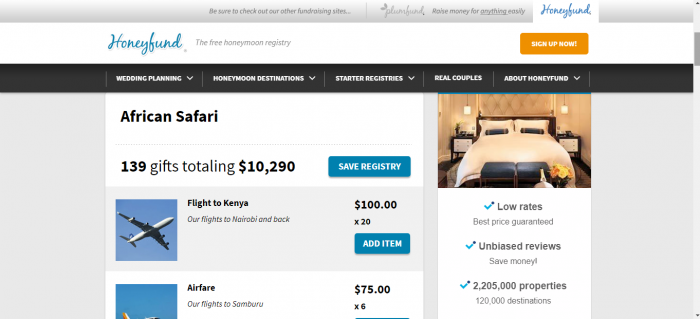 As you can see, guests are not expected to sign up to pay for a high-dollar item by themselves. For example, the flight to Kenya is estimated to cost $2,000, so it is broken down into 20 $100 items. In addition, you may not need to include certain items in your starter registry. Maybe you have frequent flier miles that will cover the airfare. You would simply elect not to add that item on your registry.
There will be all types of options for the vacation. You will see options for air fare, for lodging, for dining experiences, and for some of the activities that you might enjoy on the honeymoon: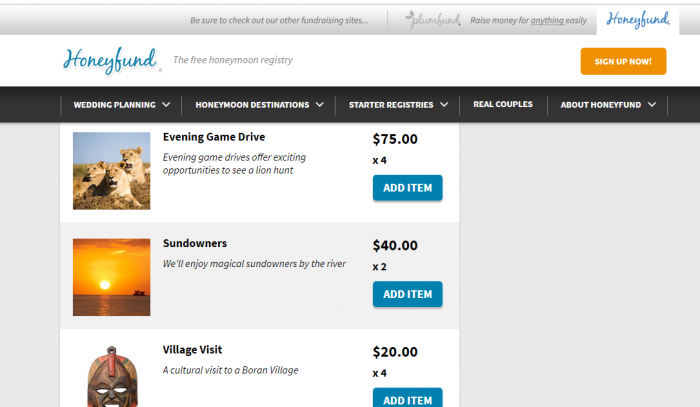 You can also choose to customize your registry. If you do that, you will get several different options to design your registry, choose items for your registry, and provide visitors with your information about your wedding and you as a couple: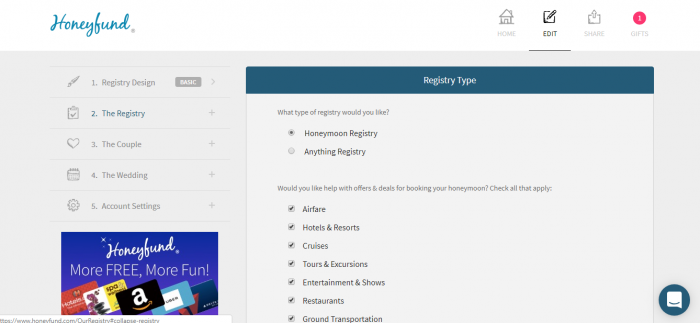 Conclusion
Even if you do not have the money to pay for a honeymoon, you do not have to abandon your dream. You can crowdfund your honeymoon. Honeyfund lets you choose to ask your wedding guests to help you pay for your honeymoon instead of sending you gifts for your wedding, showers, or engagement parties. Pick your destination, pick things that you want your guests to give you, and sign up on Honeyfund to start building the honeymoon of your dreams.