Bachelorette Party Favors & Supplies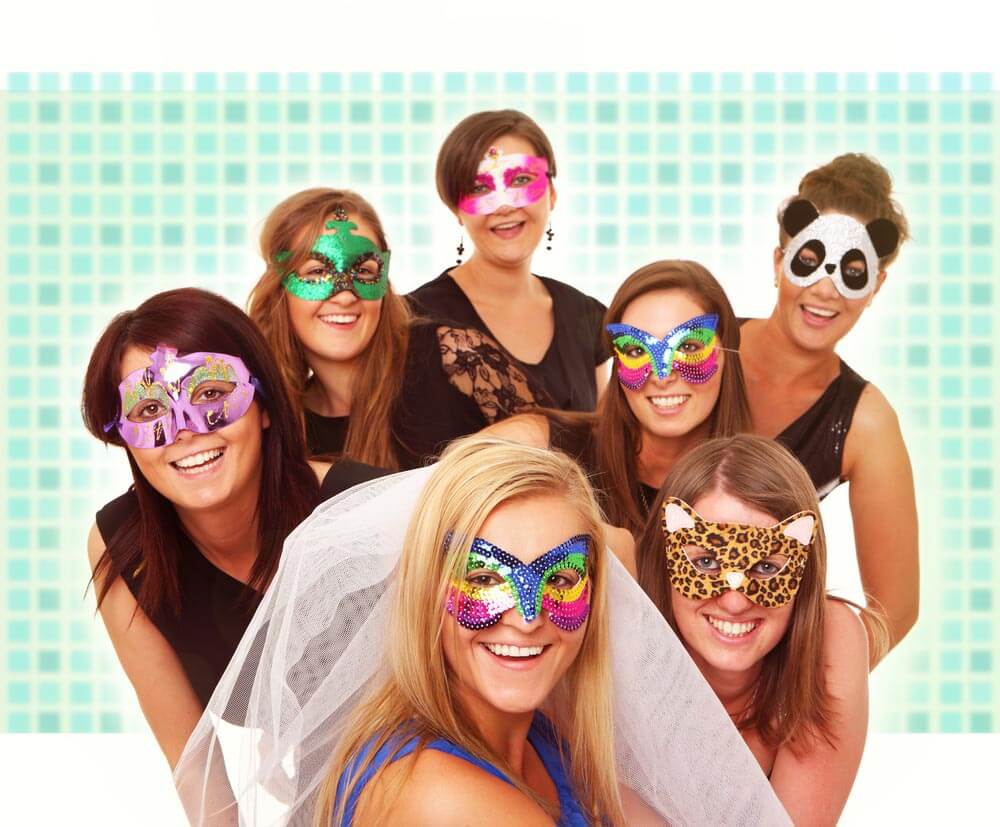 This post may contains references to products from one or more of our advertisers. We may receive compensation when you click on links to those products or services. Please also consider
donating to our website.
Bachelorette party favors and supplies often get lost in the party-planning shuffle, but can play a very important role in setting the tone of the party. At this point in your planning, you should already have the bachelorette party invitation and guest list sorted out.  The type of party influences the kinds of supplies and favors you have, but the type of supplies and favors can also exert a subtle or not-so-subtle influence on the type of bachelorette party you have. Therefore, you want to keep the tone of the party in mind when buying supplies and favors. Don't just buy things to say you have them; weddings are expensive, so make sure your purchases add something to the experience.
Traditional Bachelorette Parties
In what we're going to call the "traditional" bachelorette party, the bride and the guest are all young, it's the bride's first wedding, there are no older or younger relatives invited to the party, and the party consists of a night-out on the town. For this version of the bachelorette party, you want to head to your nearest bar-hopping party town, stick a bride-to-be sash on the bride, throw a tiara on her head, take shots out of little wedding-ring shot glasses, and all carry around penis suckers. You may even have matching t-shirts. Will you look a little ridiculous? Yes, but own it. It has become a classic because that type of party celebrates all of the reasons it is great to be a bachelorette. Bachelorette parties are often given preferable treatment by nightclubs, bars, and other venues. Groups of guys love to buy drinks for a hot group of girls at bachelorette parties, so make yourselves noticeable. Amazon has great deals on bachelorette party supplies, and you can find super-affordable bachelorette party decorations at your local party stores and even at dollar stores.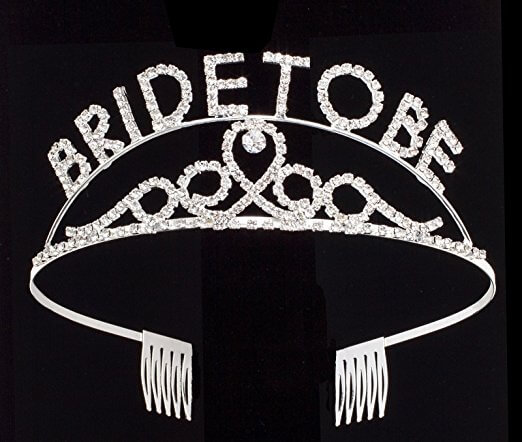 The tiara is a bachelorette party staple for a number of reasons. Most little girls dream of growing up to be a princess. While very few of us will end up with a prince, a woman's wedding day is one of the few occasions where she gets to live out the princess fantasy, from the possibility of a ball gown to people waiting on her. It's a day that tends to be all about the bride. The tiara offers a winking acknowledgment of this special day, and lets everyone know that this party is about the bride. It also helps focus attention on the bride-to-be, helping her stay in the spotlight, even if you're at a bunch of different party spots, where you may or may not know other people.
What can we say about the sash? Without getting into the politics of whether beauty pageants are empowering or demeaning, can we all just acknowledge that, for many girls growing up, the idea of winning Miss "Something" was an appealing one? While we may have outgrown our fascination with beauty pageants, many women still like the idea of being singled out as special, and what better way to do that than to highlight the bride-to-be's status with a simple sash? Like the ever-popular tiara, a bride sash is a great way to help the bride stand out from the crowd. You can also get bridesmaid versions, which are an unobtrusive way or announcing that the party has arrived!
Decorations
How are you going to decorate for the bachelorette party? The answer to that probably depends a lot on the bride you are celebrating. After all, you want the party to celebrate her. Then, you might want to keep in mind any theme you are incorporating. An 80s throwback slumber party is probably going to lend itself to different décor than a destination beach party. In our décor section, we highlight supplies that work for all bachelorette parties, as well as some of our theme-specific favorites.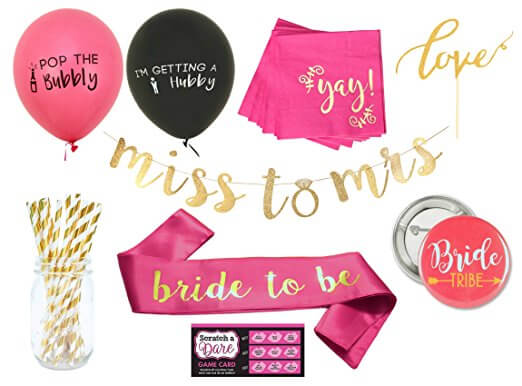 Bachelorette Party Decoration Kit
This box set has everything you need to turn any location in a bachelorette-party celebration. Balloons, banners, straws, pins all included!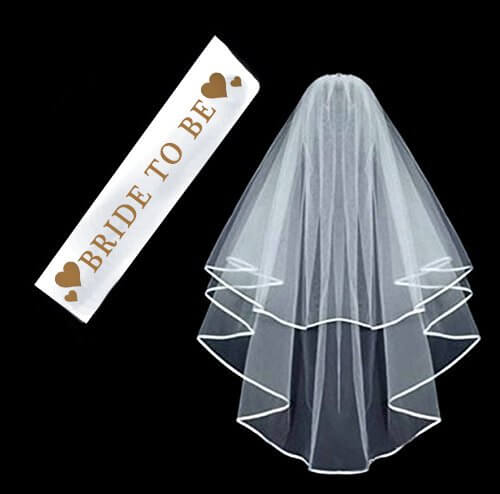 Bachelorette Veil and Sash Combo
This veil and sash combo is completely customizable, making it the perfect match for any type of bachelorette party.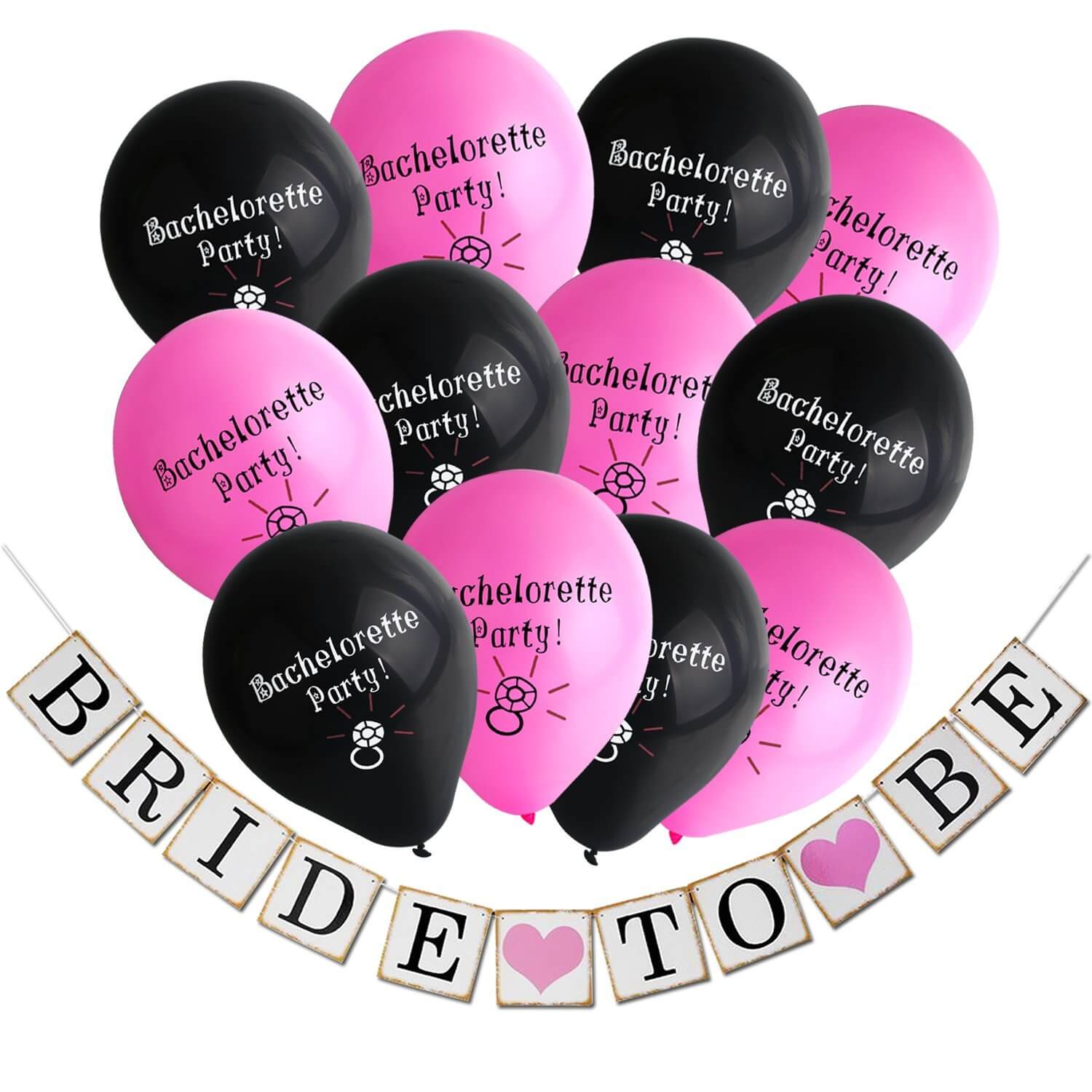 Black and Pink Bachelorette Supplies Kit
Black and pink are classic bachelorette party colors, and these balloons and a simple bride-to-be banner will match with almost any type of party décor. While you could use them with any of the naughtier party themes, they are also classic enough to use if you want a cleaner version of a bachelorette party or are throwing a combination bachelorette party and shower!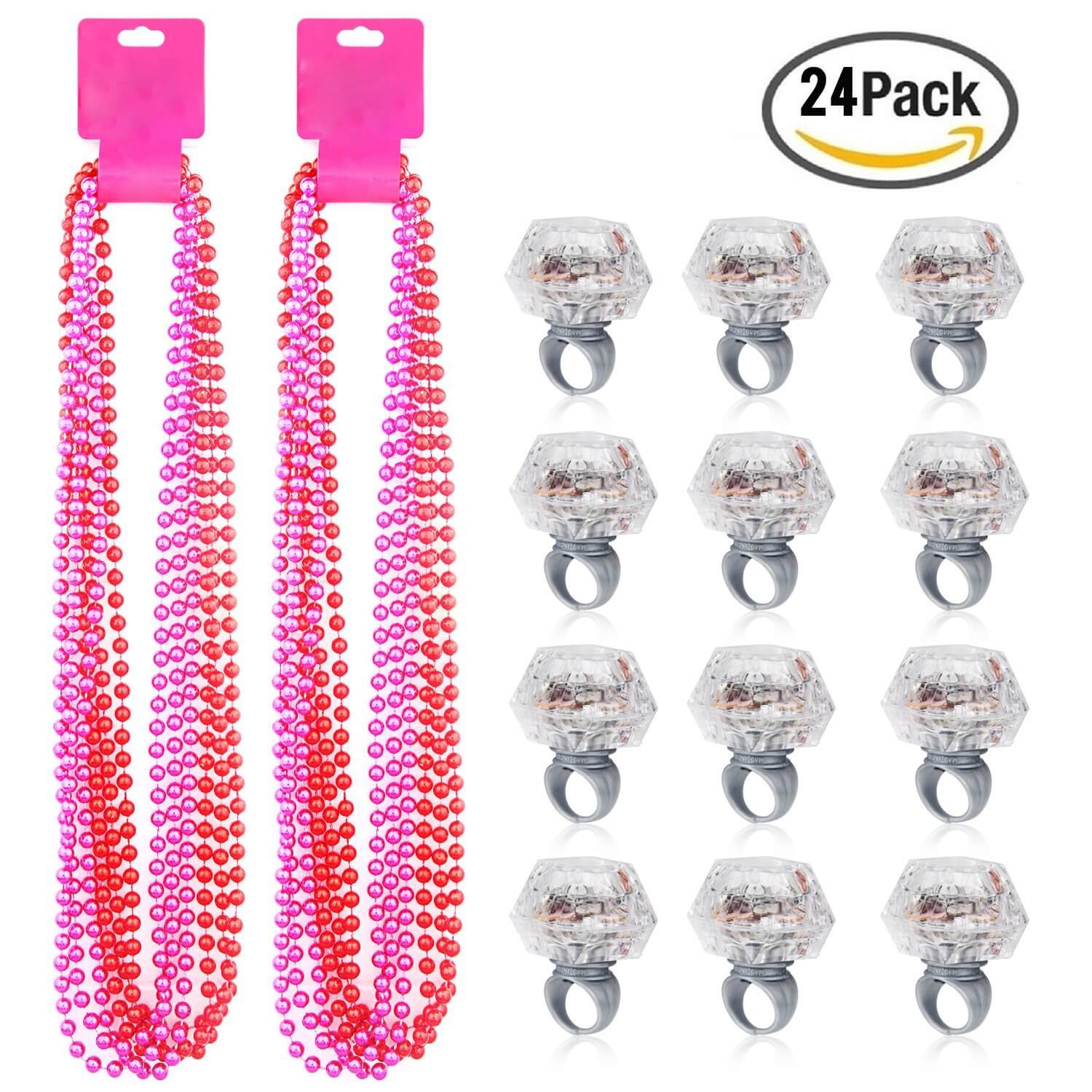 Party beads and necklaces are a simple way for everyone to dress up and feel like they are part of the party. While these little favors can add some bling to any bachelorette party, we really love them for a New Orleans destination party, to give you and your girls a head start on the night's bead-gathering!
The Photo Booth
We love the idea of a photo booth at a bachelorette party. It's a momentous night and might be one of the last occasions that all of your girls will be together in a group. We think that deserves commemorating. Sure, you'll be taking selfies all night, and some are going to be fabulous, and others will be terrible, but none will capture the same light-hearted demeanor as a photo booth.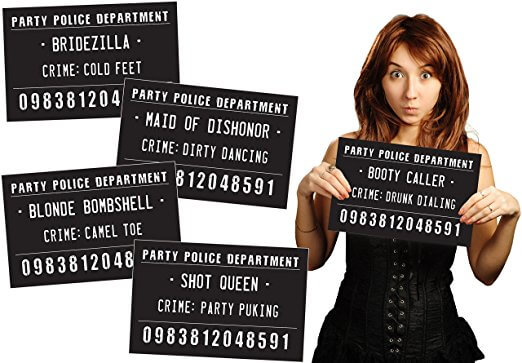 Bachelorette Party Mugshot Photo Kit
While a bachelorette party that ends with real mugshots might be epic in all the wrong ways, we love the idea of these mugshot-style plaques for your photo booth. Use them alone or with traditional photo booth props. For some really great pics, combine your photo booth with a drinking game and watch how your smiles change after one, two, three, or more drinks!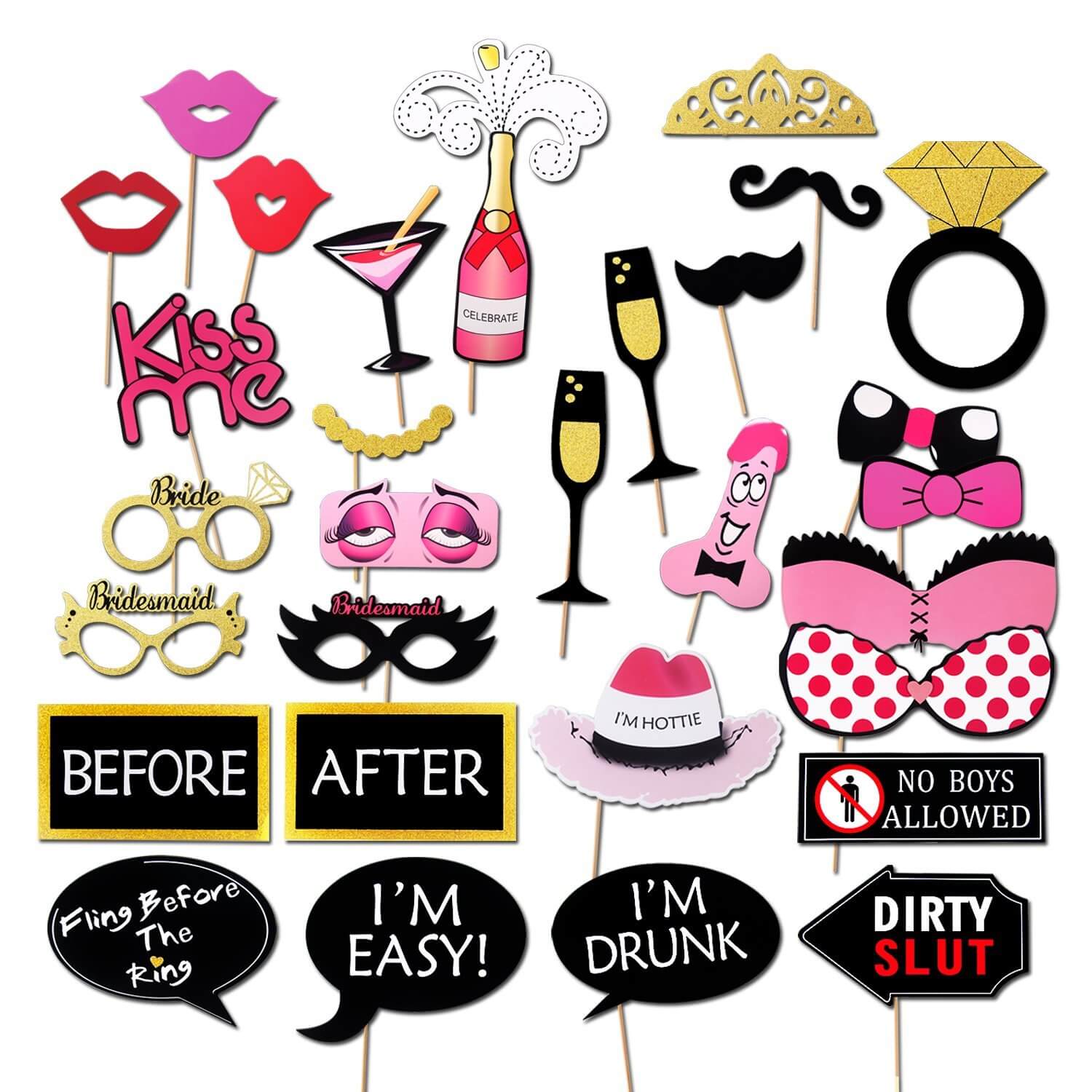 Bachelorette Party Photo Booth Props Kit
What can we say about photo booth props? They're fun. Even more than that, they help draw out more reluctant group members who might feel shy or awkward with photographs. In this selfie-friendly day and age, it can be kind of difficult to imagine, but there are still lots of people who think that they look bad in pictures and get a little nervous when the cameras come out. A photo booth is a reminder that the pictures are supposed to be fun and that it's okay to look silly. Some of our all-time favorite pictures have been captured in photo booth settings!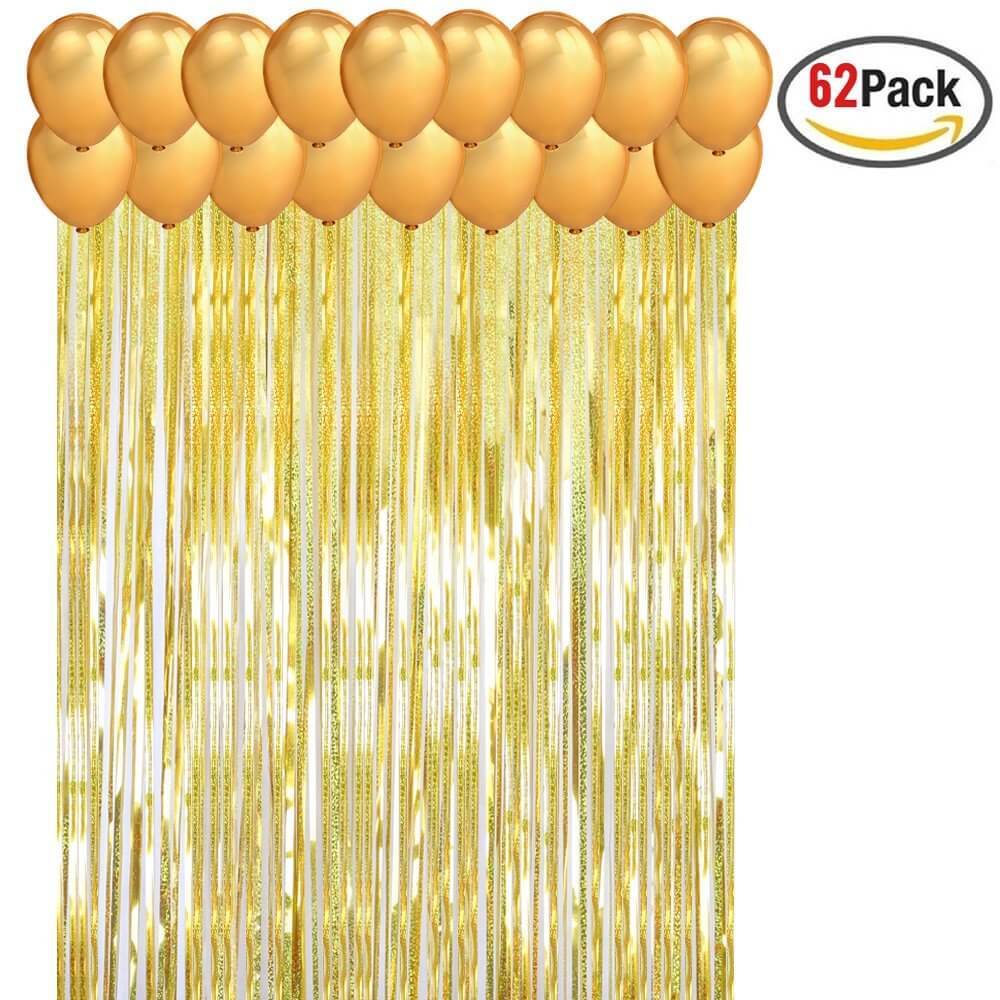 Don't want the hassle of setting up a dedicated photo booth? No problem. Use a backdrop like the one featured above to turn any wall into the perfect glam-backdrop for your photos! Compact, portable, and affordable, you can even do this if your party is at a bar, then just dispose of it when you leave!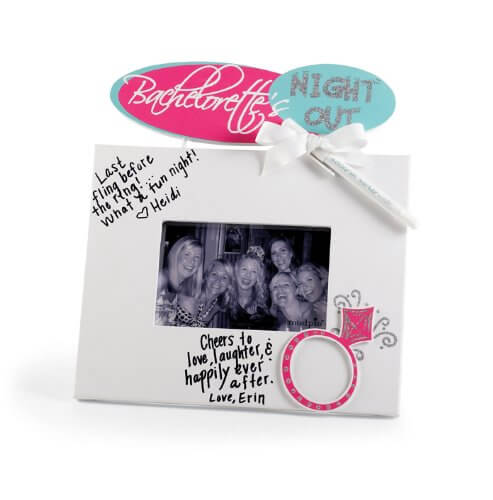 Mud Pie Bachelorette Autograph Frame with Marker
If you go with the photo booth, what better favor than a frame everyone can sign. Sure, it's a great idea for the bride, but we think you should get enough for everyone, so that all of your guests have a way to commemorate the party.
Drunken Debauchery
We are making some assumptions that your bachelorette party is going to feature copious amounts of booze. Now, you can have a great bachelorette party without it and if your bride or a number of guests are expecting or otherwise on-the-wagon, you want to make sure and plan a night that will be fun, even for the stone-cold sober. However, if drunken debauchery is part of the plan, these supplies can help liven up your evening: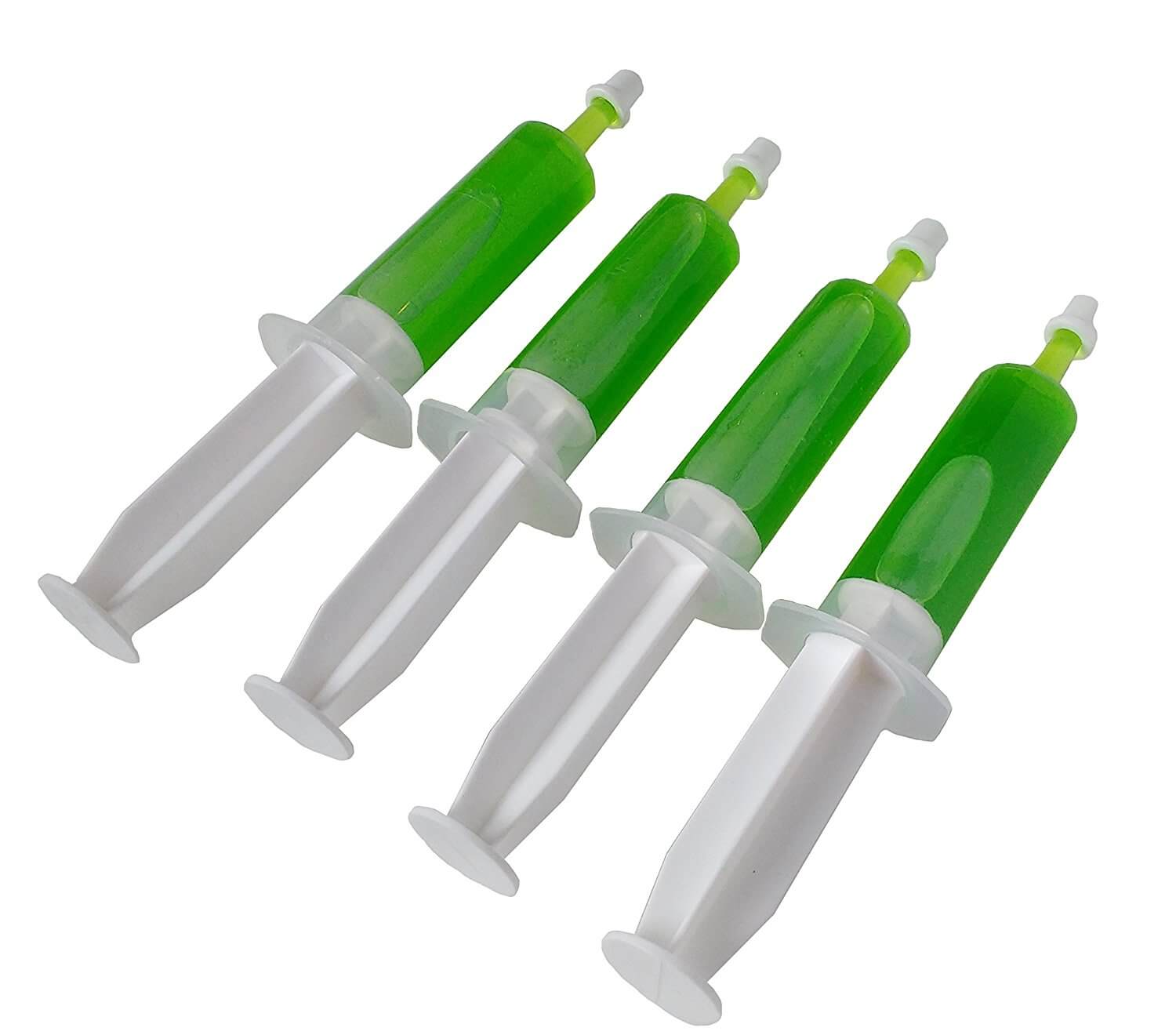 What's more iconic than Jell-O shots? How about actual Jell-O shots? These syringes make these shots fun to take and are also mess-proof if high temps make your Jell-O start to melt. Perfect for beach bachelorette parties.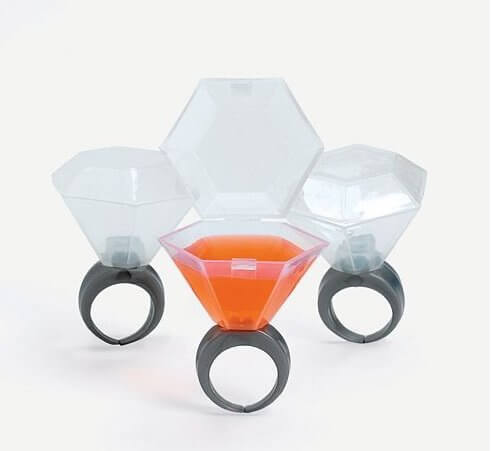 Plastic Wedding Ring Shot Glass (12 Shot Glasses) by FX
Bachelorette parties are a perfect mix of booze and bling, which makes these shot rings the perfect match for your bachelorette crew! They're a great thing for the first (or last drink of the night) or even to wear while bar-hopping.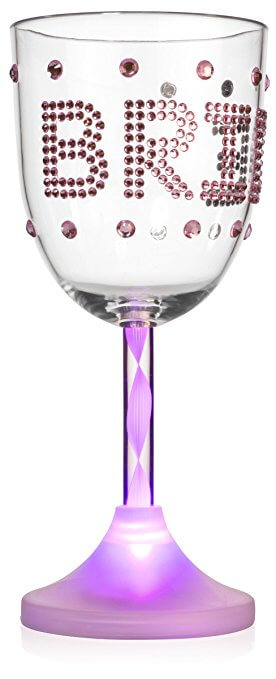 Does your bride love bling and wine? If so, this flashing wine glass is a party must-have.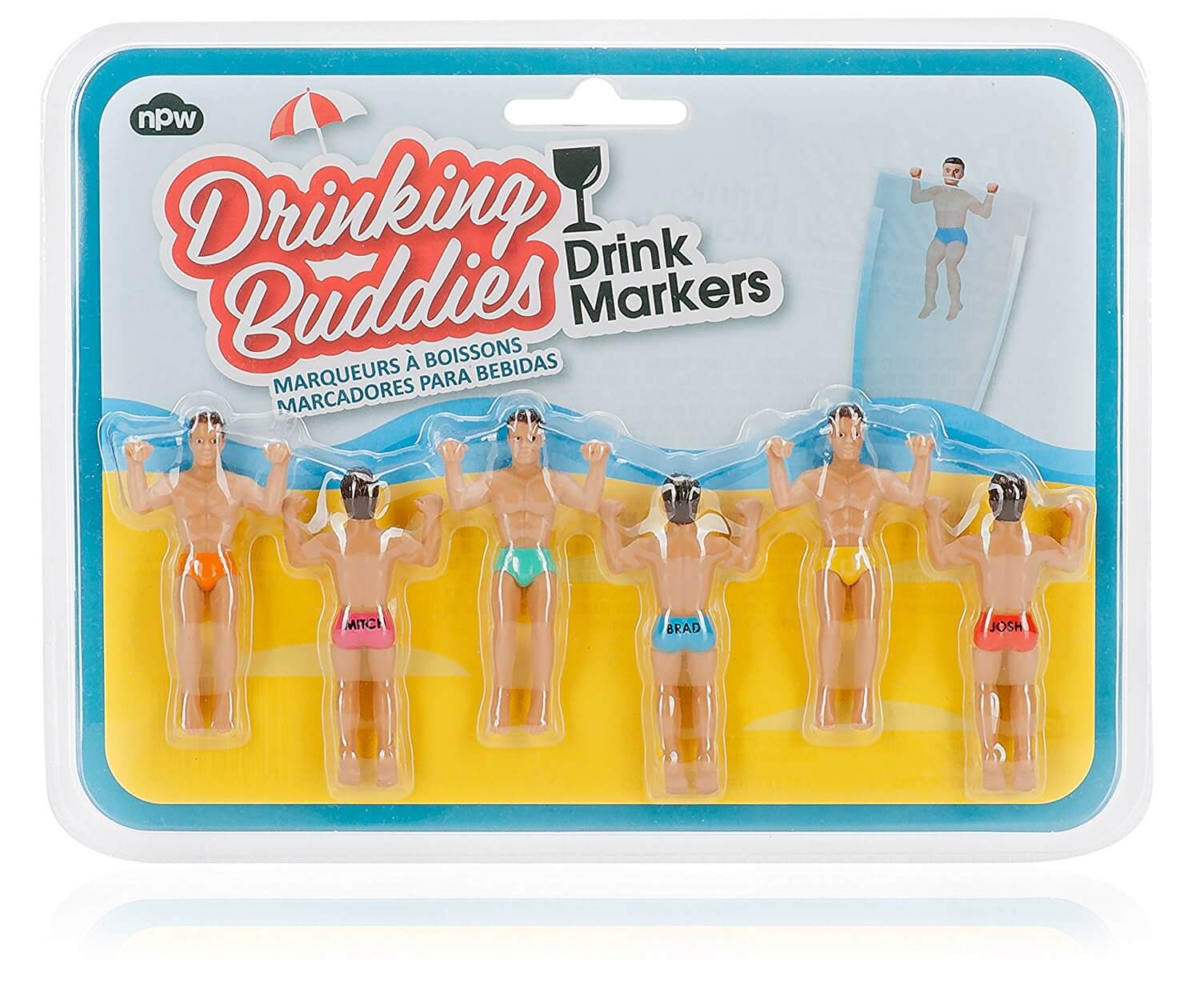 NPW-USA Drinking Buddies Cocktail/Wine Glass Markers
Want a fun way to tell your drinks apart? These hunk drink hangers help you keep your glasses straight while adding a little whimsy to your bachelorette party.
Penis or no Penis?
Yes, the penis sucker or straw has become a bachelorette party staple. This is due, in part, to the fact that they can be mildly embarrassing, so you shouldn't avoid them because they'll make a party-goer or two blush a little if, while out and about, someone looks over and sees them sucking down a drink through a penis straw. That said, you must consider your group of friends. Is the bride a virgin who is saving herself for her wedding night? Are many of the friends members of a religion with moral rules against sex? Will you be likely to encounter people during the course of the party that any party members would have lingering problems with if they saw them enjoying what are really harmless party favors? For example, if the bride-to-be is an elementary school teacher in a small town and you plan on having the party in a bar where she is likely to encounter the parents of the children she teaches, you want to skip the penis favors for that part of the party. If you have the freedom to be a little frivolous, here are some of our favorite phallic favors: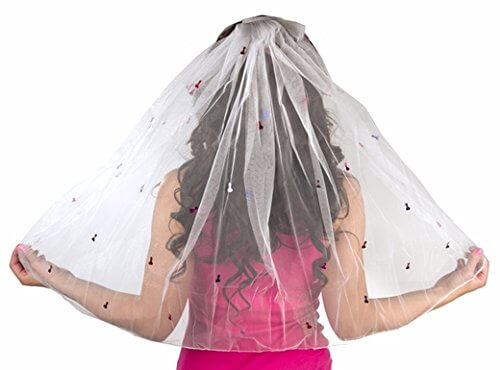 Cute Naughty Veil for Bachelorette Parties
Want a subtle way to embarrass the bride-to-be and point her out as a bachelorette? This penis-covered veil is the way to go. The pattern is small enough to be undiscernible at a distance, but reveal the bride's naughty side as you get closer.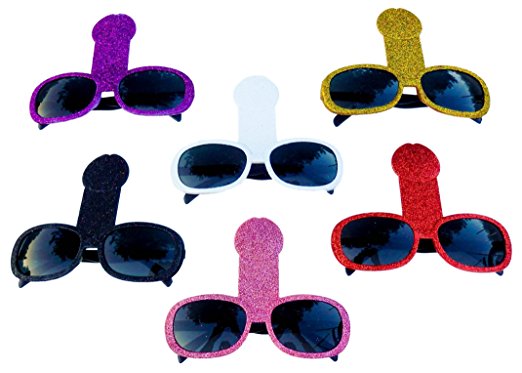 6 PACK – Glitter Penis Party Glasses
Of course, not everyone wants to be subtle. If you and your friends are more "in-your-face," then these glitter penis sunglasses are a perfect favor for your bachelorette party. Whether you are wearing your sunglasses at night, or slip these on for that perfect group beach-selfie, they're sure to give you and your girlfriends plenty of giggles!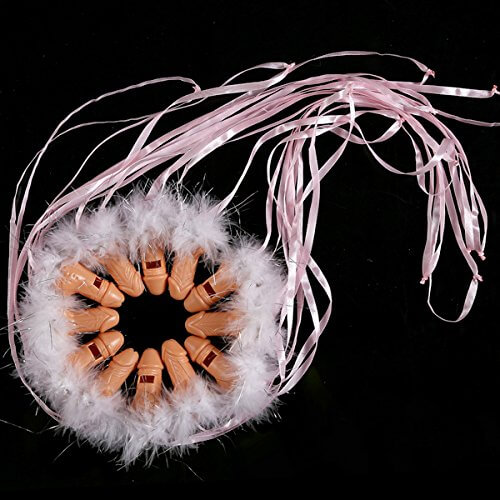 "You know how to whistle, don't you Steve? You just put your lips together and blow." It might be Lauren Bacall's most iconic line and it made everyone aware that Bogie had met his match in To Have or Have Not. These fun, feathery whistles bring to mind that iconic line, capturing some of the lighthearted whimsy that should be there with all things sexy.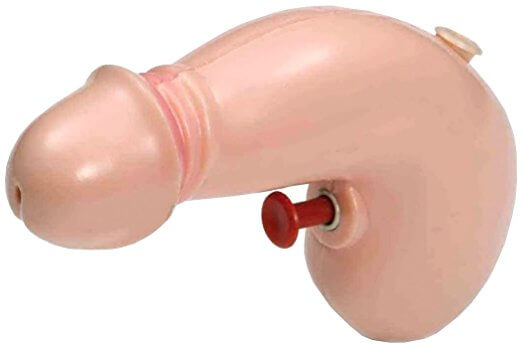 If your bachelorette party includes a beach trip, a pool party, or even just a pool day at a friend's house, then this squirt gun is the gag gift to have!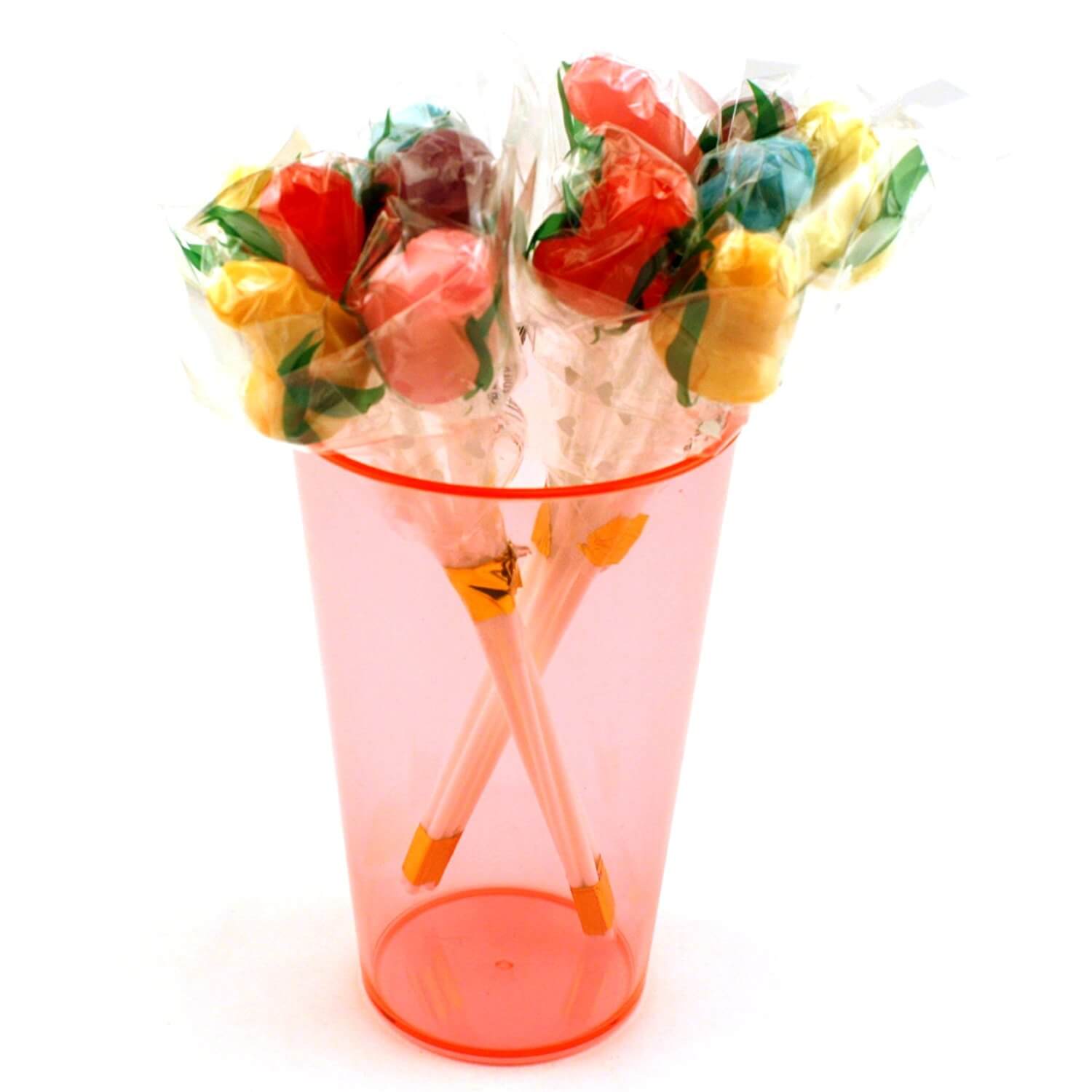 The dick sucker or lollipop has become a bachelorette party staple. You even see them at classier events where other phallic-favors would be out of place. This multi-colored bouquet is the perfect blend of naughty and nice.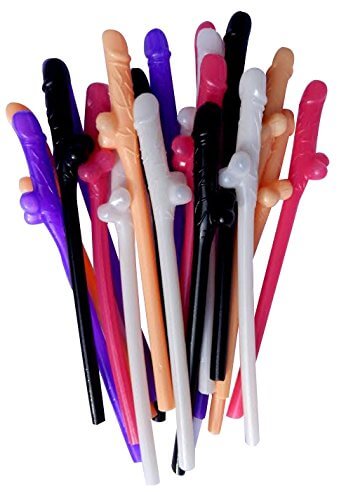 Like the lollipop, naughty sipping straws are a bachelorette party staple. Throw a pack of these in your purse to liven up a night out or keep them on hand for everyone to have at a house party.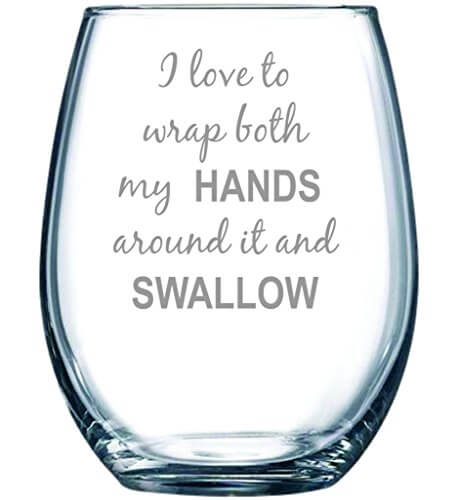 Funny Bachelorette Wine Glasses
Want to add just a hint of naughty to an otherwise classy affair? We love the idea of combining something like a wine-tasting bachelorette party with these dirty stemless wine glasses.
To bitch or not to bitch?
One of the questions you have to ask yourself is whether you're going to go with the increasingly-popular "bitch" theme to refer to your group of party-goers. It is pretty commonplace for women to refer to their friends as their bitches in a loving tone. You know if you and your girlfriends do this. If it isn't something that your group of friends already does, testing it out at the bachelorette party might fall pretty flat. Some women find that taking over a word that has traditionally been used as a misogynistic insult and owning it is really empowering; other women find the use of the term to be incredibly insulting. We aren't taking a position on which approach is correct; we are simply suggesting that, if you don't know how the bride and the guests feel about it, don't go there without first taking the time and effort to find out. If you do have a group of ladies who like to think of themselves as a bunch of boss bitches, then here are some cute favors for your group:
We love this idea as a surprise favor for the destination wedding. Even if you aren't heading to an outdoor destination, these coolies can keep your drinks cool in your hotel room. They are also lightweight, which is important given weight restrictions for luggage, and easily portable.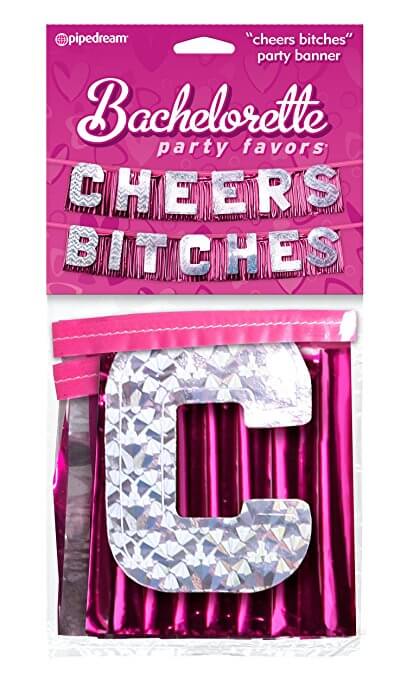 You can put this banner up anywhere, whether you are hosting the bachelorette party in a home, a bar, or a destination. It encourages your friends to drink up and to have fun.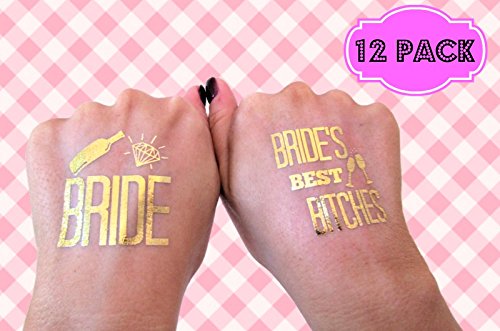 Bride Bitches Temporary Tatoos
We love the temporary tattoo idea, especially if you are heading to a destination wedding where you plan on getting plenty of sun. Think outside of the box and add one of these to a spot that will be hidden by your wedding dress, and your tan lines will give you an even longer-lasting tattoo like image to remember the party by long after you have returned home.
"Miss to Mrs with all of my Bitches" Party Banner
We love the contrast of this cutesy sign with the message it contains! It is a great reminder that the bride might be getting married, but her girlfriends remain an important part of her life.
Thoughtful Gifts
While funny decorations and silly party favors help make for a great party, we know that many brides use the bachelorette party as a time to present their girlfriends with bridesmaids presents, and that guests often bring gifts. Here are some of our bachelorette-themed ideas for thoughtful gifts that go beyond the typical party favor.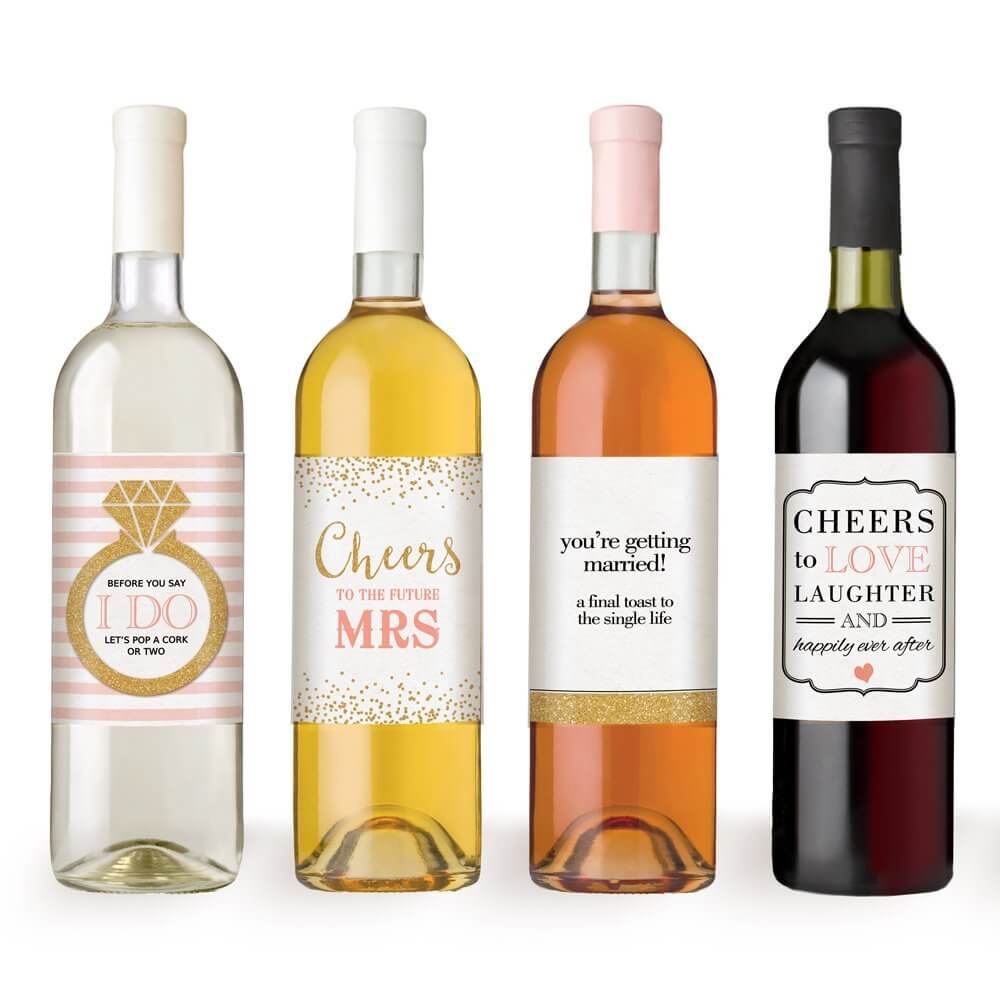 Bachelorette Party Wine Bottle Labels
One of our favorite themes for a simple at-home bachelorette party or a themed shower is to stock the newlywed's wine cabinet. Here's a way to give her your favorite bottle, while still commemorating the special day. It's also a great way to make any ordinary bottle of wine festive for the bachelorette party.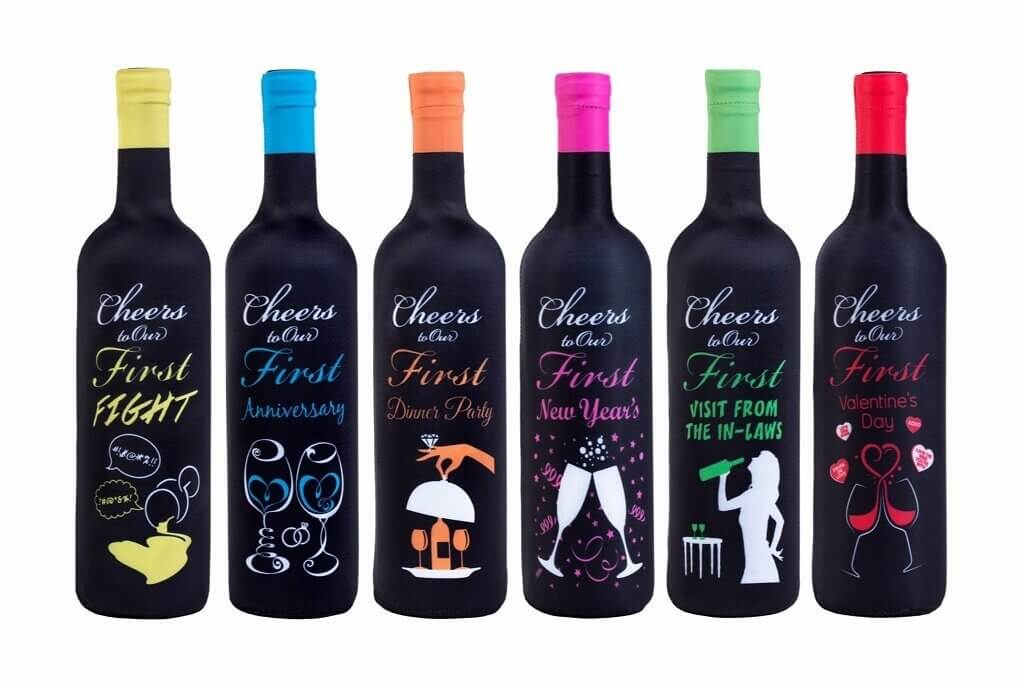 First Year of Marriage Milestones, Wine Bottle Covers – Bridal Gift – 6 Pack
Another take on the wine-bottle party, these are meant to celebrate a year of firsts for the bride and groom.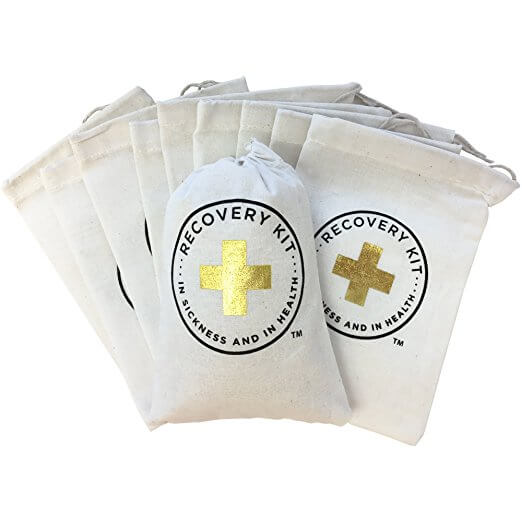 Use these bags to personalize a recovery kit for your girlfriends. What you include depends on where you are from and what you consider tried-and-true hangover cures. We think some acetaminophen or ibuprofen, an electrolyte powder, lip balm, a protein bar, and bottled water (Topo Chico if you're in Texas!) are a great place to start. Want more hangover kit ideas? Pinterest has you covered.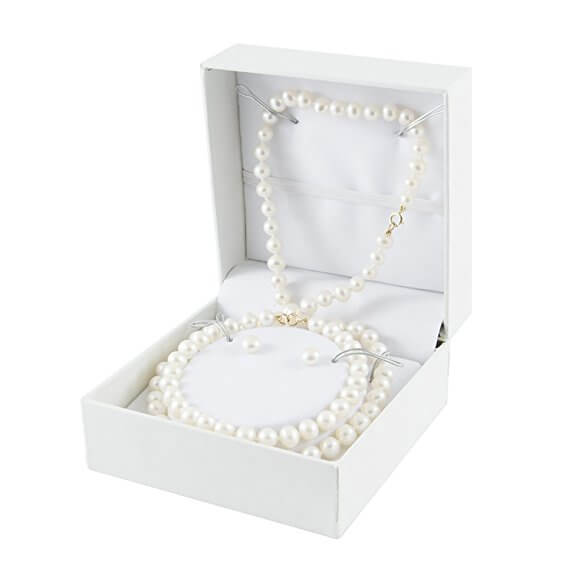 There is a reason that the classic set of pearls has remained a staple bridesmaid gift. Whether you are on a beer budget or a champagne budget, you can find a set of quality pearls for your girls. For a more affordable option, pick a freshwater set like the one above, highlighted in 10k gold; to save more, choose a set with silver. If you have a little more dough to spend, you can always examine more expensive options. However, if you want to go with pearls, we are going to be a little snobby and suggest you go with the real-deal. While costume options are available, freshwater pearl sets start in the same price range as costume sets.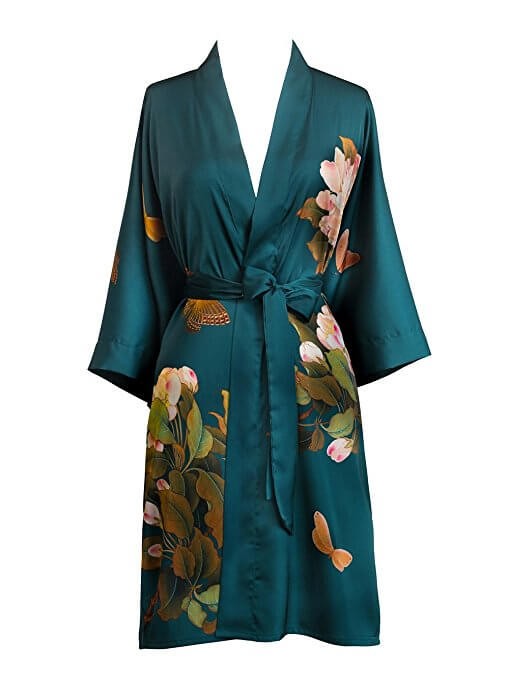 Old Shanghai Women's Kimono Robe Short
Another classic favorite, the silk kimono makes a great bachelorette party favor. It is lightweight, making it easy to pack multiple gifts for the destination wedding, something almost every woman can use, and a classic reminder of a great time with girlfriends!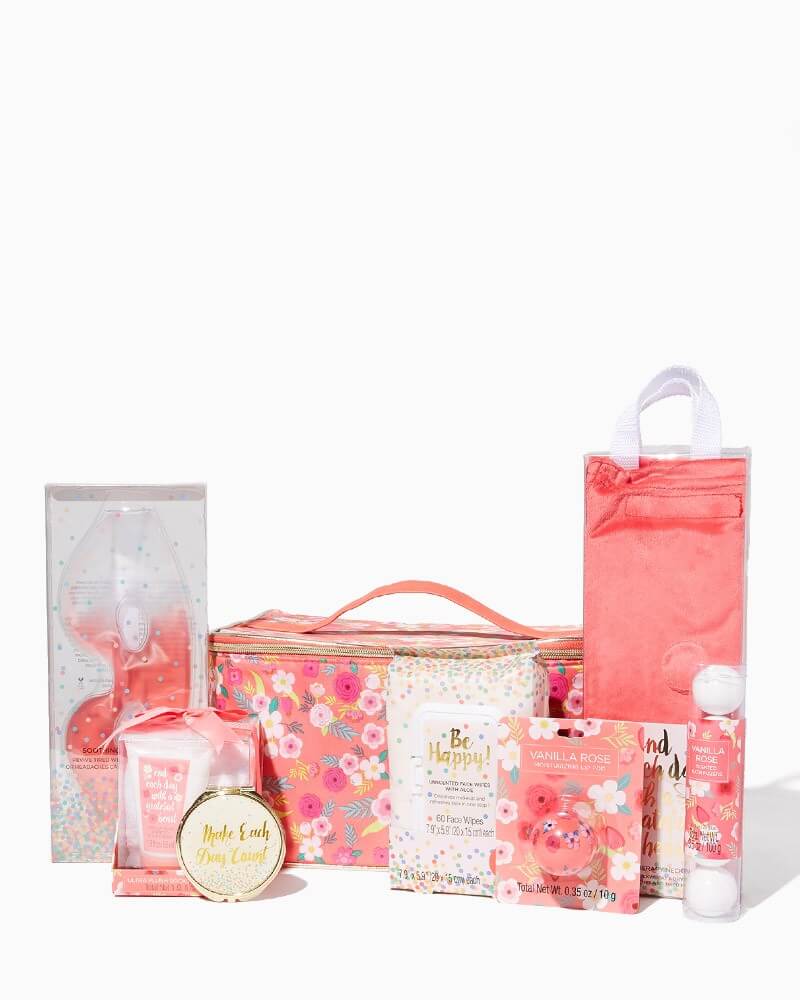 We're into anything that screams spa-day. You can make your own spa-day kits, or you can get this ready-made kit from Charming Charlie's that has everything your besties need to turn their own bathrooms into a spa retreat. Want to make your own? We think bath bombs, eye masks, sleep masks, facial masks, a great moisturizing lotion, and some scented oils are a great place to start. You may not realize it, but you can find lots of great options at the Dollar Store, allowing you to create customizable spa day bags for around $10 per person, if you're on a shoestring budget!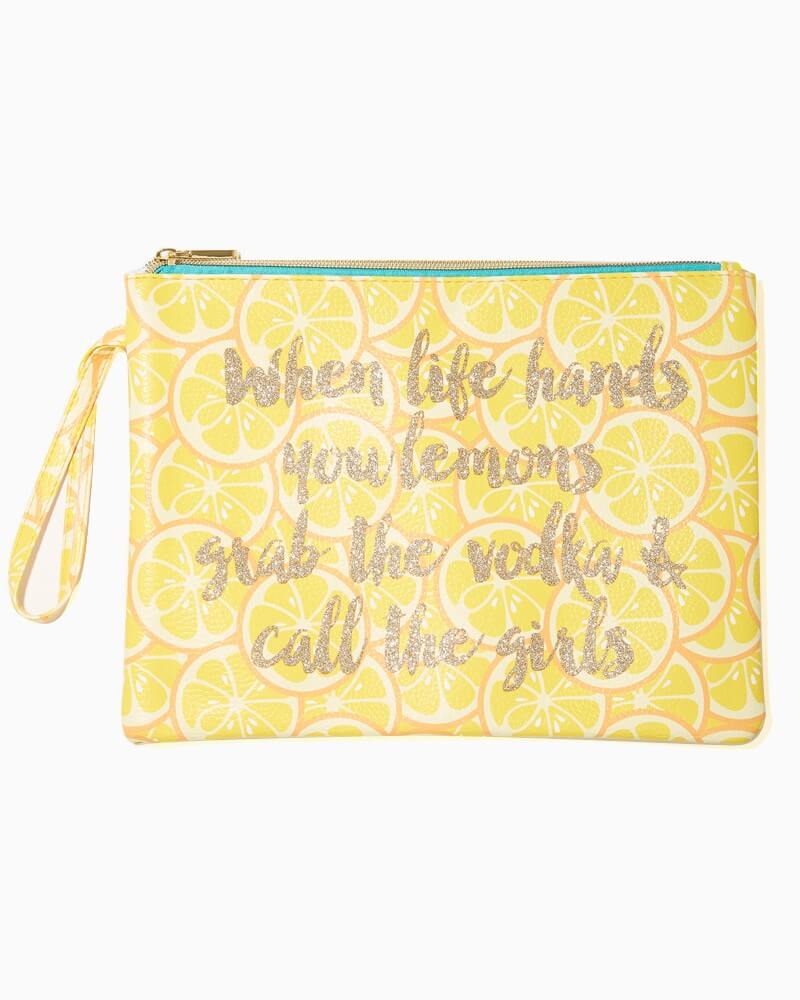 We love the idea of a bikini/ bathing suit bag if you're doing a beach destination bachelorette party, and we love the message on this bag. While clearly tongue-in-cheek, it serves as a reminder that no problem is so big that you and your girlfriends can't tackle it together!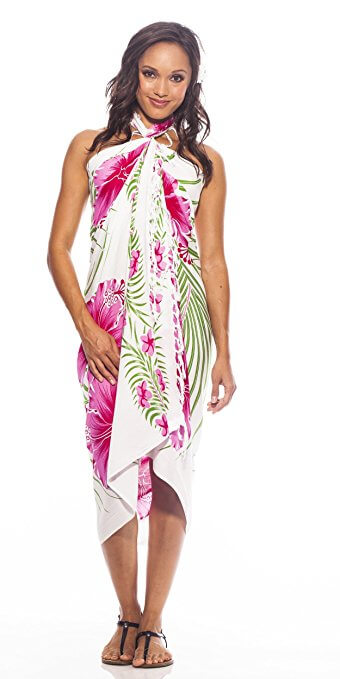 Want to really jazz up that bathing suit bag? Slip a sarong in it. You can make them matchy-matchy or pick a unique one for each of your bachelorette-party goers.
Wrap it up!
Want to make the gift extra-special? Wrap it one of these bachelorette-party friendly gift boxes or bags.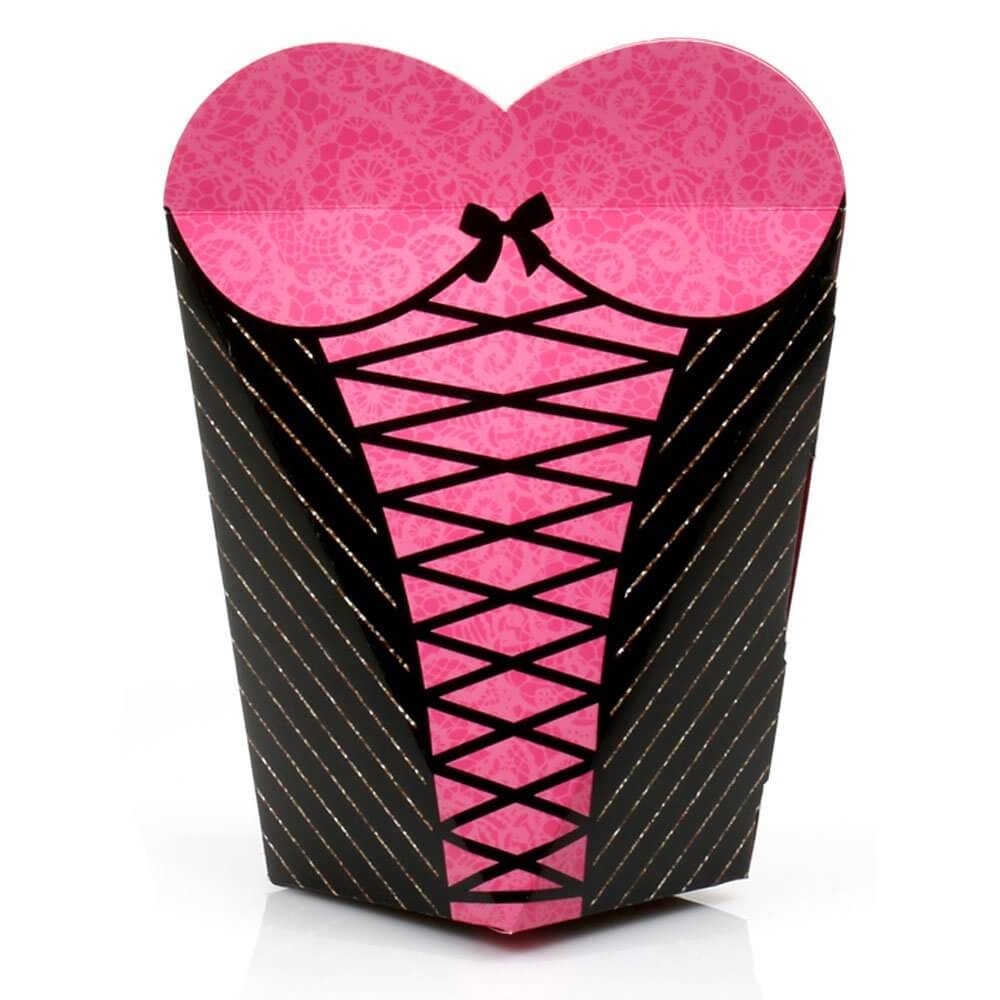 Bachelorette Party Favor Gift Boxes
What's girlier than a bustier? A bustier-shaped gift box. What a way to hide your "goodies!"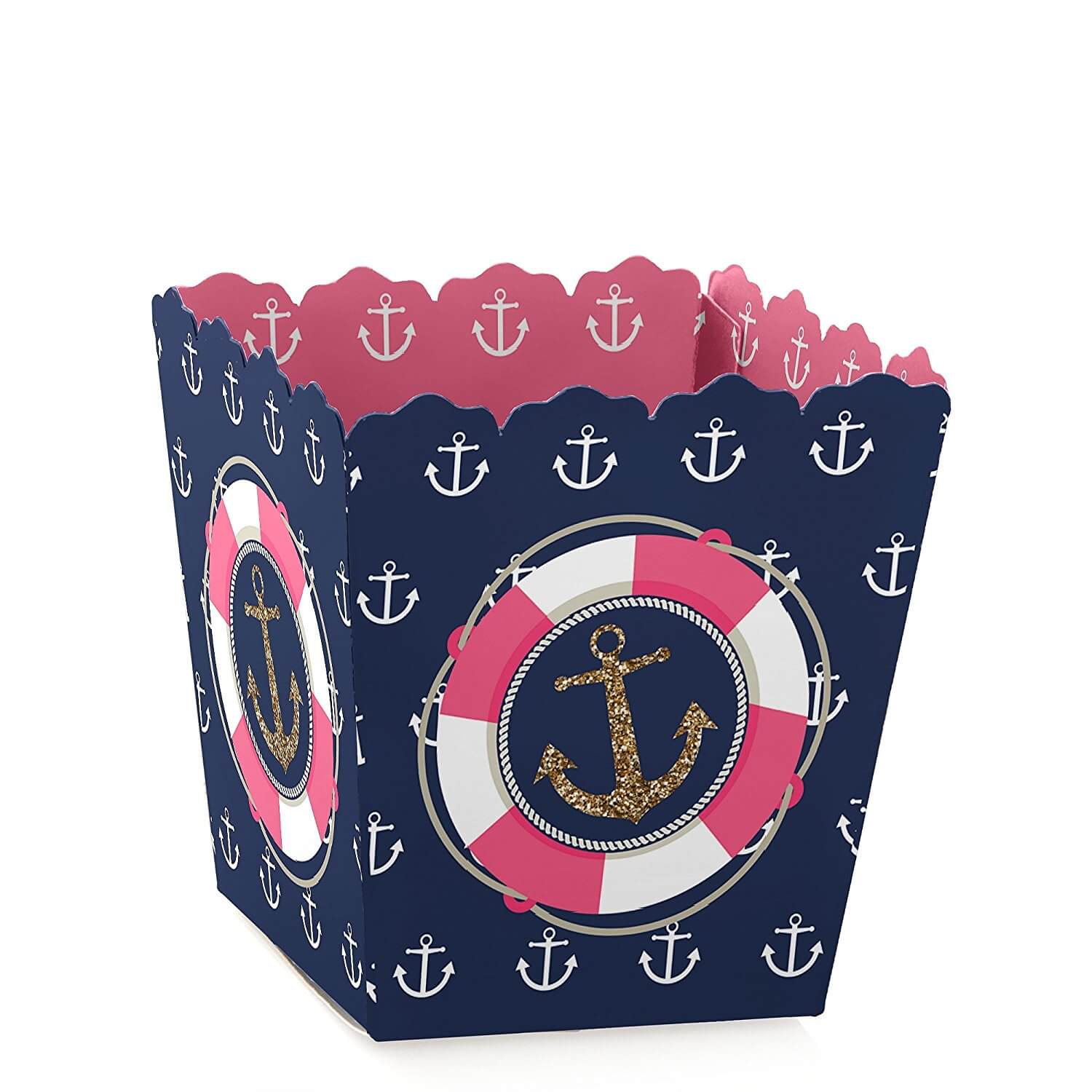 Last Sail before the Veil, Nautical / Boat Party  Theme Kit
Have you ever seen anything cuter for cruise-themed bachelorette party favor boxes? We haven't. We love these "last sail before the veil" themed boxes.
Conclusion
Shopping for a bachelorette party can be a ton of fun, but it can also be overwhelming. Deciding what type of party you want to throw is the first step to making your party-shopping easier. If you have a theme, you can search for theme-specific items. The second step is to set a realistic budget and then stick to it. With affordable products available from so many retailers, there is no reason to spend more than your budget allows. Here's one handy trick; once you figure out your budget, don't confine yourself to searching in that price range. You might get a lot of great ideas from more expensive results, that you can modify to meet your budget. Pinterest is your friend. You can also find some great ideas in our forums, where we invite people to share their experiences with finding unique, creative, and affordable bachelorette party supplies and favors!