Complete Guide to Bachelor Party Shirts (2023 Edition)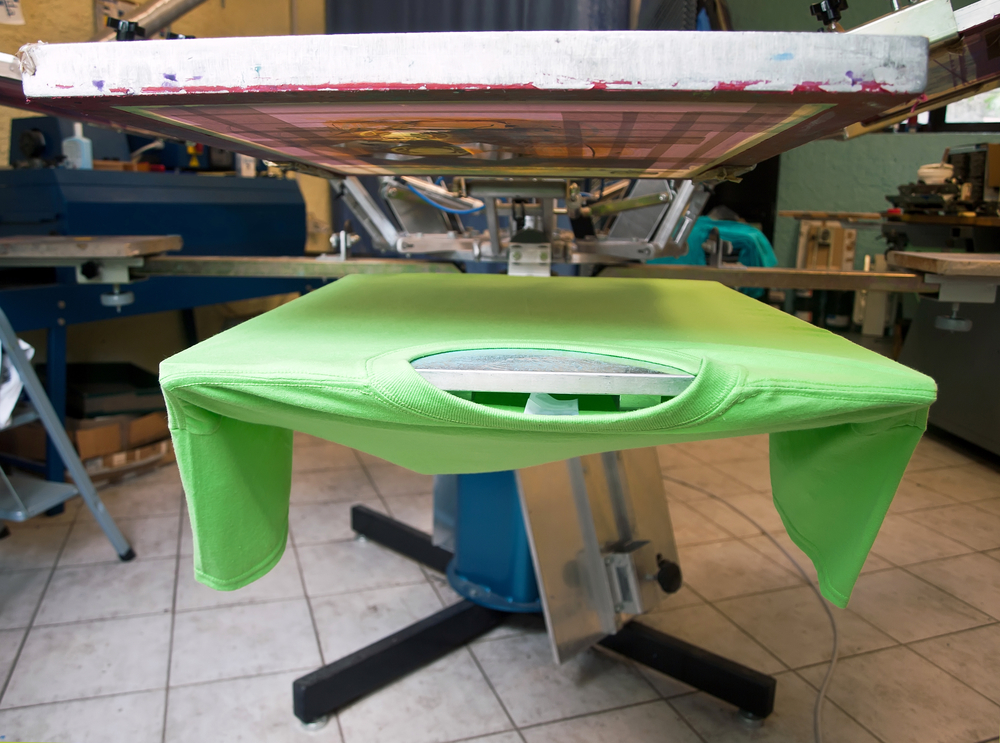 This post may contains references to products from one or more of our advertisers. We may receive compensation when you click on links to those products or services. Please also consider
donating to our website.
One of the most ubiquitous male garments in the world is the tee-shirt (also known as a t-shirt or just a "tee") named for the "T-shape" that is formed by the sleeves and body as shown below. :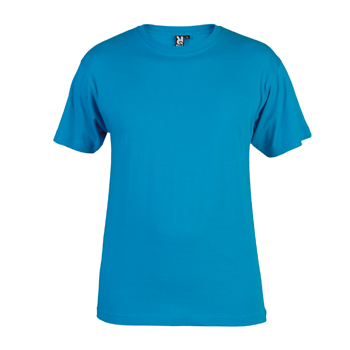 We're not telling you anything you don't know yet of course because you probably already own a dozen t-shirts in varying degrees of wear and plan on buying even more just as soon as these become sufficiently worn out (this level will ultimately depend on your marital status – single guys can keep their t-shirts much longer). You may not know, however, that t-shirts have been around in one form or another for more than 100 years and for good reason — worn as an undergarment or casual outer wear, t-shirts are great gift ideas for any bachelor party and they have remained popular for so long because they are comfortable, inexpensive, easily cleaned and can be readily customized for just a modest fee. More importantly, even when they are full of holes and threadbare, t-shirts can still be used to wax and buff your car or to polish your bowling ball and trophies or clean your guns. Now that's a lot of value for the money!
There are some other things about t-shirts you may not know, particularly when it comes to designing the perfect shirt for your bachelor party. For example, one of the best features about bachelor party t-shirts is that they can be easily slipped over almost any other shirt as well as sweaters and jackets – be sure to allow an extra size if this is the case. This also means that you and your bachelor party buddies can all sport matching themed shirts for the groom's big event. In addition, other inexpensive types of customizable shirts such as tank tops are readily available for your bachelor party, and you can find the perfect type of shirt for your bachelor party by using this guide.
Bachelor Party Shirt Ideas
When it comes to ideas for bachelor party shirts, the world is indeed your oyster. You can select from standard bachelor party design t-shirts or tank tops (see more on these below) or design your own, but the key to success is tying your design into your bachelor party theme or groom's occupation as well as the destination and date. For example, if you're headed for Sin City for your bachelor party, include the groom's name, destination and date: "Bill's First (ha ha!) Bachelor Party — Last Vegas – 2018" (as appropriate). Bachelor party shirts can range the entire gamut from the zany (a picture of Einstein sticking his tongue out if the groom is a brainiac) or downright obscene to whimsical to dignified to completely studly such a graphic of a large stag (for stag party, get it?). Likewise, perhaps the groom had an embarrassing but otherwise harmless childhood nickname (i.e., "Stinky") that can be used to good effect on your bachelor party shirts.
If the groom is a veteran or an active duty member of the military, you can use the relevant armed forces' insignia as the basis for our bachelor party t-shirt. In the case of Army veterans or soldiers, you can also expand on this idea by using the bride-to-be's name for the groom's shirt as shown below.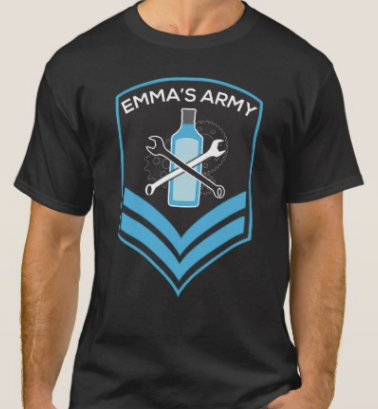 You can include a picture of the groom (or better yet a humorous but accurate caricature) or use stock graphics for the groom, best man and groomsmen as shown in the example below.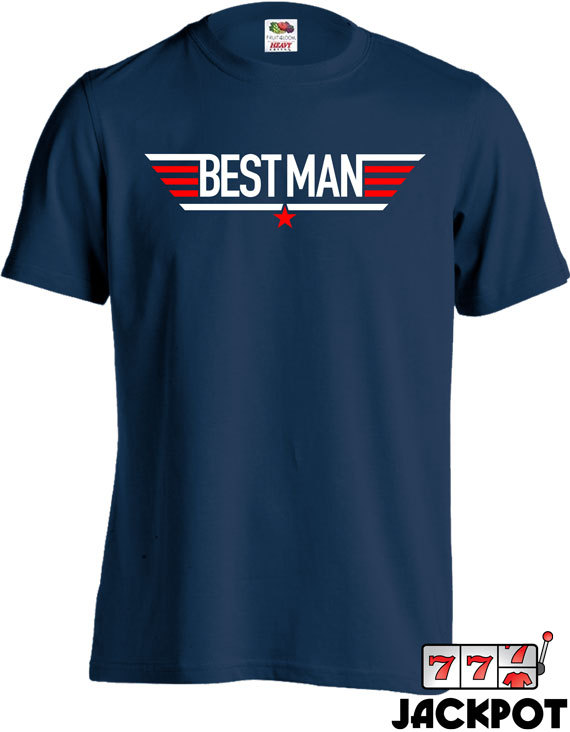 Indeed, the choices for your bachelor party t-shirts are literally infinite since hundreds of thousands (if not millions) of stock designs are available that can be personalized with your own choice of custom text and/or additional graphic elements that you provide to t-shirt services. If you have a favorite picture such as the bride-to-be, the groom's shiny new Harley or even his dog, Muffin the Mutt, you can incorporate this picture into your bachelor party shirt design as well. While the choices may appear overwhelming, one of the more popular bachelor party shirt ideas is to simply present your guests with a handsome customized t-shirt or tank top as we explain below.
View all Bachelor Party Shirts on Etsy.com
Custom Bachelor Party Shirts
Customized bachelor party t-shirts are available everywhere, but you can find some of the best deals and highest quality bachelor party shirts on Web sites such as eBay, Amazon, Zazzle and Etsy. These sites all feature brand names that are worth the extra few bucks. For example, for just ten bucks, you can purchase high quality custom personalized t-shirts on eBay as depicted below.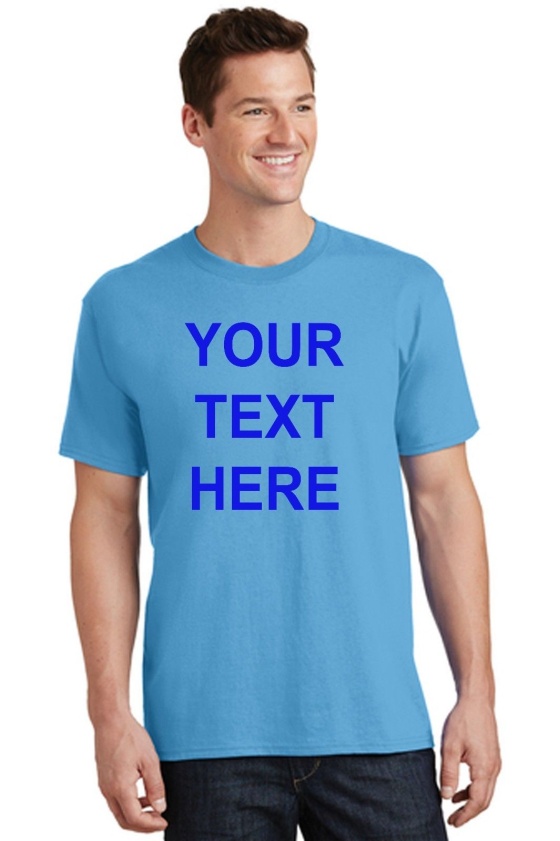 You can always go with basic white as your design template from Zazzle (see below) and add text and design graphics at your preference.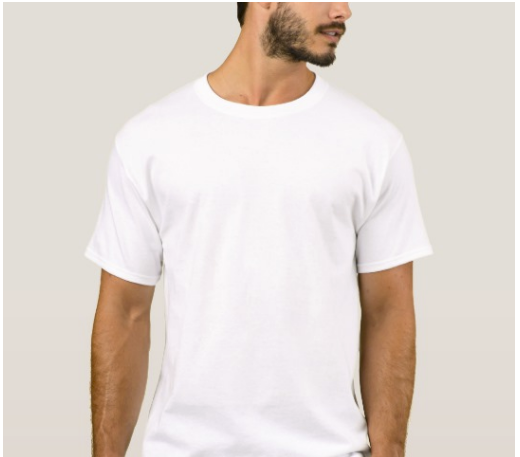 View all Bachelor Party Shirts on Zazzle.com
Bachelor Party Tank Tops
A tank top is just a t-shirt with no sleeves and these shirts are also worn as undergarments or casual outwear. These are great alternatives if your bachelor party guests are athletically inclined as shown below.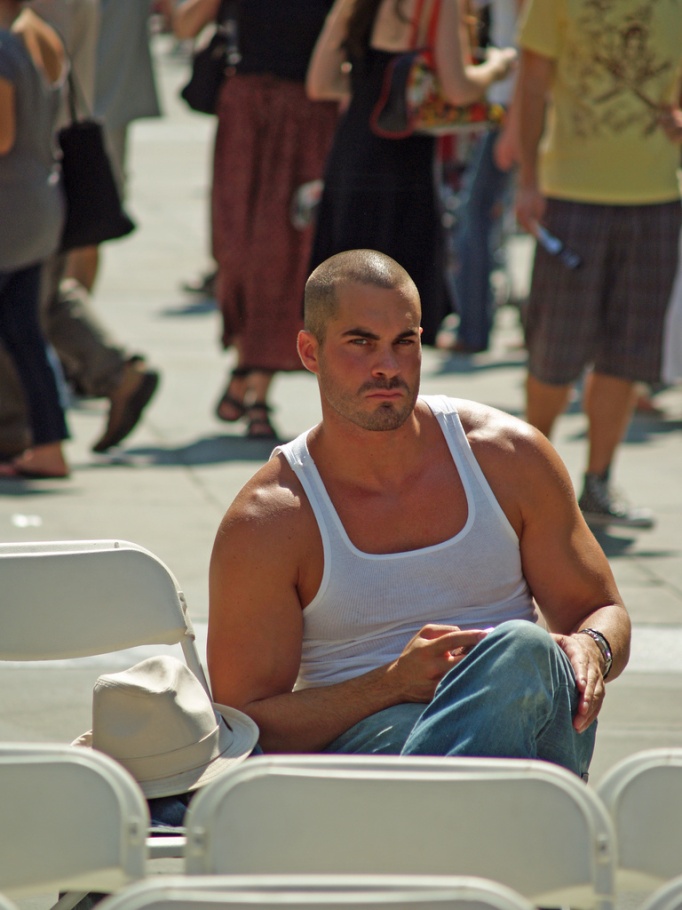 Even if you and your buddies aren't exactly buffed, though, you can still look that way when you wear your bachelor party tank tops by having a graphic of six-pack abs emblazoned on the front. Moreover, like t-shirts, tank tops can also be easily customized with other text and stock or personalized graphics for your bachelor party guests. Be creative but be aware that tank tops are usually made from thinner and looser woven fabrics and lack the same level of quality as tee-shirts, but they do make you look like a bad-ass.
Although the design selection and ordering process for t-shirts and tank taps are straightforward, it's helpful to use a checklist to make sure you don't forget anything or anybody and we provide a generic list for this purpose below.
View all Bachelor Party Shirts on Ebay
Bachelor Party Shirt Checklist
The last thing you want to happen to your bachelor party guests is for the big day to arrive and are either empty-handed or have a case full of t-shirts for someone else's party or everything is spelled wrong. Although the services we mention in this guide are widely recognized for their commitment to top-notch customer service, accuracy and quality and guarantee their results, mistakes can happen and it is better to follow the step-by-step checklist below in order to ensure you receive the right shirts at the right time.
 #1 Survey bachelor party guests to determine their shirt preferences (i.e., t-shirt or tank top, and color preference) as illustrated below.  Tally the survey results and select the type of shirt and color a majority of your bachelor party guests likes best.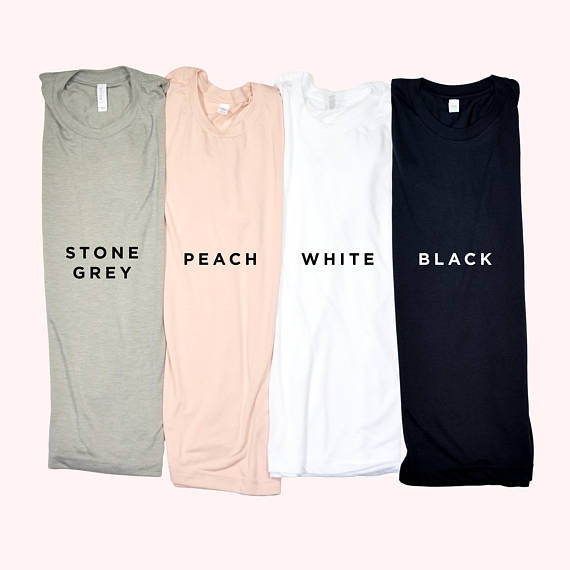 #2 Make sure you spell everyone's name right (don't assume anything)
#3 Double-check everyone's shirt size using the table below:
To find your correct size, measure your best-fitting t-shirt's width from armpit to armpit and the length from top to bottom and use the guidelines in the table above to find your perfect fit.
| | | |
| --- | --- | --- |
| Size | Fits sizes | Width/length |
| Extra small | 2 – 4 | 16" / 25" |
| Small | 6 – 8 | 17" / 26" |
| Medium | 10 – 12 | 18.5" / 27.5" |
| Large | 14 – 16 | 21" / 27.5" |
| Extra large | 18 – 20 | 24" / 28.5" |
| Extra Extra Large | 22 – 26 | 25" / 30? |
#3 Order well in advance of need (check individual sites for delivery details but one to five business days is common); if possible, allow extra time in case there is a problem with the finished product which will require free return and replacement.
#4 Upon receipt of your finished products, verify the spelling of any customized text and double-check sizes and color.
#5 Arrange for the delivery of the delivered goods to the bachelor party site by a (reliable) groomsman or assume the responsibility yourself if you are the best man.
#6 Present shirts to grateful bachelor party guests.
Bachelor Party Shirt Slogans
Bachelor parties are no time to be shy, of course, but you should maintain some level of good taste in your selection of slogans for your t-shirts. Some of the stock slogans that are already available for your selection include the following:
"Team Groom"
"Hook. Line. Sinker. Sunk."
"Everybody be cool – this is a bachelor party!"
"Sorry girls – he's getting married"
"Buy me a shot! I'm tying the knot: [date]"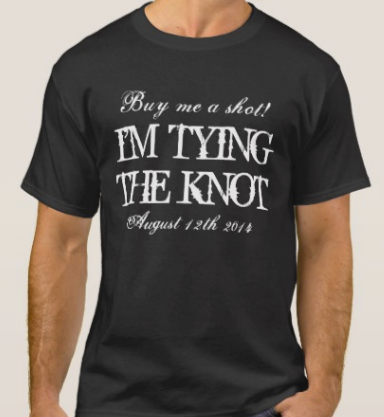 "The end is near – buy this man a beer! [Groom's name] Bachelor Party ____________ [Date]" (a sample of this type of t-shirt is depicted below)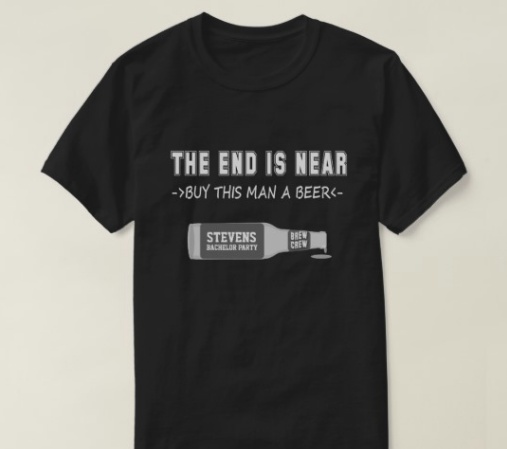 "Last night in [Groom's name] wolfpack" (also see sample below)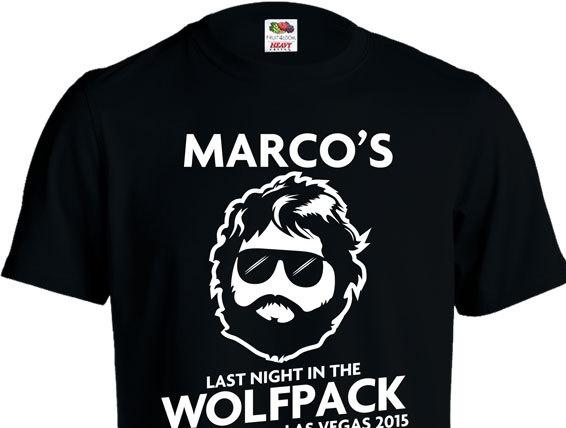 "No More Monkey Business"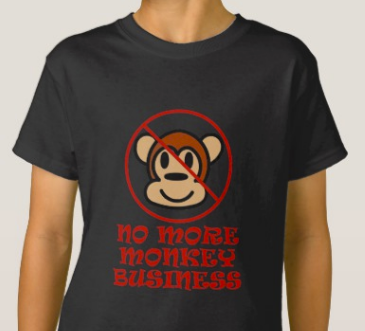 Other novel ideas for your bachelor party shirt slogan include the following:
"My best friend's having an outrageously expensive wedding and all I got was this damn shirt at his bachelor party."
"Epic Bachelor Party ___________ (year) for ______________ [groom's name]"
"We're all best men at __________'s (groom's name) Bachelor Party!"
View all Bachelor Party Shirts on Amazon
Bachelor Party Shirt Designs
You don't have to be an experienced graphic artist to design the perfect bachelor party shirt. Indeed, creative minds have long been hard at work developing clever, alliterative and catchy bachelor party shirt designs including the half million different designs that are available here. Many bachelor party shirt services feature a foolproof step-by-step shirt design process that ensures you receive just what you want for the special occasion. For example, Zazzle's Web site allows you to choose the main graphic and then simply select the stock design you like best, add your desired text line by line (i.e., "I'm tying" on the first line and "The knot" on the second line) and the date of your bachelor party. Presto! You're done.
If you or one of your bachelor party guests does happen to be a skilled artist, you can have him draw something that is especially relevant to the groom's life to include in your shirt design. This is a useful strategy when obtaining actual photographs of what you want are unavailable. For instance, perhaps the groom was a member of the varsity chess team or fencing team in high school or college. In such cases, a professional drawing of the groom playing chess or fencing would make a great graphic addition to your bachelor party shirt design. Likewise, you can contact the groom's parents and groomsmen and ask them if they have any pictures of the groom with a goofy haircut from years ago that you can incorporate into your bachelor party t-shirt design. Whatever approach you take to designing your bachelor party shirts, keep in mind that these shirts may be viewed by women and small children if your party happens to venture out into public so keep the vulgarity to an absolute minimum and be creative in your thinking about the perfect design.
When all else fails you can find some top quality & cheap t-shirt graphic designers on fiverr.com for as little as $5.00 who can create the perfect look.  All you would need to do is provide their completed graphic file to the shirt printer, and boom your crew has some amazing shirts to wear.
Looking for a fun, personalized t-shirt that can really start a conversation?  Check out Break in Case of Emergency t-shirts.  These t-shirts, which feature a first-aid type cross on a black background are a play on the safety glass that one would find in a fire extinguisher.  They feature clear pouches with the emergency items you might need to survive a certain scenario.  You may have seen them in tourist shops, and a typical survival t-shirt might include cash, Mardi Gras beads, and a condom for New Orleans or an Ace playing card, cash, and a baggie of something that looks like coke in Las Vegas.  Now, you can personalize those t-shirts for your bachelor or bachelorette party experience.  Not only can you personalize the t-shirt with the name of the bachelor or bachelorette, but also custom pick the items in your break-in-case clear plastic pouches.  Choose up to three of the following items: a regular condom, an extra-large condom, folded or rolled prop money, a bag of what looks like weed (don't worry, it is just oregano), a baggie of "coke", an Ace playing card, a packet of Tylenol, a packet of Alka Seltzer, Mardi Gras Beads, a 9mm bullet, a bambu rolling paper pack, or a book of matches.  You can make your emergency pouches and t-shirts identical, or customize one for each member of your party.  It is a great way to add a humorous touch to the t-shirt idea.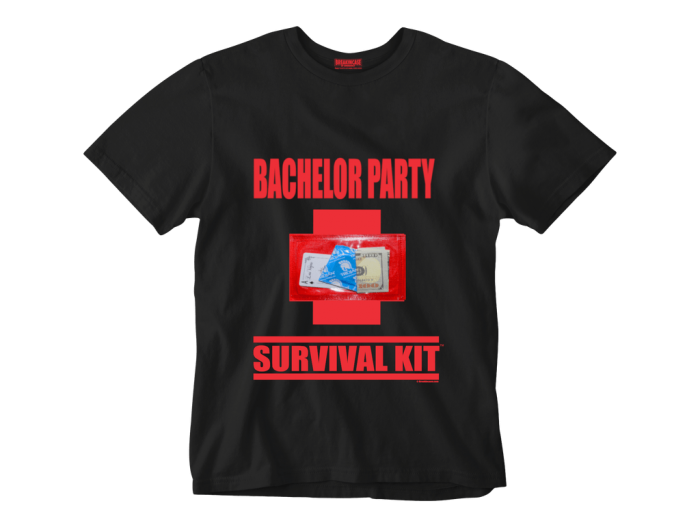 Conclusion
As clearly shown above, t-shirts and tank tops make great bachelor party gift ideas, especially since they can be customized to make them particularly meaningful and special for the groom and his best buddies. Furthermore, even higher quality, fully customized t-shirts are inexpensive and feature all of the attributes that have kept them popular for more than a century such as their comfort and ease of cleaning. In fact, for less than $100, you can provide up to eight or nine bachelor party guests with a custom t-shirt or tank top that they can not only put on right away for the party, but which will serve as a valued memento of this special event.
For example, as a bonus gift, you can purchase different sized t-shirt frames that will fit any sized shirt for all your bachelor party buddies on eBay to proudly and permanently display their bachelor party shirt for all to see. Just remember to follow the checklist provided above to make sure you don't forget anybody or spell anyone's name incorrectly. Also make sure you allow enough time for delivery and even a return and replacement if something goes wrong. Even though t-shirts and tank tops are inexpensive, bachelor parties can be expensive and there may not be a lot of money left over after paying for the venue and all of the food, beverages and entertainment that will be provided. Therefore, if money's an objective, consider asking all of your bachelor party guests to chip in to pay for their shirts – everyone will agree to do this because guys love any kind of t-shirt, especially if it has their name on it.
Finally, having all of your bachelor party guests wear a matching themed shirt will make you look like the kind of cohesive team the groom needs before his big day and these will be a guaranteed big hit with everyone.