Plan Your Bachelorette Party in Tulum Mexico (2023 Guide)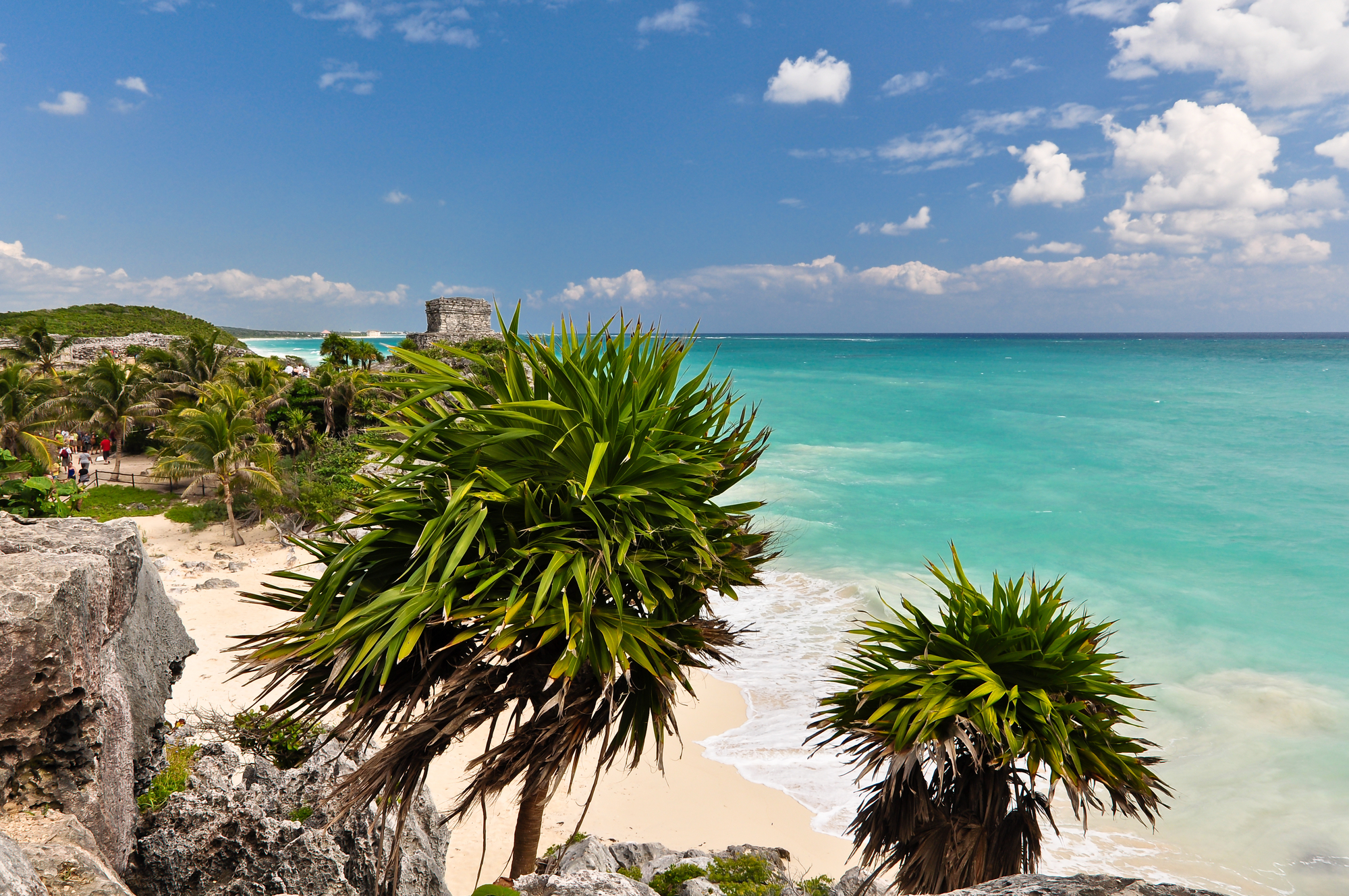 This post may contains references to products from one or more of our advertisers. We may receive compensation when you click on links to those products or services. Please also consider
donating to our website.
Want that Mayan Riviera experience, but looking to branch out from perennial tourist favorite spots like Cancun and Cozumel?  Then a bachelorette party in Tulum might be just what you need.  Located in the gorgeous Caribbean Sea, Tulum has long been a favorite for those seeking a vacation off of the beaten path.  However, this former Hippie hangout has been developing its reputation as an eco-tourism hotspot, offering some of the best back-to-nature adventures.  The amenities have grown with the popularity, so you can find plenty of places to stay, restaurants, and even some very cool bars in Tulum.  However, if you are looking for a huge all-inclusive resort experience, then Tulum might not be the place for you.  So far, it has managed to retain most of its small town charm, which means that it has kept the bigger resorts at bay.
How to Get There
Unless you have a boat and days to get there, getting to Tulum is going to mean taking a flight.  Tulum does not have its own big airport.  However, it is just a short drive from Tulum to Cancun, which does have its own major international airport, with flights from just about anywhere in the U.S.
Airport
Getting to Tulum means a flight to Cancun.  The airport you want to choose is Cancun International Airport (airport code: CUN).  Tulum is about an hour away from Cancun, depending on the traffic.  It is a straight shot down the road, which gives you plenty of options to get from Cancun to Tulum.  You can take one of the widely available shuttle services, which will cost you about $7 per person, each way.  You can hire a taxi, which will be about $80 each way.  If you are comfortable driving in a foreign country, you may want to rent a car; the airport offers most car rental brands including Enterprise.  Once you get to the airport, you may be able to use  Uber or Lyft to get to your destination.  These services came to Quintana Roo, then left, but are working at getting permission to operate there, again.  If Uber is available, you can use our referral code for a discount on your ride! (If not, feel free to use the referral code if you choose to Uber to the airport from your house).
Some people who come to Tulum choose to fly into Cozumel.  In terms of pure distance, Cozumel is closer to Tulum than Cancun is.  However, Cozumel is an island.  If you fly into Cozumel, you have to take a ferry to Playa del Carmen, and then catch a taxi to Tulum.  This is not impossible, but it can be a little annoying, especially if you are not accustomed to international travel.  For that reason, unless you get an awesome deal on plane tickets to Cozumel, we suggest that travelers head directly to Cancun, instead.
Getting Around
How you choose to get around Tulum depends on how much freedom you want.  You can rent a car at the airport or locally in Tulum through Enterprise. This will give you the freedom not only to travel around Tulum, but also get to nearby places in the Riviera Maya.  Depending on where you are staying, you will probably be able to walk or bike to the beaches, to the local ruins, and even to Tulum Pueblo.  If those walks seem daunting, we recommend going with taxis to get to local places.  There is not a reliable public bus system in Tulum itself, though you will find plenty of shuttles available to take you to other locations throughout the Riviera Maya.  If you want to visit the island of Cozumel while you are in Tulum, you will need to take a bus or a taxi to Playa del Carmen, then ride the ferry to Cozumel.   
Things to Do
People come to the Riviera Maya because of the gorgeous white sand beaches, the crystal clear waters, and the abundance of water activities and sports to enjoy.  Tulum is no exception, though it does offer an eco-tourism twist that much of the more tourist friendly regions of Quintana Roo may lack.  In addition, Tulum is known for having some of the region's most interesting Mayan ruins, making that a big draw for tourists.  Of course, when you are visiting with a bachelorette party, you also want to know about party experiences and opportunities.  Tulum does not have the same kinds of big clubs you will find in Cancun or Cozumel, but it does have plenty of drinking and dining opportunities.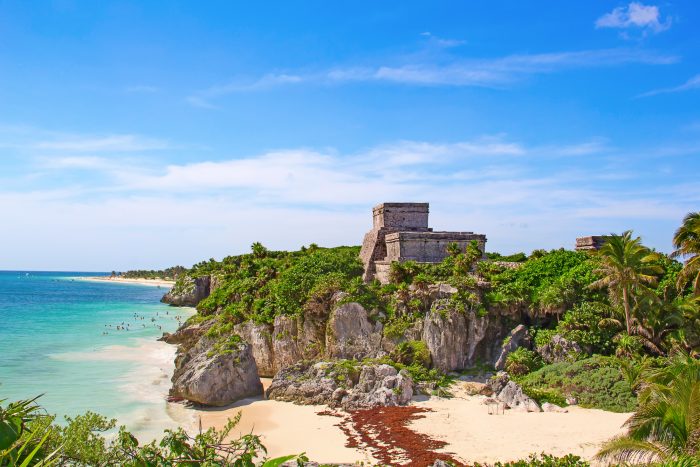 Daytime Activity Ideas
There are so many really fascinating things to do in and around Tulum that it would be impossible to list them all.  Instead, we have chosen some of the best ones, but check out our forums pages and see what other bachelorette party groups have recommended, as well. 
If you are going to Tulum, then you need to see El Gran Cenote.  These crystal clear waters, which were considered sacred by the Mayans, are in an underground cavern.  You can swim, snorkel, and dive there.  You will see cave features like stalactites and stalagmites, as well as wildlife like bats and birds.  You can rent equipment there for snorkeling and scuba. 
The Play Paraiso Beach is a gorgeous stretch of sugar sand beaches and amazing waters.  This once pristine beach has seen some development; it now has the Playa Paraiso Beach Club.  We actually love this addition to the beach that has been voted the best beach in Mexico two years in a row.  You can enjoy the beach on its own, then head over to the club for some delicious food and amazing eats.   
The Sian Ka'an Biosphere Reserve offers a variety of personalized and group eco tours and eco experiences.  The largest protected area in the Mexican Caribbean, this Reserve is home to thousands of species of native flora and fauna.  Snorkel reefs, tour nature, learn about Mayan culture, enjoy birdwatching, try out some fly fishing, or just come to enjoy the miles of wetlands and lagoons that you will find there.
If you have visited ruins in the Caribbean, you may have noticed that many of them are located in the jungles, along rivers, but away from the gorgeous coastline.  The Tulum Ruins are different. These Mayan ruins are located along their own pristine and gorgeous beach. Tulum was the only Mayan city built on a coast, and it was protected by its own wall.  Much of the original structures remain, allowing visitors to use their imaginations to picture what the city looked like back when it was a thriving seaport. 
Although it is actually about 40 miles from Tulum, one of the most exciting things you can do in the area is visit the Punta Laguna Nature Reserve.  This eco park, which you may have heard referred to as the spider monkey park, is home to a huge group of spider monkeys, as well as other animals like howler monkeys, birds, jaguars, and pumas.  It also has a nearby Mayan village, if you want to learn a little more about Mayan history and culture, including real-life demonstrations of people cooking over open fires.
If you are a diver, then the chances are high that you already know about the Cenotes Dos Ojos.  Considered the best cavern diving spot in Mexico and among the best in the world, this is a must-see for the serious diver.
We have to admit that we have not had a chance to do this next activity yet; snorkeling with whale sharks.  However, we have a friend who did this, and the video and pictures she has are so amazing that it has landed on the top of our vacation bucket list as a must-do activity the next time we are anywhere in the Riviera Maya.  This tour does not leave from Tulum, but will pick you up from most hotels in Tulum. 
Whale sharks seem a little intimidating?  Start out smaller with a dolphin swim through Delphinus Xel Ha.  This park offers multiple different dolphin swimming opportunities, including a full day opportunity that lets you be a trainer for the day and means 7 or 8 hours in the water with dolphins. 
Need a break from the beaches and the gorgeous water, or just want to see the beauty of Tulum from a new height?  Consider Edventure Tours, which offers ziplining tours to the Selva Maya eco park.
Looking for some motorized water sport action?  Keep in mind that Tulum's appeal is for eco tourists; while you can rent boats and jet skis there, it has a different vibe.  Instead, we suggest heading to Playa del Carmen for the day, if you want to do some activities like jet skiing.  You can rent a jet ski for a short 30 minute ride, or arrange for a longer tour that includes snorkeling and seeing turtles. 
Want even more relaxation after a day of sunshine and gorgeous waters?  Then book some services at Leaf Luxury Spa, a five-star luxury resort spa located in the heart of Tulum.  Guests rave about the hydrotherapy circuit. 
Nightlife Activity Ideas
Tulum is becoming more and more popular as a tourist destination, and that has certainly meant more nightlife.  However, if you are expecting the thriving club scene you will find in Cancun or Cozumel, you may be disappointed if you head to Tulum.  On the other hand, if you want to party at places where you might find some locals and not just a bunch of other tourists, then Tulum might provide exactly the kind of nightlife you will enjoy. 
Infinyto Show Bar calls itself a disco, but we think of it as more eclectic than that.  It has a pool table and the TVs are on for sporting events.  It has drink specials and meals.  It is not quite like a nightclub, but there is dancing and it is not exactly just a bar, either.  People like the chilled out vibe it has, so you should check it out in case you like it, too.
Rauxa Show is an experience that really should not be mixed.  Burlesque with high production values, this dancing cabaret club features several different shows, with a mix of male and female dancers.  Not strippers or a male revue, there is still a certain element of sexy in the performances, but they also might make you think. 
Bars
The first thing you notice about Batey Mojito and Guarapo Bar is a whimsical blue VW bug, painted with flowers and a saxophone.  Unless you visit on a Saturday night, because that is when the Flamenco dancers steal the show.  The bar is an experience that you want to have if you are in Tulum, because everything from their drinks to their décor and entertainment is top-notch, but never feels stuffy.  Instead, you will feel so welcome it is like you walked into your favorite neighborhood bar. 
Coco Tulum is a beach hotel that has one of the best bars on the beach.  People love to perch on the swings and watch the waves in the daytime, but that is actually one of our favorite nighttime activities in Tulum, as well.  So, head over to Coco Tulum's beach club and enjoy a cold beer and good company. 
Kiki is another area favorite.  This bar is the first speakeasy in Tulum, and that pretty much tells you everything you want to know about it.  It also offers DJ driven music towards the end of the week and on the weekends.  We love the secretive cool vibe of this club; it makes us feel like we snuck out of the house to do something bad.  Which is exactly how a speakeasy is supposed to make you feel!
Male Reviews/ Male Strip Clubs
If you are looking for beefcake on the beach while you are in Tulum, then you are going to have to order in; this beachside paradise does not have any traditional male reviews or male strip clubs for your bachelorette party enjoyment. 
However, no clubs does not mean no beefcake.  You can order an exotic dancer (or two or three or more) for your private party entertainment through stripper services like Exotica Cancun.  They promise to show you things you have never seen before. 
Where to Eat
Although it began to get popular as an ecotourism hotspot, Tulum has been developing a bit of a reputation as a foodie paradise.  We might not travel there just for the food, quite yet, but we sure have not gone hungry or had a bad meal when we have been there!
Breakfast / Lunch / Brunch
Azafran consistently gets ranked among the best breakfasts and brunch spots in Tulum, because its expert chefs use high quality foods to turn out some of the region's freshest and most delicious breakfasts.  In addition to great food, they also have some beautiful gardens, making it a great spot of a leisurely and relaxing brunch.  Not sure what to order?  Try the Hangover Breakfast.  Yes, it sounds weird because it comes with mashed potatoes, but they are a unique addition to traditional breakfast fare that, in our opinion, actually makes the meal.  
Antojitos La Chiapaneca is not a fancy breakfast place.  Instead, it is a little bit of a dive.  But the food is frickin' fantastic.  The pork tacos were the best we have ever had, anywhere, and we have eaten a lot of street pork tacos.
Taqueria Honorio offers simple food in a simple open-air dining space.  The tortas, which are just Mexican sandwiches, are full of fresh, simple ingredients that have been prepared perfectly.
Burrito Amor is an expat restaurant, and you can tell that when you walk in the door.  That is not an insult, just a recognition that they bring a non-local vibe to their restaurant, even while still incorporating the flavors and freshness of the local cuisine into their menu.  We might even call the restaurant hipster, but not in a derogatory way.  For breakfast, we suggest going ala carte and ordering a combination of their fresh banana muffin, tapioca custard (we skipped the coconut), and some of the toasted fruit loaf.  Headed there for lunch?  Check out the seasonal fillet of fish burrito, which might be the healthiest delicious burrito you will ever eat.  Vegans in your group?  This restaurant is perfect for them, and, in fact, is great for accommodating anyone with dietary restrictions.
Dinner
We have heard Chamico's referred to as Tulum's secret fish shack, and while this is not quite the case, it is one of the town's best little-known restaurants.  It does not offer fancy faire, but it offers what people consistently refer to as the best seafood in the area.  We love the ceviche. 
Sabor de Mar is a great seafood restaurant offering innovative takes on traditional seafood dishes.  If you are adventurous try the Torres, a tower of fresh raw fish, that is excellently prepared. 
La Malquerido offers some delicious food and in a great, fun environment.  We love the swing chairs.  Italian food may seem like an unusual choice in a Mexican resort town, but we loved their spaghetti. 
Where to Stay
Tulum has an interesting combination of boutique hotels and rental properties, which means there are plenty of places to stay.  However, you will not find the same kind of resorts in Tulum that you find in other more popular tourist cities along the Riviera Maya. 
Hotels / Resorts
We are often fans of the big resort when we stay in hotels, because we love being able to get almost anything we need at the hotel.  However, in Tulum, we love the smaller resorts and some of the unique, eco-friendly options. 
Diamante K is one of the most relaxed hotels we have ever experienced. Located in 2 acres of jungle, it takes you away from the loud and crazy tourist vibe and really focuses on relaxation.  If you want a loud and crazy bachelorette party experience, this is not the hotel for you.  If you want a place to really connect with each other, enjoy the jungle, and experience unique Mayan massages, then you will love one of their featured cottages or bungalows.
We have already raved about the Coco Tulum Beach Club, but they are also a pretty neat little hotel for those of you who want to stay on the beach.  Offering more of a party vibe than some of the city's more eco-tourist friendly site, this is the hotel we would choose for a more traditional bachelorette party crowd.  In other words, if you want to get a little drunk and rowdy, this might be the place for you!   They offer simple and stylish cabanas with a black and white décor, large beds, and terraces with hammocks. 

Hotels Available in Tulum
Rental Houses
While hotels will always be popular, we love the idea of rental homes for bachelorette party groups.  They get you away from the crowds and give you the freedom to be noisy and a little raunchy without having to worry about anyone else.  You can use services like Airbnb and VRBO, to help you find your perfect Tulum vacation home.  Use our link to get $40.00 off your first AirBnB reservation. 
AirBnB
Casa Dallas is a three bed, three bath home with its own private pool and bikes for guests to use to get around Tulum.  It is surrounded by jungle views and within 7 to 10 minutes (by car) of the beaches and the ruins.
Casa Jade is large enough for 10 guests, with 4 bedrooms, 3.5 baths, and its own private pool.  It has a fully equipped gourmet kitchen, air conditioners, and is located just 10 minutes from the beach. 
VRBO
This modern beachfront home has four bedrooms with en-suite baths is built for entertainment.  The outdoor shower and bathroom is awesome, because it helps you keep the beach outside.
Un Pendacito del Cielo is a true gem among rentals, because there is an on-site gardener and housekeeper there to make sure your experience is perfect.  The property comes with a neighborhood private beach for your use.
View all Rental Homes / Villas Available on VRBO.com
When to Go
Best Time
High season in Tulum is the winter and early spring, from December to April.  Because it is in a tropical area, the weather tends to be consistently warm and gorgeous, but this time period is outside of hurricane season, making it less scary to make travel plans.  In addition, because this is often the ickiest time of year in the states, a Caribbean getaway is always a perfect cure for the winter blahs.
On a Budget
April through July are great times to visit.  The weather may be getting warmer, but the threat of hurricanes usually gets worse as we get into summer, and you will find plenty of activities and other tourists in the summer months.  We also think November is a good budget time to visit. 
Worst Time
August through October is the worst time to visit, because you do have to worry about hurricanes and the heat and humidity can get overwhelming for people not used to them when late summer and early fall begin.  However, while we have to tell you a worst time to visit, we also have to let you know that it is still absolutely beautiful in Tulum during these times, and we would visit there in a heartbeat!
Current Weather
What Else
Big Events
Tulum is not where you go for big festival and other large events; it just is not that kind of place.  However, it is within an easy commute of Cancun, Playa del Carmen, and Cozumel.  Those better known party places have plenty of parties and festivals going on throughout the year. 
First, Cancun is one of the world's top spring break vacation destinations.  If you want raucous partying, then plan your bachelorette party in March and catch some of the spring break action.  On the other hand, even being as far away as Tulum is not going to guarantee you a low-key time if you are trying to avoid the crazy-big parties, so keep that in mind when you are doing your planning.
Carnaval is celebrated in Mexico at the end of February and in early March, and you can hit Carnaval celebrations in Cancun, Cozumel, Playa del Carmen, and even the local Tulum Carnaval celebration.
One of our favorite celebrations in Mexico is Dia de los Muertos, which you may know by its English name, the Day of the Dead.  While this may seem like a sad occasion, it is actually a huge celebration of heritage and family and you can find local celebrations in Tulum as well as along the rest of the Riviera Maya during late October and early November. 
What to Pack
Tulum is a beach town, so you will want all of your favorite beach gear.  However, it is also a beach town where you are going to go and do things, so make sure you bring stuff with you to make it easier. 
These full-face snorkels provide you with panoramic views, eliminate the fogging you get with traditional snorkels, and even let you dive while you are snorkeling:
A great pair of water shoes means you can transition easily from the water to other activities, without worrying about your shoes getting wet:
Sample Itinerary
After a quick breakfast of tacos at Antojitos La Chiapaneca, get some pork tacos to go and head out for a day of adventure.  Book the tour to go swim with the whale sharks.  On your way there, take in some of the amazing local wildlife you may see, especially swimming pools of dolphins.  You will get in a ton of swimming and be in the sunshine all day, so expect to be exhausted.  We suggest planning a late afternoon trip to the Leaf Luxury Spa, where you can enjoy their hydrotherapy and massages.  Plan a late night dinner at Sabor del Mar, then head over to Kiki for some relaxing drinks at the end of the night.
Bachelorette Party T-Shirts
While t-shirts are not a must-have for a bachelorette party, they are cute, affordable party favors that will serve as reminders of the trip.
We love a tank for a tropical destination, and these I said yes, We said Mexico tanks are a simple favorite: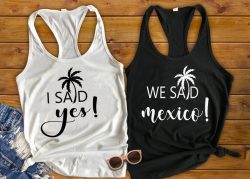 You can personalize these pineapple tanks to say Tulum, and we love their pink color.  Is that blush or bashful?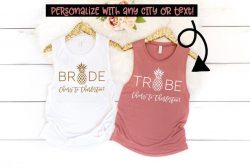 Hashtags
#TotallyTulum
#LastFlinginTulum
#MayanRivieraMamas
Travel Insurance
Tulum is in a high risk area for hurricanes.  Spend the extra money for travel insurance.  If you do not need to use it, you will be a little disappointed that you spent the money.  If you do need to use it, you will think it is the best money you have ever spent. 
Why Go
Tulum gives you all of the beauty of Cancun or Cozumel without all of the crowds.  It also gives you the Mayan's only beachfront ruins.  It is an amazing place to visit, and the only thing you will not like is when it is time to go home. 
Star Rating
5 Stars.  If you have chosen your vacation well, it is almost impossible not to have a 5 star bachelorette party experience in Tulum.  Just keep in mind that Tulum is not the kind of party town you will find in nearby locations.  It gives you something different, but that something different is magical. 
Conclusion
Many people have never heard of Tulum, but it is one of the best vacation destinations in Mexico.  It has gorgeous beaches, amazing snorkeling, great diving, ancient ruins, some really neat little bars, great dining, awesome boutique hotels, and even luxury spas.  It makes for a great bachelorette party destination, or even just a great place for a normal girls' getaway.