Plan the Ultimate Jaco Bachelor Party (2023 Guide)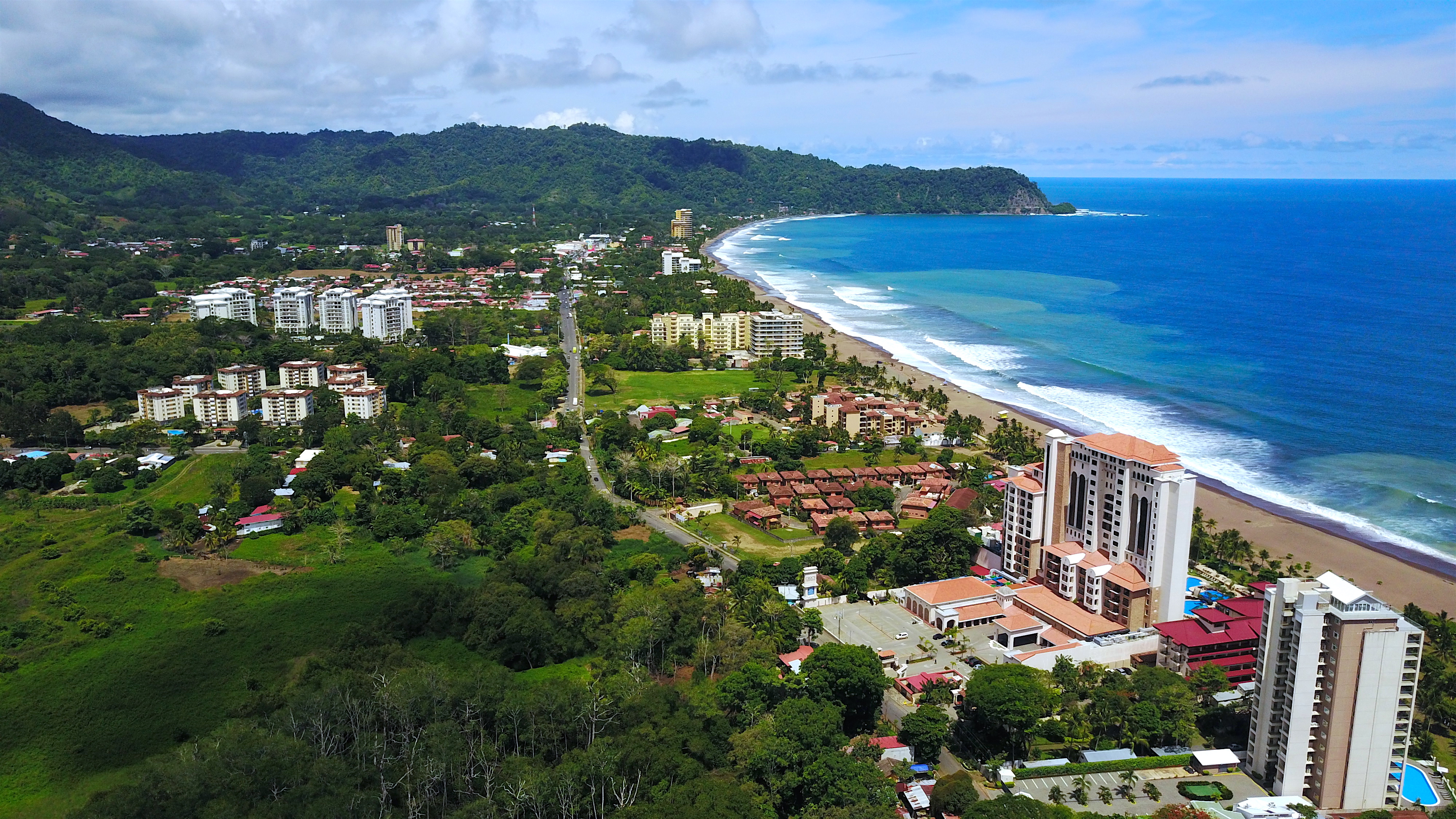 This post may contains references to products from one or more of our advertisers. We may receive compensation when you click on links to those products or services. Please also consider
donating to our website.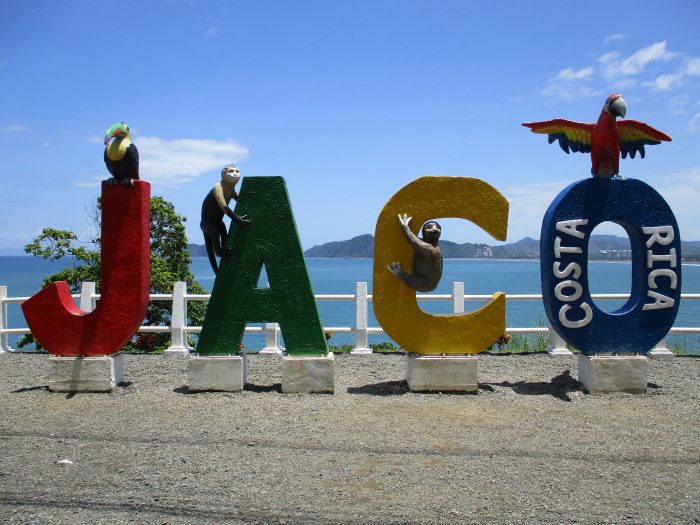 Jaco, Costa Rica might be the number two bachelor-party destination in the world.  Many people think that Jaco Beach's bachelor party reputation is built on the backs of its beautiful women.  However, while working girls certainly increase the appeal of the city for some groups of bachelors, people aren't flocking to Jaco just for that.  In fact, you could have an awesome trip to Jaco without ever spending special time with women.
Costa Rica is known for amazing rainforests and awesome beaches, and Jaco is probably its best-known beach town.  Located on the Pacific Ocean, where the waves are amazing, Jaco has been known for its surfing for much longer than it's been known for its women.  Jaco is literally full of pro surfers and surfing enthusiast, which means daytime activities focus on the waves, both in Jaco and in the nearby town of Playa Hermosa.   Surfers around the world are known for their love of extreme sports and Jaco is no exception; in addition to surfing, zip-lining and canyoning are two favorite pastimes, but just sitting back and enjoying a few cold beers on a hammock-lined porch or in one of the rustic neighborhood bars is right up there with them.
So, all of that sounds like a great place for a vacation, but why have your bachelor party in Jaco, Costa Rica?  When the sun sets, the sleepy town undergoes a transformation.  All of the intensity from the outdoor sports is shifted to the bars and clubs; Jaco knows how to party.  No, you won't find the same variety of nightclubs and bars that you'd find in a larger city, but, on the other hand, you won't have to worry about weeding your way through any dull spots, either.
How To Get There
Airport
When planning your trip to Jaco, you will want to make sure you fly into Juan Santamaría International Airport  (airport code: SJO).  You will then have to take a private bus from San Jose to Jaco which will take about 1hr and 30 minutes.  You can tell the driver to stop and grab a case of Imperial beer (a local favorite), which will make the trip much more enjoyable.  When booking your flights to Jaco via San Jose, make sure you choose orbitz.com as they seem to have the best rates and availability.
Things to Do
Daytime Activity Ideas
No trip to Jaco would be complete without a day trip down to Playa Hermosa.  If you aren't an expert surfer, then don't plan to hit the waves off of the coast of this sleepy little town; they are huge and very dangerous for novices.  Instead, head over the Sandbar, grab a burger or some fish tacos and some beer (the local brew, Imperial, is pretty fabulous) and camp out on the beach to watch the pro-surfers practice in Playa Hermosa's waves.
One of the best non-surf daytime activities in Jaco is ziplining.  If you have never ziplined before, it can be a little intimidating for first-timers.  However, even if you are scared of heights, it is a must-try activity.  Zip-lines are extremely secure and provide the very best way to soar above the jungle.  As you go through the canopy, you get to see the natural beauty, and then experience an amazing adrenaline rush each time you fly over the trees!
Want another high-adrenaline way to explore the jungle?  Consider ATV riding in the jungle or along the beach.  Jaguar ATV's has single-rider and multi-rider ATVs for rent, as well as motorbikes, and offers a variety of different excursions.  The contrast between the serenity of the jungle and the powerful growl of the ATV is an awesome experience!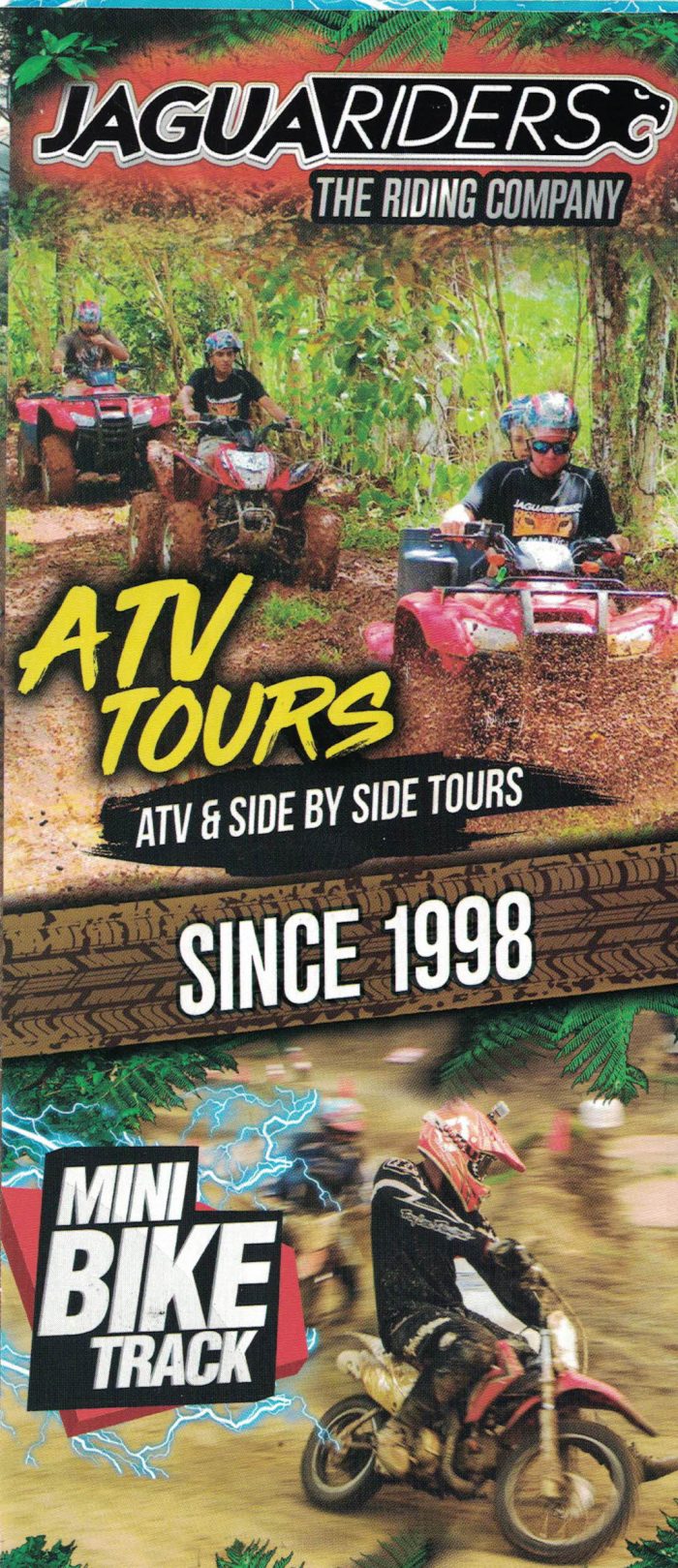 Looking for a lower-key daytime activity?  Consider hiring a massage therapist to come to you.  They can set up in your hotel or rental house, and prices start at an extremely low $40 (pre-tip) per hour.  Hire multiple therapists or have a therapist come for a block of time, so all of the guys can get a massage.
View all other Activities in Jaco
Nightlife Activity Ideas
Jaco is known for its nightlife, but what many first-time visitors don't realize is that the parties don't get started until late.  Clubs may open before then, but don't expect to see lots of people until close to 11, so take a late-afternoon siesta, linger over your dinner, and plan on leisurely heading out for the night well after dark.
Crocs Casino Resort is changing the accommodations game in Jaco.  This Crocodile themed Las Vegas style hotel and residences is the newest place on the beach.  Opened in March 2015, the hotel features 152 guest rooms, 44 condos, spa, casino which has over 150 slot machines and table games.  Expect to pay roughly $199 for an ocean view room.  We also expect that the night party will start drifting away from Hotel Cocal to this new state-of-the-art beach resort.
Hotel CoCal and Casino – With the fall of one location comes the rise of another. This hotel, casino, night spot is located on the beachfront in Jaco and is open to the skies above and the ocean breezes.
Jaco Blu is a great spot for both night partying and day partying.  You definitely want to check out this outdoor lounge and pool club on Wednesday night as that is their big night.  They offer discounted drinks and a ton of eye candy which you can easily engage at your poolside couch.  If you are still alive by Sunday, Jaco Blu has a pool party during the day which is equally as enjoyable.
Los Amingos is the perfect location for grabbing a beer while listening to a local band play both covers and local favorites.  The food is decent so if you are hungry you can grab a bite.  This restaurant and bar also has a bunch of televisions around the establishment where they will show any sports game including all pay per view events like UFC.
Le Loft is located in the middle of all the action in Jaco and basically across the street from Cocal Hotel and Casino.  This is the closest thing you will find to a real nightclub in Jaco.  The party gets started here around 12pm, so you want to make this your last stop not your first one.  The music is great and you will see some beautiful local girls.  It's in a red building located on the second floor and there is a small cover for entry. 
Orange Pub is one of the hotspots and is one of the only clubs open on Mondays, where you can expect to encounter locals.
The Man Cave– this combination club/lounge reminds us of a "gentleman's club" by way of a sports bar.  It is relatively new, having opened within the last couple of years, but it has become one of the favorite places to start a night of partying.  It is only open Thursday-Saturday nights, and on Thursdays, it is probably the best party spot in Jaco.
Republik Nightclub/Lounge– this place has a reputation for being a great spot to hang with local women, but it also happens to be one of Jaco's best clubs.  It has the town's best sound system and plays a combination of Hip Hop and Latin beats.  It is open Thursday through Saturday, but expect it to be slow on Thursdays.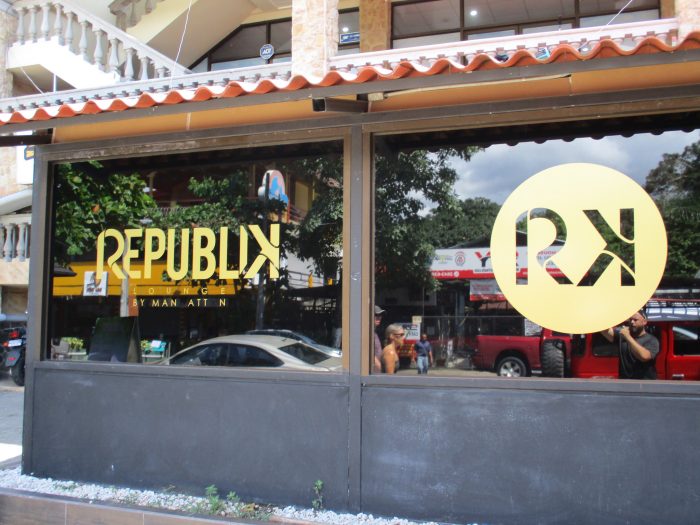 Massage Parlors / Strip Clubs
Prostitution being legal in Costa Rica, there isn't the same demand for strip clubs that you find in other places.  However, Jaco does have one strip club, Centerfolds.  The women there are stunning, they have a club atmosphere with DJ-driven music, bottle packages, and even limo service, so they are a great choice for a Jaco bachelor party.
Where To Eat
Restaurants
You can tell Jaco is a tourist-friendly town by the sheer number of restaurants available.  Many of these restaurants also have bars and one of the town's pastimes, for tourists and locals, is to sit at a restaurant's bar, have a few drinks and people-watch.  It's a great way to spend a few late-afternoon hours.
We already mentioned Los Amigos in our bar section because it is a sports bar, but they also happen to serve some of the tastiest American bar food in Jaco, and have some awesome happy hour drink specials.  Food you must try here: any of their Tropi-bowls
Graffiti Restro Café + Wine Bar touts itself as ghetto gourmet and might be the finest dining option in Jaco.  Unlike most places in the town, you will want to make reservations to dine here, and spend a little time.  They use local ingredients and are known for their martini menu. Food you must try here: coffee and cacao crusted beef tenderloin, tuna tar tar tower
Rustico is what is known as a soda, which just means a Costa Rican restaurant serving up local food like rice, beans, and sides.  This place is very popular, so you might encounter a line, but the buffet-style service means that lines move quickly.  Food you must eat here: fried fish
We don't think we'd go to Costa Rica and decide to eat pizza, but quite a few people do and Pizza Shop is where they eat it.  Think thin crust pizza with homemade toppings.  Food you must eat here: anything with their balsamic reduction or homemade ricotta is a winner.
Feel like you have to have at least one awesome meal?  Lemon Zest is known for its high quality international cuisine, its excellent customer service, and maybe Jaco's best wine list.  Food you must try here: everyone raves about the duck with blackberry sauce, but we are partial to the green curry coconut shrimp
Kokomos is a bar and grill, nothing more, nothing less.  That said, it is a good bar and grill and has a happy hour margarita special that will start your night off right.  Food you must try here: you can't go wrong with any of their fresh fish dishes
Where To Stay
Hotels / Resorts
Not every hotel in Jaco is bachelor-party friendly; the city definitely breaks down into two-types of tourists- families and singles.  Therefore, to make sure you have an unimpeded good time, you don't want to hang out at a family resort, but instead stay somewhere that caters to adults.
Vista Mar Condos are a great compromise between a resort and a vacation rental.  This property offers larger condos- think 3 to 5 bedrooms per condo.  This makes them the perfect size for many standard bachelor parties.  The condos are ocean view, not beach front, but they are located right in the middle of downtown Jaco.
Selina Surf Club is a favorite among surfers because of its crazy affordable pricing (dorm room bunks start at $22 per person per night), and its focus on surfing.  Whether you have novices learning to surf or experienced surfers looking for a guide to show you the best waves, Selina provides the ultimate surf experience.
Hotel Poseidon – This hotel is located ½ a block away from the beach. The rooms are fairly nice and there is a sky lounge / sports bar on the roof which has both directv and dish network, which means you can watch any games you want. During high season (Dec – April) expect to pay around $112.00 a night.
Canciones del Mar (same owners as Del Rey Hotel in San Jose). This is a boutique hotel on the beach in Jaco. Rooms run about $100 per night. They serve American breakfast, have a rooftop bar, and each room comes with a kitchenette. This hotel allows ladies back to your room for a small fee.
Copocabana Hotel – This is the perfect oceanfront adult only hotel and even more perfect for a bachelor party. Located on the beach in Jaco, you can get a room for roughly $235 a night which includes the room, alcohol, food, ladies, and more entertainment.
Los Suenos Marriott Ocean & Golf Resort, located just north of Jaco in Playa Herradura, is an all-inclusive resort on the Pacific Coast.  We debated about including it in our list of bachelor-party friendly resorts.  On the one hand, it's a huge complex that is on the beach, has fabulous pool, has a great golf course, and on-site restaurants and lounges.  It makes for a great vacation spot.  On the other and, it's hardly the place to meet a bunch of locals or to go wild.  We would call it a great base of operations and a not-bad way to spend your daytime hours, but strongly suggest leaving the resort for your nighttime activities.

Hotels Available in Jaco Costa Rica
Rental Houses & Villas
In general, we recommend renting a house for a bachelor party. The best two website for doing this is VRBO.com. However, check the reviews for each individual property; quality can vary wildly and amenities that are considered standard by most Americans may not be standard in Jaco.
If you want to rent a baller house in Jaco, which will fit everyone in your bachelor party and the local ladies as well, you should go with this 7-bedroom, 7-bath, 2 floor house that sleeps 21.  It costs $1,350 per night with a 4 night minimum.
6-bedroom Villa in Jaco, Costa Rica – bachelor party friendly, large 6-bedroom private residence.
16-bedroom Beach Front Villa in Jaco, Costa Rica named "Ocean Place".  If you have a large group this is the place you want to reserve.  Since it was a previously a hotel / motel, it has a lot of rooms which gives you the privacy you really need to enjoy Jaco.

Rental Homes Availables in Jaco Costa Rica
This two-house estate property is considered Jaco's ultimate vacation rental.  It can sleep up to 20 people in insane comfort, comes with amenities like daily housekeeping and security, and has an amazing pool.  It even has an in-house disco to provide the ultimate party experience. 
A 20 bedroom luxury vacation resort rental, this surprisingly affordable property has a private resort-style swimming pool, a swim-up bar, pool table, HDTVs, and an 18-person Jacuzzi.  It also has priority reservations with some of Jaco's most popular tourist activities, making it a great all-in-one vacation destination.
This 13 bedroom, beach-front party house has modern details and styling that are both luxe and crisp.  Each bedroom has its own private bathroom.  The VIP experience is part of this rental, with the hosts and staff happy to help you plan the ultimate guy getaway.
Optional Villa Fees
Chef – 3 meals per day for 8 people $200 daily (food not included) Massages on Site – 55 minute massage $50.00 DJ for 4-hours $150.00 Bartender $50.00 Transfer to/from Airport Luxury Van 10 people $225 per way.
What Else
Items to Pack
What do you need for a trip to Jaco?  Well, you are not going to be in the United States with a Walgreens or a CVS on every other corner, so bring everything you think you'll need.  Pack a swimsuit for sure, a nice outfit if you're planning a dinner somewhere, and beach clothes.  If you surf, bring your board.  No one is going to bring you an IV to rehydrate you when you're hungover, so go ahead and bring ibuprofen, acetaminophen, electrolytes, and recovery formulas.  And since you probably didn't pick Jaco to avoid ladies, pack your favorite condoms and lube.
Extra-Curricular Activities
Odds are good that if Jaco is on your list of possibilities for your destination bachelor party, you have heard about the women.  Yes, women come to Jaco from a bunch of neighboring towns and countries to meet tourists who have come to Jaco.  Some of these women are professional working girls, others are simply looking for tourist boyfriends to spoil and pamper them during the duration of their vacation.  Prostitution, itself, is legal in Jaco, but some of the activities that surround it are still illegal.  Just be smart and make sure you know the laws.  Costa Rica's government is really cracking down on crime in Jaco, but even a poor American is wealthy in Costa Rica, so use both heads when making any decisions.
Prices
You don't have to be rich to party like a rich guy in Jaco.  In fact, there's really no point in spending a lot of money on a night out in Jaco, for your bachelor party in Costa Rica, because the parties are in low-rent bars and clubs.  Drinks are inexpensive, cover charges are either inexpensive or non-existent, and you aren't going to have to slip any doormen $50 just to get inside.
Big Events
Jaco is a pretty small town and it doesn't have the kinds of festivals or other large events you will see in bigger towns or cities.  However, there are some pretty fun, smaller festivals in Jaco.  The Jungle Jam is one of these.  Think of the Jungle Jam as a Coachella of Costa Rica.  It is an international music festival that focuses on party music- think jam bands, reggae, and rock.  The festival is popular with locals and tourists, and the proceeds usually benefit some local charity, so you can feel like a philanthropist while you're partying.  Jungle Jam tends to happen mid-March, right around the same time as spring break, which can be a positive or a negative, depending on your perspective.  The Bamboo Bass Festival is another music festival, but it focuses on bass tribe music.
Itinerary
If you are heading to Jaco, then you are probably planning to stay a little longer than a weekend.  This can make planning your trip a challenge, since some of the town's hottest spots are weekend-only venues.  That is why we are focusing on nightlife for this itinerary.  Let the weather and availability be your guide to daytime activities, or just spend time poolside having drinks and chilling out.  In the evenings, here are your best nightlife locations, by day of the week.
On Wednesday nights, start out at Cocal.  We like gambling, but if you are not a fan of it, Cocal still has an amazing sports bar.  At around 11pm, think about heading over to Jaco Bleau, which comes to life somewhere just before midnight.  The cover charge is nominal, like $5 to $10 USD per person.
Thursday, you are going to start out again at Cocal.  You will see this is a repeating theme.  That is because nightlife starts a little later in Jaco than it does in the U.S.  Cocal is one of the reliable places to hang out in the early hours.  Around midnight, head over to the Man Cave.  While it is slower on Thursdays, its gets pretty busy around midnight.  At 2am, when Man Cave is starting to close, cruise on over to Le Loft, which is where you find Jaco's most reliable after-party place!
Friday and Saturday nights is going to be a little more of the same, and will depend a little on the places you started to find your groove.  We like starting out at Cocal, heading over to Republik, which is at its best Friday and Saturday nights, and then heading back to the casa or on to Le Loft, depending on what kind of nighttime activities we have selected!
Planners
Use the links below for helping with planning an amazing bachelor party in Jaco.  These companies have a reputation for providing all-inclusive packages and tours so that once you get there you will have nothing to worry about.
Jaco VIP is a travel site which can help you plan your entire bachelor party as well as any tours your group would like to go on.   I have personally used this company and they truly make you feel like a VIP in Jaco.
If you have any reviews for a bachelor party in Jaco, Costa Rica please submit them or leave your comments below.  Thank you.
You can also head over to reddit for more information on your Jaco bachelor party.
Crime
You may have heard that crime is a problem in Jaco.  It is and it isn't.  Jaco is a major tourist destination and Costa Rica has really stepped up to police the area, keeping it safe for tourists.  On the other hand, it is a major tourist destination in a poor country, so tourists will always be potential targets.  It's not a dangerous place, just don't be stupid while you are visiting there.  Remember to travel in small / medium sized groups.  Stay away from areas that do not have much light at night.  Leave all your expensive jewelry at home, since it is not need to impress anyone in Jaco.
Forum
Still have questions about planning the weekend getaway to Jaco, Costa Rica with the guys?  Ask any questions you have in our forums and either someone from our website or another forum member will answer your question.
Widget not in any sidebars
When To Go
Best Time
You want to avoid the rainy season, so travel anytime from January through April is the best.
On a Budget
Early December travel lets you hit the first part of the dry season while still getting low rates, but later in December means you'll pay holiday travel prices.
Current Weather
Why Go
Star Rating
Conclusion
Jaco is a destination you can party like a rock star on a beach for a cost of roughly $1000.00 per person (house, flights, food, alcohol). Obviously it will be an additional cost for the women and the fun stuff. This area has become much more popular in the past few years since the opening of the new Caldera highway which gets you from airport to beach much faster ( 1hr 30 min).  It is probably the most affordable international destination and is more affordable than many popular stateside bachelor party destinations.  All these reasons combined make Jaco the perfect location for a bachelor party.  If you have any doubts, just look up some other bachelor party reviews on any of the tourism sites, and you'll quickly see why Jaco remains a favorite.
View all the images and video we took on our Jaco bachelor party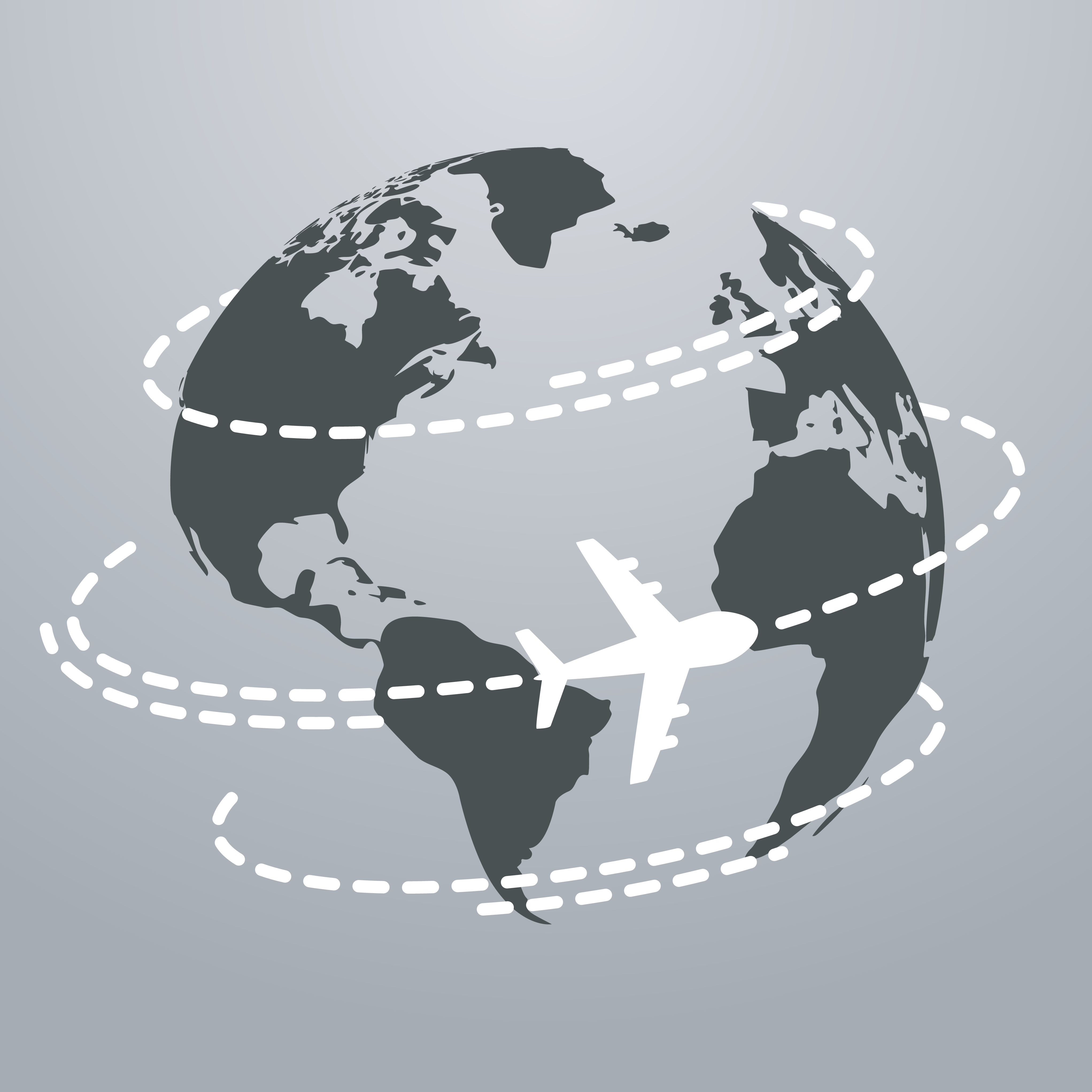 Get The Help You Need!
Want to Book a Bachelor Party to Jaco?