Casa Ponte Bachelor Party House Rental in Jaco, Costa Rica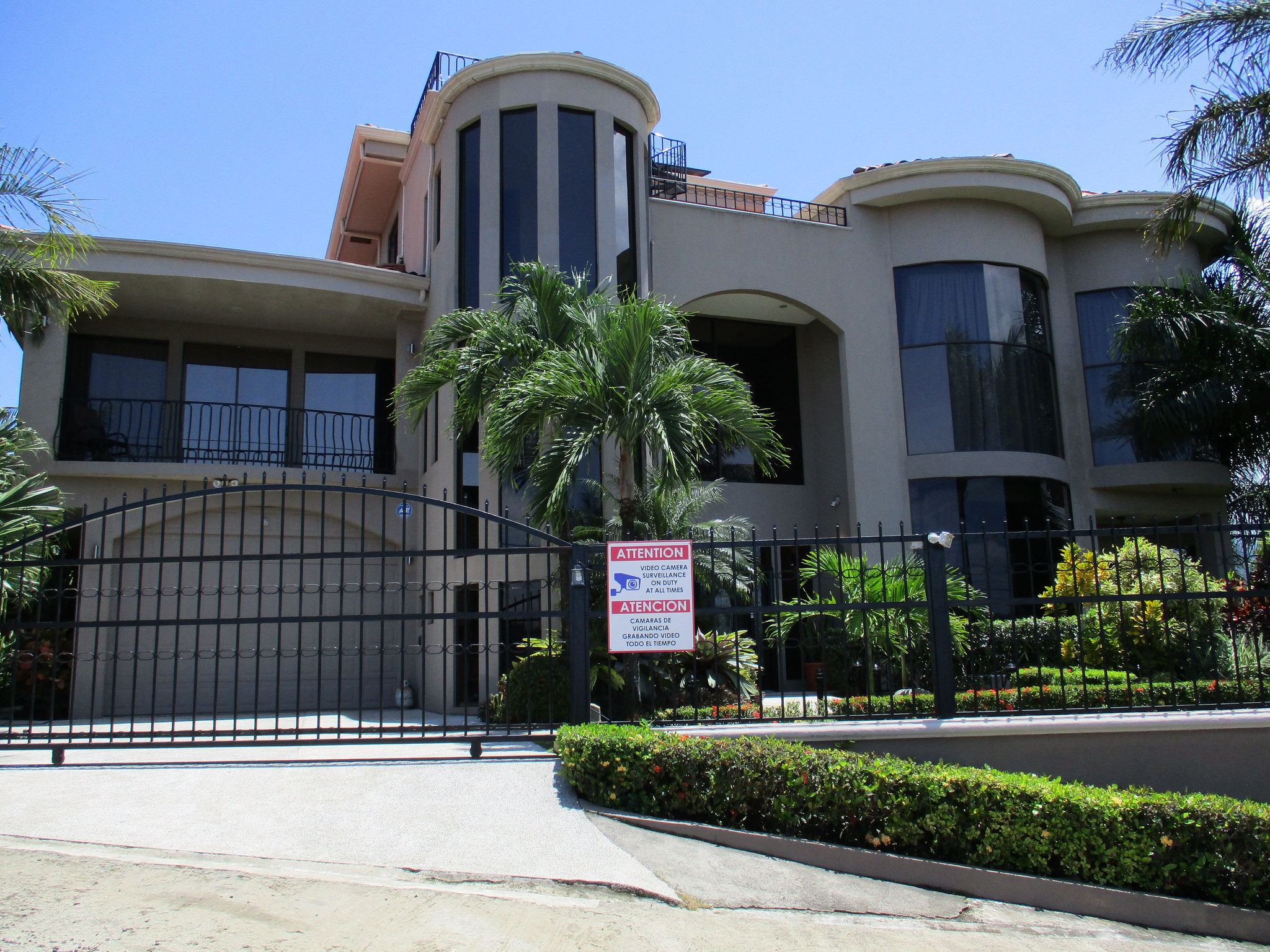 This post may contains references to products from one or more of our advertisers. We may receive compensation when you click on links to those products or services. Please also consider
donating to our website.
Looking for the ultimate bachelor party rental house?  Consider Casa Ponte in Jaco, Costa Rica.  This luxury resort style vacation rental has two well-appointed homes that can provide the ultimate playground for a luxe bachelor party experience like no other.  Set in gorgeous Costa Rica, a tropical playground known for the offering all sorts of bachelorette party delights, these dream homes offer the privacy you need for the ultimate party, while still being conveniently close (5 minutes) to some of Jaco's well-known attractions.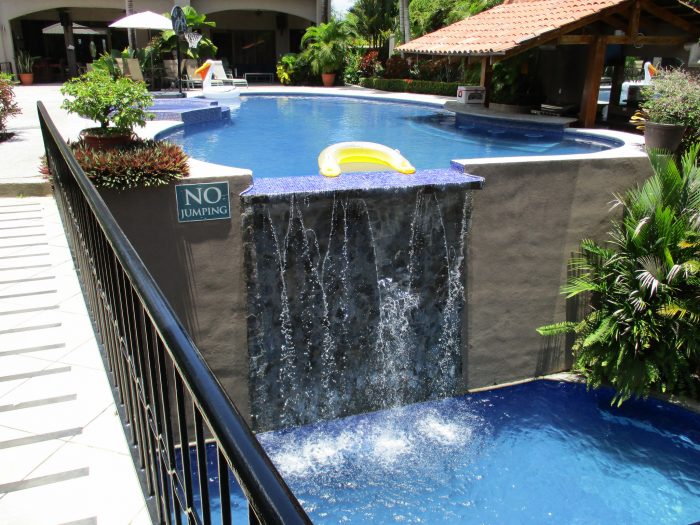 Host the ultimate pool party in this luxury two level pool, with an amazing waterfall.
A Luxury Estate
Are you looking for the ultimate bachelor party experience?  Look no further than Casa Ponte, a luxury vacation rental estate in Jaco, Costa Rica.  Jaco has already built a well-deserved reputation as an ultimate bachelor party spot because of its great surfing, beautiful women, and great entertainment options.  The only problem with Jaco is that it can be hard to find great accommodations in the city.  That is why Casa Ponte is such an amazing find!  This estate features two amazing properties, and can comfortably house dozens of guests.  This estate offers all of the amenities of a hotel, such as daily housekeeping service, and you can hire private chefs and other professionals to transform the estate into a full-service private resort.  Make the most of your bachelor party and rent this luxurious estate for you and your friends.
Enjoy the amazing views from the estate's hillside with two hours or private water sliding each day!
The Main House
The huge main house takes luxury to a whole new level, with its high-end décor and comfortable furnishings.   Give the bachelor the 1300 square foot master suite with its own private living area, office area, and Jacuzzi bathroom.  The game room has a pool table, foosball table, and shuffleboard table.  The gourmet kitchen is perfect for those who love to cook or provides a great place for private chefs.  The house has two pools with a Jacuzzi and a waterfall, swim-up bar, and a private water slide.  The estate is set up as the ultimate party house; it has its own disco, a sound-system throughout the house and pool area, a poolside kitchen, an exercise room, and an observation deck with view of the ocean, mountain, and valley.  The estate has a housekeeping service and 24-hour security.  The guest bedrooms are all set up as master suites and offer six to eight additional beds, combined with the available inflatable beds and the sleeper sofa in master suite, there are up to a dozen beds.  The main house has room for plenty of guests without anyone feeling crowded.  It is a great option for a group that wants to party hard, but also wants there to be plenty of space and peace for the visitors.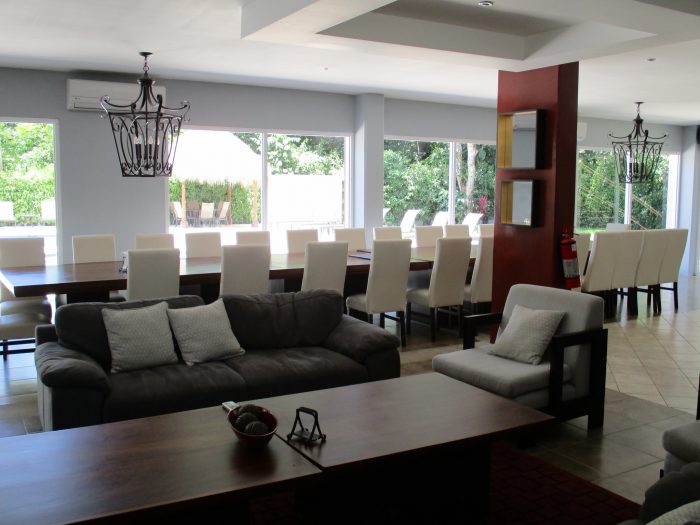 Hire a private chef and make the most of these amazing dining facilities. 
The Guest House
The guest house features six bedrooms and six bathrooms.  The second pool with the waterfall is located near the second house.  It has flat screen TVs in all of the bedrooms, as well as a music system in the living areas.  All of the bedrooms have at least one bed, and there is a junior suite with its own kitchenette.  There are also 2 queen size pull-out sofa beds in the living room.
In-Home Entertainment
Why is a private resort the way to go? It gives you the space to have an amazing party, while everyone has space.  This estate is designed to offer you the great combination of plenty of space and plenty of amenities.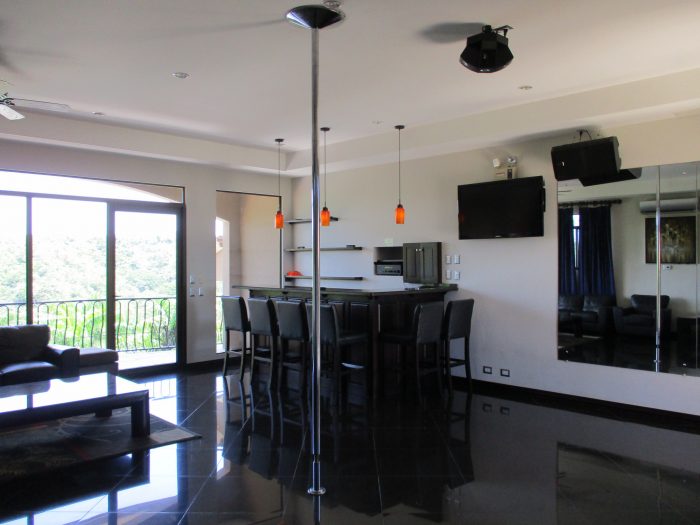 Jaco is known for its amazing adult entertainment options, and an in-home disco stripper pole makes for plenty of entertainment opportunities!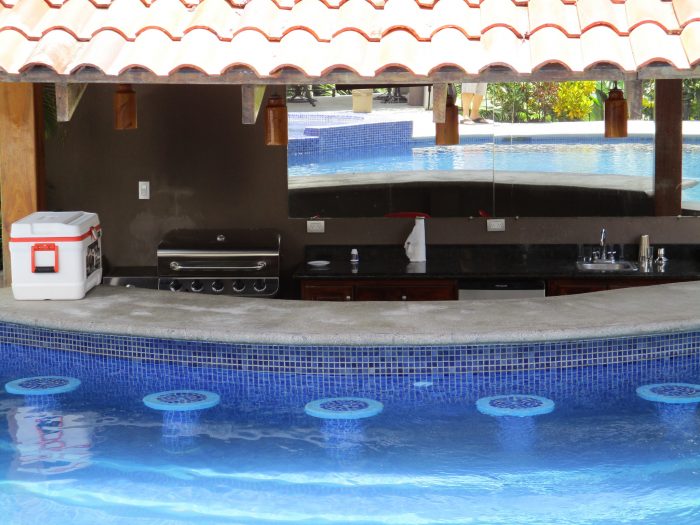 Why head out to the bars when you have a bar on the property?  Instead, invite the girls to come to your private place to play.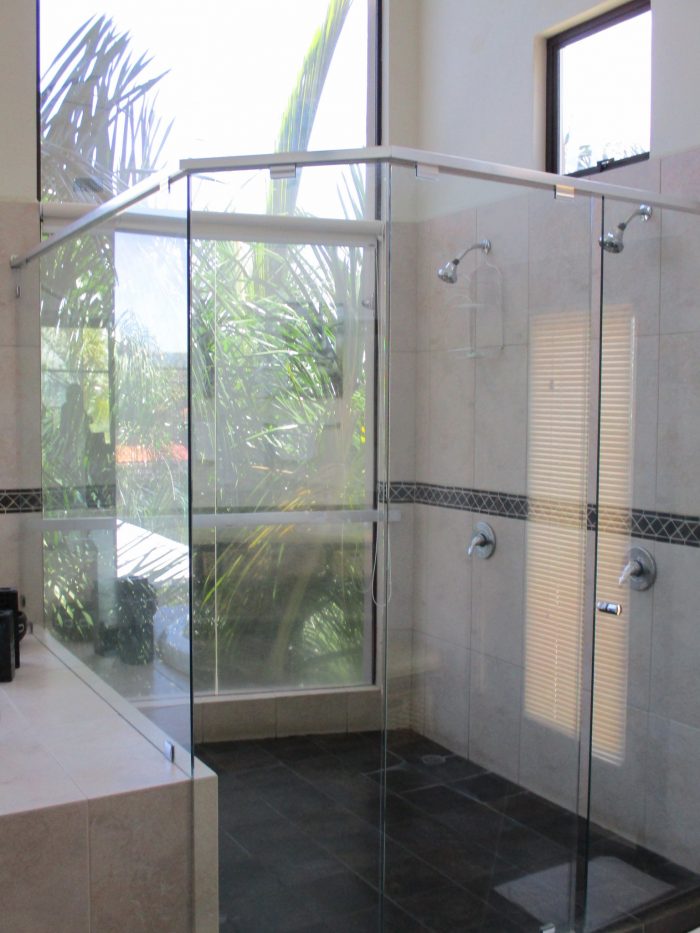 With a shower built for two, the estate provides plenty of opportunities for sharing new experiences with new friends!
Rates
Green season weekend rates for the property is $2250/night with a four-night minimum.  High season rates are $2750/ night with a four-night minimum.   Green season mid-week filler costs can offer a real bargain at $1300/night. 
Lookup Rates and Book Casa Ponte Now on Homeaway.com
Conclusion
Jaco, Costa Rica is known as the ultimate bachelor party destination for groups of guys who are looking to get more than a little wild.  In Jaco, you can experience many things that are outside of the normal stateside bachelor party.  If you want to have these experiences in a private, luxury resort with all of the comforts of an American luxury resort, but the privacy and gorgeous atmosphere you can only find in Jaco, then this resort is the place for you!