Bachelorette Party Decorations (2023 Guide)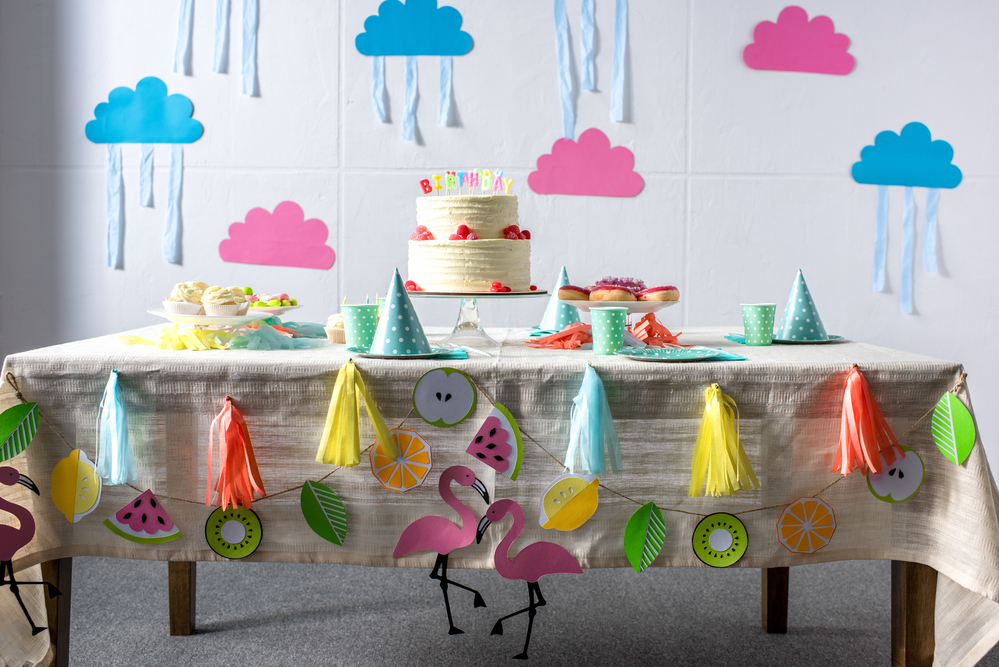 This post may contains references to products from one or more of our advertisers. We may receive compensation when you click on links to those products or services. Please also consider
donating to our website.
Looking for a way to put your bachelorette party over the top? If so, we recommend bachelorette party-themed decorations. Whether you are looking for decorations that are classically elegant, or in the market for a raunchier approach, you can find the decorations you are seeking at surprisingly affordable prices. In addition, the widespread availability of these decorations online means that you can often have them shipped to your destination, if hosting a destination bachelorette, saving you the expense and bother of having to pack them and carry them to the destination, yourself. While these themed decorations are not "necessary," they are a way to boost the party atmosphere without breaking the bank!
Bachelorette Party Decorations Ideas
How you choose to decorate for a bachelorette party depends on a number of things. The first question is "does your bachelorette party have a theme?" What you may not realize is that the answer to that question is always, "yes." Some bachelorette parties have very specifically designated themes: fiesta, mermaid, Vegas, beach trip, camping trip, and naughty are all well-loved bachelorette party themes. However, even if the party does not have a campy theme, the theme is still bachelorette party. You then decide the tone before you pick out decorations.
Looking for an upscale theme? Then consider focusing on the ring.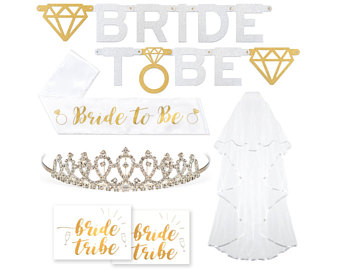 These decorations from Etsy use the popular bride tribe theme and give it the diamond treatment. Think tiaras, big rings, gold foil, and plenty of lace. This is a great decoration theme that can work in a number of environments, and is safe for a diverse guest list, as well.
Miss to Mrs. is another popular bachelorette theme, and one that we love. There are, of course, two different approaches to this theme, and the one you choose depends a lot on the bride's personality and her group of friends:
This popular black, pink, and gold set is very traditional, without being boring, and has all of the elements needed to turn any scenario from a girls' night into a bachelorette shindig. It can be used regardless of the guest list and could even double as bridal shower decorations, in a pinch.
However, if your girlfriends are a little wilder, you might want to consider turning that theme up a notch:
This take on the Miss to Mrs theme clearly conveys the message that you intend to party, hard, at this bachelorette party! Lots of people love this theme, but we also suggest you approach it with caution; while "bitch" has become a very popular way to refer to a women friends, some women still find the term very offensive. While bachelorette party decorations should be fun and can gently tease the bride or her guests, you do not want anyone to feel offended! So, know your group when selecting decorations.
The mermaid theme is becoming increasingly popular and can be incorporated into bachelorette parties in a variety of different ways. We love it when people combine mermaids with any type of beach, lake, or pool party. Call it the "last splash" and celebrate like crazy. Some decoration ideas for the mermaid-themed party are: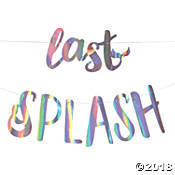 We love this banner, not just for its cute message, but also for the way the colors imitate the way that light plays in the water. We think it is the perfect addition for any mermaid-themed bachelorette party.
We love balloons. While you might traditionally think of them as décor for a party location, you can also get a bunch of balloons, inflate them, and tie them to a tiara for the bride and pins for the guests, so that you have a way to easily locate your group in a crowded setting!
Do you have to have photo booth props at a bachelorette party? No, but, you know you are going to be taking selfies. Why not jazz them up with some adorable themed photo booth decorations?
The Bride Tribe has quickly become an iconic bachelorette theme, and you will find tons of variations on it out there. We like this classic approach: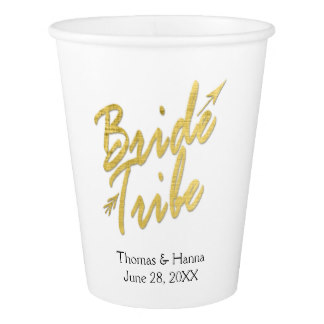 These bride tribe cups can go with any bride tribe décor, and can be used at everything from a bride tribe camping trip to pre-drinks before a big night on the town!
Destination bachelorette parties are not only very popular, but also lend themselves to specifically themed types of decorations. Are you and the girls headed to the beach? Then, beach themed decorations are a bit of a must: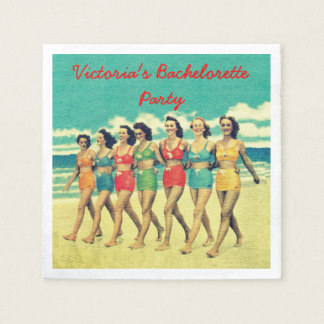 We love these vintage beach-themed napkins as part of your beach-party décor.
Having a casino/ gambling-themed party at home? Capture the Vegas vibe by welcoming your guests with this sign:
Then, continue the theme with red and black décor that reminds your guests of cards, roulette, and other games of chance:
These adorable little straws add a little bit of casino flair to every sip!
These wine labels are the perfect way to completely round out the Vegas themed bachelorette approach!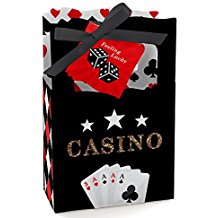 While favors are not a must, if you are having a casino-themed party and want to include favors, we adore these little favor bags!
Heading out for a bachelorette cruise? You may not know this, but door decorating is actually a thing on most cruise lines. Let all of your fellow cruise guests know why you and your crew are sailing away, with this "last sail before the veil" décor: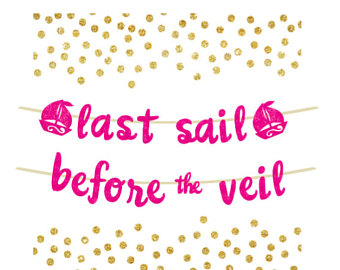 You can place these decorations on the bride's door, or outside of any room for your party!
Like bride tribe, team bride has become a very popular theme, and you can find team bride décor to match a number of different styles. We are partial to the Tiffany blue approach, if only because it steps away from the traditional pink, gold, and black you find in so many different bachelorette party decoration combinations: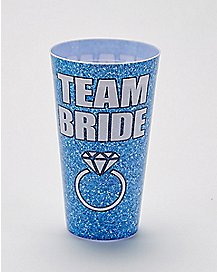 Want to make sure everyone knows exactly how wild the party is going to be? Then, let them know it is bach shit crazy: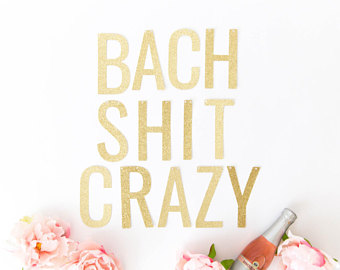 This theme, which comes in a variety of different colors and styles, is perfect for reminding the guests that this party needs to be celebrated in epic style!
At the other end of the spectrum of the generic themes is the "same penis forever" themed decoration. This one is becoming surprisingly popular and can be good natured fun and provide some gentle teasing, particularly for the bride who took a few different models for test drives before settling on one!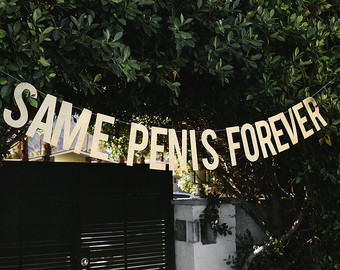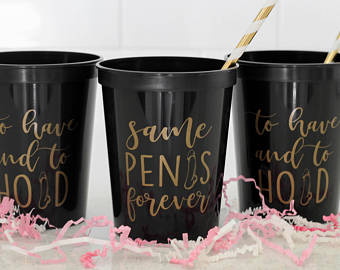 Of course, what penis-themed party would be complete without golden dicks?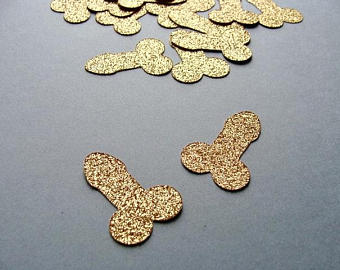 What we love about these decorations is that, even though they are clearly naughty, they let you continue with a gold color scheme and blend seamlessly into a variety of different decoration approaches.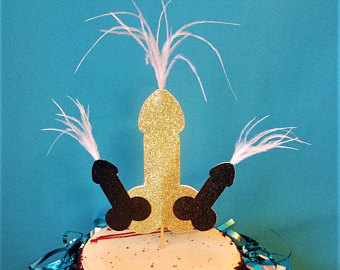 If you do decide to go with the penis theme, we say commit to it completely. Is this penis cake topper a bit tacky? Yes, but it is supposed to be.
Whatever theme you choose, there are a ton of options out there to help you decorate your bachelorette party in style. Decorations may not be necessary, but if they are in the budget, they are a great way to help make the party extra-special.
Bachelorette Party Decorations Kit
While it may be easy to find tons of bachelorette party decorations out there, the sheer number of choices can actually be a little bit overwhelming for some people. That is when you might want to consider purchasing a bachelorette party decoration kit, instead of trying to put together the decorations yourself. Fortunately, there are some great kits out there that make decorating for a bachelorette party super-simple!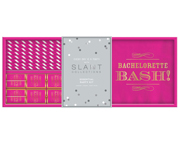 This easy kit can transform any smaller bachelorette party, without requiring ridiculous amounts of effort from you.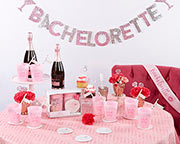 This go-to kit has everything you need to glam-up a bachelorette party. Great for at-home parties, this easy kit can also be transported to a private party room in a restaurant, hotel, or similar venue, to quickly convey the bachelorette-party theme!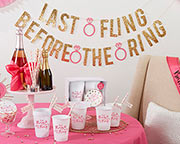 You can find all sorts of "last fling before the ring" themed party décor, so this is one design that you can mix and match with great success. However, if you want to avoid the stress of mixing and matching, never fear you can find high-quality decoration kits that put it all together for you!
DIY Bachelorette Party Decorations
Long gone are the days when the DIY approach seemed haphazard. These days, people recognize that DIY projects take plenty of time and attention, so DIY décor is a great way to show you adore the bride and show off some of your crafty skills. What kind of decorations can you DIY? Well, that depends on your level of skill and competency. Here are some great projects that even beginner-crafters can easily master, which can help elevate your bachelorette party decoration game: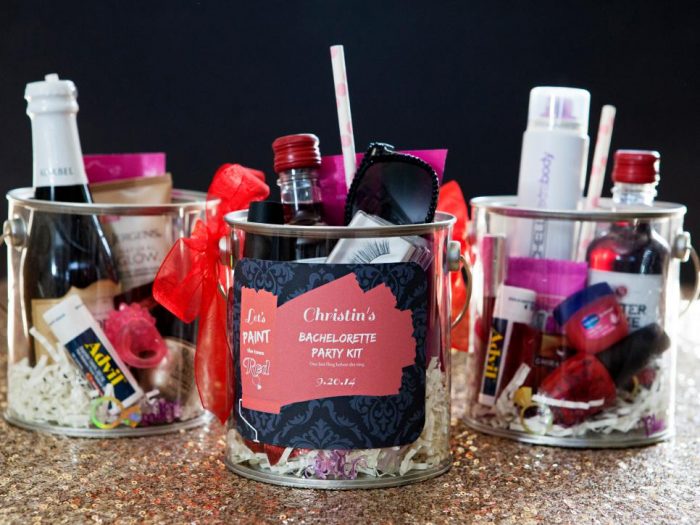 The bachelorette party kit idea is one that you can easily customize to your particular party or group. Here, empty paint cans provide an easy basis for a "paint the town red" theme. You can stick with the red theme and use them as favors, including favorites like a classic red nail polish, a great red lip color, a single-sized bottle of red wine, or go in a different direction and put together a hangover recovery kit for the morning after a night of painting the town!
Want to make sure the bride has lifelong memories of the bachelorette party, even if her actual memories of it are a little fuzzy? We love the idea of a DIY sign-in for the guests. These can be anything from a pillowcase to one of those signable picture frames, but this DIY "We kissed the miss goodbye" idea might be one of our absolute faves, ever: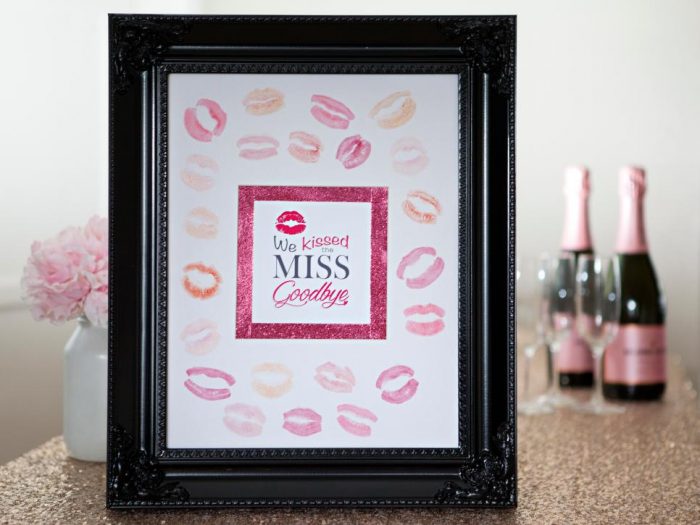 The only thing that we would add to this idea would be to have each guest sign her name under her lip-print, because, as adorable as this idea is, how many of us can identify all of our friends by their kisses, alone?
Tissue paper flowers are one DIY decoration that can be customized for almost any party theme, as long as you choose the right color of tissue paper.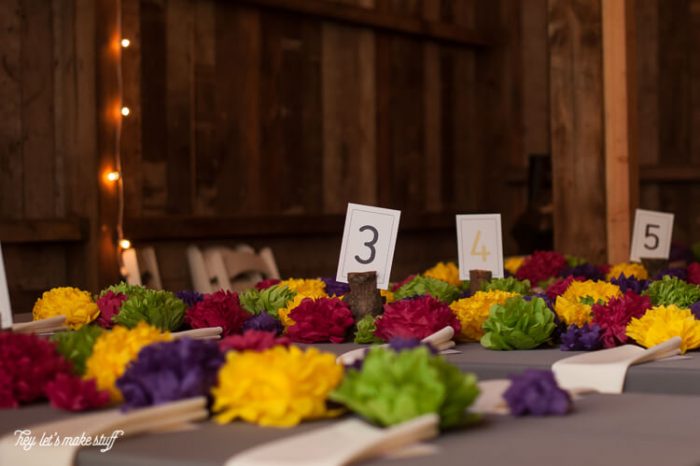 The website Hey Let's Make Stuff, has a great step-by-step tutorial for making paper flowers, which can be used as decorations for a bachelorette party. You may also want to show the bride this link, if she is not sure about table décor. These flowers are so gorgeous, they can actually replace fresh flowers as table décor.
You can even do a little DIY for your party snacks. Want an inexpensive, but cute, approach to dessert? Order these ring toppers and put them in powdered sugar donuts, for an engagement-ring themed snack-sized bite of yummy!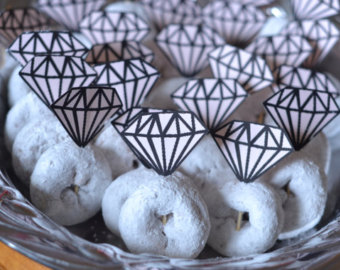 What makes this a DIY? Well, the fact that it is a party hack. You use cake toppers that are designed for use in any type of dessert and combine them with a dessert shape that completes the classic diamond-ring look!
Cheap Bachelorette Party Decorations
While generic bachelorette-themed party decorations are not very expensive, if you get enough of them, they can start to really add up. This is even more true if you have selected a theme for the bachelorette party that requires more than a few banners or themed napkins to bring it to life. Never fear, you can have a very well decorated bachelorette party without breaking the bank. Just use the same places you would traditionally rely upon for inexpensive party decorations. If you are able to shop in person, we highly recommend hitting your favorite dollar store, especially if you are choosing a theme like luau or fiesta, where they are likely to have plenty of adorable things you can use as decorations. Of course, in this day and age, you can also find that type of stuff easily online.
The fiesta is a popular party theme. While you can find specific bachelorette-themed fiesta items, you can save a ton of money, and get a much broader selection, simply by looking for fiesta themed items.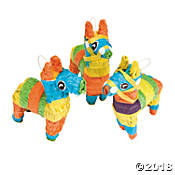 What's more fiesta than a piñata? These adorable little guys can even do double-duty. Use them as decorations, but consider opening them up and filling them with favors if you intend to give favors to the party guests!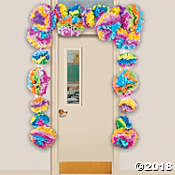 Tissue paper flowers are a great, beautiful way to spread the fiesta theme.
Paper lanterns are another inexpensive decoration idea.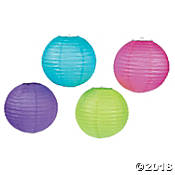 While these lanterns compliment the fiesta theme, you can find paper lanterns in a wide variety of colors. Some come with their own LED lights, while others may need a string of Christmas lights to light them up. Whatever option you choose, they are an inexpensive way to transform a generic space, like a back yard or patio, into a party space!
While you may think that you have to put decorations together yourself to save money, do not overlook the potential value of a kit. You can find a high-quality decoration kit for a medium-sized bachelorette party for under $20. We love this one we found at Amazon:
For just a few bucks, you get a banner, balloons, a door fringe, and photo booth props. Combine them with plain black, pink, or gold cups, plates, and napkins from your closest dollar store or party supply store, and you have a completely decorated bachelorette party for well under $50.
Classy Bachelorette Party Decorations
One of the secrets to making a bachelorette party's decorations appear classy is to keep in mind that less is more. The understated approach can help you transform regular decorations into very classy ones.
Here is a simple bachelorette banner from Etsy: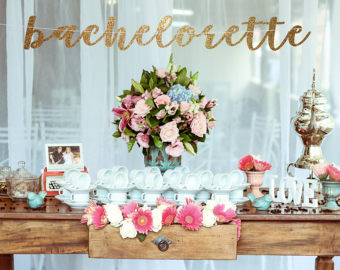 While we love the banner, we also love how they have used it in this set up. Some fresh flowers, a photo of the bride and groom, and some interesting taller objects transform a single table into everything you need for a fully-decorated party. You could expand on this theme and make it the dessert table, replacing the tall decoration on the right with a cakepop tree, and perhaps placing a punch bowl and cut crystal punch cups on the left.
In fact, any type of classic approach tends to make your decorations appear a little more luxe. Florals and simple metallic are great ways to incorporate classic elements into your décor: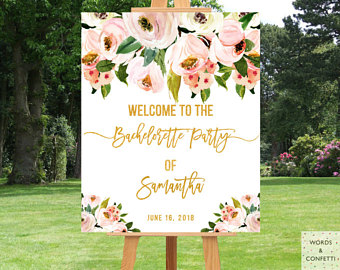 We love this sign to welcome people to a bachelorette party. While signs are not always necessary, they are a great idea if you have rented out a room in a larger venue and can help keep your guests from having to hunt to find the party!
Of course, you can always add a touch of modern whimsy to your classical design. These napkins would blend seamlessly with either of the above classy approaches, but still provide a modern touch: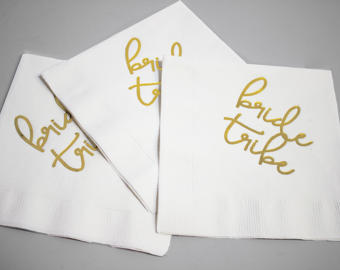 These napkins are a reminder that sometimes a simple color scheme is the perfect way to combine trendy and classy together!
Conclusion
There is no one-size-fits-all approach to bachelorette party decorations. The right decorations for your party depend on a number of factors. What is the party's theme? What is your decoration budget? How many guests will be there? Where is the party being held? Who will the guests be? (Remember, if you are inviting younger guests or some of the bride's future relatives, you may want to avoid raunchy/naughty decorations). Those are just a few of the questions that you might ask yourself when choosing decorations. Hopefully, we have provided you with some great jumping-off points for your own decorating ideas. Still looking for more information, or have some great decorating ideas to share? Then, head over to our forums section. There you can ask questions or provide tips to other people in the bachelorette planning process!