Plan the Ultimate Bachelor Party in Cabo San Lucas, Mexico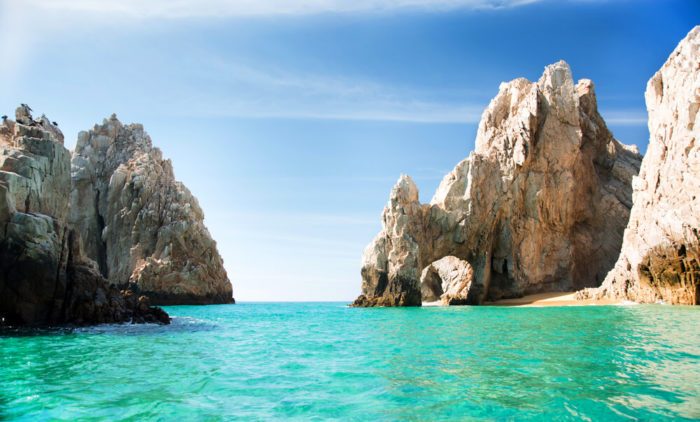 This post may contains references to products from one or more of our advertisers. We may receive compensation when you click on links to those products or services. Please also consider
donating to our website.
Spanish for "Cape Saint Luke," Cabo San Lucas (or more commonly just "Cabo" among locals and frequent American visitors) is a famous Mexican party town that is perfect for young men looking to have a bachelor party just about any other time of the year as well — and for good reason. As party towns go, Cabo really has it all! In fact, Traveler's Choice Awards has rated Cabo as one of the top five tourist destinations in Mexico for its sport fishing, pristine beaches, wild nightlife, scuba diving opportunities, and local excursions to nearby world-famous Los Cabos. In addition, Cabo is chock-full of party-friendly hotels and resorts of varying quality and prices that can accommodate almost anyone's budget.
Its geographic proximity to the United States also places Cabo within driving distance from southern California and the scenic vistas make the drive well worth the extra time for those who aren't in a hurry (it takes a full day to drive it from LA). These features and the others described below mean that bachelor parties in Cabo San Lucas can be truly unique, fun, exciting and memorable events. Whether you and your friends are interested in rock-n-rolling all night and partying every day, relaxing by the pool and soaking up some rays, snorkeling among the abundant marine life, enriching your cultural horizons or some of each, Cabo San Lucas is the perfect destination. 
How to Get There
Airport
The quickest and easiest way to get to Cabo is by air. The Los Cabos International Airport (IATA: SJD, ICAO: MMSD) provides ready access to Cabo and is served by Alaska Airlines, American Airlines, Delta Air Lines, Delta Connection, Southwest Airlines, and United Airlines out of Los Angeles. There are also direct flights from other U.S. cities or you can arrange a transfer in Mexico City.
Flights Search
Search hundreds of travel sites at once
For bachelors who are not in a big hurry, it's also possible to travel from the U.S. by train, bus or cruise lines; however, ferries from Mexico's mainland can take hours to cross the Sea of Cortez, and they operate not out of La Paz which is about a 2-hour drive to the north. In addition, Cabo can also be reached by driving the Transpeninsular Highway, also known as the Mexican Federal Highway 1, down to the Los Cabos Corridor, a 20-mile coastal highway that is lined with high-end hotels and resorts. The total driving distance from Los Angeles to Cabo is 1,146 miles which will take about 22.5 hours. The Transpeninsular Highway is known as "one of North America's great road trips," making the journey almost as exciting as the destination. In fact, many Americans drive to Cabo, but if you plan on driving into mainland Mexico, you'll need to obtain a Temporary Importation of Vehicle Permit.
Things to Do
The only real problem facing bachelors having parties in Cabo is deciding what to do with all that the area offers. While Cabo has something for everyone, some of the exciting daytime and nighttime activities available in Cabo include those described below.
Daytime Activity Ideas
A popular place for ocean swimming and sports is Medano Beach. In fact, other than resort swimming pools, this is the only really safe swimming beach for casual swimmers in Cabo. The powerful waves and undertow of this part of the Pacific Ocean make swimming anywhere besides Medano Beach extremely risky and there are prominent signs posted that warn visitors to "Stay Out, Stay Alive." There's plenty more to do at Medano Beach that swim safely, though, and there are a number of swinging clubs and modestly priced eateries featuring tasty local specialties right on the beachfront or nearby. The spectacular views from Medano Beach are just part of the Cabo experience and bachelors can enjoy a wide range of reasonably priced adventures, including ATV excursions, guided sightseeing tours of the city, shopping at the Luxury Avenue Mall at the marina and snorkeling. For truly nautical-minded visitors, chartered cruises and sailing expeditions on the Sea of Cortez are also readily available. For example, Cabo Party Fun specializes in hosting bachelor parties and features a 2- or 3-hour "pole dance cruise" with beautiful dancers and hostesses, local spirits, soft drinks and mixers; salsa, guacamole and chips; as well as your choice of two cruise times daily; they also feature a "booze cruise" which is self-explanatory. For the more adventurous, Cabo Party Fun also offers a zipline ride, camel rides, ATV rentals, bungee jumping, and "inflatable human balls" for high energy fun.
In addition, Cabo is known as a "dual destination" because it is so close to the southern tip of the Baja California peninsula (only about 39 minutes away by car) where visitors will find Los Cabos which is an especially popular side destination for visitors to Cabo. Los Cabos also offers a number of attractions including white sand beaches, parasailing, paddle board and surfing, the Sierra de la Laguna Mountains, the Arch of Cabo San Lucas, and even blue whale watching.
Nightlife Activity Ideas
Let's face it – the nightlife in Cabo is all about booze and it flows freely everywhere you go. One of the most popular offerings of the famous party atmosphere of downtown Cabo at night is Cabo Crawl, described by the company as "a pub crawl on steroids." Moreover, Cabocrawl specializes in hosting bachelor parties and can provide you and your friends with a safe, escorted, all-inclusive, all-you-can-drink (and still crawl!) experience in three of the best clubs and bars in the area that includes 5 hours of open bar. Cabocrawl also features VIP entrances and reserved tables with rave reviews from the field. Likewise,
Where to Eat
Restaurants
Besides deciding what to do, another problem facing visitors to Cabo is deciding where to eat. Although hundreds of low-cost eateries, some right on the beach, are available that feature local specialties, there are also dozens of upscale restaurants available that typically cost far less than their American counterparts including those listed below.
Edith's (Google reviews — 4.6 stars):  This restaurant is located at Playa El Medano s/n, El Medano Ejidal, Auroras (telephone +52 624 143 0801) and features Baja-style cuisine with an exclusive view of Medano Beach and the Arch of Cabo San Lucas. This restaurant offers a palapas design (open on the Medano Beach side), candlelight dining and some of the best fresh-caught seafood available, including local species of fish and lobster. In addition, Edith's also features delicious hand-made tortillas, imported beef and spicy chicken dishes.
El Farallon (Google reviews:  4.8 stars):  Located at Camino del Mar 1, Pedregal, 23452 (telephone +52 624 163 4300), El Farallon also offers a spectacular oceanfront view and freshly caught seafood specialty dishes. With the daily catch being displayed on mounds of shaved ice, visitors are invited to watch as the restaurant staff weighs each catch on their old-fashioned scale and decides what specialties to offer that day which are then described on a handwritten chalkboard.
Hacienda Cocina y Cantina (Trip Advisor Ranking #21 of 544 places to eat in Cabo San Lucas):  Located at Calle Paseo de la Marina 4732, Colonia El Medano, 23453, telephone +52 624 163 3144), this restaurant is part of the Hacienda Beach Club & Residences at Medano Beach and combines informal beachfront dining experiences with traditional Mexican architecture. Situated on some of the most beautiful beachfront in Cabo, this restaurant also offers an exclusive view of the Arch of Cabo San Lucas and a palapas design which includes its beachfront bar and tables right on the beach. This restaurant is famous for its authentic Mexican cuisine which uses locally grown produce selected by its world-class chefs. Besides its specialty menu items, Hacienda Cocina y Cantina also offers the best tequilas available in Mexico as well as locally brewed beers, an extensive wine list and delicious mixed drinks. Although there is no direct beach access, guests can enter the restaurant through the north and south gates of the Hacienda Beach Club and Residents.
Tacos Gardenias (Google reviews:  4.5 stars):  Located at Paseo de La Marina, El Medano Ejidal, Marina, 23410 (telephone +52 624 355 4871), this restaurant features a minimalist design and a house specialty, shrimp molcajetes. Naturally, Tacos Gardenias also offers Mexican-style tacos (including breaded or grilled fish and shrimp) as well as other local specialties including tortilla soup, shrimp molcajete with onion, cheese and salsa, seafood soup, fish salad and many others to delight the American visitor. Guests can even watch their food o being prepared by expert Mexican women in the restaurant's central kitchen.
Where to Stay
Hotels
Keeping in mind that you are a guest in their country and all American visitors to exercise discretion, moderation and good manners during their visits to Cabo, there are several bachelor party-friendly hotels and resorts that are well known for their tolerance for the kinds of excesses that characterize a memorable bachelor party, including those listed below.
Hotel Riu Santa Fe 5 (rated 4.2 stars by Google reviews):  Located at Km 3, San José del Cabo-Cabo San Lucas, El Medano Ejidal, 23453 (telephone +52 624 163 6150), this hotel is known as "party central" to frequent American visitors who are looking for a bachelor party- friendly hotel. Situated near Cabo in the south of the Baja California peninsula, the Hotel Riu Sante Fe 5 offers an all-inclusive package that includes Mexican cuisine from a buffer and several restaurants as well as complementary (non-alcoholic beverages such as soft drinks, juices and bottled water) in guests' rooms. With two fresh-water swimming pools and the ocean nearby, this is also a great destination for bachelors looking for water sporting activities including scuba diving, catamaran sailing, windsurfing, kayaking and bodyboarding. In addition, the Hotel Riu Sante Fe 5 features a Jacuzzi, gym, sauna, golf, volleyball, a solarium terrace, and a steam bath. Guests should be sure to check out the nightlife at this hotel including the "Pacha" club which offers both live entertainment and DJs. Although the hotel has a formal policy that prohibits "spring breakers" from staying at any RIU hotel, reports from the field indicate that this policy is rarely if ever enforced and bachelor parties are always welcome.
Bahia Hotel & Beach House (TripAdvisor ranking #22 of 70 hotels in Cabo):  Located at Av. El Pescador, s/n, El Medano, 23453 (telephone +52 624 143 1890), the Bahia Hotel & Beach House is situated in the historic Medano Beach district. Widely known as one of the "hippest gathering spots in town," the hotel's newly installed beachfront SUR Beach House by Bar Esquina features Mexican cuisine inspired by Peruvian and Asian flavors. This hotel also offers unparalleled views of the Pacific and a number of venues that are especially well suited for bachelor parties. As one recent visitor put it, "We stayed at the Bahia for four nights and had a great time. This hotel has a fun, party atmosphere so if you are looking for a quiet, tranquil getaway this may not be what you are looking for as it was kind of noisy at times."
ME Cabo (rated 4.3 stars by Google reviews):  Located at Playa El Medano S/N, Zona Hotelera, 23410 (telephone +52 624 145 7800), this hotel offers the only safe swimming beach at Playa El Medano with 2,500 feet of pristine white sand in Los Cabos near the Arch of Cabo San Lucas. Awarded the 2010 and 2011 World Travel Award as Mexico and Central's America's Leading Resort as well as the 2012 Traveler's Choice award, this resort boasts the world-famous Blue Marlin Ibiza Beach Club as well as the upscale Day and Night Rose Bar and Dare Rosa. In addition, ME Cabo features several dining venues and bars, a top-of-the-line health spa and gymnasium as well as access to Lover's Beach.
Grand Solmar Land's End Resort & Spa (rated 4.5 stars by Google reviews):  Located at Ave Solmar #1A Col Centro, 23450 (telephone 1-800-344-3349), this resort features a white sand beach, luxury suites complete with kitchens and balconies that provide a great view of Pacific Ocean vistas. Besides world-class infinity pools and swim-up bars, the Grand Solmar also offers a fitness center, beachfront spa cabanas and an assortment of restaurants, cafes and bars that specialize in fresh and local foods. In addition, the Grand Solmar also offers a number of event spaces that are perfect for bachelor parties.
For bachelors looking for even more luxurious accommodations, Capella Pedregal (rated 4.8 stars by Google review) is located at Camino del Mar 1, Pedregal, 23455 (telephone 844-733-7342 toll-free) is among the most recent additions to the numerous Cabo resorts that are available. This resort is situated on a mountainside which is located at the southern tip of the Baja Peninsula and can only be reached through an impressive 870-foot private tunnel that was blasted from the living rock. The accommodations at Capella Pedregal offer dazzling views of the Pacific, private plunge pools, an a "Rise, Dine, Shine" experience that includes complementary margaritas or Hibiscus water upon arrival, a complementary bottle of tequila in guests' rooms, and a breakfast buffet for two each morning in their Don Manuel restaurant. The all-inclusive packages offered by this resort also includes daily afternoon amenities of guacamole, chips with pico de gallo and Coronitas, evening turndown, wireless Internet, and a refreshment center stocked with complimentary juices, soft drinks, coffee, and bottled water.
View all Hotels in Cabo San Lucas
If you would rather rent a villa for your bachelor party in Cabo, make sure you check out all available house rentals.
When To Go
Regardless of when you decide to go, make sure you purchase travel insurance to protect your investment.
Best Time
Generally speaking, May to June is the best time to visit Cabo because the "snowbirds" from the States have returned home by then and it is before the onset of the tropical storms that are characteristic of the summer months. Although October and November are also good times to visit, bachelors planning a party in Cabo should make their reservations as early as possible to ensure they secure their accommodations of choice. For bachelors interested in whale watching, December through March are the best times of the year while the late summer or fall are the best times for sport fishing.
On a Budget
If you want to experience Cabo, but don't want to sell your kidneys to fund the trip, we recommend going in the months of June – October.  Prices for both flights and hotels will be cheaper because it's considered rain season.  This does not mean it rains every day, it just means there is a greater chance.  It is also during hurricane season, so if you book around time time, make sure you invest a little extra in travel insurance.
Current Weather
What Else
Things to Pack
Besides sensible foot and appropriate swim wear, bachelors visiting Cabo should also pack ibuprofen, acetaminophen, electrolytes, recovery formula, condoms, and lube. In addition, the U.S. Department of State cautions travelers to Cabo to avoid unforeseen trouble with customs and local authorities by making sure you have a valid passport (or alien registration card, Air NEXUS card or U.S. Coast Guard Merchant Mariner document as applicable). An important but little-known point made by a recent visitor to Cabo is the need for American tourists to retain the slip of paper that is detached from the entry form they receive when entering Mexico which they need when departing. Reports from the field indicate that Americans can be extorted by Mexican immigration authorities if they don't have this small slip of paper when they try to fly out of Cabo.
If you take prescription medicines, be certain to include copies of your prescriptions in your luggage and only take as much of your medications as you'll need on your visit because Mexican law enforcement officials can arrest foreign visitors they suspect of bringing in more than what they'll need for their visit. An especially important point about visiting Cabo (or any destination in Mexico) for American visitors is the strict prohibition against firearms or ammunition of any kind. If you've taken a hunting trip lately, be sure to check your baggage carefully. Even a stray bullet or pocket knife can land an American visitor in big trouble, including prison time.
Bachelor Party Itinerary
While everyone's preferences for an itinerary will differ, a typical 3-day schedule for a bachelor-party-to-remember would include the following:
Friday
Afternoon:  Get picked up at airport by hotel or take taxi to hotel, complete check-in, get unpacked and get ready to party!
Evening:  At 4:15 p.m., picked up and taken to the marina where you and your friends will board your 2-hour, all-you-can-drink charter pole dance cruise. At 6:45 p.m., return to your villa to recuperate. At 11:00 p.m., transport to downtown Cabo to experience the wild nightlife there.
Saturday
Morning:  Sleep in but get up in time for a sumptuous breakfast (or at least brunch) complete with mimosas.
Afternoon:  Thus fortified, you and your friends can visit one of the great clubs in your hotel, a truly decadent swim-up bar or check out the offerings along the beach for some more action-filled, alcohol-fueled fun and do some souvenir shopping for your friends and family back home.
Evening:  Dinner at Hacienda Cocina y Cantina at Medano Beach (be sure to try the local brews) followed by a pub crawl hosted by Cabocrawl. Crawl back to your private villa.
Sunday
Morning:  Don't worry about breakfast, just have an energy drink and head straight for your chartered yacht for a morning of deep sea fishing. One of the best companies offering these adventures is Cabo Yacht Charters. Besides all-inclusive fishing gear, paddleboards, and snorkeling gear, Cabo Yacht Club's package includes an unlimited open bar (complete with mixers), choice of menu options and snacks. This company also offers a 100% refund unless you are completely satisfied. Get picked up at marina by hotel and return to private villa.
Afternoon:  A short nap will re-energize you for some high-energy fun. Ride a camel, rent an ATV and be sure to bungee jump (you never know when'll you'll have the chance again).
Evening:  Complete the pub crawl challenge offered by Cabo Party Fun , followed by a personal pole and chair dance performance by this company's experienced and talented hostesses and dancers.
Monday
Morning:  Whew! What a trip, huh? Fortunately, what happened in Cabo, stays in Cabo. All that remains now is going home. If your hotel doesn't offer the service, arrange with them for a taxi to pick you up and take you back to the airport
Crime
Although Cabo has a well-earned reputation as being one of Mexico's safest resort areas, this does not mean that there is no crime and American visitors should be vigilant of pickpockets and carry as little cash as possible during their excursions. In addition, traffic represents a significant threat to pedestrians in Cabo due to the aggressive driving style of the local population. Tipsy visitors should also be careful of the sidewalks in Cabo which may have holes and uneven surfaces that can easily trip the unwary. Cabo's well-earned reputation as a party town also means that American visitors should exercise caution by traveling in groups, particularly at night. Recent reports also indicate that peddlers along the beaches can be especially aggressive but a simple "no gracias" can help dissuade them.
Currency Exchange
As a result of laws recently enacted by the Mexican government, hotels and resorts in Cabo are unable to provide American visitors with currency exchange service and are not allowed to accept cash payment for hotel stays or services in dollars. Likewise, these recently enacted laws also prohibit hotel reception desks from exchanging dollars for pesos.
Extracurricular Activities
There are two zona rosas ("red zones") in Cabo where prostitution is legal and the sex workers are regularly examined by physicians. There are also some high-class escort services available in Cabo, including Splash (telephone 624-143-4058 and the operators speak English) which offers a massage parlor (with happy endings natch!), a strip club, live cabaret shows as well as full service sex in their private rooms. Splash even has a Facebook page.
There are rumors that streetwalkers can be found behind the El Squid Roe, the ready availability of legal sex workers which can be found in the Cabo telephone directory make this a dubious choice for any American visitor.
Although weed and coke as well as other drugs are purportedly available, American visitors should avoid buying illicit drugs in Cabo since local law enforcement authorities (and law enforcement imposters) have been known to stage "sting operations" targeted at visitors from the U.S.
Gambling
Although Las Vegas-style gambling is still not legal in Mexico, American visitors who are familiar with Native American casinos will be right at home in Cabo. One of the more popular and easily accessible venues is the Caliente Casino which is located in the Paraiso Mall (Avenida Lázaro Cárdenas 1501, El Medano Ejidal, 23410, open 9 a.m. to 10 p.m.). This casino features video and slot machines, including nickel machines, and a full sports book where bets can be placed on a number of sporting events, including American football, as well as local and international horse and dog races.
Bachelor Party Planner for Cabo San Lucas
Cabo Party Fun is rated 5 stars by Tripadvisor (telephone 011-52-1-624122939) and offers a special 3- and 4-day weekend packages for bachelor parties that include airport pickup, welcoming champagne, and private villas complete with swimming pools. A number of personalized upgrades are also available to make your bachelor party even more enjoyable.
Bachelor Party Forum
If after reading this article you still have some questions about planning your big bachelor party weekend to Cabo, please post a question to our Cabo San Lucas Bachelor Party Forum.  If you have already taken a trip to Cabo and have some valuable information for other parties heading that way, please leave feedback in our forum, or send us an email with your review.
Why Go
Star Rating
Conclusion
In conclusion, Cabo San Lucas has all the pieces to the puzzle for planning an absolutely amazing bachelor party.  Great accommodations, restaurants, daytime and evening activities.  Options available for those who want to remain calm and for those who want to party like rock stars.  With flight options from destinations around the United States and other countries, and the favorable exchange rate, Cabo San Lucas should be a top choice for your final fling with the guys before getting married.