Plan a Fun Filled Bachelorette Party in the Bahamas (2023 Guide)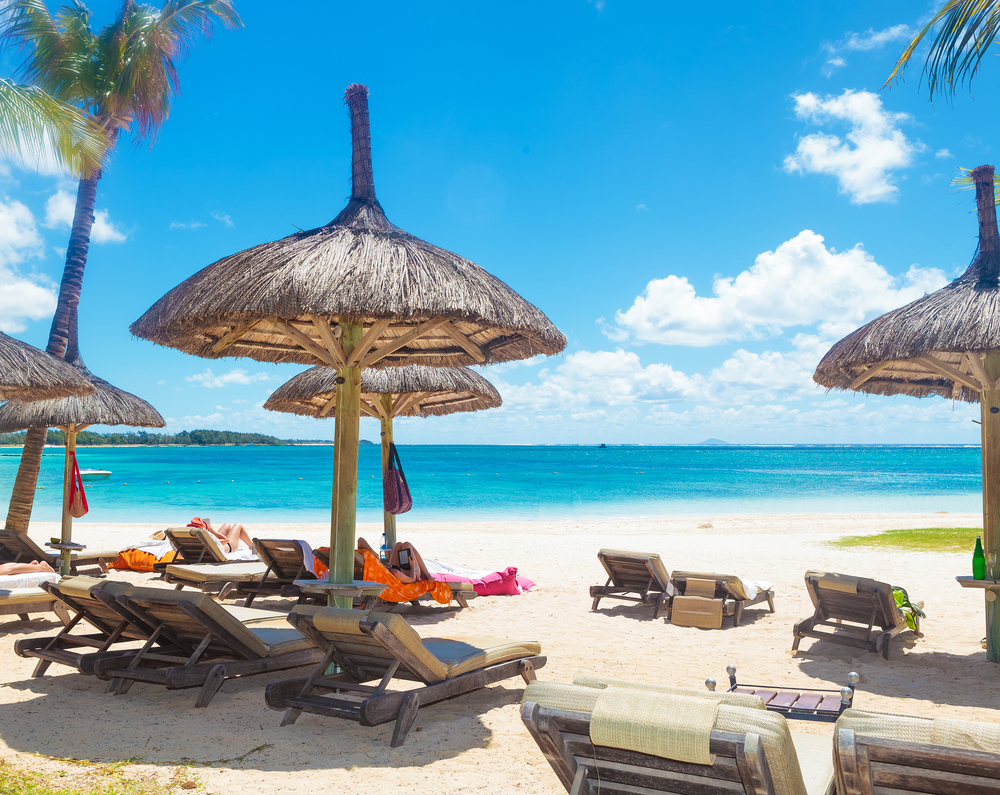 This post may contains references to products from one or more of our advertisers. We may receive compensation when you click on links to those products or services. Please also consider
donating to our website.
You may have heard the tourist slogan, "It's better in the Bahamas," and wondered if it is true.  While tourist slogans are not always known for truth-in-advertising, this is one slogan that we wholeheartedly endorse.  The Bahamas is an awesome tourist destination for almost any type of vacation, but the breathtaking views, awesome activities, and range of resorts and hotels, many designated as all-adult properties, means it is especially well-suited for bachelorette parties.  Plus, the Bahamas are located really close to the United States; you can not only get cruises to the Bahamas, but you can even take a ferry from Florida to the Bahamas.  If you think being a Bahama Mama is the right choice for your bachelorette party, then read on to find out more about planning the ultimate Bahamas bachelorette party!
How to Get There
This is a really important question.  The Bahamas is a chain of over 700 islands, but, as you probably already know, there are not international airports on all of those islands.  Heck, there are not even people on all of those islands!  There is, however, one main international airport that people use to travel to the Bahamas, some smaller local airports for travel between the islands, and plenty of docks because people travel by boat and by sea plane.  If you are headed to one of the smaller islands, be prepared for some alternative ways to travel. 
Airport
The main airport in the Bahamas is the Lynden Pindling International Airport (Airport Code: NAS), which offers direct services to the United States, Canada, many other Caribbean destinations, and parts of Europe.  It is located in Nassau. 
Grand Bahama International Airport (Airport Code:  FPO) is another international airport servicing the Bahamas.  Located in Freeport, on Grand Bahama, this airport offers US Border preclearance facilities, making it convenient for travelers from the U.S. 
Ferries
If you are on the Atlantic Coast of Florida, then you might consider a ferry service from Florida to the Bahamas on the Fort Lauderdale/Freeport Ferry Route.  Right now, only one company is offering this service.  The Balearia Caribbean offers a fast three-hour ferry service from the port of Palm Beach to the Bahamas.  The cost of the ferry is about $100 each way, and you can plan a one-day trip that departs at 8am and returns at 10pm or plan your arrival and departure on different days. 
Cruises
The Bahamas Paradise Cruise Line offers a cruise and stay option that lets you leave from the port in West Palm Beach and end up on Grand Bahama.  It partners with several resorts so that you can combine a two-night cruise to the Bahamas with an extended stay at a Bahamian resort. 
All of the major cruise lines also offer cruises that include the Bahamas as their destination, and, if you are traveling out of Florida, you can get be in the Bahamas within a matter of hours, which means you get to spend plenty of time in port when you dock!  Carnival, Royal Caribbean, and Disney all offer cruises from Florida to the Bahamas, but our pick for the best bachelorette party cruise line to visit the Bahamas is Norwegian Cruise Lines, which offers short all-inclusive cruises from Florida and tends to have a more adult-friendly atmosphere.  Look for the Norwegian Sky Cruises that offer a free open bar as part of your cruise experience!
Getting Around
Without knowing which islands you are visiting, it can be difficult to tell you how to get around the Bahamas.  When you are on an island, you can use the jitneys for transportation between location.  Jitneys are public buses and provide pretty reliable service on the larger islands, but they are not on all islands.  If you are on a smaller island, you may need to get a taxi or rent a car.  To get between islands, you will need to fly or boat.  Bahamasair provides transportation not only between the U.S. and the Bahamas, but also between many of the local islands.  It has destinations in New Bight, Colonel Hill, Long Island, Freeport, Great Exuma, Governor's Harbour, Marsh Harbour, Matthew Town, Mayaguana, Nassau, North Eleuthera, Rock Sound, and San Salvador.  Looking for another destination?  Then you will need to hire a water taxi.  Water taxis are also a great way to get from the airport to Paradise Island if you are traveling to Atlantis. 
Once you are in the Bahamas, you can take a ferry from island to island. Here is the ferry from Nassau to Paradise Island and Atlantis. The Ferry's depart every 30 minutes, from 9Am to 6PM. One way tickets are only $4 per person and round trips are $8 per person.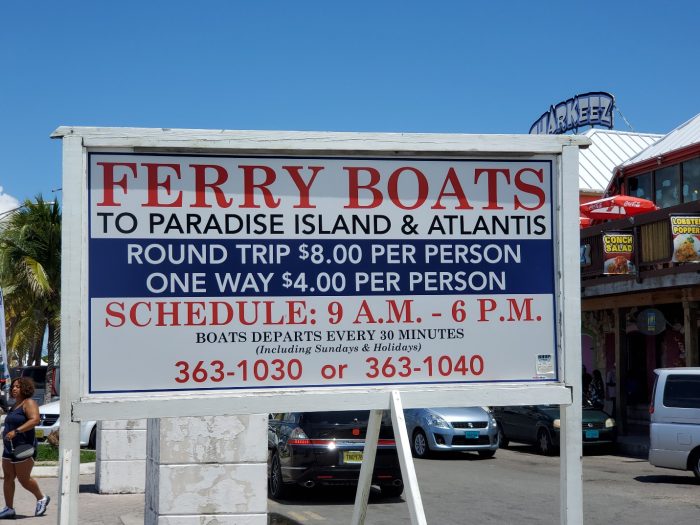 Things to Do
Full disclosure; we are in love with the clear waters surrounding the Bahamas.  We could go to the Bahamas and spend all-day, every day just snorkeling in the amazing water and consider it a top 10 vacation.  It is why people travel there.  So, be forewarned that a lot of our suggested activities are going to focus on the water and on the beach.  If you are not a fan of sugar sand beaches and clear blue waters, then you might not find the kind of activities you want for your bachelorette party in the Bahamas.  Sure, there are some things to do when you are not in the water, but this tropical island archipelago focuses much of its entertainment in its gorgeous waters and on its sandy beaches.
Daytime Activity Ideas
On the one hand, what to do depends a lot on where in the Bahamas you are staying, as some of the more remote islands offer little in the way of nighttime or daytime activities.  On the other hand, because it is relatively easy to travel between the islands and so many of the activities are focused on the water or the beaches, where you are staying may not really have that much of an impact on what you can do during your Bahamas stay.
Visiting the beach is obviously the top daytime activity in the Bahamas.  From the beaches, you can wade right into the crystal clear waters, and you can often enjoy some amazing snorkeling right from the beach. 
Just about anywhere in the Caribbean, you can sign up for an adventure to swim with dolphins or other sea life, however only in Exuma can you swim with the pigs.  Big Major Cay, also knowns as Pig Beach, has a colony of feral pigs that spend their days living the life; they sunbathe and spend their days in the waves.  They have become a famous tourist attraction, and you can take day trips from other islands to Big Major Cay.  There are pig swims at other locations in the Bahamas, but if you want to reliably find a place to swim with the swine, you want to make sure your destination is Big Major Cay. 
Most of the water in the Bahamas is relatively gentle, but, those the Bahamas are considered to be part of the Caribbean by many, it is actually part of the South Atlantic.  That means that you might find bigger waves in the Bahamas than in more traditional Caribbean islands.  Surfer's Beach, located on the island of Eleuthera, is a north-facing beach that draws favorable comparisons to some of the famous surf spots in Australia or Hawaii, especially in the winter months.  In addition to the great waves, it boasts a real surfer's vibe; think Tiki bars and surf shacks on the shore. 
If you think of New York when you hear Long Island, you are not alone, but Long Island is actually one of the longest islands in the Bahamas and offers 80 miles of beaches.  Most of them are gorgeous, but you will want to take the time to see Dean's Blue Hole, which is just north of Clarence Town.  This blue hole is the second deepest saltwater sinkhole in the world.  You can snorkel it straight from the beach, and it is also a popular scuba destination.  The beach is gorgeous, offering sandy beaches and a secluded lagoon.
Great Guana Cay in the Abacos Islands offers some of the best beaches for snorkeling in the Bahamas.  They have nesting turtles on the beach and some of the best snorkeling in all of the Bahamas.  This is a quieter destination than you might choose for the average bachelorette party, but is a must-see if you are snorkeling enthusiasts.  Plus, while the Abacos are quieter than other more tourist-friendly parts of the Bahamas, they do have two famous beach bars, Grabbers and Nippers that have become famous with boaters in the Bahamas.  Not your typical bachelorette party experience, but you will be able to find plenty of fun.
Sure, we talk about the gorgeous white sand beaches of the Caribbean, but the Pink Sand Beach on Harbour Island is an experience everyone should see.  This beach is known for its calm waters, created by the offshore reefs that also mean you can find great snorkeling off of the beach.  The pink sand looks amazing, but also offers a great beach experience because pink sand does not retain heat, making it the ultimate sunbathing experience.  If you can visit this beach at sunrise or sunset, be prepared for amazing sights as the pinks and blues of the sand and water merge into the pinks and blues of the rising or setting sun. 
You have probably heard of  Bimini, an island of the Bahamas that is located just 50 miles off the coast of Florida.  This island was once best known as Earnest Hemingway's favorite destination, but its Radio Beach is amazing.  The long, slow slope of the beach into the water is a great beach for people who want to enjoy amazing and gentle waters.  If you visit Radio Beach, awe suggest going on Sunday, when the beach has a pop-up bar.
You have probably heard of Paradise Island because of the Atlantis Resort, but the best beach on Paradise Island is probably Cabbage Beach.  If you want to walk the beach, swim, or sunbath, this is the beach for you.  It is also a beach with plenty of amenities.  You can rent snorkel gear and water toys from local vendors or head over to one of the nearby resorts and enjoy those amenities. 
Rose Island is close to Paradise Island, but miles away in terms of vibe.  It is an uninhabited island, but you can book a trip to it with the vendor Sandy Toes.  This is the location for people who want that wild beach feel.  However, keep in mind that it is still a popular tourist spot; while you will avoid the crowds of the popular resort beach areas, you are not going to have the area to yourself.  To find that kind of idyllic peace, you have to go to one of the islands that is further away from Paradise Island.
Why is Paradise Island such a popular tourist destination?  That is a bit of a chicken-and-the-egg question, but it certainly has something to do with the immensely popular Atlantis Resort.  Atlantis is a massive resort on Paradise Island, which offers a huge variety of activities.  If you want to visit a resort and have a fantastic time without ever leaving that resort, then Atlantis should be on your short list.  It has an amazing water park, spa, golf, snorkel, scuba, snuba, shark adventures, a stingray experience, and snorkeling in the ruins of Atlantis.  You can rent a yacht or a charter fishing boat.  You can swim with dolphins in the Dolphin Cay or play with sea lions; the Dolphin Cay also offers some other unique opportunities like exercising with dolphins or kayaking with dolphins. The resort also has a casino and clubs and some of the prettier beaches on Paradise Island. 
If you are near the Freeport area, you do not want to miss Gold Rock Beach.  This beach on Grand Bahama Island is particularly wide, offering plenty of beach for sand and surf activities.  The beach is protected by mangroves and features some interesting limestone caves in the Lucayan Caverns for you to explore. 
If you are staying in Nassau, then Cable Beach should be on your to-do list.  This world-famous beach is known for its crystal clear resorts, amazing white sands, and the upscale resorts that line its shores.  It is just a few miles to the west of Nassau.  The beach is 2.5 miles long, and it has some of the island's best resorts, including the largest casino in the Bahamas.   One of the newest resorts on the island is Baha Mar.  This resort features three hotels, tons of restaurants, clubs, and activities.  You can play golf; visit the racquet club; enjoy one of their spa facilities; take fitness classes; visit the animal Sanctuary at Baha Mar and see stingrays, nurse sharks, sea turtles, and native birds; or take part in water activities like stand up paddle boards, kayaks, floating loungers and floats, and snorkeling. 
The Bahamas is known for amazing snorkeling.  While other areas may be renowned scuba destinations, the calm clear waters of the Bahamas make it an awesome place for snorkeling, as does the prevalence of plenty of offshore coral reefs.  You can snorkel in reefs, in shipwrecks, and even in a collection of sunken Hollywood sets.  One of the most amazing experiences is snorkeling with sharks in the wild, an optional activity that you can enjoy with some of the snorkeling tour guides.  Stuart Cove's Snorkel Trips offers amazing guided snorkel trips off of Nassau. 
Scuba diving in the Bahamas is another popular activity.  There are a number of different dives for certified divers, and Bahama Divers is one of the most respected tour companies in the islands.  You can visit a number of different sites or you can plan a trip with a private dive operator to visit your must-see dive sites.
If you have never been jet skiing, the Bahamas are the place to try it out!  The warm, clear waters make for a beautiful backdrop to a high adventure sport.  You can find jet ski rentals on most of the islands, and you can also find boat rentals and boat charters in most of the bigger harbors on the island.  K&C Watersports is known for its rentals and charters and is conveniently located in Nassau.  
Want a break from the beaches?  Consider an indulgent spa day.  Because of the number of high-end resorts located in the Bahamas, it is actually very easy to find a great spa experience in the islands.  The biggest challenge may be narrowing down your choices of top spas.  The ESPA Spa at Baha Mar says it offers Bahamian-inspired inspiration, and it does a great job of extending the beauty of the outside environment into the spa.  The spa menu includes favorites like massages or enjoy their signature mojitos and manicures combination.  Kamalame Cay is the only over water spa in the Bahamas, and offers facials, massages, and body melt therapies.  Looking for a specialized spa experience?  Consider the Spa of Eden at Pishon, which offers unique services like reflexology and the magnesphere.  Looking for a whole-day pampering experience?  Then you might want to consider the Windermere Day Spa.  Staying at the Atlantis Resort?  Then you do not want to miss the Mandara Spa, where you can take advantage of traditional hot and cold plunge pools.  Looking for an island spa experience?  Think about the Marley Resort & Spa.  Yes, those Marleys.  This spa is inspired by Rita Marley and uses an Afro-Caribbean approach to relaxation as well as Asian techniques and Jamaican-inspired products. 
Shopping is another extremely popular daytime activity in the Bahamas.  Whether you are looking for bargains on high-end luxury items or tourist items made in the islands themselves, you will want to spend at least a little time hitting some of the popular shopping areas in the islands.  Of course, where you shop is going to depend a lot on where you are staying or visiting. Nassau is known for offering some high-end duty-free shopping.  Nassau has Bay Street and the Straw Market and Grand Bahama Island has the Port Lucaya Marketplace.  Just remember that haggling is not only permitted at the markets, but oftentimes expected. 
View Other Activities in the Bahamas
Nightlife Activity Ideas
You may spend your days on sun-soaked beaches or in crystal blue waters, but the Bahamas do not shut down when the sun goes down.  As an extremely popular tourist destination, they offer plenty of things to do in the evening.  Casinos, nightclubs, dance clubs, comedy clubs, and tours offer plenty of things to do at night. 
Nightlife in the Bahamas can be a little slow during the week, unless you are on Nassau or Paradise Island.  Consider visiting Aura Nightclub at the Atlantis Resort.  This nightclub has a really cool glass dance floor, great DJs, and some awesome VIP booths.  Bambu in Nassau is known as one of Nassau's most upscale places to party.  Da Balcony is a downtown Nassau nightclub that is a longtime favorite.  While it was destroyed by a fire in 2011, it was revamped and came back as one of the island's most popular sites.  It has indoor and outdoor dance floors. Ibiza Bahamas Beach Club offers a South Beach style beach club during the day and a hot party spot at night.  In fact, it might remind you of the beach clubs you will find in Greece, and this vibe extends to the electronic dance music you will hear the DJs spin at night. 
Looking for a little gambling fun?  Consider hitting one of the stunning casinos in the Bahamas.  Baha Mar Casino offers some of the more upscale gambling in the islands at its Casino; you will find a wide variety of slots as well as 119 table games.  The Atlantis Casino also offers a wide variety of games, as well as hosting numerous tournaments, and race and sports betting. 
Bars
Trying to figure out the best bars in the Bahamas can be a little challenging, because the bars offer a variety of different vibes. 
The Daiquiri Shack in Nassau offers more than just the average daiquiri.  Think freshly prepared fresh fruit daiquiris and smoothies.  They have tasty bar snacks and great music, as well.  Polo, the bartender, quickly becomes one of your favorite bartenders anywhere. 
Miss Emily's Blue Bee Bar is home to the world famous Goombay Smash.  You can also get some tasty bar food there; check out the lobster.
The Dune Bar on Paradise Island is located at the Four Seasons.  It is not an iconic Bahamian beach bar, but an upscale destination bar.  It is known for high-quality cocktails, an amazing view, and live music.  This is not the place you head to if you are a young or rowdy crowd, but might be the perfect space for a more mature bachelorette party group.
In the Abacos?  Then you want to head to Grabbers and Nippers, two bars that have built a world-wide reputation among boaters.  Grabbers is known for fresh food, cold drinks, and its amazing views.  People call it the best place on earth.  Nippers is a classic outdoor beach bar.  Think bright colors, amazing views, and a real party atmosphere.
Sharkeez Bar and Grill in Nassau, Bahamas may be the iconic bar that comes to mind when you think of the Bahamas. They are known for great service and great food, but most people come for their amazing frozen drink concoctions and because they boast the largest gift shop in the Bahamas.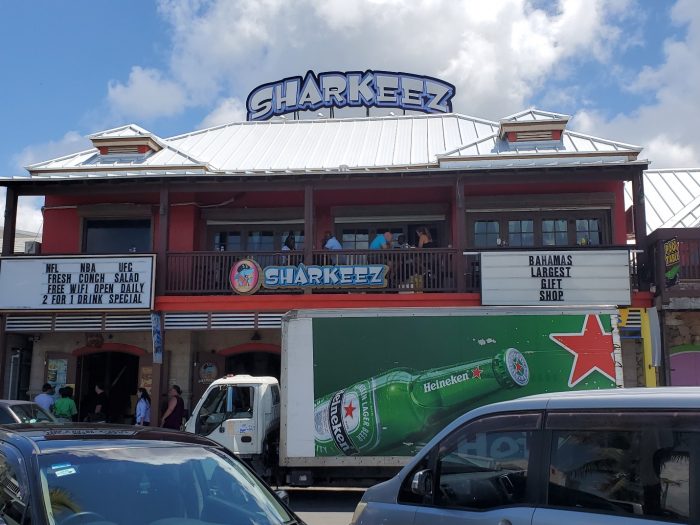 Never Say Never Again Bar and Grill offers craft cocktails, upscale cuisine, and views of the amazing crystal clear waters, which makes it a great spot for a bachelorette party group to have some drinks and just soak in the island vibe. If you are a fisherman, the chef will even cook your catch to order!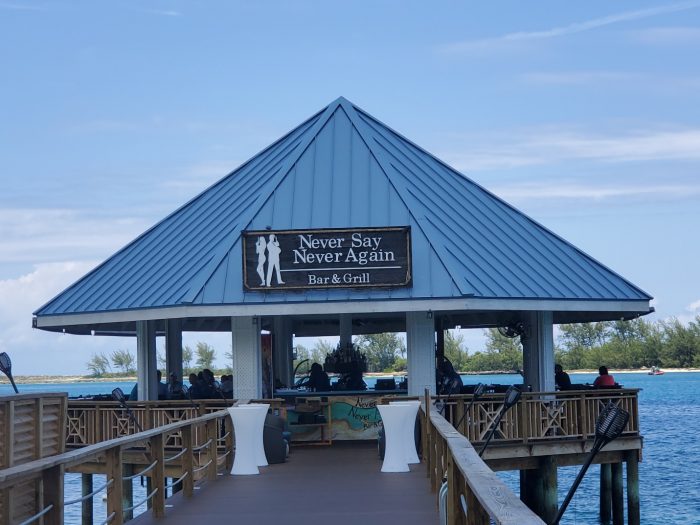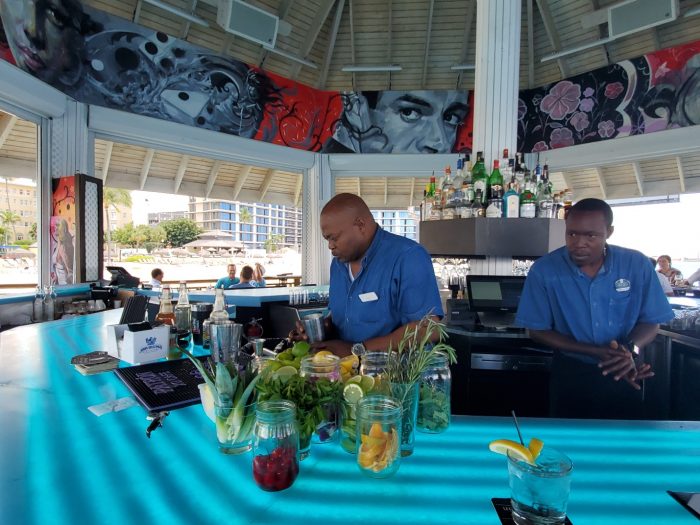 Here are some of the amazing drinks that they make at Never Say Never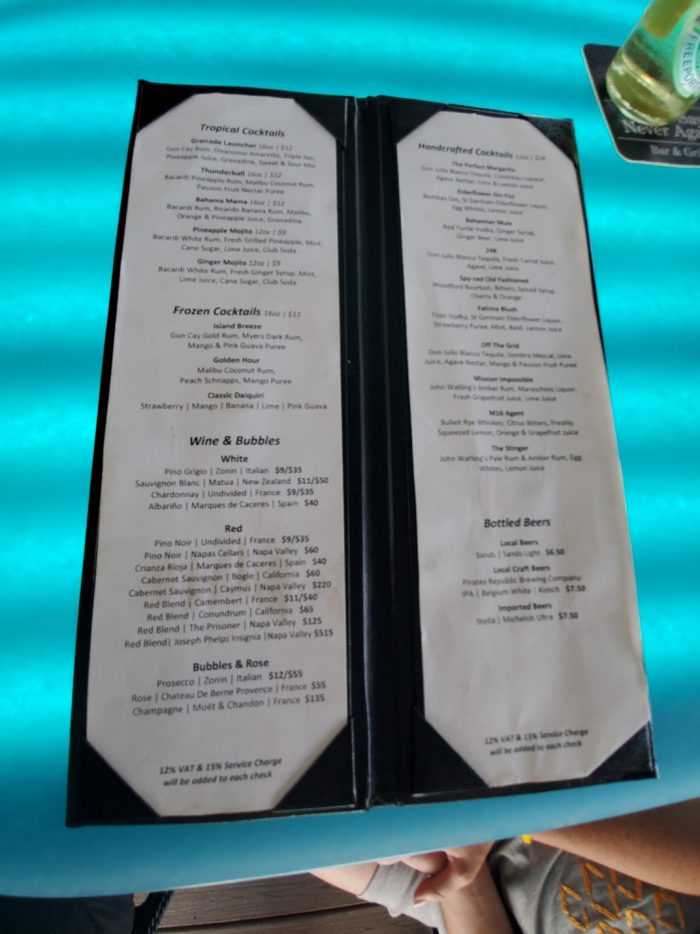 Sometimes bars are known as much for their food as they are for their drinks. Never Say Never is one of those places. Everything on their menu is amazing.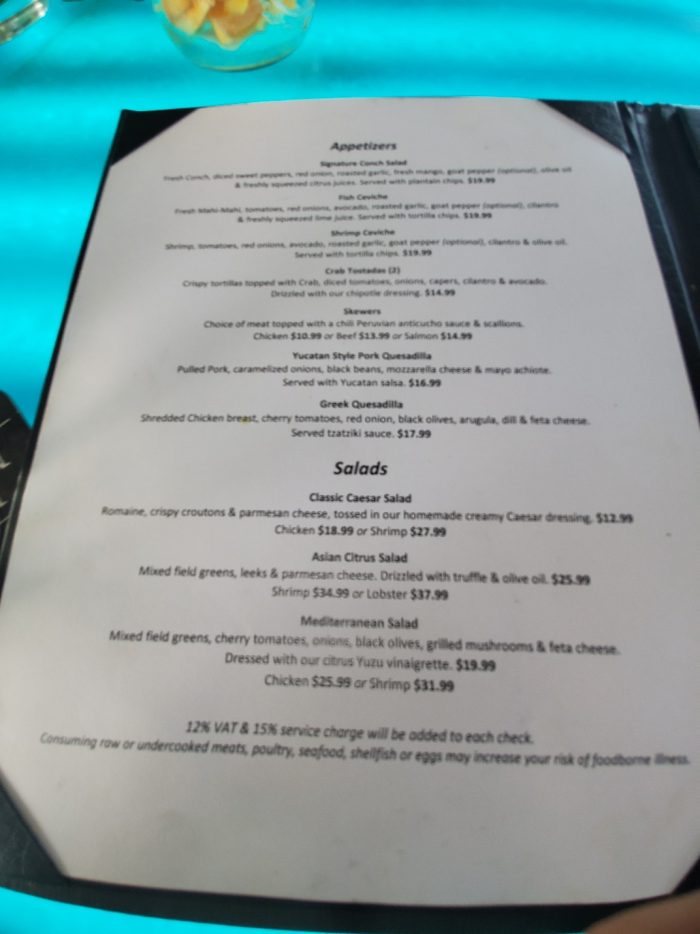 If you have done any bar hopping in the Caribbean, then you are no-doubt already familiar with Senor Frogs. Like Senor Frogs throughout the region, Senor Frogs Nassau offers one of the best party spots in the region.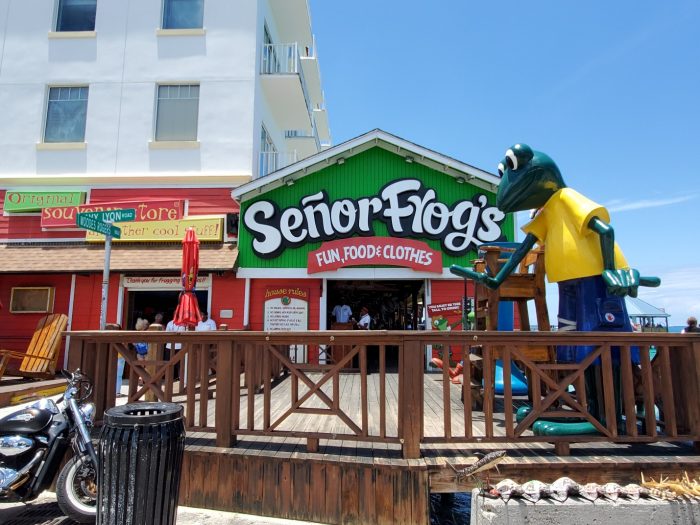 Male Reviews
Looking for a male revue in the Bahamas?  Unfortunately, you may be a little disappointed; exotic dancers are illegal in the Bahamas.  If you want to include beefcake in your Bahamas bachelorette, you may want to hit a club at your departure point.  Lots of flights to the Bahamas head out of Fort Lauderdale, Miami, and Orlando, where you can find some of the best male revues in the U.S.  So, if you want a show, you want to plan one there before you head out to the Bahamas.
Where to Eat
You can find any kind of food in the Bahamas.  Whether you want to try traditional island fare or experience some of the four star restaurants at the big resorts, you can find it in the Bahamas.  Of course, where you eat is going to depend on where you are staying, so make sure and check the locations when making your plans. 
Breakfast / Lunch / Brunch
The Aquafire Bar & Grill offers some upscale food.  You can find great lunches and brunches there.  The outdoor seating is not beachfront, but it has amazing garden views.  You can find Bahamian food there, but think of it as island food with a modern twist.  Island fare has always been about local sourcing and a farm-to-table approach, and you will find both of those at Aquafire.  We love the Guacamole Martini and recommend the Cauliflower Chickpea tacos for vegetarians.   
Are you a group of foodies and fans of the TV Show Top Chef?  Then you are going to want to visit Olives, at the Atlantis Resort.  This restaurant is fancier than the average beach bar, and a great location for that iconic bachelorette brunch.  The food is Mediterranean inspired, but with a Caribbean flair.  For breakfast, we recommend buttermilk pancakes with guava marscapone cheese.  If you are there for lunch, consider the lion fish and shrimp ceviche or the fig and prosciutto flatbread.  Just makes sure and save plenty of room for the Nutella cheesecake.
For many people, a taste of the Caribbean is synonymous with Jamaican flavor, which is what you find at Beverly's Kitchen.  Try the curry goat, jerk chicken, or okra soup. 
While you are probably not thinking that Nassau Bahamas is the place for Italian food, one of the best restaurants in the Bahamas is Luciano's of Chicago.  Known for its brunch, especially Sunday brunch, the restaurant is well known for its expansive wine list.  If you visit for Sunday brunch, consider the lobster omelet, shrimp and grits, or the caramel banana French toast.  If you are there at lunch, get the Bahamian Conch chowder if it is a soup of the day and check out the garlic shrimp and scallops.
Do you need a place that is both vegetarian and gluten-free?  Consider Le Petit Gourmet, a charming café that has a wide variety of healthy options.  We love the egg salad on cheesebread sandwich.  No worries if you have carnivores in your bunch; you can get non-veggie options there, as well.
Heading to Eleuthera?  Consider the 1648 Bar & Grilles, an all-day restaurant located on the waterfront in Governor's Harbour at the French Leave Resort.  Start the day with Pineapple Island Cakes or Lobster Eggs Benedict.  For lunch, try the conch chowder or the coconut fried conch for real Bahamas flavor. 
Sip Sip Restaurant is the kind of joint you want to find when you are traveling.  It brings in groups of locals and tourists, and has the "stay and chat" atmosphere.  Try the conch chili and the Sip Sip rum punch. 
Dinner
Rock House Restaurant at the Rock House Resort is an upscale restaurant on Harbour Island. It has three seating areas, all with gorgeous views.  The British Colonial style main house at the resort is home to the restaurant, which gives some history to your surroundings.  You will need reservations to dine there at dinner time.  The crab and lobster spring rolls are delicious and the Goombay Smash is one of the best in the islands!
Heading to Cable Beach?  Consider planning a dinner at the Social House Sushi & Grill, which offers a light take on Japanese cuisine.  They are known for their sushi, and, like any great sushi place, we encourage you to go with the chef's recommendation for the night.  Not a fan of sushi?  No problem; they offer a full menu, including a number of great vegetarian options.  We love the jalapeno edamame tempura and the edamame wasabi king crab. 
Café Matisse is one of those picturesque places that provides an amazing background for a perfect dinner night.  The name reflects the décor, which is inspired by the works of the artist Matisse.  They offer a seasonal menu of Italian favorites, which makes it difficult to make a recommendation.  We suggest you go with a prix fixe tasting menu.  When we were there, we enjoyed fried stemmed artichoke in speck ham, seared scallops, and panko crusted crab cake.  Their bittersweet chocolate tart was the best dessert we had in the Bahamas.  You should know that Café Matisse is a BYOB establishment, so prepare to bring your bottles of wine with you.
Planning to splurge on that bachelorette party dinner?  Consider renting one of the private cabanas at Sapodilla, where your own private butler will take care of you and your party.  The location is known for its amazing garden almost as much as it is known for its fabulous food.  We love the roasted pumpkin bisque and saffron vegetable risotto. 
We would never recommend a restaurant just because of a gimmick, but the shark feedings at Pier One Restaurant are pretty awesome.  That said, the menu backs up this restaurant's reputation.  Start with the conch fritters and try the chef seafood platter to taste a medley of Bahamian seafood favorites.
Where to Stay
The Bahamas are extremely popular with tourists, which means that there are plenty of vacation accommodations available on the island.  What is available ranges from quiet bed and breakfast establishments to luxury boutique hotels or giant resorts. We cannot possibly cover them all, so we are mentioning some consistent favorites with travelers, but you may want to explore your options on your own. 
Hotels and Resorts
If you have not been to the Bahamas before or you want an easy vacation-planning experience, then you might want to consider staying at one of the popular resorts on the island.  You can find a full array of amenities at one of these large resorts and their staff members will also work with you to schedule tours or other off-resort trips.  It can make vacation planning really simple.  Resorts also offer you some of the perks you cannot get in a rental property, such as daily maid service.  It is a great way to visit the Bahamas. 
Breezes Bahamas is a great way to have an all-inclusive experience.  All-inclusives are a good option for the budget-conscious bachelorette party, because it really is one-and-done pricing.  No resort fees, no hidden charges, and no surcharges, this resort has on-the-beach rooms, plenty of dining options, and alcohol included in your price.  Breezes is located on amazing Cable Beach.  If you want a break from the amazing water, you can enjoy the tennis courts, flying trapeze, ping pong, beach volleyball, rock climbing wall, bouncy boxing, sumo wrestling, or a wide variety of games in the game room.  They offer a variety of water activities.  They offer a seaside spa, where you can get an ocean view massage.  They have on-site entertainment, including a piano bar, nightclub, theme nights, and parties.
The Baha Mar resort in Nassau features three oceanfront hotels: the Rosewood, the SLS, and the Grand Hyatt.  The resort features a golf course, racquet club, casino, spa, on-site dining and nightlife, and number of amazing resort pools.  While any of the hotels at Baha Mar are amazing, we like the modern chic vibe at the SLS.
Atlantis Paradise Island may be the best-known resort in the Bahamas.  It has an on-site waterpark and so many different amenities that you can create an ultimate vacation without ever leaving the resort.  The downsides are that it is very family-friendly, so you will encounter children there, and that it is very expensive.   However, keeping in mind that you have some included activities in your room price, the price tag is not as steep as it seems, at first.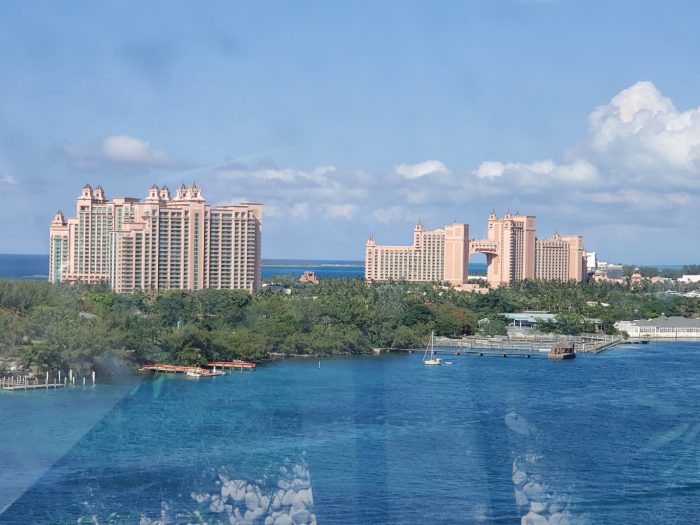 Want to do Atlantis in a more budget-friendly manner?  We suggest booking your rooms at the Comfort Suites Paradise Island, which is located next to Atlantis and offers access to all of the amenities at Atlantis, but with affordable junior suites and perks like free wi-fi and free breakfast. 
The Margaritaville Resort in Nassau, Bahamas, coming soon, promises to offer the same laid-back vibe of any of Jimmy Buffet's Margaritaville Resorts.   the Bahamas, this full-service resort caters to people who want a great island experience at their fingertips.  Planned amenities include an open-air shopping center, bowling alley, movie theater, luxury cascading water pool, signature St. Somewhere Spa, an outdoor performance stage for featured live entertainment, several dining spots and bars, and a private beach with cabanas and chaise lounges.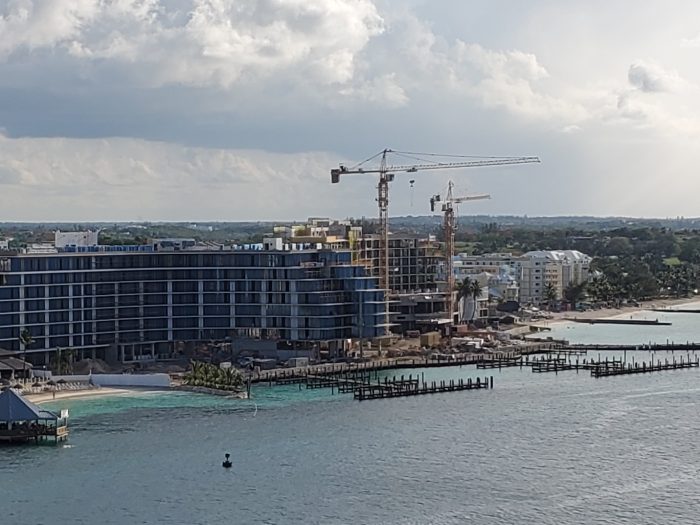 Hotels Available in Bahamas
View all Hotels in the Bahamas
Rental Houses
You can also find some amazing vacation home rentals in the Bahamas.  There are tons of resort properties and stand-alone properties where you can really customize your Bahamas vacation experience.  Finding a rental is easy using a service like Airbnb and VRBO.  If you book your first stay through AirBnB, you can use our link to get $40.00 off your first reservation. 
Airbnb
This oceanfront two-bedroom, two-bathroom adult-only property is a great place for a smaller bachelorette party.  It features bright island-inspired décor, and is close to a resort that offers an outdoor bar and restaurant.  Originally built as housing for musicians using a nearby recording studio, this space is perfect for adults visiting the islands.
If boating is going to be part of your Bahamas Bachelorette, then this Treasure Cay Condo might be the perfect rental for you.  It has a boat slip, a heated pool, and some outside entertainment options that can make it wonderful for a party environment.
VRBO
This oceanfront home in Nassau is an amazing vacation space.  Walk out the door for kayaking, swimming, and snorkeling.  This is away from a lot of the tourist activities, so it might not be the perfect option if you want constant partying.  However, if you want to enjoy your friends and the amazing atmosphere of the islands, it is hard to beat this space.
Outdoor space is critical in a Bahamas beachfront rental and this four bedroom villa has two decks for your enjoyment.  We love the huge kitchen it offers, making it a great space for gathering with your friends and enjoying a good time. 

Rental Homes Availables in Bahamas
When to Go
Best Time
The Bahamas are beautiful year-round, but the high season is from November through April.  This is not necessarily because summer in the Bahamas are better than other times of year, but largely because people who are visiting the Bahamas are escaping bad weather with their travels.  That said, we have to say that visiting the Bahamas near, but not during, spring break is pretty magical.
On a Budget
May is a wonderful time to visit the Bahamas.  The spring break crowds have gone and the summer crowds have not yet descended.  The weather is fabulous without the heavy spring rains that can plague summertime visits.  It is our favorite time to visit the Bahamas.
Worst Time
The Bahamas really are gorgeous year round, and a bad day in the Bahamas is still a bad day in paradise.  That said, rains do tend to hit in the summer afternoons, which can put a real damper on your sun and surf activities.  Traveling during hurricane season can also have its drawbacks, not because you will necessarily see a hurricane, but because the uncertainty and stress of watching storms develop in the Atlantic can really mess with your vacation mindset, even if the storms never come near the Bahamas!
Current Weather
What Else
Big Events
The Junkanoo Festival in the Bahamas is a Mardi Gras or Carnival style festival.  It begins just before dawn on New Year's Eve.  Visitors may be able to participate in festivals. 
In February, you can experience the Mid-Winter Wahoo in Bimini, which is a huge fishing contest and Hemingway look-alike contest.  If you and your girlfriends love to fish, this might be the perfect time to visit; the big prize is $40,000.  There are no losers, because even if you get skunked, you will have been fishing in the Bahamas!
The Bahamas Family Island Regatta in the Exumas is a huge series of Bahamian craft sloop races.  Five days of racing are accompanied by other activities including a Junkanoo parade.
In June, you can visit the Pineapple Festival in Eleuthera.  This festival includes food, tours of pineapple farms, a race, craft displays, and a parade. 
In July, the Bahamas celebrates its independence with a weeklong independence celebration around July 10th, the day of independence in the Bahamas.
August sees the Emancipation Day celebration, which celebrates the emancipation of slavery in 1834.  There is a Junkanoo Rushout and days of cookouts. 
In November, you can celebrate Guy Fawkes Day with nighttime parades and the hanging and burning of Guy Fawkes.  November is also when the One Bahamas Music and Heritage Festival takes place; this is probably the island's biggest music and cultural festival.   
What to Pack
Depending on where you are headed in the Bahamas, you may be able to buy anything you need locally or you may be in a pretty remote location.  However, even if you are heading to a remote location, you will almost certainly be landing near a major shopping center.  That said, you will want to bring the following items with you to help have a great vacation:   
You need sunscreen if you visit, and we are actually big fans of kids' sunscreen because it is designed to stick through water and activities and be gentle on the skin:
If you do not snorkel when you are in the Bahamas, you are missing out.  We love these full-face snorkel masks, which give you all of the visibility of snorkel masks and skip some of their inconvenient features.  Well worth the expense when you consider that renting a traditional snorkel mask just a couple of times will cost you as much as this mask:
We love the versatility of this sarong/ swimsuit cover-up:
Sample Itinerary
There is so much to do in the Bahamas that your itinerary is really going to depend on where you are staying and what you want to do.  We are basing this day on a visit to the Atlantis Resort, whether you are using a day pass or staying at the resort.  We say start out the morning with a ride on the tunnel slide through the shark habitat, then head to Café Matisse for a great lunch.  Charter a boat and head out for an afternoon snorkeling trip, then get a water taxi over to Cable Beach and hit one of the restaurants at Baha Mar before spending the night playing at their luxury casino.
Bachelorette Party T-Shirts
These Bahamas Girls Trips shirts are perfect for a bachelorette party:
We love these coordinating Bahamas bachelorette shirts: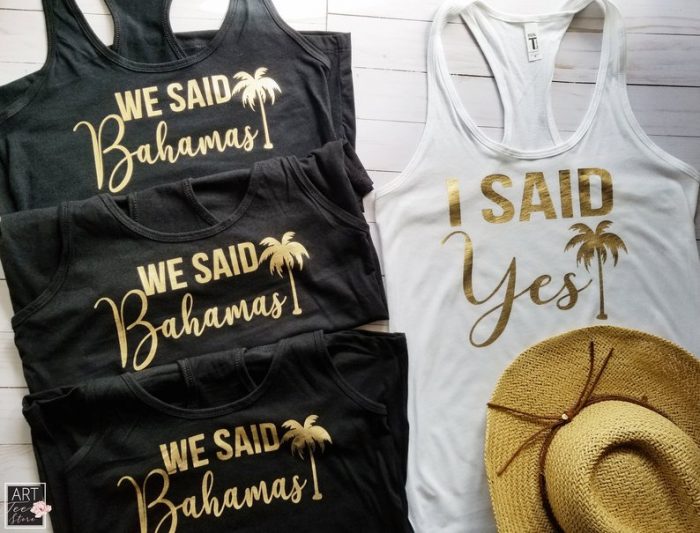 These t-shirts are the perfect Bahama blue: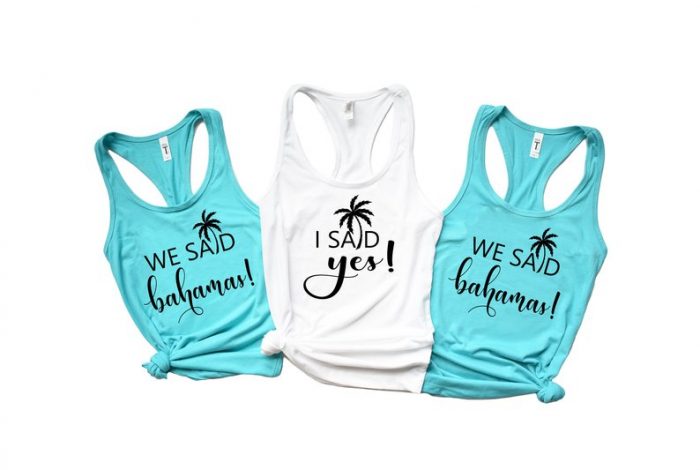 We love these beachin' bride shirts: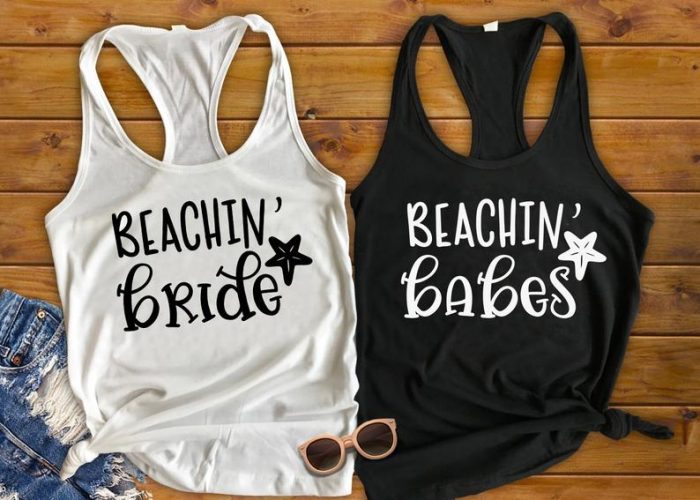 A mermaid shirt is perfect for a Bahamian getaway: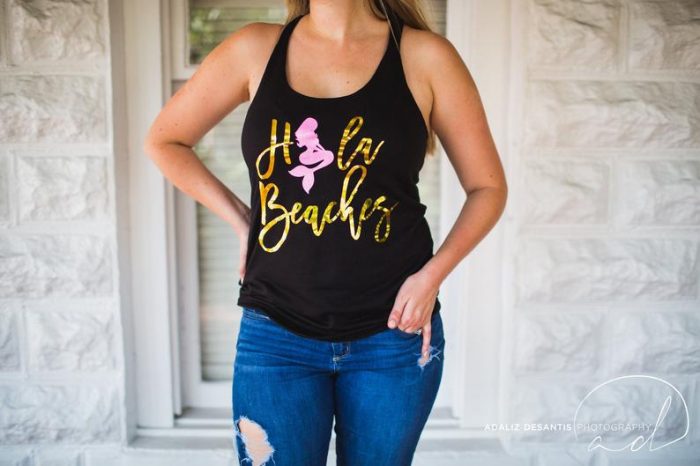 Hashtags
#BahamaBabes
#BahamaBachelorette
#BoozeBabesBahamas
Travel Insurance
The Bahamas are a tropical island chain, which means that they are vulnerable to the weather.  If a hurricane comes or is threatening to come, you could be looking at a destroyed vacation.  Travel insurance is the best way to protect your investment. 
Why Go
It is impossible to completely convey the beauty of the Bahamas in words.  If you want to know why you should go, look at some of the pictures.  It is stunning there.  The sheer natural beauty makes it a must-see place for every person. 
Star Rating
Bahamas is absolutely a 5-star destination.
Conclusion
The Bahamas will not just be the best destination for a bachelorette party that you could pick, but also one of the very best destinations you will ever visit on any type of vacation.  It is amazing and so tourist-oriented that you will be able to find amazing things to do, whether your idea of paradise is a full-service water park, animal adventures, or just sitting on the beach with a cold drink and a good book.