Mermaid Bachelorette Party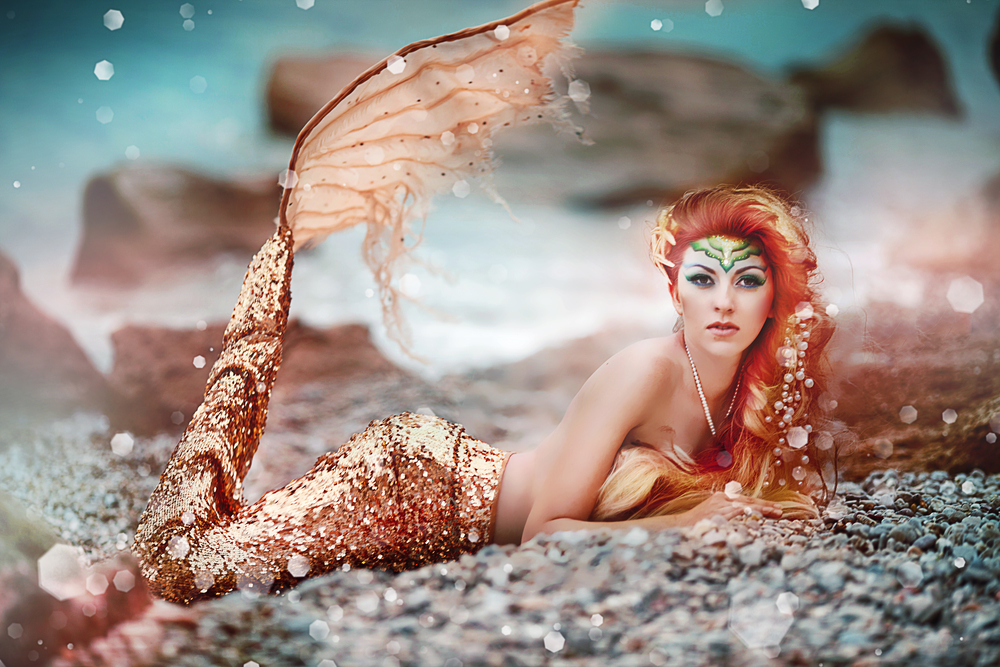 This post may contains references to products from one or more of our advertisers. We may receive compensation when you click on links to those products or services. Please also consider
donating to our website.
Planning a last splash for a bride who is trading her tail for a veil? Then a mermaid bachelorette party is perfect for your plans. Perfectly suited to pool parties and beach parties, you can even apply the mermaid theme to a landlocked party if you do not have access to a pool, lake, or ocean. Mermaid parties are great for brides with a fanciful streak, but also make a great surprise theme. Even though the mermaid bachelorette party is becoming more popular, it is still unusual enough to add something adventurous to the bachelorette party.
Invitations
One thing that we absolutely love about the mermaid theme is that you can totally commit to it, from the invitations to the party itself and all of the favors. There are so many cute mermaid themed invitations out there, that we had a hard time choosing our favorites. However, we think these are our top three:
We love all of the colors in this mermaid invitation, and the fact that the tail is golden.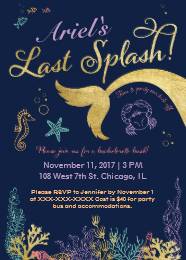 For a sexy mermaid theme, we love the look of these pin-up style mermaid invitations: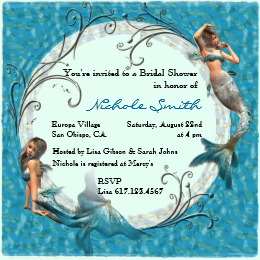 Who could resist the gorgeous watercolor design of these whimsical mermaid-themed invitations?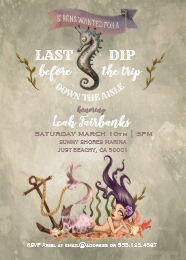 Finally, splurge and send the invites with these gorgeous mermaid watercolor stamps: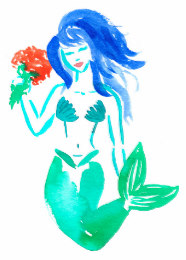 Where
The best place for a mermaid bachelorette party is in or near the water. Fortunately, it is relatively easy and affordable to get access to a pool, even if you live far away from the water and no one on your guest list has a backyard or complex pool for you to use. Look for area hotels with pools (look for indoor, heated pools if you live somewhere that weather could be an issue) and check with them about renting the pool facility. You may have to book enough rooms in the hotel for all of your guests or rent out the hotel's convention space in order to use the pool, but it still ends up being a surprisingly affordable space.
It might seem like a splurge, but if you are having the party at a place where you can swim, one way to add a real mermaid feel to the party is with swimmable mermaid tails:
Pricey enough that you may not be able to buy one for every party goer, you could buy one or two for the guests to share. If so, buy some underwater cameras, as well, so you can capture the mermaid moments:
Landlocked?
You can still throw a great mermaid themed party. One great idea is to check out your local paint night place like Painting with a Twist to see if they have a mermaid themed painting and book a private party there. You can also throw the party at the house, or even head out to a club and still have a mermaid theme. How can you have a mermaid theme at a club? We are glad you asked.
Decorations
Any nautical theme will help complete the look of your mermaid party. Whether you are hosting a party at home, on a boat, or in a private room at a restaurant, bar, or club, these decorations will help you bring the mermaid theme to life:
Welcome everyone to the party with a personalized "last splash" banner: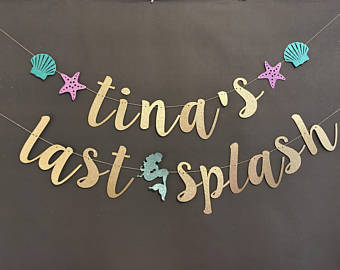 Continue the décor with themed balloons in a sparkly, underwater colors: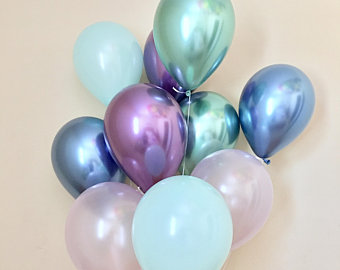 Throw some mermaid confetti on your table-tops, and you help transform a ho-hum design into a completely themed look!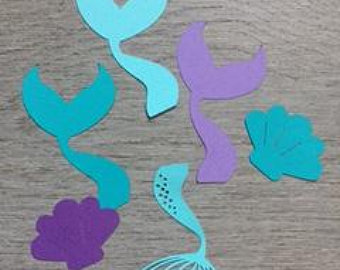 These cake toppers can turn even plain store-bought cupcakes into an undersea wonderland dessert:
Accessories
Even if you cannot get to the water, you can still look like a mermaid. Think about classic mermaid wear. Think clamshell bras and gorgeous tails.
Even if a tail will not fit into your plans, you can still look like a mermaid with these affordable mermaid print leggings:
Available in a wide variety of colors, these leggings are a great pick as a party favor and also as part of a costume theme. At under $10 per pair, they are even affordable enough to swim in, especially if you combine them with a monofin for a true mermaid look!
Want to get a little fancier, and not planning on going in the water? For just a few more dollars per person, you can buy a skirt that looks like a gorgeous mermaid tail. These are great for photo opportunities, even if they are a little too extra for you to wear out and about.
Not quite adventurous enough to head out in a clam bra? One of these clam bra tanks paired with the mermaid leggings shown above are enough to let people know that you are a mermaid, even if you are on land:
T-shirts
If a full-on mermaid costume is a bit much, you can always go with mermaid t-shirts specifically designed for a bride and her mer-maids.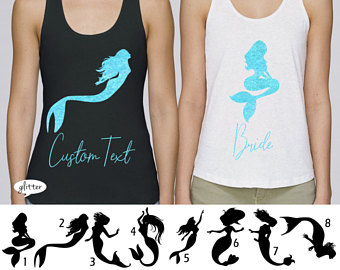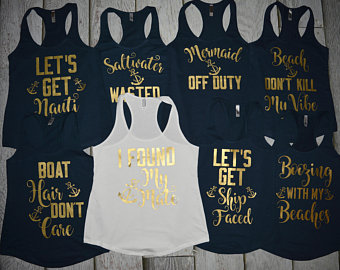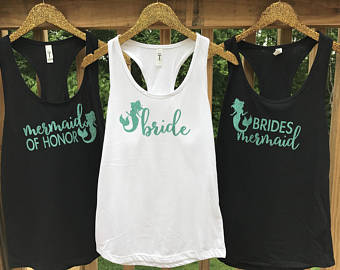 Refreshments
Mermaid parties naturally lend themselves to a seafood menu. Sushi is the natural choice, but not everyone is a fan of sushi. Large platters of shrimp cocktail are an easy ocean-themed food, which go well in a buffet-style setting. You can also add clam or shrimp dips, calamari, and other ocean-fresh favorites.
Of course, not everyone loves seafood. No worries; you can still have tropical or ocean themed treats at the party. Platters of fresh fruit, especially tropical fruits like pineapple, mango, and watermelon instantly bring a tropical vibe to your party. Caribbean flavored foods like jerk chicken or even a whole roasted pig, Hawaiian style, can capture much of the same vibe. Talk to a bakery about crafting a beautiful mermaid cake at the party. Also, consider Drunken Swedish Fish shots as an alternative to jello shots.
Drunken Swedish Fish
2 lbs of Swedish Fish Candy
1 bottle of Vodka (choose a mid-range Vodka; cheap Vodka tends to dissolve the candy, but expensive Vodka is a waste because you do not taste it in the final product)
Take the Swedish fish or a similar fish-shaped gummy candy, place them in a large bowl.
Cover the candies liberally with vodka cover with Vodka.
Let soak for approximately 24 hours.
Once complete, place the fish on a blue serving platter to complete your theme!
As for other beverages, we love blue cocktails for a mermaid themed party, because they remind us of the ocean.
The Blue Hawaiian is probably the most classic tropical themed blue drink, but we also love the Mermaid Water Rum Punch as an easy party-friendly option you can make ahead so no one has to play bartender.
Blue Hawaiian
Frozen Pina Colada mix
½ cup Rum
5 cups ice
Blue Curacao
Pineapples and maraschino cherries to garnish
Combine the Pina Colada mix, rum, and ice in a blender. Blend until well blended. Top with Blue Curacao and garnish with a pineapple slice and a maraschino cherry
Mermaid Water Rum Punch
2 ounces spiced rum
2 ounces coconut rum
8 ounces pineapple juice
1 ounce lime juice
Ice
Blue curacao
Lime slices or wedges
Combine all ingredients in a large punch bowl, adding Blue Curacao until you get the desired color, then add ice and lime slices.
For more alcoholic drink ideas, check out our bachelorette party drink recipes.
Photo Props
One thing we love about a mermaid party is that it lends itself to some really cute photo opportunities.
This photo booth set from Amazon is an affordable way to get some adorable mermaid-themed photos of the pod:
Party Favors
One of the best things about a themed party is that you can easily use decorations as favors.
We think that serving drinks in any of these glasses, then sending them home with the guests makes a very cute party favor:
Before she trades the tail for a veil, the bride needs to drink out of one of these cool mermaid tail cocktail glasses:
For a more humorous take on the mermaid glass, we love these stemless wine glasses: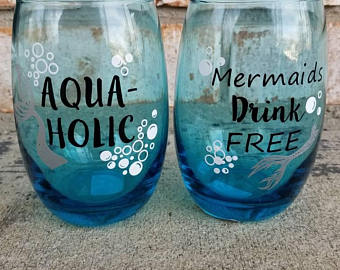 Looking for a less expensive and less breakable party favor idea? We love these mermaid coolies: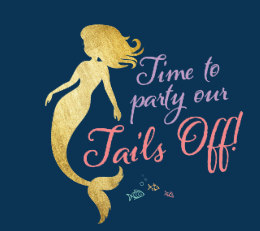 Conclusion
After reading this article, it is probably easy to see why mermaid bachelorette parties have become so popular over the last few years. They are whimsical and capture the feeling of a wild thing being tamed, which is a pretty universal bachelorette theme. They are beautiful. They are almost always associated with groups of women. Finally, they lend themselves to fun and frivolous things, from the clothing down to the drinkware. Combine it all together and you get the perfect bachelorette party theme. Want more ideas for a great mermaid bachelorette party? Head over to our forums page where you can share ideas, ask questions, and get hints from other bachelorette party planners, just like you!
Have any other great ideas for a mermaid bachelorette party?  Leave them in our comments below or post some in our community forum.