Bachelorette Party Palm Springs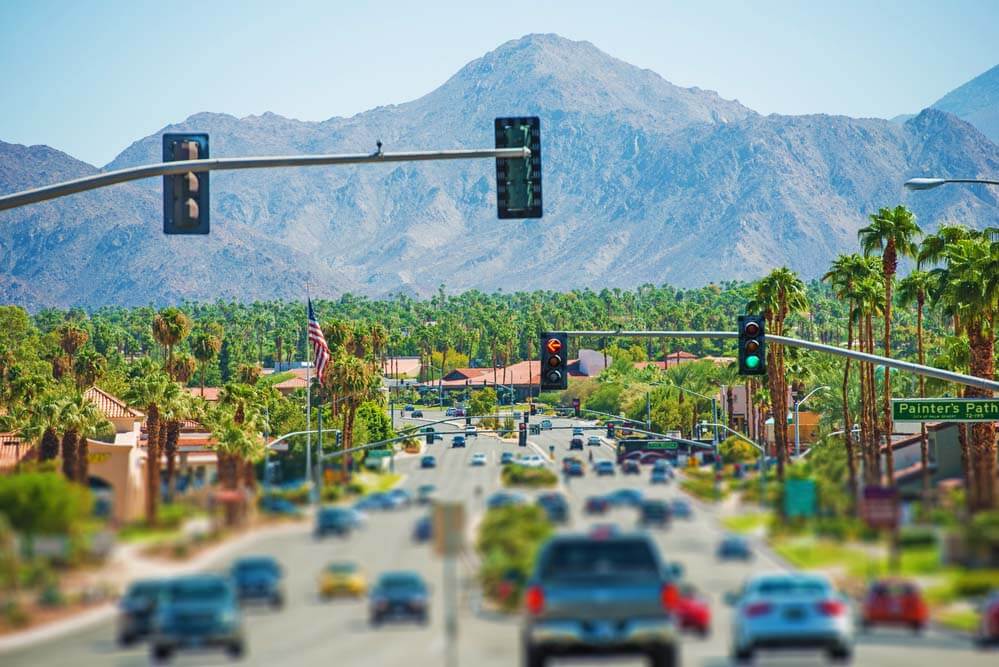 This post may contains references to products from one or more of our advertisers. We may receive compensation when you click on links to those products or services. Please also consider
donating to our website.
Palm Springs, California may be the best-kept secret bachelorette party destination.  Sure, those in California may know that Palm Beach is a party hot-spot, but people in the rest of the country have been slower to catch on to the appeal of this desert town, which has an established reputation as both a retirement mecca and as one of the gay-friendliest towns in the U.S. 
How did that town transform into one of the country's best party zones?  Well, it has held that old-Hollywood cool-vibe for more than half a century.  Famous Hollywood icons like Marilyn Monroe and Frank Sinatra used to retreat to Palm Springs for some R&R when their Hollywood lives got too hectic. 
However, several factors combined with that cool vibe to create a great place for bachelorette parties.  First, with an active and vibrant young gay population, Palm Springs has always had a thriving nightlife scene.  Second, the retirees in Palm Springs have long-supported great eateries and fabulous restaurants. 
Finally, the development of the Coachella Valley as a destination for music and fun led to business development in Palm Springs that specifically caters to the younger crowd.  The result?  A desert town with much of the same appeal as Las Vegas, but without the casino scene: lots of bars, pool parties, great restaurants, and sunshine almost year-round.  Another bonus?  Palm Springs tends to be a bit more affordable than other California bachelorette-party hot spots.    
How To Get There
Airport
The best way to get to Palm Springs would be to fly, unless you live in Arizona or California, then maybe a fun road trip with the ladies could work.  If you opt for an airplane, make sure you choose Palm Springs International Airport (airport code: PSP) as your destination.  We recommend using priceline.com for booking your flights as they offer the best prices and availability.
Now you should know that this airport is on the small scale, which means if you are coming from the east coast or midwest, you will most likely have a layover somewhere, before reaching the final destination of Palm Springs.  Once you arrive at the airport you can easily get an Uber or Lyft to come pick you up and take you to your hotel or house / villa.  The good news is you are only about 2 miles or a 5 minute drive from Palm Canyon Drive, which is considered the downtown or popular strip in Palm Springs.
Sign Up for Uber and get $20.00 in free rides (new users only)
Getting Around
Once you arrive in Palm Springs, there are several ways your bachelorette party can get around.   The easiest and cheapest option would be a rideshare service.  You can also spend a little more and go with a limo rental, which would easily fit everyone in your party.  If you wanted to hop around to various locations while partying at the same time, you would have to go with a party bus rental, which will allow the ladies to sip on some mimosas while cruising around Palm Springs.  Another option would be renting a car, but we do not recommend that given the reason for visiting.
Things to Do
Daytime Activity Ideas
If you are looking for things to do while the sun is out, it is hard to beat Palm Springs as a destination.  However, with summer high temperatures reaching well above 100 degrees, proper scheduling of your activities can be very important. 
Palm Springs has become known for its spas for a reason.  The desert oases provide relief from the heat in calm, cool, tranquil environments.  What kind of spa personality does your group of girlfriends have?  Don't laugh at the question; even if it seems a little silly to think of spas as having personalities, there is a huge range of spa activities.  Are you a bunch of health and fitness fans who will want to make sure you are eating healthy and getting exercise opportunities?  Palm Springs has a spa for that!  Or, is your idea of luxury eating gourmet food while getting massages and mani-pedis?  Palm Springs has plenty of spas for that, as well! 
Our top pick for a wellness-oriented spa?  Clearly, The Well Spa at Miramonte Resort in nearby Indian Wells.  What do we love about this spa?  Its total commitment to serenity.  Steam rooms, pools, a wellness-oriented menu, and a bevy of unique massage types, The Well Spa is the place to go when the bride-to-be needs to totally recharge.  Is it the place for a wild party hot spot?  No, it is not.  However, it is great place to tack on a day or two treatments at the end of an otherwise wild bachelorette party. 
The Palm Springs Yacht Club at Parker Palm Springs is one of our favorite bachelorette party destinations.  They have treatments that will make you relax, but also ones to help beautify you.  Though we do not recommend destination bachelorette parties right before a wedding, if you have taken that option, here is a great place for the whole bridal party to get ready for the wedding.  From manicures to spray-tans, the Palm Springs Yacht Club can have your entire bridal party looking great.  Plus, this is one spa that puts as much emphasis on post-spa libations as it does spa-services, so you can get your party started while you get your treatments.
Want to take in the whole area?  There is no better way than to take a ride on Palm Springs Aerial Tramway.  The world's largest rotating tram car, covers a 2 ½ mile route, ending in Mt. San Jacinto State Park, where visitors can enjoy restaurants, a museum, gift shops, and even theaters.  If you plan to take the tram, you might want to plan ahead and make reservations at Peaks Restaurant, where you can enjoy amazing views while you dine, along with a locally-sourced menu that offers the best the Coachella Valley has to offer. 
Even if you do not consider yourselves big arts fans, The Palm Springs Art Museum is well worth a few hours of devoted explorations.  It features a world-class art collection, but is probably best known for its works by Warhol and Chagall. 
The Elvis Honeymoon Hideaway may seem a little bit cheesy, but the tour guides know their stuff, making it worth a visit, even if you are not all that interested in spending time at the same place where Elvis and Priscilla honeymooned.  The guides can tell you all about Palm Springs back in its Hollywood heyday. 
Want to get outdoorsy?  Then head to the Coachella Valley Preserve and take one of their guided tours.  You may head out expecting to see nothing but barren desert, but the Coachella Valley is teaming with flora and fauna, and one of the experienced guides will be happy to help you spot it on your hike. Looking for more of a desert oasis?  Then, head to Joshua Tree National Park instead.
Golf fans?  Palm Springs is known for its large number of amazing golf courses, and there's a good chance that wherever you are staying is affiliated with one of them.  However, Escena Golf Club has become a favorite with locals and visitors, alike. 
Of course, if you came to Palm Springs for a bachelorette party, then chances are that you want to hit one of the city's hot daytime pool parties.  The Saguaro, Hard Rock Hotel Palm Springs, Ace Hotel and Swim Club, Riviera Palm Springs, and the Skylark Hotel are all known for their pool parties.  Think all-day DJs on the weekends, but the vibe at each hotel is a little different.  The Skylark is known for its laid-back vibe, the Riviera for a retro feel, and the Hard Rock for the hardest partying. 
Nightlife Activity Ideas
Like its name suggests, the Red Barn is a big red barn.  Well-known as a live-music venue, the Red Barn does not play the type of music you might expect to find in a barn, but instead focuses on very Californian rock and reggae.  Otherwise, the Red Barn is exactly what you would expect in a dive bar: graffiti, cheap drinks, and lots of locals.
Zelda's Nightclub might be the most stereotypical nightclub in Palm Springs.  With its theme nights, bottle service, and VIP sections, it does the nightclub experience right.  It is also an area bachelorette party specialist, so if you plan a night at Zelda's, plan ahead so they can give your group the VIP treatment you deserve.  You may even want to plan on being there for one of their "Men of the Hollywood Strip" Nights!
Looking for a lower-key night out?  Village Pub may be your go-to place.  You'll still find great DJ music and a fun dance experience, but in a more intimate environment than some of the area's larger bars and clubs. 
Neil's Lounge offers the feel of an ole-timey saloon, which accounts for part of its appeal, but to really enjoy all that it has to offer, you need to go on a karaoke night.  Don't worry about scheduling them, though, every night is karaoke night!
Toucan's Tiki Lounge is, simply put, one of the funnest bars on the West Coast.  It is a gay bar in the style of the best gay bars, which means great dance music and fabulous drag shows, making it a go-to favorite for locals and visitors, alike.  Every night is a themed dance night, but we say try to get there on a Sunday night for cabaret night.
Strip Clubs / Male Reviews
Alas, if you are looking for that typical strip-club experience, you are going to be a little disappointed with your Palm Springs selection.  There are no male-only dancer strip clubs in Palm Springs.  However, do not despair.  If a strip-show is a must-have for your bachelorette party experience, then Palm Springs does have the answer for you.  Zelda's Nightclub is not just a nightclub in Palm Springs, but also the city's closest thing to a male strip club.  While they do not have dancers very night, they do offer regular "Men of the Hollywood Strip" Nights and plan bachelorette parties at their venue.  Contact Zelda's before you plan your visit, if you want to make sure exotic dancers are part of the bachelorette party. 
Still need help with male entertainment?  Check out our bachelorette party strippers guide for more information!
Where To Eat
Bachelorette Party Restaurants
Finding the best places to eat in Palm Springs can be a little challenging.  This is not because the city lacks a restaurant scene, but because the restaurant scene is surprisingly fluid for a smaller city.  That means that any trip needs to investigate some newcomers as well as checking out the tried and true Palm Springs greats.  They also offer a huge amount of variety, with many restaurants emphasizing locally sourced foods and organic foods, much of them coming from the nearby Coachella Valley.  Some of our personal favorites are:
Workshop Kitchen and Bar deserves some of the credit for helping turn Palm Springs into a diner's delight.  The industrial-looking space focuses on a farm-to-table menu that was revolutionary for the area when the restaurant opened in 2012.  The selection of locally-sourced small plates is constantly changing, and we suggest ordering a bunch of them for sharing. 
Brunch is a bachelorette-party favorite, and no one does brunch in Palm Springs quite like The Pantry.  The food is described by some as upscale pool-side fare, and the description, while accurate, does not quite convey the menu's diversity.  It has all of the diversity of a diner, but with a twist.  Foods you must try here include the lobster roll and an off-menu sangria that the locals swear by!
Jake's is another popular brunch place, but is also well known for its relaxed and casual dinners.  What makes brunch at Jake's special?  Probably the drinks; their Bloody Marys and special Sunday-only cocktail list have quite a following.  However, their must-try food is on the dinner menu: their mac and cheese is sublime and, if you love coconut, the coconut cake is an experience you cannot miss!
Want that retro-Hollywood Palm Springs feel?  Then head to Mr. Lyons, where you will dine in super-swanky style.  Think velvet booths, 60s décor, and a modern menu with retro highlights.  We suggest you make this your steak dinner night, and go simple with steak frites.  If you go with steak, do not forget to order some of their sides.  The prepare their veggies in a simple, classic manner that will have you trying to decide which you liked better, your perfectly prepared steak or your excellent sides. Waiting for your table?  Head to Seymour's, their in-house bar, while you wait, and soak up the atmosphere while enjoying a quality drink.
Where To Stay
Hotels & Resorts
We do a lot of writing about bachelorette party friendly resorts, and few people stop to ask what we mean by that term.  Well, the average bachelorette party group tends to be younger, somewhat loud, drink heavily, and be ready to party.  So, we try to highlight hotels that help you keep the party going, even in the hotel.  However, Palm Springs can be a little different.  In fact, it attracts a different crowd than other locations.  Sure, you have your groups of young bachelorette parties, but you are as likely to see a group of older women enjoying a last night of freedom before one of their crew gets married.  Therefore, when focusing on bachelorette-party friendly resorts in Palm Springs, in addition to pointing out some well-known party hotels, we are also going to be highlighting some spa resorts that cater to a quieter crowd, at least while you are at the resort!
The Saguaro offers a little bit of something for everyone.  The design is a colorful retro look that escapes kitschy by being immaculately maintained and extremely high-end.  The pool parties are legendary, the accommodations plush, and the views of the nearby mountains, especially at sunset, are legendary.  You can stay at the hotel, reserve daybeds at the pool, and eat, drink, stay, and party without ever leaving the hotel, making it a great place to recover from your partying in other places. 
Hard Rock Hotel Palm Springs is everything you have come to expect from a Hard Rock Hotel facility.  VIP amenities, an epic pool party, rock and roll décor, and fine dining are all part of your experience.  You will run into families here, but they have been duly warned- after all, they are in a Hard Rock hotel.  Plus, the hotel's design offers a little more privacy in your rooms than in some other facilities, so you can keep the party going, even when you hit your hotel.
Ace Hotel and Swim Club is a smaller hotel with a laid-back feel that can cater to big, rowdy groups as well as smaller ones.  The location is amazing, within biking distance of downtown, and near shopping and all kinds of outdoor locations.  It offers massages and spa treatments in its in-house spa, The Feel Good Spa, as well as poolside and in your rooms.  This is one place we recommend for all groups, because the staff goes above and beyond to make every guest feel amazing.  Just remember, the atmosphere may be a fun party, but it's also very laid-back- think of the Ace as a no-drama zone. You're welcome. 
Looking for luxury?  The Riviera Palm Springs is known for its luxury, but still has an awesome pool party atmosphere.  Does it remind you of The Flamingo in Las Vegas?  It should.  The same architect designed both properties and used The Flamingo as his inspiration for the Riviera. 
Rental Houses & Villas
Hotels are great, but there is something about renting a house and getting together for an extended slumber party with all of your besties.  That is why we recommend looking into a Palm Springs bachelorette party house rental.  There are a lot of amazing properties in Palm Springs and the close-by surrounding areas, and you can find them on Airbnb.com or Homeaway.com.  Throw your own pool party at this 4 bedroom, 2 bath house featuring its own pool, extended patio area, chaise lounges, and outdoor bar where you can even tap a keg and keep it cool.  Want to stay someplace really luxe?  This mid-century classic home offers all of the retro-cool you want from Palm Springs, all within walking distance of uptown!
Sign Up for Airbnb and get $40.00 off your stay! (new users only)
When To Go
Best Time
Palm Springs offers year-round sunshine, but because it attracts so many snow-birds, it can get more expensive from the late fall through early spring.   
On a Budget
Summer is the best time to travel to Palm Springs if you are watching your budget.  It gets hot, and we mean really, really hot, during the daytime, which can keep some of the crowds at bay.  Lodging prices tend to be a little less expensive.  However, Palm Springs has a vibrant summer party scene, so do not expect it to suddenly be super-budget friendly just because the temperatures are higher!
Current Weather
What Else
Items to Pack
Palm Springs is hot.  We know we have said that, but if you have not spent time in the desert, you might not be taking us seriously.  Pack water bottles or plan on hitting a local drug or grocery store for water bottles to keep chilly in your hotel room.  Drink plenty of water.  This is even more important if you intend to do a lot of drinking.  In fact, dehydration is enough of a risk that you might want to bring some sports drinks.  The sun is intense; don't rely solely on sunscreen to protect you.  Bring out your cool sun hats, your sun glasses, and lightweight, gauzy clothes to cover you when you need it.  If you plan on outdoor activities like hiking, make sure and bring the right shoes; hiking in the desert is no joke and you will want adequate foot protection.
What else should you pack?  Well, what kind of party are you planning.  Do you want to make the bride wear bachelorette party-themed items?  If so, hit Amazon for some of the items below:
Big Events
Splash House– If you love music and pool parties, then this late-summer weekend-long party should be on your can't miss list!
Of course Coachella is probably the biggest local event.  Taking place in mid-April this music festival has become well-known for its musical acts and for its anything-goes, modern-hippie vibe. 
Prices
California is expensive compared to middle America, but if you are used to West Coast pricing then Palm Springs will seem like a bargain.  In fact, it is often easier to do an affordable party in Palm Springs than in other popular West Coast party spots, like Los Angeles or Las Vegas.  However, you have to keep in mind that Palm Springs is a very seasonal area.  In the winter months, which actually include quite a bit of fall and spring on either end, Palm Spring is popular with "snowbird" tourists and part-time residents from as far away as Canada.  The influx of tourists at those times can make lodging more expensive, but doesn't have a huge impact on other pricing. 
Crime
Have you heard about Palm Springs having a crime problem?  If you do not live in California, you may not have heard about it, but the area has actually seen a pretty significant increase in all sorts of crimes, including violent crimes, over the last two years.  What does this mean in terms of tourism and safety?  Not a lot.  Crime rates look higher than they are because the constant influx of tourists and part-time resident mean the population is higher and crime rates are not as bad as they appear.  The city is focusing on capturing thieves.  So, take normal precautions against crime while traveling and you should be fine. 
Bachelorette Party T-Shirts
You will definitely want to purchase t-shirts for your group.  We recommend using zazzle.com for this task.  They have hundreds of premade designs to choose from, and if you do not like any of them, you can provide a custom design that they will print.
Travel Insurance
You never know when you will become sick, it can happen before the trip or while on the trip.  Weather is also something you have no control over.  This is why we strongly recommend that your group purchases travel insurance.  This small fee will protect your rental home, flights, illness before or during the trip, lost luggage, flight delays, and more.
Other Trip Tips
While Palm Springs may be your destination, you need to be open to experiencing the entire Coachella Valley, especially if you are a first-time visitor. 
Palm Springs is located in the Pacific Time Zone (pst), so remember to adjust your watches and phones if you are not from that same time zone.
Sample Itinerary
Hit Palm Springs on a Thursday afternoon and check into your rooms at the Saguaro.  Grab a bite at the hotel, then head over to Zelda's for its all-male revue and your planned bachelorette party fun. 
The next day, dedicate to relaxing.  Reserve your day beds, order pool-side service, and hang out at the hotel through sunset.  Then get ready to party.  Head out for karaoke at Neil's, then finish the night at Toucan's. 
Saturday, get ready to do some hiking.  First, stop for some breakfast at The Pantry, then head out to Joshua Tree National Park.  Avoid the heat of the day at the Palm Springs Art Museum, then prepare to take the Palm Springs Aerial Tramway, then enjoy a dinner at Peaks Restaurant.  In the mood for a dance party?  Head over the Ace Hotel for a nighttime pool party or to Village Pub for a low-key DJ-driven dance night.
Sunday morning, check out of your hotel and head out for your good-bye brunch at Jake's.
Why Go
Rating: 
Conclusion
What do we think of a bachelorette party Palm Springs?  Well, we are huge Palm Springs fans and think it is a great place for a laid-back bachelorette party that lets you capture the chill vibe of the Coachella Valley.  To make the best of Palm Springs, we suggest you embrace the concept of relaxation and do not overschedule your party.  The best part of the area is that Palm Springs is made for relaxation!