Plan the Perfect Atlantic City Bachelorette Party (2023 Guide)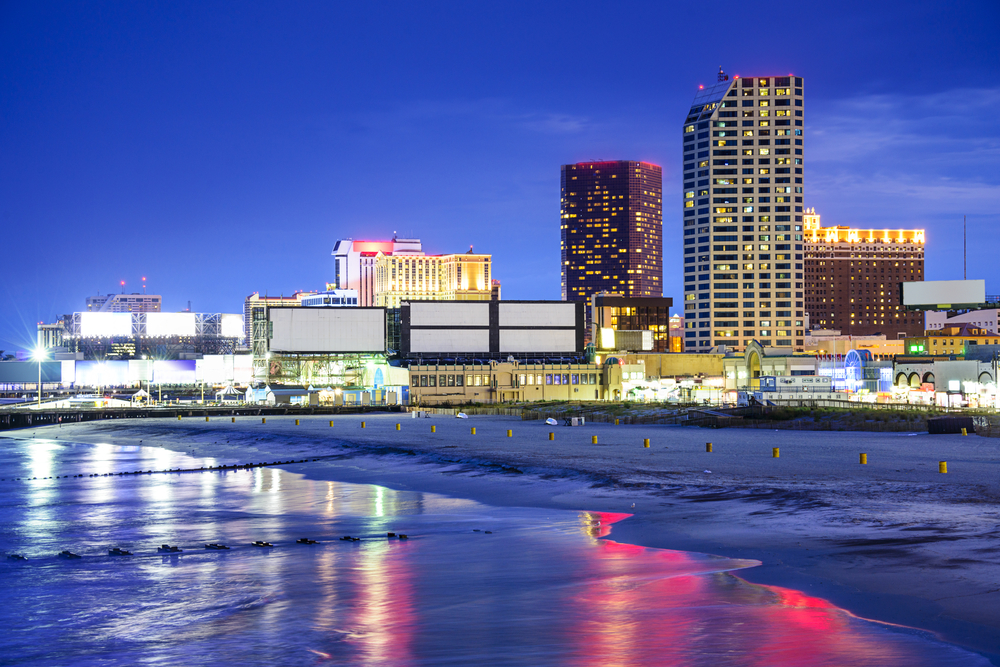 This post may contains references to products from one or more of our advertisers. We may receive compensation when you click on links to those products or services. Please also consider
donating to our website.
Amazing hotels, relaxing spas, awesome restaurants, and comfortable accommodations, it's no reason why Atlantic City, New Jersey continues to be a top choice for bachelorette parties.  Throw in the beach and boardwalk and this should be an easy decision, especially if you live on the east coast of the United States.
How to Get There
Located on New Jersey's Atlantic coast (see map below) and famed for its clean wide beaches and iconic Boardwalk, Atlantic City is a perfect place for your bachelorette party. Besides the world-class casinos and nightclubs, Atlantic City also offers a wide range of entertainment venues and shopping opportunities that will appeal to virtually any budget and tastes.
If you live on the eastern coast, you can easily drive to Atlantic City using the numerous major highways that connects it to the mainland. For instance, as shown on the map above, the Atlantic City Expressway ($3.25 toll) runs directly into the heart of Atlantic City. Likewise, the Garden State Parkway toll-way intersects the Atlantic City Expressway about 10 miles away from the city and connects New York City and Cape May; there is also a slower but toll-free option available by using US Highway 9.
If you and your friends prefer an alternate mode of transportation, you can take advantage of the railway service offered by New Jersey Transit which provides train service from Philadelphia's 30th Street Station to Atlantic City. The cost of the train trip is cheap (about ten bucks) and the trip only requires approximately an hour and a half. There are some real advantages to using the train since free shuttle service is available to transport you and your buddies from the Atlantic City Rail Terminal to your hotel. In addition, taxis are readily available and the Atlantic City Bus Terminal is located just two blocks away. Many visitors use the train service from New York City by taking the Northeast Corridor Line from Penn Station to Trenton where they transfer to the RiverLINE to Pennsauken Transportation Center to reach their final destination of the Atlantic City Rail Line (this trip costs around $21 one way).
You can also easily reach Atlantic City using the regularly scheduled bus service ($20-$40 round-trip) provided by Greyhound from New York City, Philadelphia and Washington, DC that connect directly to the Atlantic City Bus Terminal as well as a number of the casinos. In addition, NJ Transit provides bus transportation to Atlantic City on the #319 bus route from the Port Authority Bus Terminal and Toms River as well as service from Newark Penn Station and Journal Square on occasion. Finally, there are a number of charter bus operators that provide transportation to Atlantic City from New York City and Eastern Pennsylvania, many of which include free food vouchers and casino chips for use at the city's world-class casinos.
Airport
If you don't live close enough to drive or take the bus or train, the Atlantic City International Airport (airport code: ACY) is located just 9 miles from the heart of downtown Atlantic City and passenger vans, car rentals and taxi services are available. In addition, you can take advantage of the bus services offered at the airport by hopping on one of the buses of the NJTransit's with a connection through the the Egg Harbor City rail station or Pleasantville Bus Terminal. It is important to note, though, that the Atlantic City International Airport is only serviced by Spirit Airlines and many visitors prefer to fly to Philadelphia International Airport (airport code: PHL)  –about 60 miles away, and take ground transportation the rest of the way.
Getting Around
Rental Cars
Rental cars are widely available in Atlantic City from major companies such as Avis, Budget, Enterprise and Hertz and rates begin around $22 a day.  The best rates for all of these companies can be found on rentalcars.com.
Limousines
If you'd prefer to see the sights around Atlantic City in real style, you can always rent a luxury limousine from one of the several companies offering these services such as Chic's Limousine, Atlantic City Limo Service or Georgetown Trolley Tours. These companies specialize in bachelorette partiers and offer some discounts for larger groups.
Party Bus Rentals
The only thing better than a limousine for a bachelorette party in Atlantic City is a party bus. For example, Limos.com offers party buses that can accommodate up to 25 guests with insulated coolers, Bluetooth radio and DVD comment center as well as two televisions with state-of-the-art surround sound and dazzling interior light arrays. Smaller party buses are also available that accommodate five or eight passengers.
Boat Rentals
Given its coastal location, it is not surprising that there are also several boat rental companies available in Atlantic City to make your bachelorette party an especially memorable event. Typical rental prices for boats in Atlantic City range from $230 a day for boats that accommodate up to six passengers (no captain) to $800 a day for boats that can seat up to eight passengers (with a captain). Other packages are also available for speed boats that accommodate up to 12 passengers (no captain) for $1,150 a day.
Things to Do
Deciding what to do and where to go in Atlantic City can be challenging because there are so many options available. In fact, Atlantic City was specifically established as a resort destination during the mid-1800s and the city features an enormous number of entertainment options today. Some of the more popular things to do and places to go during your bachelorette party in Atlantic City are described below.
Daytime Activity Ideas
Don't miss the Boardwalk! The world-famous Atlantic City Boardwalk was the first in the country and features easy access to casinos, hotels, museums, cultural exhibits, resorts and shops of all types as well as several attractions including an amusement park. You and your bachelorette party guests can easily spend an entire day touring the Boardwalk without seeing and doing everything that's available, and sightseeing and people-watching are always free.
Enjoy the 21-Point Atlantic City Tour. This tour departs from Brighton Park and provides first-time visitors with information about where to go and what to do. The tour includes dozens of points of interest and knowledgeable guide. Complimentary salt water taffy is served and tour guests are given meal coupons for area restaurants and city-wide transportation. In other words, this is a great way to start your Atlantic City bachelorette party.
Tour the Hard Rock Cafe Atlantic City (Global Cash Access, 1000 Boardwalk). This Hard Rock café is located directly on the Atlantic City Boardwalk inside the Trump Taj Hotel and is open daily (Monday through Thursday) from 11 am to 11 pm and on Friday through Sunday from 11 am to midnight. Like other Hard Rock cafés around the world, the Hard Rock Café Atlantic City features rare rock 'n roll memorabilia and video exhibits from bands including the Beatles, the Rolling Stones, the Grateful Dead and the Red Hot Chili Peppers. With its live entertainment, casino action and upscale eateries, this destination is widely regarded as the hottest party venue in Atlantic City today.
Take the New Jersey Weird Science Interactive Escape Room challenge! You've read about escape rooms and here's your chance to test your mettle in this entertaining but challenging adventure. For just around $32 each, you and your bachelorette party guests can have great fun trying to outwit the mad alchemist Appolo Trimitheus and find the elixir of life (and your way out of the room).
Visit Lucy the Elephant (9200 Atlantic Av. "at Decatur Ave." in the nearby town of Margate). This world-famous elephant-shaped building was constructed in 1881 and is listed on the National Register of Historic Places. You and your friends can take a 30-minute tour of the interior of the Lucy the Elephant exhibit for just $6.
Tour the Absecon Lighthouse (31 South Rhode Island Avenue). Built in 1857, this is the tallest lighthouse in New Jersey and features tours to the top (228 steps!) with spectacular views of Atlantic City and coastline for just $8 per person.
Nightlife Activity Ideas
Nightclubs
Things really start to heat up in Atlantic City after dark, and many venues are conveniently located along the Boardwalk. Some of the more popular nightlife activities in Atlantic City include those described below.
Haven Nightclub
1 Castle Boulevard, Atlantic City
Telephone: 609-340-5111
Operating hours:
Closed Sunday through Wednesday
Thursday and Friday: 11 p.m. to 4 a.m.
Saturday: 10 p.m. to 4 a.m.
This upscale nightclub specializes in bachelorette parties and provides a VIP host who will escort you and your party guests through an exclusive private entrance to a private seating area that is specifically reserved for parties. In addition, admission is free to Haven's "Misbehaven Thursdays" with a valid college ID or Golden Nugget room key.
Premier Nightclub
1 Borgata Way, Atlantic City
Telephone: 609-317-7249
Operating hours:
Open daily from 10 p.m. to 4:00 a.m.
This venue features a swank dance club/bar in the Borgata Hotel & Casino with hard-driving music provided by DJs and luxurious lounge areas that are perfect for bachelorette parties of any size.
The Pool after Dark
777 Harrah's Boulevard, Atlantic City
Telephone: 609-441-5000
Operating hours:
Wednesday, Friday and Saturday: 10 p.m. to 4:00 a.m.
As the name implies, this nightclub features a beautiful indoor tropical pool reserved for guests 21 years and older where you and your bachelorette party guests can relax and enjoy the DJs, bottle service and cabanas (lockers are provided for guests as no swimwear is allowed). In addition, besides the celebrity guests who frequent this nightclub, live entertainment is provided by world-famous performers such as French Montana, 3LAU, Fat Joe, Paris Hilton, and 50 Cent. In addition, the Pool after Dark also has a new gaming pit on the main floor of the nightclub that includes blackjack and roulette tables in case you and your bachelorette party guests are feeling lucky.
Bars
Vagabond Kitchen and Tap House
672 N Trenton Avenue, Atlantic City
Telephone: 609-350-6721
Operating hours:
Sunday through Thursday: 11:00 a.m. to 1:00 a.m.
Friday and Saturday: 11:00 a.m. to 3:00 a.m.
With half-priced happy hours and dozens of liquors, beers and wines to choose from, you can't go wrong visiting Vagabond Kitchen and Tap House. This upscale but comfortable bar also features DJs and live entertainment as well as special package deals for parties.
The Iron Room
648 N Albany Avenue, Atlantic City
Operating hours:
Monday through Thursday: 4:00 p.m. to 10:00 p.m.
Friday and Saturday: 3:00 p.m. to 11:00 p.m.
Sunday: 11:00 a.m. to 3:00 p.m.
Telephone: 609-348-6400
Featuring more than 400 different types of whiskey and cocktails prepared with care by their resident mixologists, the Iron Room has consistently been voted the best whiskey bar in Atlantic City.
The Irish Pub
164 St James Place, Atlantic City
Operating hours:
Open 24 hours a day
Telephone: 609-344-9064
Termed "America's Greatest Pub" and "The Last of Its Kind" by major travel magazines, the Irish Pub should be on your must-visit list for your Atlantic City bachelorette party. Conveniently located near the Boardwalk, this bar offers a number of delicious beers including Harp, Bass, Killian's, Murphy's and Yuengling on draft as well as antique and old-fashioned decorations to create the look and feel of an authentic Irish pub.
Male Reviews / Male Strip Clubs
Hunk-O-Mania Male Strip Club Revue Show
1300 Boardwalk, Atlantic City
Telephone: 609-345-6555
Operating hours:
Daily 9:00 a.m. to 11:00 p.m.
Described as "the ultimate night out," Hunk-O-Mania features the hottest male strippers in Atlantic City. Specializing in bachelorette parties and other special group event, Hunk-O-Mania offers a Las Vegas Style "audience participation" show that gets everyone involved. Moreover, Hunk-O-Mania even features an on-stage "hot seat" for the bride-to-be for just $50 extra so she will be entertained to the fullest. If hot male strippers are what you're looking for, this venue is perfect for your Atlantic City bachelorette party.
Savage Men
1500 Boardwalk, Atlantic City
Telephone: 609-309-7051
Operating hours:
Daily 9:00 a.m. to 11:00 p.m.
Just hope the bride-to-be doesn't change her mind after a visit to Savage Men. Located at the Casino Pub, this male revue is regarded as one of the top Magic Mike style clubs in the nation today. In addition, Savage Men offers group discounts for bachelorette parties as well as an on-stage "hot seat" and "Princess package" for the bride-to-be with complimentary photographs (share at your discretion). Savage Men encourages their audience to get "wild and crazy" so get ready for a memorable bachelorette party evening.
Manhattan Men
1609 Pacific Ave, Atlantic City
Telephone: 347-852-0157
Operating hours:
Daily 7:30 p.m. to 2:00 a.m.
With venues in dozens of major cities, Manhattan Men really knows how to put on a great show. Billing itself as "bachelorette party headquarters," Manhattan Men is a great destination for you and your guests to enjoy a high-energy male revue featuring the hunkiest guys around.
Where to Eat
While there are plenty of eateries conveniently located along the Boardwalk, the following restaurants are widely recommended by residents and visitors alike.
Breakfast / Brunch / Lunch
The Continental
1 Oceanic Terrace, Atlantic City (The Pier Shops at Caesars One)
Telephone: 609-674-8300
Operating hours:
Sunday through Wednesday: 11:00 a.m. to 10:00 p.m.
Thursday through Saturday: 11:00 a.m. to 11:00 p.m.
With an upscale casual dress code, brunch is available at the Continental on Saturdays and Sunday from 11:00 a.m. to 4:00 p.m. featuring delicious mimosas and a house specialty bloody Mary. Try their spiked smoothies (flavors change daily), lobster mac n' cheese, grilled Thai chicken skewers (yum!) and Big Daddy Mack veggie burgers.
Gilchrist Restaurant
804 North Rhode Island Avenue, Atlantic City
Telephone: 609-345-8278
Operating hours:
Daily 6:30 a.m. to 2:00 p.m.
Get your day started right with a visit to the Gilchrist Restaurant for brunch. In business since 1946, the Gilchrist Restaurant is an Atlantic City landmark and its menu includes all of the brunch specialties you'd expect such as omelettes, hotcakes and waffles as well as some heftier fare such as their Hungry Man Combos and a wide selection of deli sandwiches and wraps.
Maria's Luncheonette
2319 Atlantic Avenue, Atlantic City
Telephone: 609-347-9300
Daily 7:00 a.m. to 3:00 p.m.
This cozy luncheonette serves breakfast all day as well as traditional American comfort foods for lunch. Try to get there before 11:30 a.m. since they start getting busy around then and seating is limited.
Dinner
Chef Volas
111 South Albion Place, Atlantic City
Telephone: 609-345-2022
Tuesday through Sunday: 5:00 p.m. to 10:00 p.m. (closed Monday)
Locals rave about the food at Chef Volas and the place is highly popular despite its hard-to-find basement location and cash-only policy. Featuring Italian-American dishes served in a speakeasy-styled setting, dinner at Chef Volas is a great way to spend a relaxing evening with your bachelorette party friends. Be sure to try their banana cream pie.
Iizakaya
1 Borgata Way, Atlantic City
Telephone: 609-317-1000
Thursday: 5:30 p.m. to 9:30 p.m.
Friday: 5:30 p.m. to 10:30 p.m.
Saturday: 5:00 p.m. to 11:00 p.m.
Sunday: 5:00 p.m. to 9:30 p.m.
Monday: 5:30 p.m. to 10:30 p.m.
Closed Tuesday and Wednesday
Featuring innovative Japanese fusion cuisine, dinner at Iizakaya will be a satisfying way to enjoy a sake bar and "gastro-pub" with something to appeal to everyone. In addition, Iizakaya offers group discounts and provides private dining areas for groups up to 54. In fact, they encourage guests to "bring friends – bring them all" and offer a special $7 food and drink menu every Monday as an incentive to do so.
Old Homestead
1 Borgata Way, Atlantic City
Telephone: 609-317-1000
Operating hours:
Thursday: 5:30 p.m. to 10:30 p.m.
Friday: 5:30 p.m. to 11:00 p.m.
Saturday: 5:00 p.m. to 11:00 p.m.
Monday through Wednesday: 5:30 p.m. to 10:30 p.m.
Closed Sunday
The signature dish at the Old Homestead is their Gotham 34-ounce rib steak, but any of their creations including their burgers are delicious since they are made from domestically raised, hand-massaged Wagyu beef. Reservations are recommended since "they haven't had an empty seat in quite a while."
Cuba Libre
2801 Pacific Avenue, Atlantic City
Telephone: 609-348-6700
Operating hours:
Thursday: 4:00 p.m. to 10:00 p.m.
Friday and Saturday: 11:30 a.m. to 4:00 a.m.
Sunday: 11:30 a.m. to 11:00 p.m.
Monday thru Wednesday: 4:00 p.m. to 10:00 p.m.
With vintage décor and a tropical theme, Cuba Libre is a great place for your bachelorette party guests to experience upbeat Latin music and sinfully delicious contemporary Cuban cuisine. Be sure to visit the rum bar and watch the live entertainment on Friday and Saturday nights.
Brunch is also available from 11:00 a.m. to 4:00 p.m. on Friday, Saturday and Sunday.
Veracruz
777 Harrah's Blvd, Atlantic City, NJ 08401
Telephone: 609-441-5747
Some of the specials that are featured in the bar/lounge area include their Veracruz Special, margaritas and tacos (your choice of pollo, carnitas or brisket) as well spicy tableside guacamole and quesadillas as well as calamari, grilled skirt steaks made with world-famous black footed pigs of Spain which are raised on acorns. Be sure to try their Carne Asada dish made with grilled skirt steak, onions and chipotle aioli. Happy Hour is Wednesday through Saturday, 4:00 p.m. to 6:00 p.m.
Where to Stay
Hotels & Resorts
The Water Club at Borgata
1 Borgata Way, Borgata Hotel, Atlantic City
Telephone: 609 317-1000
Pamper yourself and your bachelorette party friends with a stay at the Water Club. Besides the direct access to a world-class casino and the great dining and live entertainment that are available, the 43-story Water Club has 800 luxury guest rooms and suites that are especially well suited for large groups such as bachelorette parties. Likewise, this hotel also features a two-story spa on the 32nd floor called "Immersion" and — true to its name, the Water Club also boasts five heated indoor and outdoor swimming pools, boutique retail shops such as Just Cavalli, Hugo Boss, and Fixation and two fitness centers. This hotel also provides guests with free shuttle service to the beach
Harrah's
777 Harrah's Blvd, Atlantic City
Telephone: 609-441-5000
Conveniently located in Harrah's casino complex, this hotel's marina tower and dazzling exterior make it an easy-to-find venue for your bachelorette party in Atlantic City. Finely appointed guest rooms and suites are reasonably priced, and world class restaurants and buffets are available. This hotel also offers a special occasion package for events such as bachelorette parties which includes a personal lightshow on Waterfront Tower, Waterfront Tower Room accommodations, a limousine ride with a special stop to view your personal lightshow, a bottle of champagne with two glasses to toast in the limousine, a $100 dining credit and a $50 pool credit.
Hard Rock Hotel (formerly Trump Taj Mahal)
1000 Boardwalk, Atlantic City
Telephone: 609-441-0007
*Coming soon
Tropicana Hotel
2831 Boardwalk, Atlantic City
Telephone: 609-340-4000
Get ready to luxuriate in the plush surroundings at the world-famous Tropicana Hotel. Besides its renowned guest rooms, the luxury accommodations at the Tropicana include a two-story suite in the North Tower with floor-to-ceiling windows that provide a spectacular ocean view and a Taj Mahal Suite that lives up to the name. Group packages are available that include late checkout, tickets to live entertainment, great meals, world-class golf, admission to the health club, free slot play and gift cards that you can use at The Quarter at Tropicana.
Golden Nugget
600 Huron Avenue, Atlantic City
Telephone: 609-441-2000
With a top-notch fitness center, spa and salon and the dulcet tones of resident performer Paul Anka, the Golden Nugget in Atlantic City has plenty to do besides gamble, although that's readily available as well of course. The reasonably priced rooms and suites can also be upgraded to VIP status which includes adjoining rooms for your party guests, turndown service every night, free valet service, and a welcome cocktail at Bar 46.
Sheraton Atlantic City Convention Center Hotel
2 Convention Blvd, Atlantic City
Telephone: 609-344-3535
Close to the Boardwalk, the Sheraton makes a great place for bachelorette partiers in Atlantic City who are not especially interested in gambling. Located adjacent to the Tanger Outlets, the Sheraton also features the award-winning Tun Tavern, an indoor pool and 24-hour fitness center. You'll enjoy their amazingly comfortable mattresses.
View All Hotels in Atlantic City
When To Go
Like Las Vegas, Atlantic City is also a city that never sleeps and there are always fun and exciting things to do and discounts available around the clock whenever you visit. There are some optimal times for visiting Atlantic City, though, as well as less-than-optimal as we discuss below.
Best Time
According to U.S. News and World Report, the best time to visit Atlantic City is from June to August or March to May when the weather is seasonably mild.
On a Budget
The winter months in Atlantic City can be brutal so prices are less and hotel offerings are greater.
Worst Time
The worst time to visit Atlantic City is December and January when the temperatures average just above freezing.
Current Weather
The average temperatures for Atlantic City are shown below.

What Else
Atlantic City is home to the first casino in the United States built outside of Nevada (in 1978). In addition, Boardwalk Hall has a 33,000-pipe organ that is the largest musical instrument in the world. The Miss America Pageant was started in Atlantic City to attract crowds (this was a major success), and the properties in the board game Monopoly were named for streets in Atlantic City.
Big Events
There are several major events held virtually every month in Atlantic City but some of the most popular include the following:
March 23: Jazz in the Park (winter and spring jazz series)
March 27: Girls Night Out (no cover charge for ladies at the Anthem Lounge)
April 1: Easter Parade and Steel Pier's Easter Best Dressed Contest (the name says it all)
April 7: Garden State Comic Fest (held in the converted Showboat Hotel)
June 2: Rockabilly Uprising (free 50's style live entertainment and a pin-up contest)
September 20: Wine Hop Tour (enjoy samples of wines from local winemakers; tour departs from the New Jersey Korean War Memorial)
What to Pack
Swimwear: It may be time for you to update your swimwear, especially if you're planning on visiting Atlantic City during the summer months. Be sure to pack some attractive swimwear so you can enjoy all of the water-based activities available in and around Atlantic City as well as the great swimming pools at hotels such as the Water Club.
Sunglasses: Be sure to pack some fashionable sunglasses for your leisurely strolls down the Boardwalk.
A light jacket: Be sure to pack a light jacket if you're visiting Atlantic City during the spring or fall.
Comfortable footwear. The Boardwalk in Atlantic City is between four and five-and-a-half miles long (!) depending on whom you ask so be sure to pack some comfortable shoes for a day of sightseeing.
Luggage and accessories: If you plan on flying to Atlantic City, be sure to obtain some luggage that allows you to pack as many clothes as possible to avoid extra airline fees for baggage.
Vitamins and supplements: Don't forget your health while you and your friends are partying in Atlantic City and stock up on vitamins and supplements before you leave to help keep your energy level at its peak.
Itinerary
With so many things to see and do in Atlantic City, there are an infinite number of itineraries that you could follow, but the itinerary below is a good place to start during your visit.
10:00 a.m.–11:15 a.m. Enjoy a leisurely brunch and bloody Mary at The Continental.
11:15 a.m.–2:00 p.m. Shopping and sightseeing along the Boardwalk.
2:00 p.m. – 4:00 p.m. Become familiar with the sights and landmarks in Atlantic City by taking this fun and informative 2-hour 21-Point Atlantic City Tour.
4:00 p.m.-5:00 p.m. Personal time at hotel
5:00 p.m.-7:00 p.m. Dine in luxury at Chef Volas. Don't forget to order the banana cream pie.
7:00 p.m.-11:00 p.m. Treat your bachelorette party friends to the Hunk-O-Mania Male Strip Club Revue Show and make sure the bride-to-be gets the "hot seat" on stage.
11:00 p.m.-2:00 a.m. Refreshing swim and invigorating visit to the spa.
Additional Trip Tips
Despite its popularity as a tourist destination, or perhaps because of it, Atlantic City has a high crime rate and visitors should always travel in groups.
Bachelorette Party Shirts
A great way to remember your Atlantic City bachelorette party is a bachelorette party t-shirt. Customized bachelorette party tee-shirts are inexpensive and make great gifts for you and your friends.
Travel Insurance
Travel insurance purchased from a reputable insurance company is a good idea for any group event where there is a large investment of timea nd money at stake. Travel insurance from reputable services generally include the following benefits:
Up to 100% cash back for trip cancellations, delays, and interruptions;
Covers purchase of personal items when baggage is delayed for longer than 24 hours;
No deductibles for emergency medical and dental coverage;
24/7 travel assistance; and,
Airline change fee and frequent flyer mile redeposit fee coverage.
Hashtags
#atlanticcitythere #jerseyshore #doac #visitac #grishko #pointeshoes #nutcracker #atlanticcityballet #reunited #aifamily #doacfw
Why Go
Atlantic City's fortunes were adversely affected when casinos began opening in Pennsylvania in 2008, and several casinos closed as a result. More recently, though, a massive $1.7 billion investment initiative has revitalized Atlantic City and great deals are available from hotels and resorts year-round. In addition, Atlantic City is also conveniently located for tens of millions of Americans who live in the New England area.
Rating
With respect to its suitability for a bachelorette party, on a scale of one to five stars, we give Atlantic City a solid four stars (this may be raised in the near future after several of the construction projects that are currently underway are completed).
Conclusion
Like Cancun, Atlantic City was also established specifically be to be a resort city. Although some parts of the city are showing their age, the glitz is everywhere and new hotels and casinos are competing for tourist dollars – all to your advantage. With plenty of daytime activities and an exciting nightlife, Atlantic City makes a great and relatively inexpensive destination for bachelorette parties of all sizes.