Plan an Epic Bachelor Party in South Padre Island, Texas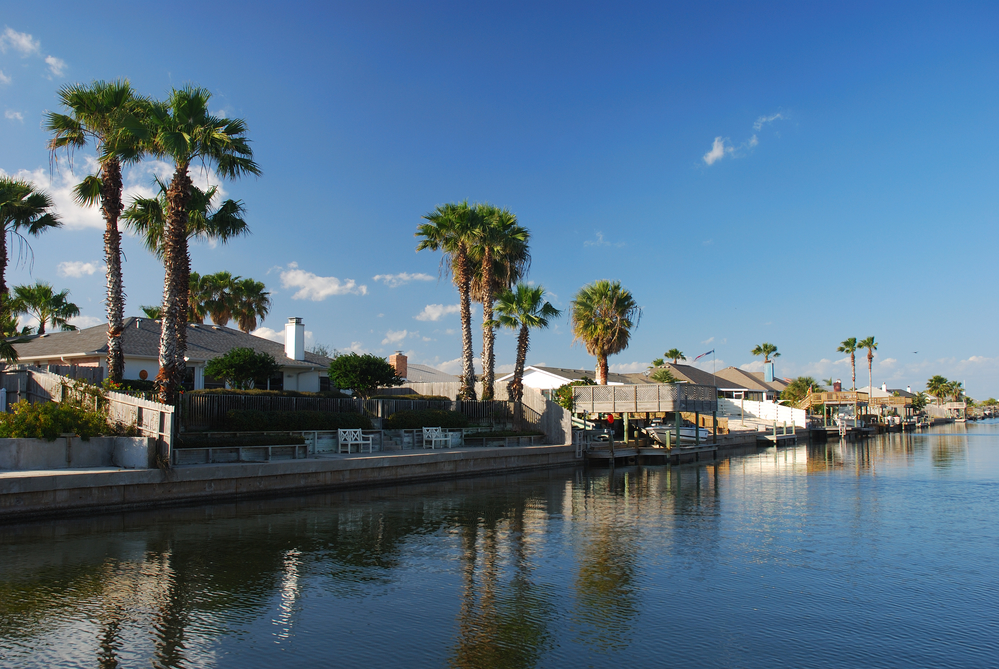 This post may contains references to products from one or more of our advertisers. We may receive compensation when you click on links to those products or services. Please also consider
donating to our website.
Named for a Spanish priest, Padre Nicolas Balli, South Padre Island in Cameron County was originally settled a couple of hundred years ago when the region was using primarily for ranching. Following the establishment of the National Seashore in 1970, though, this sliver of pristine land off the east coast of Texas has transformed into the perfect destination for an epic bachelor party in South Padre Island. Today, South Padre Island features some of the best accommodations and activities for domestic and foreign tourists in the world, and its local permanent population of just around 2,800 residents is swelled each year by more than 4.3 million visitors seeking their share of fun in the sun. This guide to planning an epic bachelor party in South Padre Island provides everything you need to know about the destination, including how to get there, what to do while you're there and some valuable tips on getting around the island.
How to Get There
By Car
South Padre Island's centralized location makes this destination readily accessible whether you're driving or flying. Located about 300 miles south of San Antonio, South Padre Island is a straight shot south on I-37 South or US-77 South (this route takes a little longer). Other popular routes if you're coming from the north of this destination include U.S. Highways 77 and 281.
Airports
Located in the four-county Rio Grande Valley, South Padre Island is serviced by three airports, with the closest, Brownsville South Padre Island International Airport (Airport Code: BRO), being about 30 minutes away, Valley International Airport (Airport Code: HRL) about 45 minutes away and the furthest, McAllen International Airport (Airport Code: MFE), which is around an hour and a half away. All three of these airports feature various types of ground transportation, including limousines, rental cars and taxis that can take you to your final destination in South Padre Island. In addition, there is a free shuttle service to and from South Padre Island available at the Brownsville South Padre Island International Airport.
Lookup Flight Prices to South Padre
Getting Around
Once you and your buddies arrive, getting around South Padre Island is easy. There is even a free shuttle service offered by the South Padre Island Metro that operates daily from 7 a.m. to 9 p.m. with stops along many of the most popular beachfront destinations and other recreational attractions. In addition, rental cars, limousines, party buses and boats are also readily available around South Padre Island as discussed below.
Rental Cars
A number of national car rental companies operate in and around South Padre Island.  You can find the lowest rates at rentalcars.com.
Limousine Companies
Getting around South Padre Island in style is a simple matter when you rent a world-class limousine from South Padre Limos or Executive Limousine Service which specializes in bachelor parties and offers fully equipped stretch luxury limos (including a Hummer!) and expert and knowledgeable chauffeurs.
Party Bus Rentals
Rated the number one destination nationwide for spring breakers by U.S. News & World Report, South Padre Island also features a number of party bus rental firms, including Falcon Tour and Travel, United Coachways and Price 4 Limos.
Boat Rentals
You and your bachelor party friends can experience the fishing adventure of a lifetime or just sit back and enjoy the pristine beaches and spectacular natural vistas offered by South Padre Island by taking advantage of one of the many boat rental companies providing guided tours of the area, including Boatsetter, SPI Fun Rental & Island Surf Rental, and South Padre Charters. In addition, jet skis and waverunners are also readily available from these and other boat rentals companies in South Padre Island.
Things to Do
All of our popular bachelor party destinations have plenty of fun and exciting things to see and do, but South Padre Island stands out from this crowd by offering some of the best recreational activities available in the country today, including those listed below.
Daytime Activity Ideas
Not surprisingly, with the longest stretch of undeveloped barrier island land in the world today, this narrow sliver of island packs more fun per square foot that most other destinations in the United States today. There are water sports of every ilk available on South Padre Island, including the aforementioned jet skiing and wave running rentals, as well as snorkeling and scuba diving, skiing, parasailing, and deep sea fishing or just cruising along the beautiful coast to have a few drinks and take in the sights. For the more adventurous who want to cross something significant off their bucket lists, Skydive South Padre Island has a 100 percent safety record and offers solo or tandem skydives.
Likewise, the Schlitterbahn Beach Waterpark and Resort offers a summertime "Stay and Play" option where guests stay inside the water park in luxury accommodations with ready access to everything this world-famous water park has to offer (check out their live weather Web cam!).
If you're in the mood for something less exhilarating, you and your bachelor party friends can also visit the nearby 100,000 acre Laguna Atascosa Wildlife Refuge with exotic birds and even wild bobcats.
More than 4 million visitors a year also mean that South Padre Island has numerous beachfront bars, beer gardens and restaurants that cater to every taste and budget. If you have any energy left after a full day of sand and sun, there's also great nightlife activities available in South Padre Island, including those listed below.
Nightlife Activity Ideas
What better way to experience the South Padre Island skyline and beach fronts after hours than an evening dinner cruise where you can even watch dolphins at play while you and your bachelor party guests enjoy a relaxing and delicious dinner?
Offering group rates, be sure to try the South Padre Island PubCrawl to experience some of the best watering holes in town, all located close enough that you won't need ground transportation unless you want it (or you know, have a few too many).
Finally, catch your breath and experience the most gorgeous sunsets on the planet as well as fresh seafood and scrumptious bar foods at Tequila Sunset, located right on the Laguna Madre Bay. Specializing in private functions such as bachelor parties, this club features live daily music, DJs on the weekends, and a dazzling fireworks display every Thursday and Friday nights during the prime tourist season from Memorial to Labor Day.
Bars
As one of the top tourist destinations and located in the fastest-growing regions of the country, there are hundreds of bars in South Padre Island and new bars are opening all the time, but some of our long-time favorites include The Lookout Bar & Refuge located directly on the beach. With a world-class bar and expert mixologists, you and your buddies can sample your favorite drinks and snack on pizza, hot wings and other great bar fare.
Be sure to check out Louie's Backyard, one of the top-rated bars in South Padre Island. Besides a daily happy hour, 65 high-definition televisions and 10 big screen DLP televisions, Louie's Backyard also boasts the largest sports bar in South Texas. Also, you can entertain your friends by taking part in the open karaoke that is featured every Friday and Saturday nights.
The absolute, number one rated bar in South Padre Island is Harley's Beer Garden. Offering wine, beer and setups, private party rooms for bachelor parties and live music every Sunday, Harley's Beer Garden also has some of the best barbecue in the state.
Strip Clubs
Located nearby, the "World's Most Beautiful Women" at the all-nude BYOB Jaguars Club make this the ideal venue for bachelor parties. A friendly hostess greats all guests and escorts them to a private table where you and your bachelor party friends can enjoy a 360-degree view of the exotic action with VIP treatment.
If you'd prefer something more private, check out Strippers for Your Party which offers professional strippers who have appeared in Penthouse, Playboy, and Maxim to liven up your bachelor either at your hotel or private residence rental.
Likewise, Professional Strippers also specializes in bachelor parties and features exotic strippers who will visit your hotel room or private residence rental.
In addition, there are a couple of popular professional escort services available in South Pedro Island.
Where to Eat
Breakfast / Brunch / Lunch
Open daily from 7 a.m. to 2 p.m., enjoy a relaxed and laid-back brunch or early lunch at Ted's Restaurant which features Texas-style food including fajitas and eggs or their iconic "Good Earth" sandwiches.
Be sure to experience the top-notch customer service as well as the yummy Tex-Mex breakfasts or brunches (try their blackened shrimp po' boy sandwich for a real treat!) or the pancakes and egg dishes at the top-rated Yummies Bistro.
All of Pier 19 is available for your early day dining enjoyment at this popular restaurant which serves some of the best breakfast fare in town. Located on the Laguna Madre between the Queen Isabella Causeway and the Brownsville Ship Channel, you and your bachelor party buddies can relax and watch dolphins, pelicans, dolphins, cruise ships and charter boats plying the coastal waters while you enjoy their "fresh wild caught" seafood selections (including crab cakes and shrimp omelets) or other standard Tex-Mex breakfast chow. Don't miss a visit to Hooker's bar at the end of Pier 19 after you finish eating.
Dinner
One of the best restaurants in town for dinner in South Pedro Island is Blackbeards', serving steaks, fresh seafood (of course), signature sandwiches and more. With a full bar, live music and special deals on menu items and drinks, you'll be sure to have a great time at Blackbeards'.
Recipient of Tripadvisor's Certificate of Excellence for 2018, Gabriella's is another top-rated restaurant in South Pedro Island. Relax on their outdoor patio and try one Gabriella's Italian specialty dishes or their local fresh seafood selections including calamari, shrimp Rockefeller or some oysters on the half shell (drool…).
For some casual dining and superb handcrafted beers, check out Padre Island Brewing Company, a favorite with locals and visitors alike. The third generation brewmaster owner offers five house brews on tap as well as simple but delicious dishes such as fresh fried calamari, po' boys, pizzas, and burgers. Get an early start on your later nightlife activities by taking advantage of Padre Island Brewing Company's Happy Hour from 2 p.m. to 6 p.m. with 75 cent Gulf oysters, Wisconsin cheese curds and crab cakes. The world really is your oyster at this venue.
Where to Stay
Hotels & Resorts
Featuring group discounts and unparalleled ocean views, Pearl South Padre has private patios or balconies and all of the amenities you'd expect from a world-class resort, including in-room refrigerators and 37-inch flat screen HDTVs.
The above-mentioned Schlitterbahn Resort South Padre Island offers beachfront dining, breathtaking views of the ocean and sunsets, direct beach access and comfortable accommodations. You and your buddies can also take advantage of their "Stay and Play" which allows resort guests unlimited use of the world-class water park.
Staying at the highly rated Holiday Inn Express & Suites South Padre Island will save you some time and money by taking advantage of their free buffet breakfast with all your favorites. In addition, all of the standard amenities and direct beach access make this a great place for your South Padre Island stay.

Hotels Available in South Padre
House Rentals
Although South Padre Island was primarily used for ranching prior to 1970, there are still numerous private residence and condo rental opportunities available, including some of the best ones we've listed below (please note that the prices cited are off-season are based on a 4-day stay with six guests; all rentals include free wi-fi, wide screen televisions, fully equipped kitchens and laundry facilities unless otherwise noted).
Homeaway.com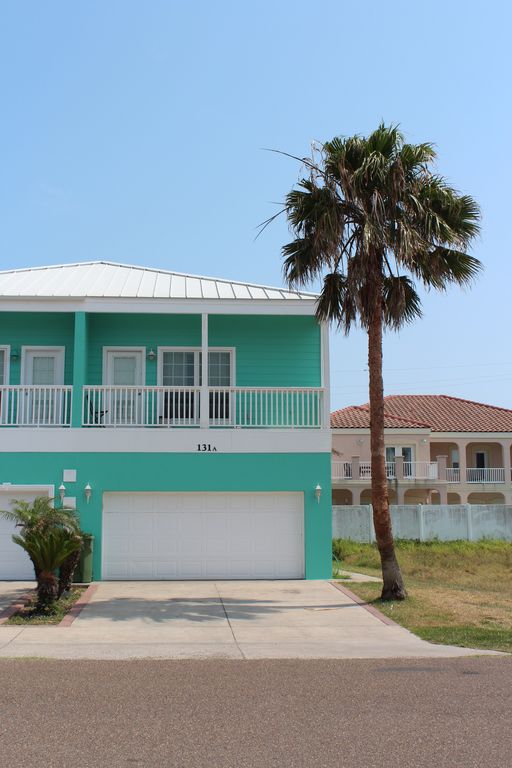 This three-bedroom townhouse is located just a few steps away from the beach and even includes an outdoor Jacuzzi. This townhouse has an automated two-car garage (complete with two free bikes!), a ping-pong table, two and half bathrooms and all rooms feature high definition televisions as well as DVD players downstairs. At just $100 per night, this townhouse will make a great place for your South Padre Island bachelor party.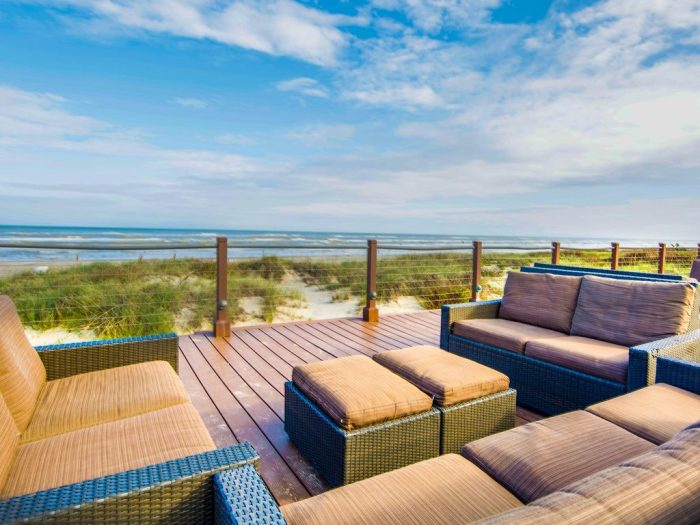 This oceanview condo features a shared swimming pool,hot tub and even a tennis court. At just $71 per night, this condo is located in the Solare Tower at the Solare Resort and is just steps away for the beach where you and your buddies can fish for your dinner. Wide screen televisions and a DVD player add to the enjoyment and the Coral Reef Lounge is conveniently located close by.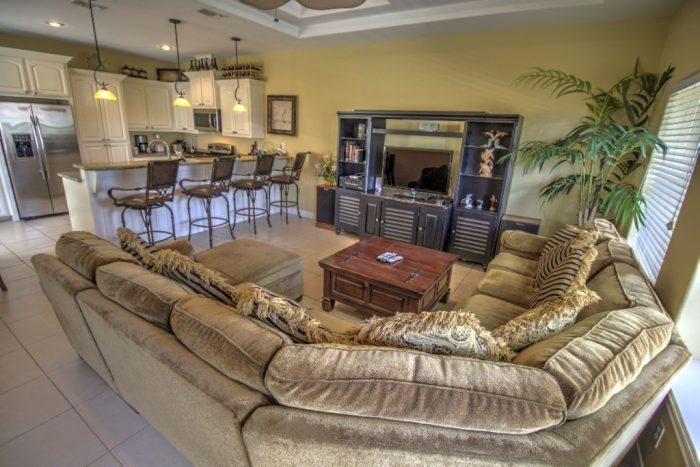 This three bedroom, two bath custom built duplex will only set you back $82 per night but features plush accommodations and modern amenities. The house even has two private patios and an electric grill so you'll be able to experience the island views including the fireworks displays while relaxing with your friends.
Rental Homes Available in South Padre
VRBO.com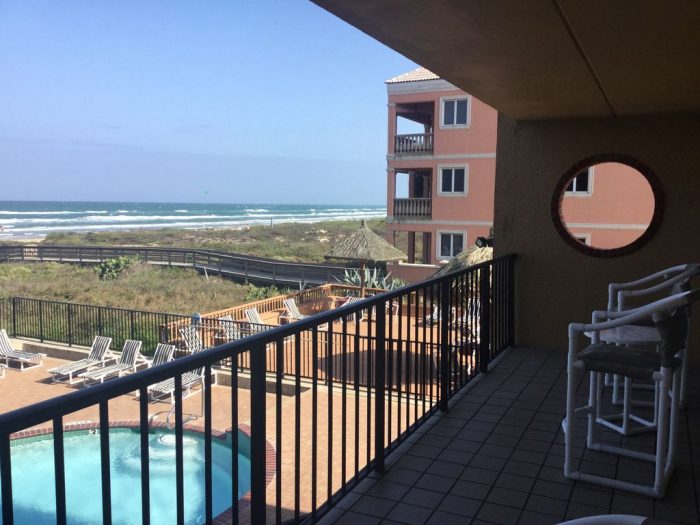 This beachfront corner luxury condo has it all and costs $145 per night. Remodeled earlier this year, this three bedroom, two bathroom unit in the Suntide II complex sleeps up to 10 guests and has direct beach access. In addition, it is located within walking distance of numerous stores and restaurants, and a large dining area complete with a wine cooler. There is also a beachside swimming pool, a hot tub, tennis court and beach volleyball available.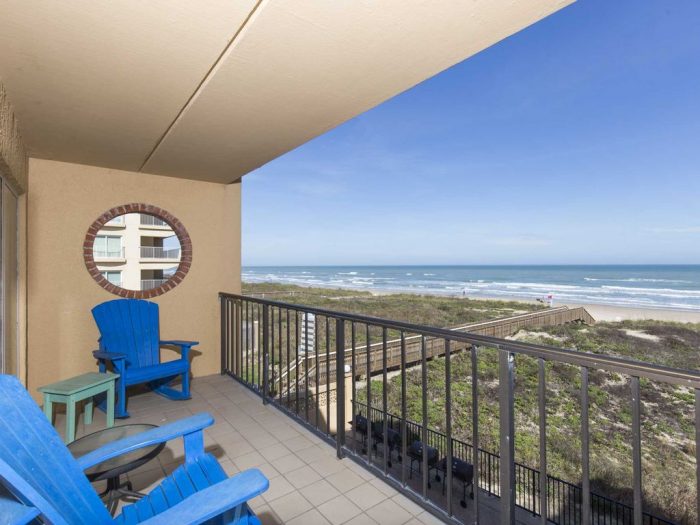 Located in the Suntide II complex with all of the amenities, this luxury condo also features direct beach access, spectacular three-floor ocean vista views on a covered private balcony, a hot tub, swimming pool and barbecue facilities. This condo is a real bargain for bachelor partiers at just $138 per night.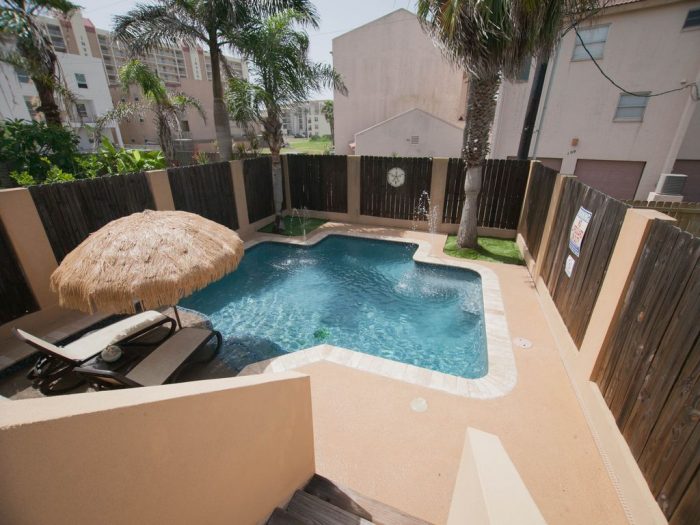 This four bedroom, three bath private home is just a half a block from the beach and features a two-car garage, a heated swimming pool with Baja shelf, a family room full of your favorite board games, a barbecue grill, and a tankless water heater so you'll never run out of hot water. In addition, this private home has two rolling beverage carts and a wine and beer cooler in a dining nook. At $275 per night, this private home is pricier than some other offerings available nearby, but it is a luxurious way to enjoy your visit to South Padre Island for a truly memorable bachelor party.

Rental Homes Available in South Padre
When To Go
Best Time
The best time to plan your bachelor party in South Padre Island is the months from September through February when the average temperature is a pleasant 70 degrees (while the rest of the country suffers from the ice and cold)..
On a Budget
As the rental prices above clearly indicate, prices are competitive even during the peak season months, and South Padre Island's southern location make it balmy nearly year-round (the average temperatures in range from the mid-60s to the mid-80s), so be sure to check for group discounts and special offers for bachelor parties at bars, clubs, hotels and resorts..
Worst Time
March brings hordes of hard-partying spring breakers to South Padre Island, so you'll want to avoid this time unless you want to party along. Likewise, July is oppressively muggy as shown in the figure below.
Current Weather
What Else
There are numerous other historic, natural history, recreational and entertainment venues available in South Padre Island besides those we touch on above, and even a quick Google search will help you find just what you're looking for depending on your preferences and budget. Many of these venues are either free or inexpensive such as the Black Dragon Pirate Ship, a modern day replica of a 17th Century Galleon. It is also important to note that South Padre Island is not an island but rather a city situated on southern tip of Padre Island.
Big Events
Something's always going on in South Padre Island, and new annual events are planned each year. The following list is just a sampling of some of the fun events that are regularly held at South Padre Island.
May: Free pogo stick demonstrations and competition (these pros hold 13 Guinness Book records and include the world-famous XPogo).
October HalloWings Across South Padre Island – intended to celebrate Halloween as well as the annual migration of the Monarch butterflies on way back to Mexico, this event also includes a "Boo Bash" with a free screening of a spooky movie.
December: Lights over South Padre Island – this free holiday celebration features dazzling light decorations, a Christmas parade, a lighted boat parade, and a deep sea fish competition.
What to Pack
Swimwear: Packing some new, well fitting swimwear for your visit to San Pedro Island is a no-brainer because the city's surrounded by water and there's a swimming pool every 3 feet.
Sunglasses: Good looking shades make the man in resort cities, and a high quality pair of sunglasses will protect your eyes from harmful UV rays – they also facilitate discreet babe watching so don't forget these.
A light jacket: While the weather on South Padre Island is balmy to mild almost year round, the temperatures cool off during the mid-winter months so be sure to pack a light jacket.
Comfortable footwear. Your barcrawling can be hampered if you're not dressed for the occasion, and sightseeing along the beachfront in South Padre Island means you'll be doing some serious walking. Make sure you pack some comfortable footwear so you can keep up with your friends who did.
Luggage and accessories: If you're flying into one of the three main airports serving South Padre Island, be sure to use the best types of luggage and accessories that allow you to pack as much as possible to avoid extra airline baggage fees.
Vitamins and supplements: Taking advantage of every second of your South Padre Island bachelor party will require all of the energy you can muster, so be sure to take along some high quality vitamins and health supplements.
Itinerary
You and your buddies have arrived at South Padre Island and are comfortably unpacked in your luxury accommodations. The sample itinerary below assumes you have a swimming pool and/or hot tub/Jacuzzi available and you're located within walking distance of the most popular bars, clubs and restaurants.
9:00 a.m. – 9:45 a.m. Take a leisurely swim and relax in the hot tub.
9:45 a.m. – 11:00 a.m. Brunch at Yummies Bistro.
11:00 a.m. – 2:30 p.m. Charter cruise and parasailing with Breakaway Cruises.
2:30 p.m. – 4:30 p.m. Amble over to Pier 19 for a light brunch and at couple of drinks at Hooker's bar at the end of the pier.
4:30 p.m. – 6:00 p.m. Personal time at the resort.
6:00 p.m.- 10:00 p.m. Pick up a couple of bottles of your favorite booze and head for you bachelor party special at Jaguars Club.
10:00 p.m. – 1:00 a.m. Barcrawl with your favorite bars.
1:00 a.m. – ? Two-team swimming pool volleyball and then head for the hot tub.
Bachelor Party T-Shirts
Everyone likes free t-shirts, and a customized t-shirt that includes photographs of you and your bachelor party buddies makes a great memento of this special occasion.
Travel Insurance
Are you a gambler? If so, you should head for Vegas instead of South Padre Island if you don't plan on purchasing travel insurance from a reputable insurance company. Although benefits vary, travel insurance purchased from reputable insurance companies typically offer the following:
Up to 100% cash back for trip cancellations, delays, and interruptions;
Covers purchase of personal items when baggage is delayed for longer than 24 hours;
No deductibles for emergency medical and dental coverage;
24/7 travel assistance; and,
Airline change fee and frequent flyer mile redeposit fee coverage.
Why Go
The city's year-round pleasant weather, ideal location along the Texas coast, mature tourism industry and countless water sports activities make South Pedro Island a great bachelor party destination during almost any time of the year.
Rating
On a scale from 1 to 5, we give South Padre Island an 4.5 for bachelor parties (this rating may be increased in the near future in the event the expected relaxation of 420 laws comes to pass).
Conclusion
Everything's big in Texas they say, and you'll probably agree if you drive to South Pedro Island from another state. Nevertheless, this is one of the top tourist destinations in the country and for good reason. This destination has everything you need to throw an epic South Padre Island bachelor party, and we're confident that you and your friends will be glad you did.