Plan an Epic Bachelor Party in Havana Cuba (2023 Guide)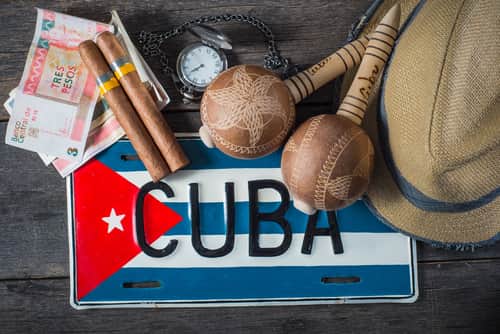 This post may contains references to products from one or more of our advertisers. We may receive compensation when you click on links to those products or services. Please also consider
donating to our website.
Growing up, what place was more mysterious than Cuba?  Now you can finally solve that mystery by planning your bachelor party to this amazing caribbean location.  We all heard about its amazing music, great food, and delicious food, but it was off-limits to Americans.  We could get near Cuba, but not on it, and the more we heard about it, the more we heard how much more amazing the sights, sounds, and tastes were there.  Of course, as we got older, the luckier among us had a few Cuban cigars, and maybe even a few of the notoriously gorgeous Cuban women.  Yet, we still couldn't visit the island. Plus, those same restrictions that kept us from visiting, kept much of the island from keeping up with modern times.  We heard about the classic cars, old-times restaurants and clubs, and how they were juxtaposed with modern Cubans. Now that travel restrictions have been eased, we can experience it for ourselves, and what better time to experience than at your bachelor party, exploring someplace truly new with your boys?
How To Get There
Airport
The easiest way to get to Cuba is to fly, now that travel restrictions have been scaled back.  There are several airlines that offer flights to Havana from both South Florida and East Coast destination.  When flying to Cuba, you want to make sure that your destination airport is José Martí International Airport (airport code: HAV).
Things to Do
Daytime Bachelor Party in Havana, Cuba Ideas:
First things first, you're in Cuba.  That's pretty historic; you have to take a little time to look around and appreciate that fact on its own.  Look around.  Seriously, walk around the place and just check out some of the stuff that other Americans haven't gotten to see.  It's worth it.
Where to start?  Walk around Vedado.  In the early 20th century, Vedado was home to some of the most amazing mansions on the island.  Then the revolution happened and many of these homes were abandoned.  The result?  Some really haunted looking crumbling structures that still retain much of their old-world grandeur and beauty.  If you are any kind of photographer, bring your real camera along on this day-trip.  It is surreal, but in the best possible way.
Is there more of a dude author than Ernest Hemingway?  No, there isn't.  Even if you aren't a fan of his work, you still know he is the quintessential dude author.  So, experience a bit of Hemingway's Cuba with a jaunt to Finca la Vigía.  Once Hemingway's home, and where he wrote For Whom the Bell Tolls, it is now a museum.  A museum at a bachelor party?  We must be kidding you, right?  No, man up; this is Hemingway we're talking about, not some frou-frou poet.  So much of what Americans know, or think they know, about Cuba and Cuban culture come from our exposure to it through Hemingway's works, that it's almost like a pilgrimage to visit his home.
Gambling- Spending the day in one of Havana's casinos is a great way to spend the day.  Havana has an area known as The Malecón, which is very similar to the Strip in Las Vegas.  There are tons of casinos on this beachfront strip of property, and any one of them will be happy to take your money in exchange for the chance you will walk away a richer man.  Can you gamble in other places?  Sure, and we aren't going to lie and pretend like gambling in Cuba is somehow better than gambling in those other places, but we think gambling is pretty great, wherever you do it.
Hang out in the Plaza Vieja.  Yes, it's the most touristy part of your trip, but that's okay.  The plaza has all kinds of things in it, so wander around an art gallery, or just people watch while sipping on an impossibly large beer or mojito.
You think Americans are crazy about baseball?  Well, think about how many people in MLB are from Cuba, a tiny island nation.  When the answer hits you, you're going to realize that Cuba takes the love of baseball to a whole new level.  That's why you need to hustle down to Estadio Latinoamericano, a stadium larger than most American MLB stadiums, which hosts not one, but two, major league baseball teams.
Visit El Morro, an old fortress that has also served time as a prison, El Morro offers some of the best vantages in Cuba.
Go to the beach.  Seriously, do not go to Cuba and miss the beach.  Cuba's beaches are said to be among the most beautiful in the Caribbean and whether you are into scuba, snorkeling, snuba, surfing, windsurfing, parasailing, kitesurfing, boating, jet skiing, or just lying on the beach watching beautiful women in barely-there bikinis, Cuba's beaches are going to exceed your expectations.
Hike to the top of Pico Turquino.  Cuba may not have the world's tallest peaks, but its tropical surroundings are great for daytime warriors who want to get a little taste of adventure.
Nightlife Ideas for a Bachelor Party in Havana:
Many Americans only know of Havana through photographs and think of it as a quaint, sleepy town.  Wrong!  Cuba is one of the most popular tourist destinations in the Caribbean and Havana's nightlife is amazing.
Cabaret Tropicana has been the club since 1939, and it's not going anywhere.  This place offers a show that mixes Cuban folklore, music, and dance with a sexiness that is close to the burlesque tradition.  It's not like an American nightclub, but it is the one nightspot you have to visit if you have your bachelor party in Havana, Cuba.
La Fabrica– is it a bar?  Is it an art club?  Is it a concert venue?  Is it a nightclub?  Yes, yes, yes, and yes.  La Fabrica defies description, but it's a lot of fun.
Jazz Club La Zorra y El Cuervo, Jazz Café, and Piano Bar Delirio Habanero are just a few of the many places you will find great live Cuban music and inexpensive and delicious cocktails.
Looking for something unusual?  The Cabaret Las Vegas offers some of the island's most fascinating entertainment, but don't take your bros there if they are homophobes.  The club's entertainment includes an amazing drag show.
Cuba is known for salsa music and some of the island's best is found at Casa de la Musica de Miramar.  Go there to dance or, if you don't salsa, go there to watch the beautiful Cuban women and tourists from around the world dance.  Your choice.
Where To Eat
Best Places for a Bachelor Party to Eat in Havana, Cuba:
There are a ton of restaurants in Cuba that have made a name for themselves in the world culinary scene.  However, if you have ever had simple Cuban street food, you will understand why, even though we are going to tell you restaurants to visit, we are also going to strongly encourage you to hit some street food vendors every chance you get.  They might provide you with the best food you eat on your trip, and it will be almost criminally affordable.
Los Naranjos is a paladar, or one of the city's restaurants that is not owned by the government.  It is located in a house that has been converted to a restaurant and serves food that is described as Cuban fusion, but is really more like a modern take on traditional Cuban classics.  This place is very hip, so head there for the scene and to be as much as the cuisine.  Food you must try here: their take on surf and turf is fantastic, but if you have to choose just one, have the lobster.
Why go to Havana and eat French food?  Because it's damned delicious, that's why.  Le Chansonnier offers classic French cuisine like caviar and duck, but served by friendly Cubans in an island paradise.  Does any of that sound wrong?  No, it doesn't, because it is perfection on a plate.  Food you must try here: caviar.
La Baracca might be the city's most popular restaurant.  It's a government owned restaurant decorated in the height of 1950's style.  Plus, it's located in Hotel Nacional, which should probably be on your must-see list, anyway.  The food is best described as Creole, which any foodie knows is basically an old-school term for fusion, so expect traditional Cuban foods with international flair.  Food you must try here: the all you can eat Creole special
La Guarida is probably Cuba's most upscale restaurant, and if you want to eat here, you better make reservations before you come. It is where the rich and famous eat when they visit Havana. Part of that is because it is just a cool spot; located on the top floor of a run-down building it flies in the face of traditional upscale eateries.  However, the menu is the real draw.  Food you must try here: eggplant caviar and watermelon with shrimp. and
Massage Parlors and Strip Clubs in Havana, Cuba:
While there are plenty of cabarets all over Cuba, where you can find sexy, scantily-clad women dancing, there really isn't anything comparable to an American strip club.  Likewise, for massage parlors.  However, prostitution isn't penalized in Cuba, so you can probably find some women willing to put on a private show.
Where To Stay
Bachelor Party Friendly Hotels in Havana, Cuba:
Havana is a juxtaposition of tourist haven and impoverished city, so you want to be a little particular about where you stay.
We like the Meliá Habana for a bunch of different reasons.  We would call it an American-style luxury resort, but on an island paradise.  It has everything you want from a Cuban hotel: a cigar bar, tropical gardens, ocean views, and view of Havana, as well as all of the perks you expect from a resort, like the city's largest swimming pool, luxurious suites, concierge service, on site restaurants and bars.
The historic Hotel Sevilla won't offer the same modern amenities as the Melia Habana, but the prerevolutionary 1908 building will offer you some old-school Cuban charm.
The Hotel Nacional de Cuba is probably the country's most famous hotel, and it blends history, luxury, and service in a way that will have you coming back for more.  It is expensive for a hotel in Cuba, which means it is still pretty affordable by American standards.
Bachelor-Party Friendly Housing Options in Havana, Cuba:
If you want something more private than a hotel, consider Havana bachelor party house rental.  Renting a house keeps your whole party together, gives you amenities not found in many hotels, and is often more affordable. There are a ton of great properties for short-term rental in Havana and you can use Airbnb to find them; Homeaway.com is not yet servicing Havana.
We like this 5 bed apartment with in-suite bathrooms and panoramic views.
When To Go
Best time for a Bachelor Party to Travel to Havana (no budget restrictions):
December to May offers the best weather and is the best time to travel to Havana.
Best time for Bachelor Party to travel to Havana (budget restrictions):
September to November is at the tail end of hurricane season and outside of rainy season, so it still offers plenty of gorgeous opportunities, at a lower cost than the busy spring season.
Worst time for bachelor party to travel to Havana:
June is rainy season, so it's the worst time to travel there.
What To Bring
Items to Pack for the Big Weekend:
Havana might be a hubbub of international tourism, but do not assume you can get any of your favorite items there; they haven't been in business with the United States for more than half a century and the last few years have not been enough to catch up.  Pack what you need and bring along extra for your friends.  We suggest the following bachelor-party must-haves: ibuprofen, acetaminophen, electrolytes, recovery formula, condoms, and lube.
What Else
Extracurricular Activities (escorts and drugs):
Not much is known about the availability and cost of women and weed.  As more bachelor parties make their next move their best move and head to Cuba, we will update this section based on their feedback.
Prices:
Year round tourism drives prices down; while some clubs can be spendy, expect to pay less than you would at clubs in almost any major U.S. City
Big Events in Havana, Cuba:
Cuba doesn't have its own version of a Mardi Gras-type huge festival event, but it has a number of smaller festivals throughout the year.  Some of our favorites?
The Festival del Habano, because, when you think Cuba, you think cigars.  It is the world's premiere cigar festival in the world's most renowned cigar country.  Cigar rolling master classes, cigar sommeliers; this event is great for cigar aficionados, but it's also just cool for novices.
Are you a sport-fishing fan?  Then ignore what we said about June being the worst time to travel to Cuba and head there for the International Ernest Hemingway Needlefish Tournament.  That's when sport fishing enthusiasts from around the world head to Havana for a tournament that isn't just named after Hemingway, but was started back in 1950 by the man, himself.
Crime:
It is tricky to tell you about crime in Havana because the government doesn't release crime reports.  It is an impoverished country with a vibrant tourist trade, which usually means you are at risk of property crimes like muggings, pickpocketing, etc.  However, gun laws in Cuba are really strict, and the murder rate is not only lower than that of other Latin American countries, but also seems to be lower than the U.S. murder rate.  Our advice?  Visit Cuba, but don't strike out on your own to visit parts unknown.
Tips:
Make sure when you are in Cuba you try Havana Club rum, which is some of the best rum you will ever drink.  You can either drink it on the rocks, or if you want to tone it down a bit (wuss), add a splash of diet cola or club soda.  You also want to make sure you smoke a cigar while in Cuba, although be careful as these are strong and can knock you on your ass.
Because it is only recently opened up to American tourism, it can be hard to accurately describe Cuba and compare it to other tourist destinations that are better known to Americans.  Sure, it has much of the same beauty and feel as any other Caribbean island, but it is impossible to ignore the impact that the Communist Revolution had on the island.  It is the same, but different.  We think those differences make it even more fascinating, but if different cultures and different approaches to life make you uncomfortable, you might want to stick to someplace that has been open to American influence for the last few generations.
Rating:
Conclusive Review:
In conclusion, for the coral reefs alone, we think Havana should be on early traveler's bucket list.  We also think you need to get there pretty soon, before American tourism can rob it of some of its old-world charm.   However, whether it is the ultimate bachelor party destination depends a lot on you and your friends.  If you are expecting a tropical vacation destination that caters to Americans, you may be better off choosing more touristy spots like Jamaica or the Bahamas.  However, if you want your bachelor party to be a unique experience, Havana is the way to go.
Havana Cuba Bachelor Party Forum:
If after reading this article you still have some questions about planning your big weekend to Havana, post a question to our Cuba Bachelor Party Forum.  If you have already taken the trip and have some valuable information for other parties heading that way, please leave feedback in our forum, or send us an email with your review.