Lake Tahoe Bachelor Party Planning Guide (2023 Edition)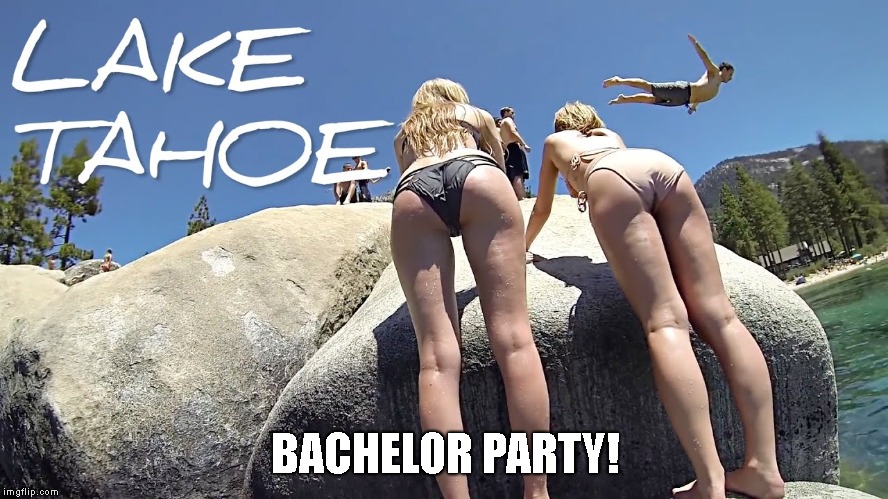 This post may contains references to products from one or more of our advertisers. We may receive compensation when you click on links to those products or services. Please also consider
donating to our website.
If you're considering Lake Tahoe for your bachelor party, you're definitely on the right track. Situated in California and Nevada, Lake Tahoe features year-round entertainment and recreational opportunities, including water sports of every description during the summer and skiing and ice sports in the winter – with plenty to see and do in the months in between – including casino gambling on the Nevada side and legal recreational marijuana wherever you go. This guide provides first-time and seasoned visitors to Lake Tahoe with the inside information needed to throw the best bachelor party ever, including how to get there, things to see and do, where to stay and eat and much more.
How to Get There
Conveniently situated along the Nevada and California border (see map below), getting to Lake Tahoe is a simple matter whether you're driving or flying. If you live on the West Coast, driving to Lake Tahoe can be a world-class road trip, with spectacular natural vistas along the entire route. In fact, it only takes about 3 and one half hours to drive to Lake Tahoe from the Bay Area.
Airports
If you flying, Lake Tahoe is just about an hour's drive from the Reno-Tahoe International Airport (airport code: RNO) which has more than 120 nonstop flights every day. You can catch an inexpensive shuttle at South Tahoe Airporter to your final destination around Lake Tahoe but be sure to wait at the side pickup area or you'll miss it.
Getting Around
Lake Tahoe is the largest alpine lake in the United States containing trillions of gallons of crystal clear water that attract millions of visitors each year. The lake itself is located between the borders of Nevada and California, and the highly popular South Lake Tahoe is situated on the California side and with Nevada featuring Stateline on its side, among several other communities. Likewise, Truckee ("Oregon Trail" players will recognize many of the names around Lake Tahoe) and Incline Village, together with the numerous resorts that are available in Northstar, Alpine Meadows, and Squaw Valley.
Rental Cars
Car rentals from national companies are readily available at the Reno-Tahoe International Airport, Truckee, and South Lake Tahoe.
Ride Sharing Services
Both Uber and Lyft are available in Lake Tahoe, on the California and Nevada side.
Limousine Companies
North Tahoe Limousine is among the premier limousine services in the Lake Tahoe area and they concentrate on special events such as bachelor parties. Tour the scenic vistas and quaint eateries, shopping boutiques and upscale bars around the lake in style with a limo from North Tahoe Limousine. If you have a LOT of bachelor party guests or want to have more room to have fun, you might want to consider a party bus rental …
Party Bus Rentals
One of the top-rated limousine services in the Lake Tahoe area is Bell Limo, featuring stretch limousines with state-of-the-art surround sound, customized lighting and all the amenities you'd expect from a world-class limousine service. Bell Limo also offers party bus rentals as well as the companies listed below.
Boat Rentals
What does boating plus beer plus booze plus bachelor party buddies equal? Well, it always means a good time but let's face it, what better place to rent a boat or party barge than Lake Tahoe? With nearly 200 square miles of crystal-clear water, it is little wonder that there are a number of high quality boat rental services available in the Lake Tahoe area, including the aptly named Party Boat Lake Tahoe that specializes in bachelor parties. Party Boat Lake Tahoe features scenic cruises around the best spots, including beach front bars. Their fleet is equipped with state-of-the-art sound systems and they personalize your bachelor party event to make it a truly memorable occasion.
Likewise, Rent A Boat Lake Tahoe offers a number of different types of boats you can rent and operate yourself or you can take advantage of their experienced, licensed captains who serve as friendly tour guides for your Lake Tahoe bachelor party adventure. Besides boats, Rent A Boat Lake Tahoe also features kayak and paddle board rentals before and after your boating adventure (for an additional fee of course). You can spend an entire fun afternoon at this place!
Things to Do
Although there is plenty to see and do anytime of the year at Lake Tahoe, the most popular activities are naturally aligned with the season. This means that skiing and ice sports are available during the winter months while water sports such as skiing and boating are featured. The following representative list includes some daytime activities for different seasons of the year, with a special focus on those that are available year-round.
Daytime Activity Ideas
With Lake Tahoe as its crowning jewel, it is not surprising that there are numerous activities available that capitalize on this resource, including those listed below.
Located in the heart of South Lake, the 2.4 mile Gondola at Heavenly Mountain ride provides visitors with an unparalleled view of the spectacular scenery surrounding Lake Tahoe that has made it a favored tourist destination over the years. The eight-passenger, glass-enclosed cabins offer a 360-degree view of the breathtaking scenery of the Sierra Nevada mountain range and Lake Tahoe. In addition, there is an observation deck available halfway up the mountain where you and your bachelor party friends can take pictures, or enjoy Café Blue's delicious lattes and pick up a unique souvenir at the Gondola Sports Shop.
The fun doesn't stop there, though, and you can enjoy the view back down on the Tamarack Express chairlift or take advantage of the hiking trails. Remember, angels whisper to men when they walk in the woods.…
When you're finished with the Gondola ride and all that it has to offer, check out the East Peak Lodge which features an outdoor beach party every week and then saunter over to Unbuckle at Tamarack where they offer a mobile DJ snowcat, drink specials, and the retro-but-hot Heavenly Angels go-go dancers who will help warm you and your buddies up.
You and your friends will also want to check out Lake Tahoe Jet Ski Rental for a great way to tour the crystal clear waters of Lake Tahoe and enjoy its natural scenery.
If you're ready for something really different, enjoy the comfortable climate-controlled shuttle tour offered by Guided Pony Express Trail Tour to Virginia City with Historic Train Ride. At around $55 per person, this 7-hour long narrated tour departs South Lake Tahoe around 8:30 a.m. and includes a 6.5-mile historic train ride on a Virginia and Truckee Railroad to Gold Hill and return.
While tooling around Lake Tahoe on a kayak, paddleboat or jet ski is a lot of fun, you may want to experience the thrill of flying over the lake by visiting the Lake Tahoe Parasailing Ride. You and your bachelor party buddies can take pictures of the boating action on the lake from a birds-eye perspective, or take pictures of each other having a blast.
View all other Activities in Lake Tahoe
Nightlife Activity Ideas
North Lake Tahoe
Open 24/7, Rookies Sports Bar offers slot machines and live music in a casual atmosphere. With daily food and drink specials and live DJs every Saturday night, Rookies is a sure-fire way to nightlife fun. Likewise, the Crystal Bay Club Crown Room has been voted the best casino on the North Shore featuring a year-round lineup of talented entertainers. Other popular spots in and around North Lake Tahoe that feature casino action include the Tahoe Biltmore and Casino and the Cal Neva Casino.
South Lake Tahoe
The Mott Canyon Tavern & Grill features daily beer specials in a laid-back setting that includes pizza and other types of "pub grub" as well as a seasonal patio, video games and a cozy fireplace area. Likewise, the Cabo Wabo Cantina offers a unique experience featuring Sammy Hagar's complete bar and rockin' music year-round. Featuring a full bar, shuffle board and pool tables, Whiskey Dick's Saloon also offers live music provided by talented local bands. The Blu Nightclub and Opal Ultralounge also offer rockin' nightlife action (the Opal has gorgeous go-go dancers).
Bars
Besides the bars listed above, some of the other popular venues in the Lake Tahoe area include the Genoa Bar and Saloon, Moody's Bistro & Bar, the Fat Cat Bar & Grill, the Red Dog Saloon, the Tahoe Mountain Brewing Company, and the Cottonwood Restaurant and Bar.
Strip Clubs
Get "down and dirty" at Lake Tahoe Party Girls where the exotic entertainers specialize in bachelor parties and will customize a bachelor party package just for you. Located nearby, the world-famous Wild Horse Mustang Ranch and Brothel also specializes in making bachelor parties a truly memorable event in plus surroundings with stunningly beautiful entertainers. Be sure to visit the Wild Horse Saloon (open 24/7) before and after your trip to the ranch and brothel.
Still need help with female entertainment?  Check out our bachelor party strippers guide for more information!
Where to Eat
With more than three million people visiting the Lake Tahoe area each year, it is little wonder that there are so many great places to eat that cater to all tastes and range from the cut-off jean casual to the ultra-sophisticated. Some of our favorite places to eat around Lake Tahoe include the following.
Breakfast / Brunch / Lunch
The top-rated Bistro at Edgewood Tahoe by the Reno Gazette-Journal is universally regarded as the best place for breakfast and brunch in Lake Tahoe. Be sure to try their house-made patty sausages, home fries and artisan muffins. The Driftwood Café is also a highly rated place for both breakfast and lunch which serves up homemade goodness in the form of potato pancakes, country gravy, ham, pancakes, bacon and a wide assortment of omelettes. Also, don't miss lunch at the Red Hut Cafés, rated as one of the top five restaurants at Lake Tahoe by TripAdvisor.
Dinner
Christy Hill is an award-winning restaurant located in North Lake Tahoe just 100 feet above the lake shoreline that consistently delivers up some of the best casual-elegant dining experiences in the area (reservations are recommended). Another top-rated spot for dinner at Lake Tahoe is The Loft Tahoe – try their toasted raviolis (about $14) – yummm. Besides its world-class restaurant, the Loft also features nightly magician acts that will wow you and your bachelor party buddies. A more moderately priced but still terrific place to eat dinner at Lake Tahoe is Jake's on the Lake featuring fresh shucked oysters, Dungeness crab cakes and other fresh seafood as well as numerous "turf" dishes.
Where to Stay
Hotels & Resorts
During the winter months, the Ritz-Carlton at Northstar is pricey but offers an unsurpassed view of the lake and some of the best skiing in the area as well as a enormous spa and a restaurant featuring the best barbecue in the state. Likewise, the Montbleu Resort Casino and Spa has been voted the best place to spend the night in Lake Tahoe. In addition to two great clubs and nightly shows, the Montbleu also features world-renowned entertainers such as The Temptations at its on-site theater. New players' club members receive $30 in free casino action after they play for just 30 minutes, so you may be able to pay for your entire Lake Tahoe bachelor party adventure during your stay at Montbleu (don't count on it though).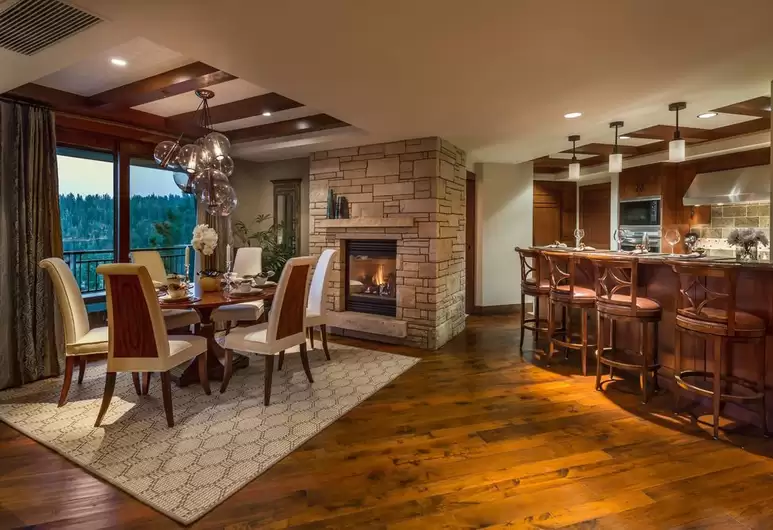 House / Villa Rentals
While there's a lot to be said for staying at hotels and resorts in Lake Tahoe, the area also offers a number of alternatives, including those available from Homeaway and VRBO. The following listings are based on a 4-night stay with six guests; however, it should be noted that properties located in South Lake Tahoe County and El Dorado County are subject to an ordinance on short term rentals that prohibits these rentals from being used for any types of parties so be discreet in your negotiations with the landlords and your activities during your stay.
VRBO
Enjoy the rustic side of Lake Tahoe in comfort at this South Lake Tahoe Cabin – 3-Block Walk to Lake! Able to accommodate up to nine guests, this cabin has great views of the lake and is located near a number of area attractions. Priced at just $989.80 ($183 per night), this cabin makes a perfect spot for staging your once-in-a-lifetime (maybe) Lake Tahoe Bachelor party.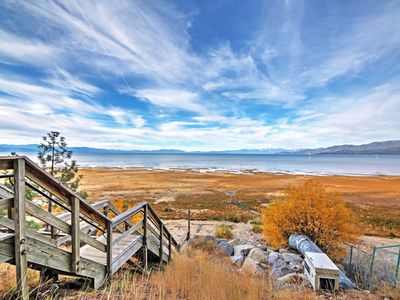 Guys love towers and you'll love staying at this Luxury Retreat at Heavenly Boulder Lodge – Walk to Lifts mountain home. With a tower view and private hot tub on an outdoor patio surrounded by scenic beauty, plush leather sofas, fireplace, vaulted ceilings, card table, flat screen televisions and much more, this mountain home has everything you need for your Lake Tahoe bachelor party. All of this luxury comes at a slightly higher price ($1,382.66 or $303 per night), but its close proximity to skiing makes it a good value during the winter months.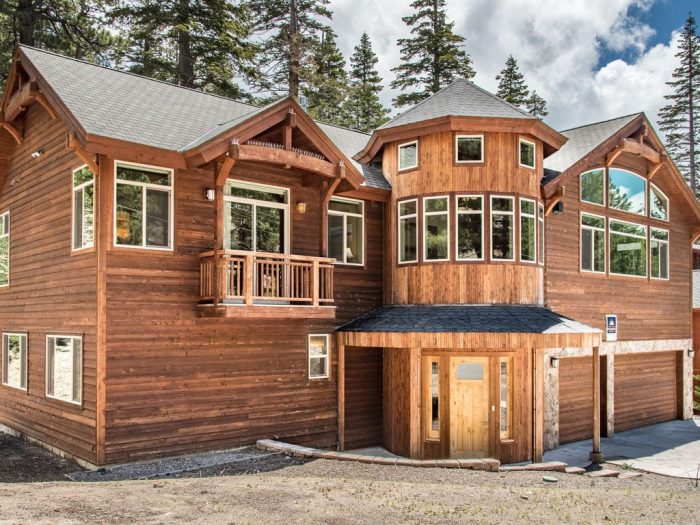 Finally, this Elegant and Comfortable Tahoma Home costs $1,293.40 ($233 per night) and you get a lot for your money. With five bedrooms, fireplace, two full baths, a closet full of board games, a giant flat screen television and a four-person hot tub and wi-fi, this home makes an ideal place for your Lake Tahoe bachelor party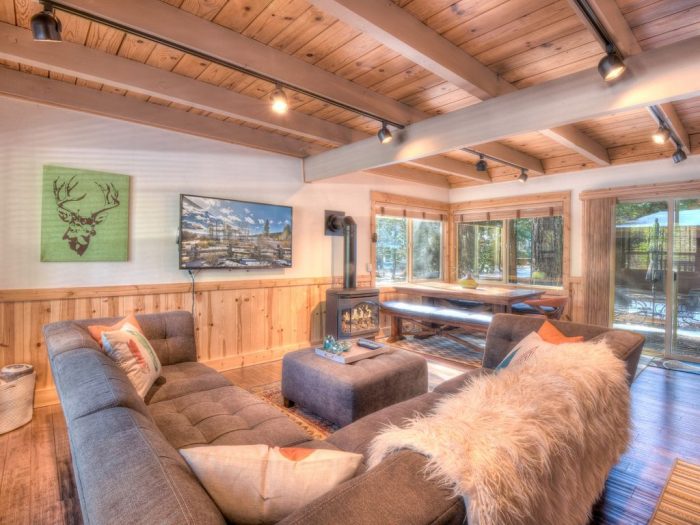 View all Rental Homes in Lake Tahoe on VRBO.com
When To Go
Best Time
The best time for a Lake Tahoe bachelor party depends, of course, on when the groom is getting married. If the stars align and you're a skiing buff, take advantage of the great snow that Lake Tahoe offers during January through March. Conversely, if you prefer golfing, hiking or water sports, the summer months are the best time to visit Lake Tahoe, and the party scene gets its hottest during July and August.
On a Budget
The off-season months between September through December and April through June are best for budget-conscious visitors.
Worst Time
Lake Tahoe hosts up to 300,000 visitors during its peak seasons between January and March and July and August so prices are higher and the bars and casinos are more crowded.
Current Weather


What Else
We've only touched on some of the entertainment venues, clubs, bars, restaurants, casinos and much more that Lake Tahoe offers, but we trust this glimpse into what is available will convince you that Lake Tahoe and its surroundings municipalities provide everything needed for bachelor parties of all sizes and types. Interestingly, besides being the largest (and purest at 99.994%, nearly as pure as commercially distilled water at 99.998% pure) alpine lake in the United States, Lake Tahoe is also the second deepest (1,645 feet with 39 trillion gallons of water!), and the sun shines 274 days a year.
Big Events
There's always something going on in and around Lake Tahoe to keep the millions of visitors each year entertained, but some of the more noteworthy big events include the following:
4th of July "Lights on the Lake Fireworks": This annual event celebrates America's Independence Day in a big way. Great viewing vantages are available throughout the area.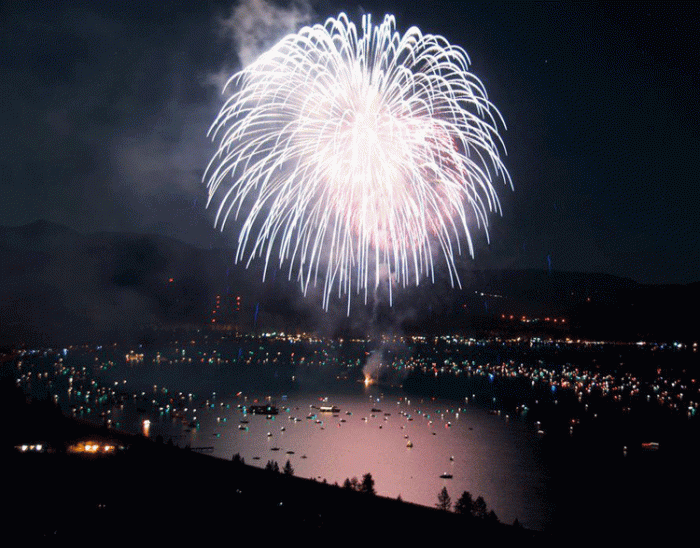 January: New Year's Eve Blow-Out at Heavenly Ski Resort in South Lake Tahoe: This 2-week festival features sleigh rides, holiday-themed happy hours, great shopping opportunities at the The Shops at the bottom of the Heavenly Gondola ride described above.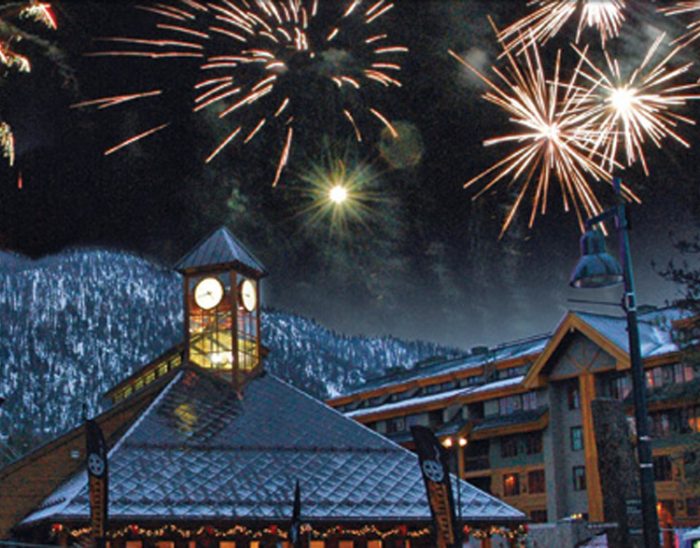 October: Oktoberfest at Camp Richardson: Celebrate all things German, including the tasty beers, at this annual event that is free to attend. Try your luck at the bratwurst eating contest, but be sure to do it before visiting their beer and wine garden.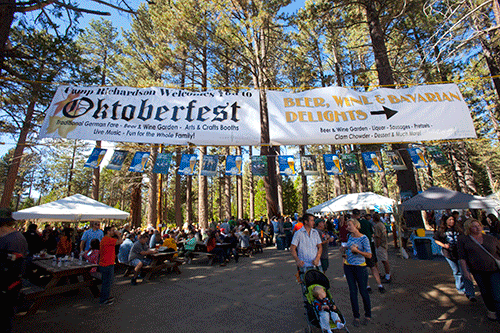 October 31: Freakers Ball at Montbleu: This is the biggest Halloween party at Lake Tahoe with pretty women in scanty outfits vying for first prize in their $10,000 costume contest. Halloween celebrations are held at the Opal Ultra Lounge, Blu Nightclub, and the MontBleu Ballroom.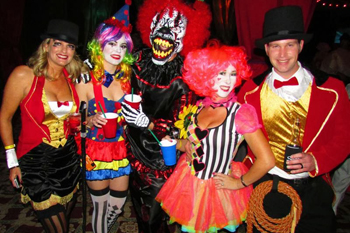 What to Pack
Deciding what to pack for your Lake Tahoe bachelor party will depend, of course, on the time of year you're visiting, but some of the must-haves include the following.
Itinerary
With so much to see and do, deciding on an itinerary can be a daunting enterprise, but the sample itinerary outlined below for the summer months may give you some good ideas on how to get started on your first full day at Lake Tahoe.
9:30 a.m. Meet at designated spot and proceed to brunch at Bistro at Edgewood Tahoe where you can fuel up for a busy day. Try their Michel Blanchet smoked salmon, tomato, shaved red onion, dill, whipped cream cheese and lodge salad for a tasty treat.
11:00 a.m.-4:00 p.m. Arrange for a bachelor party excursion with Party Boat Lake Tahoe and its "52 feet of pleasure" party boat. Music and dancing on the bow, and enjoy cheese and wine to whet your appetite in the afternoon before heading to …
4:00 p.m. – 5:30 p.m. Jake's on the Lake for a delicious dinner served right on the waterfront. Disregard the name and try the Hawaiian Hamachi Crudo (avocado mousse, mango, pickled daikon, candied ginger and Thai vinaigrette.
5:30 p.m. – 7:30 p.m. Swimming and relaxing poolside at your resort or soak in the hot tub at your rental before gearing up for a big night at …
8:00 p.m.– 11:30 p.m. Take advantage of Lake Tahoe Party Girls' bachelor party specials and make the groom's night a memorable one.
11:30 p.m. – ? Try your luck at the Montbleu Resort Casino and Spa. Be sure to join their players' club and take advantage of the specials they offer.
Bachelor Party T-Shirts
You and your bachelor party buddies will prize a high-quality tee-shirt as a souvenir of this special event. Customized bachelor party shirts are also affordable and there are stock pictures available or you can even use your own.
Travel Insurance
Let's face it: bachelor parties can cost a lot of money so be sure to protect your investment in a Lake Tahoe bachelor party by purchasing travel insurance from a reputable insurance company which provides the following benefits:
Up to 100% cash back for trip cancellations, delays, and interruptions;
Covers purchase of personal items when baggage is delayed for longer than 24 hours;
No deductibles for emergency medical and dental coverage;
24/7 travel assistance; and reimbursement
Airline change fee and frequent flyer mile redeposit fee coverage.
Hashtags
#laketahoebachelorparty #guystakeontahoe #tahoes #tahohoneys #boatsandhoes
Why Go
Tourists visiting Lake Tahoe spend an average of 3.2 days and $700 enjoying the natural beauty of the surrounding lands, the numerous dining, shopping, recreational and sporting opportunities that are available, as well as the exciting casino action that is offered nearby (tourists spend about one-third of their vacation funds on gambling). In fact, many tourists make Lake Tahoe their annual vacation destination for all of these reasons. In other words, Lake Tahoe has something for everyone, and plenty of what you and your bachelor party buddies are looking for in a perfect destination. More importantly, perhaps, you and your friends can truthfully tell your girlfriends and wives (or both) that you're just planning a relaxing bachelor party fishing and boating without mentioning your short side trip to Reno for the exotic adult entertainment and gaming that's available 24/7. In fact, the JA Nugget Hotel-Casino in the Reno-Sparks area launched a $50 million renovation of the casino with two hotel towers in 2014. You may never want to leave …
Rating
On a scale of one to ten stars, Lake Tahoe rates a solid 4.5 stars as a bachelor party destination (5 if you're a snow skiing enthusiast).
Conclusion
We'll bet you're already packing, huh? We don't blame you, Lake Tahoe is one of the premier tourism destinations in the country and for good reasons. Besides the pristine water in Lake Tahoe and all of the exciting water sports activities that are available during the summer months, this destination also offers some of the best snow skiing in the world during the winter months. More importantly, perhaps, accommodations are available to fit almost any budget, and the best of what is available in California and Nevada are at your fingertips in Lake Tahoe.