Plan an Amazing Bachelorette Party in New York (2023 Guide)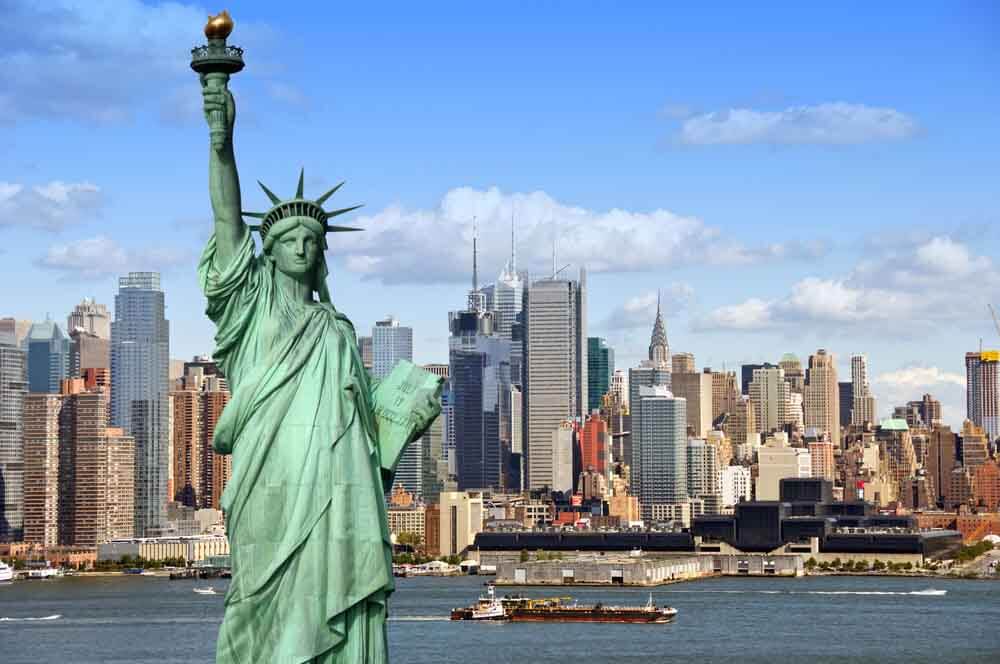 This post may contains references to products from one or more of our advertisers. We may receive compensation when you click on links to those products or services. Please also consider
donating to our website.
The Big Apple.  New York is not only America's largest city, but also considered, by many, to be the country's cultural epicenter.  Restaurants, Broadway, shopping, as well as trend-setting clubs and bars, New York offers a little bit of everything for a bachelorette party.
In fact, New York is such a huge city with so many things to do that no two New York City bachelorette parties are really the same.  Instead, you can tailor your NYC bachelorette party to your group and have an experience that is totally different than anyone else's bachelorette party. 
What are New York City must haves?  It really depends on your group.  Are you locals from the tri-state area, coming into the city for a great night on the town, or traveling from further away?  Is New York a regular destination or will it be the first- time for some of the guests?  These questions may seem obvious, but, trust us, the answers to them should shape your New York City experience.
If your group has first-timers in it, there are some iconic New York sites and experiences that you are going to want to have.  Of course, we suggest at least one Broadway show, especially if you will have Big Apple first-timers in your group.  However, if most of your party has never visited NYC, we suggest something we rarely suggest with any of our destinations: a day of sight-seeing. 
One of the most frequent things we hear from bachelorette party groups coming to New York City is that they want to experience the trendy affluent experience portrayed in shows like Sex and the City.  We know exactly what people mean, and NYC is the place to go if you want to live just a little outside of your normal spending range for a weekend.  Sure, you can hit the expensive shops, but you can also find some amazing shopping bargains in several of New York's shopping areas, especially the Garment District.  You can also head over to the Smörgås Chef with your girlfriends, where you can linger over drinks and delicious food while talking about boys, just like Carrie and company. 
Most bachelorette groups want to hit New York nightlife while they are visiting, but it is important to realize that the city's population density means that most places worth going to are going to have crazy lines to get into them.  This is true of any of the well-known nightclubs, restaurants, or shows.  Not having reservations often translates into missing out on the experience.
From a practical perspective, this means that a NYC bachelorette party is different than planning a party in another location.  You need to get tickets to shows ahead of time and may even need to book months in advance for must-see shows or some of the city's best restaurants.  This is particularly true if you have a big crowd. 
Fortunately, the experience is worth the work.  New York is one of those destinations that can be truly magical year round, and it can provide a truly world-class party experience.    
How To Get There
Car
If you are in the surrounding areas of New Jersey, Delaware, Pennsylvania or Connecticut, another option would be making your bachelorette party into a road trip to Manhattan.  It would only be a few hours away and will provide great photo opportunities.  You will be warned though that driving in New York City can be very dangerous with all the taxis, bike riders, buses, and pedestrians.  If you would rather not put the miles or potential dents on your car you can always rent a car from rentalcars.com, but make sure you pay extra for the damage protection.
Airports
There are three major airports serving the New York City metropolitan area.  They are John F. Kennedy International Airport (airport code:  JFK), Newark Liberty International Airport (airport code:  EWR), and LaGuardia Airport (airport code:  LGA).  Although they are located in different places in New York, and EWR is actually located across the river in New Jersey, public transportation options in New York mean that all three of them are truly options for anyone traveling into the city.  Your choice of airport may be determined by which airline you choose.  You may also want to look into flight costs into the different airports; you may see significant savings on your flights costs at one airport compared to another. 
When booking your flights to New York make sure you check out priceline.com as they always seem to have the best prices and available options.
Things to Do
Daytime Activity Ideas
There are so many things to do in New York that it is difficult to narrow them down.  In fact, some places with fewer options can actually make party planning easier, because there are not as many choices.  However, while the choices can seem overwhelming, they are what makes New York a great party destination!
Want to feel pampered?  New York can put you in the lap of luxury.  There are literally hundreds of fabulous day spas in New York.  Some specialize in providing specific services, while others offer a comprehensive day spa experience.  Local favorites are subject to change, especially for trendier services, but here are some of our timeless faves:
Oasis Day Spa was given the Best of New York title from New York Magazine, and that comes as no surprise to anyone who has pampered themselves at this modern, chic location.  Massages, skin care, IPL, makeup services, and waxing, Oasis does it all.  A trendsetter with spa bachelorette parties, they are happy to work with you to create the party spa day of your dreams!
Shikuza New York Day Spa offers all of the traditional spa treatments, plus a wonderful sauna experience, eyelash extensions, and even medi-spa treatments.  However, they might be best known for their award-winning facials, which combine Eastern and Western spa elements to leave you feeling relaxed and looking gorgeous.
What can we say about Metamorphosis Day Spa that fans have not already said?  Not much; this Manhattan favorite has a legion of fans that love its serene, celestially-inspired décor and dedicated staff.  We suggest a Cleopatra's Confection Body Wrap for a milk and honey experience that makes you look and feel younger. 
Pool parties have become a bachelorette party event for a number of reasons.  After all, what could be more relaxing than taking in some sunshine in a gorgeous location with a group of your besties?  New York City pool parties are a little different than what you'll find in other places.  In New York, pool parties almost always mean rooftop pools, which means that you get an amazing view of the city with your pool party. 
We love the pool at the Gansevoort.  Located in the meat packing district, this rooftop pool offers stunning views of the Empire State Building and sunsets over the Hudson River.  The only caveat?  The pool is for guests-only, but given the Gansevoort's location and cool uptown-midtown vibe, it can be a great place to stay!
The James Hotel pool is reserved for guests during the week, but open to the public on weekends from 12pm to 5pm.  It is a great way to spend an afternoon, doing a traditional bachelorette party activity in a very non-traditional location. 
La Parker Meridien offers a swanky rooftop pool experience, but expect to pay for the privilege: day passes are $100 and, while you're there, you'll probably end up grabbing food at the poolside restaurant or heading inside for some of the city's best burgers at the Burger Joint.  What do you get for your $100?  A pool 42 stories above the city, some awesome views, towels, and one of the city's favorite daytime party spots.  Just make plans to get there early; they do not take reservations and, at least on the weekends, they fill up very quickly!
Party boats are always a popular bachelorette party choice, and are actually a great way to tour New York without getting into heavy traffic.  There are plenty of great boat rental places in New York, but we are partial to the North River Lobster Company.  It's affordable; $10 per person to sail.  They have a great menu that includes fresh seafood, a raw bar, and a great assortment of cocktails.  It's not a private party, but it is a great, affordable way to have a unique party boat experience and see midtown NYC. 
Pole dancing lessons have gained nationwide popularity as a bachelorette party activity.  What do women love about pole dancing classes?  They let women explore sexy moves and body positivity in a safe judgment-free environment.  There are literally hundreds of places to take fun, innovative pole classes in New York, and Body and Pole happens to be one of our favorites for parties!    
Are you a fan of competition cooking shows like Chopped, Iron Chef, or Beat Bobby Flay?  Then you have to check out My Cooking Party, which lets you participate in competition cooking with your besties.  You'll make an appetizer or a dessert, but the party comes with a chef-prepared three course meal to round out the evening. 
Ever wanted to run off and join the circus?  Then you have to check out the Trapeze School of New York, where you can learn basic acrobatics.  Don't worry if you are scared of heights; the school offers plenty of lower-ground options as well as the high-flying trapeze classes for which it is named!
What about renting a party bus and setting up a bar crawl?  You can stop by some of the most legendary bars and exhibits in New York.
Recommended Activities
View all Activities in New York
Nightlife Activity Ideas
New York City is all about the nightlife.  It has some amazing clubs that set the trends for nightclubs around the world. 
The Marquee has long been one of New York's more popular nightclubs, but it is also a dance club and music venue.  
Like Techno music, LED lighting, and trapeze artists flying above the dancers?  Then check out Finale.  This huge club is known for bringing the party.
Speaking of bringing the party, Output Lounge is not fancy.  If your idea of New York City is fancy cocktails and seeing and being seen by the beautiful people, then it's not the place for you.  A permanent warehouse party, we think of Output as being a kinda-constant rave. 
Le Baron manages to be both trendy and timeless.  Located in Chinatown, this club has a red-on-black theme that gives it an old-school vibe, but is known for playing some of the city's newer dance music. 
Who doesn't love feeling like they have found one of a city's great secret spots?  We know we do.  New York has a number of modern-day speakeasy-type bars, where finding them is half-the-fun.  We like the Sherlockian-feel of the Manhattan Cricket Club, and think its decidedly masculine feel is actually a perfect counterpoint to the sometimes flouncy feeling of a bachelorette party. 
Male Strip Clubs / Male Reviews
The biggest city in the country has a few strip clubs with male dancers.  If you are looking for the full bachelorette-party experience than Hunk-o-Mania, a chain with locations in other parts of the U.S., might just be your best bet.  Of course the dancers are hot, but, perhaps equally important, they know how to make the night all about the bachelorette.
Where To Eat
Dinner
What do you like to eat?  You will find it in New York, a city widely recognized as having some of the world's best restaurants.  In fact, the major problem that tourists have when looking for eats in NYC is that they have too many options!
Is there a place more decadent than the Sugar Factory?  We think of it like a classy Willy Wonka candy factory! Not only does it offer amazing food from their brasserie, but also a candy bar complete with almost any sugary treat you can imagine.  They are known for their couture pops, which have made tons of celebrities embrace their inner child!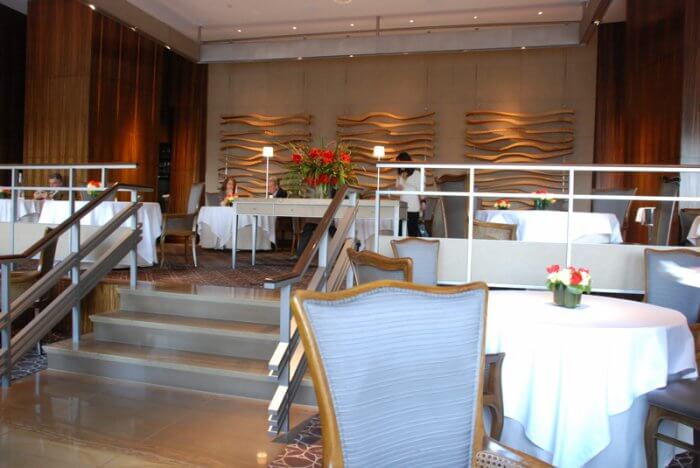 Thomas Keller's Per Se restaurant, with its highly-rated New American cuisine and stunning views of Central Park, is a New York favorite.  With a focus on farm-fresh food, Per Se offers three menus each day: a nine-course chef's tasting menu, a nine-course vegetable tasting menu, and a five-course tasting menus for walk in guests at The Salon.  The prix fix menu does not come cheaply; you can expect to spend several hundred dollars per person before drinks if you go with the full tasting menu.  However, for many of us, it is a once-in-a-lifetime dining opportunity.
No visit to New York would be complete without getting a slice of New York style pizza.  Telling you which pizza place is the best in the city is likely to lead to arguments, even among us.  Everyone has their favorites, and, to be fair, you can walk in to almost any local pizza joint and get a decent slice for a few bucks.  Why?  The competition from great pizza joints means that bad places do not stay in business long.  That said, we still think heading over to Best Pizza is worth it.  A century-old wood-fired oven, a Culinary Institute of America trained chef, and high quality ingredients mean your $3.25 slice of cheese pizza is probably going to be your best food deal while you are in the city.
Brunch
Tavern on the Green may be New York's most iconic restaurant.  Nestled in a beautiful Central Park setting, it is known for its amazing views and a seasonal menu that reflects greater New York.  Their Sunday Jazz Brunch is a great choice to wind up a weekend of bachelorette party fun.  We recommend you try their roasted figs. 

Rental Homes Availables in New York City
Where To Stay
Hotels
We do a lot of writing about bachelorette party friendly resorts and hotels, and a few people stop to ask what we mean by that term.  It is a bit of a given that the average bachelorette party group tends to be younger, somewhat loud, drink heavily, and be ready to party.  Our goal is to highlight hotels where you can keep the party going without interfering with other guests enjoying their stays.  That said, New York has thousands of hotels.  We can't possibly begin to list all of them, so don't feel limited by our choices.   
We've already told you about the rooftop pool party at its Meatpacking District Location, so it should come as no surprise that the Royalton Park Avenue (formerly the Gansevoort Park Avenue NYC) has a reputation as one of the city's best party hotels.  Great dining, great clubs, a great pool, and awesome service. 
The Kimpton Hotel Eventi is known for its afternoon wine-tastings, luxury rooms, and great location.  It also has surprisingly quiet halls and rooms for a party hotel, which we think makes it a great spot, not just to party, but to actually be able to get some sleep when you do finally end your night, even if that happens to be way after sunrise!

Hotels Available in New York City
Rental Houses
Hotels are great, but there is something about renting a house and getting together for an extended slumber party with all of your besties.  There are tons of great NYC area properties and you can find them on Airbnb.com or Vrbo.com.  Want to stay on Fifth Avenue, then this five-bedroom apartment in the Flatiron District might be the pick for you.  Want to stay someplace really luxe?  This apartment near Central Park is located in a great neighborhood and has rave reviews, though it is geared toward mild-not-wild bachelorettes.
If you book a rental property on Airbnb, make sure you sign up with our link and get $40 off your first booking.
The one thing we want you to keep in mind when booking accommodations, is that New York is a really large city.  Many people think of NYC as being Manhattan, but there are several boroughs.  Make sure that wherever you stay gives you easy access to your destinations. 
When To Go
Best Time
New York is a year-round vacation destination.  Late spring and early fall offer gorgeous weather, but the prices reflect that.  Personally, we love New York between Thanksgiving and New Year's, but it can be very pricey at that time of year. Whenever you decide to book your trip make sure you purchase travelers insurance to protect you from anything from illness to missed flights to lost baggage to weather related issues.
On a Budget
January through early March are the least-expensive times to visit the city.  It will be cold, but the city certainly does not shut down just because temperatures drop!
Current Weather
What Else
Big Events
In addition to the year-long cultural events for which New York City is known, it also offers a wide variety of festivals.  The Tribeca Film Festival, the Craft Beer Festival, the Brooklyn Folk Festival, and the Coney Island Mermaid Parade are among our favorites. 
Prices
New York City is expensive.  We would tell you how to get a bargain in the city, but maybe this makes us snobs, we really do not think you can plan a great New York trip without dropping some pretty serious cash.  Hotels, restaurants, clubs, and entertainment- every business you visit has to pay premium rents to be in one of the world's leading cities- and they will pass those prices on to you!  That said, not everything about the trip has to be ridiculous.  New York has great, reliable public transportation, inexpensive food carts and smaller restaurants, and so much to look at that you can plan sightseeing days that have no paid activities.  So, while you aren't going to be able to drop a couple of hundred bucks and have a great vacation like you might at some Caribbean resort, you can get the full NYC experience without going broke!
Items to Pack
Pack light for your trip to New York, because the shopping there is amazing and you can find anything you need at the stores there.  Seriously, you could arrive with nothing but your i.d., credit cards, and necessary identification, and you would be all right in New York City.  You just might have to pay higher prices than what you are used to paying.  If you want to bring stuff with you, it might have to depend  
What else should you pack?  Well, what kind of party are you planning?  While you will be able to find party supplies in NYC, you may not want to have to handle transporting them.  Do you want to make the bride wear bachelorette party-themed items?  If so, hit Amazon for some of our favorite items.  You may even want to ask your hotel or other lodging if you can have your items shipped there, so you do not have worry about bringing it with you: 
Crime
Once known for its skyrocketing crime rates, New York City has really changed.  In fact, it is one of the safer tourist destinations and reported record-low crimes rates in 2016.  That said, it is a big city with a huge population and plenty of thieves ready to prey on tourists.  So, take normal precautions against crime while traveling and you should be fine. 
Other Notes
All of the visitors in the city can make it seem a little gritty.  If you have an inner-germaphobe, take plenty of hand sanitizer and baby wipes, so you can refresh yourself on-the-go!
Itinerary
You can have a great time with a short weekend in New York, but make sure your plans can handle any travel delays.  We suggest flying in on a Friday afternoon.  Meet your party at Hotel Eventi, then spend the evening getting some of your inner-tourist out of the way.  Head to Times Square, check out the sights, and then over to Best Pizza for an authentic slice, before hitting your planned party at Hunk-o-Mania.  Saturday morning, you are going to sleep in.  You might even be a little hungover.  Fortunately, you can dine in or order room service at your hotel, taking some time to wake up.  Spend the afternoon at a pole dance class or trapeze school, then get dressed to head out for your fancy New York night.  Per Se and a Broadway show are going to make for an expensive night, and you will definitely need reservations for both!  Sunday morning, get up for brunch at Tavern-on-the-Green. 
Why Go
Star Rating
Conclusion
New York is a great city to experience with your girlfriends, which is why it's a perfect place for your bachelorette party.  Just make sure your group is in a "New York state of mind." If you just want a wild place where you can party all day and night, then you might not want to choose New York; it is an awfully expensive place to crash if you do not want to do some only-in-New-York things while you are there.