Bachelorette Party Dresses (Popular Styles for 2023)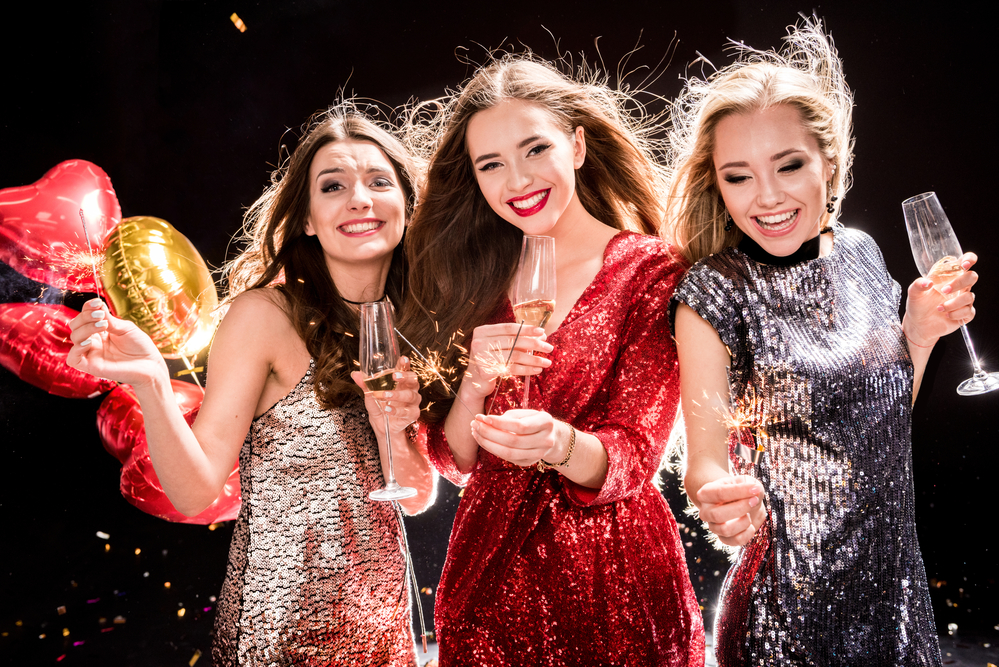 This post may contains references to products from one or more of our advertisers. We may receive compensation when you click on links to those products or services. Please also consider
donating to our website.
What do you wear to a bachelorette party? A seemingly simple question, but one that does not really have an answer. After all, it depends on what kind of bachelorette party it is. Heading out to play paintball with your friends? Then a grungy t-shirt and jeans may be what you wear. Spending the day on the beach or by the pool? Then, appropriate party wear might be a swimsuit and a cover-up. However, most bachelorette parties involve a night on the town, and we find that many party attendees want to find the perfect bachelorette party dress for the big event. What that means depends on what you are doing, where you are going, and how you and your friends normally dress.
Many women, including the bride, want to look sexy for a bachelorette party. We wholeheartedly encourage you to add some sexy to your look, but we also want you to always keep the context in mind. If a sexy little dress is part of your normal weekend wear, then wearing on to a bachelorette party is going to feel normal and natural to you. If it is not, then make sure you are physically comfortable in the dress. If you are always tugging on a dress you feel is too-short or self-conscious about a dress that reveals more cleavage than you would normally show, then you are going to be distracted and, instead of helping you feel like a million bucks, your outfit will actually detract from your good time.
Our goal is to make everything about bachelor and bachelorette parties easier, including deciding what to wear. In this article, we are not only going to show you some of our current favorite bachelorette party looks, in affordable prices, but also give you the links to where to buy them.
White Dresses
There is something about a white dress in the summertime that makes every woman look beautiful. We love a white dress for a night out, because it is every bit as neutral and flattering as black, but it is also something unexpected. If your whole group is dressing in similar colors, white is a great way to help you stand out from the crowd and looks good in photos, whether you are in bright sunshine or dark clubs. Here are some of our very favorite white dresses available right now: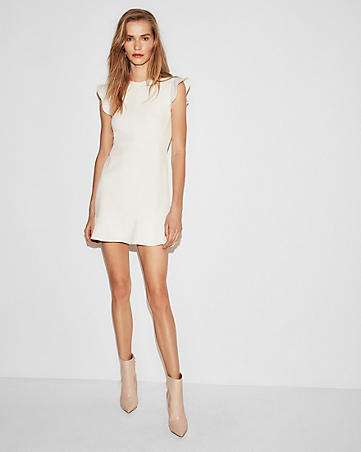 Have great legs? Then this simple white dress might be the perfect choice for you. Modest on top, it shows enough leg to let you feel sexy, while providing enough coverage on top to let you wear it everywhere from a country club brunch to the hottest nightclub. Available for $69.00 from Express, you can find this dress here.
This belted windowpane dress is feminine and fashion-forward, pairing equally well with sky high stilettos or a pair of flats.  Plus, at $37.80, it is one of Nordstrom Rack's amazing bargains.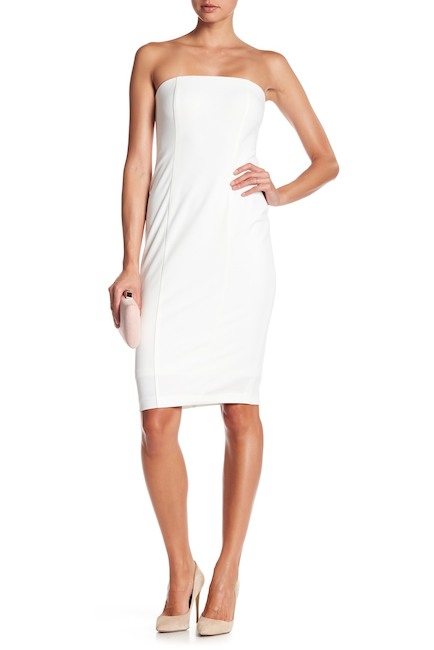 Think a white dress cannot be stylish, sexy, and sophisticated? Think again. This dress is perfect for a high-end night out and would also work for a garden-party theme. Plus, you cannot beat the $44.07 price, one of Nordstrom Rack's amazing bargains: You can find this dress here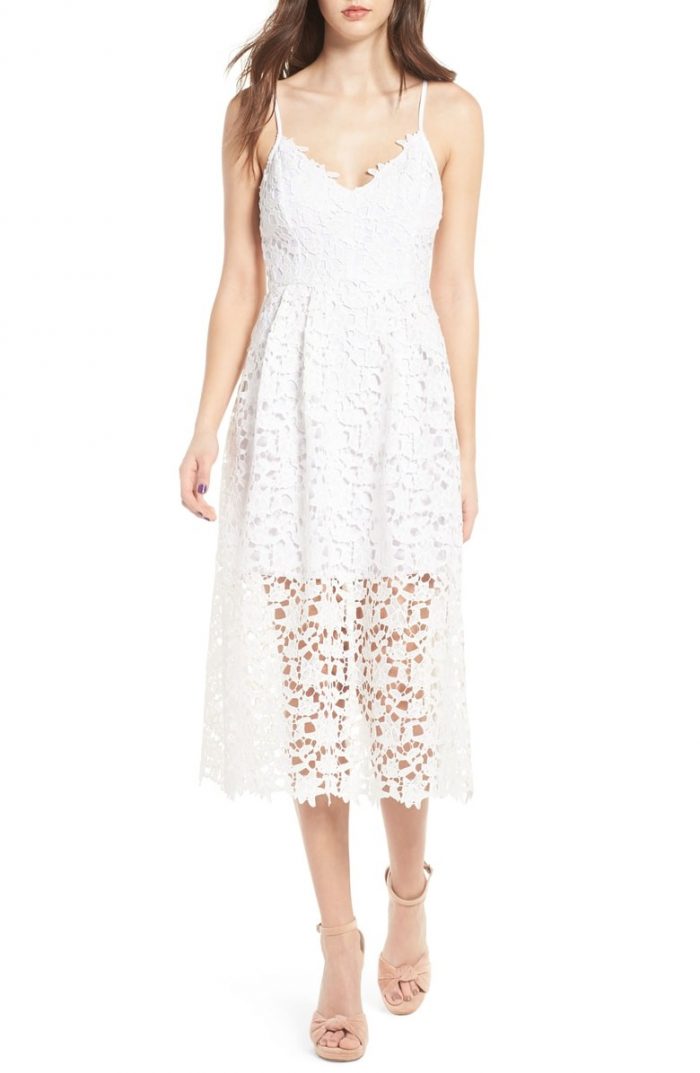 We love this sweet lace midi-dress.  At just $66.75, it is an affordable mini-splurge, but can easily become a summer wardrobe staple.  We can picture this dress anywhere from a night club in a tropical town to a day sight-seeing somewhere.  Find it at Nordstrom.
Black Dresses
The little black dress or LBD is a wardrobe staple for a reason; it looks great on almost everybody and works in a wide variety of situations and locations. The bachelorette party is no exception! A bachelorette party can be a great time to wear this wardrobe staple, which you probably already have in your closet, but it is also a great excuse to splurge on an addition to your wardrobe.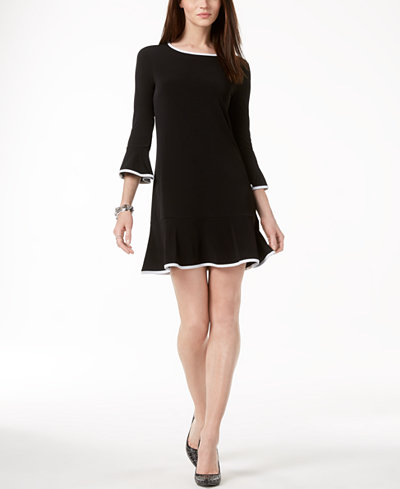 We love this short, pullover LBD! The flounce sleeves and hem add some unexpected charm, as does the tiny bit of white trim. This dress is conservative enough to go to even the most upscale events, but short enough to be subtly sexy! Best of all, at $98, it is extremely affordable, and it comes in a range of sizes from XXS to XXL. Find it at your local Macy's or shop here.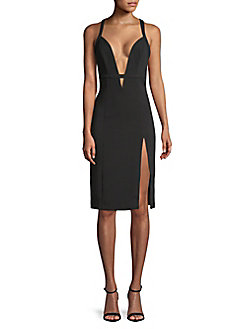 Sometimes you don't want a subtly sexy vibe, but something that will turn heads and drop jaws. We think this dress will help you do both. In fact, if your bachelorette party plans involve hitting some clubs, this dress should help you skip to the front of every line. Even better, you can get this stunning dress for $64.99 at Off 5th, Saks Fifth Avenue's lower-priced/outlet shops.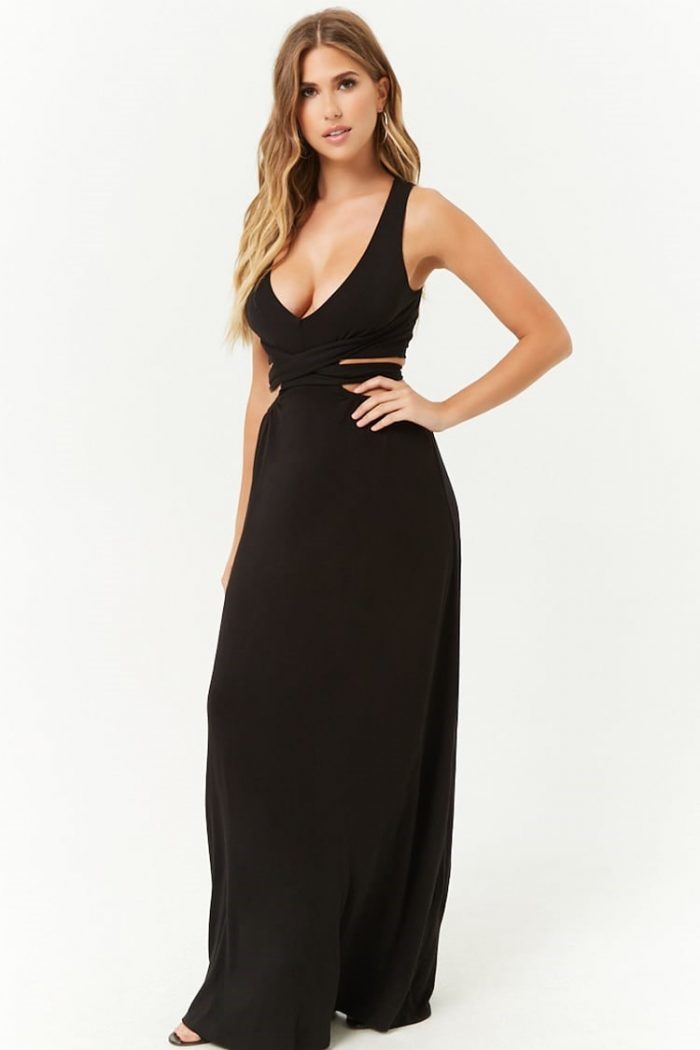 Ever wonder if sexy can also be sweet?  We think this cutout maxi dress from Forever 21 proves that the answer is a definite "yes," while the full skirt and classic v-neckline say sweet, the daring side-cuts and dramatic back silhouette scream sexy.  We love this dress for almost any type of bachelorette party and feel like it is versatile enough to take from casual to upscale with something as simple as a hairstyle change, slipping into different shoes, or adding some accessories.  An affordable $17.50, you can find it at your local Forever 21  or online here.
Pink Dresses
Pink is an extremely popular color for bachelorette parties, and is often the go-to color when bachelorette party guests want to coordinate their dresses. Whether you are looking for a soft rose-gold hue or a hot bright pink, you can find a ton of gorgeous pink dress options.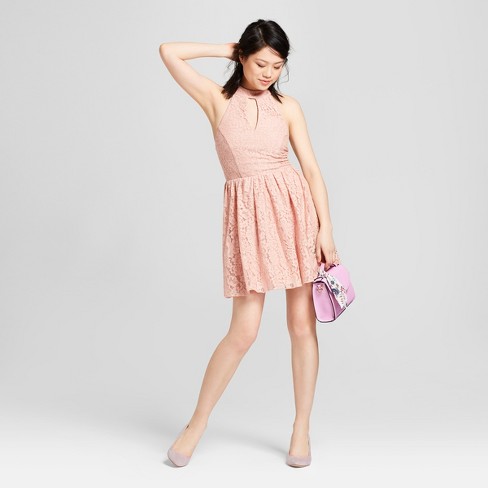 Flirty, feminine, and universally flattering, this soft pink dress is a cute choice for a team of bridesmaids that wants to dress alike. Its $29.99 price tag makes it super-appealing, though its junior sizing means that it might not work for all groups: You can purchase this dress locally or online here.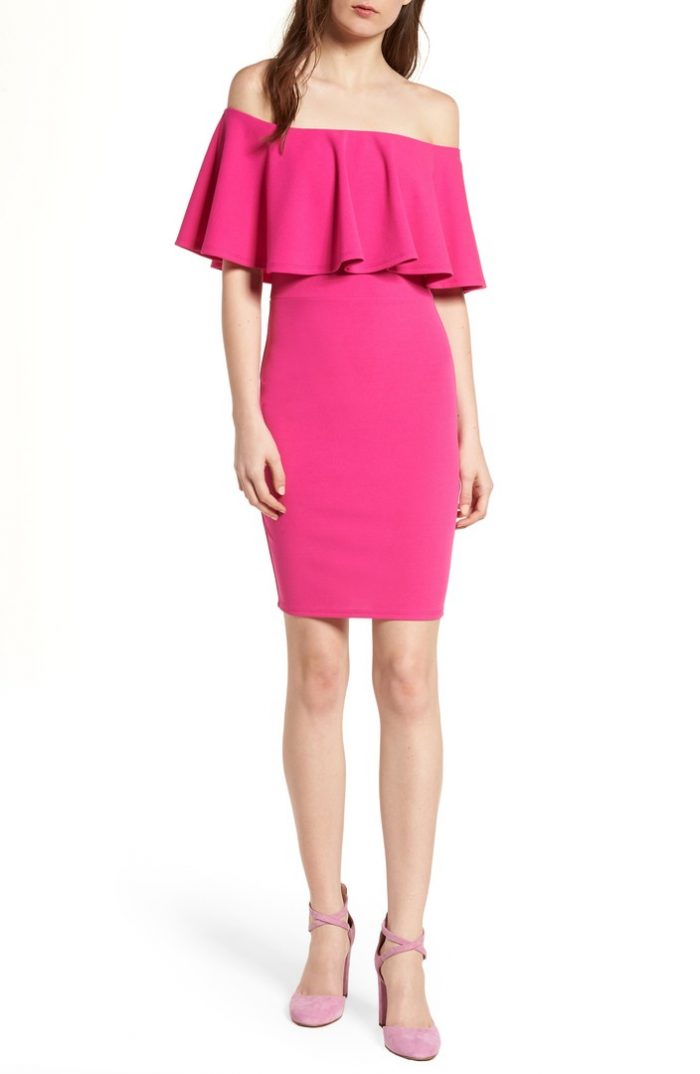 This flirty hot-pink body-con dress with its off-the-shoulder design is great for bachelorette parties. It coordinates with the hot pink, black and white theme that is popular for bachelorette party decorations. The bright color also helps your group stand out from the crowd, and, for $45.00, this is a dress just about anyone at the party can afford.  This dress is available in store or online.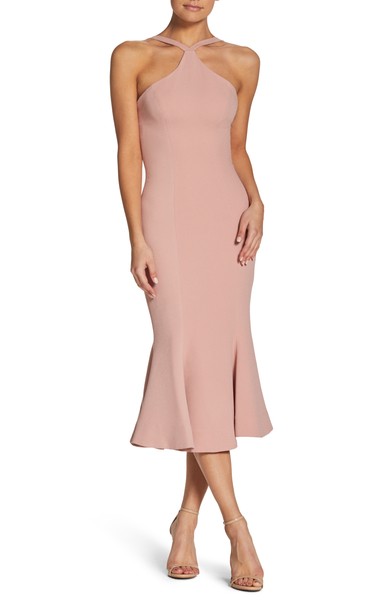 The most expensive dress on our list, we were on the fence about whether to determine it. After all, even though $216 is still very affordable for a gorgeous dress, it is outside of our any-woman price range goal. However, the combination of beautiful color, excellent mermaid cut, and sweet sexiness meant we had to include it on our list. If you are going to splurge on the dress for a bachelorette party, this is the dress we think is worth the splurge. Plus, its classic cut and subtle color mean you will be able to wear it again: Available online and can be ordered to your home or local store.
Plus Size Dresses
If you wear plus sizes, then hopefully you already know that you can find gorgeous, sexy, affordable dresses in plus sizes at most retailers. If not, we need to talk to you, gurl. There are a ton of great dresses out there for the fuller-figured woman, and dresses can be so flattering to a woman's curves. Whether you consider your style edgy, traditional, trendy, or somewhere in between, there are so many beautiful dresses out there. Even better, if you shop at stores known for a good bargain, instead of traditional plus-size stores, you can find these dresses in the same affordable price range as clothes for more petite women. Check out some of our favorites.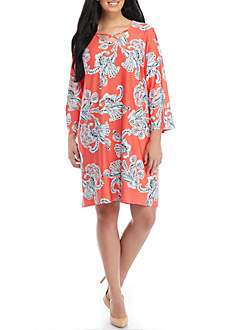 Looking for a dress with a tropical vibe? We love this coral multi-colored dress. At just $29.99, this dress is affordable enough to use as a swimsuit coverup for a tropical bachelorette party.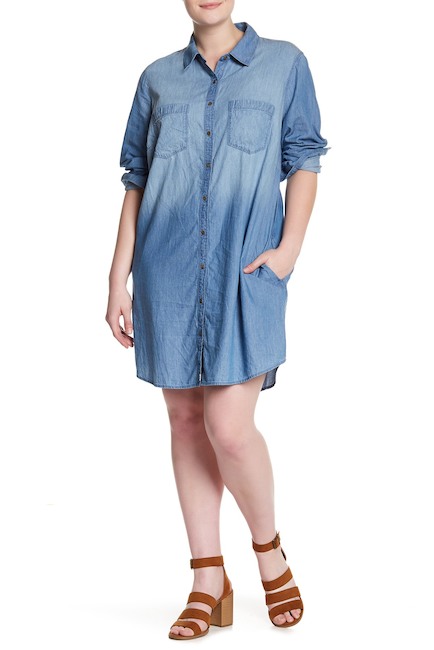 Heading to a country/cowboy/western themed bachelorette party? Then consider this adorable chambray dress from Nordstrom Rack. Just $39.97, it has a classic shirt-dress style that can serve as a backdrop to a wide range of styles, but add a belt, some cowboy boots, and a cowboy hat and you'll be a country cutie in no-time flat.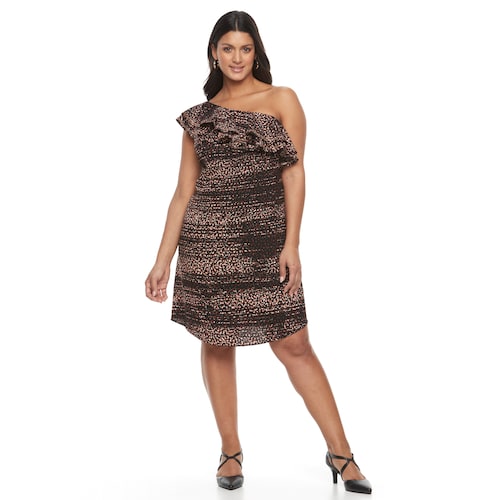 We love the look of a one shoulder dress; it brings instant sexiness to a look without showing too much flesh. It is the perfect combination of sexy and classy, and you can add some pop to it by picking a great pattern. We love this $27.00 dress from Kohl's.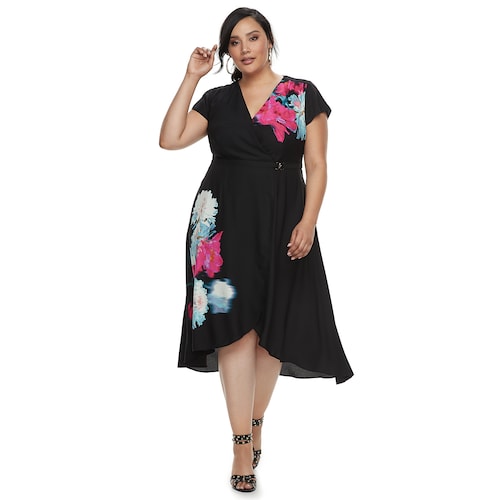 Bigger girls know that wrap dresses are amazingly flattering on curvy bodies; they hide flaws and highlight your best assets. We love this Jennifer Lopez wrap dress from Kohl's because its big, bold pattern will help you catch everyone's eye. You cannot beat its $46.99 price, either. Find it in stores or online.
Dresses for the Bride
Is there anything special about the kind of dress the bride should wear to the bachelorette party? Not really. Generally, if you are going to have clothing differentiate between brides and bridesmaids, it is far more likely to be with t-shirts. However, the bride might want to dress a little differently than the bridesmaids. One theme that is pretty popular with brides, especially if the bachelorette party guests are all part of her wedding party, is to dress in white and have the bridesmaids in a shade similar to their bridesmaid dresses. Other brides see their bachelorette party as the last time to dress super-sexy unless their groom-to-be is around, while some brides dress a little more conservatively than they usually would, just in case photos of the bachelorette party find their way to the groom or his family! In other words, when it comes to the perfect dress for a bride to wear to her bachelorette party, it depends a lot on the bride's individual style and preferences.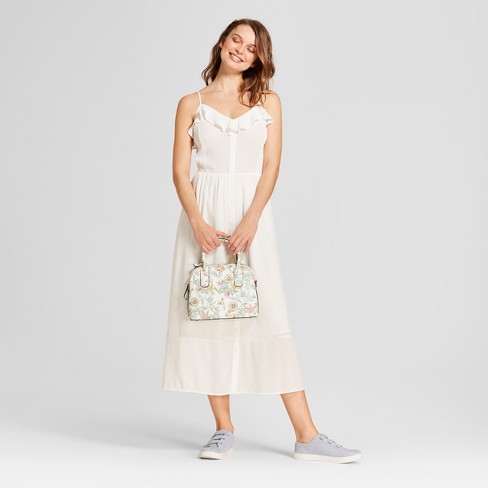 Garden party, nice brunch, or beach party, this cute white dress is perfect for the bride who wants to look, well, romantic at her bachelorette party. While it is done super-causal in this photo, this dress could easily look both dressy and classic with a pair of simple sandals and just a little bit of jewelry. We love this one if the bride intends to take some photos with the bridesmaids before the partying begins or if the bachelorette is combined with any type of shower. You can't beat its $27.99 price tag, and, since it is available at Target, brides all around the country should be able to find it.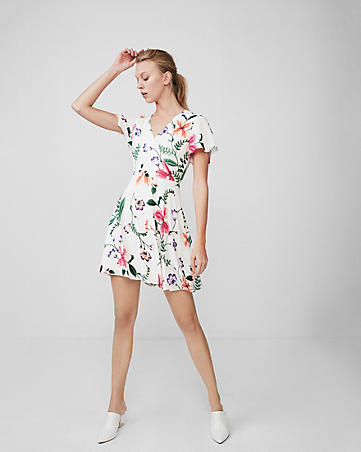 Want a dress for your daytime bachelorette that will look great in photos, keep you from getting too warm and that you can wear again, like maybe on the honeymoon? Look no further than this sweet surplice flutter sleeve fit and flair dress from Express. It is literally everything you could want in the perfect dress for a daytime bachelorette party. Find it at the bargain price of $59.90 at your local Express or order it online.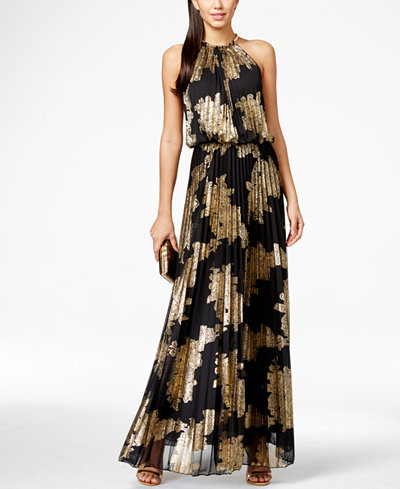 Are you having a black-and-gold themed bachelorette? Then look like a goddess in this gold-printed blouson style gown. The light and airy layers add an ethereal look to an otherwise classic design. Find it for $95.99 at Macy's or online.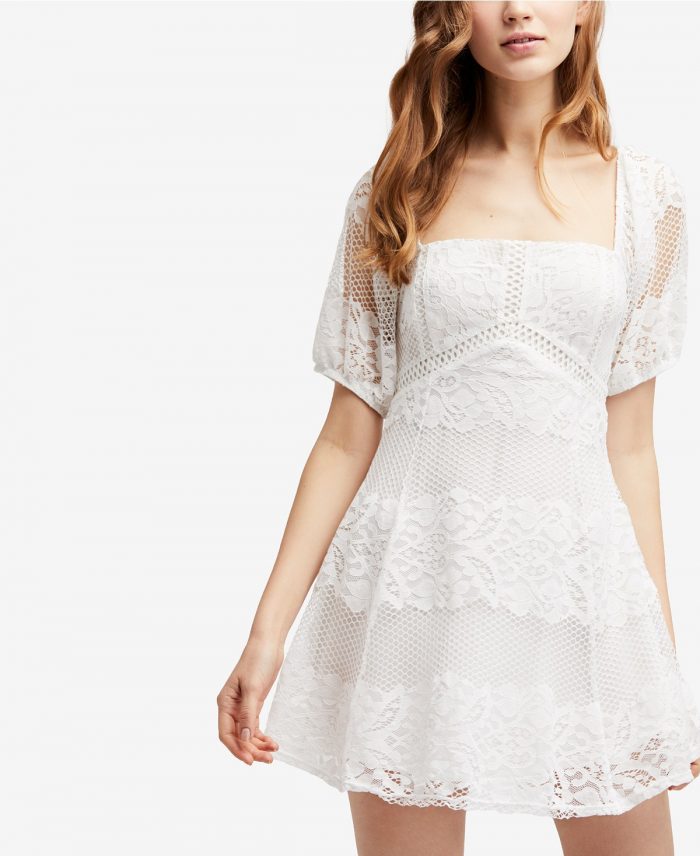 This white dress almost has a costume-feel to it. We think it would be perfect if one of your bachelorette activities happens to be some boudoir photography, and it also comes and black and pink, just in case you want to match your bridesmaids. At just $63.99, it is an affordable way to turn the image of the blushing bride on its ear! Find it at Macy's online.
Dresses for the Bridesmaids
One of the tricky things about being a bachelorette party guest is not knowing exactly what to wear to the shindig. We love versatile dresses for bridesmaids and other guests, that could b
e perfect in a wide range of scenarios. We also love the idea of over-the-top sexy dresses for bachelorette party guests. After all, flirtatious fun is a big part of a successful hen party!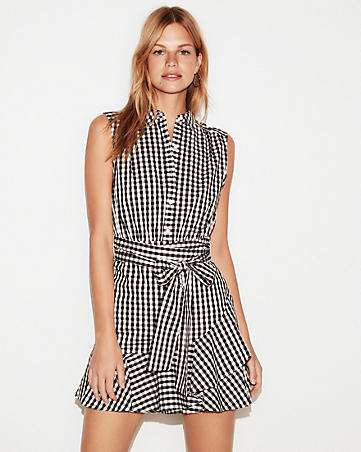 This little gingham cutie is a dress that would be perfect for just about any daytime bachelorette party. You could wear it to a country club brunch, over a swimsuit for a day at the beach, to any type of spa day, walking around town, or to a slew of other bachelorette party ideas. You could even dress it up or down a little for some bachelorette party themes. An affordable $69.99, this dress is something you can wear time and time again. Find it at Express.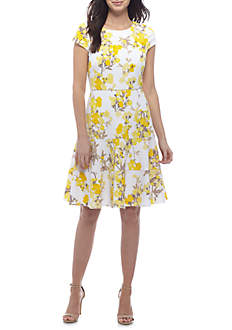 Bring a little sunshine to the party in this sweet dress. While it might not be your pick for a night-on-the town, this sunny yellow floral print dress is perfect for just about every bachelorette party except the ones at the club! Find it for $49.00 at Belk.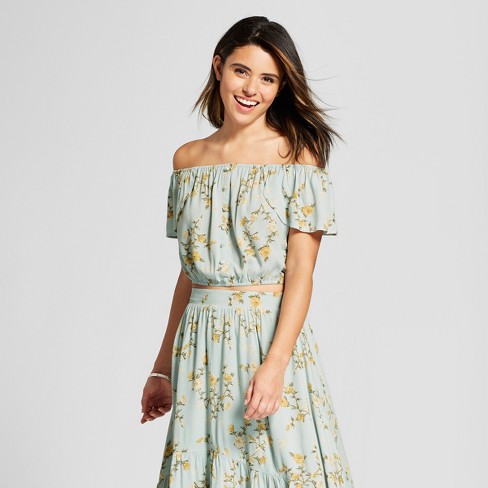 Two-piece dresses are very on-trend right now, and there is nowhere like Target to pick up well-made, affordable, trendy clothes. You can get this skirt-and-top two-piece combo for under $43.00 total; find it your local Target or shop for it online.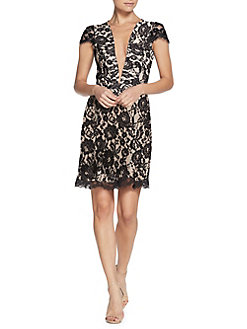 There is something classically alluring about the combination of a nude-colored dress with black lace overlay, and this Dress the Population dress from Lord and Taylor is the best example we could find of this timeless trend. More expensive than most of our other features, its $232.00 price tag might make you a little wary. However, this is a dress that you will find yourself pulling out of your closet to wear again and again, not just this season, but for years to come. Don't have a local Lord and Taylor? Purchase this online.
Conclusion
Picking what to wear for a bachelorette party, especially a destination bachelorette party or other bachelorette party with multiple events, can be challenging. You want to look fantastic, without breaking the bank, and probably want to buy something you will be able to wear again. Hopefully you have found some things you love in our bachelorette party dress guide, or at least gotten some good ideas about what kind of dresses to wear to the party. Of course, if the dress guide overwhelmed you, you can always be the party goer that suggests bachelorette party themed t-shirts instead!
Have any ideas for amazing dress ideas for a bachelorette party?  Leave them in the comments below.