Bachelor Party Strippers (2023 Guide)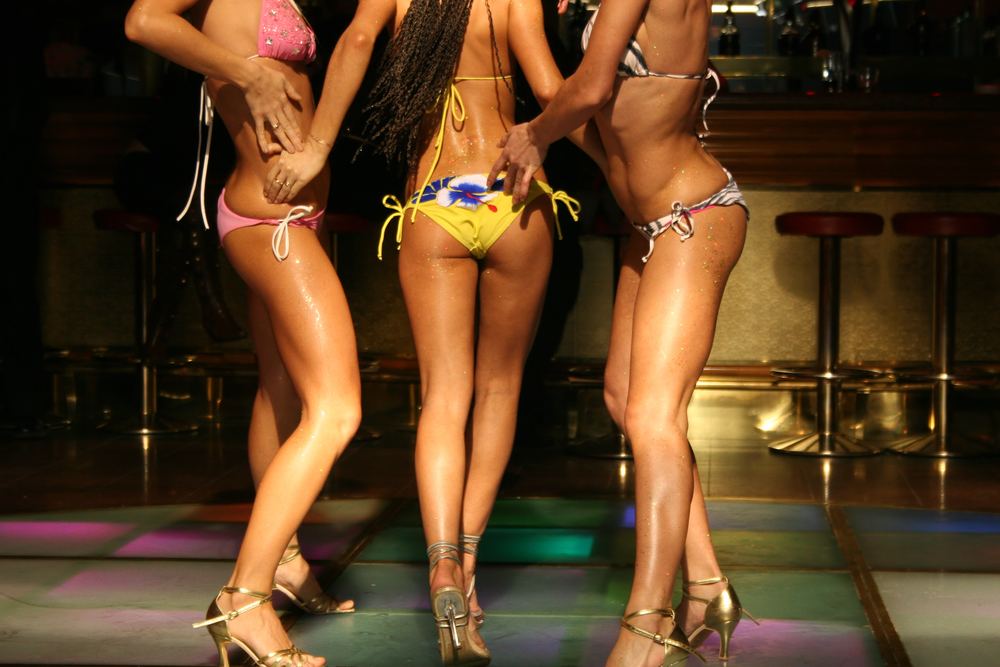 This post may contains references to products from one or more of our advertisers. We may receive compensation when you click on links to those products or services. Please also consider
donating to our website.
Can you have a great bachelor party without a stripper?  Sure you can.  However, exotic dancers are a time-honored tradition at bachelor parties for a reason.  It is not just about looking at attractive mostly-nude or completely nude athletic women, though, of course, that is reason enough on its own.  It's also about the guy-bonding that comes with an activity that is traditionally for the boys.  In this guide, we will help you find strip clubs and exotic dancer call-out services for major cities throughout the U.S.
Massachusetts
Boston
Known for its "Legs and Eggs" weekend strip brunch specials, this strip club is an icon to Boston weirdness.  That is not an insult, though we will warn you that it is a little different than the generic strip club experience you might have come to expect in other parts of the country.  They often feature special entertainers and it is not unusual to find specific costumes and themes.  Right now, think superheroes.  This can make it the most awesome place to hold a bachelor party ever, if you coordinate with their party planners ahead of time, because you might be able to make the bachelor's fantasies come to life on stage. Now, back to the brunch, want to have the iconic adult entertainment experience during the bachelor party, but no free nights?  Then consider a brunch time strip club experience.  This is also great if the bachelor is on the fence about having adult entertainment, because of a nervous bachelorette back home; something about brunch makes it an easy reminder that this is all for fun.
365 North Pearl Street
Brockton, MA 02301
508-894-4040
If you look at the Yelp! reviews, you are going to think we are a little crazy to include the Glass Slipper on our list.  However, hear us out.  This is the best strip club in Boston when it is having a good night.  Think famous entertainers on stage, dancers who can work a pole like no one you have ever seen, and an incredible party atmosphere.  On an off night, the place can actually be a little depressing.  If you know that you and your guys will bring the party with you, then this is the place for your bachelor party debauchery.
22 Lagrange St.
Boston, MA 02116
617-338-2290
Looking for a stripper to come to your hotel or private party room?  Then Hunks and Babes is what you need.  This national stripper service offers exotic dancers in the Boston area and specializes in creating the ultimate party experience.  Visit their website to view available dancers and call them to book a fully customized party experience.  Not sure what type of experience you want for the party?  Book one of their girl-on-girl shows; they are a bachelor party favorite!
877-707-5353
Louisiana
New Orleans
Larry Flynt's Hustler Barely Legal
Sometimes, you just want a little bit of sleaze in your strip club.  That is exactly what you get at Barely Legal.  What else would you expect from Larry Flynt, surprising First Amendment champion and the king of sleaze?  What will you find there?  As the name suggests, expect some very young looking dancers.  We are not talking like pre-teen looking girls, but young enough women that you might feel a little uncomfortable if you just sent a daughter off to college.  They are also authentic-looking women.  Sure, you will find the typical silicone stripper among the performers, but if you love thick thighs, muscular women, and a range of body types, you will also find a performer that tickles your particular fancy at this club.  Perhaps what people like the best about this location is that it is just a party zone, in addition to a strip club.  People come in and off of Bourbon Street to enjoy the Sugar Bar and take in the sights at the Sugar Stage.  This makes it a fantastic location if you have some members of your group that are a little wary of the strip club idea.  For those who are raring to go, the Spice Bar, Spice Stage, and Playground Lounge kick up the adult entertainment up a few notches and introduce you to Naughty NOLA. 
423 Bourbon Street
New Orleans, LA 70130
844-571-6340
Are you looking for an upscale strip club experience?  Then the Penthouse Club should be your go-to New Orleans destination.  It is designed like a throwback upscale nightclub, and offers executive suites and junior executive suites for private party experiences.  Best of all, their bachelor party packages are surprisingly affordable, starting at $350 for up to five guests, including bottle service.
727 Iberville Street
New Orleans, LA 70130
504-521-7754
They say they offer mild to wild strip club experiences for New Orleans bachelor parties, which makes them a great stripper service for private parties.  Check out their website to see the various bachelor party games they have for those who want to peek at the wild side, or their toy shows to go to full-on debauchery. 
New Jersey
Atlantic City
This Atlantic City club is probably known for its all-nude dancers.  It has been voted the #1 all-nude club in New Jersey and #5 in the nation.  It is the perfect spot for bachelor parties on a budget, because it is BYOB, which means no over-priced drinks.  Cover is $20 per person, and their version of a lap dance starts at $35.
2303 Pacific Avenue
Atlantic City, NJ, 08401
609-449-0999
VIP Parties: 609-457-1777
This service specializes in providing exotic dancers and they offer great prices.  They can provide strippers as long as you are 30 miles or less from a big city in New Jersey; if you are at a greater distance, contact them because they may be able to make special arrangements.
708-691-7581
New York, NY
This service provides exotic dancers for bachelor parties.  The strippers will go to hotel rooms and private party rooms in a club, but the party rooms need to have doors or curtains to keep them private. They provide dancers for New York, New Jersey, and Pennsylvania.
917-859-3923
Manhattan
New York Dolls offers a high-end strip club experience, with four stages, hundreds of dancers, and a management team and staff that will work with you to help you throw an awesome bachelor party. 
59 Murray Street
New York, NY 10007
212-791-5261
Special Events: 917-359-0580
Florida
Fort Lauderdale
Looking for a sensual experience for a bachelor party that is not like your everyday strip club?  Consider Vogue Gentleman's Club in Fort Lauderdale.  This totally nude gentleman's spa is a not a strip club; it is a fully nude spa that offers sensual body rubs and massages in the privacy of individual suites that come with their own showers and Jacuzzis.  You can custom-create your fantasies at this spa, and you can even find a fetish-friendly dungeon.  It is not your average strip club experience, which means it is perfect if you are planning a bachelor party that is not average, either.
6280 North Andrews Avenue
Fort Lauderdale, FL 33309
954-772-1886
This is our best bargain Fort Lauderdale-area strip club.  Free lunch from noon to 7pm, two for one drinks, and a bucket of beer and Patron for $100 makes it affordable to turn a visit to the Booby Trap into a full-blown bachelor party!  They have all of the beautiful women you expect to find among exotic dancers in the area of Florida surrounding Miami, but less of a high-pressure vibe than places you will find as you get closer and closer to the big city. 
2840 Hammondville Rd.
Pompano Beach, FL
954-973-6888
Want to bring the party to you?  Hot Party Strippers offers private dancers for all of your party needs.  You can book a simple strip show or you can work with their party planners to really custom-tailor your event and the entertainers you get for it.  They send entertainers to Fort Lauderdale and throughout Broward County, and their strippers are happy to come to house parties or to work at hotels or bars, as long as you have manager approval.  They also offer costumed exotic dancers for themed bachelor party entertainment or surprise bachelor party stripper services!
954-556-5700
Miami
They specialize in bringing the party to you, offering attractive female strippers who know how to make the most of a bachelor party.
305-414-0100
A fully nude strip club, Scarlett's Cabaret is also a happening party spot for men and women after the other clubs close, so expect to find gorgeous women on the stage and just in the club.
2920 SW 30th Ct.
Miami, FL 33133
954-455-8318
Orlando
Conveniently located near many of Orlando's famous attractions, Rachel's Strip Club is known for its elegant atmosphere, beautiful dancers, and its great steaks.  It is a great place to combine the big bachelor party dinner and entertainment in one location
8701 S Orange Ave
Orlando, FL 32824
407-858-9800
Hot Party Strippers
An exotic dancer service with dancers in most major U.S. cities, Hot Party Stripper has the dancers that can turn up the heat at your Orlando bachelor party.  Unlike some stripper services, Hot Party Stripper is not a referral company; they personally screen the dancers to ensure that you get a hot stripper that knows how to entertain at a bachelor party.  
407-401-8332
Key West
Key West has a couple of strip clubs, but Red Garter Saloon is a favorite with locals and tourists, alike.  It is known for its beautiful girls, but also for its expensive drinks.
208 Duval St.
Key West, FL 33040
305-296-4964
Hot Party Strippers
There are not a lot of stripper services that handle Key West or the Florida Keys, in general.  Fortunately, one of the companies that does provide strippers for bachelor party entertainment in Key West is Hot Party Strippers.  A national stripper service, Hot Party Strippers has the bachelor-party drill down to a science, so that you know you will get the entertainment you want for the night.
786-343-5737
954-556-5700
Tampa
Like other southern Florida party towns, Tampa has a number of female strip clubs.  The sheer number of them and the competition that they provide means that the quality of strip clubs in Tampa is a cut above what you will find in most locations.
This club is considered one of the top strip clubs in the United States.  The sheer number of dancers you will find at the club is amazing; there are, at times, hundreds of women dancing in a night.  An all-nude club, they will permit some contact with the dancers.  Just keep in mind that, like most all-nude establishments, they do not serve their own alcohol.  You can bring your own or get your drink on beforehand.
2040 N Dale Mabry Hwy
Tampa, FL 33607
813-875-2762
Déjà vu Showgirls– With party packages starting as low as $160 for 5 guests, this location offers affordable and fun bachelor party entertainment that includes bottle service, a VIP booth, an on-stage roast, and even commemorative t-shirts.  They offer a totally nude dance experience.  They are part of a huge adult entertainment chain and they have perfected not just erotic entertainment, but also how to throw a sexy bachelor party.    
6805E Adamo Dr.
Tampa, FL 33619
813-664-8784
Looking to bring your bachelor party to your own private location?  The Life of the Party LLC provides classy female strippers for a variety of party purposes, including bachelorette parties.  Their strippers can nightclubs and other businesses as long as the management approves.  They also have a number of different costumes and are experts at the "prank" stripper experience, which can add some extra entertainment for your party.  One of the main reasons to use this company is because they stand by the dancers on their website and will guarantee that the dancer you order is the one who is going to show up for your party!
727-452-1774
South Carolina
Myrtle Beach
One of the most highly rated strip clubs in Myrtle Beach, The Treasure Club is known for the good time you will have, as well as its gorgeous dancers. 
716 Seaboard St.
Myrtle Beach, SC 29577
843-945-2270
A stripper service providing dancers for Myrtle Beach, Wild Thingz lets you review their 2018 dancers for a customized bachelor party experience.
843-491-5000
Charleston
Charleston Strippers by Wild Thingz Entertainment
Let the beautiful dancers with Charleston Strippers by Wild Thingz Entertainment show you a thing or two about that legendary southern hospitality!  They will come to your party location to provide a more private and personal bachelor party experience for you and your guests. 
843-410-2747
Silver Slipper Gentleman's Club
While this strip club/ gentlemen's club looks pretty average from the outside, it has developed a reputation as one of the best strip clubs in Charleston.  That is because
2015 Pittsburgh Ave.
Charleston, SC
843-722-1492
Texas
Austin
Known for their party packages and $69 bottle Tuesdays, the Palazio is not the nudest strip club in Austin or the raunchiest, but it is our pick for the best bachelor party strip club.  It has a little something to offer everyone, so it is perfect whether the groom hits nude bars every weekend or is a strip club virgin.
501 Ben White Blvd.
Austin, TX
512-445-6655
This stripper service offers a whole variety of bachelor party entertainment, including 2-girl shows and 2-girl fantasy shows.  They also offer topless waitresses and dealers if you are having a themed party and want to add a little bit of sex appeal to your everyday activities.  They offer great party package pricing, as well, and, even with a generous tip, you will probably find them a bargain compared to Austin's strip clubs.
480-359-5343
Dallas
A bit of trivia.  Did you know that fake boobs were pioneered in Dallas?  Well, they were, and at this Dallas strip club, you are definitely going to see gorgeous women who went with the adage that "bigger is better."  Does this mean all of the dancers at PT's are artificially enhanced?  Not at all; we are just letting you know that their standard for what is attractive falls very much along traditional pin-up lines!  This is also a BYOB establishment, which can make it a great option for the bachelor party on a budget. 
10601 Plano Rd.
Dallas, TX 75238
214-341-6643
Offering stripper services to Dallas and the surrounding areas, Nationwide lets you select your dancer and see if she is available for your bachelor party time.  Nationwide Strippers is mid-range in terms of affordability, but is considered reliable and is known for providing dancers that know how to set the right tone for a bachelor party. 
708-691-7581
Houston
While Houston may not be the hottest destination for bachelor parties, as one of the nation's largest cities, it plays host to more than its fair share of stag parties.  What Houston locals know is that, when it comes to entertainment featuring beautiful women, Houston knows how to set the scene.  The Men's Club is not your typical raunchy strip club.  It is a high-end establishment, as likely to attract businessmen for lunch as it is to play host to bachelor parties at night.  They are so well known for their extremely cheap, extremely good menu that some Houstonians are known to go there just to get a bite to eat.  We suggest booking a party package and seeing why this strip club is an industry award winner for customer service and overall entertainment.
3303 Sage Road
Houston, TX 77056
713-629-7900
The Colorado Sports Bar & Grill
The Colorado's flashing lights are iconic in Houston, welcoming people to one of the city's most famous (or infamous) adult-oriented clubs.  While the Men's Club may be known for its customer service, the Colorado is known for its beautiful dancers and for putting on a raunchy show.  You can see videos and photos of their dancers online at their website, so check the out if you want to see what type of experience you will have at the Colorado.
6710 Southwest Freeway
Houston, TX 77074
713-781-1122
This outcall service specializes in providing high-end erotic entertainment and maintaining client confidentiality, which makes it a perfect choice when the best man has promised that there will not be any strippers at the bachelor party!  They also provide package pricing, which takes the guess work out of booking entertainment, and can let you customize the entertainment experience to your needs and budget. 
480-359-5343
California
Los Angeles
One thing we have noticed about strip clubs; the more they talk about being a "gentleman's club" the naughtier they are.  L.A.'s Gentlemen's Club is no exception. 
It is a fully-nude dance club.  Bring plenty of money; you will want a lap dance from one of their outstanding beautiful dancers. 
5175 W. San Fernando Road
Glendale, CA
818-552-3687
Is your bachelor a sports fan?  Then you really need to head to Dames & Games for the night's adult entertainment.  This topless bar features dancers on the stage and lap dancer, scantily clad waitresses in referee uniforms, sport on lots of TVs, and your favorite sports bar, fare. 
2319 E. Washington Blvd.
Los Angeles, CA
323-589-2220
You know how the hottest girl in just about every small town in America heads to one of the coasts to see if she can make it in the entertainment world?  Well, a lot of them work as dancers to pay the bills, and if you hire a dancer from OC Strip, the entertainer you get is going to be a Hollywood 10, which is like a middle-America off-the-charts!  This call-in service provides strippers for all occasions, but specializes in bachelor party entertainment.
888-778-4305
San Diego
What we like about this strip club is that it isn't just nude girls.  It has an outdoor patio, pool tables, and other entertainment, in case some of the guys in your group are not so comfortable around dancers.  We also love its military Mondays; if your bachelor party group consists of servicemen, you can get in free on Mondays!
2720 Midway Dr.
San Diego, CA 82110
619-224-4757
What sets this stripper service apart from other San Diego area stripper services is that they focus on really planning parties, not just providing exotic dancers.  If you have ever been at a party that hired a stripper that was hot, but the atmosphere was awkward, then you know exactly how important it is that a stripper not only look good and dance well, but also that she is able to set a certain tone for the party.  That's exactly what you get with this service.
760-333-0259
San Francisco
Pleasure Strippers– They are the most popular stripper service in Northern California for a reason.  Known for their beautiful dancers and over-the-top customer service, Pleasure Strippers can work with your venue to provide you the best in bachelor party entertainment.
415-629-9402
Yes, we know that there is something a little skanky about Hustler.  We are not going to pretend there isn't; this club may be lavish and ornate, but it still manages to be seedy.  This is not an insult; if you don't know how much fun a skanky strip club can be, this is the place to go to find out!
1031 Kearny St.
San Francisco, CA 94133
415-434-1301
Nevada
Las Vegas
Spearmint Rhino
How are we supposed to choose the best strip club in Las Vegas?  There are so many great clubs offering so many unique experiences, but the best bachelor parties in the city, we think we have to go with Spearmint Rhino.  What sets this place apart from other local strip clubs?  We think it is the fact that, even if you took away the gorgeous strippers, it would still be an awesome club.  It is also a favorite with female tourists as well as male tourists, so you might find a friend or two to party with you.
702-796-3600
Private Strippers in Las Vegas
Even though Vegas probably has more strip clubs per capita than any other city in the United States, sometimes you want to plan a more intimate bachelor party experience.  Private Strippers in Las Vegas specializes in providing that personal touch for Vegas bachelor parties. 
702-964-7812
Lake Tahoe
Looking for a strip club in the Lake Tahoe area?  You may be a little disappointed.  Whether you are looking in South Lake Tahoe or Tahoe North, there are not any strip clubs located in the resort area, though you may find adult-entertainment at the casinos.  However, if you are willing to make a short drive, you can find some awesome strip clubs in nearby Reno, Nevada.  Of course, you can also order a stripper service to have an adult house party without ever leaving the Tahoe area.
The Wild Orchid styles itself as Reno's bachelor party headquarters.  It has a reputation for dancers that are gorgeous, friendly, and a ton of fun, especially for parties and groups.  It is located in the Ponderosa Hotel, which has a seedy reputation, so keep that in mind if you are traveling to the Wild Orchid. 
515 S Virginia St.
Reno, NV 89501
775-324-1010
This private dancer service will send dancers to your vacation rental, hotel, or bar (check with the manager) to throw you an epic bachelor party that no one will forget.  They can send dancers to the California or Nevada parts of Lake Tahoe and are known for providing beautiful dancers who give dynamic and interactive performances.  Expect a bachelor party show to include a floor show, lap dance, and party games!  Looking for something a little more exciting?  Ask them about their 2-girl shows or toy shows, which take the regular strip tease up a few notches!
530-544-6427
Tennessee
Nashville
Pure Gold's Crazy Horse Nashville
You know how it has become popular for women to hang out at strip clubs?  That's all well and good and we are not knocking it, but sometimes you just want to hang out with the guys, and, well, act like dogs without worrying that you are going to offend some lady in the audience.  That is what Pure Gold's Crazy Horse Nashville offers you; a gentleman-only, full-nude, BYOB establishment.  It is a place where you can go to watch gorgeous female strippers without having to worry about anyone judging you for acting like a guy.
300 McCann St.
Nashville, TN 37210
615-242-5041
Nashville Strippers
Want the party to come to you?  Look no further than Nashville Strippers, the Nashville Division of the nationwide Hot Party Strippers Service.  This national service is also known to work with some specialty/fetish dancers.  
615-988-8116
Illinois

Chicago
Many stripper services work with male and female dancers to provide all types of adult entertainment options.  Sweet Seduction only works with female adult entertainers and they design entertainment built for men.  They offer a wide variety of bachelor party packages, including partnering with some local companies to offer things like a stripper bachelor party bus package!
312-593-0888
Although technically located outside of the city, we are going to call this our favorite Chicago bachelor party strip club?  Why?  Well, first, they will come and get you in a party bus equipped with a pole and a dancer for that pole.  Add in full-contact lap dances, a 6am closing time, and 150 dancers, and it is easy to see why it is our bachelor-party pick.
7337 W 100th Pl
Bridgeview, IL 60455
708-599-1111
Washington D.C.
You do not have to be a Washington insider to get the joke in the name of this Washington D.C. establishment. A winking acknowledgment that even the most polished looking people like a little fun on the side, the Camelot Showbar offers classy, comfortable, erotic entertainment in an unpretentious environment.  Conveniently located in the Golden Triangle Business District, the Camelot is perfectly located for your party, wherever you are staying in the D.C. area.  They are known for their bachelorette parties, though, if you are a regular, you already know that one of the favorite things for patrons is the fact that the Camelot makes their dancer, waitress, and bartender schedules available each week, so you can schedule your visit to coincide with your favorite entertainer.  You can contact them to plan a bachelor party or simply schedule VIP bottle service.  While, of course, you will have expenses from tips, one of the things we love about the Camelot is their upfront pricing; you can even go online to find out their pricing for bottle service.  No wonder they were a 2017 Best of D.C. Reader's Choice! 
1823 M Street, NW
Washington, DC 20036
202-887-5966
What is a stripper god?  Well, the best-of-the-best in adult entertainment.  This service provides industry leading professionals to provide adult entertainment for your bachelor party. These experienced dancers know how to do more than take off their clothes and dance; they know how to wake up a bachelor party and pour on the entertainment.  One bachelor party favorite is to provide unlimited lap dances for a set time period, which means that you can ensure that all of the party guests get to have an extra-good time!  You can choose from packages designed to fit different tastes, and, with their extensive range of entertainers, you may even be able to find one of the bachelor's favorite adult entertainers on the dancer roster! 
800-788-1785
Georgia
Atlanta
This Atlanta strip club is a local institution since the 1970s, when the owners decided to depart from what was then standard-operating-procedure for strip clubs: hustle and cash grabs in seedy environments.  Instead of creating an atmosphere where dancers seemed desperate, they focused on creating an environment of delightful hedonism, where men could come in, relax, enjoy erotic entertainment, enjoy fine-dining at the Alluvia restaurant, and have a great show.  The result was one of the country's first true "gentlemen's clubs" and it remains a gentleman's club to this day.  The goal is to create a total sensual experience, where beautiful women are the main attraction, but not the only thing to enjoy at the Cheetah.  They are known for their full liquor bar, full nudity, and $10 table dances.  Bachelor parties can walk-in to a warm welcome, or you can call ahead to plan a full bachelor party experience.
887 Spring St. NW
Atlanta, GA 30308
404-892-2037
Named by GQ Magazine as "America's most important club," and name-checked by rapper Waka Flocka Flame, it is fair to say that Magic City is not the average strip club.  The go-to choice for rappers in Atlanta, Magic City is a fully-nude, adult entertainment venue with a full bar and current music scene, Magic City is a place where people go to hang out, even when not looking for the strip club experience.  That does not mean that you should not expect the full club experience when you are in there; the dancers are smoking hot with bodies and dance moves you would expect to see in your music videos.  They also focus on creating an entertainment experience.  It is not enough that Magic City has some of the city's best dancers, it also has a full kitchen that has become famous for its wings, and even free daytime admission.  It is easy to plan a bachelor party at Magic City.  They have an online reservation system that even allows you to reserve a specific location in the club.  Just be very aware of the club's "touch and go" policy; in other words, if you touch the dancers, be prepared to go. 
241 Forsyth St. SW
Atlanta, GA 30303
404-584-5847
From the outside, the Blue Flame Lounge does not look like much, which has many people crossing it off of their potential bachelor party site list.  However, the demure exterior looks hide one of the city's most entertaining adult entertainment venues.  The city's first black adult entertainment enterprise, operating since 1983, the club features some of the city's most gorgeous black women.  Perfect for any bachelor party, the Blue Flame Lounge offers VIP packages that offer bottle service, entrance for multiple guests, a private hostess, and a designated entertainment area. 
1097 Harwell Rd NW
Atlanta, FA 30318
404-794-1446
Looking for a private adult entertainment experience in Atlanta?  Then consider Topshelf Entertainment.  This company, which has been in business for 30 years, has built a reputation for great customer service by giving customers exactly what they promise.  You can go online to pick out particular dancers for your show, the dancers arrive on time, and tips are earned- unlike some companies the dancers will not perform less without a guaranteed tip amount.  In addition to single dancer shows, you can get specialized shows through Topshelf, including: 2 girl fantasy shows, bikini shows, topless shows, and full nude shows.  They also allow customization in their shows; you can look through their costume inventory and customize a show to whatever you think the bachelor will really enjoy! 
404-934-3384
Savannah
Savannah is a very popular tourist destination and is one of the hot new destinations for bachelor and bachelorette parties.  While it began getting popular as a bachelorette party destination, its relaxed vibe, great bar scene, and array of outdoor activities is helping it gain traction as a great bachelor party destination.  Fortunately, Savannah has plenty of adult entertainment options for a bachelor and his buddies.
Looking for a premiere upscale gentleman's club experience?  Look no further than Emperor Gentleman's Club.  They offer a full range of VIP and party experiences, which can be tailored to make sure that your group has an awesome time. The upscale club offers comfortable accommodations and delicious food. They also have over 100 beautiful dancers in an ever-changing line-up, so that every experience you have Emperor Gentleman's Club will be new and unique.  Depending on when you visit, you may find a featured entertainer, pulled from the biggest stars in the adult entertainment industry, or some other type of special event.  You can walk in and always find a party, but if you contact them beforehand they can help you plan a party especially for your group.    
12 N Lanthrop Avenue
Savannah, GA 31415
912-233-6930
If you want your adult entertainment to come to your party, then consider hiring one of the gorgeous dancers from Hot Bods USA.  They have a variety of different dancers who entertain in the Savannah area and they will come to hotels or private residences to perform.  You can visit their website to see a variety of different dancers, to help custom-plan your bachelor party entertainment.  They bring the party games to the bachelor party and you can choose from single-dancer and multiple-dancer entertainment.  Contact them with any special requests, as they have a reputation for bringing the naughty to the party.
775-588-7447
Washington
Seattle
Like most larger cities, Seattle offers a number of adult entertainment options if you are seeking female entertainers.  You can choose from private clubs or outcall services, allowing you to customize your bachelor party experience.
Want the party to come to you?  Then choose Full Throttle Parties.  This adult entertainment service specializes in providing gorgeous female exotic dancers for your entertainment.  What makes Full Throttle Parties different from your average stripper service?  Oddly enough, it is the fact that it is a woman-owned business.  They hire the best strippers in the Seattle area, working with women who have worked in clubs or appeared in print or other media.  They focus on providing a great working environment for their dancers, which translates into a fantastic entertainment experience for your party.  Part of that is the custom-tailoring.  You can go online to view dancers to pick your top choices for the party, or tell Full Throttle what type of party experience you want and let them customize the dancers and the party for you.  What do you need to throw a great bachelor party featuring Full Throttle's entertainers?  You need a bottle of whip cream, a large clean blanket, some towels or wash cloths, a sturdy seat with no arms for the guest of honor's lap dance, and an AUX input or IPod dock. 
425-880-9359
One of the favorite strip clubs in Seattle, Déjà vu is known for great bachelor parties!  It also opens early at 11am every day but Sunday and 2pm on Sunday.  That means you can make it part of a bachelor party where you want to include multiple activities.  It also makes it a great location for a bachelor party where the bride-to-be is not wild about the idea of strippers, because most people do not think of a strip clubs as a daytime activity! Bachelor parties include a VIP private room, your choice of dancers, drink specials, and more.  Looking for a less structured experience?  Consider bringing the guys for amateur night, where the lovely ladies of Seattle come to strut their stuff.  Looking for a more unique experience?  Check out their calendar for special events, including touring dancers, themed shows featuring performers with specific body types, and more!
1510 First Ave
Seattle, WA 98101
206-342-9160
With the interesting marketing tagline that they have 1000s of beautiful girls and 3 ugly ones, Dream Girls is an 18 and up venue offering totally nude entertainment from 3pm to 2:30pm daily.  What makes Dream Girls unique for bachelor parties?  Well, the total nudity is a big draw for bachelors; marriage means saying goodbye to some strange, so might as well see as much as you can before you say "I do."  Plus, the 18 and up atmosphere makes it a good location if you have younger guests at the bachelor party, since many clubs are 21 and over.  Of course, their prices are hard to beat; party packages start as low as $75 for parties of up to 10 people.  Just be forewarned; this is not an intimate entertainment experience; instead, it is a huge erotic experience in a vibrant club atmosphere.  The club is two stories and features two stages with some of the city's most beautiful and flexible women, as well as a two story, 25-foot long pole for pole dancing like you will not see anywhere else.  Of course, if you want a more intimate experience, you can find it in one of the club's well-appointed VIP suites.
1530 1st Avenue South
Seattle, WA 98134
206-257-1000
Oklahoma
While Oklahoma may not be a prime destination bachelor party destination, that does not mean that bachelors in Oklahoma are not looking for the ultimate bachelor party experience.  For many bachelors, that ultimate experience includes some adult entertainment.  Fortunately, you can find plenty of great looking, friendly strippers in nice clubs or for private entertainment throughout Oklahoma. 
Oklahoma City
A local favorite, Little Darlings is known for offering a great time, whether for parties or for individuals.  What many bachelor parties love is that you can visit Little Darlings on a budget and still have a great time.  Their party packages start as low as $160 for a party of five, and that includes a bottle, a VIP booth, a stage roast and picture for the guest-of-honor, and a t-shirt for each guest.  If you are accustomed to strip clubs in larger cities, you may be surprised by the number of unaltered entertainers at Little Darlings.  Many of the dancers do not have the enhancements you might expect to find on a dancer in a place like Vegas or even in nearby Dallas.  However, if you are a fan of natural looking beautiful women, you will be quite happy at Little Darlings.
1500 SE 59th St.
Oklahoma City, OK 73129
405-670-3600
This entertainment company offers plenty of hot dancers and strippers, but they also focus on bringing a real party vibe to all of their events.  That means, if you are looking for a specialty for your party, this is the company to contact.  They have Santa strippers, little people entertainers, and other gimmicks that you might choose to add something different to your bachelorette party.  Of course, they also offer plenty of traditional stripper experiences.  They are probably best known for their party packages.  Their basic bachelorette package starts with a one-hour strip show and a single dancer, but you can upgrade the package experience to include, not just multiple dancers, but more exotic entertainment such as the girls working together in a girl-on-girl show.  If you do not want to go the full dancer route, but would still like some eye candy at your bachelorette party, they also offer waitress service for private parties.
405-309-3422
Oregon
Portland
This is one of the city's highest rated strip clubs.  It is a fully nude strip club for an 18+ clientele.  They have four stages of dancers and are open until at least 4am, 7 days a week.  They are considered one of the town's best after-hours party locations, are considered friendly for couples, for groups of women, and for tourists, as well as for all-male groups like the traditional bachelor party.
324 SW 3rd Ave
Portland, OR 97204
503-274-1900
Spyce Gentleman's Club– This 21 and up topless club is one of the best strip clubs in the whole Northeast.  It has two floors, three bars, five stages, and VIP rooms for lap dances.  You can reserve one of the smaller stages/booths for a bachelor party.  They also serve some pretty great food, including surf n' turf and taco options.  Their party packages start as low at $100 and include a bottle, and you can get the surprise performance that brings the bachelor on the stage for teasing or torture. 
210 NW Couch St.
Portland, OR 97209
503-957-5293
Looking to bring your bachelorette party to you?  Consider hiring your dancers from Hot Party Strippers.  Like other exotic entertainment companies, they are going to send out hot girls to get mostly naked for your entertainment.  However, unlike other companies, they really do specialize in parties.  They have four introductory party packages, and the party can include a girl-on-girl show, sexy party games, special dances for the bachelor, and plenty of lap dances.  You may also be able to hire one of their more customized parties.  They have poker party packages, wrestling packages, and steak-and-boob packages.  You can work with one of our bachelor party planners to help you perfect your bachelor party experience.
716-302-4890
Canada
Canada might have a reputation as being "classier" than the United States, and in some ways that is true, but the country has a much less uptight approach to sex than you find in the states.  What does that mean for the bachelor party experience?  Well, you might not find a strip club on every corner, like you will in some major U.S. cities, but you will still find plenty of adult entertainment.
Montreal
If you are looking for an upscale adult entertainment experience, then the Kamasutra Club might be the right fit for your bachelor party.  They have a VIP Lounge as well as erotic cabins were you can have a private dance experience.  They offer contact dances, two large bars, VIP and bottle service, and customizable entertainment experiences.   When planning your bachelor party at Kamasutra, you can really determine what mix of public and private you want for the party.  You can hang out in the bar area, book one of the cabins or lounges, or combine both for a complete entertainment experience.
3580 St. Dominique St.
Montreal, QC H2X 2X4
514-842-4892
This strip club offers a full entertainment experience.  They have plenty of beautiful women who strip and dance, but they also offer a high level of entertainment in a French-style atmosphere.  They will work with you to schedule the ultimate bachelor party experience.  The club is not crowded like you might find at other adult-entertainment clubs, and can sometimes feel like a social lounge.  They are known for having affordable drinks, which is perfect for bachelor parties.
6820 St. Jacques St.
Montreal, QC H4B 1V8
514-484-8695
This service says that they offer the best strippers in Montreal. This is a difficult assertion to prove or disprove because people disagree about what makes for a great stripper experience.  However, reviews suggest that their strippers are hot, can dance, and can help throw an ultimate bachelor party.  Whether or not that makes them the best is up for debate, but it does make them a great pick for your bachelor party entertainment.  They offer a huge array of bachelor party experiences including: boats and hoes; two girls and a bath (two strippers get naked and bathe each other); lesbian stripper shows; topless beer pong; topless poker; axe throwing; legs and eggs (breakfast in bed, prepared by hot strippers); wrestling strippers; limos and bimbos; strip-o-gram; hoe carting; guns and hoes; naked sushi; topless barmaids or waitresses; topless midgets; slip and slide strippers; and strip shows at Schwartz's meat restaurant.
866-VIP-MTLX
Conclusion
Our strip club directory should give you a great place to start looking for adult entertainment for your bachelor party?  Need more help?  Head over to our forums, where you can ask questions from other bachelor party planners or locals to the city you plan to visit.  We also suggest visiting our city-specific pages where you can find out more about the city's adult entertainment hotspots, night clubs, bars, restaurants, and other must-do activities.