Plan Your Epic Bachelor Party In Atlantic City, New Jersey (2023 Guide)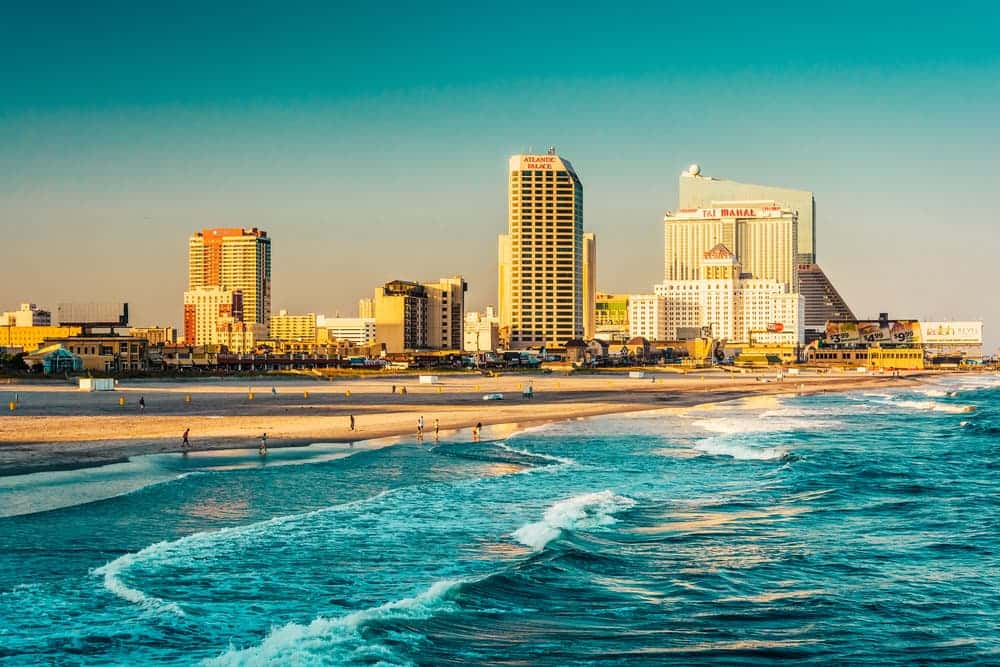 This post may contains references to products from one or more of our advertisers. We may receive compensation when you click on links to those products or services. Please also consider
donating to our website.
So you're heading down the Garden State Parkway for an unforgettable bachelor party in Atlantic City, New Jersey? Well, you're on the right track for a number of reasons. Incorporated in 1854, Atlantic City is as old as the pyramids in American terms and it's always been a major tourist attraction due to its casinos (the first one built in 1976 [Resorts Casino Hotel Atlantic City] and the first in the United States outside of Nevada) and beautiful beaches. If you've ever played Monopoly, you might be interested to know that the streets in the game were named after those in Atlantic City. You may not know, though, that Atlantic City is also the home to the largest (and loudest) musical instrument in the entire world, the enormous Boardwalk Hall pipe organ that has more than 33,000 pipes and was once-famous for its Diving Horse of the Steel Pier. In addition, Atlantic City is the home of the very first boardwalk in the United States, but many people don't know that it is dismantled each winter and stored for the next season. There's a bunch of other stuff you probably don't know about Atlantic City, but that's not important for our purposes. For our purposes, we want to provide you with the most timely and informative guidance to help you plan your bachelor party as possible, and that's why we selected this destination.
Although the city has experienced some tough times in recent years, it's on the rebound and many of the qualities that have made it popular over the years remain firmly in place. Before you make plans to throw a once-in-a-lifetime bachelor party in Atlantic City, make sure you check out our review on this beachfront town. Atlantic City used to be the top choice for a bachelor party about 5-10 years ago, a lot has changed since that time. With the legalization of gambling in neighboring states like Pennsylvania, New York, and Delaware, the attendance at this once-hopping casino town has dwindled down to less-impressive numbers.
Now some best men and grooms-to-be may think this is reason enough to not choose Atlantic City as your farewell destination for a bachelor's party, but that simply is not the case.  During the summer, the casinos are still crowded as people from neighboring states still come down to visit and gamble.  More to the point, the women are beautiful and very approachable.  Also, the deals that the hotels are offering, especially during the off-season (see more below), cannot be beat.  Any place you have great hotels at affordable prices (Atlantic City has more than 35,000 hotel rooms), packed nightclubs, casinos, and pool parties, you are bound to have an amazing time. Moreover, the legalization of online gambling in 2013 together with $4 billion in state investments has reinvigorated the city over the past few years. Even though Atlantic City is not what it used to be, it is getting better every day and it is still the perfect location for your bachelor party as we explain below.
How To Get There
If you live in the tri-state area (New York, New Jersey, Connecticut, Pennsylvania), the best way to get to Atlantic City would be to drive.  Depending on where you are coming from it could take about 2-3 hours to get there.  If you are coming from another state not located near New Jersey, you can take a flight to Atlantic City International Airport.  This is an extremely small airport and the only carrier to offer flights to Atlantic City is Spirit Airlines.  If driving or flying does not interest you, you can also take the train as both Amtrak and New Jersey Transit have routes to this beachside gambling town.
Thing to Do
Daytime Activity Ideas
While you and your buds will undoubtedly want to hit the nightlife in Atlantic City, you've got to have something to do in the meantime and Atlantic City has plenty to offer in the way of exciting daytime activities. You and your friend will undoubtedly want to visit Atlantic City's world-famous boardwalk (watch out for the sea gulls!) and its wide array of attractions, most especially the good food and amusements as well as the historic Absecon Lighthouse, which was built in 1857 but has recently been restored to its former glory. Not surprisingly, residents of the "Garden State" are justly proud of the Absecon Lighthouse which is the tallest in the state and the third largest in the entire United States. If your stomach and stamina allow, you and your bachelor party buddies can climb 208 steps to the top of the lighthouse which provides the best possible vantage point for photography with a view of the entire city and its environs.
If you're in the mood for some gambling action, there are also plenty of casinos within walking distance of each other so you and your friends can "casino hop" until you drop. There are also a number of excellent golf courses available in Atlantic City and there is always the world-famous beaches. Other water-based activities available in Atlantic City include surfing, bodyboarding, windsurfing, stand-up paddle boarding, tall ship cruises, charter fishing excursions, and parasailing. Some of the more popular offerings are provided below.
Cruisn 1:  This is one of the best charter cruise operations in Atlantic City and its U.S. Coast Guard inspected and licensed ship is large enough to accommodate up to 150 passengers (the company recommends limiting passengers to 100 to ensure everyone receives world-class service). The main deck features an enclosed area that includes the galley and bar as well as plush seating, panoramic windows, and wall-to-wall carpeting. There's also plenty of additional seating available in the full walk-around deck. If you prefer, the upper deck can also be fully enclosed to provide you and your party guests with the perfect environment no matter what the weather's doing outside. In addition, Cruisn 1 has a 20 KW generator that can provide all of the power you need for entertainment and catering. This charter cruise company operates year-round thanks to heated upper and lower decks.

T-Wrecks specializes in bachelor parties and provides water-sports activities such as banana boat rides, scuba diving, deep sea fishing (you never know WHAT you're going to catch in the ocean!), swimming, and even eco-tours of the region. T-Wrecks provides an online booking platform with a price list so you can find the package that best suits your preferences and budget. The friendly crew will also give you some tips about other exciting activities that are available in Atlantic City.
Metamorphosis Boat Charters (609-225-3023) also specializes in bachelor parties but only operates from April through November. With a 40-foot Coast Guard licensed and inspected luxury cruise ship, this firm offers leisurely cruises or high-speed thrill rides, bottom and wreck fishing, excursions along the Atlantic City shoreline, swimming and fine dining. The cabin is climate controlled with ample seating for your party guests. Please note that Metamorphosis Boat Charters can only accommodate six passengers, but they do offer two separate convenient locations for departures.
View all Available Activities in Atlantic City
Nightlife Activity Ideas
Haven Nightclub – One of the newest clubs in an old location.  This 12,000 square foot venue is located at the Golden Nugget Hotel and Casino (formerly Trump Marina).  This club has a state-of-the-art sound system and special effects.  You can catch some of EDM's top disc jockeys at this place, including Grammy winner Cedric Gervais.  They are only open Thursday – Saturday but starting in the summer they will be having a Sunday night party as well.
Boogie Nights – this club specializes in bachelor parties and features a 70s and 80s dance club complete with a lit dance floor and luxury VIP seating. You can even reserve the entire club (maximum capacity of 600 people) for the evening if your budget allows.
Premier Nightclub  – This club inside the Borgata (this replaced the location Mixx) is a great place to get the party started.  Since you are going to be with a bachelor party, this means a lot of dudes, so expect to pay premium for bottle service $300-$400 a bottle. This club is on the larger side and is usually always playing a mix of house and electronic dance music.
Strip Clubs / Massage Parlors
Bare Exposures–Although Scores of NY opened up in Atlantic City recently, this strip joint is still my favorite and highly recommended.  If you are looking for high-class entertainers that just want your money then Scores is your spot.  If you are looking for hot trashy chicks that will work hard for your tips, you want Bare Exposures. The best part about this strip club is that you can bring your own alcohol.
Clover Stress Therapy – This Asian massage parlor is also located on Atlantic Avenue across the street from KFC.  The rates for a one hour massage runs about $60.00.  For extras including happy ending you will need to speak with the masseuse, but it typically runs $40.00 for HJ, $80.00 for suck, and $160 for full service.  Out of all the places in Atlantic city they seem to have the best looking staff, young (of age), pretty, and skinny.
Where To Eat
Restaurants
Of course, there's also the saltwater taffy that made Atlantic City famous available all along the boardwalk, but you're probably in the mood for something more substantial than candy. Some of the best dining options for an Atlantic City bachelor party are listed below.
The one place you need to eat when it Atlantic City, is Chef Vola's.  You will need to make a reservation at least 1-2 months before you go, but we assure you it will be worth it.  This is the best homemade Italian cooking you will eat, and it's also bring your own alcohol, so make sure you stop at the liquor store before you go.
For a more casual dining experience with plenty of rock n' roll history, be sure to check out White House Subs' original location at the corner of Mississippi and Arctic Avenues on Atlantic City's boardwalk. Be sure to check out the photographs of all the celebrities that have dined here over the years, including several Miss Americas (Atlantic City was home to the first Miss America Pageant in 1921 and has hosted the pageant since 2005), Jerry Lewis and Dean Martin, Rocky Marciano (the world heavyweight boxing champ), Frank Sinatra (they have one of his used towels on display) and even, yes, the Beatles! After their performance at the Atlantic City Convention Hall on August 30, 1964, the Beatles slipped away to the original White House Subs where they enjoyed one of their famous 6-foot long submarine sandwiches. Music legend has it that this memorable eating experience inspired their song, "Yellow Submarine."
Where To Stay
Hotels & Resorts
The Borgata Hotel and Casino is the closest resort you will find that resembles Las Vegas-style casinos.  This resort has several fine dining options, multiple clubs, a number of good bars, and even an outside pool area with cabanas (Water Club).  If you're looking to stay in a mid/high range budget area Water Club is the perfect choice.  If you are trying to cut a few corners, rooms in the main tower are currently being updated, so you may get lucky. $299 – $499 summer rates, $189 – $299 winter rates
Sheraton – If you would rather spend your money on more important things like stripper, alcohol and drugs, this is the perfect option for lodging.  Although you will only be getting a few hours of sleep a night, the beds (perfect sleeper) are amazing and will make those 2-3 hours very enjoyable.  The prices are also relatively lower than surrounding hotels given their location and lack of amenities.  $150 – $250 summer rates, $100 – $200 winter rates
Harrahs Hotel and Casino –  Another great hotel located near the Marina.  It has a bunch of good restaurants (Martorano's Italian) as well as a really good nightclub surrounded by a pool that is completely indoors (Pool @ Harrahs).  During peak times this hotel will run you about $150 – $190 per night.  Make sure you request a room in their newest tower (Harbor / Waterfront).
View all Hotels Available in Atlantic City
We don't recommend renting a house in Atlantic City itself but you can definitely find a nice waterfront home in Brigantine, which is only a 10-minute cab or Uber ride to the hotels. You can check out this link to see all the houses available in this town.

When To Go
Best Time
May (Memorial Day) through middle of October.  Prices are the highest during this time, but the pools and beaches are open, the venues are packed, and the pretty ladies are ready for picking.
On a Budget
December – April.  Since it's normally cold in New Jersey during this time, you can expect smaller crowds.  Also, the pools will be closed so your day options will be limited as well.  You will however get the best rates for hotels and VIP treatment during this time period.
What Else
Prices
Bottle services at all the clubs/lounges runs about $350-$450 per bottle.  Remember to ask for a prime location in the club for the best people watching.  The minimum for tables closer to the dance floor will always be higher as it's the best real estate in the club. Plan ahead — make friends with your server and the bouncer so that you can pack the table with ladies.
Escorts
$150 – $300 per 2-hours, you will have to find them in the hotel lobby, backpage.com, or through an agency which can be found in the yellow pages.  Watch out for the bait and switch as Atlantic City is notorious for this. Also, since the hotels require all guest to have key cards you can do a walk by when the chick arrives to see if you like her before you bring her back to your room.  Remember to lock up all your valuables before letting anyone inside your room.
Items to Purchase / Pack
Extra Curricular Activities
Green:  Illegal, $50-60 for an eighth. (Usually kind bud)
White:  Illegal, $50-60 per gram (normally cut so expect a nose bleed)
Of course, marijuana is also available in Atlantic City and the police typically do not concern themselves with casual personal users. You should know, though, that possession of more than 50 grams can land you in jail for up to 18 months and a fine up to $25,000 (that would put a damper on any bachelor party) so be discrete. If you are caught with pot within a 1,000 feet of a school, that's considered an aggravating circumstance which carries an additional penalty of 1,000 hours of community service. Your best bet is to ask local taxi drivers or the skater kids along the boardwalk. Don't venture outside the boardwalk area looking for pot – you'll get ripped off or worse. Be prepared to pay premium prices for pot in Atlantic City, though, and high quality weed sells for around $375 an ounce. There are numerous head shops along the boardwalk that can provide you with paraphernalia which make great souvenirs.
Crime
As with all cities that have casinos, certain areas of Atlantic City are dangerous.  If you stay close to the tourist areas you will be fine as they are heavily lighted and patrolled by law enforcement.  If you venture a few blocks away from the casinos, you're on your own.  Don't go looking for crack or pot in the shady areas because it won't turn out well. Also, avoid walking past the closed Sands Casino after dark since this area is replete with ne'er-do-wells. In addition, there have been reports of gangs ambushing unwary tourists in casino parking garages so if you park your car at a casino, find a spot near the elevator even if it's on the top level.
Atlantic City Bachelor Party Forum
Still have questions about planning your epic pre-wedding party in Atlantic City?  Post any question you have on our forum (anything goes) and someone from our community or a member of our staff will provide a detailed response.  If you already went to AC for your bachelor party please post some suggestions, recommendations, and reviews to our forum for other groups to read and help our community grow.
Travel Discounts
Booking a house or condo in Atlantic City for your bachelor party?  Get a $40 travel credit with Airbnb.com.  This offer only applies to new members of Airbnb.com, not existing ones.
Need a ride from the house, condo or hotel to the nightclubs and restaurants?  Get $20 in free rides with Uber.  This offer only applies to new members of Uber, not existing ones.
Why Go
Rating
Conclusion
If you are from the New York / New Jersey / Connecticut / Delaware area this is a perfect, cost effective weekend destination for your Atlantic City bachelor party.  Since most likely you would be driving to this location, you would save dramatically on air flights.  This town has everything you need to make it a memorable weekend such as whores, alcohol, drugs, hot chicks, strip clubs, VIP service, and even a tiger for your bathroom.