The Most Amazing Bachelor Party Cakes (for 2023)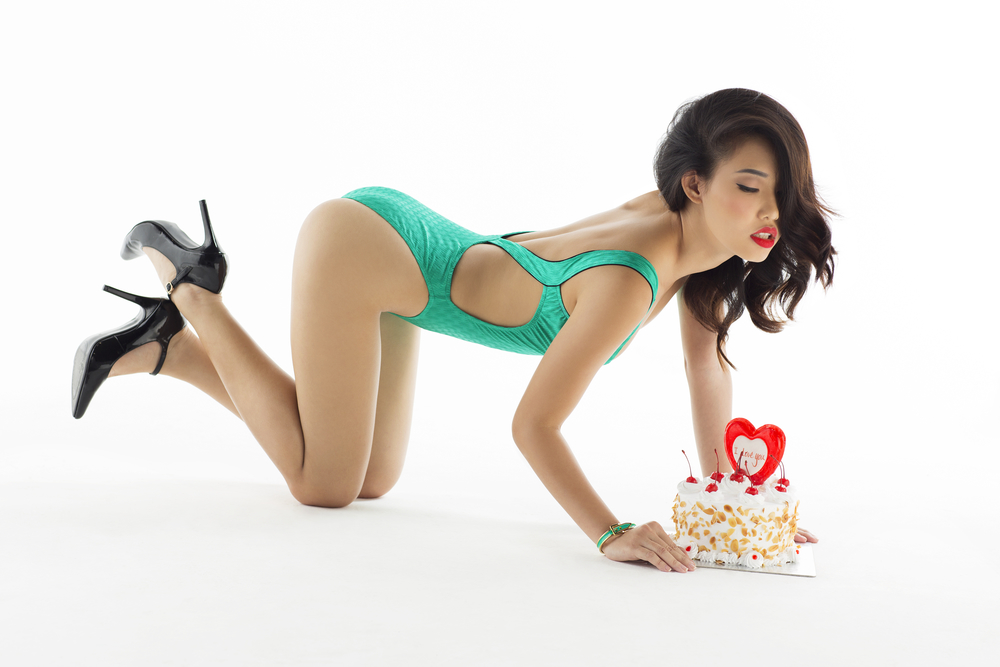 This post may contains references to products from one or more of our advertisers. We may receive compensation when you click on links to those products or services. Please also consider
donating to our website.
Question: What do "ka ka" (snicker…), a high-profile murder scandal involving a prominent, rich New York architect – (called "The Trial of the Century" by the press–19th century press that is) and beautiful showgirls and strippers have in common? The answer: Cake!
Despite stereotypes that suggest women are far more fond of cake than men, the truth is that cake is the most gender-neutral dessert dish today and many guys are hard-wired to like cake and will even go out of their way to attend social events they would otherwise avoid if cake is served.
More importantly, it doesn't really matter what kind it is, most men think that all kinds of cake are great and if you put ice cream on top, you've got everyone on board. Devil's food, angel food, pound, chiffon, carrot, red velvet cake … the list goes on. Although different countries have different terms for the concoction, the global cake market has become a multi-billion dollar enterprise, due in large part to customizable cakes that make them the perfect addition for any special occasion.
In sum, you can't go wrong serving cake at a special event, but you can get it less than right if you don't know what you're doing. This guide provides you with everything you need to know for planning for your epic bachelor party cake that you and your friends will appreciate, enjoy and always remember. We start with some interesting facts about cakes in general so you can impress your buddies with your culinary erudition when you unveil your special cake creation and then we provide some representative examples of bachelor party cakes to get your creative (and salivary) juices flowing.
The history of cakes is truly ancient, but the very earliest efforts at making birthday cakes were dismal by modern standards.
Although the earliest cakes may have gotten off to a "rocky" start, the idea caught on and humans have been modifying various types of breads into some form of cake for millennia.
The English word "cake" is derived from the Viking "ka-ka" (snicker …) and it is especially interesting that no other language today has a precise equivalent for the word (today, even the Brits inexplicably call all types of cakes, "sponge" – this makes us laugh for some reason).
During ancient times, round cakes became popular for celebrating special events because they symbolized the sun and the moon and therefore the cyclical nature of life.
Besides their round shapes, these earliest cakes did not resemble their modern counterparts in most other ways, being more bread-like in substance and appearance with honey used as the sweetener instead of sugar. In order to make these early cakes taste better, cooks would frequently add other ingredients such as dried fruits and nuts to the mix. There was a pragmatic reason for these recipes as well since, like modern fruitcakes, they could last several months without refrigeration.
The first evidence of cakes as we know them today (i.e., round cakes covered with frosting) emerged during the mid-17th century when European bakers took advantage of innovations on culinary technologies such as improved ovens and the availability of round cake molds (some of which were adjustable to make different sizes) and ingredients such as refined sugar that were needed to create their own versions of these delicious desserts.
More recently, cakes have been used for all types of celebratory events such as birthdays, weddings, retirements, and so forth for more than four centuries, and the tradition remains alive and well today. Indeed, some indication of the lengths that Americans will go to in order to make and eat their cake no matter what emerged during World War II when American housewives were forced to make their cakes without many of their traditional ingredients, and recipes for cakes made without eggs, butter or milk known as "war cakes" became all the rage.
In fact, cakes are an integral part of American tradition and culture and there are even popular urban myths about them. For example, one story about red velvet cake (yummm!) that has gained credence over the years started out untrue and remains untrue to this day despite being repeated over and over.
As the story goes, New York's Waldorf Astoria's red velvet cake was so good during the 1920s that a female patron requested the recipe but as a result of a misunderstanding, she was charged an exorbitant fee. In response, the woman purportedly decided to get revenge by passing along the recipe along free of charge to everyone she knew. This urban myth has even expanded over the years to include Mrs. Fields cookies!
The tradition of having a beautiful woman pop out of an "adult" cake is more recent, though, dating to 1895 when a wealthy architect named Stanford White hosted a stag party for some prominent civic leaders of the time and included a giant pie containing a naked, 16-year-old Susie Johnson, a hottie in the entertainment industry. It turns out that White was not only designing buildings, he was also hammering Susie and other girls and his murder a decade later by a jealous husband was termed "The Trial of the Century" by the press.
Even "Ripley's Believe It or Not" weighed in on this "crime of the century" and provides the alternative graphic below.
All of this publicity helped create a growing demand for scantily clad women popping out of giant cakes at special events. In fact, by the 1950s, is was commonplace to hire showgirls or strippers to pop out of giant cakes at various types of social events, including most especially all-male business and fraternal organization conventions as well as office and stag parties.
Many good things come to an end, though, and the long tradition of having a pretty half-naked female pop out of a cake died out after the feminist movement had its say about it and most companies wanted to avoid even the appearance of sexual harassment. Thanks a lot, ladies!
Fortunately, the tradition remains alive in the hearts of men everywhere who want to watch this phenomenon for themselves in person at least once in their lives and a bachelor party is the perfect place for this special event!
Certainly, you don't have to have a giant women-filled cake (but just consider what you and your friends will be missing – wink, wink), or even any cake at all, but a cake will help make any special occasion seem, well, even more special – especially if it is personalized. The examples shown below are just a few terrific ideas that can inspire you to create your own culinary masterpiece in celebration of the groom's upcoming nuptials.
Bachelor Party Cakes
The type of bachelor party cake you will need depends on your guests. If it's a small, informal bachelor party, you may just want to purchase a premade sheet cake from your local grocery's store bakery for about $25 or less. Your baker can personalize your premade sheet cake and include bachelor party themed decorations or even the bride and groom's pictures.
There's no need to get mushy with your message. Keep it simple and to the point: "Congratulations, Bill!" is perfect.
If you would like something more personal, you can use the groom's occupation, favorite hobbies or sports as a theme for your cake decorations. For example, a camouflaged bachelor party cake topped with appropriate figures is a great idea for grooms who enjoy deer hunting as shown below.
A bunch of college-aged guys, though, may prefer something anatomically graphic such as the cakes shown below.
.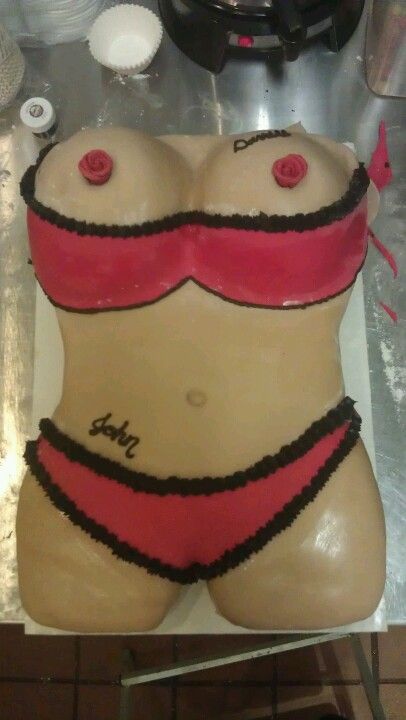 or …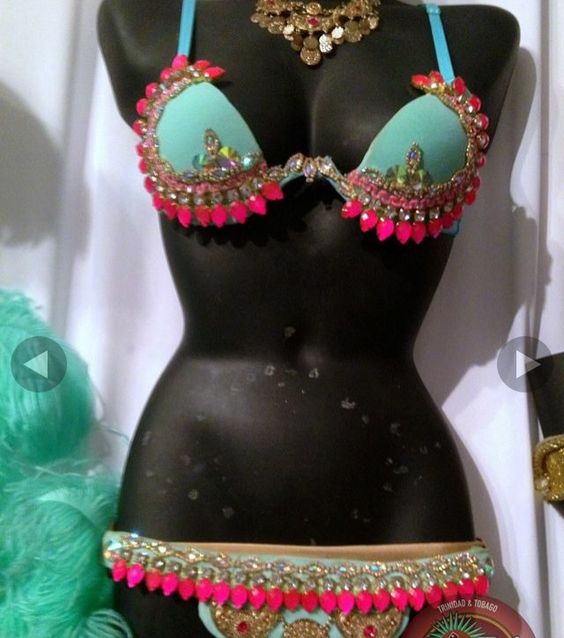 … or …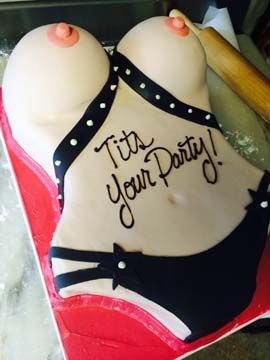 Unless you have some experience in baking and decorating cakes, though, we wouldn't recommend attempting to make this type of bachelor party cake on your own. Our last experience just trying to frost a cake for an anniversary proved disastrous, so leave the fancy stuff to the experts. Check your local listings to see if there is an adult bakery in your area that can accommodate special bachelor party requests.
Some other good ideas for bachelor party cakes include any of the three "T's ("twats, tits and torsos") such as the vagina-shaped cupcakes depicted below.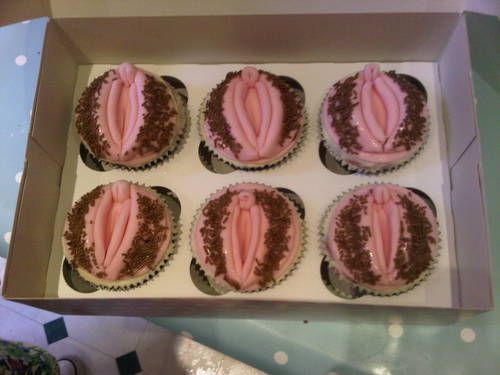 … or some lacey frost-covered boobs such as the delicious examples shown below.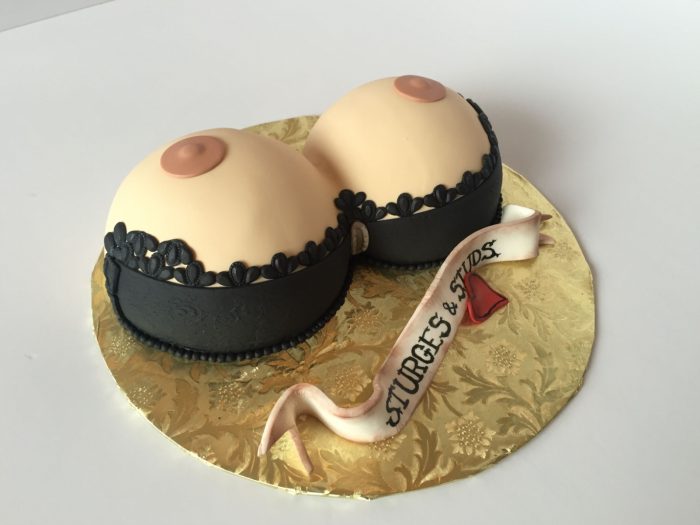 Drool …
Yet another popular theme for bachelor party cakes is women worshiping big dongs (the groom should be warned that he shouldn't get used to this fantasy in real life) …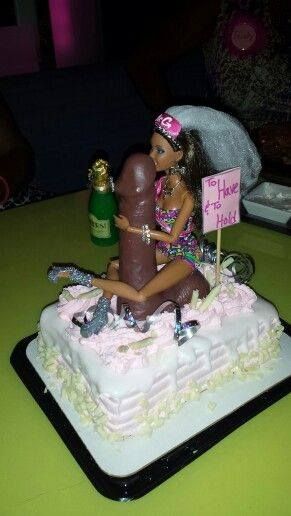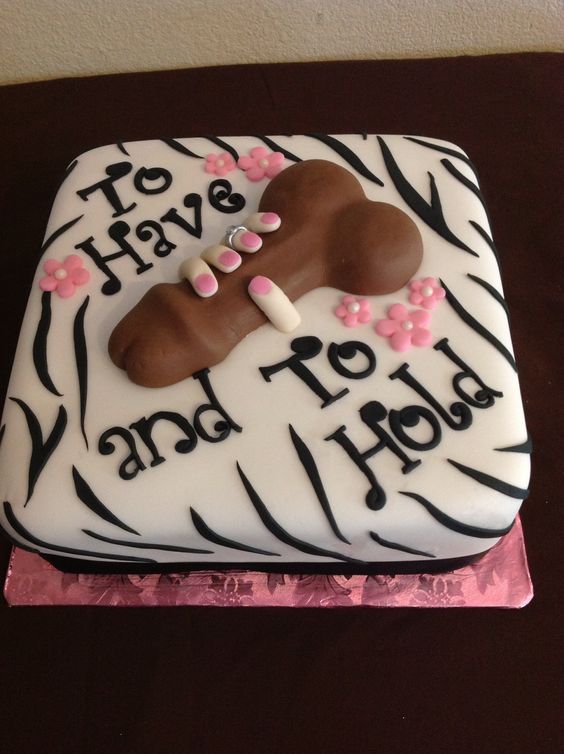 Some other good ideas for bachelor party cakes include some "tasteful" honeymoon scenes such as the one shown below.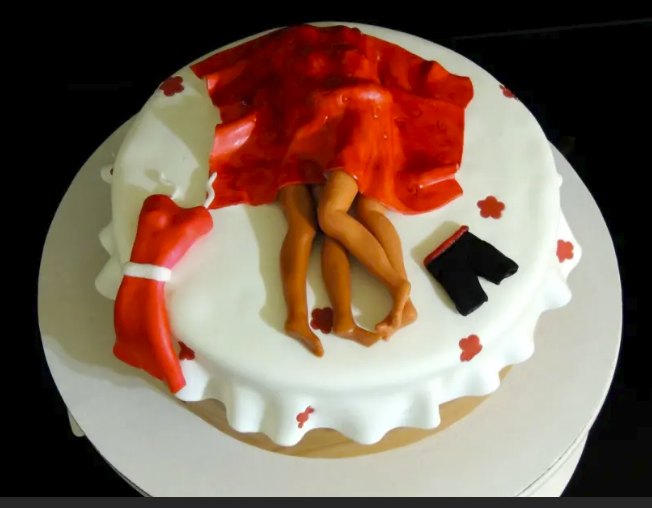 Another popular theme for bachelor party cakes is the "it's all over now, bud" approach. This type of themed cake can assume a number of forms, including those depicted below.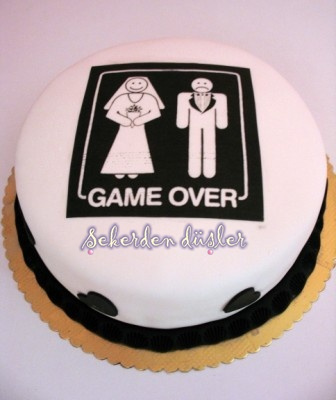 Or how about the ever popular "death of a bachelor" theme?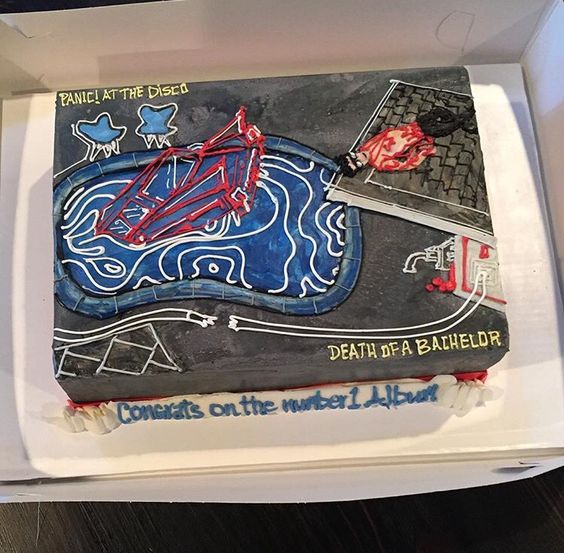 Since you'll probably be serving some type of beverages at your bachelor party, why not transform the bachelor party cake into something doubly useful?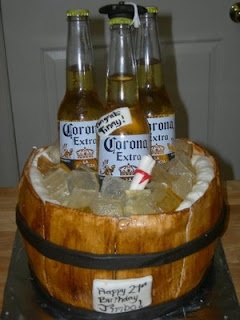 Although you may think that your bachelor party friends may hesitate to cut into a masterpiece cake such as these examples, trust us – they will – and with gusto. Just be sure to take plenty of pictures before they destroy your creation so you'll have something to remember besides some crumbs and used paper plates.
If you decide to go all out Old School and have an exotic entertainer pop out of a giant cake for your bachelor party, some quick, easy to follow and step by step plans using corrugated cardboard and simple tools are available here.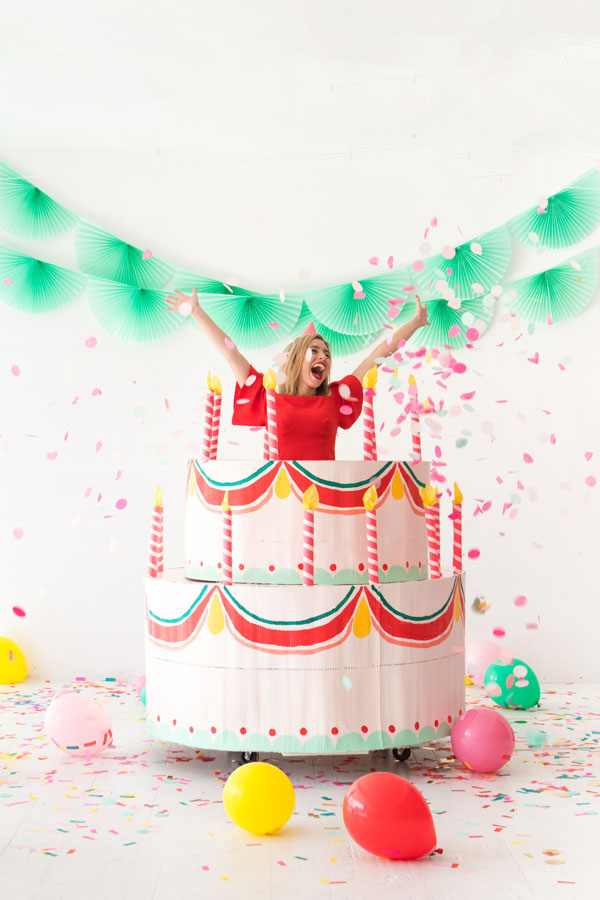 A simple alternative to the "live stripper in the cake" concept is to simply use a 12-inch Barbie doll or knockoff as a cake decoration as shown below.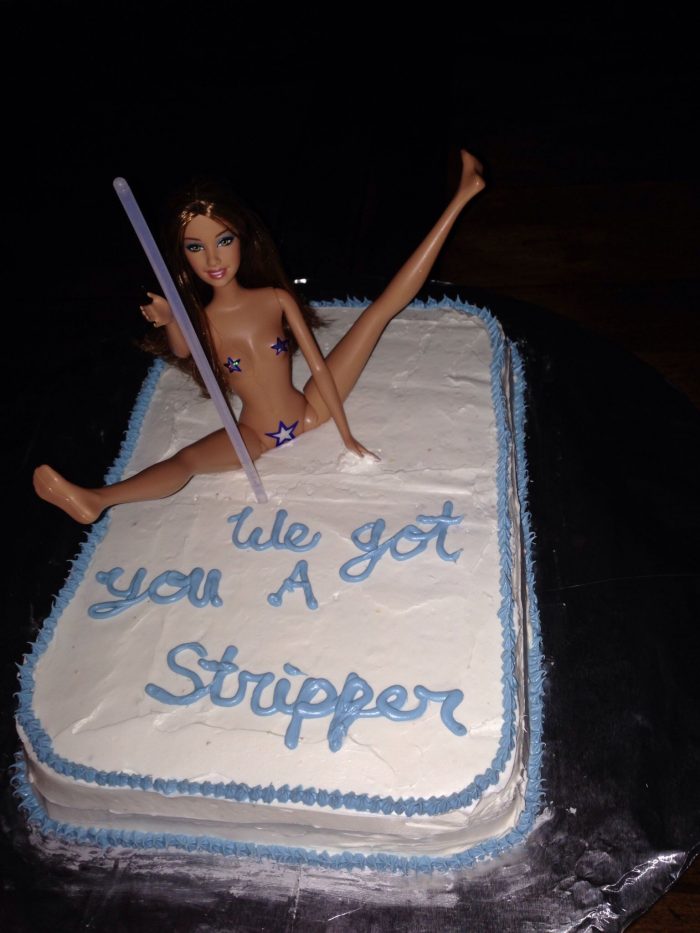 Conclusion
Nothing says "party" like a cake, a nothing says a fun "bachelor party" like a themed bachelor party cake. As the examples above clearly show, bachelor party cakes can range from the crudest but well intentioned (and therefore all the more special) to professional spectacular works of exotic culinary art.
In other words, while your bachelor party does not absolutely demand one, cakes are a relatively inexpensive way to make it a really special occasion because cakes are cheap and your imagination is the only limit to decorations.
Moreover, most guests expect to be fed (at least) at bachelor parties and an inexpensive cake and some finger foods are just the ticket. Although a bachelor party cake is not a must-have, they can be an inexpensive way to liven up the event and help make it the memorable experience you want the groom to have before he straps on the ol' ball and chain.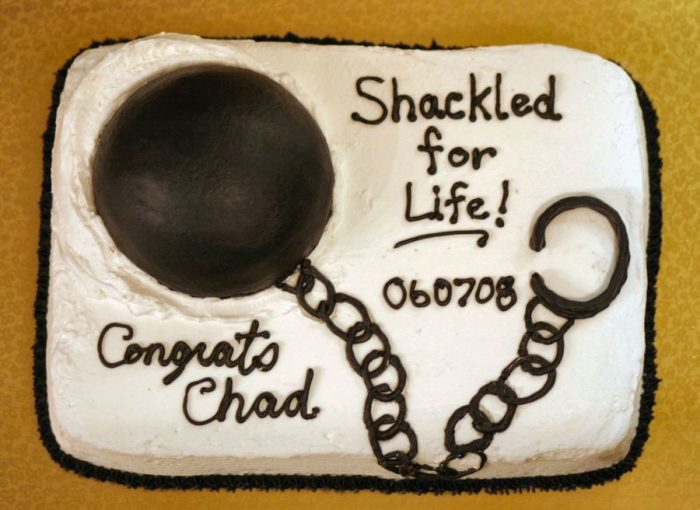 In the final analysis (and even though she didn't really say it), take Marie Antoinette's advice and "Let them eat cake" at your epic bachelor party.