Plan a Bachelorette Party in Lake Geneva, Wisconsin (2023 Guide)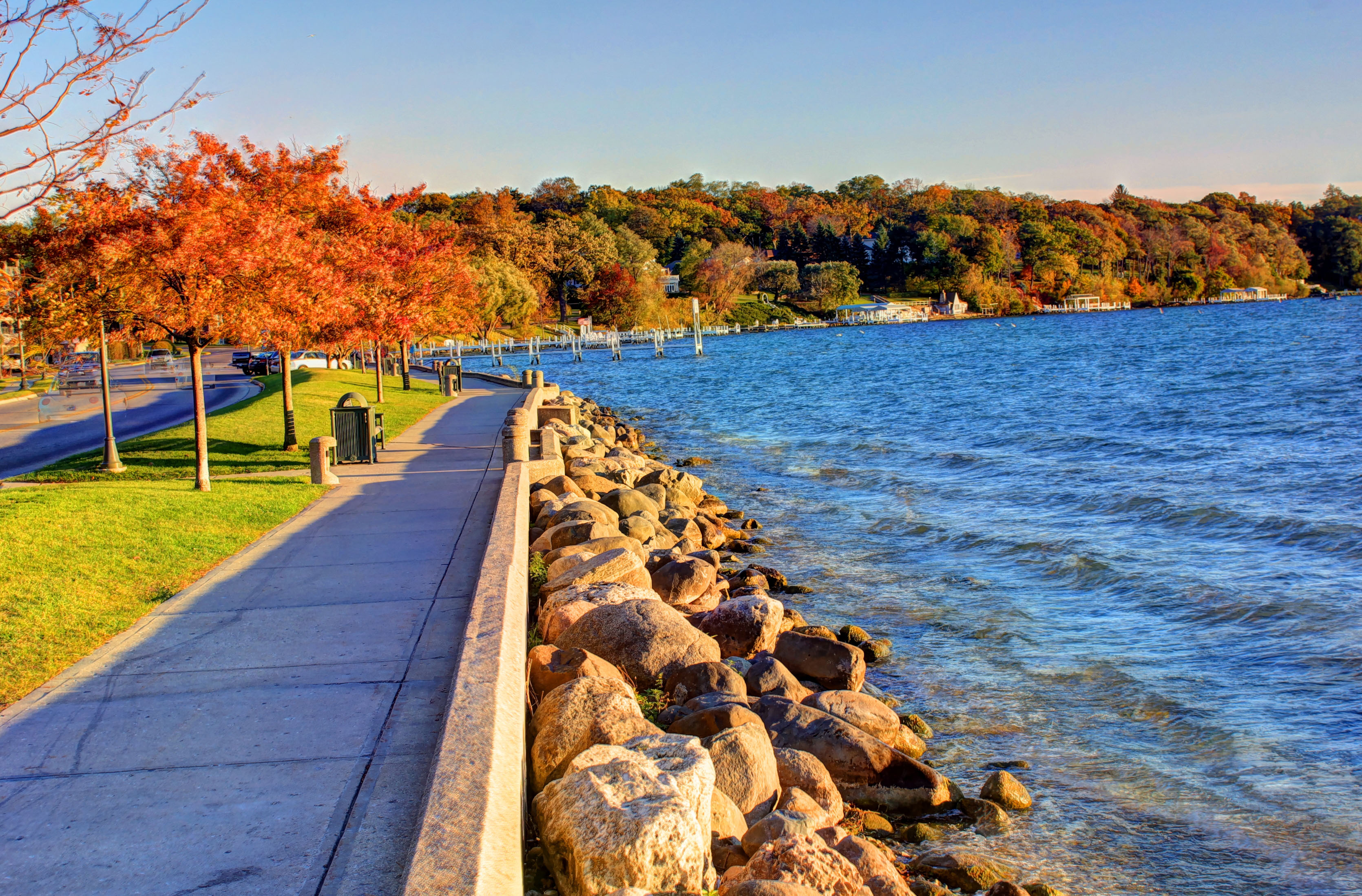 This post may contains references to products from one or more of our advertisers. We may receive compensation when you click on links to those products or services. Please also consider
donating to our website.
Lake Geneva, Wisconsin is what we refer to as a "hidden gem" type of bachelorette destination.  Relatively unknown throughout much of the United States, Geneva Lake is a popular destination resort area for people from Wisconsin and the surrounding areas, particularly Chicago.  Lake Geneva became a go-to destination for wealthy Chicagoans during the Gilded Age, and many of their mansions and resorts have been turned into popular tourist destinations.  Visitors enjoy the beaches, hiking, and picnicking.  With its spas, boating, entertaining nightlife, and plethora of fun tourist activities, Lake Geneva was named by USA Today as the best small town for adventure, which makes it a great spot for bachelorette parties that are looking for something new.
How to Get There
Even though it is a popular tourist resort town, Lake Geneva does have a small town feel.  It does not have any of its own major airports, but is only about an hour away from Milwaukee or 90 minutes away from Chicago, by car.
Airport
Milwaukee's Mitchell International Airport (airport code:  MKE) is served by several major airlines, including Alaska Airlines, American Airlines, Delta, Frontier, Southwest, United, and Air Canada.  It is the smaller of the two major airports near Lake Geneva and has fewer airlines operating out of it, so it may not be an option for all travelers.  However, because it is a smaller airport, traveling into or out of it may be much simpler than traveling from the big airport, if you get that option.
To get from MKE to Lake Geneva, you can rent a car from one of several major car rental companies, including Enterprise.  You may also be able to use an Uber or a Lyft.
Chicago also has two major airports, Chicago O'Hare (airport code:  ORD) and Chicago Midway (airport code:  MDW).  In addition to Uber, Lyft, and car rental options, you can take a train or a bus from Chicago to Lake Geneva.
Getting Around
One of the more popular ways to get around Lake Geneva is pedal-powered.  Many tourists to the area rent bicycles for their stay, enjoying the gorgeous weather as they bike to and from their destinations.  In fact, many of the vacation rental properties will come with bicycles.  Not into pedal power?  No problem, you can also rent scooters, e-bikes, and scoot-coupes.
Things to Do
Obviously, given Wisconsin weather, there are some seasonal differences in what you may want to do while in Lake Geneva.  Year-round people can enjoy wonderful shopping, quaint museums, great restaurants, bars with lots of character, and seasonal festivals and fairs.  In colder weather, people enjoy snowmobiling trails, skiing, ice fishing, ice skating, and winter hiking.  In warmer weather, visitors check out the local golf courses, enjoy horseback riding, see the view while zip lining, head out for charter fishing groups or rent a boat.
Daytime Activity Ideas
Known as a town for adventure, it should come as no surprise that many of Lake Geneva's daytime activities are focused on enjoying the great outdoors. 
The beach is one of the area's big draws.  Lake Geneva is known for its gorgeous waters and the beaches offer an opportunity to enjoy them.  The four beaches at the lake are Big Foot Beach State Park, Lake Geneva Riviera Beach, Fontana Beach, and Williams Bay Beach.
Consider visiting one of the orchards or wineries around Lake Geneva.  There are literally dozens to choose from in the Lake Geneva area.  At the Apple Barn Orchard and Winery, you can find apples (pick-your-own or already picked), all kinds of apple products, gift objects, berries, cider donuts, pumpkins, and a variety of fruit wines. 
Head out for a horseback ride with your friends.  The scenery is amazing and there is something about viewing nature on horseback that makes both experiences even better.  Dan Patch Stables offers year-round horseback rides.
Enjoy the water from an up-close and personal perspective by renting a kayak, canoe, or paddle board.  Those who are new to these types of watersports can even get lessons on how to use the equipment, making it a great daytime activity for a whole bachelorette party.
Go out and do some shopping.  Lake Geneva has tons of cute little shops that sell just about anything you could want to buy in a resort town, so head out for a day of shopping. 
Hit the links.  If you are a group of golfers, then you are really going to love some of the stunning and gorgeously maintained golf courses around Geneva Lake.  Golf at Grand Geneva Resort and Spa and get access to two beautiful and challenging golf courses.
Have a spa day.  Actually, the outdoors is so inviting that we do not recommend an entire spa day, but a relaxing afternoon after a morning full of paddle-boarding or kayaking sounds ideal to us.  There are plenty of spas in town, so you can pick and choose the one that offers the best combination of things for your group.  A personal favorite is Jasmine Salon & Spa, which lets you throw salon parties for your group.
Enjoy a boat tour of the lake.  You can always charter your own boat, but we also like the narrated boat tours on Lake Geneva Cruise Line, where you can hear the stories of all of the gorgeous mansions and estate homes you see on the cruise.
If you love to zip-line, then you are in luck because Lake Geneva offers some awesome zip-lining.  Not a zip-line fan?  You can enjoy hiking or mountain biking while some people in your crew hit the lines.
Nightlife Activity Ideas
It is a given that nightlife in Lake Geneva is going to be more sedate than nightlife in some of the big party spots.  So, no, you are not going to find any huge nightclubs in town.  However, there are some unique spots that make for a great evening.  You will find most of them listed in our bars, since they are more bar than nightclub.  You can find live music at many of them, depending on the time of year. 
We always love a ghost tour because they offer some salacious tidbits while providing a great overview of the history of the place you are visiting.  Tour guides are also a great source of information about the best things going on when you visit.  Lake Geneva Ghost Walks offers a relatively short walking ghost tour that is a great way to ease into an evening's activities.
Bars
Want to check out one of the beautiful properties built during the Gilded Age?  Then head over to Maxwell Mansion.  They have a variety of bars, a speakeasy, and an a
Thumbs Up is known for offering a dive-bar experience, even though it is surrounded by some of Lake Geneva's chicer shopping.  It is also a local favorite, making it a great option if you want a break from some of the town's more tourist-trap type attractions.
Hogs & Kisses is like a mini-nightclub with DJ's and dancing on the weekends.
Male Reviews / Male Strip Clubs
Given that so many bigger towns do not offer any beefcake, many tourists are shocked to find out the Lake Geneva's Sugar Shack not only offers male exotic dancers, but actually features a fully nude male revue!  It is also a relatively innovative adult entertainment venue, in that it offers shows with female dancers and shows with male dancers, so make sure and check the show times if you are planning ahead.  You can also contact them to make arrangements for your bachelorette party.
Where to Eat
While you may not find a lot of nightclubs or other nighttime activities in Lake Geneva, when you hit one of their delicious restaurants, you will realize that is because tourists often spend their evenings enjoying delicious gourmet-quality dinners and beautiful views at one of the town's delicious restaurants. 
Breakfast /Lunch / Brunch
Great Eggs is not a fancy establishment, but they offer fresh food and have a gorgeous garden available for your dining pleasure.  They focus on breakfast wraps and offer a variety of fillings.  Vegetarian friendly, but since the wraps usually have eggs and cheese, it would probably not be the best choice if you have vegans in your group.
Egg Harbor Café is apparently a breakfast chain, though there are not any near where we are located.  We love their skillets, especially the Sweet Potato Skillet, which offers a fresh take on the traditional breakfast potatoes.  The Cinnamon Roll French Toast is every bit as delicious as you would expect it to be.
The Grandview Restaurant and Supper Club has one of the best brunches and some of the most spectacular views in Lake Geneva.  They have a seasonal menu, so our favorites may not be available when you visit.  However, if you see the Herbed Polenta Benedict on the menu, you should try it; it offers one of the freshest takes on Eggs Benedict we have ever tasted.
Dinner
Sopa Bistro is another seasonally-driven restaurant that is really making its mark on Lake Geneva's dining scene.  We will say that this is not the place to take picky eaters, because, other than a pretty standard Caesar Salad, you will not find anything boring on the menu.  Everything has a unique take or twist.  That said, if you do have a taste for adventure, you might not be surprised to find yourself here more than once, even in a short trip.  We love the Korean bbq alligator, the duck (topped with a deep fried poached egg that should be illegal it is so delicious), and the rigatoni.
We think of Tuscan Tavern and Grill as being on the opposite end of the adventure spectrum, though it offers the same high-quality and attention to detail as some of Lake Geneva's more adventurous restaurants.  Caprese Salad, crab cakes, and spinach and artichoke dip are just some of the familiar favorites that diners will find there.  The pesto spinach pizza is one of the best pizzas we have ever had.
The elegance of the Red Geranium is wonderful, but people go there because their steak and chop selection is fantastic.  Saturday nights they offer an old fashioned prime rib that is classic, delicious, and cooked to perfection.
Where to Stay
Lake Geneva was the playground for the wealthy during the Gilded Age.  While many of those fabulous residences are still privately owned, many were transformed into resorts and hotels.  This is definitely one place where you want to think outside of the box, avoid the plain-chain hotels, and try something new. 
Hotels and Resorts
Whether you are looking for a quaint B&B type experience, or a full-on luxury resort, the chances are good that you can find it in Lake Geneva.
Maxwell Mansion is one of the most fun hotels in the Lake Geneva area.  It has one of the best bars in the area and has funkily-decorate rooms with period furniture.  It was the first mansion built in Lake Geneva and has played host to a wide variety of dignitaries and famous persons.  While the hotel has been modernized, it retains its original character, letting you feel like you are stepping back in time when you stay in one of its luxuriously appointed rooms.
If you want the full lake resort experience, then Grand Geneva Resort and Spa may be the place to stay.  It is known for its full-service spa and its amazing golf courses, as well as its well-appointed rooms.  However, if you do not plan to have a car with you, be aware that it is actually located a little outside of town, which can make getting to and from other locations a little tricky.
Usually we steer our bachelorette party groups away from B&Bs because the raucous vibe of a bachelorette party is somewhat out of place at most B&B's.  However, if you choose to go to Lake Geneva for your bachelorette, you may be the perfect group for a B&B.  Seven Oaks Bed and Breakfast is an adults' only B&B that even offers 2-bedroom, 2-bathroom suites, perfect for a bachelorette party.  It is within walking distance of town, making it a great place to stay.
View all Resorts in Lake Geneva
Rental Houses
Lake Geneva has always offered adorable vacation homes, but finding the perfect vacation rental is even easier when you use a service like Airbnb and VRBO.  Use our link to get $40.00 off your first AirBnB reservation. 
AirBnB
This Geneva Street Apartment sleeps up to six and wants to make your vacation a home away from home. 
Stay a block away from the lake in this golf cart friendly community.  This vacation rental sleeps up to 9 guests. 
VRBO
We love the rustic cabin feel of this home, especially the huge stone fireplace.  With the capability of sleeping up to 12 people, this is a great space for bigger parties.
The modern design of this home may seem out of place when compared to the Gilded Age homes that dot the lakeside, but its stunning views, clean lines, and amazing architecture somehow make it work.  The most expensive vacation home on our list, this property has wonderful party-house amenities like a billiard table, its own pier, and even a fitness room. 
When to Go

                
Best Time
July and August are considered the best months to visit Lake Geneva because of the weather.  While the temps might be hotter than you might consider optimum for a visit, they are still going to be pretty pleasant, and, by July, the lake has had time to warm up and be welcoming for all of the water activities you have planned!
On a Budget
December to April is a great time to enjoy skiing and other winter sports around Lake Geneva, and is also pretty reasonably priced as long as you avoid the winter and Easter holidays. 
Worst Time to Visit
Christmas is probably the worst time to visit.  The weeks leading up to Christmas are great and there are plenty of things to do outdoors.  However, immediately around the holiday prices are high, things are crowded, and it is one of the few times that Lake Geneva seems not worth the money.
Current Weather
What Else
Big Events
There is always something going on in Lake Geneva, where it seems like almost every weekend has some type of special celebration or festival. 
In February, people can enjoy Winterfest.  Not only does it boast one of the largest ice sculpting competition in the United States, it also features a ton of fabulous winter activities, like ice skating, a winter carnival, and dog sled racing.
Want the ultimate girls' getaway?  Consider planning your bachelorette party to coincide with Women's Weekend.  Wine tastings, high teas, crafts, disco nights, and cooking courses are just some of the activities featured around town in a weekend that celebrates women sometime in April or May.
The Venetian Festival in August is a Lake Geneva tradition that features music and entertainment, craft tents, carnival rides and games, a jet ski show, a boat parade, and fireworks. 
What to Pack
With all of the shopping in Lake Geneva, you can find just about anything that you forget.  However, we think you will want to pack these things. 
Even in the summer, nighttime temps can dip to the low 60s/ upper 50s.  You will want a hoodie to throw on when the sun goes down.  Why not go with these customizable bridal party hoodies from Etsy: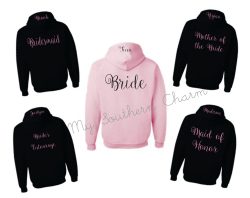 Lake Geneva is largely a walking town, so be sensible and bring some shoes that are comfortable and cute.  You may think the heels make your legs and your butt look great, and they probably do, but how cute will you look hobbling around with blisters?
Sample Itinerary
Grab a breakfast wrap from Great Eggs then head over to the lake, where you have arranged paddle board rentals and lessons.  Spend the morning on the lake, then grab some pizza at Tuscan Tavern and Grill before you had a spa day at Jasmine Salon & Spa.  Now that you all look stunning, head over to Sugar Shack for their early show, before rounding out the night with an amazing dinner at the Red Geranium.  
Bachelorette Party T-Shirts
While bachelorette party souvenirs are not a must-have, we do think that t-shirts are a great souvenir that is inexpensive and will probably get used again after the party is over.  Lake Geneva is an unusual enough destination that if you want the name on the shirts, you will probably need to customize.  Never fear, though, there are plenty of cute designs that work great for Lake Geneva.
If you plan on visiting the wineries, consider these "pour the wine" shirts: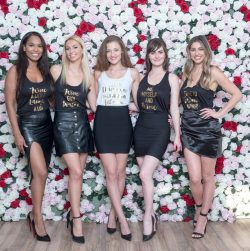 We love the bride and her babes theme: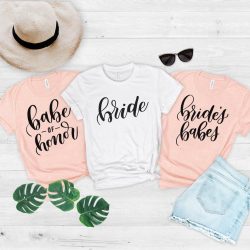 Hashtags
#BridesBabesInLakeGeneva
#WomensWeekend
#BachOnTheBeach
Travel Insurance
Compared to many destinations, Lake Geneva is a relatively low risk destination in terms of travel interruptions for much of the year.  Of course, if you are heading there in the snowy months, it is always possible that Mother Nature will dump enough snow to mess up your travel plans.  Because we are big believers in the idea that anything can happen, we always suggest people way the potential benefits of travel insurance against the possible losses if a vacation gets interrupted.    
Why Go
Everyone is looking for a new idea in destination bachelorette parties, and we bet that no one in your group has been to a bachelorette party there, especially if you do not like in the Milwaukee or Chicago areas.  The area caters to tourists and have plenty to do at prices that are reasonable.  It is also great if you want a bachelorette party that is more than just a few days where you are wasted and unlikely to remember the memories you are making. 
Star Rating
For the right party- calmer bachelorettes, maybe a little older, maybe just not huge party people, Lake Geneva is perfect.  However, because our average party tends to skew a little younger and a little wilder, we dinged it a star, mainly to make sure that people read all about and realize that it is not like South Beach moved to Wisconsin.  This is a different kind of party. 
Conclusion
For the right group, it would be hard to beat Lake Geneva as a bachelorette party destination.  With a town full of awesome activities, it is a fabulous destination for a bachelorette party that wants to really have some great girlfriend bonding time before the bride gets hitched.