Charleston Bachelor Party (2023 Guide)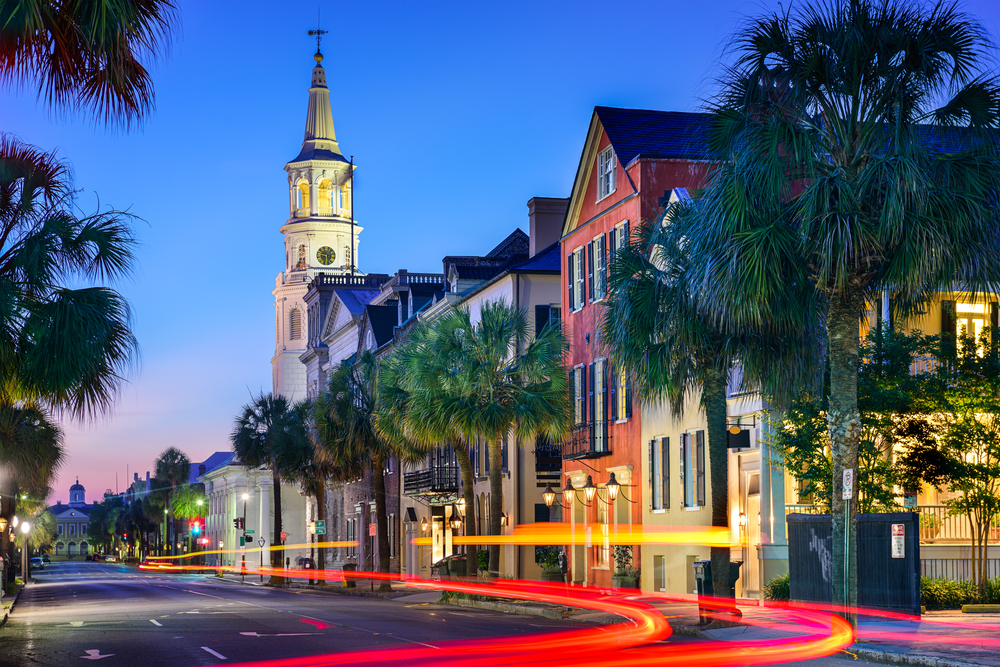 This post may contains references to products from one or more of our advertisers. We may receive compensation when you click on links to those products or services. Please also consider
donating to our website.
The city that gave the swinging dance its name during the Roaring 20s is now ranked the top tourism destination in the United States and Canada as well as the number two destination worldwide by Condé Nast and Travel and Leisure, making Charleston, South Carolina is a great choice for your bachelor party.
With a $20 billion tourism industry, a thriving competitive sports market, world-class restaurants, abundant recreational activities, resorts, cultural festivals and more, Charleston has something to offer all of your bachelor party guests. This guide will help you get started in your planning for this exciting event, and we even provide some insider tips to help you avoid the crowds and make the most of your visit.
How to Get There
Today, nearly 21 million people live within 250 miles of Charleston as shown in the figure below, and tens of millions more live just outside this radius. This means that the chances are good that you live within driving distance of this historic American city.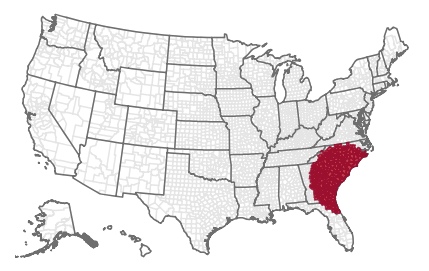 You'll probably drive to Charleston on I-95. If so, take exit 33, the Charleston exit, onto Highway 17 which will take you directly to downtown Charleston (approximately a 45-minute drive from exit 33). To make sure you don't get lost along the way, download Waze to help you navigate your way. Of course, make sure you have plenty of good music for this road trip (you can download your favorites from Spotify). Moreover, you can always rent a car to avoid the wear and tear on your own vehicle from reputable nationwide rental agencies such as Enterprise.
Airport
If you live too far away or just don't want to spend your precious time off from work driving, you can take advantage of Charleston International Airport (airport code: CHS) which is serviced by six major airlines (Alaska Airlines, American Airlines, Delta Airlines, JetBlue Airways, Southwest Airlines and United Airlines). You don't have to worry about ground transportation once you arrive, either, since you and your bachelor party buddies can easily find reliable airport taxis, hotel shuttle services, public transportation and off-site car rental services near the airport. In addition, an Airport Shuttle service is also available which makes stop in downtown Charleston (depending on the number of passengers) for just $15 per passenger. In addition, ride share services are readily available like Lyft and Uber (see map below).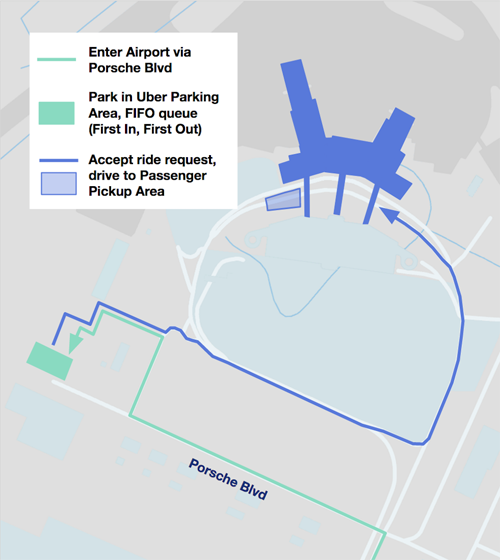 When booking your flight to Charleston, make sure you check out priceline.com, as they always seem to have the best prices and availability.
Getting Around
Situated on a peninsula, the city of Charleston is laid out using a grid system that makes it easy to get around. This city of three-quarters of a million people is relatively small in size, and once you become familiar with the mains streets, navigating your way to your favorites venues is a snap. The main streets are listed below (tip: street signs are painted on the pavement so keep alert).
Meeting Street: This is the main two-way street the runs through the middle of the city, and extends the length of the peninsula.
King Street: Located just one block west of Meeting Street, King Street also extends the length of the peninsula; however, it is only partially two-way and transforms into a one-way street at Calhoun Street which continues to the south end of the peninsula.
East Bay Street: Located one block east of Meeting Street, this two-way street provides a scenic drive along the Cooper River where you'll find the South Carolina Aquarium and meeting site for the Fort Sumter tours.
Calhoun Street: This is the main cross street in the historic district's northern portion. Calhoun Street also provides a scenic drive and runs from the Ashley River back to the Cooper River. There are several lane-changing spots along this street, though, so proceed with caution if you intend to drive its entire length.
Broad Street: This two-way street runs directly across the southern portion of the city's historic district (tip: all of the traffic lights on this street are on the corners rather than above the intersections).
Rental Cars
Although off-site car rentals are available at the airport, you can also find plenty of car and van rental agencies throughout the city, including Avis, Budget and Thrifty.
Limousine Companies
If you'd prefer to have a professional driver in charge of your transportation while you and your bachelor party friends have a good time, there are several high-quality companies available locally that specialize in bachelor parties. For instance, Low Country Valet specializes in bachelor parties and has a fleet that can accommodate virtually any size party. Likewise, the Charleston Black Cab Company, for example, has been voted the "best of Charleston" for 8 years in a row! (They also have party bus rentals – see more info below.)
Party Bus Rentals
Party buses are a great way to see the sights in Charleston while you party with your friends. Besides Charleston Black Cab Company, one of the best places to go for your party bus rentals in Charleston is Coastal Limo which offers some of the newest – and plushest – vehicles in the business. Coastal Limo offers two party bus types: a 2017 29-passenger party bus and a 2016 20-passenger party bus that are perfect for bachelor parties. Both of these party buses were custom built for Coastal Limo by major American limousine manufacturers. Each party bus features two wet bars, hardwood floors, dazzling light displays, two televisions (42" in the rear and a 24" in the front) as well as a complete state-of-the-art Bluetooth-enabled entertainment center.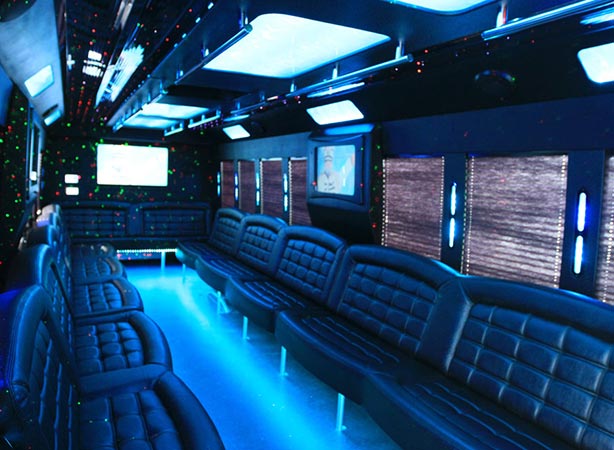 Boat Rentals
Ahoy! Being located on a scenic peninsula with numerous waterways, Charleston offers a number of boat rentals that are perfect for making your bachelor party an especially memorable event. Boatsetters offers boats of all sizes that can accommodate up to eight passengers and some of their rentals include a captain, freeing you and your bachelor party buddies to enjoy the sights and a refreshing beverage or three.
You and your buddies can fish or just cruise around the Charleston harbor for a great afternoon of entertainment. If you'd like something a little different, try a kayaking adventure into the salt marshes or enjoy a coastal tour offered by Coastal Expeditions which also specializes in bachelor parties.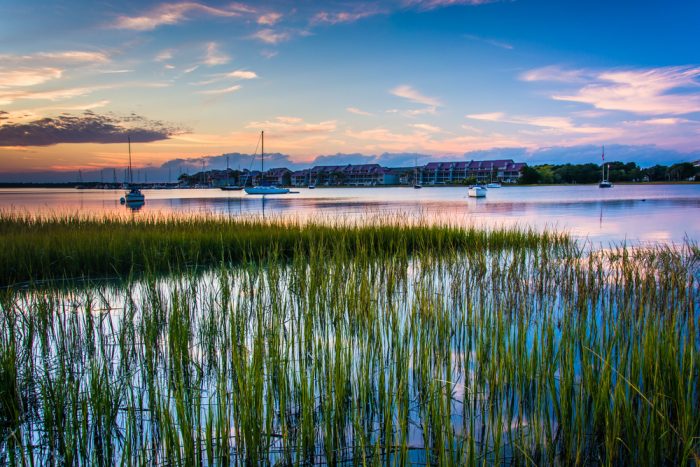 Things to Do
The world is literally your oyster when you visit Charleston. After all, the city didn't earn its designation as one of the top tourism destinations in the world by accident, and its enviable peninsular location amid so much beautiful water makes it fun to go anywhere and do anything (see map below).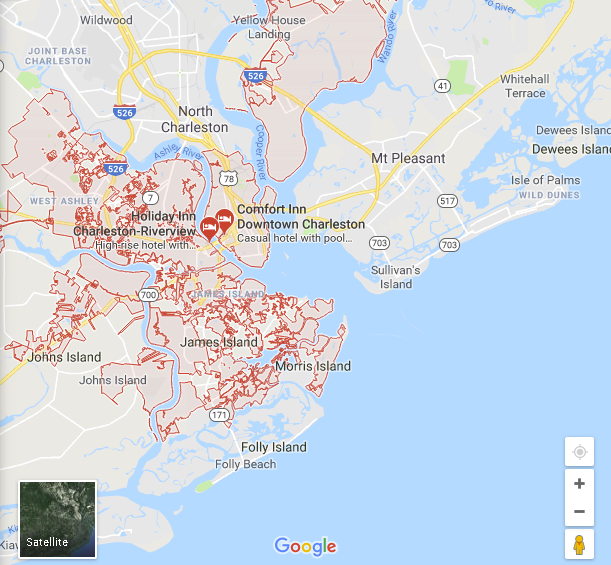 Nevertheless, there are some "must-do's" when you visit Charleston, including our favorites listed below.
Daytime Activity Ideas
What to do, what to do? The choice of daytime activities in Charleston is vast, and there are plenty of interesting, unusual and conventional recreational, cultural and entertainment venues available for you and your bachelor party friends. Depending on your individual tastes and preferences, you may enjoy a party bus tour of the city's historic district, a luxurious spa or a day at one of the nearby pristine beaches. Let's start with the easiest (and cheapest).
Walking tours of Charleston are a great and inexpensive way to spend a late morning or early afternoon, especially since you can tailor the tour according to your budget. In fact, Charleston's Free Tours by Foot specializes in guided walking tours for groups, and you can take your time with stops along the way to enjoy the local food and drink offerings. Be sure to swing by the South Carolina Aquarium and which is appropriately located in downtown right on the Charleston Harbor. Check out the 10,000-plus marine animals and plants as well as interactive dive shows. In addition, Charleston's Pineapple Tour Group also offers walking tours of the major sites of interest in the city, as well as private, guided bus tours with a comedic flair. You'll be sure to have a fun time with the Pineapple Tour Group.
A trip to the Charleston City Market, one of the oldest public markets in the country, is also worth the effort to shop for cool beachwear or souvenirs, people watch or to just enjoy the sights, sounds and smells that attract millions of tourists each year. Likewise, the Patriots Point Naval and Maritime Museum located on the spectacular Charleston Harbor, is home to the redoubtable USS Yorktown (you and your buddies can even camp out on this ship overnight).
A visit to the nearby Isle of Palms (about a 30-minute drive) is easily arranged through the highly rated Explore More Inshore Charters or Charleston Fishfinder Charters where you can fish or have fun with different water sports or just sit back and relax and enjoy a guided tour. If you're in the mood for something even more exciting, check out Ski Seth Water Ski Training and Gear which can accommodate novices to experts.
There are also jet skis and wave runners available at Tidal Wave Watersports which also features a guided tour of the Charleston Harbor and South Carolina low country riding wave runners! Likewise, you can also spend an afternoon kite boarding, paddleboarding, surfing and windsurfing at the city's most popular beach at Sullivan's Island (see map below).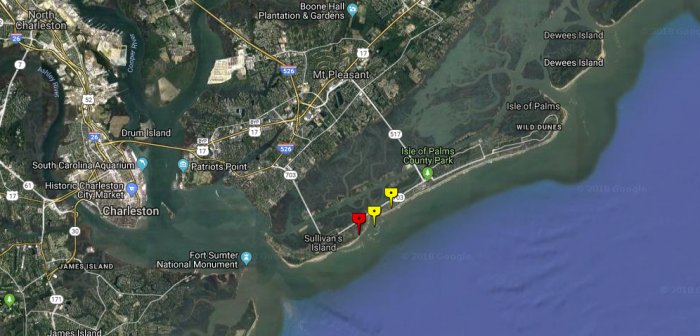 Now that's a fun afternoon…
In addition, for the historically inclined, Charleston is widely known for preserving its antebellum past (it was the location of two major battles in the Civil War) and many of the historic mansions in the city are open to visitors and some feature world-class restaurants. If you and your friend are duffers or golf pros, there are also some top-notch golf courses available nearby, including
After you catch your breath from these daytime activities, you can get ready for a memorable night on the town.
View Other Activities in Charleston
Nightlife Activity Ideas
As a major resort destination, Charleston gets started early and doesn't stop until the wee hours so there's also plenty of excitement after the sun goes down. The selection below is certainly not exhaustive, and new places are opening all the time so if you come across an especially fun venue, please let us know using the contact below.
Bars
If you're in the mood for an upscale bar, be sure to visit The Victor Social Club where the atmosphere and décor will transport you and your friends back to the time of Hemingway. With ice-cold beers, designer drinks and a wine list that will impress anyone, this bar also specializes in group events including bachelor parties so they know how to help you have a great time.
If the weather's nice, check out the Vendue Hotel Rooftop Bar is a perfect setting for an al fresco lunch or after work meeting spot to enjoy a refreshing cocktail. The Rooftop Bar is also open for dinner and features vista views of Waterfront Part, the Arthur Ravenel Jr. Bridge and the entire Charleston Harbor. Although you and your friends can have a great time here seven days a week, things really get hopping on the weekends when local residents and tourists alike flock to the Rooftop Bar to enjoy the sights, food and drinks.
For a more laid-back experience, visit Fatty's Taproom and Beer Works which features weekly live music performances and a mind-boggling assortments of beers from around the world. Be sure to try their Photon Blonde Ale and the Musket Mule for something really tasty and different. They even have a gift shop for souvenirs so you can kill two birds with one beer!
Strip Clubs
Formerly known as Thee Southern Belles, GoodFellas Cabaret has consistently been voted the best adult entertainment venue in Charleston for 20 years by a local newspaper. Goodfellas features more than 100 beautiful female entertainers each week, and specializes in bachelor parties. The fun lasts all night at their Southern Belles Lounge which has nude entertainers until 4:00 a.m.
Another great strip club in the city is Charleston Strippers operated by Wild Thingz Entertainment. Besides their hot girl-on-girl shows (with "toolboxes"), Charleston Strippers also offers two-girl private shows for bachelor parties. You and your friends will be sure to have a great time with the Charleston Strippers. Likewise, the highly rated (and reasonably priced!) Dreamgirlzz Entertainment also specializes in bachelor parties
Where to Eat
With nearly 4,000 restaurants, grills and cafes to choose from, Charleston is sure to have all of your favorites and plenty more unique offerings besides to tease your taste buds. The following list includes just some of our favorite spots.
Breakfast / Brunch / Lunch
If you and your buddies are getting an early start on a day's fishing or cruise, start your day off right at the conveniently located Callie's Hot Little Biscuit which features traditional breakfasts and seven different types of biscuits (as well as a baker's dozen you can take back to the hotel for later munching), scrumptious biscuit sandwiches and numerous biscuit toppings such as roasted tomatoes, shredded cheddar, country ham and chopped bacon. Droo-ool….
Another Broken Egg Café is also open for breakfast but they are best known for their great brunches. Some of their southern-style brunch specialties include shrimp 'n grits, a lobster and brie omelette, and crab cakes with fried green tomatoes. Their upscale bar also features some eye-opening pick-me-ups such as mimosas and delicious signature cocktails.
If you're dragging yourself out of bed a little late (who can blame you after last night?) and just want to get your day started with lunch, try the highly rated Butcher & Bee which specializes in group events and prides itself on offering the freshest, locally sourced foods, including fresh baked goods made on the spot as well as some of the best cocktails, beers and wines in the city.
Dinner
What better place to refuel in a major way for an evening's entertainment on the town than Hall's Chophouse? Consistently voted the best downtown restaurant in Charleston and one of the best 100 restaurants in the United States by OpenTable, Hall's Chophouse features great food and live entertainment every night of the week, and their kitchen stays open until 11:00 p.m. for the nightowls in your bachelor party. Check out their 350-bottle wine rack on their second floor where they also host private parties.
If you want to take advantage of Charleston's seaside location and have some of the best seafood around, visit 167 Raw's oyster bar which also features little neck clams, jumbo shrimp cocktails, spicy fish tacos and unbelievable lobster rolls. Reservations are not accepted, though, and parking space is limited so be sure to show up early.
The less costly but still upscale Edmund's Oast Restaurant specializes in private parties and is also a perfect place for your bachelor party dinner. Besides an on-site brewery and world-class bar, Edmund's also offers some of the best cuisine in the city. Be sure to reserve space at the Chef's Table to enjoy the spectacular views (reservations are required at least 48 hours in advance).
Where to Stay
As the number one tourism destination in North America, it's not surprising that Charleston has some of the best places to stay in the country, including the representative selection we provide below.
Hotels & Resorts
The aptly named Seaside Inn Oceanfront is perfect for the budget-conscious bachelor partiers. They offer free beach towels, wi-fi, concierge service, and a free breakfast buffet each day as well as coffee makers, refrigerators and microwaves in all their rooms.
If you're looking for a resort atmosphere, a stay at one of the plush condominiums or cottages at the Wild Dunes Resort on the nearby Isle of Palms is just what you need. Free wi-fi, swimming pool and a bar and lounge make this a one-stopper for your bachelor party needs.
Finally, the recently renovated Palms Oceanfront Hotel is rated the best resort value in Charleston by TripAdvisor. With a spacious outdoor pool, free daily breakfast buffet, refrigerators and microwaves in each suite, and free wi-fi, the Palms Oceanfront Hotel makes a great base of operations for your Charleston bachelor party.
View all Hotels / Resorts in Charleston
House Rentals
If you and your friends prefer condo or home rentals, Charleston also has plenty of choices including those listed below. Naturally, home owners are reluctant to rent their valuable properties to wild (and potentially destructive) bachelor partiers, so use your discretion when making reservations. The prices cited below are based on a 4-day stay (beginning on a Friday) for six guests.
VRBO
This recently renovated, 1,250 square foot, three-bedroom house features three bedrooms and two bathrooms, a large deck with grill, brand new floors, and is located just three miles from the world-famous Folly Beach Pier. In addition, besides all of the normal amenities, the house also includes four beach chairs, beach umbrellas, beverage cooler, and beach darts. Reasonably priced at just $1,014 for the 4-day stay, this three-bedroom house with self check in via electronic lock makes the perfect headquarters for your Charleston bachelor party.
Located near Charleston's historic district, this three-bedroom, one-and-a-half bathroom house will only set you back $1,219 for a 4-day stay, and you get a lot for your money. Conveniently located near King Street and its numerous dining and entertainment options, this house also features high-speed wi-fi, an LED smart television in the living area, and a backyard patio and covered front porch. All of the usual kitchen and laundry facilities are also included, as well as a business desk with printer.
Finally, if your budget can tolerate some extra expense, this "Three Bedroom/Three Bathroom Luxurious Downtown Charleston Residence" is just what you're looking for. This spacious 3,000 square foot residence is located near East Bay Street and all that it has to offer, and the $3,361 price tag for four nights even includes fluffy towels, bathrobes and slippers, Gilchrist & Soames bath products, and a hair dryer as well as and a complete laundry facilities and a chef's kitchen with Thermador appliances.
View all Vacation Rentals in Charleston on VRBO.com
Homeaway
Advertised as "The Sunset Suite – Prime Historic Downtown – 3 blocks from King Street" for a total price of less than $1500 for the 4-day stay, this comfortable, three bedroom, one and a half bathroom house is located in the laid-back Cannonborough neighborhood and is perfect for large groups such as bachelor parties. It's located near a number of local restaurants and historical sites and off street parking is provided for one vehicle. Other amenities include free wi-fi, satellite television, full laundry facilities and a fully equipped kitchen.
Also located in the historic district, this highly rated, spacious three-bedroom Fenway home with queen-sized beds has two full bathrooms, full laundry and kitchen facilities, complimentary coffee, an open plan living room (see picture below) and even features concierge and cleaning services. In addition, a private covered balcony makes a great place for late-nighters, and is just a short walk to all of the major tourism destinations downtown. All in all, a good value for around $2,060 for the 4-day stay for six guests (about $86 per night per person).
You may never want to leave if you stay at the "Big House with pool – close to downtown – sleeps 10." For just $1,633 for the 4-day stay, this house boasts four private bedrooms, a sleeping nook with two twin beds, an outdoor grill, a swimming pool (see picture below) in a secluded backyard surrounded by a flagstone patio. There is also a private den complete with DVD player and cable television on the first floor plus all of other amenities typically featured in Homeaway rentals such as full laundry and kitchen facilities as well as free wi-fi throughout the house.
View all Charleston House Rentals on Homeaway.com
When to Go
With 230 days of sunshine each year and a mild climate during the winter, Charleston's subtropical weather means that you can visit virtually any time during the year and still be able to enjoy the sights and entertainment available in this world-class resort city. Nevertheless, there are some best and worst times as well as optimal times to visit if you're on a budget as we discuss below.
Best Time
If you're interested in enjoying the thousands of gardens in full bloom in the historic district (maybe not), then springtime is the best time to visit Charleston. The fall months see fewer visitors compared to spring, though, so you'll be able to find better deals from September through November.
On a Budget
If you're throwing a bachelor party on a budget, try to time your visit to Charleston during the winter months when tourism is down and the offerings for accommodations and entertainment are typically cheaper.
Worst Time
If you aren't interested in touring the historic district and enjoyed the foliage, then springtime is absolutely the worst time to visit Charleston since these are what draw millions of visitors to the city each year. In addition, the humidity and sometimes-brutal heat during the summer months between May and September are also made even more miserable by mosquitoes.
Current Weather
The average temperatures in the spring and fall months are especially pleasant but the warmer temperatures in the summer months make it possible to enjoy the numerous water sports available in Charleston.

What Else
Besides being antebellum in their atmosphere and outlook, South Carolina is also old school when it comes to its marijuana laws and both recreational and medicinal marijuana are illegal, and even simple possession has not been decriminalized. Likewise, while you and your buddies can enjoy the exotic performance provided by female strippers and entertainers in the privacy of your own hotel room or rental, prostitution is against the law in South Carolina.
Big Events
With millions of tourists arriving at different times of the year, Charleston's public and private sectors make sure there is always something going on to entertain locals and visitors alike. Although many of the events during the summer months are family-oriented, some of the other major annual events that attract large numbers of people include the following:
January: The Lowcountry Oyster Festival has been named one of the "top 20 events in the southeast" by the Southeastern Tourism Society, this charitable event features live music on the main stage, "Oyster Shucking" and "Oyster Eating" contests, wine, a selection of domestic and imported beers, and a food court that includes favorite dishes from local favorite restaurants.
February: The Southeastern Wildlife Exposition draws more than 40,000 visitors to Charleston each year.
February-March: The BB&T Charleston Wine Food Festival features fabulous foods and wines from around the world, but with a special focus on local offerings. There are dozens of vendors, live entertainment and some serious discussions concerning what makes food and wine so darn good.
May: Charleston Insider's Weekend provides visitors with the opportunity to experience the city's colorful history, shopping and food at numerous events that are hosted by leading magazine editors and locals.
What to Pack
Swimwear: Located smack-dab in the middle of all that water, you'll want to be sure to pack some well-fitting swimwear for your visit to Charleston.
Sunscreen: If you plan on relaxing by the pool or on one of the numerous beaches in and around Charleston, be sure to pack some high quality sun screen so you'll avoid any downtime from a nasty (and painful!) sunburn.
Sunglasses: Since the sun is shining nearly two-thirds of the time in Charleston, the chances are good that you'll need some good sunglasses that have UV protection for your daytime activities – besides, you'll want to look cool while you're sightseeing or having a drink poolside.
A light jacket: As the weather chart above indicates, the weather can get nippy during the winter months so be sure to pack a light jacket or two.
Hangover Remedies: If you want to keep the party going all week or weekend long, you will definitely need to pick up some of these to keep your head in the game.
Comfortable footwear. Your bachelor party buddies will never let you hear the end of it if you can't keep up because your feet hurt so be to pack some comfortable shoes for walking tours and sightseeing excursions.
Luggage and accessories: If your best luggage comes in a box of Hefty Bags, it's time to rethink your luggage and accessories needs for your trip to Charleston. This is an especially important issue if you plan on flying to Charleston because you want to pack everything in as small a space as possible to avoid those extra airline fees.
Vitamins and supplements: You'll want to keep your energy levels up for the entire length of your bachelor party visit to Charleston, so be sure to pack some vitamins and health supplements.
 Itinerary
As we've stressed throughout this article, there is so much to see and do in Charleston that you could easily spend several days there without any formal itinerary at all, simply enjoying the sights and taking advantage of the entertainment and recreational opportunities as they presented themselves. Nevertheless, the sample itinerary below (for your first full day in Charleston) may provide you with some ideas on where to go and what to do.
8:30 a.m. – 9:15 a.m. Time's awastin' and you're burning daylight boys so get an early start with breakfast at your hotel's free buffet or at Callie's Hot Little Biscuit. (Be sure to pick up some extra biscuits for later.)
9:15 a.m. – Noon Relax and enjoy a cruise of the Charleston Harbor with a guided tour from Explore More Inshore Charters.
Noon – 1:15 p.m. Lunch at Butcher & Bee. Try their great selection of beers, a steak and some of their freshly baked breads.
1:15 p.m. – 2:00 p.m. Personal time at hotel or rental residence
2:00 p.m. – 5:30 p.m. If you're experience, enjoy kite boarding at Sullivan's Island or just relax on a paddleboard or go windsurfing.
5:30 p.m. – 6:00 p.m. Change for dinner.
6:00 p.m. – 7:30 p.m. All those water sports made you hungry, huh? Well, buck up because dinner at Hall's Chophouse is just what you need. Enjoy the live music and a prime rib or other great steak from the best steakhouse on South Carolina.
7:30 p.m. – 9:00 p.m. Enjoy a few drinks and the view while you relax at the Vendue Hotel Rooftop Bar. Try their "Hi-Wire Bed of Nail Brown Ale" – if you dare!
9:15 p.m. – 11:15 p.m. Follow-up your visit to the Vendue with a trip to the GoodFellas Cabaret for their hot female entertainers.
11:15 p.m. – ? Snacks and drinks poolside.
Bachelor Party T-Shirts
What's a great bachelor party without a memento? Fortunately customized bachelor party t-shirts are an inexpensive way to include a custom picture of you and your friends on something they will actually use.
Travel Insurance
Are you a gambler? If so, you may want to skip this part but even budget-minded travelers will want to protect their investment in a bachelor party in Charleston by purchasing travel insurance from a reputable insurance company. Purchased from reputable insurance companies, travel insurance generally provides the following benefits:
Up to 100% cash back for trip cancellations, delays, and interruptions;
No deductibles for emergency medical and dental coverage;
Covers purchase of personal items when baggage is delayed for longer than 24 hours;
24/7 travel assistance; and,
Airline change fee and frequent flyer mile redeposit fee coverage.
Why Go
Its mild climate, peninsular location and friendly people have made Charleston the number one tourism destination in North America. Moreover, not only has Charleston been consistently voted the top domestic tourist destination by readers of Conde Naste the city also boasts some of the best restaurants and entertainment venues in the country. Indeed, Conde Naste readers also voted Charles the Best Food City in the United States." In other words, a better question in the context of Charleston would be, "Why not go?"
Rating
On a scale of one to ten stars, we rate Charleston the full ten stars as a destination for bachelor parties unless you're looking for a 420-friendly destination in which case we rate it 4 stars.
Conclusion
For a city of just three-quarters of a million people, Charleston packs a lot of punch into its borders, and the sheer quantity has not diminished the quality of these numerous offerings. Conveniently located to tens of millions of Americans with plenty to see and do, Charleston will make a great venue for your bachelor party.