Burning Man Bachelor Party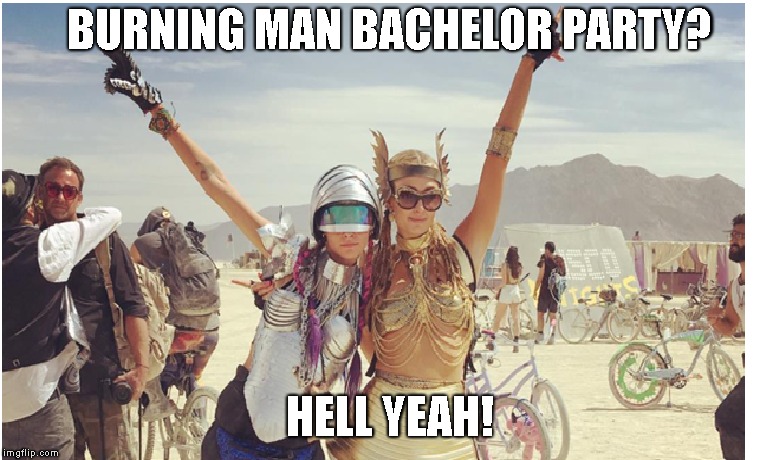 This post may contains references to products from one or more of our advertisers. We may receive compensation when you click on links to those products or services. Please also consider
donating to our website.
So you want to get drunk, stoned, naked and party yourself into a near coma one last time for your bachelor party, huh? Or maybe you want to experience something completely different from the traditional "Hangover-esque" bachelor party and explore your inner self? Well, no matter what you're looking for, Burning Man is the perfect venue for your bachelor party! Unless you've been living off the grid for the past 23 years, you probably know something about Burning Man, but there's a lot to know if you want to throw your bachelor party there and still survive the experience in style. This guide provides all of the important information you'll need, together with some valuable tips about what to pack and how to have the best time during this 2-week annual event.
What Is Burning Man Festival?
The Burning Man festival is a described by its organizers as a "laboratory" that celebrates "a culture of possibility" because "not every experiment works, but we'll never know if we don't try." Let's just say that description only begins to touch on what the Burning Man festival is in reality – tens of thousands of zany "Burners" engaging in every sort of whimsical, spiritual and sexual activity imaginable, all on a hot, dusty desert playa where all the action takes place.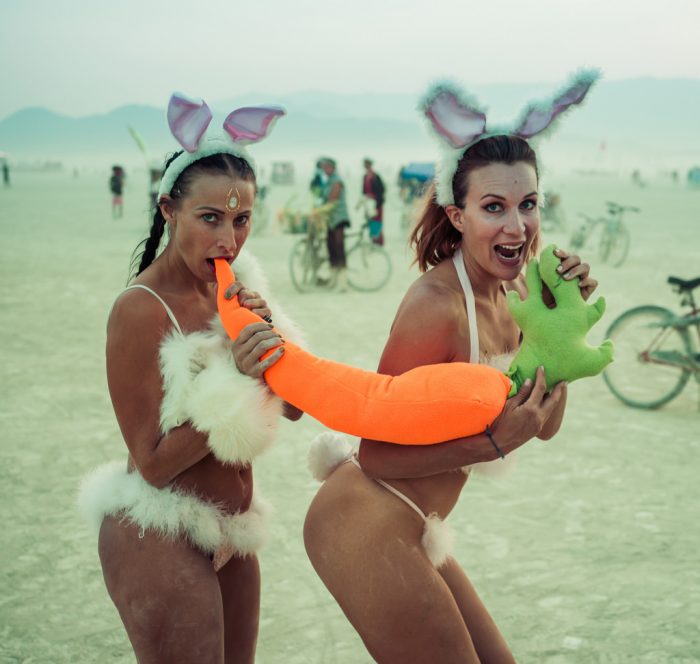 Although every Burning Man event is unique, they are loosely organized around a central area where the "Man" is located and where Burners celebrate the event in their own special ways. The layout plan for the 2019 event is depicted in the figure below.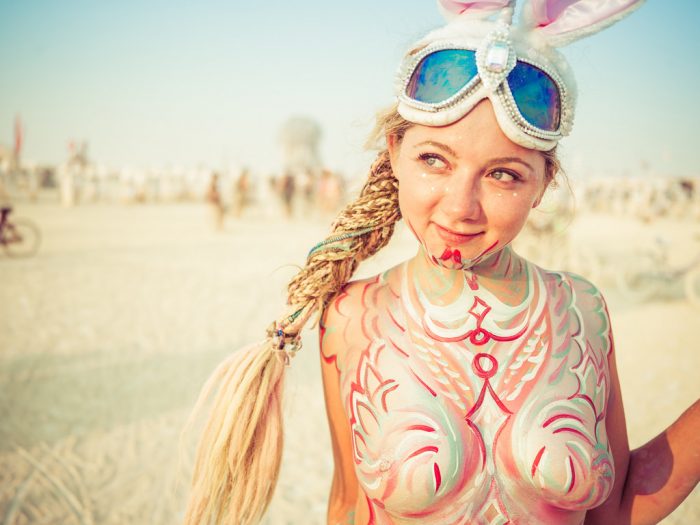 When Does It Take Place?
Burning Man takes place each year at the end of the summer. In 2020, the dates for Burning Man are August 30 through September 7, 2020.
Where Does It Take Place?
Burning Man takes place in Nevada's Black Rock Desert, located about 110 miles north of Reno ("The Biggest Little City in the World").
How Do I Get There?
Although some people have been known to skydive into Burning Man, the more conventional methods include driving a personally operated vehicle or flying into the Reno-Tahoe International Airport and renting a vehicle from there. An even easier solution is the Burner Express Bus which picks Burners up in San Francisco ($107 one way) or at the Reno-Tahoe International Airport ($75 one way) and returns them at the conclusion of the event. One of the advantages of taking the Burner Express Bus is the "bus-only" lane that will get you and your friends to the hub of the action in a hurry.
Once you arrive, you're still faced with the problem of where to stay. The Playa is no place to try to have fun without somewhere cozy to stay, so you may want to consider renting a party tent for your Burning Man bachelor party. A really cool way to enjoy the Burning Man festivities is to rent an RV or customize one of your own. Indeed, colorfully decorated RVs are one of the most popular attractions at the event, and you can kill two birds with this one stone if you plan ahead. Some good examples of RVs at the 2015 Burning Man are shown below.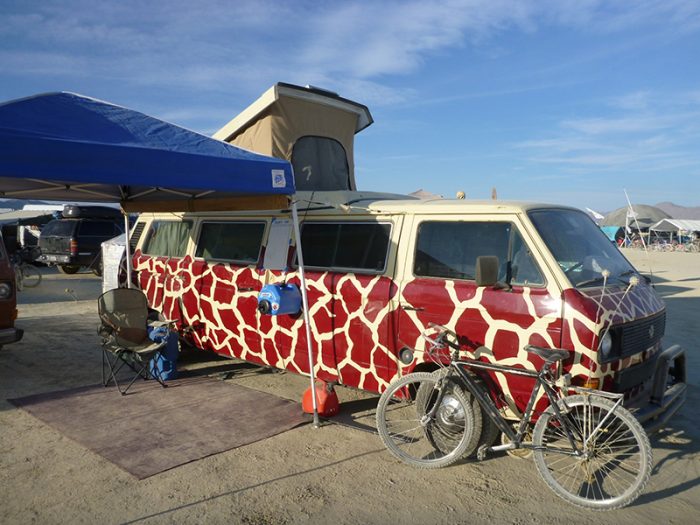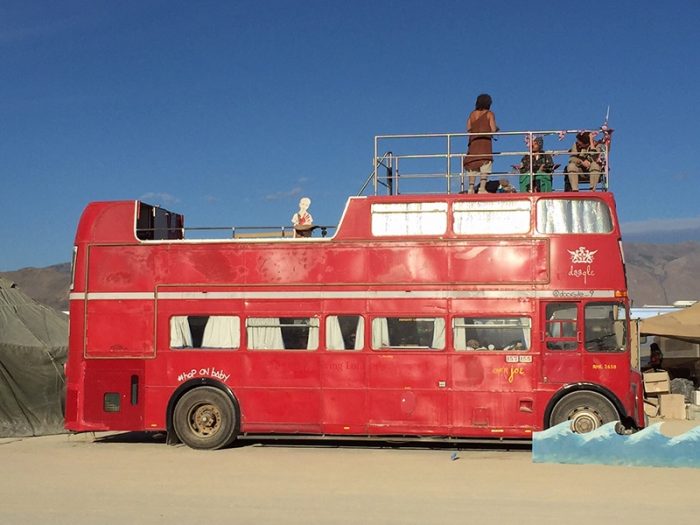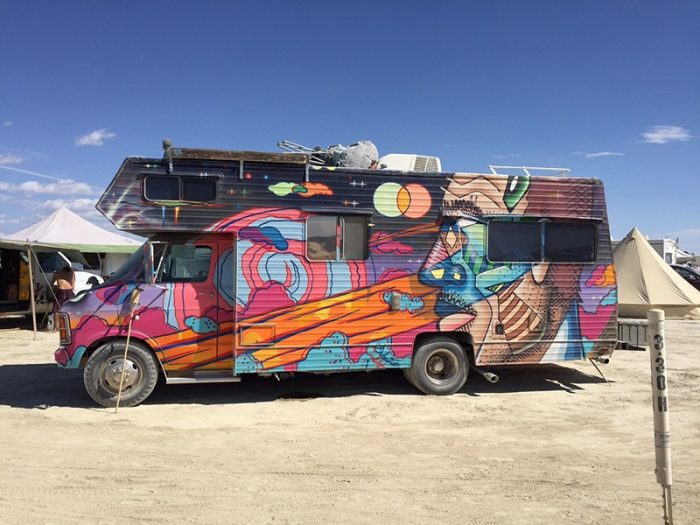 If you decide to drive an RN or other vehicle to Black Rock City, be sure to check out the advice provided by the event's organizers concerning how best to navigate the two-lane rural highway. In addition, stay tuned to the Burning Man Gate Advisory Radio Station (95.1 FM) where you'll hear advice such as no weapons, fireworks or stowaway passengers are allowed and that all vehicles will be inspected.
Taking an RV to Burning Man has the added advantage of giving you enough space to take a few bicycles. In fact, colorfully and imaginatively decorated bikes are the most popular way of getting around the Playa, providing Burners with an easy way to see the sites and show off their zany outfits in the process.
How to Get Tickets
Costs for tickets from the Burning Man site range between $475 (the "OMG special price") and $1400 (pre-sale prices) for the entire event. There are also low-income discounted tickets available. It is important to note, though, that all ticket sales to Burning Man require registration through Burner Profiles and separate vehicle passes (about $140) are required and can only be purchased in conjunction with tickets.
Date
What is Happening
Thursday, February 13 – Friday, February 21, 2020
Directed Group Sale form open
Wednesday, February 12 – Wednesday, April 15, 2020*
Low Income Ticket Program Application open
*unless enough applications are received earlier
Wednesday, February 26, 2020
Directed Group Sale starts
Wednesday, March 11 – Friday, March 13, 2020
FOMO Sale (formerly Pre-Sale) ($1,400 tickets) registration open
Wednesday, March 18, 2020
FOMO Sale (formerly Pre-Sale) ($1,400 tickets) SALE starts
Wednesday, April 1 – Friday, April 3, 2020
Main Sale ($475 tickets) registration open
Wednesday, April 8, 2020
Main Sale ($475 tickets) SALE starts
Mid-June
Ticket order delivery begins
Wednesday, July 29 – Friday, July 31, 2020
OMG Sale ($550 tickets) registration open
Wednesday, August 5, 2020
OMG Sale ($550 tickets) starts
Sales for the $475 tickets open on Wed April 1, 2020 @ 12am (noon) PDT and close Wed April 8, 2020 12 am (noon) PDT; Burning Man also offers a sale on tickets  on Wed Aug 5, 2020 12 am (noon) PDT. Some other important dates for ticket sales are shown in the table below.
Some ticket sales caveats by event organizers include the following:
Approximately 2,000 tickets at $475 each, and approximately 1,500 vehicle passes available at $140 each, plus applicable fees and taxes.
Burners can buy a maximum of two (2) tickets and one (1) vehicle pass.
Burners can only register to buy tickets in the OMG Sale if they have not previously bought tickets through an earlier $475 ticket sale.
For Burners who have not purchased a vehicle pass yet, there will be an option to register to purchase just a vehicle pass in the OMG sale.
The only ticket delivery methods available for this sale are UPS 2nd Day Air (for US addresses), Canada UPS Expedited, and Will Call.
You can also find tickets for Burning Man at StubHub, but event organizers caution that the majority of listings on StubHub speculative and Burning Man rules preclude ticket resale for above face price (plus relevant fees) – otherwise these tickets may not be honored.
What to Pack / Bring
Besides planning when and how to buy your tickets, the most important thing to having a great time at Burning Man is packing the right stuff for the event. Before packing, keep in mind that you must take everything that you bring out with you when you leave – no trash allowed at Burning Man! While there is water and a few other supplies available for purchase, you'll need to bring all of the food and water you and your friends will need for the duration of your stay. Plan on at least a half a gallon of water a day per person (err on the safe side on this one). Other Burners will be gifting food and drinks, but you should make sure you have enough for yourselves and some extra just in case. Military meals ready to eat (MREs) are a viable option if food isn't that big of deal, and cases of bottled water, beer and soft drinks will take care of your beverages. It goes without saying to be sure to pack some sun screen.
IMPORTANT: The Playa is covered with a fine white, talcum powder-like dust that blows constantly – you will get covered so just get used to it and soldier through with a good pair of goggles to protect your eyes and a good quality scarf to wrap around your face to keep debris out of your mouth when venturing out.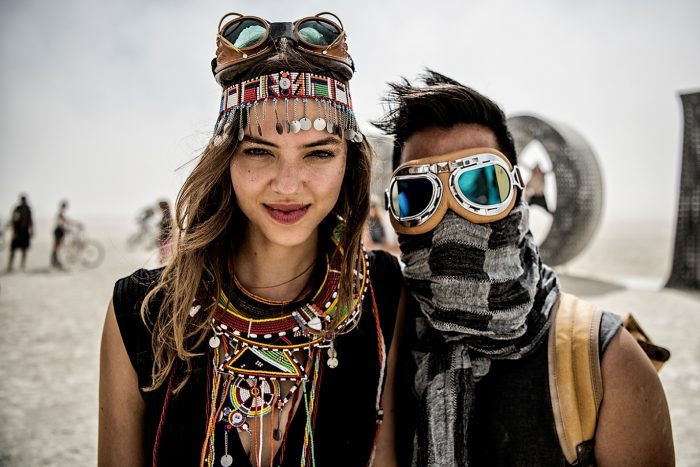 Also, be sure to bring money but don't count on it for everything during the event. In fact, your money's no good at Burning Man (except for ice, coffee and a few other items) and the gift economy means that you'll need A LOT of gifts for the thousands of Burners you'll encounter on the Playa. Here's some good ideas for ways to gift other Burners without looking like a cheap bum or breaking the bank:
Finally, be sure to pack a few dozen glow sticks, bracelets and necklaces to wear at night to avoid being run over in the dark while wandering around the Playa.
Burning Man outfits:
If you take all of your clothes off and dance around in your underwear, you have a conventional Burning Man outfit but a full-body sunburn will take the wind out of your party sails in a hurry so it's best to take at least a couple of suitable outfits. The Burning Man organizers encourage attendees to "discover, exercise and rely on his or her inner resources," so the sky's the limit when it comes to what (and what not) to wear. Some representative examples of Burning Man outfits are provided below to help get the creative juices flowing: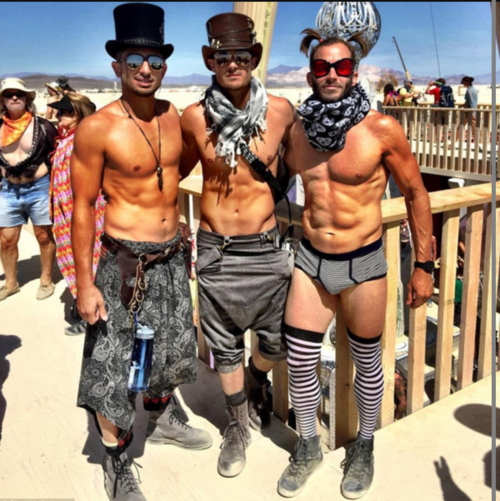 .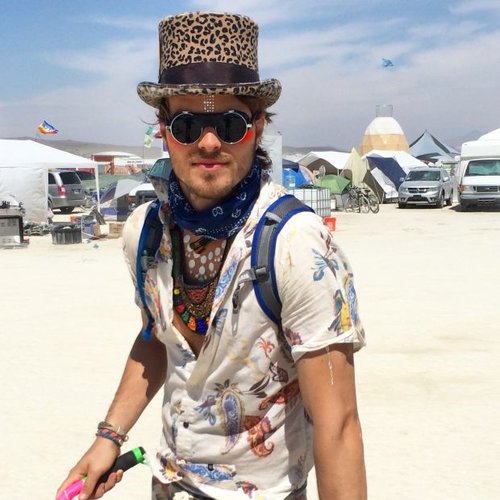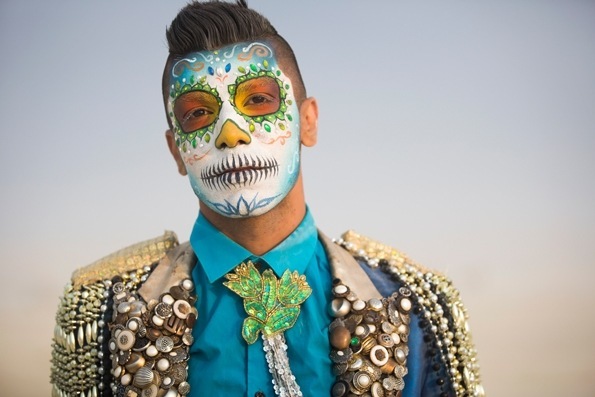 As you can see, nothing's off limits at Burning Man so use your imagination. You can even drag that old Roman centurion Halloween custom out of the closet and get one more use out of it (just remember the dust when you design your outfit!).
Why Burning Man for a Bachelor Party?
What began as a group of friends celebrating the summer solstice has evolved into an enormous festival focusing on community, inclusion, and self-expression, among other principles. Whether you and your friends want to get wild and crazy, reconnect with your inner spirits, or just have a unique and enjoyable experience, Burning Man is the perfect destination. The no-holds-barred environment, zany attendees and unconditional camaraderie will combine to create a bachelor party you and your buddies will remember all your lives (especially If you give good gifts and take lots of pictures!).
Conclusion
Although the original event organizers probably didn't have them specifically in mind when they introduced Burning Man in 1986, they did manage to create a highly suitable venue for a world-class bachelor party. The "anything goes" atmosphere combined with a commitment to having fun and exploring new things will make your Burning Man bachelor party one to remember. You and your friends may end up attending Burning Man each year for the rest of your lives! This guide only touches on the high points (so to speak) of the Burning Man festival, so be sure to do your homework before you purchase your tickets and make arrangements for where and how to stay during the event. You'll also want to make sure you have a good exit strategy in place for the mass exodus that concludes the event.