Top 10 Low Key Bachelor Party Ideas (2023 Guide)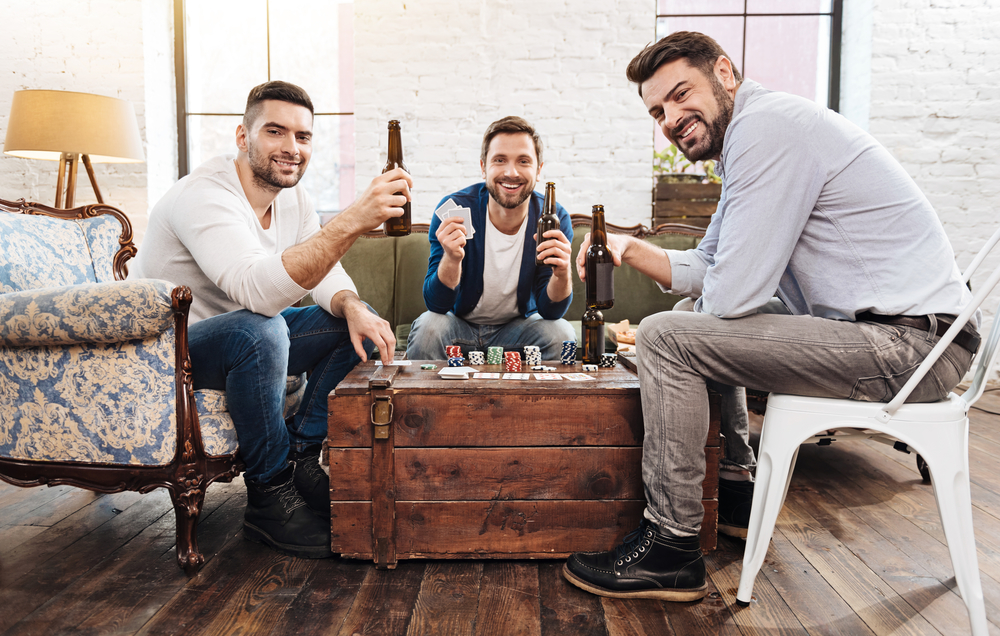 This post may contains references to products from one or more of our advertisers. We may receive compensation when you click on links to those products or services. Please also consider
donating to our website.
Are you planning a bachelor party, but want to keep it low-key?  While huge bachelor parties may be the right thing for some guys, they can be stressful for grooms that are want to keep things laid-back and casual.  Plus, as bachelor parties have grown more elaborate, they have also gotten more expensive.  It is great if someone has the spare cash to spend hundreds or even thousands of dollars attending a bachelor party, but not everyone has that kind of scratch just laying around.  That is why we have put together a top ten list of low-key bachelor party ideas.  What are low-key ideas?  Well, to us, they are ideas that require minimal planning, are likely to lead to minimal drama, and are affordable.  They are the kind of ideas that are perfect for when you just want to hang out with the guys and have a great time. 
How to Keep a Bachelor Party Low-Key
Before we get into the actual ideas, we wanted to go over some things you need to keep in mind to keep a bachelor party low-key.  Over-planning, over-selling, and over-extending are the three mortal enemies of a low-key good time.  So, to keep your bachelor party chill and easy, do not over plan.  If it is a destination party, then make sure wherever you are staying has entertainment options and that activities are optional, so that people can choose whether or not to go hang out.  Do not over-sell the bachelor party, either to the guests or to the groom.  If you are not planning on recreating a The Hangover style bachelor party, then do not hype it up as one; if the groom and his guests are low-key guys, that type of hype might actually have people dreading the party.  Finally, do not over-extend yourself.  You know the party is not low-key if it is taxing you financially, emotionally, or time-wise to plan it.  If your life has gotten busy enough that any party planning is a challenge, then tap-in another friend to help out.  The whole point of having a low-key party is to maximize fun and minimize stress for everyone. 
Top 10 Low-Key Bachelor Party Ideas
#1 Rent a Pontoon Boat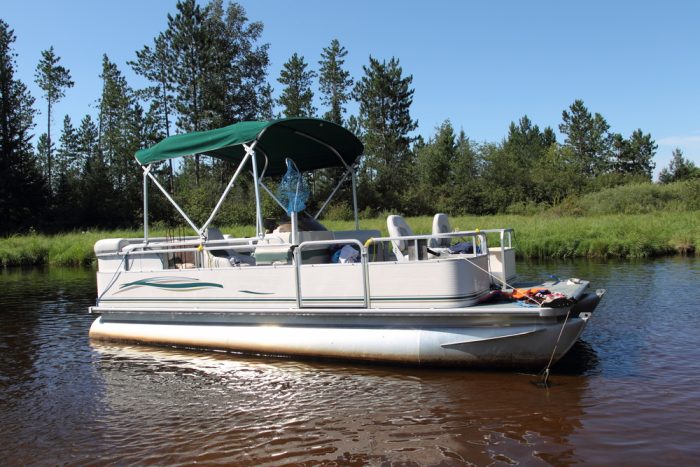 It is hard to go wrong with a day on the water, and boat rentals and boat charters are bachelor party favorites.  However, renting a boat can become a surprisingly stressful activity.  You may think you want to do something epic, like deep-sea fishing, but that becomes a lot of work, and while speed boats might be great for water sport activities like skiing, they are not very comfortable.  A pontoon is a big, comfortable boat that can easily accommodate a group of about a dozen people.  They are easy to get in and out of, which means you can swim around the pontoon.  They are fast enough to make towables a lot of fun, and towables are a great choice for a group of friends to have low-key fun, because they do not require the skill or athletic prowess of other watersports like skis or boogie boards.  Even in a busy season, this option is pretty affordable.  A group of ten guys can split the bill and stock the cooler for about $50 to $75 per person, depending on your location and how long you want the boat.  If none of you wants to play captain for the day, call ahead and arrange a charter, so you can let someone else handle the boat while you handle the party. 
#2 Disc golf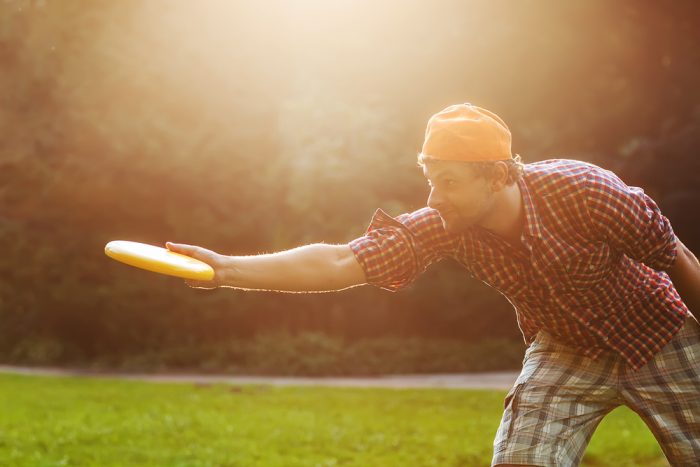 People who love golf think that everyone loves golf.  However, some people actually really despise the game.  Which means that a true golf game can be a real hit-or-miss for a bachelor party.  Even if your whole party loves the game, if they do not have their own equipment, it can get really expensive, really quickly.  A better idea?  Disk golf.  Even if you have not played it, you will love it.  It has a lot of the same highs-and-lows of playing actual golf, but it is a much more relaxed game.  You will not have to worry about memberships, green fees, tee-times, or renting a golf cart.  Instead, hit Google to find a few parks in your area that have Disc golf set-ups.  Check them out ahead of time, because not every park is well maintained.  It is a game that can be enjoyed, regardless of skill level, making it a fantastic outdoor activity for a diverse group of guys.
You can purchase a disc golf set here
#3 Poker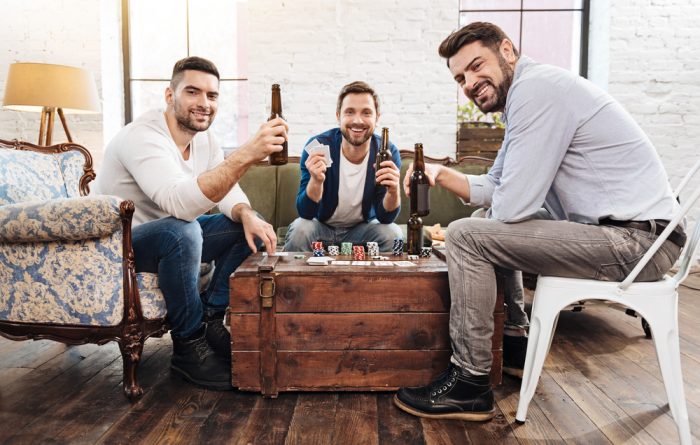 If you get together a mid-size group of guys for a poker game with a $20 buy-in and play it tournament style, there is enough cash on the line for the payoff to feel rewarding and the stakes to seem real, without anyone having to worry about running off to a Pawn Shop in Vegas to pay for the ticket home.  If you have grill game, you can even add in a Vegas-style steak and potato dinner for a fraction of what you would pay if you hit a steakhouse, to make it a true casino experience.   Sure, you can head out to a casino or a poker room, but those spots come with a substantial risk of losing a whole lot of money.  That can add some stress to the party.  So, we suggest a DIY poker party instead.  All you need for this idea is a table or tables big enough to hold everyone, a few decks of cards, and some poker chips.  Chances are good that someone on the guest list already has these things.  Here is a hint- if no one on the guest list has any of these things, then maybe poker is not for your group of friends. 
You can purchase a poker set here
#4 Camping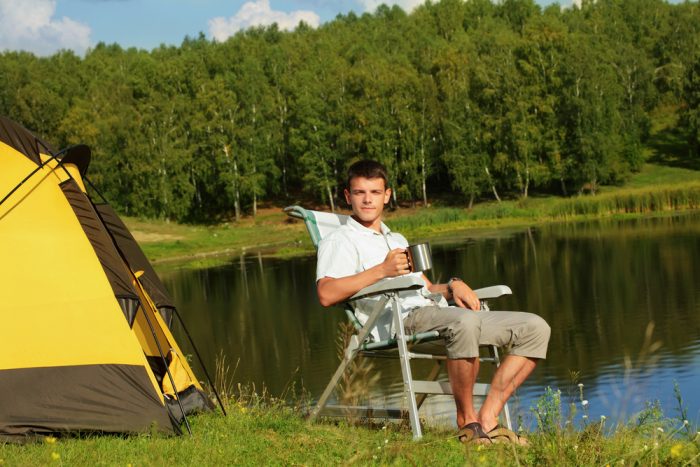 If the groom loves to camp, then an overnight camping trip to a nearby state or national park can be the perfect low-key bachelor party.  If the groom does not love to camp, then skip this idea.  Camping is a pretty polarizing activity; people either love it or hate it.  You might be worried about people having camping supplies, which is a totally valid concern.  If you have a group of experienced campers, you might get a little adventurous and plan a serious trek.  However, do not feel like camping is off the table if you have camping newbies in the group; many national parks and state parks offer camping for beginner services.  They supply everything for the trip except for items on a list that they tell you to bring.  You can choose this option if you have a group interested in camping, but without a few people with a garage full of camping gear ready-to-go.  You might choose this option even if you do, because the park rangers will take care of a lot of the most stressful aspects of camping.
 #5 Barbeque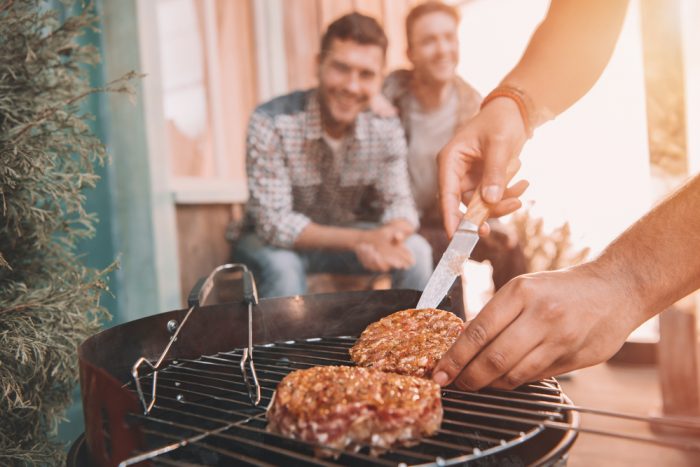 A backyard barbeque is probably about as low-key as events get, but is also a great way to just spend time together.  What makes for a successful bbq?  That depends a lot on where you live.  In some places in the country, you can call it a bbq and serve burgers and hot dogs and everyone will be happy.  In other places, if you invite people over for barbecue and serve up hot dogs, you might be in danger.  Whatever you are serving, you want the food to be great, but you also do not want to have to stress about it too much.  That is why we suggest you go with something simple, inexpensive, and delicious, like pulled pork, a make-ahead potato or macaroni salad, corn on the cob, a sliced up watermelon, and a cooler full of drinks.  This is also a great-time to crowd-source the party.  What activities do your friends have that are easily portable and could help make a great outdoor party?  Ladder toss, giant Jenga, cornhole, lawndarts- find out ahead of time who has what, ask them to drop them off a day or two ahead of time, and assemble your own outdoor entertainment area to enjoy during the barbeque.
Not a grill master?  No problem.  Follow these steps for delicious pulled pork that you can cook on a standard gas grill.  Get a large pork butt (about ½ pound per person) and rub it all over with Weber Honey Garlic Rub.  Let it sit in your fridge for a day or two.  Invest in a smoker box for your pit and get some of your favorite flavor of wood; we are partial to pecan.  Instead of soaking the chips in water, let them spend about 24 hours soaking in your favorite beer.  No favorite beer?  Then, we humbly suggest a couple of bottles of Shiner Bock.  Set up the grill for indirect heat (turn on the burners on one side, put the smoker box in place as directed on its box, and then put the pork butt on the other side).  You want to cook it at indirect heat at about 250 for a very long time- till it reaches at least 190 degrees everywhere.  What is a really long time?  Depends on how big your piece of meat is.  (You can cook multiple smaller pieces of meat to shorten your cooking time).  However, plan on about 12 hours, with time to rest. 
#6 Day by the Water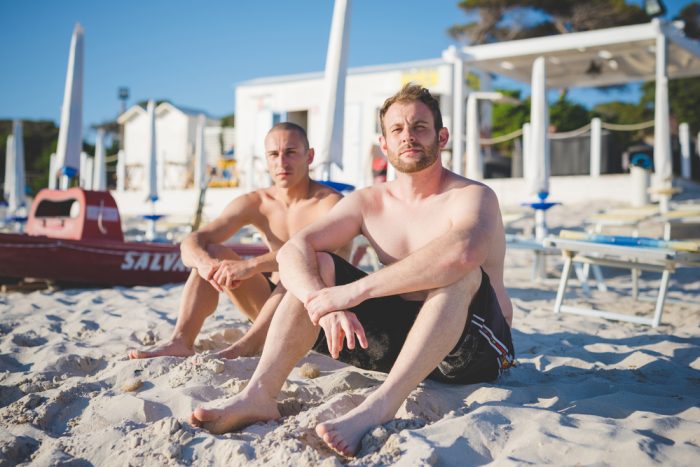 Whether you live near the beach, the lake, or a river, odds are good that you live within a couple of hours drive from a body of water where you can gather for a good time.  How you arrange this depends a bit on geography and the type of amenities available near you.  We like the idea of picking a place with some basic amenities available, like food, a bar or restaurant that is close-by, a place to rent equipment, and restrooms.  If you can rent a cabana, it might be worth the splurge.  If you can't, see who has some pop-up canopies and beach chairs.  If you are in charge of planning the day by the water, then you spend a few extra minutes planning ahead of time to make sure you have plenty of sunscreen, bug-spray, cold-water, towels, and water for everyone. 
#7 Take in a Game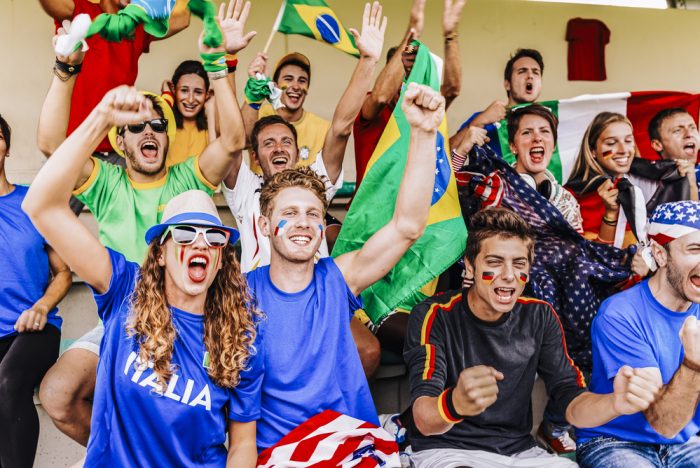 We are not talking about watching a game on TV.  We are talking about getting yourself to a real-live sporting event.  However, that can get really expensive if you are looking only at pro sports teams.  That is why we suggest you broaden your horizons.  Think outside of the football stadium and consider taking in a sport you might not otherwise see.  For most teams, regular season basketball and baseball tickets can be really affordable.  College games are even more affordable.  Minor league baseball games are, to us, even more fun to watch that pro games, with a much more relaxed atmosphere and so much less expensive than the pro-ball experience.  If you are a boxing fan, you can find boxing matches with up-and-coming athletes spread around the world at https://boxingschedule.boxingsociety.com/. 
#8 Video Game Marathon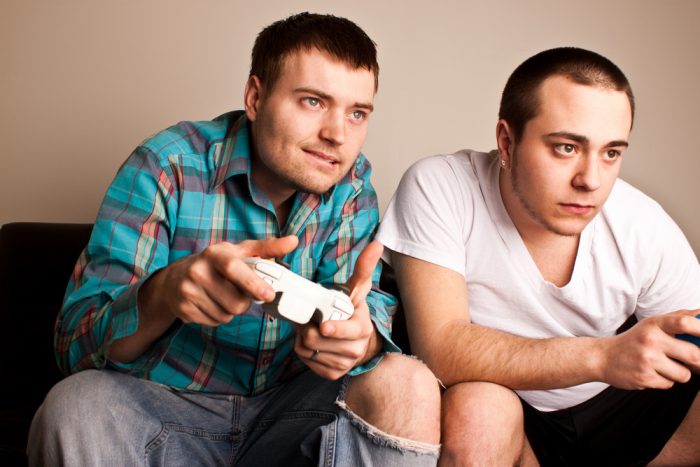 As you get older, it gets harder and harder to find an excuse to spend a day or two just playing video games.  However, if you and your friends are or have been hard-core gamers, it never gets any less fun.  Get the group together, have people bring over flat-screens, bean bag or Big Joe chairs, and game consoles, and set up an epic overnight game marathon.  Bring every gamer stereotype to life, by subsisting on delivery, energy drinks, alcohol, and, location permitting, some weed, while you battle for gamer supremacy!
#9 Nerf War
People love to shoot at their friends, which is why paintball remains a bachelor party favorite.  But there are some downsides to paintball.  The guns look realistic, which means that even if you have your own paintball gear, you might not want to play with it in a public park.  The little pellets hurt when they hit you, which can bring out some anger and not-so-pleasant competitive streaks depending on your guests.  You can get bruised up, which means that paintball should not be right before the wedding.  Our solution?  Nerf war.  Nerf guns do not look like real guns, which means that you can head out to just about any public park and have a nerf war with friends.  Odds are good that if your group of friends is too young to have kids with lots of Nerf guns that they can probably dig out guns and ammo from their own supplies. 
#10 Hang Out at a Great Bar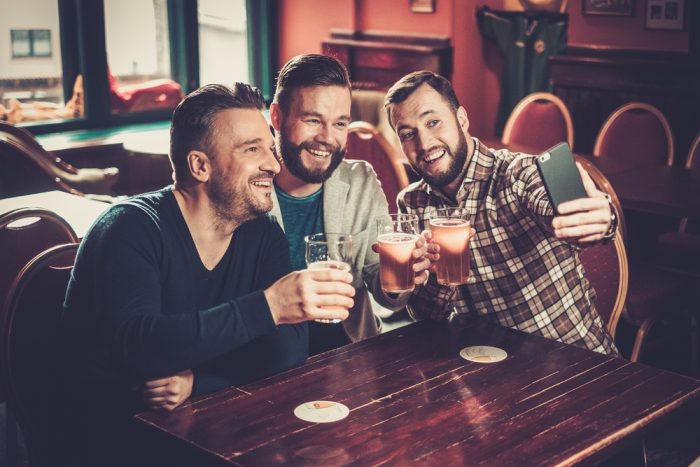 Everyone says "pub crawl" or "bar crawl" for a low-key bachelor party idea.  We disagree.  Every time you change location, you add the opportunity for something to go wrong and increase the complexity of an event, even if it is just heading from bar to bar.  Plus, you have the whole designated driver issue. Sure, you can arrange transport so no one has to be the designated driver, but that just adds another step for you.  So, if you really want to keep things low-key, we say avoid the pub crawl and pick out a great drinking place where you can settle in for the evening and have a great time.  That means a place that has affordable drinks, offers some bar grub, and has some type of activity.   What kind of bar?  Well, that really depends on you and your friends.  Classic bars that are great for hanging out include pool halls, which have a built-in activity, beer gardens, and sports bars where you can watch games.  However, especially if you are near a big city, there are bars to fit every taste.   
Conclusion
Planning a great bachelor party does not need to be a high-stress activity.  The whole reasons that you are getting together is for good friends to get together to have a good time.  It does not have to be complicated, expensive, or stressful for anyone.  Didn't see an idea you think will work for you on our list or have your own great idea for a low-key bachelor party?  Then head over to our forums and chat with other people planning bachelor parties to get even more low-stress, low-fuss, high-fun bachelor party ideas.