Archery Games Denver for Bachelor Party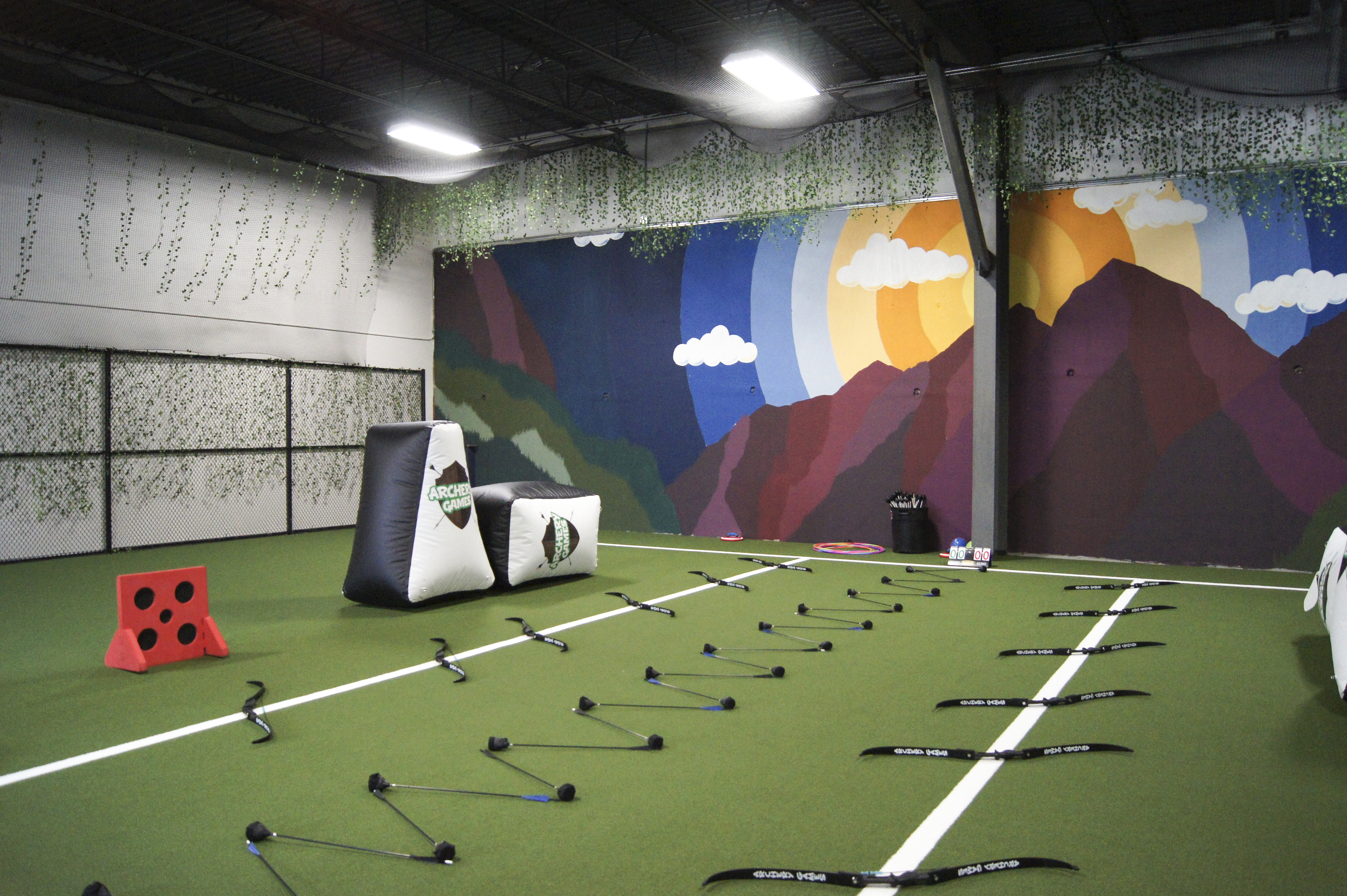 This post may contains references to products from one or more of our advertisers. We may receive compensation when you click on links to those products or services. Please also consider
donating to our website.
What makes for the perfect bachelor party activity?  While that answer depends a little on your group of friends, the best bachelor party activities bring you together as a group.  Physically challenging bachelor parties are growing increasingly popular, both as stand-alone activities and as activities to do as part of a destination bachelor party or part of a guys' day.  The only problem with those types of parties is that, if they focus on a sport that requires skill or training, then the playing field starts out uneven and the day can be a dud for some of the guests. 
Archery Games Denver offers the perfect solution to your bachelor party dilemma.  Fun, physical, and exhausting, Archery Games offers up a unique entertainment experience.  Often called "archery dodgeball," the game puts two teams in an arena, where they battle it out with bows and arrows.  The last team with any members standing wins!  It is a physically challenging good time, but easily played by people of all skill levels, as long as they are reasonably physically fit.  The best part?  No worries about ruining the wedding pics-  all participants wear masks and the arrows are foam-tipped and specifically designed not to leave bruises. 
Of course, as soon as we heard about Archery Games Denver, we had to go check them out and see if they really would be a great bachelor party experience.  No one we knew was getting married, so we called up the guys to see who was interested.  Alas, the guys are mostly in relationships and while we got plenty of yeses, girlfriends and wives wanted to tag along.  One of them suggested a battle of the sexes, and once that gauntlet is thrown down, you have to accept it, so that is exactly what we decided to do- boys versus girls in a winner-take all archery battle royale.  We ended up with a very large group.  We had 19 people and the general cap for a private party experience is 20 guests.  19 people also meant our teams were uneven; we had 10 dudes and 9 ladies.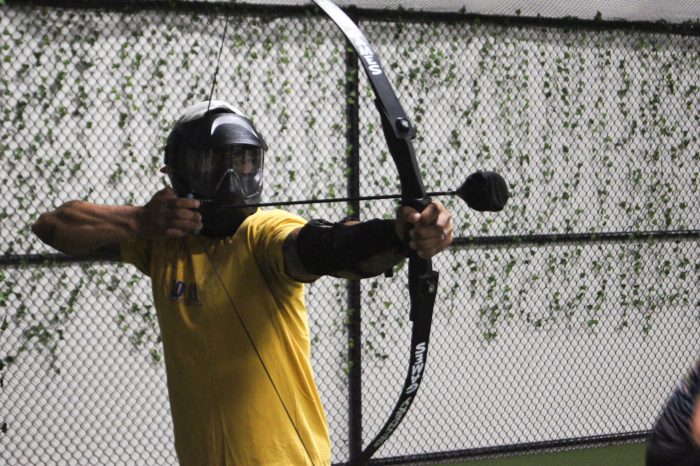 Because we chose the private party experience, we got a package for one price. We paid $450 for all 19 of us.  (That price covers up to 20 guests).  Before heading into the arena, we were given our equipment and taught how to use it.   The first thing we noticed is that the equipment was in great shape and that the masks they had available included specially-cut masks for people who wear eyeglasses.  We were also told that we could have brought our own masks, but that all players had to use bows and arrows provided by them.  This made a lot of sense; because we can all close our eyes and picture "that guy" that shows up with some type of crossbow and a bad temper.
The session began with an introductory lesson on the practice range, which was actually a pretty important part of the overall experience.  Most of our group hadn't shot a bow since back in summer camp, and it showed. , But after some helpful tips about proper use we were hitting fairly close to the targets. 
Then, we headed into the arena to begin the battle.  The games began with a Hunger Games style scramble for arrows in the middle.  No worries- there were plenty of arrows for all of us, but speed was of the essence.  Over the session we played a mix of a whole bunch of different games, culminating in a free-for-all game they called "Dog Eat Dog", with no bunkers to hide behind. Even though it is embarrassing to admit, I was the first one out; I was still scrambling to load my bow and someone on the opposing team was already shooting!. 
Game play was totally intense, but it was also hilarious.  The arrows fly surprisingly straight, but still leave you with time to get out of the way if you see one headed your way.  There were a lot of misses, and people panicking and running.  The players on the field were completely intense and determined, but once we got on the sidelines, we were all laughing so hard that our eyes were leaking. It was definitely a fun activity and one that we would do over and over, with a group or even just heading up to join in a regularly scheduled game if they had openings. 
We also thought it was an ultimate bachelor party experience. At bachelor parties, you get a group of the groom's best buds together, but sometimes those friends come from different parts of the groom's life and they may not know each other very well.  It can be easy for people to feel awkward in the group.  This activity was perfect even for group members that did not know each other before the party began.  Our guys' group all knew each other pretty well, but there were people in the ladies' group who had never met before they played.  They were able to bond over the idea of coming after a common enemy.  Also, while we are generally not big fans of combining the bachelor party with the bachelorette party, this activity is one where we would make an exception.  We all had a great time and our "battle of the sexes" format contributed some lighthearted fun to the event.
Because we chose the party option, we also chose to reserve a table for after the games.  They told us we could bring our favorite food and (non-alcoholic) drinks, and even gave us some great choices if we decided to order food.  We brought our own cooler full of water, sodas, and sports drinks, and kept it simple by ordering a pizza.  For our age group, the picnic tables were more like a recovery zone.  We saved our post-game partying for the bars that night, and, even though we had not planned to go out afterwards, the post-game euphoria was so intense that almost all of us ended up heading to the brewery down the block immediately after.
All-in-all, we would give this experience five stars.  Fun, exciting, and different, Archery Games offered the type of light spirited physical challenge that is not just perfect for your Denver bachelor party but for any event where you want to build camaraderie and just have a great time.  Whatever type of event you are planning, we suggest you book today.  Don't forget to mention "YourBachParty" and get a free t-shirt or hat!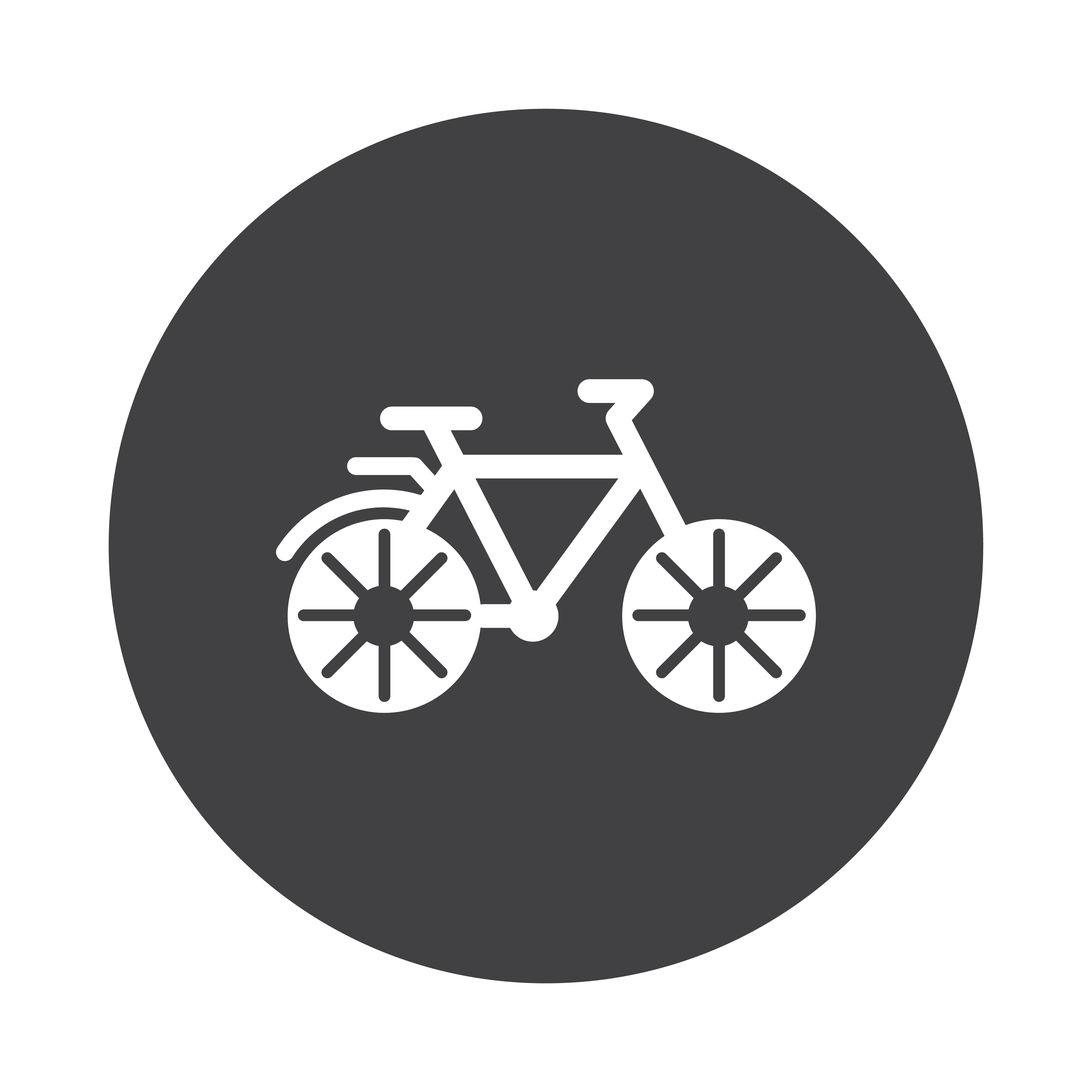 Get The Help You Need!
Want to Book Your Bachelor Party @ Archery Games?