Planning a Bachelor or Bachelorette Party During COVID-19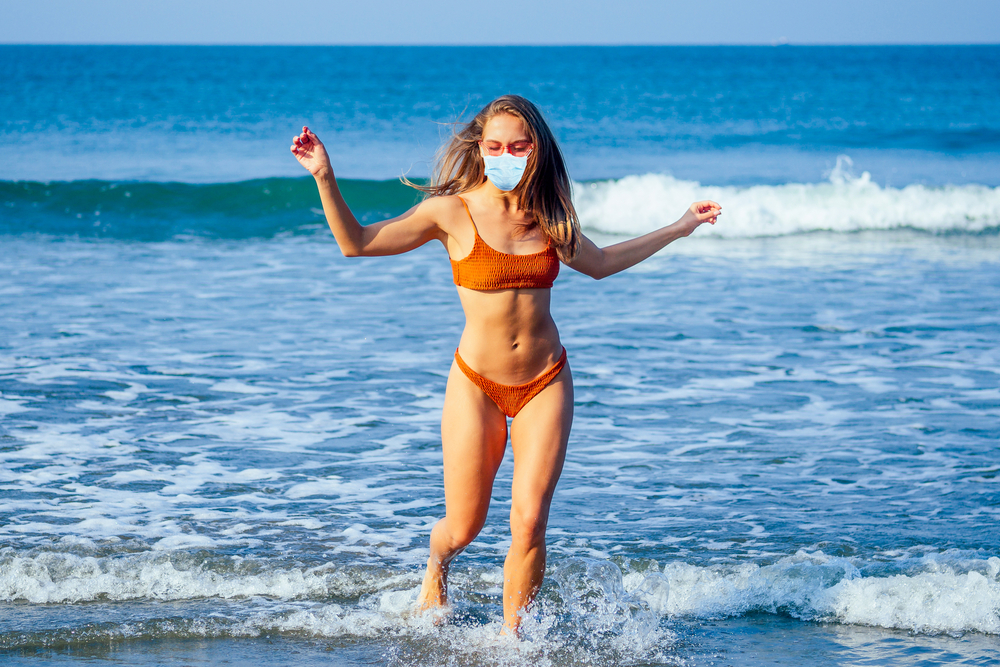 This post may contains references to products from one or more of our advertisers. We may receive compensation when you click on links to those products or services. Please also consider
donating to our website.
One of the top questions we are getting from our party planners is "Is it safe to have a destination bachelor/ bachelorette party during the COVID-19 pandemic?"  The answer is maybe.  We have an international audience and the level of outbreak varies tremendously across the globe.  Therefore, some of the people reading this are going to be in areas where local COVID-19 transmission is non-existent and may be planning a destination party in a similar area.  Planning for that party is going to be very different than if you have guests traveling from areas with uncontrolled transmission or if your party is in an area with uncontrolled transmission.  So, keep those differences in mind when planning your party.
Is the Party Worth the Risk?
Right now, there is no location on the globe where a destination bachelor or bachelorette party is zero risk for COVID transmission.  Even in places where local spread has been eliminated, travel that goes beyond local travel introduces the risk of exposure.  In some places that risk remains very low, especially if you follow travel precautions.  In other places, that risk is very high.  Currently, much of the United States is experiencing uncontrolled transmission.  Travel by people living in those areas or by people outside of those areas to areas of uncontrolled transmission should be considered high-risk.  However, because the numbers can change rapidly, it is important to assess locations based on the most up-to-date information you can find, which may be located at The World Health Organization (WHO) and the Centers for Disease Control.  Until there is a vaccine or until better treatments are developed, COVID-19 remains a significant risk to the community, even if members of your party are not in any high-risk groups.  Therefore, we urge you to consider not only the risks to your group, but also risks to the broader community, when determining whether a destination party is appropriate at this time.  If you decide to go ahead with the party, here are some of our tips to reduce the likelihood of coronavirus transmission.  Please keep in mind that these tips are designed to reduce the likelihood of transmission, but will not entirely eliminate it. 
Testing
Many experts have said that the key to reducing the spread of the disease is testing.  Testing is great because it tells you whether someone had the virus at the time of the test.  Therefore, if you are planning a destination party, we strongly urge all partygoers to get tested prior to travel.  If anyone tests positive, they obviously need to stay home from the party. 
Isolation
Testing alone is not enough to keep your group safe.  After testing negative, we encourage group members to self-isolate in order to reduce their potential exposure between testing and the trip.  With so many people working from home and the proliferation of delivery services, many people can isolate completely.  Others may be essential workers who are exposed to members of the public on a daily basis.  The ability of group members to self-isolate and the risk to those members who are not able to self-isolate both before and after the trip should be considered when determining if the trip is too risky.  Ideally, travelers would isolate from the time of a negative test result until leaving for their trip, and again after the trip until getting back a negative test result. 
Getting to the Destination in Safety
Another factor to consider is whether guests can safely get to their destination.  Being able to travel in a personal vehicle with only party members is probably the safest way to go, so a road trip might be the way to go for the party.  Of course, masking up, handwashing, and plenty of hand sanitizer should be used for any pit stops.  Many airlines are doing temperature checks and requiring masks on all passengers, but the longer the ride in an enclosed space, the greater the likelihood of contracting an airborne respiratory illness like COVID-19.  The same thing is going to be true of planes.  Therefore, you might want to avoid destinations that require a plane ride and especially destinations with long-distance plane rides where other passengers will be certain to remove their masks for extended periods, such as meal times.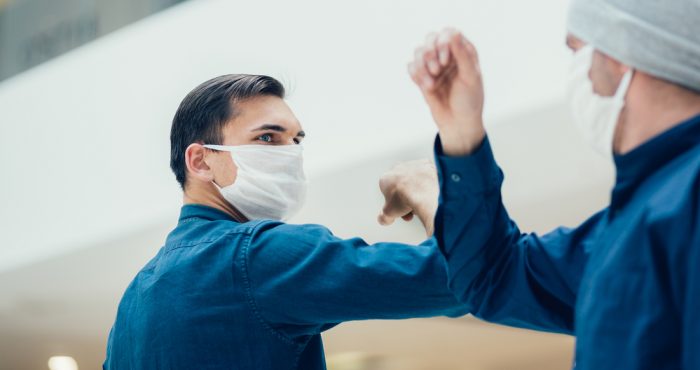 Where to Stay
If you are a regular at our site, you know that we really love a great resort, especially an all-inclusive where you do not have to worry about planning things!   However, during the coronavirus pandemic, we want you to rethink your lodging plans.  Rental houses offer more space for guests and get your group away from other people.  You can even splurge on a large enough rental to provide separate sleeping spaces for people who are coming from different households.  Rental houses also give you your own spaces for socializing away from big groups, often come with party-friendly outdoor areas, and give you kitchen spaces for meals away from other tourists.  We always talk about what a great bargain vacation rentals are for big groups because they are so frequently less expensive than double-occupancy hotel rooms and the ability to cook your own food can be a big money-saver.  These money-saving perks can also reduce your exposure to the virus. 
Where to Drink
There is no way for us to sugarcoat this, so we are just going to say it outright- drinking in a bar during a pandemic is foolish.  Anyone who has ever been in a bar knows that when people drink they get loud and they get less inhibited.  This means that they are less likely to wear their masks and less likely to socially distance.  In addition, because bars are loud, people are speaking loudly, which projects droplets through the air.  It is a nightmare disease transmission scenario.  So, safely heading out for a destination party is probably going to require that you scratch some of your must-visit bars off of the list.  Outdoor bars might pose less of a risk, but it really depends on how full they are and what types of safety precautions they are requiring.  You may be better off drinking at your vacation rental and, where it is allowed, taking a cooler with you to outdoor spots where you may want to drink.
What to Do
First, do not assume that just because an activity is available, it is safe to do it.  Specifically addressing various tourist destinations in the United States, many businesses are open because they do not have a financial alternative to being open. The business owners are not bad guys, they are simply trying to continue to make a living and to keep their businesses going during difficult times.  In addition, most of them are going to be incorporating enhanced safety precautions to try to protect the safety of their staff and visitors, alike.  That does not change the fact that indoor activities where social distancing is difficult to maintain might be higher risk.  This means that some great tourist activities like museums or escape rooms might not be wonderful choices. 
However, it is still considered very low-risk to engage in a wide variety of outdoor activities.  Depending on your destination, you can enjoy a wide variety of outdoor activities while still staying low-risk.  Jet skis, boating, swimming, snorkeling, scuba diving, hiking, walking through gardens, parasailing, zip-lining, ropes courses, golf, horseback riding, surfing, kayaking, skiing, ice-skating, and biking are just a few of the outdoor activities you should be able to safely enjoy.  Just keep in mind that rental equipment may not be adequately sanitized, so we suggest bringing along sanitizing wipes to clean up before using it. 
Where to Eat
There is no consensus on how safe it is to eat in restaurants.  This makes sense when you realize that some places with rapid-spreading coronavirus are opening restaurants at 1/4th capacity, while others are not placing any restrictions on the number of guests.  Therefore, the decision on whether or not to dine in restaurants at your destination has to be made on a case-by-case basis.  However, there is a consensus that it is safe to get take-out food and most restaurants are happy to offer take-out for pickup or for delivery.  You might also look at having meals catered, either in dedicated event spaces in restaurants with little exposure to people outside of your group or in a rental home.  One of the reasons that we love the idea of renting a vacation home is that you can not only use the kitchen to prepare meals, but also have the space to enjoy meals together in a way that simply is not possible in a hotel room. 
Travel Insurance
Traveling in a pandemic means that travel insurance, often considered by many to be an unnecessary expense, becomes an absolute must.  Things are so uncertain that it is important to plan for cancellations and give yourself the leeway to change plans without losing the money you have spent on travel.  That said, it is absolutely critical to understand what type of travel insurance you are purchasing.  Most travel insurance covers trip cancellation, which will reimburse you for the costs of trip costs if the vacation is canceled for a covered reason.  However, because the pandemic is a known risk, it will not be a covered reason under most policies.  You can purchase additional an additional policy known as cancel for any reason policy which may not provide full coverage, but should reimburse some of the costs for coronavirus cancellations.  However, it is important to note that some policies are specifically excluding pandemic coverage.  You want to make sure that pandemic cancellations or unexpected expenses due to the pandemic will be covered.
In addition to getting travel insurance, you should look for flexible travel arrangements when you are booking flights or getting a rental home.  You may have to pay a little more for reservations that let you cancel or change plans without a penalty, but that will be money well spent if you have to make a last minute change. 
If Someone Gets Sick
Even following all of the precautions, you have to prepare for a scenario where someone gets sick.
Having a no-touch forehead thermometer available lets your group monitor for temperature changes, because an elevated temp may be the first sign of illness: 
You want to bring Tylenol (acetaminophen) with you as a fever reducer because there are some indications that ibuprofen could make the virus worse and you may have difficulties finding acetaminophen at your destination:
Electrolytes are another great thing to bring, because dehydration is always a risk if there is some gastro involvement or even if people are just running high fevers:
Planning for illness is not just about bringing supplies; you also need to have a plan for isolating a guest if they get sick while you are traveling.  We love the idea of a house rental that is large enough for each guest to have their own bedroom, which makes the transition to isolation easier.  You will also want to designate a bathroom for use only by the sick person is someone comes down with COVID-19.
Conclusion
If coronavirus has taught us anything, it is that flexibility is very important.  This is especially true when planning big events.  You not only want to plan where flexibility is possible, but also keep in mind that each guest may have a different comfort level.  Make sure and be graceful and understanding if guests feel like they cannot attend or have to make last minute changes.