Lesbian Bachelorette Party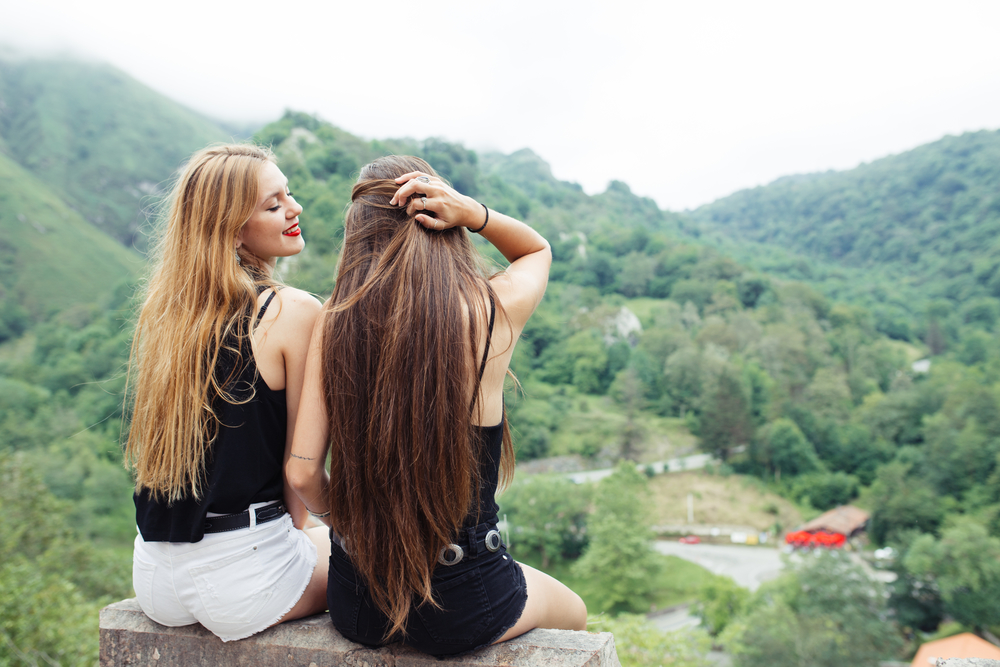 This post may contains references to products from one or more of our advertisers. We may receive compensation when you click on links to those products or services. Please also consider
donating to our website.
Close your eyes and picture a bachelorette party. Did you picture penis straws, male strippers, and phallic party favors? If you did, you are not alone; pop culture has certainly pushed the idea that bachelorette parties are not complete without their share of beefcake and penis paraphernalia. It can leave someone planning a bachelorette party for a lesbian friend feeling a little puzzled about what direction to take for the party. Have no fear, planning a lesbian bachelorette party is no more complicated than planning a bachelorette party for one of your straight friends; you just might approach a few things from a slightly different angle.
In this how-to guide, the bachelorette party experts at Your Bach Party outline how to create the perfect bachelorette party for a lesbian bride. Foregoing penis party favors and male strippers, this guide tackles everything from whether to invite both brides to how to decorate for the party.
The Bride(s)
The first question you have to tackle when planning a lesbian bachelorette party is who will be invited? While traditional stag and hen parties are one-gender affairs, honoring the bride or the groom, when both of the future spouses are brides, it can be complicated to determine whether you should throw a bachelorette party for one of them or for both of them. There is not one single right answer to that question. Here are our tips for deciding who to honor and who is on the guest list:
Do the brides hang out with one big group of friends? If the guest list for both showers would pretty much be the same group, then a joint bachelorette party makes senses. So, think about how the brides-to-be spend their free time when they are socializing. If it is with the same group of friends, then a joint party might be feasible.
Are you besties with both of the brides? Odds are that you are not actually best friends with both of the brides, though it is possible. However, are you good friends with both of them? A no answer does not mean you should not have a joint bachelorette party, but it does suggest that you need to ask the other bride's bestie to help you plan, as well. If you throw a joint party, you want to make sure it honors both of the future brides, equally, instead of focusing more on one of them!
Finally, do the brides want a joint party? No matter how many friends they have in common or how much they like to do things with each other, some brides want that traditional "last fling before the ring" party without their future partners present, even if that means the same group of friends hosting or attending two separate bachelorette parties for the brides at the same wedding. If you are contemplating throwing a joint party, talk to both brides, separately, about the idea. Unless they are both on board with the joint party, plan on throwing an individual bash for each of them.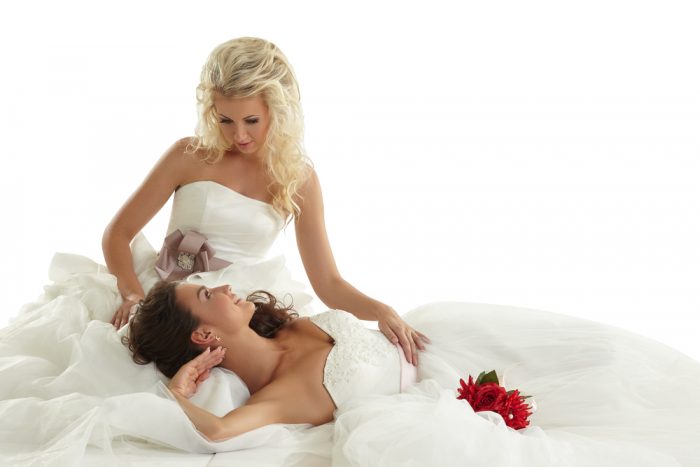 The Guest List
Another thing to think about is the guest list. While co-ed parties that include some of the bride's good male friends are becoming more popular with brides from a wide variety of backgrounds, the co-ed question is one that frequently comes up when planning lesbian bachelorette parties. Our advice? Ask the bride. Do not assume that she wants you to ask her guy friends to the party just because she is gay. A lesbian bride can still want an overtly girly bachelorette party, just like a straight bride may want a bachelorette that includes her close guy friends. Instead of trying to decide what you think would be best, just ask the bride for the list of people she wants invited to the bachelorette!
Ideas
Clearly, a lesbian bachelorette party can include the same types of destinations and activities as a straight bachelorette party. However, the reality is that not every place is a great place for LGBTQ people to visit. For example, a destination bachelorette party on an affordable tropical island sounds fantastic, but if you plan it in Jamaica, which is known for a regressive criminal justice system that actually targets gay people, that could be a very bad thing. So, we took the time to make up a list of destinations that are known to be very gay-friendly.
If you decide to book a vacation rental for your party on Airbnb.com, make sure you sign up with our link, which will get you $40.00 OFF your first reservation
New Orleans
If you do not know why New Orleans is considered to be a gay-friendly city, then we just have to assume you have not ever been to New Orleans. The city's most iconic festival, Mardi Gras, has long been associated with drag culture, and gender fluidity has played a role in the history of some of the city's most well-known individuals. It is not so much that New Orleans has a "gay agenda," or even that it has been progressive in terms of accomplishments for the LGBTQ community, because it really has not. It is more that New Orleans does not care. The people of New Orleans do not care whether your bachelorette is marrying a man or a woman; they just care about the party!
Palm Springs
This little town in the desert of California has a reputation as being a great place for a "gaycation." What makes it such a great destination? First, the location is wonderful. North of Los Angeles, this desert town has great views of the desert, year round sunshine, and is located in the Coachella Valley, which hosts one of the nation's best-known music festivals. However, what makes it extra-special for a lesbian bachelorette party is that Palm Springs has one of the country's most vibrant gay communities, and has several gay-owned businesses that cater almost exclusively to gay clientele.
Disney World (Orlando, Florida)
Disney World, or, in fact, any of the Disney properties, makes a great destination for a lesbian bachelorette party. Why is that? The Disney company has been an industry leader in terms of recognizing the legal equality of its LGBTQ employees and has made significant efforts to ensure that all of its guests feel welcome in any of its parks. Ironically, we suggest avoiding the Orlando resort during the popular Gay Days festival; it is one of the parks busiest times of the year, so the lines will be extra-long! However, if you are throwing a non-traditional bachelorette party that includes any children, that might be a great time to go. While we love Disney, in particular, theme parks, in general, can be great locations for LGBTQ bachelorette parties; even Dollywood, which is located in a relatively conservative area, is known for offering a very inclusive atmosphere.
Key West
Looking for a tropical destination? Instead of heading out of the U.S., consider going to Key West instead. Located at the bottom end of the Florida Keys, and closer to Cuba than to the U.S. mainland, Key West is known as a quirky, party town with an artistic vibe. It is also known as one of the country's most gay-friendly towns, a reputation that it certainly deserves. Rent a house on the island and plan to stay a few extra days, so you can enjoy the beautiful daytime activities like snorkeling, plan to visit some of the town's iconic sights, and get to spend plenty of time enjoying the city's vibrant nightlife!
Activities
What can you do at a lesbian bachelorette party? Um, anything. You might be intimidated by the planning, if you are straight or if this is the first bachelorette party you have planned, but, honestly, sexual preference has nothing to do with what kind of activities you plan for the party. Anything goes, from outdoor activities to spa days and lingerie parties.
Because we have noticed that lesbian bachelorette parties often have a co-ed guest list, we have noticed they tend to be less sex-oriented than the average straight hen or stag party. So, we often think of experiences when we think of lesbian bachelorette parties. Paddle-boarding lessons on the coast, a hiking experience, riding bikes around, glamping with some friends, deep sea fishing, or renting a bike bar are all great experiences for co-ed groups.
However, we also know some lesbians that describe themselves as butch and would not be into the traditional straight-girl bachelorette activities. Whether the bachelorette is gender queer or just a bit more masculine, we suggest the "butchelorette" party for these women. What is a butchelorette party? Think of all of things you might plan for a traditional bachelor party – cigar smoking, whisky tastings, scantily clad women- make the guest of honor a lesbian instead of a straight dude- and, voila, you have a butchelorette party!
Shirts
The bachelorette party t-shirt is super-popular. Many of them work for gay or straight brides, but you want to check the terminology on the shirts. "He popped the question, so we're popping bottles" is a popular t-shirt theme, but one that won't work for a lesbian bachelorette party without some tweaking. Of course, many t-shirts are custom designed, so it is easy enough to change that to "She popped the question." We have picked out some of our favorite t-shirt designs, below, but don't be afraid to think of custom designs for your group of friends!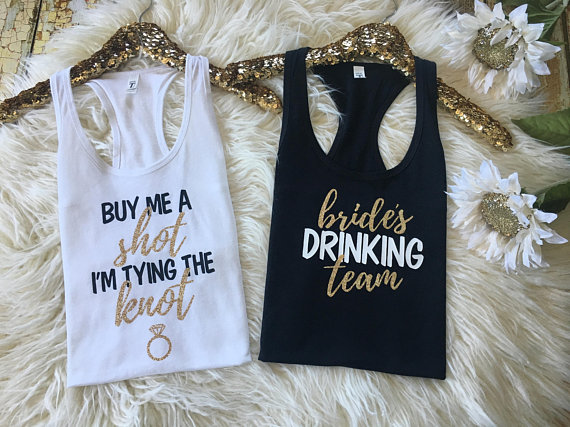 This generic, "buy me a shot, I'm tying the knot shirt" works for just about any bride, and you could even order the "drinking team" shirts in other styles, to accommodate a coed party. Celebrating both brides at the same party? No problem; just order two bride shirts.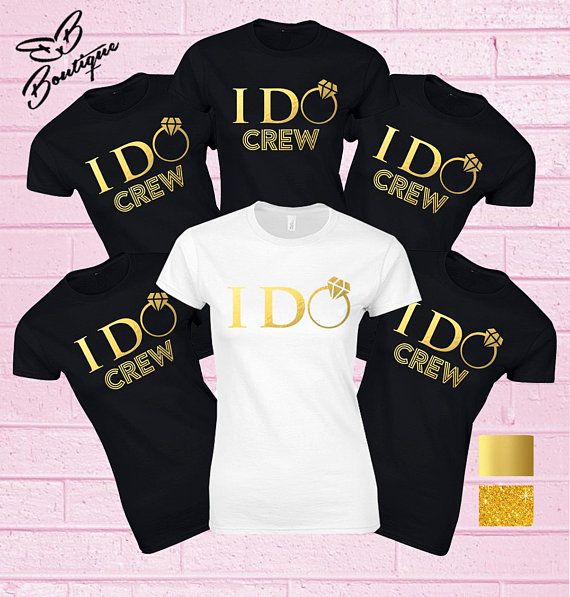 We love the "I do crew" t-shirt theme, because it works for a wide variety of brides.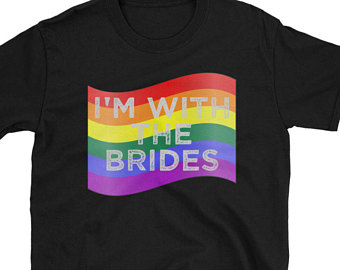 Of course, there is no question that gay marriage is new enough that you might want to make a bit of a political statement in your bachelorette party t-shirts. This rainbow print t-shirt makes it clear that the party is about both brides and we love that!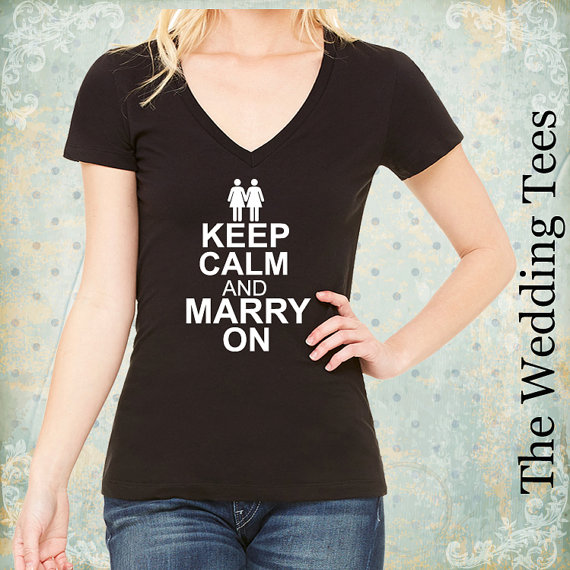 Are you in a "conservative" area, where a lesbian bachelorette party might raise some eyebrows. If so, we love these t-shirts because we think they send a subtle, but not aggressive, message to any potential naysayers that their comments are not wanted.
Decorations
Your decorations for a lesbian bachelorette party are probably going to be pretty much interchangeable with decorations for a straight bachelorette party. Of course, you are not going to buy any decorations that talk about the groom and can skip the phallic-themed props, but when you look at bachelorette party decorations, you will find that most of them are not really geared towards straight women or gay women, but just geared towards brides.
You may have a bride that wants to celebrate equality as a major component of the bachelorette party. If so, we are including links for some great equality-themed bachelorette party decorations. However, we caution you not to make that assumption about your bride. Even the most politically active people sometimes want to just have a party. Don't assume that she wants a pride parade type party, when what she might really want is a country chic bash.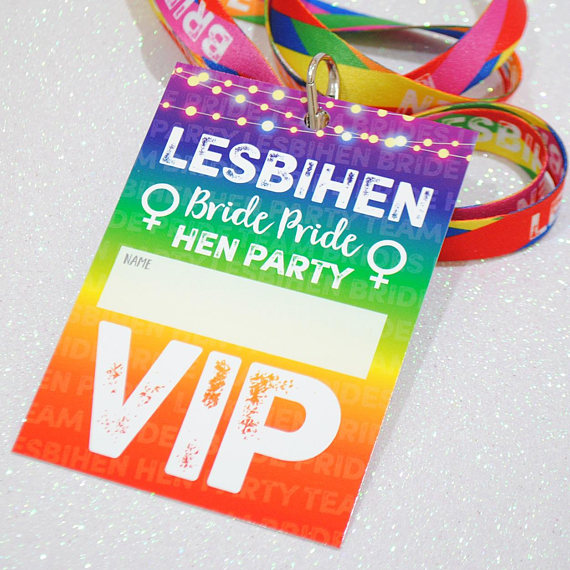 We love these "lesbihen" bachelorette party badges. Like the popular sashes that bachelorettes wear, they help identify members of the party and also show pride.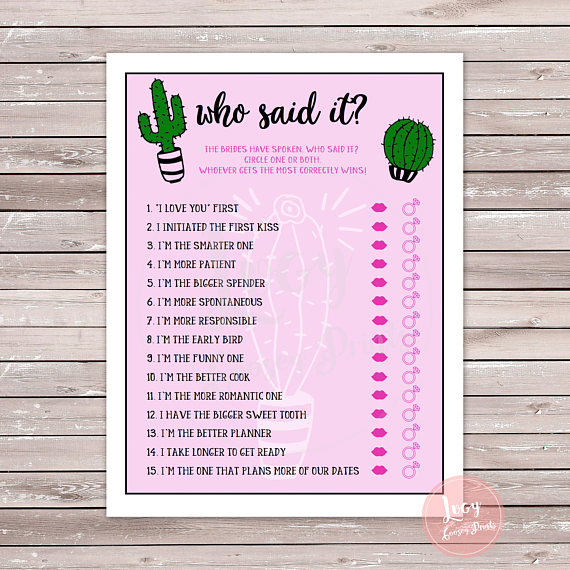 Who Said It is a popular bachelorette party game, and we love that this one is a bride versus bride addition. A great game for a two-bride bachelorette party!
Themes
There is no reason you cannot choose from the hundreds of great bachelorette party themes out there for a lesbian bachelorette party. However, you probably won't see many straight bachelorettes having a pink taco themed party. What's a pink taco party? Think about it. Yes, that is what we're talking about. Replace the penises with vaginas and throw the naughty NC-17 bachelorette party you want to throw for your best-y. Worried that you will only be able to find crude vagina or boob themed novelty items? Have no fear, there is a whole market for these items geared towards a female audience. You can even find female-friendly strip clubs in your area that will help you host your bachelorette party with female dancers.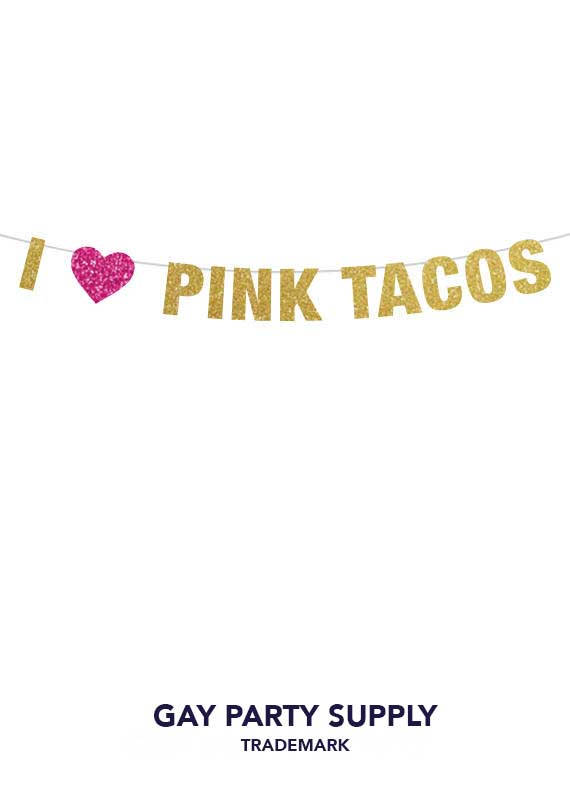 The banner pretty much speaks for itself, and is a way to set the tone if you are going for a naughty party!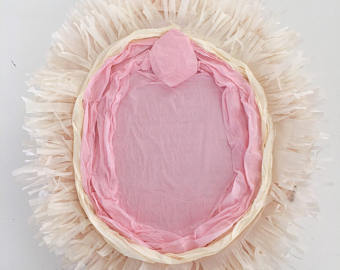 You can make goodies fall out of this vagina piñata, an activity that gets pretty hilarious after everyone at the party has had a few drinks.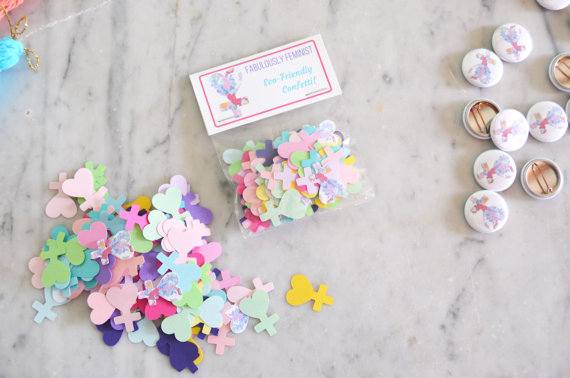 This venus symbol confetti is a great compliment to the pink-taco theme.
Invitations
Again, most bachelorette party invitations are going to work well, whether the bride is straight or gay. Presumably, everyone on the guest list already knows that the bride is marrying a woman, so don't feel like your invitations have to make a statement. That said, there are some really cute invites that are clearly made for lesbians.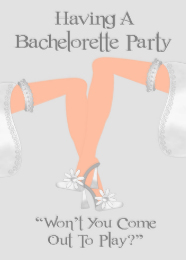 We love these adorable invitations, especially if you are hosting a lingerie-themed bachelorette. They are customizable, too, so you can choose flesh colors that match those of the brides-to-be.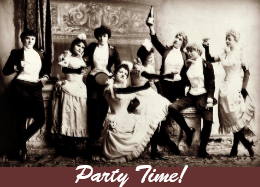 Celebrating two brides that fall into idealized butch and femme roles? Then this old-fashioned party-time invitation might be the perfect way to announce the bachelorette party!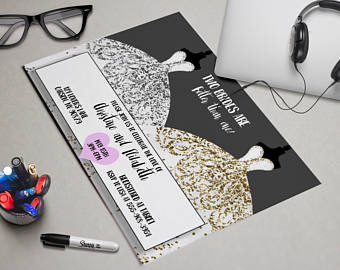 We love the simplicity of this invitation, and think it would work equally as well as a shower invitation where both brides are being honored!
Conclusion
Planning a lesbian bachelorette party really is not that different from planning a party for a straight bride. After all, it is still about planning a party that celebrates the bride-to-be. The major difference you want to keep in mind is that many lesbian bachelorette parties celebrate both brides, so you want to check with them to find out if they want a joint party or two separate events. Another big difference is that the ubiquitous penis straws and condom strewn bridal veils do not really apply at a lesbian party; if you are going to go with "naughty" or "adult" themes, you're going to have to trade the P for a V in your décor and favors. Finally, be wary of making the party too political, especially if you are the straight friend doing the planning. If the bride wants you to go that direction, then certainly embrace, it. However, if she does not, remember that you don't have to be rainbows and pride buttons to show you support equality.