Where to Buy the Best Bachelorette Party Supplies  (Updated for 2023)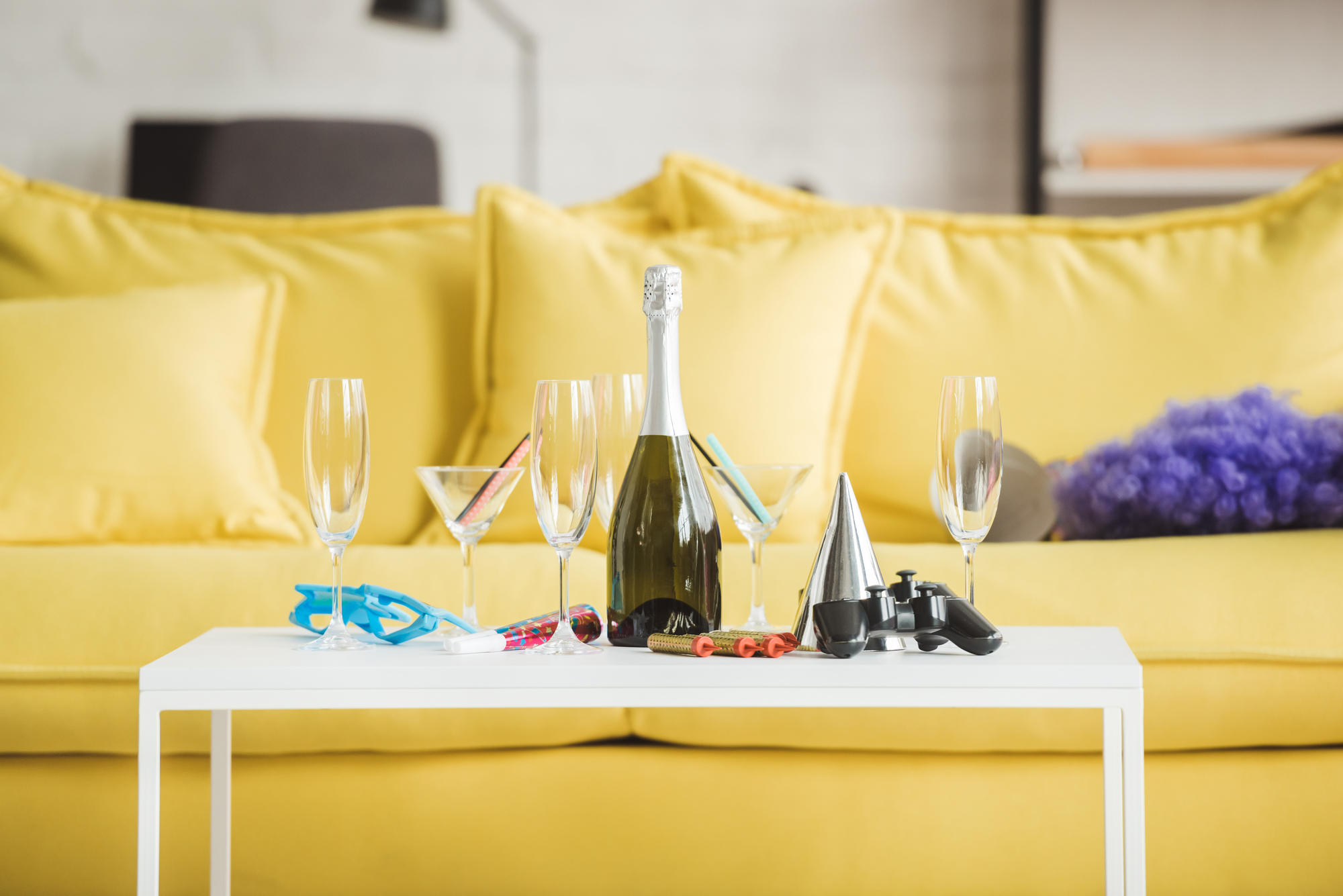 This post may contains references to products from one or more of our advertisers. We may receive compensation when you click on links to those products or services. Please also consider
donating to our website.
Finding the right stuff for a bachelorette party is easier than you realize.  Whether you are planning a party with a very specific theme or just looking for some generic bachelorette party supplies, there are some go-to places that can help you find what you need.  Our favorite stores include: Amazon, Etsy, Oriental Trading, Spencers, Party City, The House of Bachelorette, and The Knot.  In this overview, we will tell you what we like about each site, why we love to shop there, and even provide links to a couple of our favorite bachelorette party finds from each place.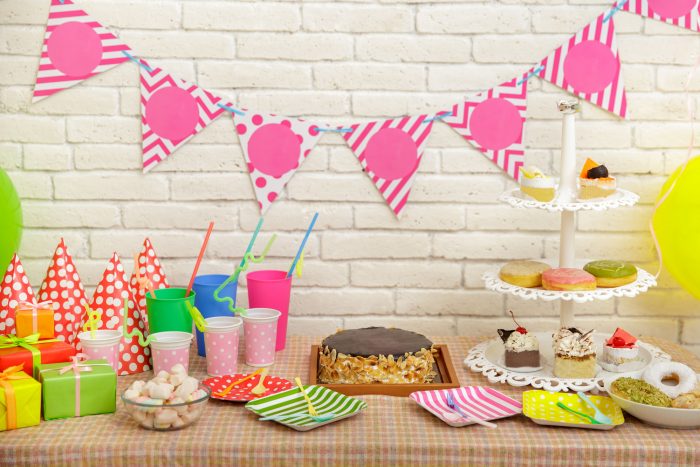 Where to Buy the Best Bachelorette Party Supplies
Amazon

Everyone knows Amazon, the powerhouse of online shopping.  If you can't find it on Amazon, there is a good chance that you won't be able to find it anywhere.  The huge selection is probably the number one reason that it ranks among our top places to buy bachelorette party supplies.    Plus, if you are an Amazon Prime customer, you get free two-day or less shipping on many of the items that you want to buy.  This means that you can often do last minute party shopping on Amazon without worrying about breaking the bank to pay for express shipping.  They also have a liberal return policy, with the ability to return some things in person to affiliate stores like Kohl's, which can take some of the fear out of online transactions.
However, Amazon is not pure wonderful.  The selection can be overwhelming, so if you are a person who has a hard time making decisions, it might not be the right place to start your shopping.  Before Amazon shopping for bachelorette parties, we had no idea how many different types of penis confetti there are, but- spoiler alert- there are a whole lot of them! It can also be difficult to assess quality on some of the items offered by Amazon affiliates. 
We love to buy bachelorette party games at Amazon.  They offer a great supply of almost all games, from popular board games to bachelorette party scavenger hunt ideas and it is almost impossible to beat their prices. 
We describe What Do You Meme as a mixture between Never Have I Ever and Cards Against Humanity.  It is a great ice-breaker game for bachelorette parties that are bringing together groups of women from different parts of the bride's life.  After the party is over, gift it to the bachelorette along with plans to get together for some girl's nights after the big day; marriage is wonderful, but it is even better when the bride remembers to keep taking time with her girls!
Bachelorette Dare Cards are like scratch off lottery tickets.  You can hand one out to each guest at the beginning of a party or dole them out during the night.  They are great for bachelorette parties that are taking place out somewhere, like pub crawls or a night at the nightclub.  They challenge the party goers to a variety of different dares, most of them requiring them to interact with other people at the party or with the strangers you encounter.  It is a way to help draw out the shyer members of the group and get everyone involved in the party!
Etsy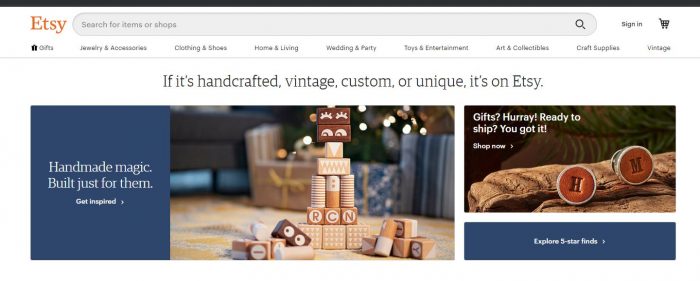 Everyone knows Etsy, the internet darling that made a name for itself as a place to sell handmade, custom, and craft items.  If you are looking for things are unique or personalized, then Etsy is a fabulous go-to shopping place because it offers such a huge array of options! It can make it a great place to find those personalized items that really make the bachelorette party stand out from other parties.
There are some things people should know before choosing to buy things from Etsy.  The items are probably not going to ship immediately and there will usually be a surcharge for overnight or two-day shipping.  This can have a significant impact on shipping costs and may mean that, if you have waited too long, you won't be able to get your Etsy supplies in time for the party.  This is just something to keep in mind if you are a normal last-minute internet shopper.  Another thing to keep in mind is that Etsy is a marketplace, not a store.  That means that the individual sellers on Etsy are separate from Etsy, itself.  Sure, Etsy is going to step in and help you if there is a dispute with a seller, but each independent seller has reviews and ratings.  Take the extra few minutes to check those out before placing your order. 
We love to buy many, many, many things from Etsy, related to bachelorette parties and not related to bachelorette parties at all.  We could even take you down a rabbit hole of fabulous wedding presents for the bride and groom that we have found in our many hours spent surfing the site.  However, our most favorite thing to buy for bachelorette parties on Etsy has to be their t-shirts.  Customizable and adorable, they have so many different bachelorette party t-shirts on there with so many different themes that you are sure to find ones that you love!
Go beyond the typical bachelorette party t-shirt with this hilarious photo face concept.  Grab a picture of the groom, either looking devastatingly handsome or absolutely ridiculous, and slap his face on t-shirts for all the girls!  We love this twist on the standard bachelorette party t-shirt.  We also love its gag gift potential.  First post-wedding dinner party at the bride's house?  The girls throw on their groom face t-shirts and wear them to the party.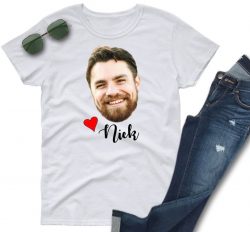 Speaking of customizable, check out these GOT themed bachelorette party t-shirts.  Just goes to show that, yes, you can find almost any type of theme for bachelorette party shirts on Etsy!  It is one of the things we adore about the site, because it lets the bride's friends show her that they really know her and get all of her fandoms and favorites, while still celebrating her upcoming big day!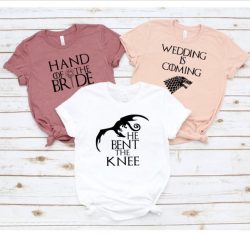 Oriental Trading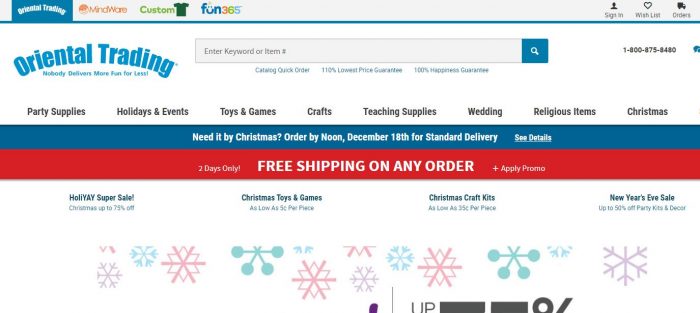 Oriental Trading is our favorite overlooked place to find inexpensive bachelorette party supplies.  They are great for buying things in bulk, super-affordable, and their shipping is reliable and efficient.  They have some designated bachelorette party gear like decorations, tableware, personalized products, accessories, and apparel.  Those items are fantastic filler items for bachelorette party plans, even if none of them is going to really knock your socks off because they are super-creative or of fabulous quality.
For example, check out these hangover kit water bottle labels.  Here is something adorable and inexpensive to add that little extra touch to the hangover remedy favor kit you are throwing together for the girls.  You can find all sorts of little extra things that will take the bachelorette party up that extra notch at Oriental Trading, and it is all very affordable.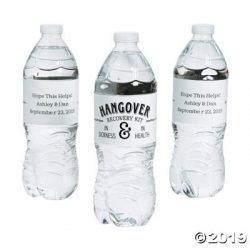 However, we actually love Oriental Trading for the non-bachelorette party stuff that it carries.  Specifically, for fiestas.  Oriental Trading probably has the best online collection of fiesta party gear that you will find anymore.  Piñatas, plates, themed decorations, games, banners; if you can think of having it at a fiesta, they probably have it for sale.  They have the same type of selection for luaus.  Which is why we love to browse Oriental Trading whenever we are planning a themed party.  It can be a little hit or miss, because they may not have items for some of the more obscure or more adult themes, but when they feature a theme, they think of everything.  Plus, they are more affordable than almost any other place you can buy party supplies.
We love, love, love them for DIY decorations for a bachelorette party.  Check out this serape blanket tablecloth roll.  They offer similar rolls in all kinds of patterns, and it is a cheap, customizable way to transform every table in a space to something that compliments the themed décor!
Other things we love about Oriental Trading?  If you order $50 or more in party supplies, they almost always offer free shipping.  They also have coupons available, and they can offer significant savings.  This makes it one of the most affordable places around for buying party supplies, and we are thrilled whenever we can help people create great bachelorette parties without breaking their budgets!
Spencers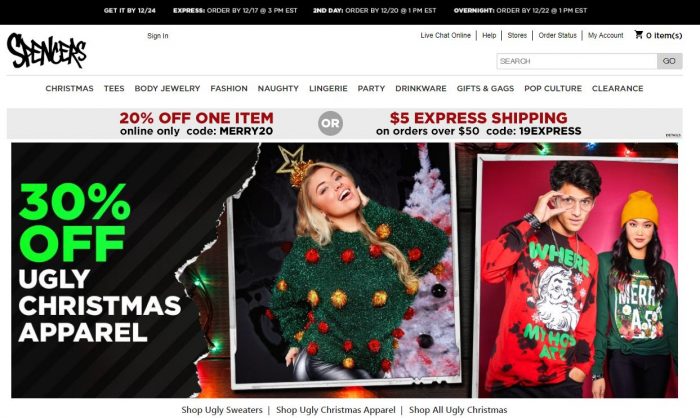 Party planners of a certain age will remember when you could find a Spencers in almost every upscale mall and how there was certain illicit thrill to visiting the store as a tween or young teen and checking out their selection of "adult" novelty items!  Spencers continues to bring that same naughty edge to their supplies, but now they have a tremendous online selection in addition to some of their mall-based stores. 
We don't mean to pigeonhole Spencers, but there is no other way to say this; if you need dicks for your bachelorette party, this should be your go-to store.  From rainbow lollipop penises to giant inflatable penises and everything in between, they have just about every pecker party supply you could imagine.  Maybe we are a little childish, sometimes, but we really get a kick out of the pecker shaped jello molds, which we think let you combine everything delightfully and innocently naughty about a bachelorette party into a great little drink/ party snack!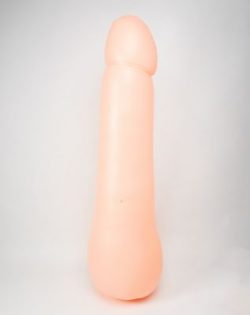 That said, if you are looking to throw a classy or upscale bachelorette party or a combination bachelorette party and bridal shower, then Spencers is probably not going to be where you find all of the things you want for the party.  They do focus on items that are more in the novelty or gag gift arena. 
The House of Bachelorette
It is not often that you see a website promoting one of its competitors, but that is exactly what we are about to do when we tell you that you should check out The House of Bachelorette for some of your bachelorette party shopping needs.  Of course, while they are also a bachelorette-focused website, they are not really a competitor.  In fact, we think of them more like collaborators.  We tell you the things you need to put together a fabulous bachelorette party and then you head over to them to buy some of them.
What do they have in terms of bachelorette party supplies?  Pretty much everything you could possibly want to buy.  In terms of categories, they broadly label their supplies and break them down into gifts and party favors, party decorations, shirts and apparel, and veils, tiaras, and hats.  These broad groups give you a starting place when you start to look, but the labels are just the tip of the iceberg in terms of the most awesome things you will find on their site.
We get lots of questions about favors for bachelorette parties.  Oddly enough, it is a really polarizing topic.  Some people love favors and think that they add a little something extra to the party.  Other people find the whole concept of bachelorette party favors to be pretty high-pressure and really stress out about finding great favors for their group.  If you want to have favors, but are not sure where to get them, The House of Bachelorette is a great place to start.
These sleep masks are among our all-time favorites for bachelorette party favors.  They are cute, on-theme, and super-practical.  After all, the morning after a big night out with the girls, where there was possibly some extra imbibing of intoxicants, the last thing anyone wants is to be up with the sun!
Another thing we like are these team bride shot glasses.  Personalized bachelorette party glassware is big for parties and for favors.  The problem with them is that they can be tricky to store and sometimes they are not reused.  Shot glasses are small enough to serve as souvenirs without taking up storage space. Plus, once the shots start happening, it only adds to the festivities to have a reminder of a great party.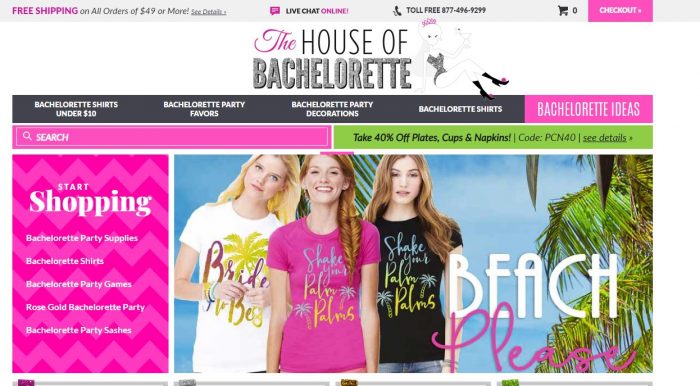 The Knot
You might think of The Knot as primarily a wedding planning site, and you are not wrong.  They are a fabulous source for all things wedding.  That includes some items you might need for your bachelorette party, though, with their emphasis on classy they may be more bridal shower than bachelorette party.  We want to let people know that first hand, because it is not the place to pick up 3,000 silly knickknacks for $4.  They showcase some higher quality products, which tend to come with higher price tags. 
With that warning out of the way, let us tell you about some of our favorites on The Knot.  This diamond ring pool float is perfect for any beachside, lakeside, or poolside bachelorette party.  They are inexpensive enough to get several of them, and we think the idea of throwing a few in a pool adds to any festive bachelorette pool party.   
Sometimes brides want to go a little above and beyond with gifts for their bridal party.  We support this idea wholeheartedly, as long as it is within the bride's budget and does not cause any financial stress.  We are completely against doing things that cause lots of financial stress.  These cute robes can make for some adorable coordinating photos at a bachelorette party, and during the getting ready process for a wedding, and are really affordable.  They are also available in a wide range of sizes, which makes them a great gift for a wedding party with bridesmaids of different sizes.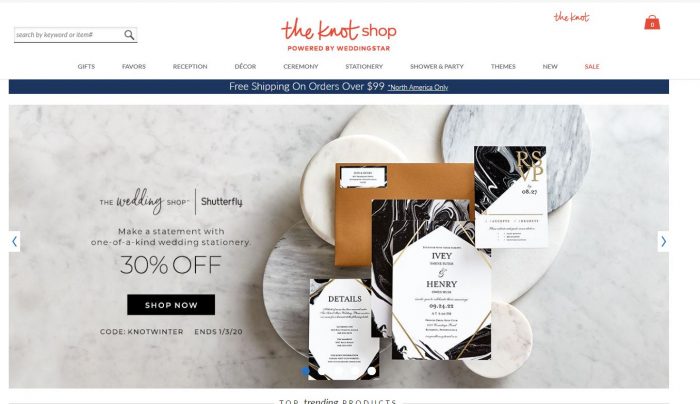 Party City

The bachelorette party is tomorrow, or maybe even just a couple of hours away, and you suddenly realize that you are missing an essential something that you must have to make the party a success.  All of these online only places are great for buying things when you have the luxury of planning ahead, but who is your go-to when the time crunch is on?  That's right, it is Party City, one of the largest party-focused chains in the entire U.S.  They have over 850 locations scattered around the U.S., let you order things online and pick them up in the store, and even offer free shipping on many orders.  This means that Party City just might be the thing that saves your bachelorette party!
If you have never walked into a Party City store, then we have to do a little explaining so that you understand why we love them so very much.  They have aisles and aisles and aisles of party supplies.  You will find plenty of themed items, with everything from children's birthday parties to retirement parties, and plenty of those themes deal with bridal showers and/or bachelorette parties. 
That stuff is great, but it is not why we love Party City.  Instead, we love the aisles and aisles of colors.  They have aisles devoted to party supplies in particular colors.  Plates, napkins, cups, tablecloths, etc. in various colors, making it so easy to go in and pick up coordinating supplies for whatever theme you have already chosen.  Pick up a metallic rose gold backdrop for extra-shiny, extra-special photo booth shots or these generic gold decorations to round out your diamond ring bling themed décor. 
Whatever type of party supply you need, Party City not only carries it, but also probably has it in stock at a store that is within a reasonable driving distance of wherever you are.  This makes Party City the ultimate party planning tool and last minute lifesaver, all rolled into one.
Conclusion
Finding great bachelorette party supplies is easier-than-ever with all of the great shopping opportunities to be found online.  While you may not be able to find everything you need at a single store, by looking at just a few great websites you will be able to find some fantastic deals on bachelorette party supplies that run the gamut from naughty to classy and back again.  Plus, if you find yourself in a last minute panic because of missing supplies, some of these websites have in person locations, which may be able to help you find what you need.  However you handle the shopping, by using these companies you are sure to find the bachelorette products you need at reasonable prices and with great customer service.