8 Best Rental Houses for Your Bachelorette Party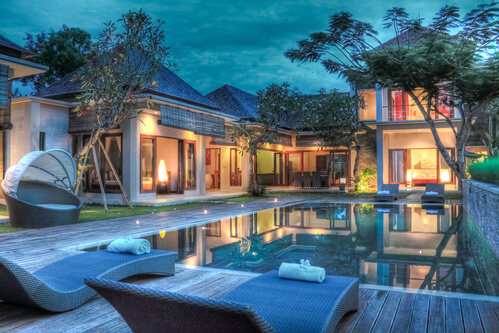 This post may contains references to products from one or more of our advertisers. We may receive compensation when you click on links to those products or services. Please also consider
donating to our website.
So you decided that instead of cramping twenty ladies into several hotel rooms, it may be smarter to rent a house for your bachelorette party.  This is a great idea as not only will it give you a larger space and more bathrooms for getting ready, but it will also allow all your friends to share the same house.  With a rental house you can look for specific houses that have a pool, hot tub, or even a gym and sauna (especially if you have a larger budget).  You can also add a private chef, massage therapist, bartender/waitress, and daily maid service, for the ultimate hands-free weekend.
Steps to Renting a House for your Bachelorette Party
Step 1:
The first step would be picking the location where you want to have your bachelorette party.  Choosing a place like Las Vegas or New York, you would probaly want to go with the hotel option, as it's going to be very difficult to find a house that can fit a large group and be near all the action.  If however you are choosing a destination like Miami Beach, Palm Springs, or Charleston, you should definitely look into renting a house.
Step 2:
Now that you have the destination selected, the best website to use in finding your dream home for the weekend is Airbnb.  This is one of the largest websites for finding a vacation home to rent on a short-term basis (also the most user friendly in our opinion).  Airbnb also includes an amazing rental guarantee, so that you can be sure if there is anything wrong with the house you rented, they will find you a place of equal or greater value for the same rate.  (even put you up in hotel rooms if required)
Airbnb:
When searching airbnb for your bachelorette party rental, you want to make sure you select the location, exact dates,  total number of guests, and "entire place" in the search options.  With airbnb they also offer single bedrooms, so you want to make sure you select the option for renting an entire house.  Once you see the search results, we recommend you start with a higher price range at first and work your way down to a lower amount.  Reason being, usually the larger houses with the most amenities will cost the most.  If you have a larger group that will also cut down the cost per woman to a very reasonable amount.
Sign up for Airbnb (it's free) with our affiliate link and get $40.00 off your first booked trip.
Once you find a house you like, make sure you read all the reviews first.  If the user is considered a "super host", then you are in good shape, as they come very well recommended and have booked their house many times.
make sure you select "entire place"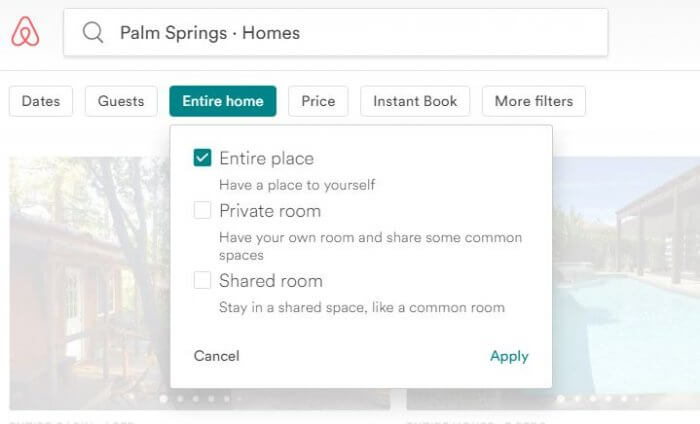 choose the higher end of the pricing scale for the nicest houses with most ammenities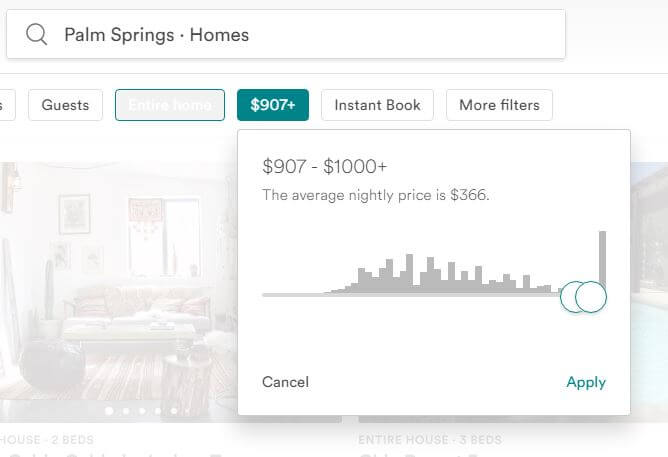 Look for good "reviews" from other travelers and check for "super host" status.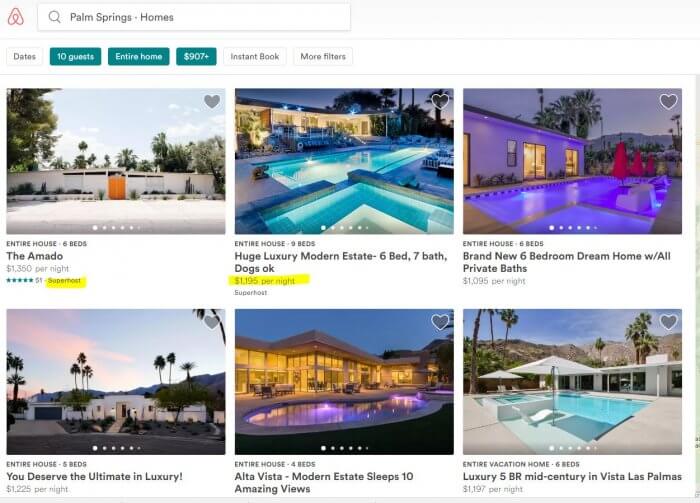 Now that you found the perfect home for your bachelorette party, the next step is securing the location.  Airbnb is a very popular website and high quality properties do not stay on the website for long.  If it's a holiday weekend or special event in your location, expect the prices to be a little higher and availability to be less than normal (unless you book 12+ months in advance).  Use any major credit card and lock down the rental as soon as possible.  You can not split payments but you can put the entire amount on one card (and get the reward points), then have each of your friends venmo you the money owed.
If you would rather list your entire house or room for bachelorette parties to rent, signup with Airbnb.com and get your house/apartment/single room/boat/cottage/RV listed.
Now that you know where to book and how to book a rental house / villa/ apartment for your bachelorette party, check out our list of the best rentals.
Best Rental Houses for Bachelorette Party
Austin, Texas
If you are into good live music, amazing food, and craft cocktails, you probably have discussed a bachelorette party in Austin, Texas.  There are plenty of houses to rent which are close to all the action.  Check out the ones we hand picked below.
If money's no object or you won big on a scratch-off lottery ticket, you definitely need to rent Stepping Rock Private Retreat.  This house is absolutely amazing and will make your girlfriends feel like they are royalty.  It features 7 bedrooms, 5 1/2 bathrooms, 18 beds, and can accommodate up to 21 guests (some will have to sleep on a couch or pull-out).  The property has an amazing pool / jacuzzi an outdoor kitchen and entertainment area (with flat screen tv), and a fire pit in case it gets chilly one night.  However, you will be about 11-miles away from downtown, which could run about $20 per way in Uber.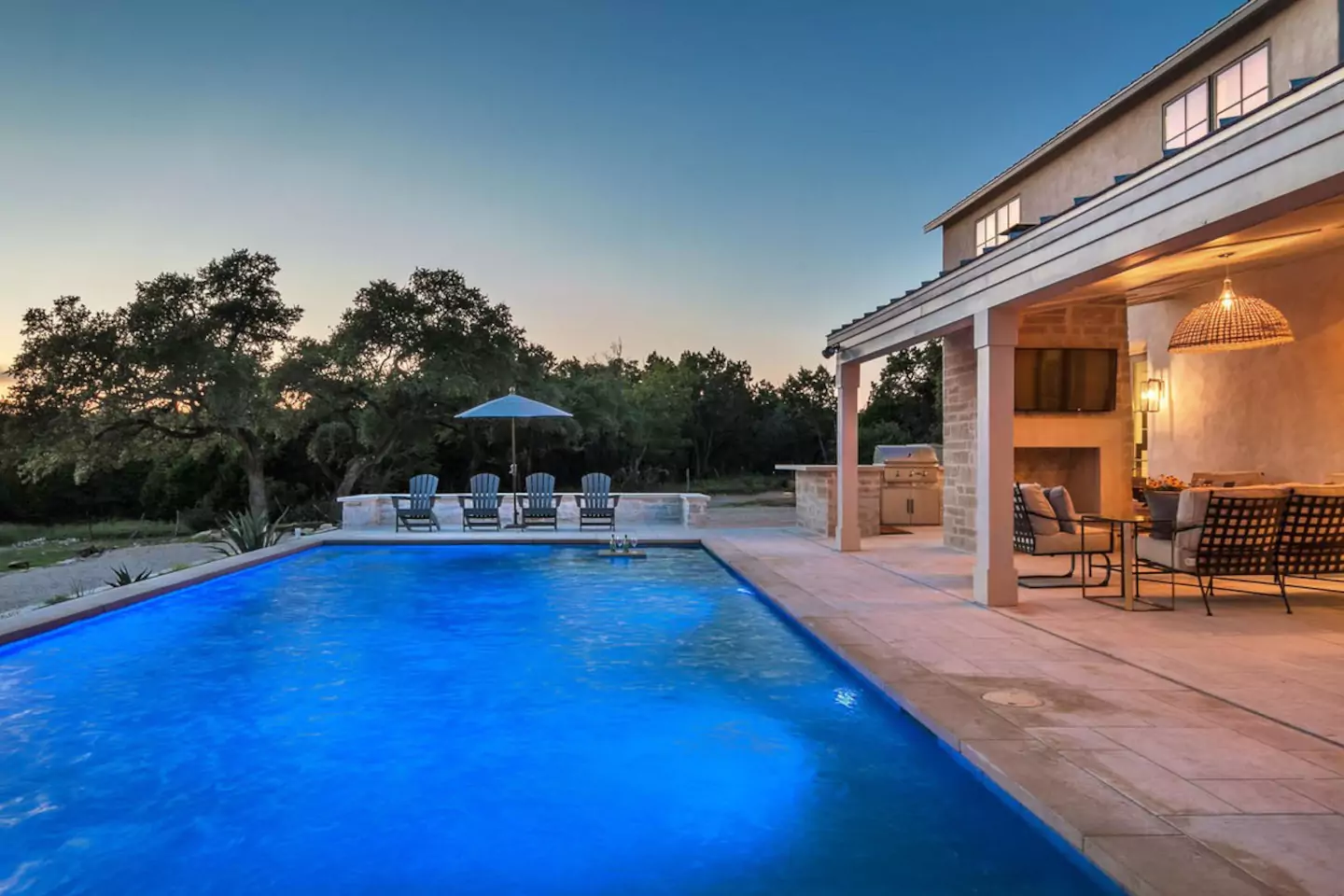 If you decided to not spend all your money on a house and would rather have some left over for drinking wine or eating cheese, you should check out this 6-bedroom home w/guesthouse and pool.  This 4,000 sq feet home features 6 bedrooms with 4 bathrooms, 13 beds, and can sleep up to 16 adults.  The best part about this property is you are a 2 minute walk to all the restaurants and bars on east 6th street.  This means you can stumble home after a night of switching from pinot to fireball.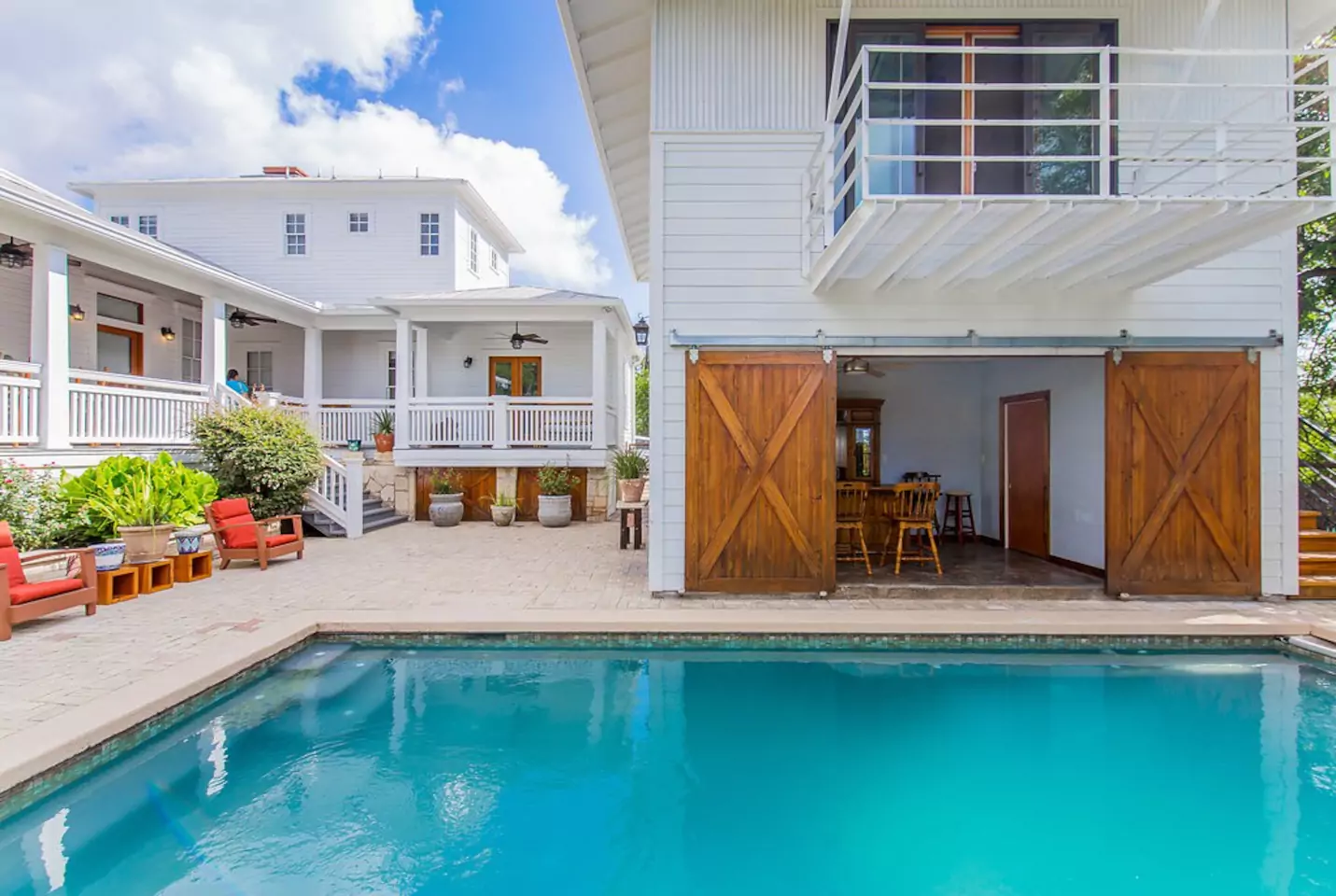 Palm Springs, California
If you decided to head to the Palm Springs desert for your bachelorette party, make sure you check out these rental houses.
This huge (4600 sq feet) modern estate features 6 bedrooms, 7 bathrooms, 9 beds, and can accommodate up to 12 guests.  It is even pet friendly if you decide you want to bring your chihuahua.  The house also includes a pool, hot tub, fire pit, outdoor kitchen and bar!  Normal pricing for this perfect home is $1195.00 per night or $119.50 per lady per night. (assuming there are 10 in your party)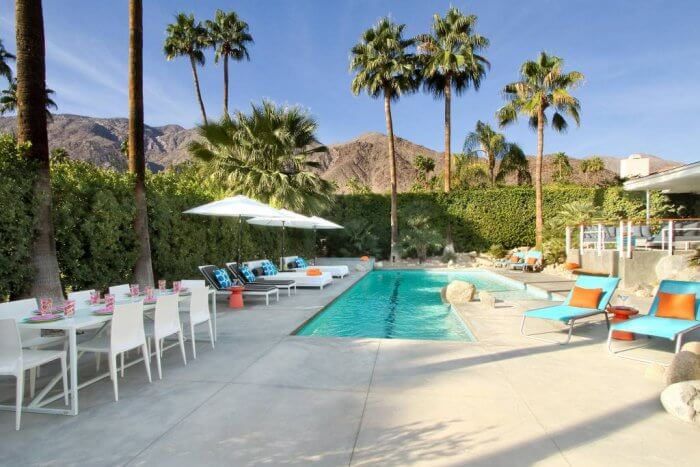 This brand new (built in 2017) 6 bedroom 7 bath home is the perfect place to spend the day drinking with the ladies, discussing the wedding planning, or even talking about old ex-boyfriends.  The house can sleep up to 12 guests and has enough bathrooms so everyone in your party can have a place to spends hours getting ready.  It features a 40×20 foot pool nestled into a 10,000 sqaure foot gated private resort home.  One of the highlights of this home is the fact that the backdrop is the San Jacinto mountains.  Expect to pay roughly $1095 per night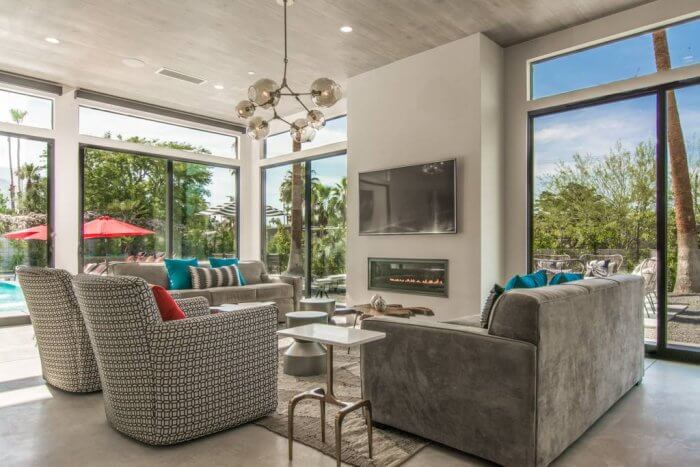 Nashville, Tennessee
If you opted for some honky tonk for the big weekend, don't plan a bachelorette party in Nashville, without checking out these rental houses first.
This 3600 square feet 3-level townhouse in Nashville, features 4 bedrooms, 3.5 baths, 9 beds, and can sleep up to 16 women.  It is located in the perfect spot, sandwiched between Music Row and the Gulch.  If you decide to come to Nashville during the colder months, this townhouse has 2 fireplaces to keep you warm (and to make s'mores).  The first floor is a screened in patio and the third floor is a deck for viewing the city.  Expect to pay $1008 per night, or about $101.00 per lady per night.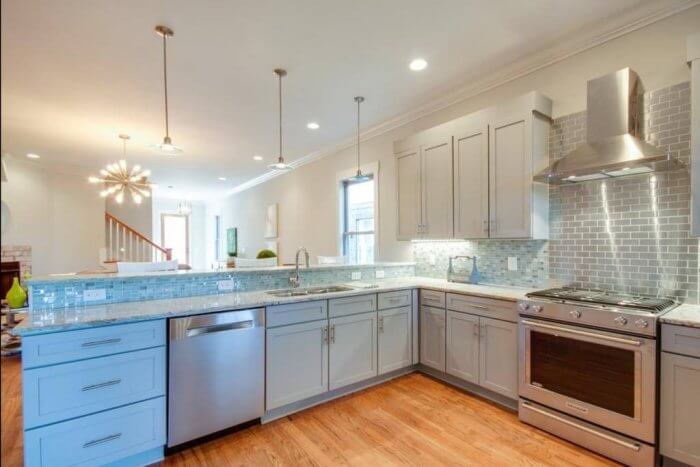 If your budget for board is a little higher, there is no reason why you should not look into this Music City Mansion.  It features 10 bedrooms, 13 beds, 8 bathrooms, and can sleep up to 27 adults.  With this type of space you can invite all your childhood, college, and work, girlfriends.  This vintage house is located near the best music venues and restaurants in Nashville.  There is no pool or jacuzzi at this residence, which means most of your drinking will be done downtown or on a pedal cycle.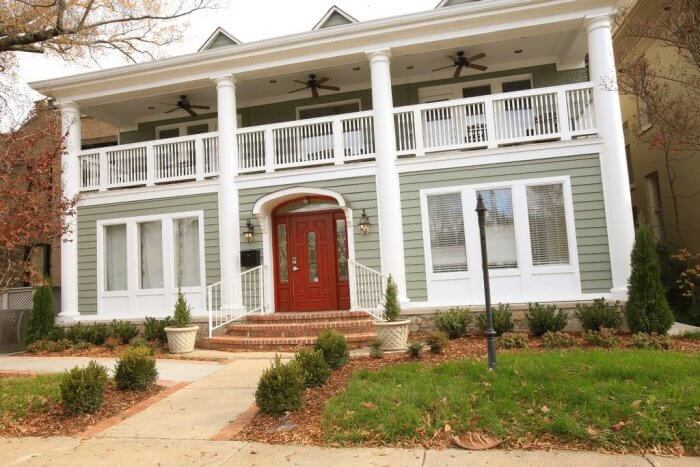 Miami Beach, Florida
You made your decision.  You are heading to Miami Beach for your bachelorette party!  Before you decide to book an expensive room at the Fontainblu, look at these amazing rental houses located near all the hot restaurants, nightclubs, and after-hour spots.
This Tropical Oasis Estate is the perfect place.  It features 4 bedrooms, 3 bathrooms, 5 beds, and can sleep up to 10 adults.  It has a pool and jacuzzi for either pregaming, late night drinking, or nursing that horrible hangover.  The best part about this house is its close to all the daytime and nighttime activities Miami Beach has to offer.  It also comes at a very good rate of $450.00 per night, which would be $45 per person per night (assuming 10 ladies can attend).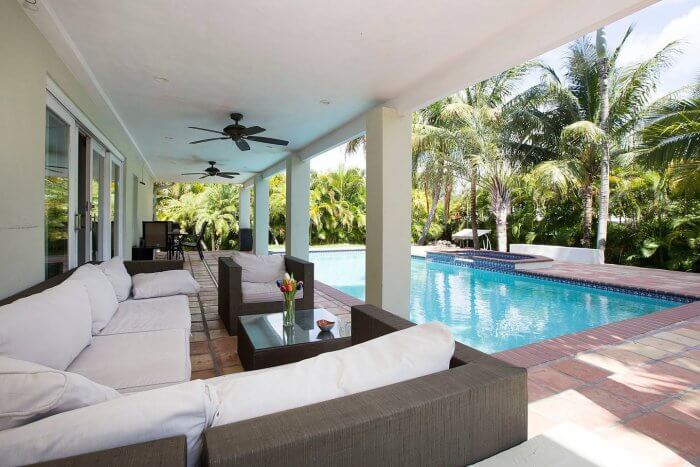 If you run a successful fashion blog and have more money to spend on a house, we recommend renting this amazing Luxury Villa in Miami Beach. This two floor villa features 5 bedrooms, 5 bathrooms, 6 beds, and can sleep 12.  It also has a large pool, jacuzzi, and outdoor kitchen / dining room for absorbing the alcohol (chef is an additional cost).  This house even has marble radiant floors, which is why it will set you back around $1300 per night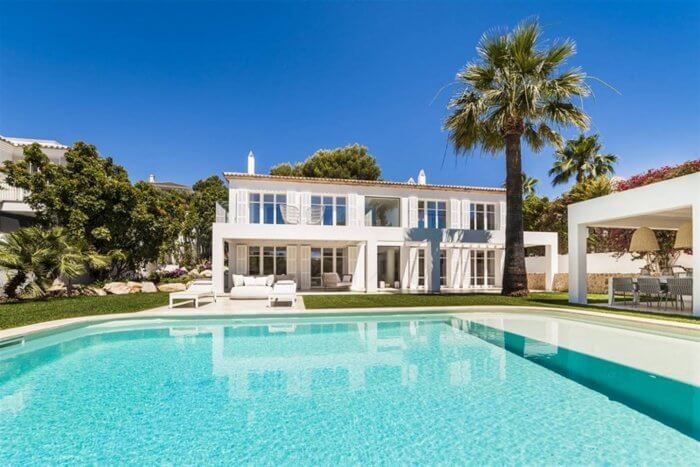 Conclusion
So after reading this article you should now know how to correctly search for a rental home in your bachelor party destination.  To get things started you should sign up for a free account on Airbnb.com (and also get $40 off your first trip!) to begin your search.  In addition, you should know what to look for when viewing the available listings (other traveler's feedback, super host status).  Finally, we provided you with a list of some of the best rental homes in the best bachelorette party destinations, to help make your life even easier.
If you think this article would help a friend, please share!