Bachelor Parties: History and How They Have Modernized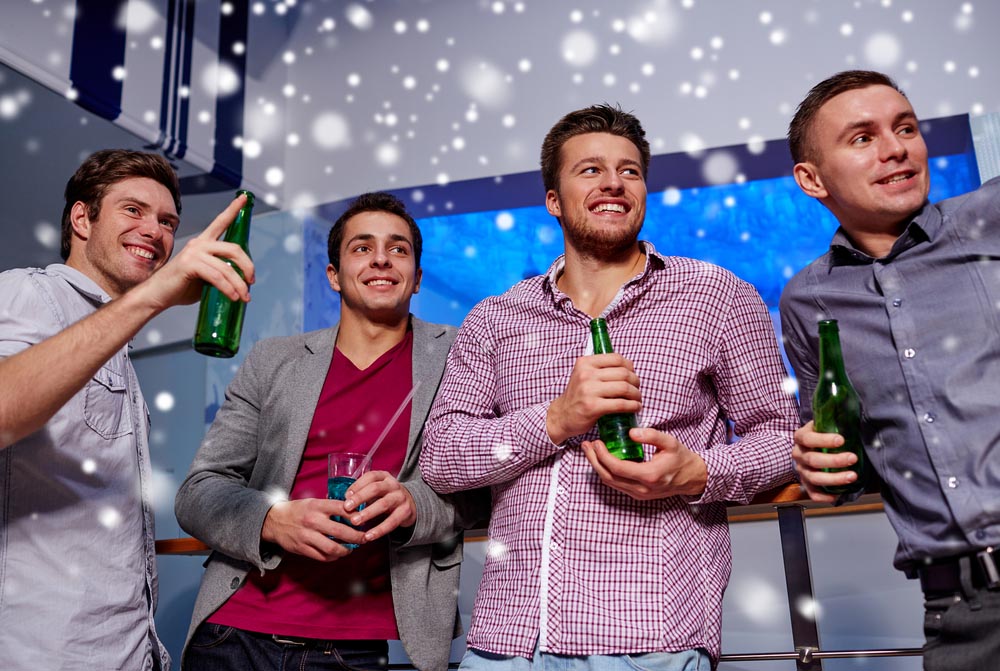 This post may contains references to products from one or more of our advertisers. We may receive compensation when you click on links to those products or services. Please also consider
donating to our website.
Bacchanalia, booze, boobs, bad choices and more booze and boobs – all of the "big B" hallmarks of a traditional bachelor party. While many grooms-to-be still host these types of traditional events, also known as "stag parties," there is a growing trend for bachelor parties to include other types of activities such as kayaking, rock climbing and even skydiving. If price isn't an object, a number of domestic and foreign resorts offer specialized package deals for bachelor parties that include these and numerous other activities depending on your personal preferences. Indeed, even budget-conscious bachelors or their buddies can throw a memorable and meaningful party if they know the ropes and spend some time planning.
To this end, this article to modern bachelor parties provides everything you need to know about planning and hosting a perfect bachelor party, one that you and your friends will never forget. Learning this stuff now is important because bachelor parties are an inevitable part of modern male life. As Bornstein and Romaniello (2014) emphasize, "Depending on the kind of guy you are, the standard-issue, Hangover-esque send-off is an event to be either revered or reviled. But regardless of your feelings about stag parties, you can't avoid them. At some point in your life, you will attend, plan, or be thrown a bachelor party. And when done right, it's awesome" (p. 3). In order to create an "awesome" party, though, you need to know the basics, including the best time to schedule a bachelor party, what types of events and activities are available and what they cost, and how to plan a guest list and invite your guests. In addition, it is also important to know why men have bachelor parties in the first place and a brief history is provided below.
Brief History
When men attend a bachelor party today, they are following a tradition that was established by the ancient Spartans that dates back more than three-and-a-half centuries. Although Spartans frequently died young due to the rigors and dangers of their military training and lifestyle, they did not become full-fledged warriors until they reached 30 years old and they were required to continue to serve on active duty until they reached age 60 years. It is little wonder, then, that young Spartans as far back as 500 BCE would seize every opportunity to party hearty and this opportunism accounts for the origins of the bachelor parties we know today. For instance, according to Bekiempis (2014), "Bachelor parties date back to 500 B.C. — Spartans would wine and dine grooms-to-be either in celebration or lamentation of their last night of singledom" (p. 37). In fact, even the etymology of "bachelor" shows that is originally meant a "young, unmarried man" and it is this definition that is used today, drawing on the tradition established by the ancient Spartans.
Although the traditional "big Bs" bachelor party remain popular among many grooms-to-be today, there a numerous alternatives available that can include any or all of the "big Bs" of course, but also some other adventure-packed and even fun-but-educational activities that will spice up any male gathering. In this regard, Drillinger and Fox (2013) point out that, "The fact is, while bachelor parties often descend into reckless, regrettable debauchery, they possess the potential to be once-in-a-lifetime adventures that can actually become positive, educational, and unforgettable experiences in a guy's life — while at the same time being totally badass and verboten in their own way" (p. 21). Because the type of events and activities that will be featured at a bachelor party will affect its timing, it is important to decide what you and your guests want to do as discussed below.
Specific Activities and Events 
In the past, bachelor parties were typically held in local bars, fraternal organization halls or just the best man's basement, but times have changed. Although commercial airlines are not especially bachelor-party friendly, a veritable smorgasbord of activities and events that are specifically tailored for bachelor party celebrations are available in the U.S. and nearby foreign venues so be sure to take some time to decide what would be best for your personal preferences and your guests' tastes.
Bachelor party activities run the entire gamut from the relatively tame-but-classy steak and lobster dinner at a fine local restaurant, a gambling junket at some nearby casinos or a visit to a cigar bar to the more extreme such as driving a real race car, skydiving, white-water rafting, driving a 5-ton Russian T-55 Main Battle Tank and firing its cannons and machine guns to shred cars into pieces and many other adrenaline-pumping, testosterone-fueled options. 
These and other types of activities, of course, can be combined in countless ways with the "big Bs" of bachelor parties, but many men today are opting for less titillating alternatives out of respect for their brides-to-be as well as changes in social views concerning acceptable behaviors at bachelor parties and the increased dangers of sexually transmitted diseases (Drillinger & Fox, 2014). Nevertheless, for those who want to have "one last fling" before they tie the marital knot, there are plush island resorts in Cabo San Lucas, for example, that specialize in providing the entire spectrum of soft and "hard" adventures, and many charter cruise ship lines offer pole and lap dance cruises specifically for bachelor parties.
Besides strictly "fun" activities, there are also numerous bachelor party-themed adventure tours that include an educational component. You and your friends can visit ancient pyramids in Mexico and Central America, or an exotic trip to Peru where hikers can take the Inca Trail all the way to Machu Picchu. Have you ever wanted to participate in an archaeological dig, prospect for diamonds (that you get to keep of course), or experience weightlessness? These and an infinite number of other activities are also readily available, and creating unique experiences is just a matter of giving the issue some thought.
If you want to keep things local, check with travel agents in your area that specialize in planning and scheduling arrangements for bachelor parties. Tell them what types of activities you would like to be included and see what's available. Even if you don't end up using a travel agent, they can probably give you some good ideas where to start looking in your area and what bachelor party activities might be appropriate for you and your guests. Similarly, there are a number of larger international travel agencies that specialize in all-inclusive bachelor parties, and these can provide you with the most recent information concerning special packages and discounts that can help you fine-tune the scheduling and travel arrangements, an especially important factor when some (or all) of your guests live out of town. Some U.S. and nearby foreign destinations that are especially popular for bachelor parties include those described below.
U.S. Destinations
Las Vegas. Let's face it – "Sin City" offers everything a bachelor party needs to be successful, including the alcohol-fueled, "Hangover style," chickens-in-the-hotel-suite-when-you-wake-up version. Moreover, although prostitution is illegal in Las Vegas, there are 19 legal brothels in Nevada located nearby where the sex workers are licensed and regularly examined. Conversely, the "Entertainment Capital of the World" also offers numerous opportunities for you and your friends to participate in one-in-a-lifetime activities that will make any bachelor party stand out from the crowd such as race driving and indoor skydiving.
Moreover, a number of swank Las Vegas hotel-casinos offer complete bachelor packages. For example, Caesars Palace features a five-room bachelor party package that includes VIP access to a personal concierge who will arrange fine dining experiences at the hotel's VooDoo Steakhouse, great seating at any of hotel's lavish shows, and bottle service at the Pussycat Dolls Burlesque Saloon or Gallery Nightclub. In addition, Caesars features a world-class spa that will get you and your buddies looking their best for the big day.
Likewise, the Venetian offers "The Ultimate Guys Getaway Package" that includes a 2-night say in a suite, complimentary admission to Lavo, and credits for food and beverages at Lagasse's Stadium. Similarly, the Cosmopolitan offers bachelor party packages that include royal treatment at the Sahra Spa & Hammam in the Sahara Suite, which features a living and entertaining area that boasts private spa accommodations, a steam room, whirlpools, showers, and changing rooms. In addition, bachelor party guests can receive a massage and other spa treatments so they look and feel their best when the big day arrives.
New Orleans. While the "Big Easy" may seem like a dubious destination for bachelor parties after the devastation wrought by Hurricane Katrina in August 2005, New Orleans is back – and it's ready to rock your world. Besides world-class food, entertainment, and historic districts, New Orleans also offers a number of activities that will make any bachelor party a success. For example, NOLA Motorsports Park features road and drag racing in real race cars for a heart-thumping experience. If you and your friends are in the mood for some history mixed with a pub crawl, The New Orleans Cocktail Walking Tour features visits to some of the city's most popular bars and restaurants where guests sample some of the local nightlife offerings as well as the role of the cocktail in the city's history.
If "crawling" doesn't appeal to you and your guests, New Orleans even offers bachelor party bus rentals from Luxe Limousines that seat up to 26 people. The party buses at Luxe Limousines feature AM/FM/CD radio, neon lights, tinted windows, wood floors, leather wrap around seating, beverage centers, IPOD and MP3 connection, and even a dance pole. If you can time your party right, you and your guests can attend Mardi Gras (February 13 in 2018) or the Jazz Fest which is held in the first weekend in May as well as the Essence Fest (June 29, 2017) and the French Market Creole Tomato Fest (every June 11).
If you and your guests want something even more exotic, there are several foreign destinations available that are nearby by air, including those described below.
Foreign Destinations
In the Caribbean, cities such as Jamaica, St. Lucia, Antigua, Nevis, Turks & Caicos as well as the Bahamas are perfect for bachelor parties since they are nearby by air and offer the entire range of soft and hard adventure activities (Drillinger & Fox, 2013). In addition, as an unincorporated territory of the United States, Puerto Rico does not require passports from U.S. citizens, offers the combined advantages of using American currency and English as well as close proximity to the U.S. mainland. There are several hotel-resorts in Puerto Rico in general and San Juan (the capital) in particular that are bachelor-party friendly, including Hilton's El San Juan Hotel & Casino and the Condado Plaza Hilton Casino.
Besides the Caribbean, Mexico also offers a number of popular destinations for bachelor parties. In fact, if you look up "bachelor party" in the dictionary, it will likely feature a picture of Mexico's Cabo San Lucas which is famous for being party central for the soon-to-be-wed American male. There is a dizzying array of choices available in "Cabo" for bachelor parties, and it is possible to get very creative in arranging for various exciting activities (including the "big Bs) that will make any gathering a one-of-a-kind event. For instance, Pueblo Bonito Sunset Beach offers package deals that are appropriate for bachelor parties, and there a numerous hotel-resorts nearby that also specialize in bachelor party celebrations.
If money is an issue, world-class bachelor parties can still be hosted locally in bars or hotel suites. As noted above, check with your travel agent for local offerings that might be appropriate for a bachelor party. Once you've decided on what types of activities you'd like included in your bachelor party, the next step is to decide when to throw the bash as discussed below.
Timing Your Bachelor Party
Timing a bachelor party depends on a number of factors, but a good rule of thumb is the more advance notice that attendees receive the better. You might want to check with a few of your friends who will be invited to see if they have any scheduling conflicts you should avoid. Try to give everyone at least one month's advance notice at any rate, or even longer if guests live out of state, and shoot for a 3-day weekend if possible at least one week before the wedding to allow everyone time to recuperate from the festivities.
Everyone's seen videos on television of grooms passing out or puking on the bride's shoes at the altar, so it is clear that the night before the wedding is not a good time for a drunken or otherwise energy-depleting bachelor party.
Tips for Creating a Memorable Bachelor Party
Wherever you go and whatever you do for your bachelor party, the most important thing to keep in mind is to deliver your guests back home safe and sound (if somewhat worse for the wear otherwise). If you and your friends plan on drinking or doing drugs during your bachelor party, be sure to arrange for a designated driver or, if no one wants to assume this responsibility (a distinct possibility), arrange for a chauffeured limousine or taxis.
It is also important to note that the costs of the bachelor party should be shared equally among the guests but the groom should not be required to pay unless he insists.
Also, be sure to tell your guests to bring their cell phones with cameras or other video recording equipment to memorialize the event. A free and useful app that works with Android and IOS is Wedpics which offers unlimited photo storage space for bachelor parties so your guests can upload their photographs to a central repository where they can be edited and compiled into a montage of memorable episodes that can be recorded on a DVD and easily distributed to bachelor party guests (Sweeney, 2014).
Conclusion
While the bachelor party tradition dates to antiquity, it's the 21st century and the "stag party" of yesteryear that featured little more than raunch and booze has gone out of style. Today, the world is the best man's oyster when it comes to planning for and hosting a spectacular bachelor party. Even those of modest means can throw a bachelor party that will be a memorable event provided they take into account the issues described above and focus on providing the groom a good time.