Things to Pack for a Bachelorette Party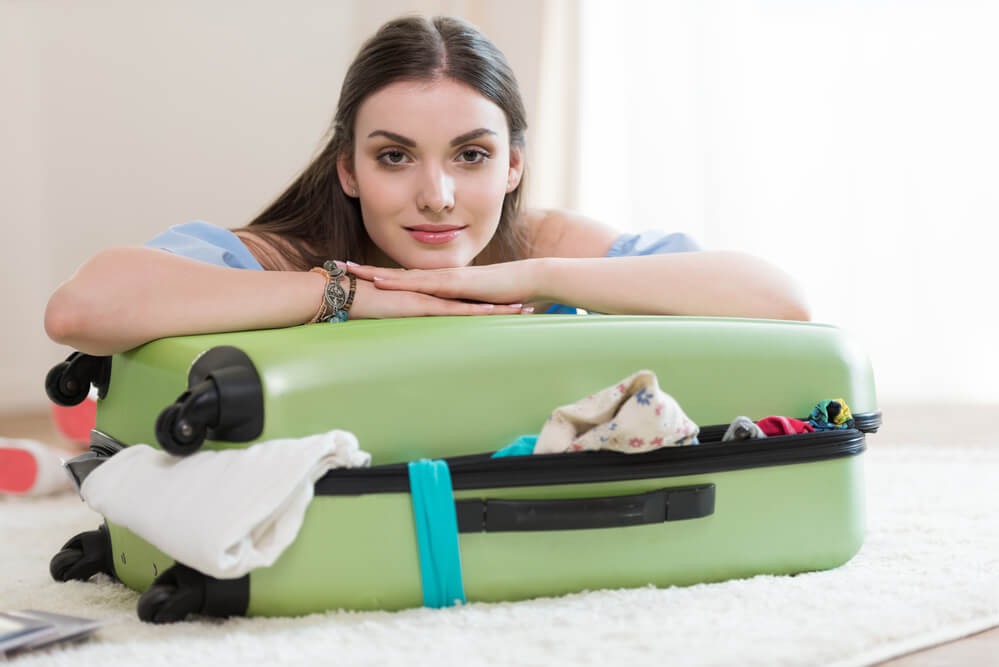 This post may contains references to products from one or more of our advertisers. We may receive compensation when you click on links to those products or services. Please also consider
donating to our website.
Only a few weeks to go before you head to the airport for your friends unforgettable weekend.  You pulled out the suitcase and starting organizing things, but you want to make sure you don't forget something.  If you are heading international it could be impossible finding some of your favorite brands abroad, and your amazon prime account won't help much.  To make this task easy we provided you with the best suggestions on what to pack before heading to a bachelorette party weekend.
Things to Pack
Passport
If you are traveling Internationally this is a requirement to leave and return to the United States you are required to carry a passport.  This is also a requirement when you go through customs at your destination country. Now if you are staying in the United States or taking a bachelorette party cruise, you will not need one.  With only a few weeks left before the party begins we hope that you have a passport that is valid.  If you do not, we suggest you read our article on how to expedite a passport for your bachelorette party.
Photo Identification
Yes, a passport will serve as photo identification but why risk bringing it out and losing it if traveling in the United States (it is much easier to get a duplicate license than a duplicate passport).  You will definitely need your driver's license or citizenship card to verify your age.  We even recommend this for traveling abroad as it could never hurt to have two forms of picture identification when traveling to a foreign country.
Credit Cards
You should take with you at least 1-2 different credit cards from different banks.  When traveling to a destination where you do not have a history of charges, there is a good chance your bank will turn off the credit card as a fraud prevention method.  All you need to do is contact your bank and let them know the area you are visiting, verify some attempted charges, and they will turn your credit card back on.  In the event you have a problem reaching them, this is why it's always good to have a backup credit card or even a prepaid credit card.
Money
You should always bring cash with you as you never know what you may encounter.  If your credit card doesn't work or the power goes out cash will work no matter what.  We recommend bringing at least $200 – $300 and break it down into smaller denominations ($1 $5, $10).  You can take care of this right before you go by heading to your local bank.
Comfortable Sneakers
Regarding of where you end up for this amazing trip there will be plenty of walking around.  Whether it's in the airport or around town bar hopping you will be on your feet for extended periods of time.  This is why packing a comfortable pair of sneakers is a no-brainer.  Happy feet will make your trip that much more enjoyable 🙂
Workout Clothes
Yes, this is a party weekend so going to the gym should take a back seat to drinking wine and eating cheese.  However, some bachelorette parties love to stay healthy regardless of the situation.  Whether you decide to take a yoga class in the park or maybe even a pole dancing class, you will need some workout leggings to keep you comfortable.
Advil
With all the drinking that will be happening this weekend there is no doubt you will be waking up with a headache one morning.  Our suggestion is to take three advils with two glasses of water and a slice of bread (or crackers) before going to bed.  If you forget to do that remember to take it the first thing the next morning so you don't end up being a party pooper.  Whatever you do stay away from tylenol as it's not good to take for a hangover
Hangover Kit
Now that we are on the subject of hangovers, it's safe to say you will probably have one, unless you fight it.  The first thing you should do is read our article on bachelorette party hangover kit ideas, so you can see the different options available.  Our favorite of the bunch is Lyteshow, which is a mixture of vitamins, minerals, and electrolytes that your body depletes when drinking alcohol.  If you follow the instructions on the bottle and drink a few glasses of this concoction each day you will most likely avoid brain fog the next morning.  This mixture is very salty and goes best with 8-ounces or more of water.  It also includes a travel size bottle so you can fill it and bring it to the bars with you.
Chapstick
Yes, this might seem odd but there is a reason it made our list.  Changes in temperature and environment (such as traveling in a plane that is pressurized) are all reasons your lips can become chapped.  Add dehydration to the mix from drinking alcohol and you can see how important it will be to carry some chapstick with you wherever you go.
Phone Card
If you are traveling in the U.S. this will not be needed as virtually all cell phone companies all unlimited calling with the borders.  However, if you are traveling abroad you may not have an International calling / texting plan.  If you do you can disregard this item, but if you don't it makes complete sense to pick up an International calling card for the group so if anyone needs to make important calls they can do so.
Memory Stick
There is going to be a lot of pictures and video taken.  If you have an android it's easy to add a new memory card or expand an older one.  All you need to do is pickup a micro sd card and replace the one currently in your phone (store the one you take it for safe keeping).  For the iphone users who are unable to add memory to their phone, you can move all of your older pictures and videos to your computer or the apple icloud and free up some space for these memorable moments.
Evening Dress
At least one of the nights of the bachelorette party should be a fancy dinner with the ladies.  If so, you will definitely want to pack a few evening dresses so you can look your best when out.  Remember to pick up some fabric wrinkle release before you go just incase you do not have access to an iron or steamer.
Warm Weather
If your destination will be in warm weather such as Cancun or Miami Beach, there are some additional items you will want to pack to make your trip a success
Bug Spray
Warm destinations always bring out the creepy critters which include mosquitos.  Make sure you purchase some all natural (deet-free) bug spray that will protect you from bites and also any illnesses that these bugs may carry, such as zika virus.  Make sure you apply a coating before you head to the beach and when going out at night.
Bathing Suit
What is the point in choosing some place that is warm unless you plan on showing off some of your amazing bathing suits.  Whether it be a bikini or one piece make sure you include 2-3 different ones so you can have a perfect rotation.  If you don't have any check out the Montce Swimwear Collection as it has become very popular the past few years.
Sun Tan Lotion
The bachelorette party itinerary will always include some fun in the sun when headed to a warm climate.  Make sure you buy some all natural, water resistant, sun tan lotion so that you do not end up burning.  We recommend an application early in the morning before you head to the beach or pool and another application midday, when the sun tends to be it's strongest.
Cold Weather
Hats / Gloves
If you decided to ditch the beach and head to the slopes for your bachelorette party, you will definitely want to pack a hat and pair of gloves.  These will keep you warm while battling nature's elements.  If you don't want to spend top dollar on designer accessories, you can always head to Marshalls or TJ Maxx and find some amazing sets which are reasonably priced.
Pocket Warmers
Another important item if you decide to go skiing, tubing, or even for just walking around in cold weather.  Pocket warmers can be placed in your gloves, boots, or even your hat.  They will release heat for up to 4-hours.  Make sure you purchase a bunch of these as they will come in handy.
Conclusion
We hope after reading this article you now have a better idea of things you should pack for an upcoming bachelorette party.  Obviously the location you select will have a lot to do with some of the items you purchase.  For instance if you are heading to New Orleans, you would probably want to purchase some beads to wear around bourbon street (unless you decide to get frisky and flash men for their beads).  Regardless, the items we provided should be a great start to an amazing trip.  Now all you need to do is pull out the suitcase, start packing, and be on your way.
Have any items that we missed and should be included on this list?  Leave them in the comments below or in our forum and we will be sure to add them.