Plan the Spookiest Halloween Bachelorette Party (2023 Guide)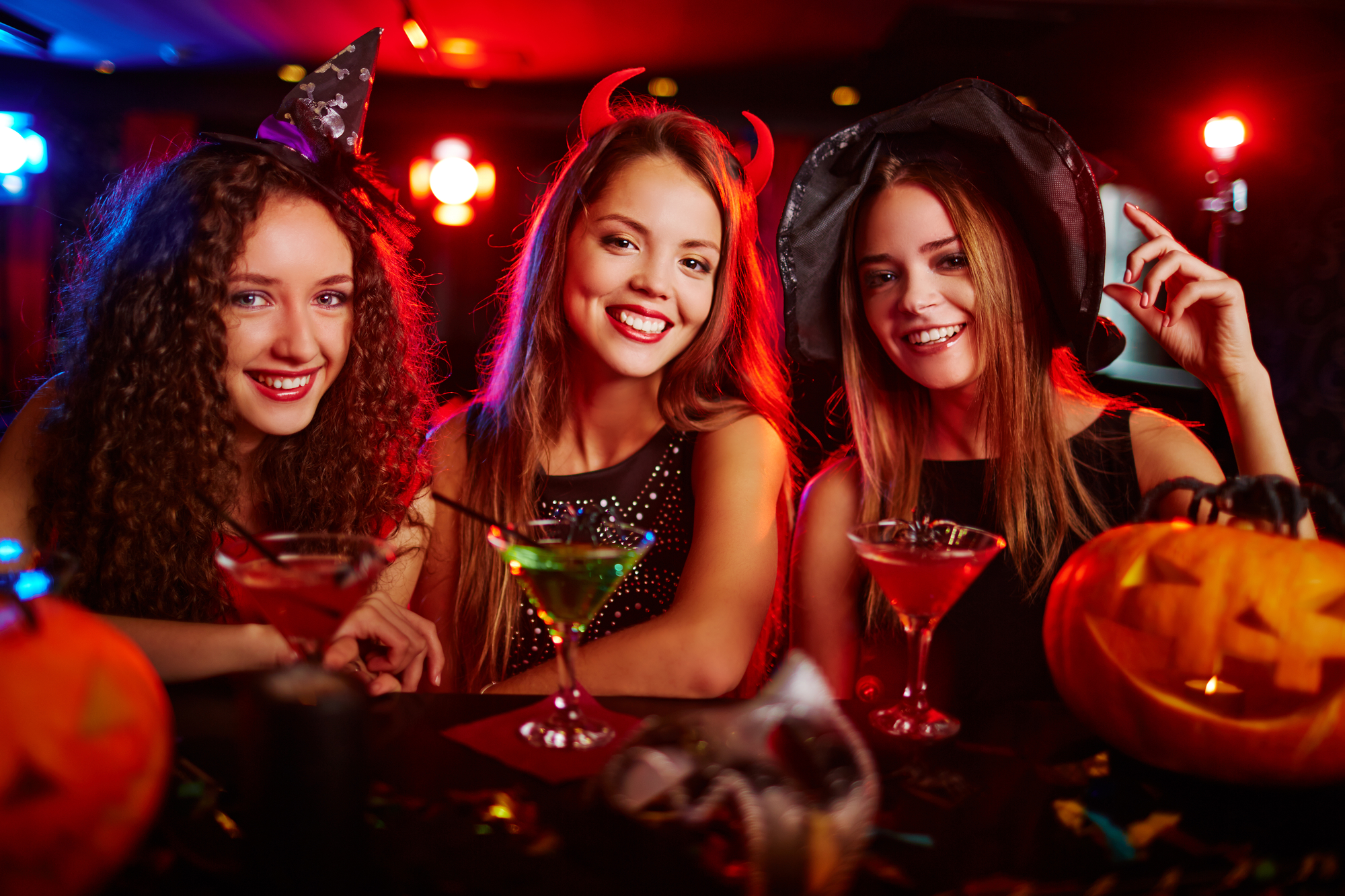 This post may contains references to products from one or more of our advertisers. We may receive compensation when you click on links to those products or services. Please also consider
donating to our website.
Ready to get bach shit crazy?  Of course you are, and Halloween is a great time to throw an over-the-top bachelorette party.  Why are Halloween and bachelorette parties such a perfect combination?  Because Halloween is already a time when people let their hair down, step into a wilder persona, and have a great time.  That is exactly the vibe you want to catch at a bachelorette party.  Of course, the Halloween bachelorette party is not for everyone.  While is it hard for us to imagine, not everyone loves the spook fest that is October 31st, while some of us begin celebrating it sometime in the end of September.  Like any specifically themed bachelorette party, it is critical to know your bride and what she loves.  If that list includes witches, ghosts, goblins, candy, and some debauchery, then bring on the 'Ween. 
Are Halloween Bachelorette Parties a Thing?  
Not that long ago, if you were talking about throwing a Halloween themed bachelorette party, then you would probably be talking about a particular subset of people.  However, the appeal of Halloween has really spread beyond the goth group that originally embraced this fun and fantastic holiday.  In addition to the old-fashioned fun and revelry associated with dressing up in costumes, people have really begun to embrace the fantastic art, whimsy, and even the hints of darkness associated with the holiday.  Whether you want to embrace full-on horror or some lighter elements of fantasy, a Halloween bachelorette party is a great way to celebrate.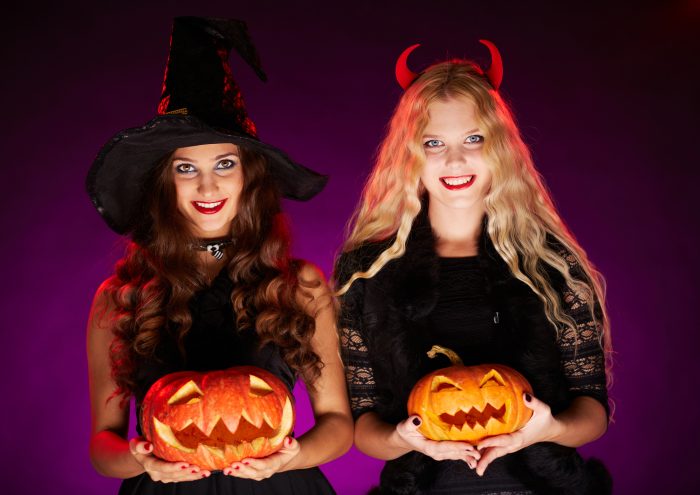 Dos and Don'ts of Halloween Bachelorette Parties
While Halloween parties are great, and Halloween bachelorette parties are even better, there are some pitfalls to look out for when you are planning a Halloween bachelorette party. 
Do make it clear whether the party is a costume party.  One of the big questions that surrounds any Halloween bachelorette party is whether or not it is going to be a costume bash.  So, make sure you make that clear on your invitations, so that no one is surprised.
Do choose between cutesy and creepy.  Halloween decorations tend to go two ways- cutesy and creepy.  Both have their appeal.  However, when jumbled together they can look a little disjointed.  That is why we suggest you pick one or the other and stick with it.
Don't just attend a Halloween event and call it the bachelorette party.  We know there are tons of fabulous Halloween parties and events that you can attend.  Maybe they should even be part of your bachelorette party plans.  However, the bride is special and this is a special day for her.  Make sure it stands out from a typical Halloween party.
Do remember that people are not always themselves on Halloween.  Halloween is the one time of year that people are actually expected to ditch their everyday personas.  So, when you are planning the bachelorette party, you want to expect the unexpected.  To put it bluntly, think about the worst behavior you have ever seen from people on your guest list.  Prepare for it. 
Don't think a Halloween bachelorette party has to be ghouls only.  There is a lot to be said for the coed bachelorette party, and not all of it is positive.  However, Halloween bachelorette parties lend themselves nicely to a coed theme or even to a shared bachelor/bachelorette party. 
Set the Scene with Halloween-themed Invitations
You can find so many adorable Halloween bachelorette party invitations that there is really no excuse to stick with plain bachelorette invites for this party.  You can find lots of different themes, which can really help you set the tone for the rest of the party.  Just remember, include all the details that your guests need on the invitations, especially whether or not the event is costumed!  
Invite all your witches to drink up, with these adorable Drink Up, Witches invitations: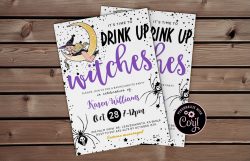 Let your girls know they will be getting their freak on with the editable invites: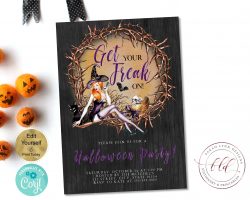 If you are going spooky, the Ouija board invites help set the mood: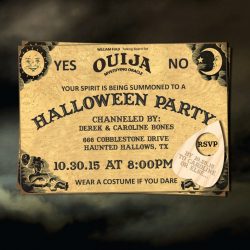 These bridal party itinerary cocktail invites are already customized for Halloween, and give you the chance to describe the entire night's events: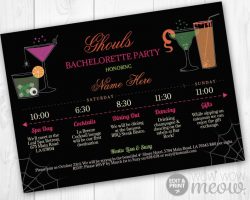 These costumes and cocktails invitations make it very clear that it is a costumed event, are downloadable, and customizable: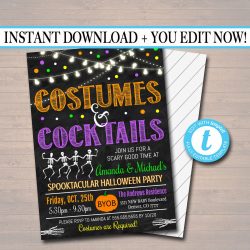 Themes
If you are not prepared to go all out on decorations and really set a Halloween theme into motion, then we are going to encourage you to reconsider your theme.  One of the great things about a Halloween bachelorette party is that you can, and should, go totally over the top with the theme of the night.  This means decorating to your hearts content.  Remember, we told you that you are going to want to have a cohesive underlying atmosphere to the party- cutesy or creepy.  Other than that, feel free to go absolutely overboard in your choice of Halloween décor.  You may even be surprised to find out that there are decorations out there that are specifically designed for the Halloween bachelorette party. 
Here are some of our favorite ways to set the mood:
We love this boos and booze garland a lot.  While it would be perfect for any ghouls' night out Halloween bash, we think it screams bachelorette party:
If you are going with gory, then you need some bloody knives hanging around.  They are a bit of a scary movie staple: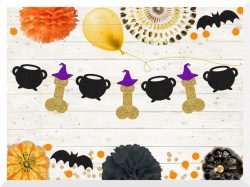 These skull scatters are actually one of the few décor items that we think compliments creepy and cutesy equally well:
This bachelorette Halloween confetti features penis shaped confetti in traditional Halloween colors, as well as some clearly tipsy girl ghosts: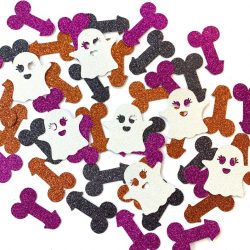 Bet you didn't even know you could find customized Halloween penis garland, but we told you that there is a whole market out there full of Halloween bachelorette party gear: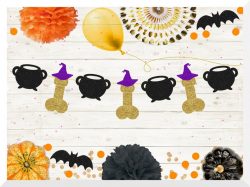 This customizable boochelorette sign might be the cutest cutesy Halloween bachelorette party decoration we have ever seen: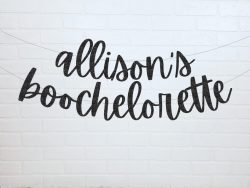 Top the bachelorette party cake with a decoration that lets people know the witch is getting hitched: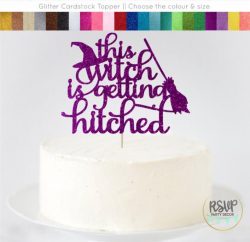 We love the addition of balloons if you are going with a cutesy theme: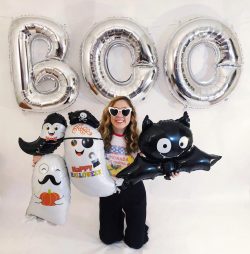 Destinations
You can throw an awesome Halloween party just about anywhere.  Because of the widespread availability of affordable Halloween decorations, it really is possible to create the Halloween atmosphere you want to create just about anywhere.  However, there are some places that are known for having an awesome Halloween atmosphere.  You certainly want to keep those places in mind if you are considering having a destination for your party.  Some of them may be local to you, while others might require a trip.
The whole monster movie industry can trace its history to Universal Studios and Universal Theme Parks honor that history by hosting Halloween Horror Nights at their theme parks.  These events are huge, spooky, and tons of fun.  If you are thinking of a Halloween destination party, they are a great option.  Of course, they are not the only theme park option for Halloween destinations.  Six Flags has a Fright Fest, which is a bit gorier than Universal's monster themed park party.  The Disney parks also have their own Halloween activities, as well as Halloween themed decorations in the weeks leading up to the big day.  Your local theme parks probably also do some type of Halloween theme, which is something to keep in mind if you love the idea of combining frights with thrills and chills!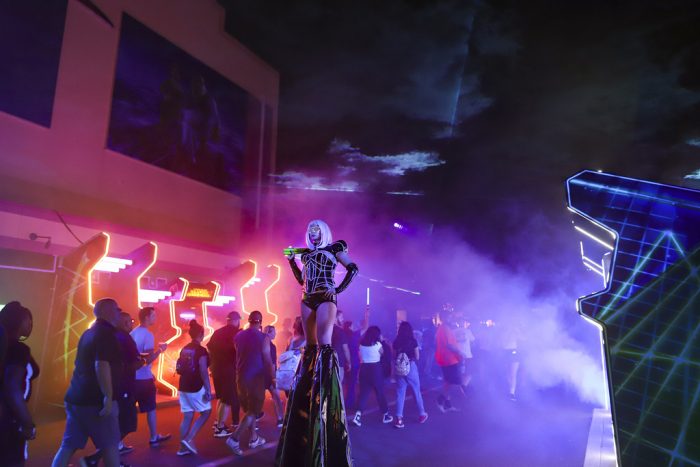 Speaking of local destinations, you cannot ignore the appeal of a great haunted house for a Halloween-themed party.  Depending on where you are located, you may be within a short distance of a great haunted house.  In fact, even if you are not located close to a major metropolitan area, the universal appeal of the haunted house means that you might actually have access to some super high-quality scares pretty much in your own backyard.  Just keep in mind that you might not just be looking for haunted houses, but need to expand your search to haunted forests, haunted cornfields, and other locations. 
The best haunted houses in the country change from year-to-year, and you might be surprised to find that some of the most chilling haunts are actually local.  However, if you want a good place to start looking for some great haunted houses, then you can check out lists of the best haunted houses from last year.  Travel and Leisure put together a list of the 25 Scariest Haunted Houses of 2018.  You will notice that some areas are known for haunted houses, so you might want to put together a list of your top three or four haunts in an area and stay there.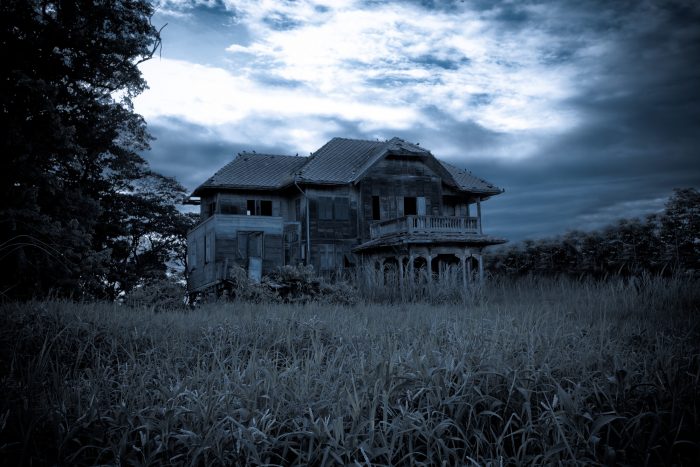 Of course, the ultimate Halloween destination is not a spookhouse haunted house, but an actual haunted location. If you are into real-life thrills and chills, and you have plenty of time to plan ahead, then you might want to plan your Halloween bachelorette party at a location that is said to be really haunted.  Travel Channel put together a list of the top 10 haunted hotels in America.  Some of them are open for overnight guests and will even put you up in one of their notoriously haunted rooms.  Others are only open for tours. Either way, they can put a seriously spooky spin on your destination Halloween bachelorette bash!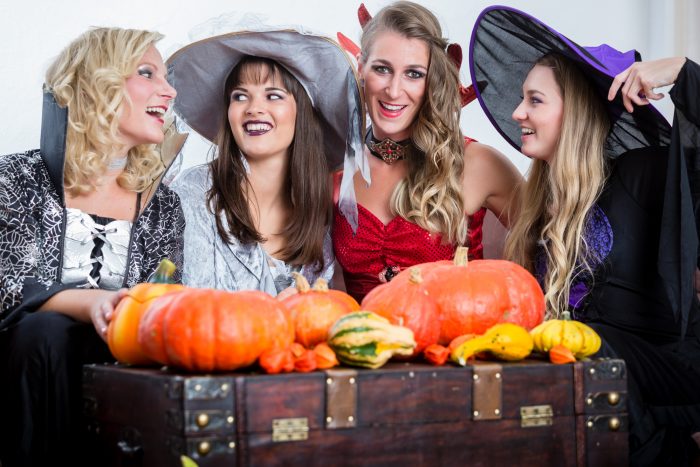 Costumes
We think we have been pretty upfront about our love of all things Halloween, including the costumes.  Probably the very best thing about Halloween is that you can dress up and be anything you want to be.  So, if everyone is doing their own thing with their costume choices, the sky is really the limit in terms of costume selection.  However, we think it is a super-cute idea to have themed costumes for the whole group.  If your group is one board, here are some of the top ideas we have for costume themes. 
Switcheroo
This might be our favorite idea.  With the switcheroo theme, everyone in the group dresses like someone you know.  Maybe people draw names and have to dress like someone else at the party, maybe you all dress up like members of the grooms' part of the bridal party, or maybe you go with a little bit of edge and dress up like people you have historically disliked. 
Character Costumes
Does your group have a favorite movie or TV show that you all love?  If so, then character costumes might be the way to go.  For Halloween 2019, Stranger Things is really popular and Hocus Pocus is always a Halloween group costume favorite, but you do not have to feel like you are confined to what is considered hot right now.  We love the idea of the characters from Clueless or even The Princess Bride.  Just keep in mind that some girls will not dress up in costumes unless they can look attractive in them, so you might have to limit your choices. 
Spirit Halloween Character Costumes
Superhero Costumes
Superhero costumes have always been a huge Halloween hit and now, more than ever, superheroes are very hot.  Whether you are a DC fan, a Marvel fan, or love them all, you can find some really neat costume ideas with a superhero theme.  There have been so many great female superhero characters in the past few years, that we might even encourage you to go crazy and mix up your Marvel and DC characters so Wonder Woman and Captain Marvel can both be at the party.  Plus, you might not want to forget the anti-heroes; some of the best ones in the biz are female and, let's face it, Poison Ivy, Catwoman, and Harley Quinn are fun, sexy costumes that are perfect for Halloween.
Spirit Halloween Superhero Costumes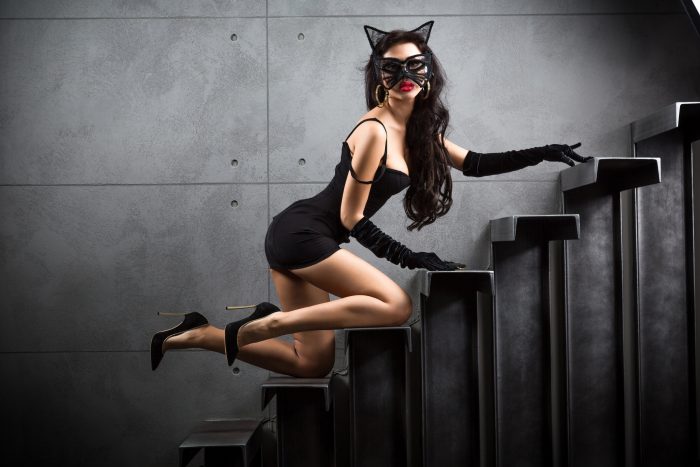 Halloween Classics
You see some costumes year after year.  Fairy tales, circus characters, cowboys, animals, vampires, witches, pirates, ghosts.  Add to this list newer classic costumes like steampunk or aliens and you get a lot of different ideas that are great for groups.  What makes these Halloween classics so group friendly?  We think it is the fact that you can find so many different costumes that fit into the same theme, so you do not have to worry about people duplicating costumes or even fighting about who has the best costume.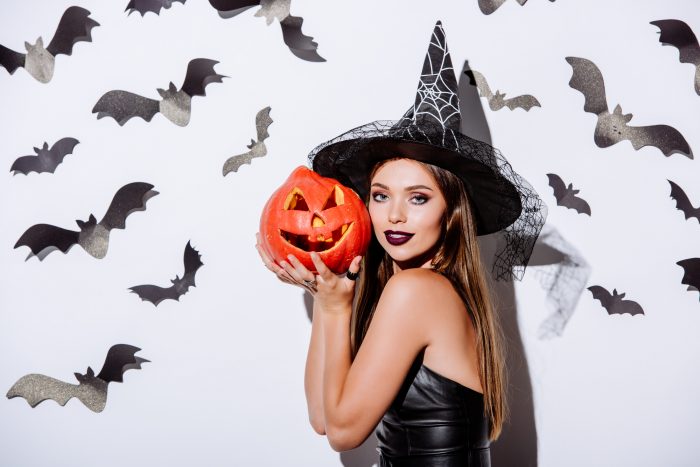 Horror Costumes
Whether you want your group theme to just be horror or you have a specific horror theme in mind, going with the scary theme can be a great way to really cut loose on Halloween.  We love the idea of zombies because zombie costumes are really easy to put together.  You can just find some thrift store clothes and do some great zombie makeup and have a complete look. You can also go with scary clowns, witches, vampires, werewolves (and other shapeshifters), warlocks, skeletons, or even villains from horror movies.  Want to go with a villain theme, but worried that vanity will prevent people from going all in?  Consider going with Disney villains like Maleficent, Ursula, and the Evil Queen from Snow White- they are sexy and evil at the same time!
Spirit Halloween Horror Costumes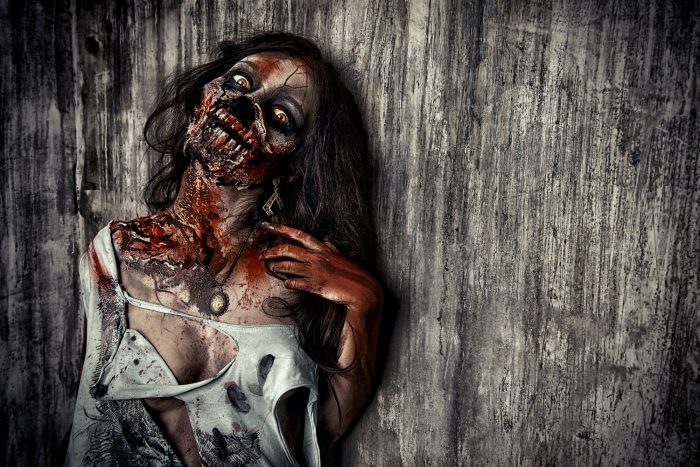 Back in Time
Another way to dress up like a group is to pick a particular time period and dress that way.  You may want to have everyone in togas to throw back to ancient Greece, go with the Wild Wild West, dress up like the ancient Egyptians, or even throw it back to Medieval or Renaissance times.  What we love about these themes is that they do not have to historically accurate; they can just be a lot of fun.   If ancient Egypt is the theme, then the party goers that love the horror aspects of Halloween can be mummies, while if you have selected the Renaissance or Medieval periods, the girlfriend that is always a little extra can come in a fabulous dragon costume and still be part of the group. 
Food
If you want to really set the stage for a Halloween party, then you can let your menu set the stage.  Candy corn, pumpkin anything, caramel apples, apple cider, and just about any other fall flavor help set the stage in terms of flavor.  You can also go all out with spooky themed food items like mummy wrapped dogs, cookies that are shaped like witches' fingers, edible eyeballs and other treats.  There are so many ideas out there that it is impossible for us to capture all of them in this overview, but we encourage you to look at this great gallery from Women's Day, which features cute and delicious treats ranging from savory cheese pumpkins to mummy jalapeno poppers.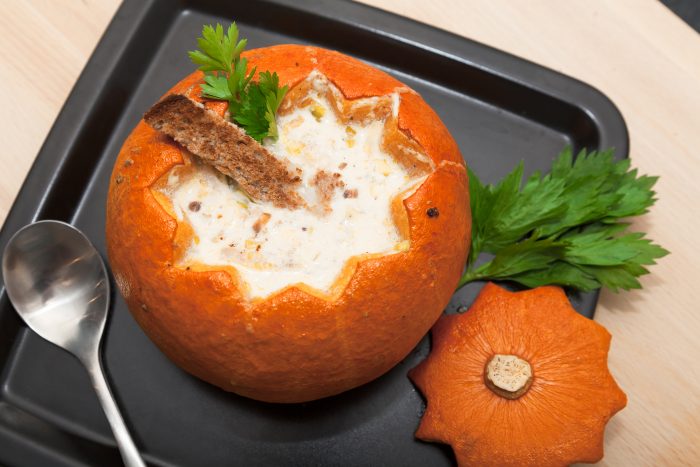 Drinks
Creating spooky Halloween themed drinks is easier than you think.  Our first tip is not to forget the dry ice.  Drop it in any drink to release a spooky vapor that looks a lot like a witches' brew.  You can make your drinks individually, and if you do, we strongly suggest adding this spooky black vodka to your bar offerings:

You can add this to just about any vodka-based drink to make it look spooky, or serve it straight-up in a glass rimmed with red sugar crystals to mimic the look of a vial of blood or a poison potion.
Red wine is also a great Halloween drink staple, and you can slap a cute costume Halloween wine label on an inexpensive bottle of wine for a drink that serves as décor and drink all-in-one: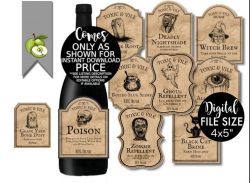 Of course, if you do not want to have to worry about providing a bunch of different drinks, you can take the time-honored tradition of bridal showers everywhere and make a delicious punch.  There are a couple of ways you could go with this.  For the Potion Punch, which will have a shimmery, purple appearance, we like the idea of taking empty wine bottles, slapping some old school apothecary or poison labels on them, and filling them up with the punch and a few small pieces of dry ice, so that they sit there, smoking and chilled, on your bar, ready to pour into a cup.  Top the cups with blackberries and raspberries for an extra hit of elegance.  For the Classic Witches' Brew, which will have a spooky green appearance, we love the idea of serving it punch-bowl style, but, instead of using a regular punch bowl, filling up a Halloween cauldron decoration instead, so it looks like a witches' brew.  We think it serves best in skull shaped plastic cups, but that's just because we are extra campy!
Potion Punch
1 bottle apple vodka
1 small bottle grenadine
2 bottles of blackberry liqueur (like Dekuyper Crème de Cassis or you can make your own)
1 container food grade luster dust
Raspberries and blackberries (optional)
Dry ice (powdered, if available, if not, broken into small chunks)
Pour equal amounts of grenadine into the bottom of each bottle or the cups you will be using.  This will give a bloody depth to the purple cocktail. Mix the remaining ingredients together and pour into the bottles.  Drop the dry ice into the containers just before the party, so that they have a smoky appearance. 
Classic Witches Brew
2 bottles of Sprite, 7-Up, or Ginger ale
1 can frozen limeade
1 bottle of Vodka (plain or flavored- we like the brightness of a Grapefruit vodka)
1 large container of green sherbet
Dry Ice
You have almost certainly had a sherbet punch.  It is a shower staple, and for good reason.  Delicious, easy to make, and with a universal appeal, these punches are great for groups.  To give it a Halloween twist, use limeade instead of lemonade or orange juice and drop in green sherbet.  It will look a little like swampy water when you add in a big chunk of dry ice at the bottom to keep it cold and release a spooky vapor from the surface. 
Looking for more cool Halloween cocktail ideas?  This tutorial on the Flavor Bender has a ton of fantastic ideas, which we plan to incorporate into our next Halloween party, so we strongly suggest you check them out.  Just keep in mind that lots of Halloween drinks get their spooky factor from dry ice.  Dry ice is extremely cold, so much so that touching it can result in instant frostbite.  Check out a tutorial on how to safely handle dry ice before you plan on using it at your party.  Better safe than frostbitten!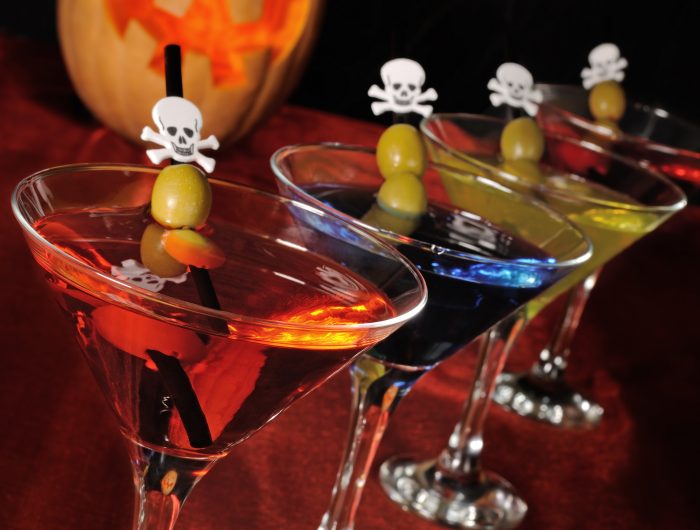 Conclusion
We are in love with the idea of Halloween bachelorette parties and think they are a great way to celebrate your friends in a lighthearted, campy, fun way.  Hopefully, you have found some great ideas in this article, and are inspired to do some things to create your own fantastic boochelorette party!