What to Wear to a Bachelorette Party (2023 Guide)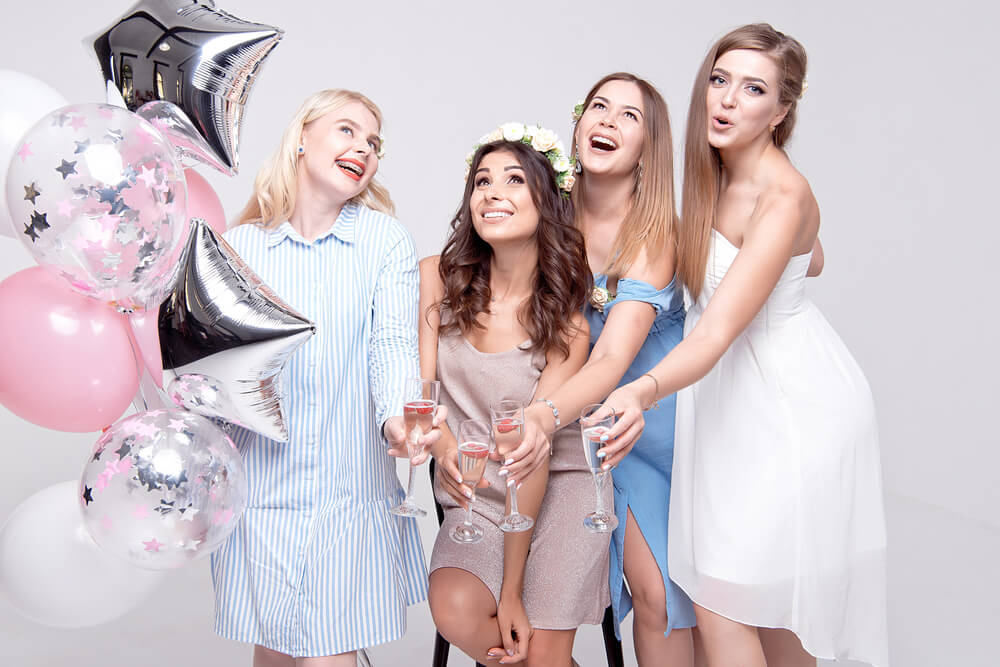 This post may contains references to products from one or more of our advertisers. We may receive compensation when you click on links to those products or services. Please also consider
donating to our website.
What to Wear to a Bachelorette Party: Looking Your Best Without Stealing the Show
Where in the World Is the Bachelorette Party?
First things first, where is the bachelorette party?  You need information about where, as in geographic location, but also where as in specific destination.  Weather is real, y'all, and we don't care how cute your LBD is, you will be miserable in it if you are stuck outside in cold weather!  And, no matter how cute you look in your jeans, they are not going to feel cute if you are on a beach somewhere.  So, you always want to keep your location in mind and remember that you can be fabulous, not frumpy, even bundled up for the winter.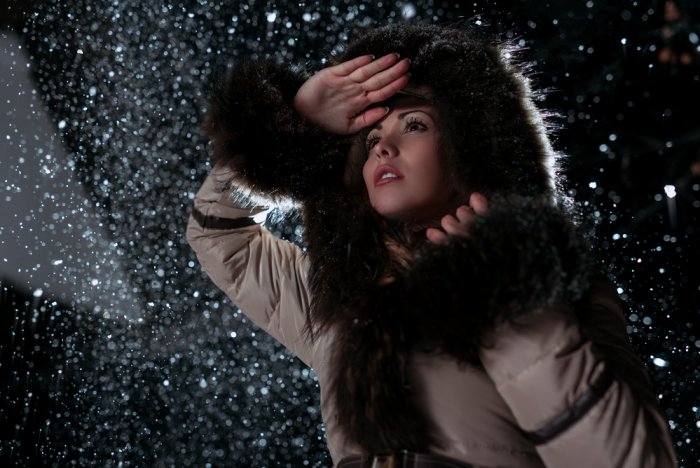 What Are You Doing?
Another thing you want to think about is what you are doing.  Heading out to an ax-throwing place followed by beers and wings?  Then jeans and a flannel might be the thing. 
Headed to the beach?  You'll want to pack your favorite swimsuit and a big straw hat to protect you from the sun. 
Going for a hike?  Making sure you have the right footwear and comfortable active clothes becomes the most important.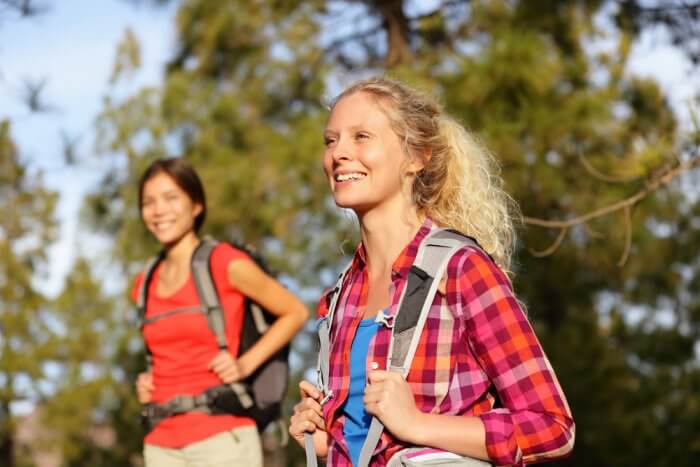 Whatever activities are planned, just keep in mind if they are specialized and dress accordingly.  If you don't know what is planned, check with the party planners.  Many people assume brunch for daytime bachelorette parties and club nights for nighttime bachelorette parties, but there are so many great bachelorette party activities out there- make sure you can enjoy them by being dressed for the activity.
Where Is the Bachelorette Party?
The next thing you want to think about is where is the bachelorette party?  The venue often sets the tone for how you should dress.  Of course, this is true for activity-specific parties, but it is also true for just heading out for a night on the town.  You may choose very different outfits for bar hopping, depending on the bars you will be hitting.  So, take a peek at the itinerary so you know how fancy the party is going to be.  That will help you decide whether you are wearing a cocktail dress or a pair of shorts.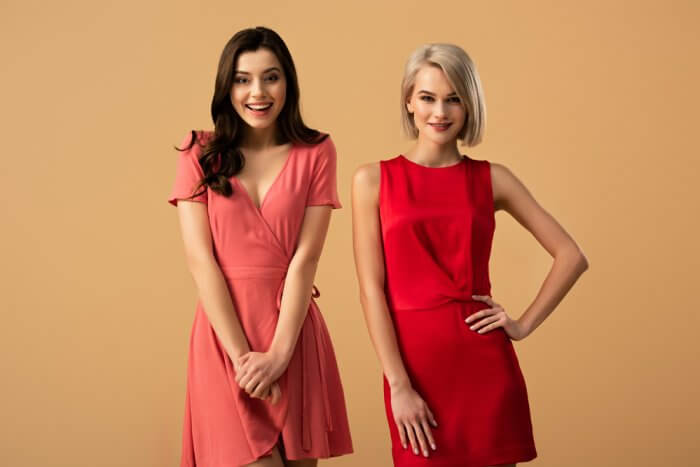 Avoid White (Unless You're the Bride)
This is not a thing for all bachelorette parties, but at some of them the bride wants to be the only person in white.  In fact, this holds true for all wedding-related events.  If that describes your bride or you are not sure, just avoid dressing all in white.  It is one of those things that may not make a difference to all people but is surprisingly important to the people who do care about it.  Of course, if you're the bride, wear all the white you want to wear.  It has become a bit of a tradition for some brides to wear white in pre-wedding events.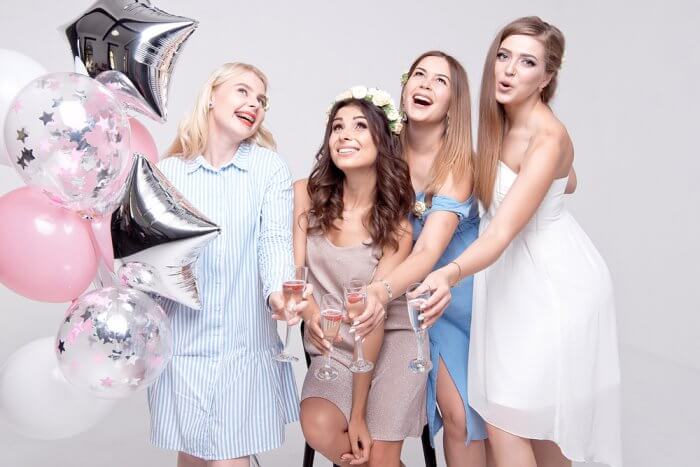 Tone Done the Sexy
Going out with your girlfriends, we completely understand wanting to look hot AF.  At bachelorette parties, part of the fun is flirting with the cute guys you are going to meet, even if the flirting is not going anywhere.  So, you may be tempted to bring your sexiest looks.  But keep in mind that bachelorette parties are probably going to be part of the bride's wedding memories and looked at by family members for the bride and the groom.  They may also be posted in places where you do not control the privacy settings, meaning that anyone could see them. So, maybe save your absolute sexiest looks for a night with less photos and fewer people checking them out. Instead, pick an outfit that looks classy and take away one source of potential worry if those bachelorette party photos get out!
Set for Selfies
Assume that there will be plenty of selfies as well as people snapping pictures of you.  Pick out an outfit that you feel confident and happy in and that photographs well.  If you do not like the way you look in a bikini unless everything is sucked in and you are posed a certain way, maybe wear a one-piece instead.  If you are not sure how your outfit will photograph, spend some time snapping selfies in your top couple of outfits and pick out the one that is the most flattering.  You may feel vain doing it, but it will leave you feeling confident at the bachelorette party.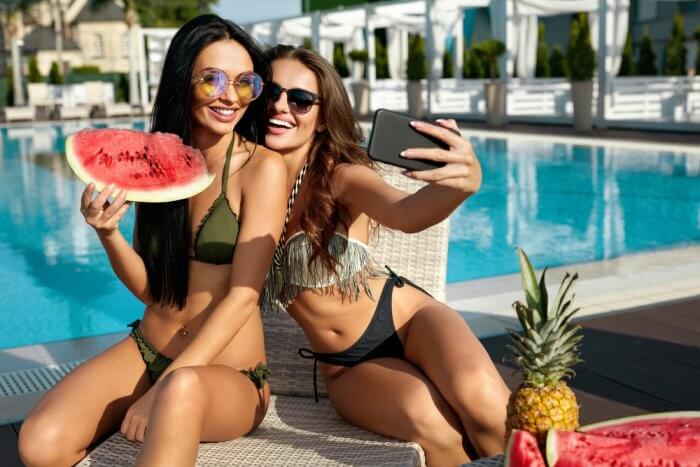 Choose Comfortable Clothes You Don't Have to Adjust
If you think you have the perfect outfit, give it a spin around your house, with the undergarments you plan to wear.  Do you find yourself tugging or pulling at your outfit?  If so, skip it for the bachelorette party.  The last thing you want to be worrying about is adjusting your clothes or dealing with being uncomfortable.  Cute and comfortable clothes exist.  Pick them for the bachelorette party! 
Footwear First
We know you love your cute shoes and who doesn't love rocking a seriously high heel but think about what the plans involve before picking out your footwear.  If you can handle a night at the clubs in your stilettos without blinking an eye, awesome, but be realistic about it.  If you are going to have foot pain or problems walking, opt for lower-shoes or even cute flats instead.  Keeping your footwear in mind also means thinking about the activities that you are going to do.  Heading out for rollerblading, ice skating, or bowling?  Make sure you take the right socks with you.  Going for a hike?  This is not the time to try out new hiking shoes- make sure and break them in beforehand.  Going to the beach- take your flip flops!  Even if you are totally confident that you can wear your heels all night long, we strongly suggest packing some foldable flats in your purse, just in case.  Even if you don't need them, someone else in your party might! 
Heading to the Spa?
Spa days are a bachelorette party favorite.  If you are heading to the spa, think about the services you are going to get when picking out your clothes.  Wraps or other skin treatments can leave your skin a little greasy, so you might want to avoid certain fabrics. You also want to think about what kind of makeup you are wearing if you are having a facial; it might be better to head in bare faced.  In fact, even if your spa treatment is focusing on another area, think about how it might impact your makeup or your hair.  We love massages, but never seem to emerge without smudged mascara or messed-up hair.   
At most spas, you will be changing into a robe for services, so no need to bring or wear your own.  However, you do want clothes you easily change into or out of, breathable fabrics, and clothes that could get damp without damaging them or impacting their look.  At the same time, you want to look cute.  This is where athleisure has a chance to shine!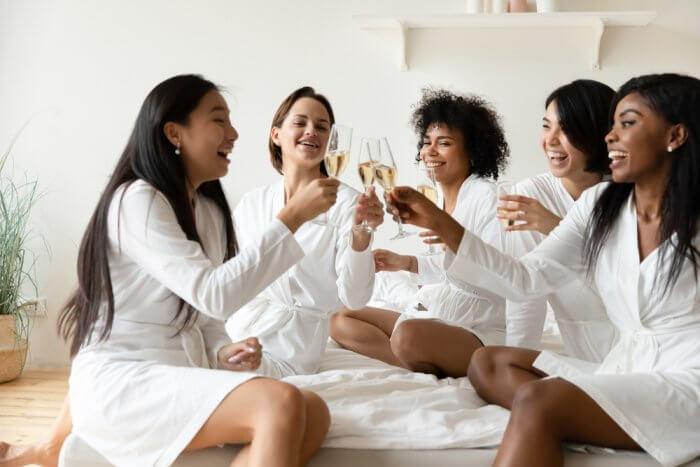 Matchy Mishaps
To say we love a bachelorette party t-shirt is an understatement.  They identify you as a group, give a little spark of personality, and give every guest a souvenir from the party.  Love them!  But that's enough.  If you are planning the party, give out the shirts ahead of time and let people personalize their look.  If you are a guest and get to a party with a t-shirt that everyone is wearing, be a sport and put it on, even if it means covering up your favorite LBD.  But that's as far as you should take it.  You don't need to be dressed like a team.  Disregard this, of course, if the bride wants you to all dress identically.  It's not our thing, but if it's her thing, do it, because it's her day.
Accessorize, Accessorize, Accessorize
A bachelorette party is a great time to bring the bling.  Wear your cute jewelry, rock that cute bag, or pull out the perfect pair of shoes to finish off your outfit.  Accessories can highlight your personality and also celebrate where you are visiting.  Hitting Lower Broadway in Nashville?  Rock those cowboy boots!  Relaxing on the beach in Mexico?  You want some super-stylish shades to protect your eyes!  That said, the bachelorette party is the time for costume jewelry.  If you party like we do, there might be a lost earring or two by the end of the night.  You don't want to be searching for anything valuable, so cute and cheap are two things to keep in mind!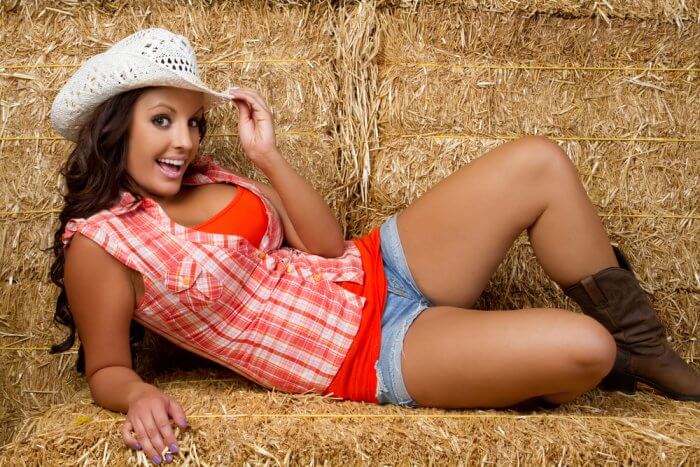 Destination Dilemmas
If you are heading out to a destination bachelorette party, you may not know exactly what to bring.  After all, the clothes you need depend on the activities that are planned.  Ask the party planner for a breakdown of activities.  If surprises are their thing, no problem- ask them for a list of things you should pack to make sure your options are covered.  If that doesn't happen, bring some basic weather-appropriate outfits you can dress up or down, according to the weather, a variety of socks, comfortable footwear and club footwear, and a bathing suit.  Those should cover the bases for most destinations!    
LBD for the Win!
Not sure what to wear?  It's hard to beat the classic little black dress for versatility.  Easily dressed up or down, the LBD can be at home almost anywhere and is a great go-to if the bachelorette party plans are vague.
Conclusion
Picking the date for a bachelorette party can get really complicated for some weddings.  While we hope that the process is super-simple for you, we hope this guide helps you if you run into any complications.  After all, if 2020 taught any of us anything, it should be to prepare to encounter complications and plan accordingly!