Bachelorette Party Invitations (2023 Guide)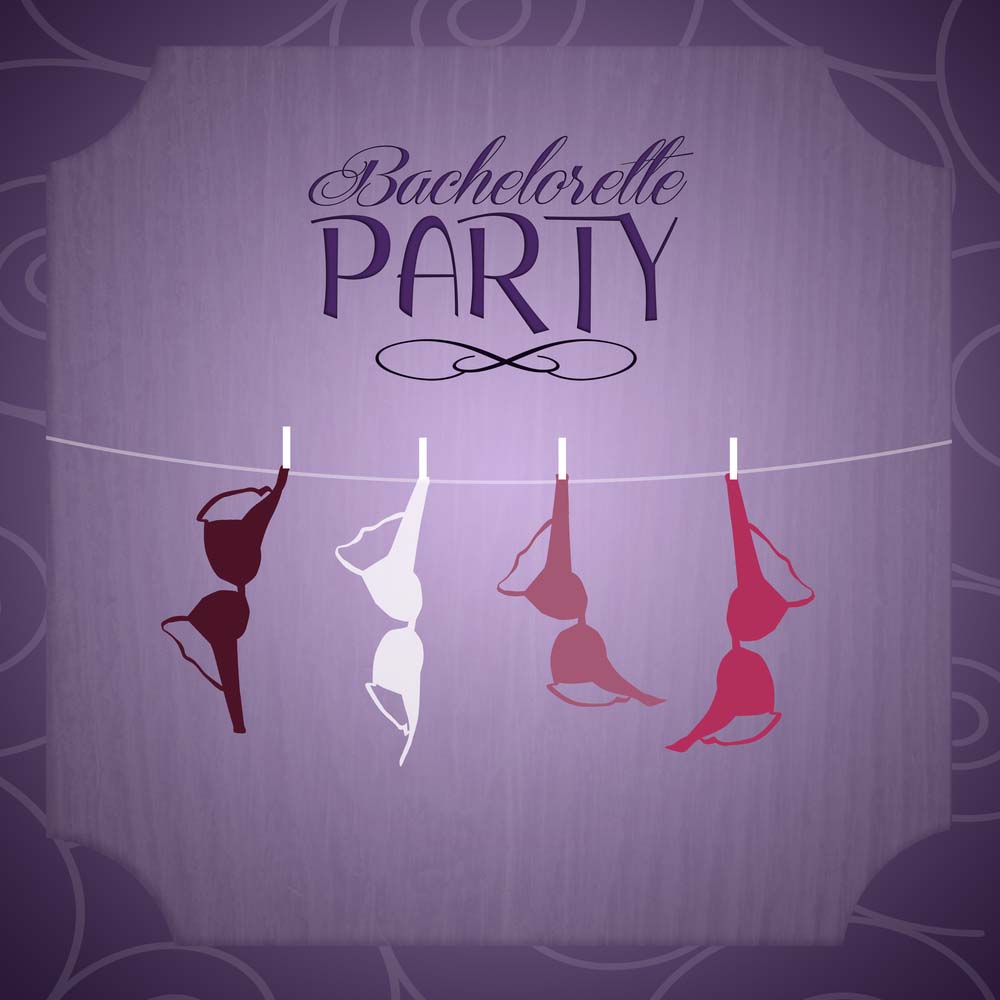 This post may contains references to products from one or more of our advertisers. We may receive compensation when you click on links to those products or services. Please also consider
donating to our website.
The countdown to the wedding is in its final stages. The big day is around the corner, the to-do before I-do list almost finished, and now you are on to one of the best duties a bridesmaid has: planning the bachelorette party. For many, bachelorette party invitations are an afterthought, but we think that the bachelorette party invite is a way to get the guests in the mood for the party, long before the party starts.  That is why we put together this handy primer on bachelorette party invites, along with links to invitations for some of the most popular bachelorette party themes!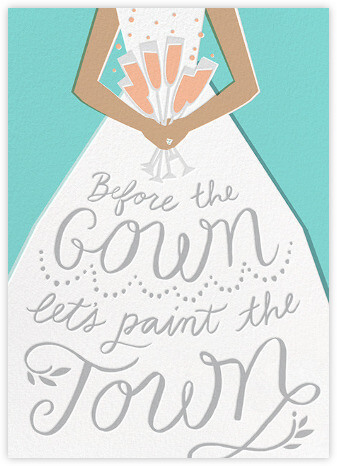 Picking Your Invitation Style
Before you pick out your invite, you need to consider a few things.  One of them is whether you want to go with traditional paper invitations or with electronic invitations.  In terms of tradition and style, nothing beats a paper invitation, addressed properly, and delivered in the mail.  No one gets real mail anymore, so they start out the party by making everyone on the guest list feel a little special.  They are also highly customizable and can really be picked to reflect the type of party and the bride's personality.  So, we love traditional invitations.
However, can we be real for a minute?  We have noticed a horrible trend in R.S.V.P.'s; as in, people are really getting bad at providing them.  You have probably noticed that trend, too, and, if you have not noticed it, you can bet the bride, who is struggling to figure out how many of the missing R.S.V.P.'s are actually going to be at the wedding, has noticed it.  This etiquette lapse can make party planning an absolute nightmare, and turn you from a happy party planner into a resentful person calling invitees to see if they plan to attend, especially if any of your plans depend on the number of guests who plan to come to the party.  Which is where the paperless invite really shines.  Not only are people more likely to R.S.V.P. when the option is as easy as clicking a "yes" or a "no," but most electronic sites also give you a way to send reminders, so you can nag people to respond without actually having to nag!
Paperless Invitations 
Also known as Electronic Invitations or Evites.
The electronic invitation increases the likelihood that you will get an R.S.V.P., because it makes the process extremely simple.  In addition, you can update many electronic R.S.V.P.'s in the invitation-sending service, making it possible to communicate with the guests in that forum.
Where do you go for high-quality electronic invitations?  Evite is great source for bachelorette party electronic invitations, ranging from classic to modern.  A bonus if you use Evite is that most people are familiar with how Evite works, and you can also include lists of things to bring, like to gift registries, or even allow guests to make donations to favorite charities. Another bonus?  They offer a variety of super-cute free invitations, but also offer a premium invitation service that allows you to upload your own images for the invitation.  Evite offers a number of different options, but here are some of our favorites:

We love this invite for any bachelorette party that you are billing as the "final fling before the ring" and we think it is perfect if the bridge you are celebrating likes big, flashy things. It not only features a huge engagement ring, but also gold glitter. It is generic enough to work for almost any bachelorette party, but still has a ton of personality.

While this invite is not necessarily bachelorette-party specific, we still love its design for bachelorette parties. The pink and gold is a little softer than the pink and black combinations one often encounters in bachelorette party décor, and it just reminds of us glasses of celebratory champagne!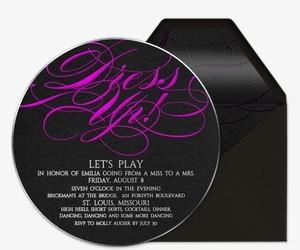 We think the Dress Up invite is perfect for a themed bachelorette party that might require the guests to be in costume. If you are doing a boudoir photo shoot bachelorette party, this invitation would be perfect. It would also be great if you are heading to New Orleans during Mardi Gras; make sure and order plenty of masquerade masks and hand them out as favors, so your girls can head out incognito for a night on the town! In fact, why save that for a destination party? How much fun would it be to dress to the nines and then add a sexy lace mask to your outfits before heading out for the night, adding an element of mystery and adventure to even your most familiar haunts?

There is something sexy-as-hell about the combination of baby pink and black lace, which is why we love this invitation if you are planning a bachelorette party that is going to be a little naughty. This Evite is a reminder that you can be raunchy and still be classy!

Is this bachelorette party all about getting your drink on? If so, could you find anything cuter than this "partini" Evite. We don't think so. We also love this invitation is you are taking the very brave and bold step of hosting a joint bachelor/bachelorette party.

Heading to the spa? Then let your Evite tell the story and get your guests in the mood for a little pampering. This Evite is perfect if you are heading to an actual spa, but works equally well if you are planning an at-home spa-day with the girls.

Sometimes you just want to dance the night away. If you are planning a party where the focus is on nightclubs and dancing, what could send that message better than the classic disco ball? Of course, the black, white, and hot-pink theme also coordinates with a lot of bachelorette-themed favors and décor.
While we love Evite, it is always good to remember that it is not the only company in the electronic invitation game. There are a number of other companies that provide similar services, and one we love is Paperless Post. At their website, you can find a ton of cute electronic invitations that are perfect for theme-specific bachelorette parties!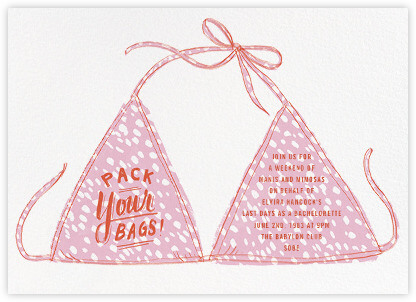 Heading to a destination bachelorette party on a beach somewhere? This adorable bikini invitation lets the guests know, from the start, what they can expect from the party. We love it for destination parties in Cancun, Cozumel, Puerto Rico, Jamaica, the Bahamas, cruises, and even if you have rented a nearby lake house or beach house for the party!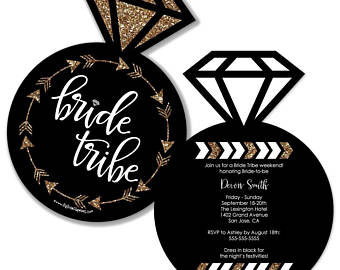 What better way to announce a last-fling-before-the-ring than with an invite that features a gigantic engagement ring?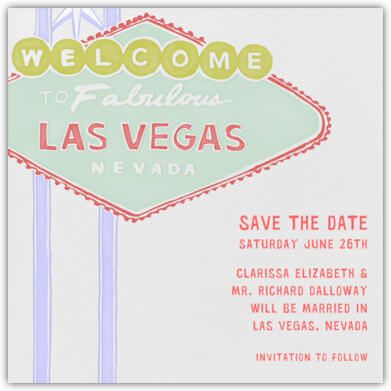 Does it get cuter than this Vegas-specific invite for a girls' getaway to Vegas before the wedding? We don't think so. We love this invite because it is so customizable, but clearly sends the Vegas vibe.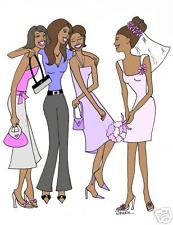 As with many things, bachelorette party invites tend to skew a little pale, but you can find some great invitations that celebrate black female friendship, as well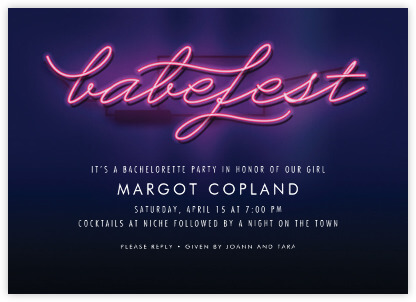 We love the babefest invitation for an adult-themed bachelorette party, because it celebrates the fact that you are, in fact, a bunch of babes, while also giving a little hint that you might be encountering some hunky babes whilst out and about on your adventures. We also like the pink neon look of the invitation; it reminds us of that early Tom Cruise movie Cocktail.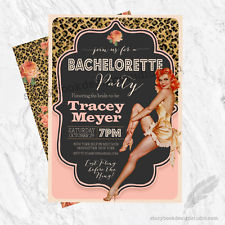 Planning pole dancing lessons or a burlesque venture with your soiree?  These retro pin-up invites are a great way to let your guests know that you plan on celebrating sexy at this shindig!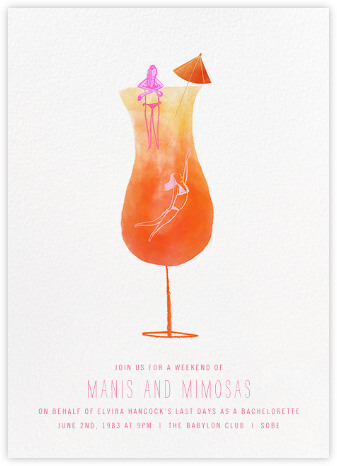 At Paperless Post, they love the Manis and Mimosas theme, and we have to admit we love it, too. Whether your plans are brunch and then hitting a salon, or gathering together at someone's home for drinks and a spa day, the Manis and Mimosas theme lets your girlfriends know how you plan to celebrate at the gathering.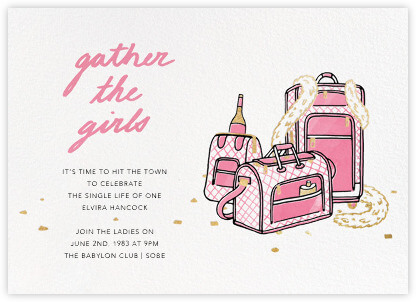 This invitation is perfect if your bride is a girly-girl and the party is a destination party anywhere. The luggage lets the guests know they need to pack their bags, while the champagne, suntan lotion, and feather boa peeking out of the bags hints at the party that is to come!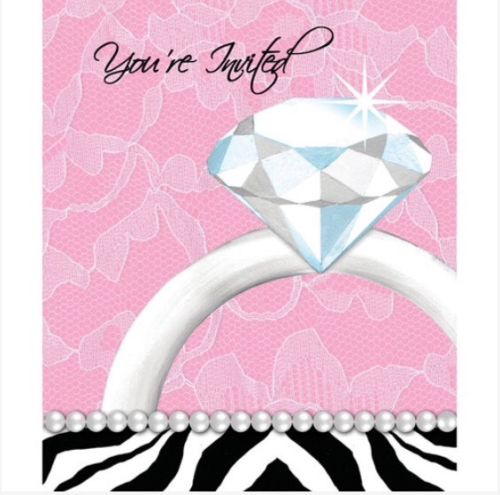 Looking for something classic, simple, but with a modern edge.  These bachelorette party invitations are anything but boring, but are also appropriate for any recipient.  Something important to keep in mind if your bachelorette party will have a mixed age group of attendees!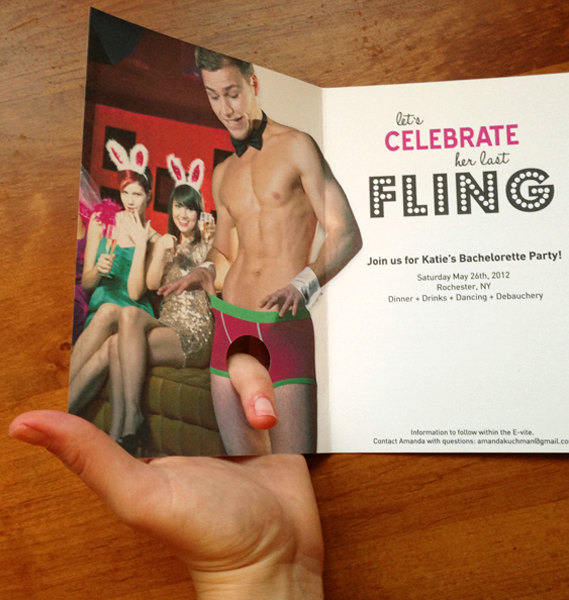 Planning a naughty bachelorette party?  These cards flip the script on the typical "bunny" image and let your partygoers know that beefcake is almost certainly going to be on the menu.  Probably not the invite you want to send if the bride has pressured you to invite any relatives to the party, but a great invite for a group of raunchy women!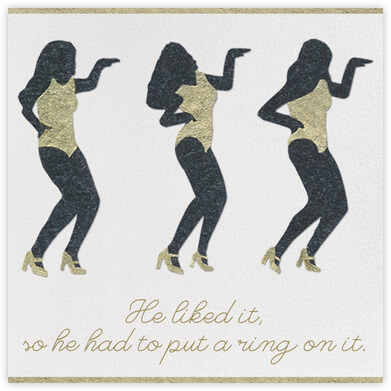 All the single ladies are going to love this invite! So will the married ladies! I mean, who doesn't love Queen B? This iconic invite is a cheeky reminder of single days and a great way to kick-off a bachelorette party fling.
Camping trip bachelorette party?  Or perhaps you are having lumberjack strippers?  Whatever reason your party will be flannelled, these adorable invites will set the theme.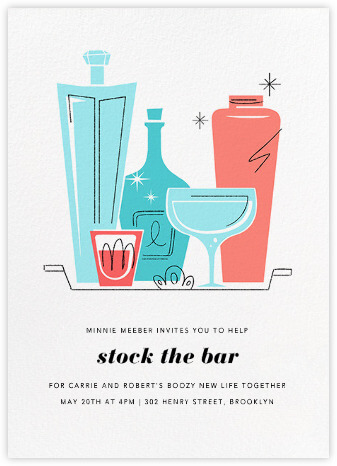 In our bachelorette party idea section, one of the ideas is a "stock the bar" party. This type of party works exceptionally well if you are hosting a coed party, combining a shower with the bachelorette party, or if the bride you're celebrating just likes to get her drink on. We love this invitation for its simplicity and its throw-back appeal.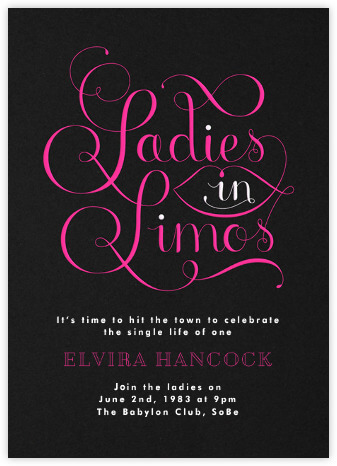 Getting a limousine or party bus to eliminate the need for a designated driver? Then you need to consider this adorable Ladies in Limos invitation. You can even customize it to let the guests know that the limo will pick each of them up at their homes or specify a central meeting location.
Whether you are heading out for a weekend-long bachelorette party cruise, or simply getting a party boat for the night, what could be cuter than these "Let's Get Nauti" invites?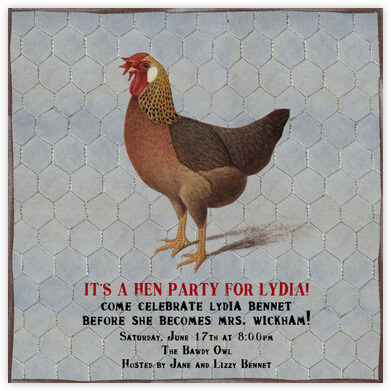 While we aren't really fond of the term "hen party," we do love this hen invite for a bachelorette party, because it is just cheeky enough to be adorable!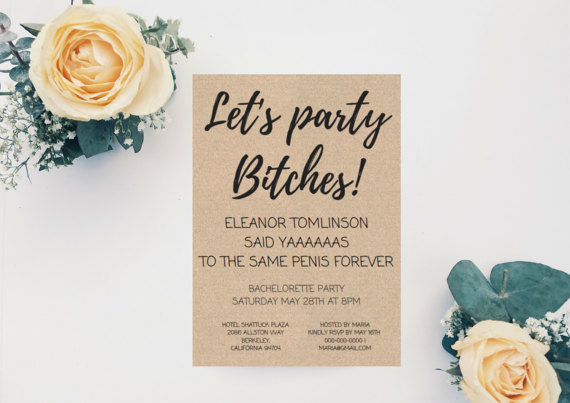 How casual and comfortable with each other is the guest list?  If the answer to both questions is "very," then this funny invite may be the way to let the girls know that the party is going to go down and that it is going to be a wild time!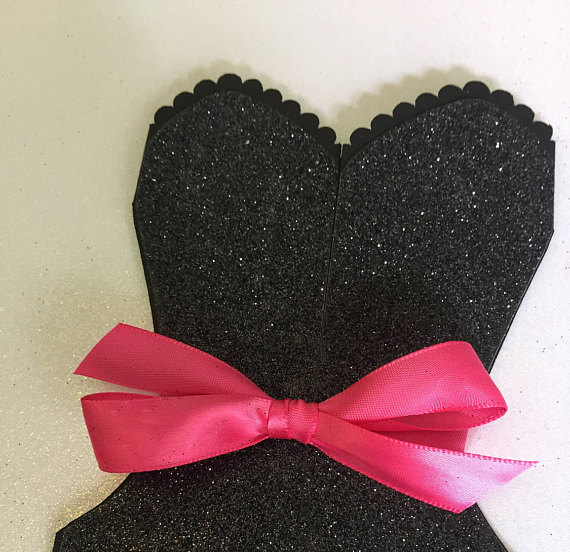 These invites are perfect, not just for a bachelorette party, but also for a lingerie-themed bridal shower.  Pressed for time?  Combine the two types of events and use these cute, sassy, but still classy invites.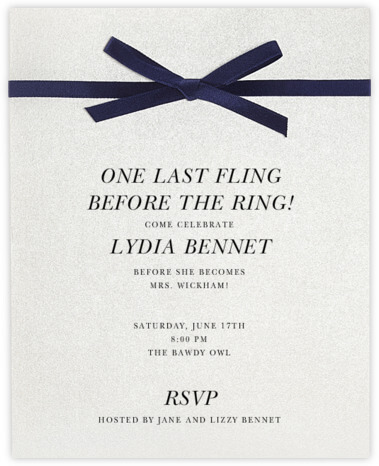 Is your bride into classic simplicity? If so, then this invitation might be the perfect one for her party. Completely customizable, it is almost stark in its simplicity.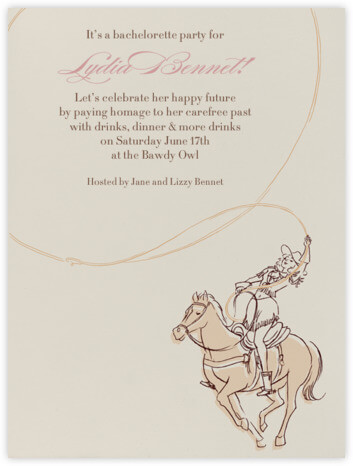 One of our absolutely favorite bachelorette party ideas is the cowgirl theme. Whether you are heading away for a girls' weekend at a dude ranch or have simply signed up for a group horseback ride at a local stable, we love the idea of the cowgirl party. Finish out the night at a country-western bar in your cowboy hats and boots, and start out the party with this adorable cowgirl invitation!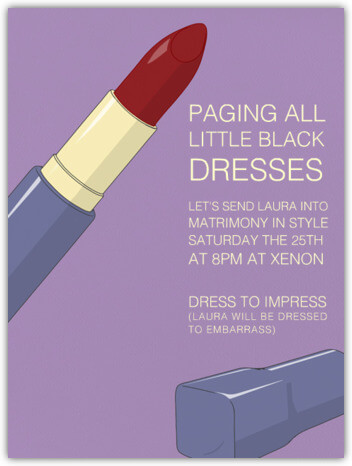 Does your group of girlfriends love getting all dressed up and hitting the town? If so, this invitation may be the one for you. While it is not bachelorette-party specific, the image on it is a clear reminder of an iconic red lip and somehow manages to bring to mind images of starlets on the silver screen, and maybe of your mom getting ready for a night out with her girlfriends when you were younger, dressing up and spritz herself with a heady perfume. You're the grown-ups now, and this invitation reminds you that it's not really a girls' night; it's a ladies' night.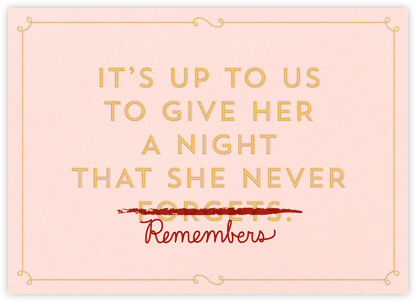 Planning a night of drunken debauchery and maybe a little bit of hazing for the bride-to-be? Let your bachelorette party guests know the score with this invitation that clearly forewarns them that the bride will be at your mercy. (Insert evil chuckle here).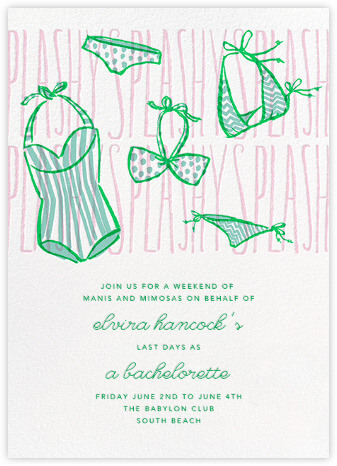 Backyard pool party in the works? This adorable invitation just screams pool party to us.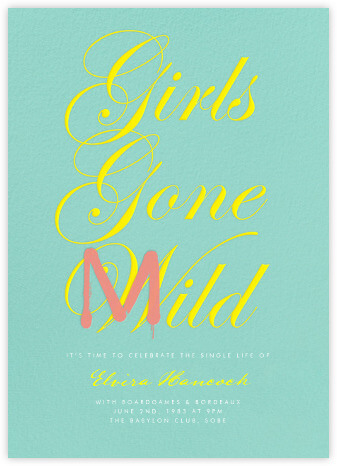 Planning a more sedate bachelorette party soiree? Sure, people talk about wild parties, but sometimes you don't have a bride who wants a wild party. Maybe you're an older group of people and your wild partying days are behind you. Maybe the bride is pregnant. Perhaps wild just isn't your thing. This invitation lets people know that, yes, you're going to have a really fun bachelorette party, but, no, it's not going to be a wild one. This invite might be perfect if you want a mild party but there are people on the guest list who need a reminder of that fact.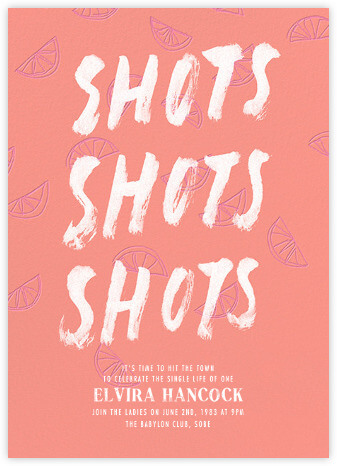 Of course, if mild isn't exactly your style, this shots invitation lets your guests know that you plan on it being a wild night. One tequila, two tequila, three tequila, floor…..
Paper Invitations
While we love the paperless invitation theme because it makes it so much more likely that people are actually going to R.S.V.P., we know that in some circles, an electronic invitation is simply not done.  Even if an Evite is the norm for an everyday party, we also understand why you might want to go with a slightly more formal and traditional option when throwing an epic bachelorette for your bff. 
Fortunately, there are a ton of adorable paper invitations out there.  All of the options make it possible for you to find an invitation that fits your theme, whether you are going with a classy bachelorette brunch or a raunchy night out at a strip club or somewhere in between.  Many of these invitations are totally customizable, letting you choose the font, colors, and styles.  They range from fill-in-the-blank options you can find at retailers like Amazon to customizable options at stationery shops. 
This invitation, available at Amazon, is a simple fill-in-the-blank option.  If you are short on time or just want a very basic invitation, it is a great fallback option.
We are a sucker for bustier-themed décor, especially if you are combining the bachelorette party with a bridal shower.  These invitations are simple, affordable, and adorable, which is a pretty tricky combination to beat!
This invitation, available at Amazon, is a simple fill-in-the-blank option. If you are short on time or just want a very basic invitation, it is a great fallback option.
We are a sucker for bustier-themed décor, especially if you are combining the bachelorette party with a bridal shower. These invitations are simple, affordable, and adorable, which is a pretty tricky combination to beat!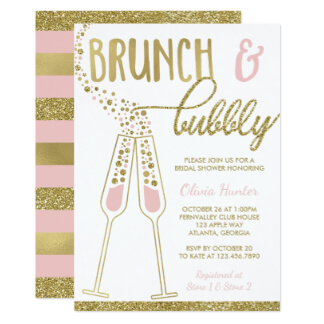 We love this customizable Zazzle invitation for any bachelorette brunch, whether it is a bachelorette party, a bridal shower, or a combination of the two. The pink and gold matches a lot of classic bachelorette décor, and the invitation has an upscale theme without losing its playful and frivolous edge.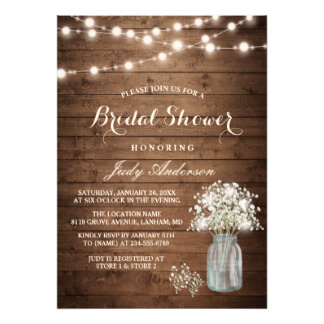 Is your bride into barn weddings and mason jars? Then this invitation is perfect. Of course, since it is customizable, we also love the idea of this cute country-themed invitation for a Nashville destination party, because we love the juxtaposition of its simple sweetness with the slightly wild nights you'll have if you head to Nashville.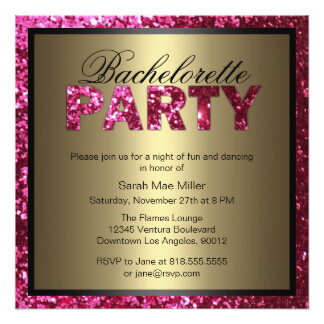 Are you celebrating a glitzy bride? Usually, we think that hot pink glitter is a little extreme for a grown-up party. However, some people are just hot pink glitter people. If that describes the bride you are celebrating, then embrace everything about her and send this over-the-top invite for her party!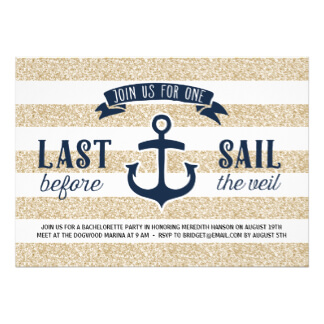 Whether you are headed on a destination bachelorette party cruise or simply heading out for a few hours on your closest party boat, could you find a more adorable invitation for it? Trust us, the answer to that is no. We love this nautical-themed bachelorette party invitation and, yes, we love the "last sail before the veil" theme, as well.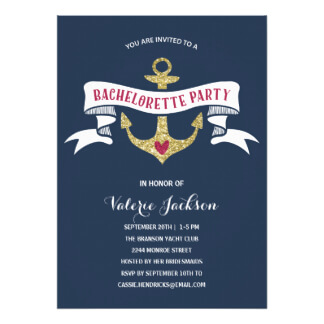 Love the nautical theme, but feel like the first one was a little blah for you? This blingy nautical invite is perfect for a cruise-themed party if your group likes a little bit of glitz and glitter with everything. Plus, its classic red, white, and blue theme reinforces the nautical air. Ahoy, mateys, prepare to set sail!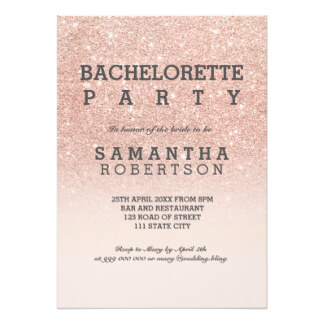 There is something simple about this invitation, which reminds us of a glass of champagne because the glitter on top looks like bubbles. If you want a basic, nice-looking invitation that you can customize to go with any type of bachelorette party theme, this one is a great option that proves you don't have to sacrifice simplicity to get a ton of style.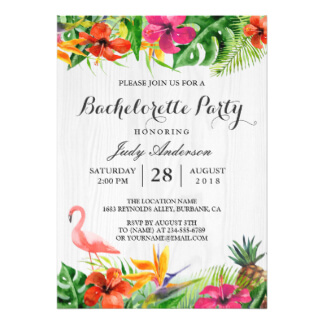 Planning a bachelorette luau? Then this invitation is perfect for your bash. Normally, we like to stick to more classic looks for anything wedding-related, but if you are going for the fun of a luau, then you want that tropical vibe from beginning to end. This is perfect whether you are gathering the girls to head to Hawaii or are simply throwing a luau themed bash at home. If you are throwing a party at home and have a few extra dollars to spend, can we suggest getting a bunch of grass skirts for your group and hiring a hula dancer to come in and teach you some moves? It may sound silly, but after a few tropical drinks your friends should have a blast!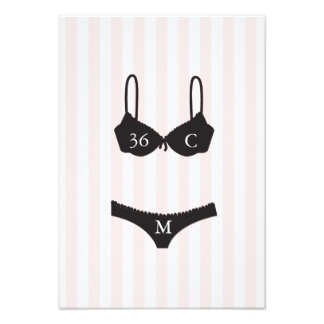 Hosting a lingerie-themed bridal shower/ bachelorette party combination? Then consider using one of these inserts to help guide guests to the appropriate size for the bride. We think they are a super-cute way to make sure that the bride's presents are in her size. After all, is there anything more depressing than getting a gift of clothing that is too small?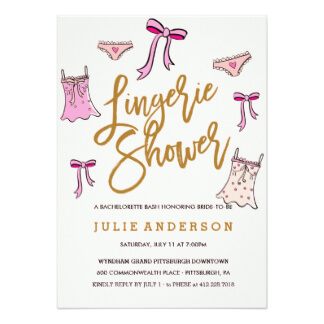 Of course, you need a place for that adorable insert, and this invitation is a great one. Whether you are hosting a traditional lingerie bridal shower or a lingerie-shower-themed bachelorette party, this super-cute invite is perfect for the occasion. It is even cutesy enough that it could be sent to the future mother-in-law for a shower invitation. Just make sure and warn the bride-to-be if any of the gifts are too racy to open in front of the future MIL!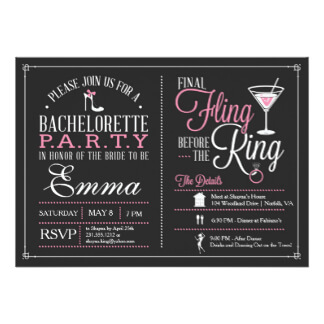 Are your guests the type that want to know exactly what will be going down at a party? Then this itinerary invitation is perfect for you! It gives you plenty of space to outline the itinerary, while still managing to be super-adorable.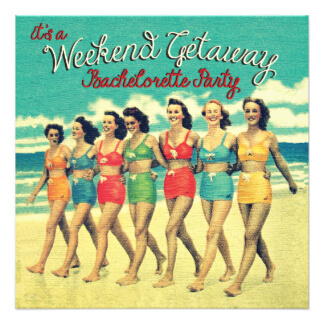 We love this retro invitation, which is perfect for destination parties. Sure, the beachy background means it lends itself to beach or lake getaways, but it is so adorable that you could use it for any type of destination party.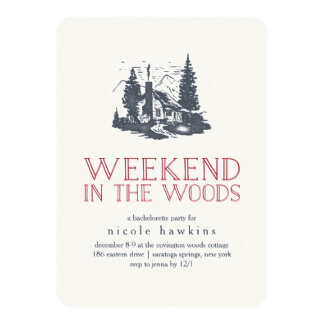 Maybe it's just us, but we think there is something a little bit spooky about this invitation, and yet we still love it. Are you heading out for a weekend of camping or a similar rustic destination party? If so, this might be the perfect invitation for your party.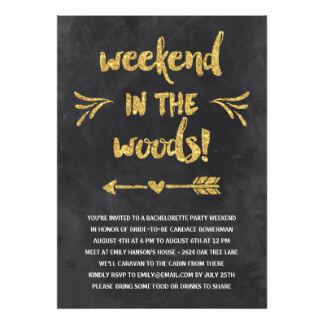 If you want to capture the same camping vibe, but without any of the scare factor, we love this simple design. The arrow at the bottom captures the feel of scouting, but the heart reminds us that part of what we are gathering to celebrate is love! It appeals to us as grown-ups and to the thirteen-year-old girl still stuck inside us sometimes!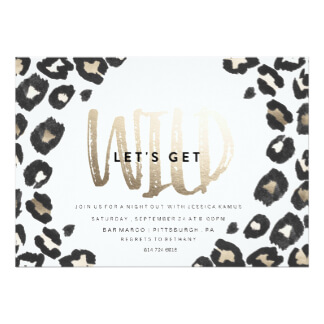 Are you a bunch of party animals? Then let your bachelorette party invitations roar! We think this invitation is perfect if you are using any type of animal-print décor in your party décor or your bachelorette party favors.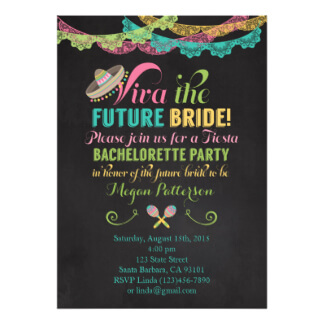 Heading to Mexico for your destination party? Then this invitation is pretty much perfect for your occasion.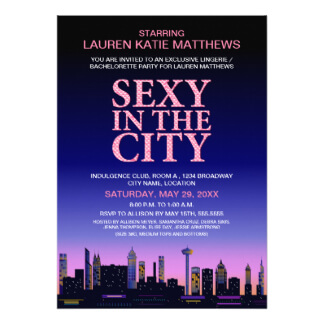 Are you having a Sex in the City themed bachelorette party? If so, how can you pass up this perfectly themed invitation? An homage to the movie posters for the Sex in the City movie, this invitation practically promises girl talk, fancy clothes, and sipping on cosmos.
And finally, our last invitation suggestion: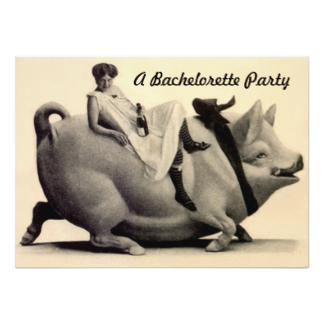 We have no words to describe this invitation. Zazzle says it is a classic antique bachelorette party invitation. We say, "WTF?" However, stay with us on this one, if you are planning a night so wild, so creative, so secretive that you don't really want to give the guests any clues about what you have planned for them, could you find an invite that was more perfect to send them? We don't think you could.
Conclusion
Of course your invite needs to include who you are celebrating, when, where, and the best way to reach the hostess with questions or with an R.S.V.P.  However, you may also want to include some details about what you are doing and what, if anything, the guests need to bring with them.  If you are planning a destination adventure, let them know any critical dates, such as when they need to R.S.V.P., when the first deposit is due, etc.  Let the invitation be your preview to the party.  If you have any adorable invitation ideas or want to check out ideas from some of our visitors, check out our forums section.  It's the place to gather when you want to give help to or get help from other bachelorette party planners! 
Now that you got the invitations picked out, it's time to start brainstorming who to invite to the bachelorette party.