Classy Bachelorette Party Ideas (2023 Guide)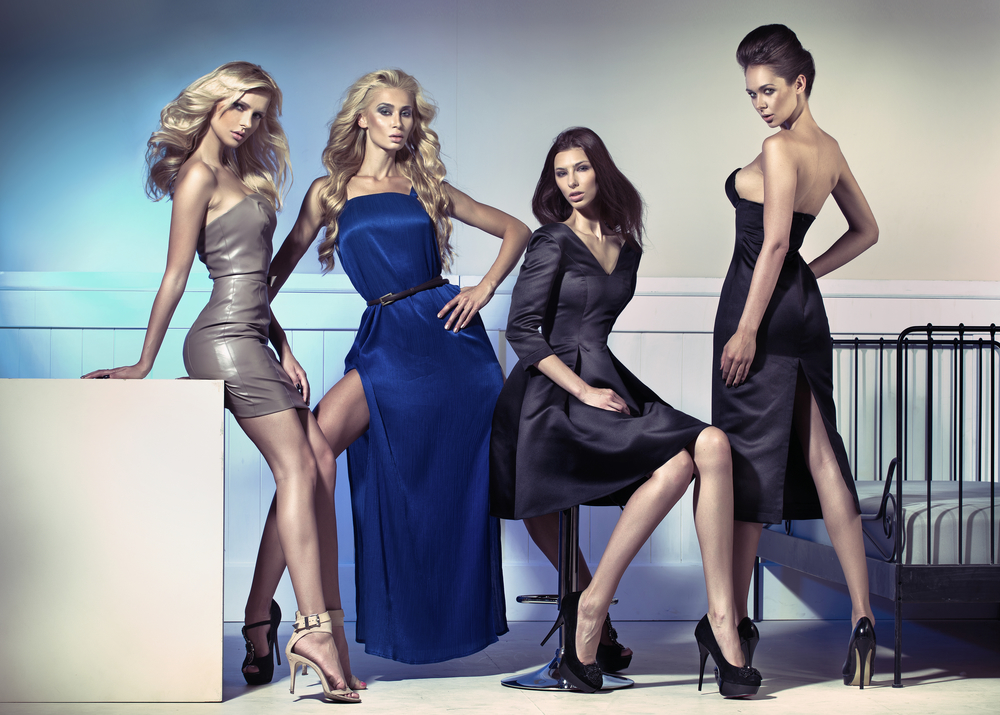 This post may contains references to products from one or more of our advertisers. We may receive compensation when you click on links to those products or services. Please also consider
donating to our website.
Do you think of bachelorette parties as being a little tacky?  You are not alone; some people find the typical pageantry of a bachelorette party to be just a little over the top.  Understandable, when some of the typical bachelorette party ideas are a bit more crass than class.  That does not mean that you have to skip the last fling before the ring.  You can throw a classy bachelorette party, and still have a ton of fun.  In our handy how-to guide, we can help you pick a classy theme, venue, décor, and activities and combine them together for a night that is memorable and shareable.     
Why Pick a Classy Bachelorette Party
If you are a maid of honor tapped to plan your bestie's bachelorette party, you may have had visions of a beach getaway, lots of drinks, and some beefcake, only to be disappointed when your friend requested that you stay classy.  For some people, a big part of the fun of a bachelorette party is getting to put away their mild side and enjoy some debauchery.  Other people find the idea of an out-of-control party to be very intimidating.  Some brides love the idea of a wild-and-crazy party, but need to invite family members who would balk at the entertainment.  We have also found that some groups of bachelorettes really just want the opportunity to spend some quality time with friends, without the trappings of the typical bachelorette.  Any of those reasons are a great reason to choose a classy bachelorette party.
Pick a Chic Theme
The theme sets the tone of the bachelorette party, so picking a stylish theme is a way to let the guests and the honoree know that you are planning am upscale party.  We have identified the following themes as the top bachelorette party themes for this year: wine, nautical, Mexican, Disney, country, 80s, western, beach, Mardi Gras, princess, Barbie, Paris, glitter, animal print, black and white, travel, sports, Las Vegas, masquerade, and mermaid.  Looking over the list, it is probably easy for you to see how some of the themes lend themselves more to a sophisticated party than other themes. 
Of course, the choice of theme is not only about thinking about what you think of as sophisticated.  A great bachelorette party theme celebrates the bride's personality, the activities she likes, and any favorite memories or inside jokes.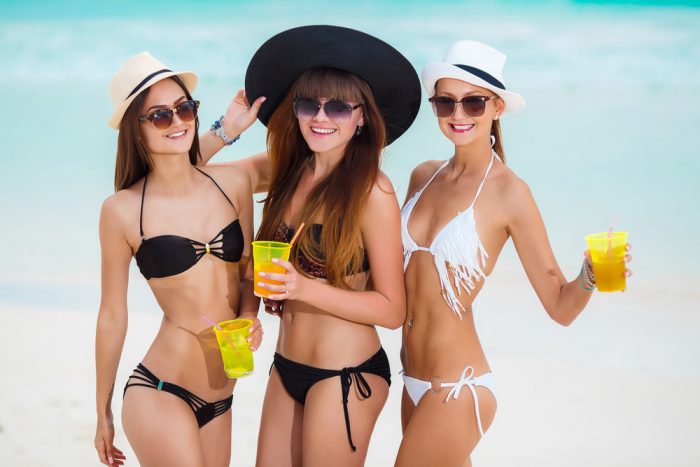 Find a Charming Venue
The location of the party can go a long way towards establishing the tone.  However, it can be difficult to strike the right balance between the type of venue you need for a fun party and an upscale shindig.  Many venues that people traditionally think of as classy, such as clubs, upscale dining establishments, or exclusive spas are not often thought of as fun.  However, even for a classy party, it is far more important to pick a venue that is fun than it is to pick one that you automatically think of as classy. 
That said, there are certain venues that most people think of as decidedly not classy.  You probably want to avoid those venues if you are striving for a chic bachelorette party.  You might want to avoid male revues, dive bars, and rowdy nightclubs if you are aiming for that air of sophisticated. 
If you are planning a destination bachelorette party, you may want to keep in mind that the time of year can have a significant impact on the tone of a destination.  Visiting many popular tourist destinations during spring break can be tawdry, while a visit to the same location in later spring can be amazing.  Going to New Orleans during Mardi Gras can be wild and crazy, but, unless you have massive amounts of cash to spend, it will be hard work to plan a classy party during that time period.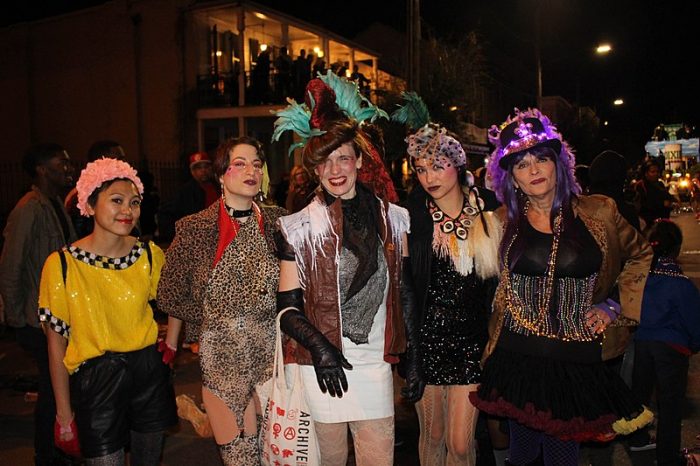 Sophisticated Décor
Coco Chanel is famous for saying, "Before you leave the house, look in the mirror and take at least one thing off."  This piece of advice does a great job of summing up the minimalist mantra of less is more.  If you want your bachelorette party to have a sophisticated air, you want to embrace this same philosophy when choosing bachelorette party décor.  Instead of the over-the-top craziness of traditional bachelorette décor, think of fresh flowers, and simple color schemes. We love this idea of simple rose gold décor. 
Classy Activities
Perhaps the biggest factor in planning a classy bachelorette party is choosing activities that reinforce a sophisticated and chic vibe.  Many people associate bachelorette parties with wild, raucous behavior, and it is that behavior that makes them wary of planning a bachelorette party.  While, we have nothing against some wild, raucous behavior, we believe in different strokes for different folks.  People who are uncomfortable with an activity are not going to enjoy themselves, even if thousands of other bachelorettes have a great time doing that exact same thing.  That is why we have chosen a few different activities that have a milder vibe, which are perfect for the classy bachelorette party.
Tea Party
Think back to when you were a little girl, pretending to be a grown-up, sophisticated adult.  What did you do?  You threw a tea party.  Tea parties have always been an upscale way to take a moment to enjoy the finer things in life.  You can throw a tea party several different ways.  You can head to a tearoom or teahouse for a professional tea party experience.  Expect to find a selection of teas, light refreshments, and a subdued dress code if you do. 
Of course, you can also throw a tea party at home.  In fact, you probably have much of the stuff you need for a tea party.  If you have a tea set, you can use it.  If not, you can ask your friends to bring their favorite tea cups.  In fact, what many people do not realize is that, even at fancy tea parties, it is perfectly acceptable to mix and match your tea sets.  You can create memorable decorations with a nice tablecloth, photos, and some fresh flowers.  Offer a selection of teas and make sure you have cream and sugar for your guests.  While you might think of hot tea when you think of tea parties, you actually want to offer your guests hot and cold teas.  Finally, you want to offer light refreshments.  You should choose an assortment of sweet and savory small bites to serve with your tea. Food ideas include mini sandwiches like watercress or cucumber, scones, tea cakes, chicken salad, fruit skewers, crostini, biscotti, cheesecake bites, mini-tarts, jam, clotted cream, mini quiche, pinwheels, assorted breads, biscuits, and macaroons.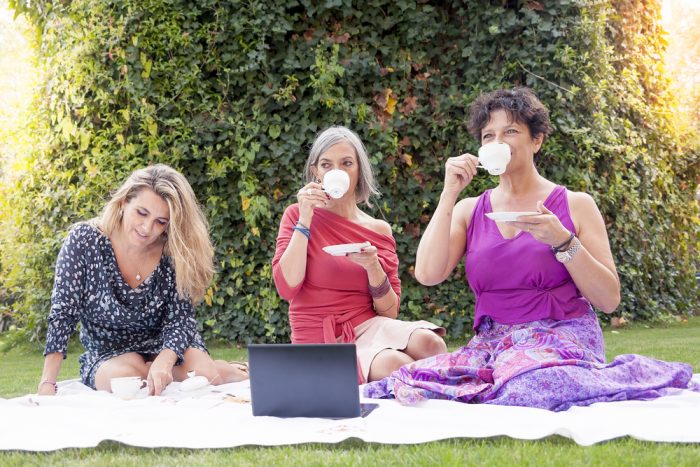 Wine Tasting
If you want to capture a sophisticated air, you can throw a wine-tasting.  Depending on your location, you may want to host your wine tasting at a winery.  We love the idea of going to a winery for a wine-tasting.  What you may not realize is that, even if you are not located near a vineyard, you may actually be very close to a winery.  Wineries may import their grapes from a nearby area.  In addition, some establishments that are focused on wine may call themselves wineries and have a winery-type feel, but actually be closer to a wine bar.  You may be able to schedule a wine tasting party at one of these establishments. 
If you are not located near any wineries, you can always throw the wine tasting at home.  For a wine tasting, you need to plan on pouring about a half-glass of each wine that you are showcasing.  You can choose a theme for the tasting, such as focusing on a certain vintage, wines from a certain region, or specific types of wine.  You can also focus on different price points or even blind tastings.  However, you do not have to be formal in your approach; you can also ask guests to bring a bottle of wine and just sample from everyone's favorites.
You probably have most of the things you need for a wine tasting on hand.  The possible exception would be wine glasses; you want to have at least two wine glasses per guest, so that there is an opportunity to rinse out the glasses between tastings, if necessary.  You do not have to go with fine stemware; you can find glassware for the party at a local dollar store.  The one thing you may not have on hand is a spit bucket.  Though this concept does not sound refined, you do want to have an easy way for people to get rid of the wine that they do not like!
There are traditional foods that people eat at wine tastings.  That is because certain foods go really well with wine.  Bitter chocolate, various fruits, soft cheeses, and salted nuts are all great choices for a wine tasting.  You also want to be sure to have water crackers on hand for palate cleansing between your tastings.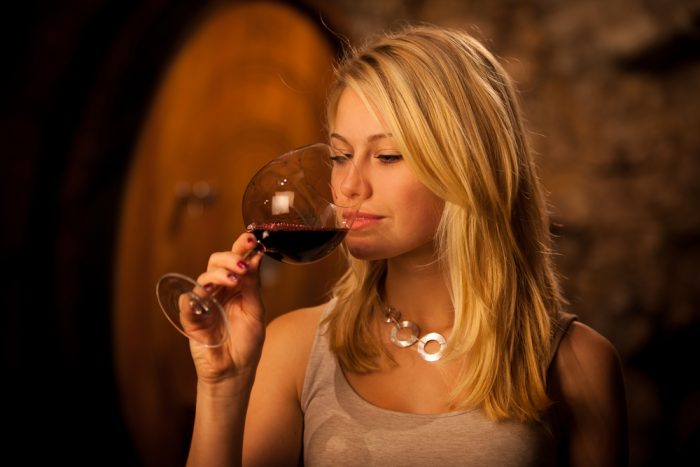 Boudoir Photography
Just because you want to host a classy bachelorette party does not mean that it cannot also be sexy.  There is something timeless about well-done pin-up and boudoir photography, which can make women feel beautiful, sexy, and alluring without feeling cheap or tawdry.  If you choose this option, you want to spend the time researching well-established boudoir photography services in your area.  Look at their portfolios to make sure that they match the sophisticated and elegant feel that you want for the party.  You also want to make sure that you can book hair and makeup through the company, as well.  Then, when your photography session is finished, you can all head out to a dinner at a five-star restaurant and maybe out for drinks at a nice bar.
Slumber Party
A classic way for groups of girls to get together, slumber parties are perfect for groups of all ages.  However, slumber parties can get a little raunchy and naughty, so you might want to put a little extra thought into the planning if you want to make sure and keep things chic.  Slumber party classic activities include movies, makeup, facials, nails, food, and gossip.  For a grown-up slumber party, we add booze to the mix.  For a classy take on the slumber party, perhaps consider getting a makeup professional to come in for a tutorial for wedding-day makeup or having a pro come in for group mani-pedi's.  Stock champagne and orange juice for mimosas in the morning and consider serving a simple but elegant dish, such as shrimp scampi, instead of the expected pizza and junk food.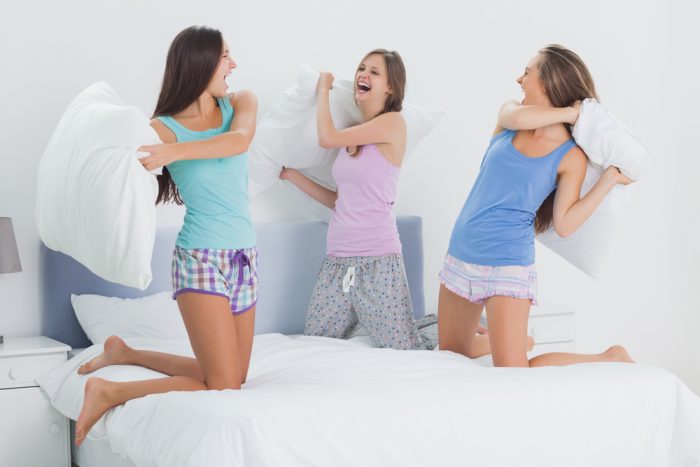 Glamping
Along the same lines of a slumber party, but more like a destination bachelorette party, consider a glamping get-away.  Glamping takes everything wonderful about camping, like the outdoors, the silence of the country, and peaceful night skies, and then subtracts everything horrible about camping like sleeping on the ground or not having civilized restroom facilities.  You can glamp on your own if you have the equipment, but, fortunately, you do not have to do it all yourself.  Instead, you can look for local campsites that have glamping options.  Airstream trailers, yurts, treehouses, and luxury tents are just some of the glamping options that you will find.  It is a great way to have that "get away from it all" time with the girls without foregoing any of the day-to-day luxuries that you may have come to see as necessities.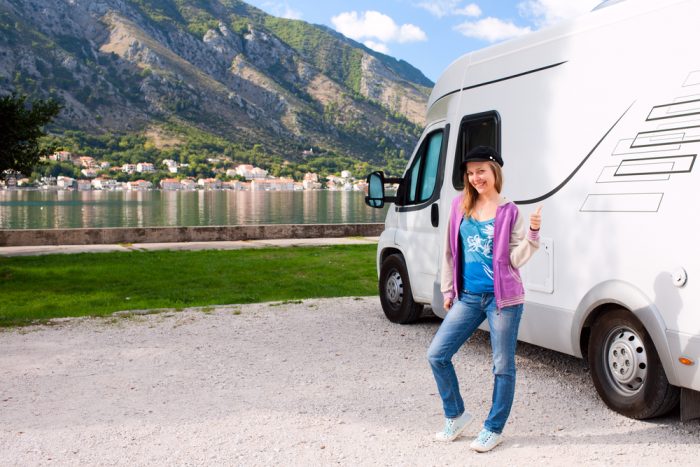 Dancing
When most people think of dancing, they think of nightclubs, very loud music, and fending off unwanted advances.  However, chances are good that there are some classy bars near you that are known for offering dancing and maybe some live music without all of the fuss and bustle of the nightclub scene.  Not sure if there are any bars like that near you?  We suggest looking for jazz bars; rooftop bars also seem to strive to create that upscale vibe.  Dress to impress and enjoy that Sex in the City nightlife vibe. 
Take a Class
One of the things that makes a person sophisticated is being open to new experiences.  That is why taking a class is a great option if you are striving for a classy bachelorette party.  A bachelorette party favorite is cooking classes; you can find classes that will teach you how to create a five-course gourmet meal, focus on desserts, or teach you how to create a meal and choose a great wine-pairing.  However, cooking is not for everyone.  You may want to choose a wine-tasting, whisky tasting, or even a cigar-tasting class.  Maybe your group is dying to learn how to play poker or blackjack.  Perhaps you want to create art in a guided art-class setting.  The type of class is not really as important as the whole shared learning experience, though you may want to check into the venue and the instructor to make sure that both will meet your expectations.  Speaking of venues, one of the great things about classes is that they can be done in a variety of different settings.  You can travel to a designated location for the class, have an instructor come to a private party room or similar setting, or have an instructor come to your home.  The flexibility can help you create a customized experience that is perfect for your party. 
Bachelorette Brunch
Everybody loves brunch.  Decadent food, plenty of drinks, and a leisurely meal often in a gorgeous environment with a group of your favorite people.  It is a fantastic way to spend a bachelorette party.  In fact, the bachelorette brunch is one of those ideas that can be tweaked to fit into almost every category of bachelorette party- you can go wild at a drag queen brunch, affordable with a potluck brunch, or totally upscale with a brunch at a country club or fine-dining establishment.  It is also the bachelorette party experience that is easiest to combine with a shower theme, because it naturally lends itself to being appropriate to a wide variety of different guests and ages.  We love the idea of a fancy brunch for a bachelorette party with understated class; think of the restaurant that you have always wanted to try, which gets rave reviews, and is known for amazing service.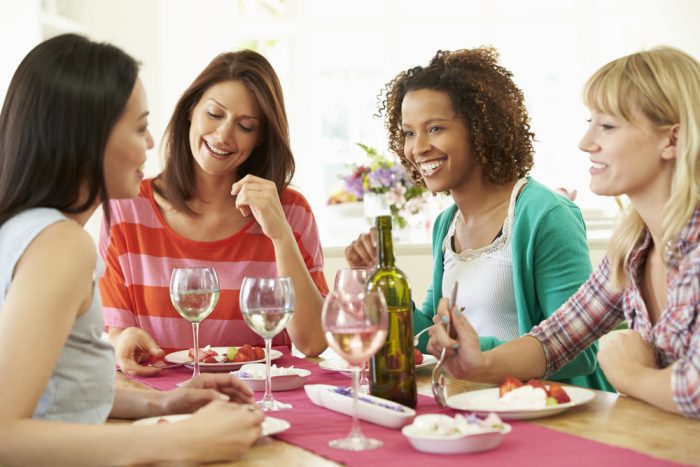 Spa Day
A spa day bachelorette party is a great way to spend quality time with your girls in a no-pressure atmosphere.  The spa day experience can be luxurious or it can be affordable, but, with the growing popularity of different types of spas, you can find surprisingly luxurious experiences even in affordable price points.  Think of you and your girlfriends sipping on sparkling wine while you get pedicures, or lounging in fluffy white towels as you sit in a sauna post-massage.  This is a bachelorette party that has universal appeal.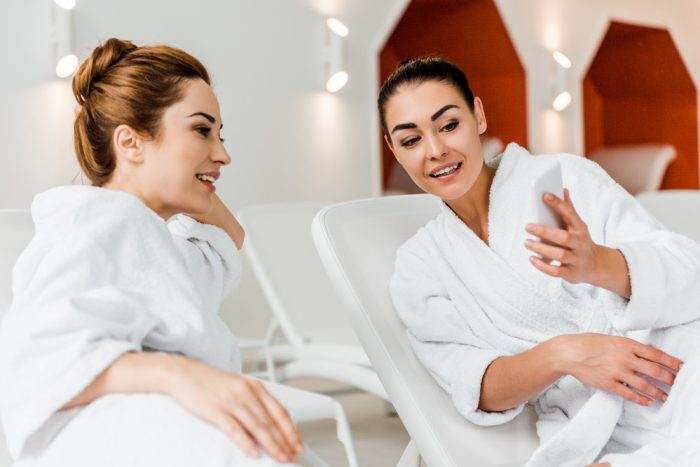 Elegant Does Not Have to Mean Expensive
Many people worry that money, or actually a lack of money, is a barrier to having a classy bachelorette party.  However, classy does not have to be expensive.  Many of the ideas that we have provided can be tweaked to fit almost any budget point. 
Conclusion
If the idea of a bachelorette party has you cringing because you are thinking it means penis straws, veils with condoms on them, and slippery strippers, we hope that we have shown you that a bachelorette party can be classy.  After all, a bachelorette party is only fun if the bride and her friends are comfortable enough to have fun.  Whether you choose one of our bachelorette party ideas or come up with your own theme, it is easy to create a bachelorette party that has timeless appeal and still lets you and your guests have a great time.