Plan the Perfect Winery Bachelorette Party (2023 Guide)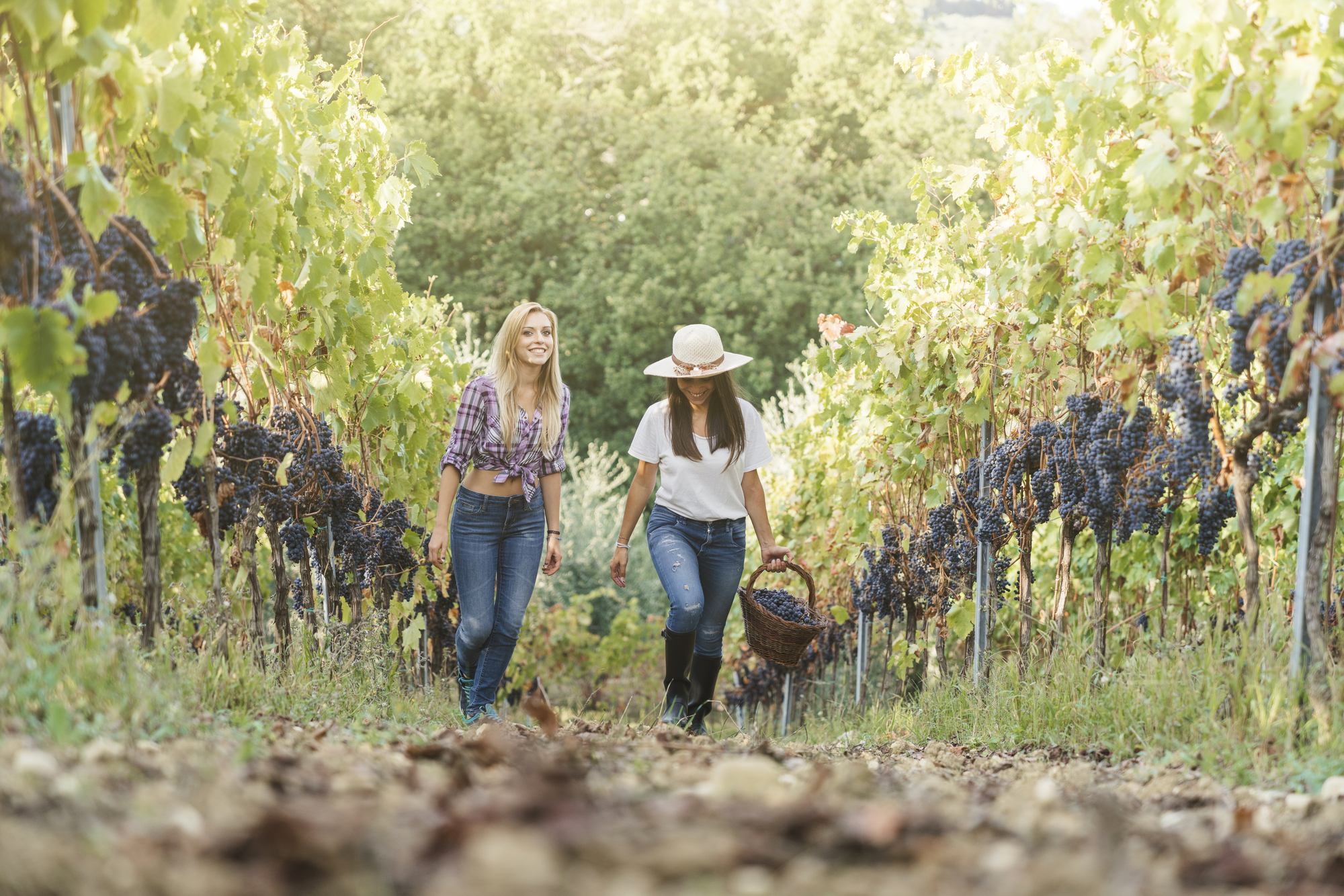 This post may contains references to products from one or more of our advertisers. We may receive compensation when you click on links to those products or services. Please also consider
donating to our website.
Girlfriends and wine go together like peanut butter and jelly, but even though the pairing is so comfortable, there is also something elegant about it.  Even though it will certainly involve copious alcohol consumption, a winery bachelorette party adds a dash of sophistication, making it a great choice for quieter groups, older brides, and groups where there are some obligatory invites (future sister-in-law, etc.) that might not be up for a wilder party scene.  Do not let the lack of debauchery make you think that this is a second-tier type of bachelorette party.  From what we hear from brides, the ones who want winery bachelorette parties report having a fabulous time on them, and the guests say that they would happily go to another winery bachelorette party.  In fact, many of them say it is the best bachelorette party experience they have ever had, in large part because they get to really focus on the bride.  So, read on to find out the steps you need to follow for the ultimate winery bachelorette bash.
Why Choose a Winery?
There are a lot of great reasons to choose a winery bachelorette party, but the sophistication factor is probably the one we hear the most.  People who choose winery bachelorette parties want to do something special for the bachelorette party and would like to enjoy some drinks responsibly, but are not into the idea of a wild, out-of-control type party.  Wineries are a great way to make sure you are around an adult crowd that is focused on relaxation without getting a bunch of what we are going to call the "spring break" crowd.  That is not their only attraction.  If you are heading out to an area with a lot of wineries, they are super-friendly for tourists, so you will be able to find nice accommodations, great restaurants, and even a variety of related activities to keep you company.  Heading to a closer winery?  You will almost certainly find a full-service venue that will offer some type of food and might even offer a party room for your private enjoyment.  Many wineries also have experiences, whether that means actually touring the vineyards, guided tastings, or even classes focused on cooking with wine.  This means that your winery party will be easy-to-plan.  Of course, it should go without saying that a winery bachelorette party, as fabulous as it is, is only a great idea if the bride loves wine.  If the bride is not so fond of the grapes, is preggers, or needs to abstain from alcohol for some reason, then the winery idea is not a great one.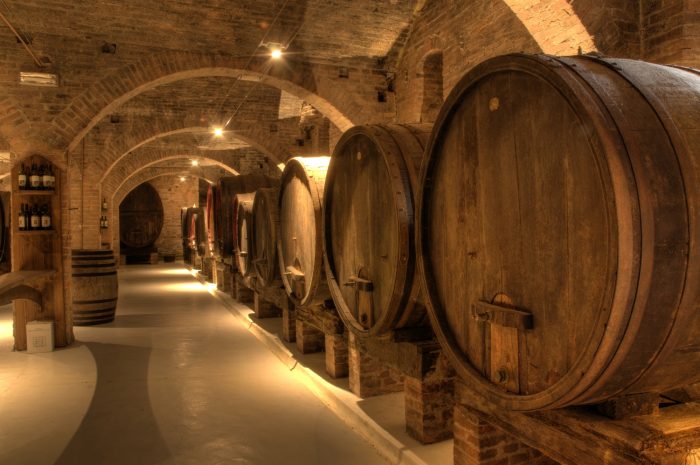 Winery Invitations
If you are headed out to a winery, there is a good chance that the party is a destination party.  Even if it is not, winery tastings are often a little more scheduled than the average bachelorette bash.  That is why we love the idea of including an itinerary with your invitations.  Not only do they let the guests know what to expect, they also send a subtle heads-up that stragglers just might be left behind and have to catch up with the group!
This simple theme goes great with the bride's theme is she has chosen rustic: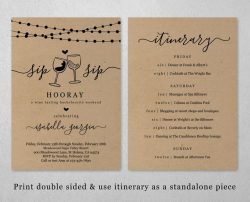 This simple floral and white design has a classic bridal shower-type feel that we are loving: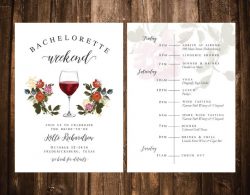 If you are heading to Napa, what could be cuter than an invitation depicting a Napa winery: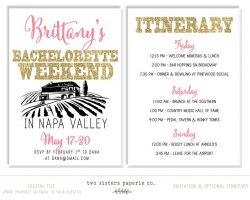 Pick Your Location
Obviously, before you can get too far in the party planning process, you have to decide where you are heading for this Sip! Sip! Hooray! party.  In the U.S., when you think wine country, you automatically thing of the Napa Valley.  We are going to discuss the pros and cons of heading to Napa, but we also want you to challenge yourself to consider other locations, as well.  While Napa's amazing weather, historic role in wine production, and tourist-friendly areas make it a great winery destination, it is certainly not the only winery worth visiting in the U.S.  You may have wine-friendly country much closer to you. 
Texas Hill Country
You might not think of fine wines when you think of Texas, but Texas has many of the same growing conditions that make California, Spain, and France such great regions for wine.  If you are not from Texas, you might not even realize that the state has a Hill Country, but centrally located in the state is an area of slightly arid hills, rivers, and gorgeous scenery as well as over 50 amazing wineries. 
Our favorite resource for more information about the Texas Hill Country wineries is www.TexasWineTrail.com, which not only provides information about the various wineries you can find in Texas, but also links to some of the seasonal events and tours you can find in the area.
The Hill Country is a little like a backyard playground for a lot of Texans, and a bit of a secret to those who are out of state.  You can find plenty to do, whether you want to float down the river, go with some hiking, visit cities like Austin or San Antonio, head out for some horseback riding, or do some antique shopping in one of the cute little destination cities (Johnson City is our favorite).  If you have some flexibility in when you get to plan the party, we recommend late spring, when the Texas wildflowers are out in force.  You will see breathtaking displays of fields of flowers.
Of course, a winery bachelorette party is supposed to be luxurious, so plan to stay at one of the fabulous resorts you can find in the Hill Country.  We love the Miraval Austin, a health and wellness spa that focuses on mindfulness and transformation.  Not your typical party resort, it is an ideal location to reconnect with yourself and with the ones you love.
Central Virginia
The area around Charlottesville is not only full of picturesque wineries, but is actually considered one of the country's best wine growing regions by top sommeliers.  The region itself is breathtakingly beautiful with gorgeous rolling hills in a quaint countryside setting.  It is also full of plenty of history, including Thomas Jefferson's Monticello estate.  If you want to hit the region's best wineries, then you need to go to Barboursville Vineyards and Veritas Vineyard and Winery.  However, if you are looking for a great winery for a bachelorette party, then the Pippin Hill Farm and Vineyards, which bills itself as a culinary winery and offers some amazing party opportunities, would be our pick. 
If you decide to stay in Charlottesville, we have another activity to add to your list: heading to the Halo Salt Spa.  This local favorite offers a unique twist on the traditional luxury spa experience, with spa services that include: halotherapy, salt room massages, acupuncture, yoga, skincare, and the amethyst biomat.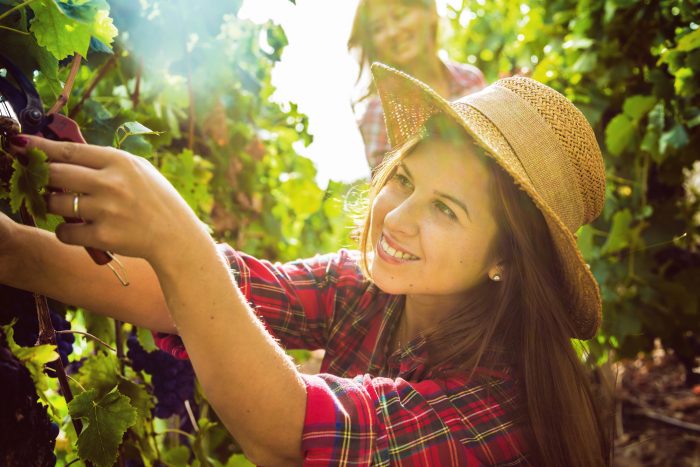 Upstate New York
People are always surprised to find that New York has a number of great wineries, and that surprise is well-deserved, since New York's climate is very different from the Mediterranean climate associated with other wine-growing areas. The region best known for its wineries is known as the Finger Lakes.  While we love the Hill Country for a spring winery tour, the Finger Lakes are great in the fall, when you can combine some of the amazing wine touring opportunities with scenic fall leaves and autumn activities. 
The Finger Lakes area has a surprising amount of things to do.  Unless you are a native New Yorker, or at least from a nearby state, you might think upstate New York is all farmland.  However, there is a surprising amount and variety of culture available in the Finger Lakes Region.  You can learn more about it by visiting Finger Lakes Wine Country, but you can find museums, theatre, outdoor sports, NASCAR, Grand-Am, and Grand Prix racing, casinos, and even horse racing. 
The Finger Lakes are also known as an emerging foodie destination, with chefs from around the globe coming to the Finger Lakes to establish amazing restaurants.  Many of these restaurants take advantage of gorgeous waterfront locations, making them ideal party places.  The farm-to-table approach is very popular here, which is no surprise, given that upstate New York is known for some amazing farm produce.  That is why you may want to visit one of their popular farmer's markets if you are there during the season. 
While you can create your own tour, the Finger Lakes are known for three different wine tours: the Cayuga Lake Wine Trail; the Keuka Lake Wine Trail; and the Seneca Lake Wine Trail.  Each of these trails takes you to different wineries, but the stops are not the only difference.  They also offer wine and food pairing events, some shopping, and the flexibility to use your event ticket over an entire weekend. 
Napa Valley, California
Last, but certainly not least, Napa Valley is America's original wine country.  This beautiful region of the country, located north of San Francisco, has a well-established reputation, not just for producing some amazing wines, but also for being extremely welcoming to visit.  There are so many wineries in the Napa Valley that it is literally impossible to visit them all, but that huge variety means that you can tailor your visit to meet your precise expectations.  Napa is known for its Cabernet Sauvignon, which makes it a great destination if the bride loves red wine, but it also offers plenty of varieties for the white wine and even the rose drinkers in your group. 
Because it has developed as such a hot tourist destination, Napa has a great cottage tourist industry, as well as its wineries.  This means that some of the country's most luxurious spas can be located in the middle of wine country.  The Spa at the Silverado Resort and Spa is located close to downtown Napa, but transports you in spirit to the heart of wine country.  We suggest booking outdoor massages in the private cabanas for your whole group.
One of the coolest things to do if you are heading to Napa is to hop aboard the Wine Train.  While they offer a variety of different experiences, the Wine Train is probably best known for its all-day winery tour, which takes you on a 36-mile round trip from St. Helena, exploring wineries along the way.  On your trip, you will see Napa's gorgeous landscape, get access to insider winery tours, and eat a delicious four-course meal on the train.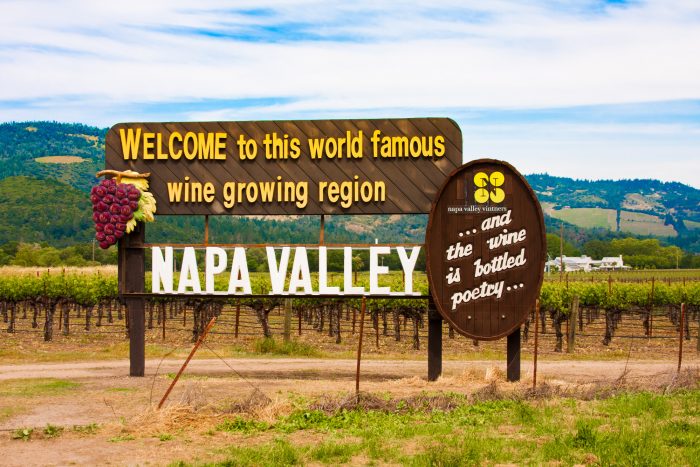 Other Destinations
We listed some of our favorite destinations for winery bachelorette parties, but there are so many other great places in the U.S. that are really building up a reputation for great wine.  Consider visiting: Augusta, Missouri; Snake River Valley, Idaho; Walla Walla, Washington; Sonoma County, California; Santa Barbara County, California; Willamette Valley, Oregon; Temecula Valley, California; and Lake Michigan Shore, Michigan.
Winery Parties Without Travel
What if you want to do a winery party, but a destination bachelorette party is just not in the budget?  Well, you are in luck.  Right now, the United States is really experiencing tremendous growth in its winery sector.  This means that many locations that are far away from vineyards may actually have wineries where you can enjoy the winery experience without traveling to the vineyard.  Depending on where you are located, getting to one of these wineries may mean traveling around the street or it may mean traveling an hour or so.  
For example, in Houston you can find Nice Winery, a winery owned and operated by two sommeliers who are also winemakers and Le Cordon Bleu trained chefs.  They offer regular tastings, which pair selected wines with meat and cheese tastings, cooking classes, pairing classes, private events, and they are even hosting an upcoming Rhone River Cruise for wine lovers.  Fortunately, the concept of the boutique winery is catching on and you can find fabulous local wineries, not only in the big cities around the country, but also in local areas.  You might find them listed as wine gardens as well as wineries.
Creating A Winery Experience at Home
No luck finding a great local winery and no budget to travel to one of the country's awesome wine regions?  No problem.  You can actually create a winery-like experience with a little preparation ahead of time by hosting your own wine tasting party.  You can find a great how-to article at Food and Wine, which gives some great tips for hosting your own wine tasting party, but not all of them really apply to the bachelorette bash.  While we agree you need real wine glasses, for a one-time bachelorette party you can buy budget glassware rather than name-brand stemware.  We do agree that you should really pick a theme and stick to it, but you also have to keep in mind that this is a bachelorette party first, a wine-tasting second.  You will need to offer both whites and reds unless you know that you have only real wine lovers in your crowd, because some people do not drink both.  Offer plenty of food, but feel free to keep the menu full of appetizers and finger foods, because you do not want to have to worry about cooking or serving.  If you do decide to go with a full-meal, consider having the party catered.  You would be surprised how affordable independent caterers can be.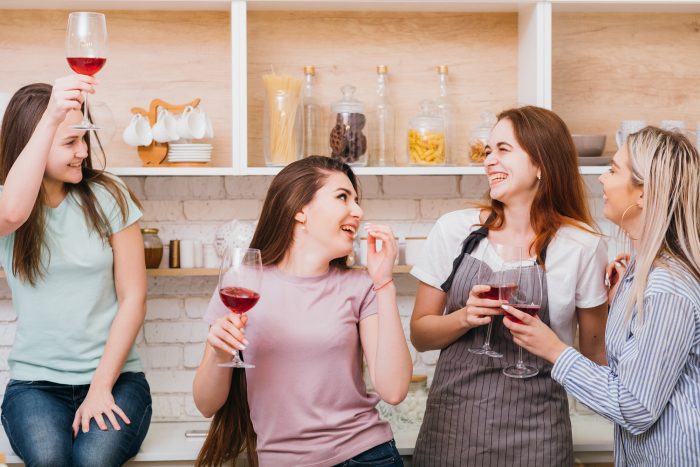 Winery Bachelorette Party Shirts
This might sound a little ridiculous, but one of the reasons we love the idea of a winery bachelorette party is that there are tons of cute t-shirt ideas for these parties and we love, love, love cute t-shirts. 
How Merlot Can You Go?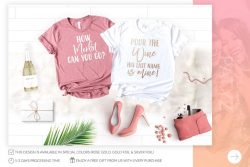 Pour the Wine, His Last Name's Mine: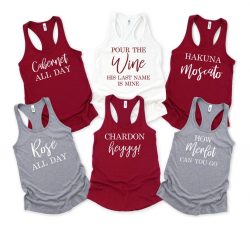 Hakuna Moscato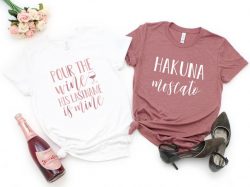 Stop and Smell the Rose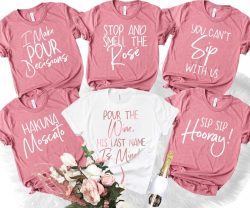 We could go on and on, but you get the picture.  Wine related shirts for bachelorette parties are easy to find, pretty witty, an affordable souvenir, and look great in deep red and deep rose tones. 
Conclusion
There are so many great themes for bachelorette parties that it can be hard to pick one.  But, if you are looking for sophistication, the winery theme is hard to beat.  Whether you are replicating a winery experience in your home, headed out to a lesser-known wine region, or heading to Napa (the Vegas of wine regions), you are sure to enjoy your winery bachelorette party.