How to Plan a Combined Bachelor/Bachelorette Party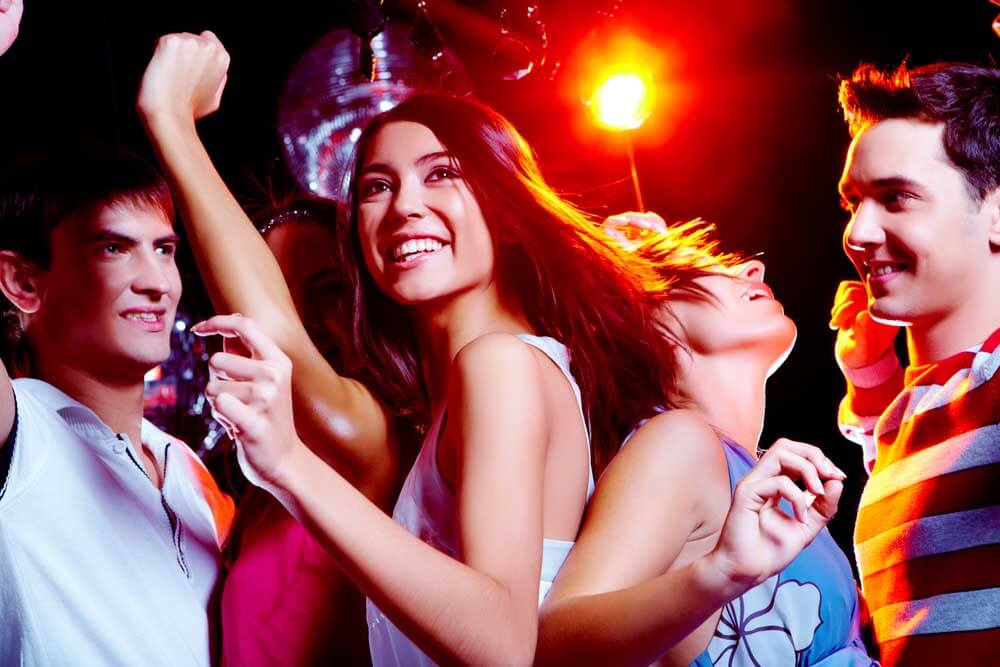 This post may contains references to products from one or more of our advertisers. We may receive compensation when you click on links to those products or services. Please also consider
donating to our website.
Combined bachelor/bachelorette parties are a surprisingly controversial topic. Some people love the idea of a jack and Jill bachelor/bachelorette party, while others feel like combining the two ruins the whole party. While it may be surprising that people would have such strong feelings about a party, the reality is that a stag-and-hen party done right can be a blast, but one done wrong can be really awkward.
This guide will take you step-by-step through what you need to create a great coed bachelor/bachelorette party. From picking the guest list to picking great coed activities, we can help ensure your party is a hit with all of your guests.
What Is a Joint Bachelor/ Bachelorette Party?
You may have been told that a joint bachelor/bachelorette party is one with male and female guests. That definition might be true for most joint parties, but the mere fact that it is coed does not really capture what it a joint party is. A joint party is one that celebrates both the groom and the bride-to-be.
How do you combine the bride's friends and the groom's friends without making things awkward? Well, honestly, that answer comes down to what you know about the bride's friends and the groom's friends. We have found the following things help make a joint part run smoothly:
Invite friends of both genders for both the bride and groom OR stick to all of one gender for each side of the party.
Determine whether your two groups are best-described as competitive or cooperative and plan accordingly!
Make sure all guests know it is coed.
Make sure that all guests know that a coed event DOES NOT mean that they bring dates; this is an invitees-only event.
Really think about the raunch factor; how raunchy can you go without making the guests, or the honorees uncomfortable?
There should be a person in charge of party planning from the bride's side and the groom's side (usually the maid of honor and the best man). Both of them should get input and both of them should do the work.
Why Combine Bachelor and Bachelorette Parties?
We get lots of questions about whether combining the bachelor and bachelorette parties is a good idea. We think it is. Sometimes. The reality is that society has changed in some significant ways since the first stag or hen parties. Not only are people marrying later in life, but there is also not the old-fashioned taboo against male-female friendships. As a result, both the bride and groom are likely to have friends of both genders. Moreover, the bride and groom have probably already spent a significant amount of time combining their social circles. Therefore, a combined party makes a lot of sense.
Combined parties are great for destination weddings or when close friends will need to travel for the wedding, because they are the one type of bachelor or bachelorette party that is okay to have the weekend of the wedding.
Combined parties celebrate people who are friends with the bride AND the groom.
Combined parties give distinct friend groups a chance to meet and get to know each other before the wedding.
Combined parties can break the ice and help bring groups closer.
Combined parties are great for both smaller and larger groups.
How to Plan a Joint Bachelor/Bachelorette Party
Make Your Guest List
The guest list is almost always the most important part of any bachelor or bachelorette party. You want a group that is going to be up for fun, that will celebrate the bride or groom, and that will be as drama-free as possible. Unlike other pre-wedding events like wedding-showers or engagement parties, there is no must-invite list for a bachelor or bachelorette party, so the bride and groom should feel free to pick people they know will be fun.
Alas, with a joint party, you won't have the convenient excuse of gender to help you avoid inviting some people who might not be as fun. If the groom's sister is a drag, it will still be hard not to invite her to a coed party. Keep that in mind when crafting your list. You may want to choose to make it friend's-only to avoid those dilemmas.
Coed parties also lead to guests thinking they can bring their plus ones to the party. Alas, this can mess up the whole great-friends vibe you are striving to create. Be very specific in your invitation, but also be reasonable. If the party is the same weekend as the wedding and one of your besties is coming in from out of town with a significant other that no one has been able to meet, it is not reasonable to expect that plus one to sit at the hotel the day of the bachelor party.
Plan Your Theme
There are some really great co-ed bachelor and bachelorette party ideas out there. However, you are going to need to consider some non-traditional ideas if you want to plan a great party. What do we mean by non-traditional? Bar-hopping and strip-clubs are probably not the best choices, even if they remain great ideas for the standard bachelor or bachelorette party.
Before we get into alternative ideas, we want to discuss why bar-hopping alone is not our favorite idea. Let us assume that your friends are young, healthy, and some of them single (or like to act like they are when not with their significant other). Add alcohol to the mix and what do you get? Hookups. Sometimes very regrettable hookups that can make your wedding day very awkward. While some liquid relaxation will still probably play a big role in your party, you don't want to create a frat-party atmosphere.
Let's also talk about strippers. Look, women have been enjoying going to see female exotic dancers for a long time, and there's no reason that a secure group of males can't see a male exotic dancer without getting intimidated. However, people can get uncomfortable about overt sexual content with a group of people that they do not know well. Moreover, a jealous groom or bride can make lap dances, etc., very uncomfortable, not only for each other, but also for the guests and the performers.
So, what types of things are really great couples' bachelor/ bachelorette party ideas? The answer depends on whether your groups are more collaborative or competitive. The collaborative/competitive distinction becomes a really critical one when you are planning a party that draws from different groups of friends, so we are going to take a moment to define them.
Collaborative groups work together. People who have a more collaborative personality style like to work together to accomplish a goal. While a larger group of collaborative people may work well in smaller teams, activities that are too competitive may discourage them from making friends and mingling with the rest of the guests.
Some great activities for collaborative groups include: escape rooms, some game night games, swimming parties, shooting, sporting events, and some seasonal events.
Competitive people like to compete against other people and determine a winner. While competition-type games might seem perfect for competitive people, overly competitive people can sometimes suck the joy out of a competitive experience. So, be honest with yourself about whether your group of friends is competitive or overly-competitive.
Some great activities for competitive groups include: scavenger hunts, paint ball, laser tag, and some game night events.
Think About Budget
Budget is always a concern when planning bachelor and bachelorette parties. With a combined bachelor party, you have twice as many guests to consider when planning budget considerations. You will probably also be dealing with some guests that would not have been invited if it were not a coed party (think significant others who are on the fringe of the friend's group, but who would be hurt to be left out). This means double the expense for partygoers who are invited as a couple.
Does that mean that you have to forego some of the more expensive party ideas? Not necessarily. But with a guest list that is likely to be larger than your average bachelor or bachelorette party guest list and the ever-present possibility of unexpected plus ones, it does mean that you need to be very explicit about financial obligation. For example, if you are planning a destination party, make sure that people understand that the cost is per person, not per room.
Customarily, for in-town parties, the guests all pitch in to cover the bride or groom's expenses. As the party planner, when considering budget, one of the things you need to think about is whether guests that are part of a couple are going to pitch in for one part of the expenses or for two parts of the expenses. That may not seem like a big deal, especially for a relatively inexpensive party, but it is something that can lead to disagreements, so decide on your policy, let it be known, and stick to it.
Purchase Your Invitations
When planning a coed bash, one of the first things you will notice is that invitations for pre-wedding parties are often very gendered. Evite.com has some invites that will work for coed parties, and Zazzle has a wide array of paper invitations that you can customize for your party. Here are some of our Zazzle favorites that can work for coed parties: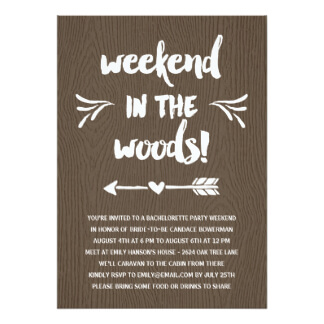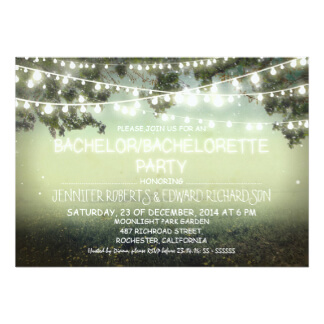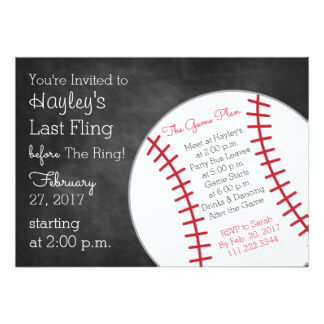 Joint Bachelor and Bachelorette Party Invitation Wording
The most important part of the invitation wording is that you make it clear that it is a joint party. To avoid any confusion, we suggest making that part of the wording on the invitation, itself. You also want to provide details of what will happen, where to meet, any driving arrangements, etc.
One invitation trick we love is to omit a crucial piece of information that guests can only get if they RSVP. This is great is you have a group that is bad about providing RSVPs and can be a way for you to keep track of a larger guest list!
Co-ed Bachelor Bachelorette Party Ideas
There are so many great party ideas out there, and, fortunately, you can throw a great joint bachelor bachelorette party at any budget point. From great budget-friendly party ideas to over-the-top ideas, we are your source for amazing party ideas.
We have clients all over the country, so, while our ideas may highlight vendors in certain areas, most of them are adaptable to resources local to you.
Game Night
One of the most budget-friendly parties you can throw is a game night. These can be done in someone's house, backyard, or hotel suite, and can be done potluck and BYOB for those who are really budget-conscious. In fact, game nights are supposed to be about getting together with friends, so if you find yourself spending a lot of money, you are probably getting off track!
While there may not be a ton of specific joint bachelor bachelorette party games out there, there are a bunch of fun games that are meant to be played in groups, that can really help break the ice. Some of our favorites are:
Cards Against Humanity
This game has been around long enough that most people have already played it. It is like a NSFW version of Apples to Apples that can result in some hilarious combinations. Plus, because most people have either played it or other games similar to it, it is easy for people to pick up.
Bad People
Do not play this game if anyone's feelings will get hurt easily.
CoolCats & AssHats
You know what your friends like, right? If you do, you get to be a coolcat. If you don't, you're an asshat and your friends get to decide things for you to do. Kinda like truth-or-dare, but on steroids.
Watch Yo Mouth
Not all party games have to be dirty to be fun. If your friends can play this game without cracking up, then you might want to check them to make sure they aren't robots. You put a standard dental appliance (additional ones available) into your mouth and then try to say common words or phrases. Your friends laugh at you and guess what you are trying to say. There is also an adult expansion pack available if you want to raunch up the game.
Cranium
Another classic favorite that works for crowds of all ages, one of the reasons that we love Cranium is that it combines elements from lots of party game favorites. This makes it a great pick for groups with diverse interests, because there are literally dozens of possible activities for the game.
Scavenger Hunt
Staying close to the game night theme, we love the idea of a scavenger hunt. There are a ton of different ways to carry off a scavenger hunt game. You can go old school and have people collect items, or do a photo scavenger hunt. You can keep people in a limited area, or you can make the scavenger hunt an all-day activity, searching out different things in your area. The items on the scavenger hunt can be straightforward or they can be based on clues.
For a coed bachelor bachelorette party scavenger hunt, we love the ideas of using clues for the items. The bride's team and the groom's team each get to submit a number of clues (keep it under 25) that the bride or groom-to-be should be able to guess, based on their knowledge of each other. The groom's team gets the list compiled by the bride's team and vice-versa. This combines elements of classic Newlywed Game-type shower or bachelorette party games with the scavenger hunt theme.
At the end of the scavenger hunt, the teams should come together at a central location for food, drinks, and socializing. This can be anywhere from someone's house to a favorite bar or a reserved room in a restaurant or hotel.
Shoot 'Em Up
Heading to a shooting range has become really popular with both bachelor and bachelorette parties, making it a great activity for a combined group. Look for a local gun range and see what type of party packages they offer. Machine Guns Vegas offers guests the chance to shoot a wide range of guns and also offers combo packages that let you combine shooting with things like driving an exotic race car on a closed track!
Want to actually shoot at each other? Head out to a paintball range or to play laser tag. Warning- if you are shooting at each other, you want a competitive group to have maximum fun!
Escape Rooms
If you haven't heard of escape rooms, then you are missing one of the coolest developments in entertainment. You are locked in a room and given a limited time to escape. They come with all types of themes. After checking out escape rooms around the U.S., we have to admit our favorite one is in Houston, Texas at Escape Hunt Houston. Their room Houston, We Have a Problem puts you in the place of the astronauts and mission control for the Apollo lunar mission. You have to solve the problem and escape the room in time or the astronauts die!
Sporting Events
Are all of your friends fans of a particular team? Then, a bachelor/bachelorette party that takes in a game may be a great place to go. Of course, splurging on great tickets or even a box at a major sporting event is the luxe way to go, but if you have a more limited budget, you can throw this type of party anywhere with a big screen TV, plenty of snacks, and lots of beer! If you have a large crowd, you may even want to think about renting out part of your favorite sports bar for the night.
Even if your friends are not fans of a particular team, you might want to consider a sporting event. If you have a minor league team in your area, tickets to their events are going to be a fraction of what they are for major league games. Many minor league stadiums not only offer group package rates, but also offer party decks or boxes. For folks in the New Jersey area, we love the Somerset Patriots in Bridgewater, New Jersey. The stadium has a relaxed-friendly vibe that gives a group a chance to socialize, while watching the game. Plus, they offer enough other activities that even people who don't like baseball can have a great time.
Seasonal Events
What are the great seasonal events in your area? They can make wonderful party activities, and, if they are regular events, have probably already been planned to make the best of seasonal weather and other factors.
One of the seasonal events we love for a combined bachelor and bachelorette party idea is the haunted house. Available in most metropolitan areas from late September through Halloween, haunted houses come in all shapes and sizes and all terror levels. Some of them provide jump scares, while others provide actual terror.
Spice up the normal haunted house experience by checking out zombie paintball. While different places handle it in different ways, the basic concept is that you are on team human battling against a group of zombies to save the world. Thomas Family Farm in Snohomish Washington is recognized nation-wide for their zombie paintball experience, and also offers haunted houses and a flashlight corn maze.
Renaissance Festivals can be another great seasonal activity for a bachelor/bachelorette party. You can find them literally all over the U.S., and while they are seasonal for their areas, the season for them varies from location to location (usually they are not going to be when it is very hot or when it is very cold). Lots of delicious food, plenty of drinks, free entertainment once you are in the fair, plus paid shopping and entertainment options makes them a great choice, especially for larger groups with mixed finances and guests of varying ages.
Do you live someplace where snow is unusual? Consider creating a snow day for celebrations that are in chillier months. You can have a company come out and create a snow hill and a yard full of snow for sledding and snowball fun. Add a few outdoor fire pits, ingredients for s'mores, and thermoses of spiked coffee and hot chocolate for an unusual idea. While the cost for a yard full of snow can be pretty steep for one person, if a party of 10 or more chips in on the costs, you have created an epic event for about the cost of a decent dinner and a few drinks, each. While these events are more popular in winter, most companies do them year-round. For example, Effects Specialist will blow snow any day of the year except Christmas!
Party Bus
If you are fans of our website, then you already know that we love party buses. They are a great way to keep the party going, while still hitting multiple destinations, and without having to worry about anyone being a designated driver or coordinating multiple types of transportation. You can book a party bus almost anywhere, though if you are in a popular party destination you will have even more options. In fact, many places have bike bars or trolley pubs, which offer a similar experience, but require a little more physical activity from your guests.
Destination Bachelor Bachelorette Parties
If the bride and groom's friends basically overlap, then a destination party may be the way to go. Many people fear the idea of a destination, but they can actually be really affordable. Popular destinations like South Beach, Austin, Nashville, Las Vegas, and New York City may be within road trip distance and are busy enough that you can often find discounted flights. Destinations in South America and the Caribbean are not only inexpensive once you arrive, but may have more affordable flights than domestic destinations.
If those are outside of the budget, you may still be able to find a nearby cabin or campsite that would work for a large group. For example, treehouse communities are popping up all over the U.S. For example, River's Edge Treehouse Resort in Robbinsville North Carolina has six different treehouses and offers fire pits, hiking, fishing, and a variety of backyard games like horseshoes and cornholes. Other treehouse communities may offer on-site horseback riding or partner with local adventure providers for river rafting, zip lining, and other outdoor activities.
Conclusion
Though the idea of planning a coed bachelor and bachelorette party may seem a little intimidating, they can actually be easier and less complicated than planning separate parties. The key to a successful combination party is great communication. The bride and groom need to communicate their expectations to the people planning the party, including things that would make them uncomfortable. Then, the party planners need to make sure the guests all get the message. The result can be one of the best parties, ever.