Bachelor Party at Hotel Cocal and Casino, Jaco Costa Rica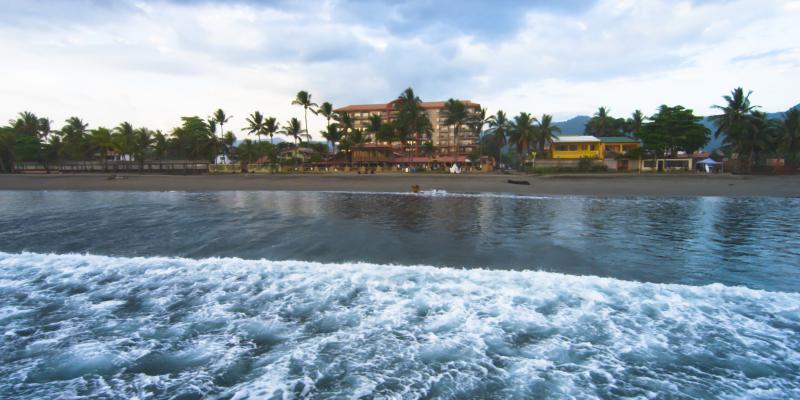 Hotel Cocal & Casino located in Jaco Beach Costa Rica.  This hotel is the perfect location for a bachelor party looking to have fun with local chicas.  This is not the hotel you want to stay at, as if you are with a bachelor party you should be renting one of the amazing, moderately priced villas.  Make sure you check out Jaco Beach VIP, as they have a bunch of amazing villas which can accommodate up to 18+ people.  I would recommend checking out this spot on Friday and Saturday as that is when the max amount of women are in town and ready for fun.
Basically your group will take a van over to the hotel around 7/8 pm.  Although it may not be as packed at the later hours, the early bird gets the worm.  You will want to grab a table by the pool as that is where the parade of women will gather.  Just like everywhere else there is going to be some very good looking women, as well as ones you wouldn't take for free.  My recommendation is if you see one that is somewhat attractive, lock her up immediately, because if you do not, you will never see her again that night.  There are more bad apples than good apples.  Don't always assume the grass is greener, especially in Jaco.
My suggestion would be to round up a group of ladies 1-2 for each guy and bring them back to your compound for a night of drinking, dancing, swimming, snorting, and everything else in between.  There is basically no reason to hang out at Hotel Cocal & Casino once your mission of securing top quality entertainment is fulfilled.
Now remember, a lot of these escorts/companions/hookers prey on gringos.  The max rate you should pay for each lady is $100 which will guarantee 2-3 hours of fun.  If you want to keep them overnight an additional fee will apply.  The prettier chicas tend to think they are worth more, but stand firm as by giving them more you are driving up the prices and the confidence to swindle.
Since they built the highway, going from San Jose to Jaco has never been faster and safer.  As a result all of the ladies that once held base at the Delrey are now migrating to the beach towns.  Jaco is up and coming the past few years and there are some huge projects being worked on now, including a Vegas style hotel and casino.
If you follow my advise in this post, your bachelor party will have a night they will never forget, and one which they will never be able to talk about after leaving.  This is another reason why Jaco Beach is now becoming a top destination for bachelor parties in 2014.
Hotel Cocal And Casino – Jaco Beach, Calle Cocal, Jacó 00000, Costa Rica
For Reservations:  +506 2643 1201